Florence is one of my most favorite destinations in Europe, a place that I would return to time and again. The first time we visited the city we were on a bigger European tour, so we did only spent only 2 days in Florence. However, we were able to see a lot in these 48 hours, so I think that's a pretty good amount of time for visiting Florence.
Since then, we returned to the city for longer trips and even for a wedding. But we'll never forget our first trip to Florence which made us fall in love with it!
How to Visit Florence in 2 Days
I know what you are thinking! Two days is very little time for a city like Florence. And you are right. I'll have to admit that it's hard to include all of Florence's great sites into a 2-day itinerary. There are just too many things to see and do here!
Nonetheless, with some good planning you'll manage to visit Florence's most famous sites and still have time to absorb the city's atmosphere and even buy some beautiful Italian gifts. We know because we followed this itinerary ourselves and came back with some great memories from Florence.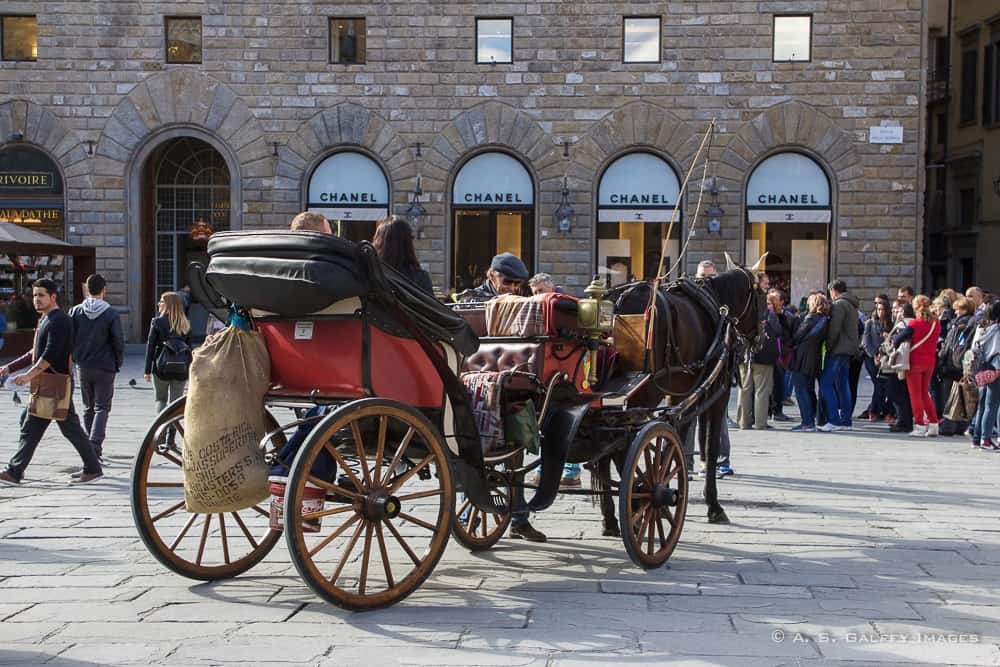 2 DAYS IN FLORENCE ITINERARY
Day 1: Piazza della Signoria, Loggia Dei Lanzi, Duomo of Florence, the Baptistery, Ponte Vecchio, Vasari Corridor, Mercato Centrale.

Day 2: Uffizi Gallery, Basilica di Santa Croce, Santa Maria Novella Church, Palazzo Pitti, Piazzale Michelangelo, Fontana del Porcellino.
Florence Itinerary (Day 1)
We've spent our first day in Florence wandering the streets around the historic center and visiting some of the city's most important landmarks. This first day's itinerary is also good for those who only have 24 hours in Florence. Or for those who are visiting Florence as a day trip from Rome, or other parts of Italy.
How to Use This Map: Clicking the icons on the map will give you more information about each point of interest.
READ NEXT: How to Spend 10 Days in Italy – 4 Suggested Itineraries
1. Wander around Piazza della Signoria
I suggest starting your Florence itinerary in Piazza della Signoria. This is the city's most famous spot, home to Loggia Dei Lanzi, Pallazo Vecchio, and the Uffizi Gallery.
The Piazza is also home to a series of sculptures, including a towering replica of Michaelangelo's David. Take your time to walk around and admire the sculptures. To avoid the crowds, visit the piazza early morning, or in the evening.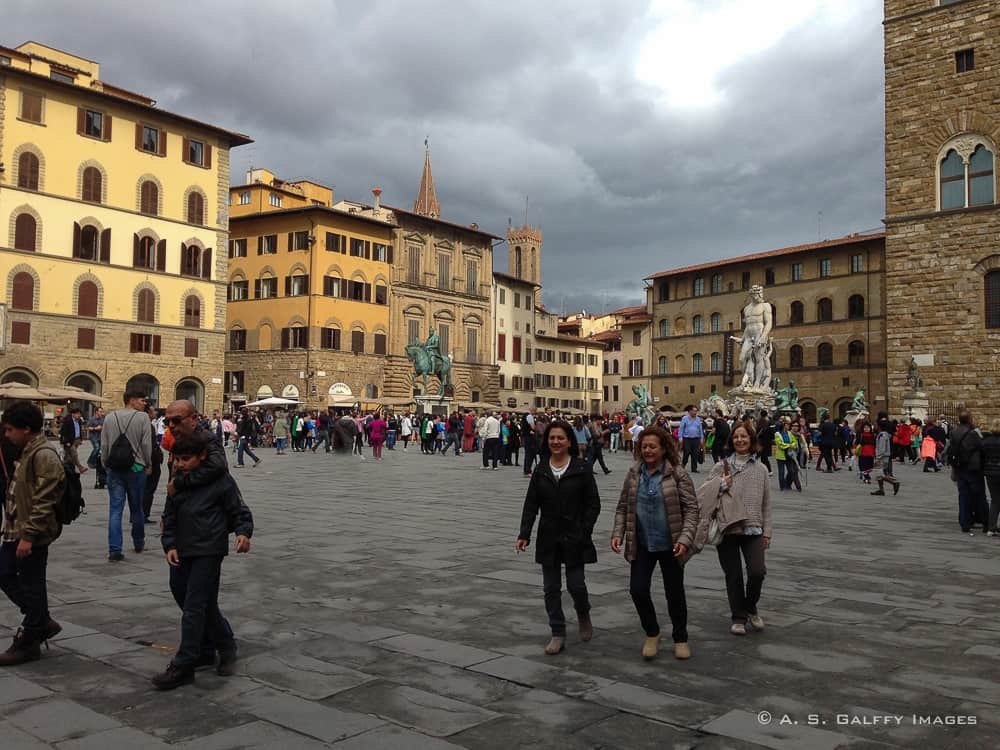 2. Visit Loggia dei Lanzi
Overlooking the Piazza della Signoria is Loggia Dei Lanzi, a free, open-air museum that was designed in the 14th century by the famous artist and architect, Orcagna.
Below the building's curved arches are dozens of famous sculptures, among which Giambologna's Rape of the Sabine and Cellini's Perseus.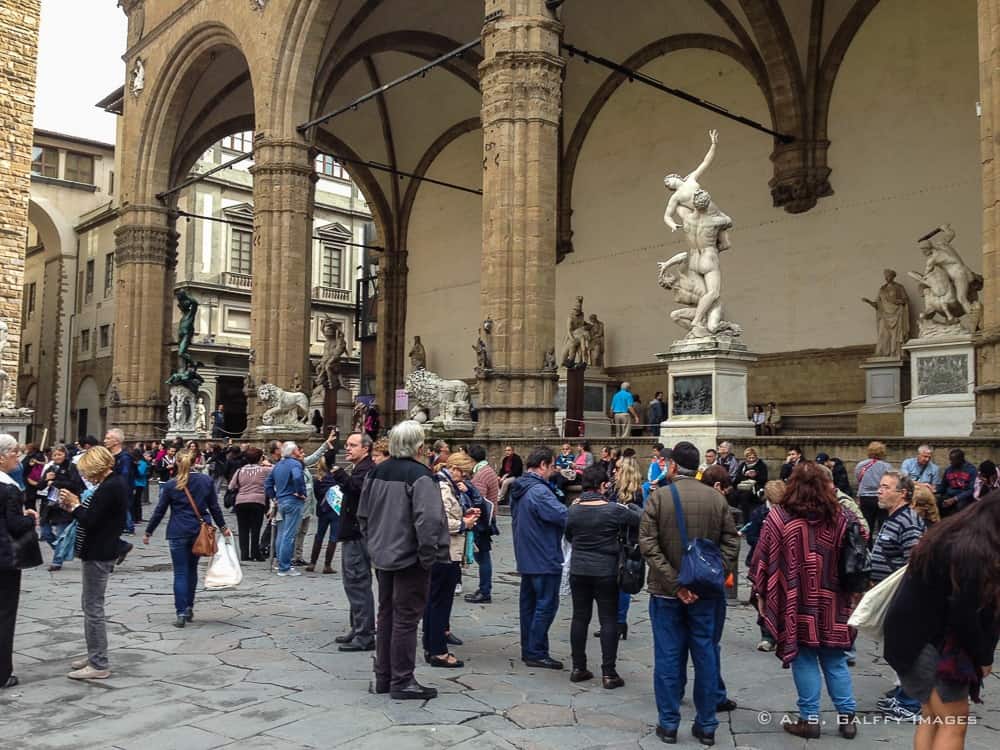 3. Visit Palazzo Vecchio
Also facing Piazza della Signoria is the imposing Palzzo Vecchio. The palace which dates back to 1299, was built more like a fortress to be more secure in times of turbulence for the magistrates of the commune.
The entire construction rests on top of an ancient theater from the first century A.D. You can still see the ancient ruins in the palace's underground level.
The palazzo was a governmental building until the grand duke of the city, Cosimo I de'Medici, married a Spanish princess who declared that Palazzo Vecchio wasn't fancy enough for her taste.
As a result, the family moved to the Palazzo Pitti and the building was renamed Palazzo Vecchio. Cosimo I moved the seat of government to the Uffizi.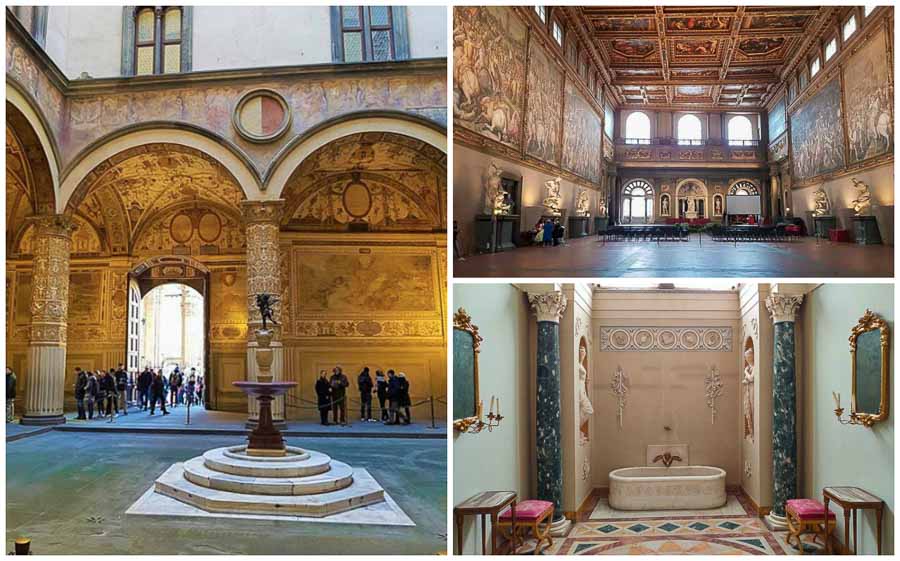 Interestingly enough, once you get to visit the Palazzo Vecchio, you'll start questioning the Spanish princess' taste. The interior design and exquisite decor of the palace are absolutely astounding!
4. Visit the Duomo of Florence
The Duomo of Santa Maria del Fiore (also known as the Cathedral of Florence) is the city's most recognizable landmark and is at the top of every Florence itinerary.
The Cathedral of Florence has a very interesting story. The construction had begun back in 1296, but a hundred years later it was still not finished! The reason was that at the time nobody had any idea of how to build a dome for an octagonal floor plan nearly 150 feet wide.
As a result, the summer sun and winter rains were streaming down through the enormous hole in the Cathedral roof.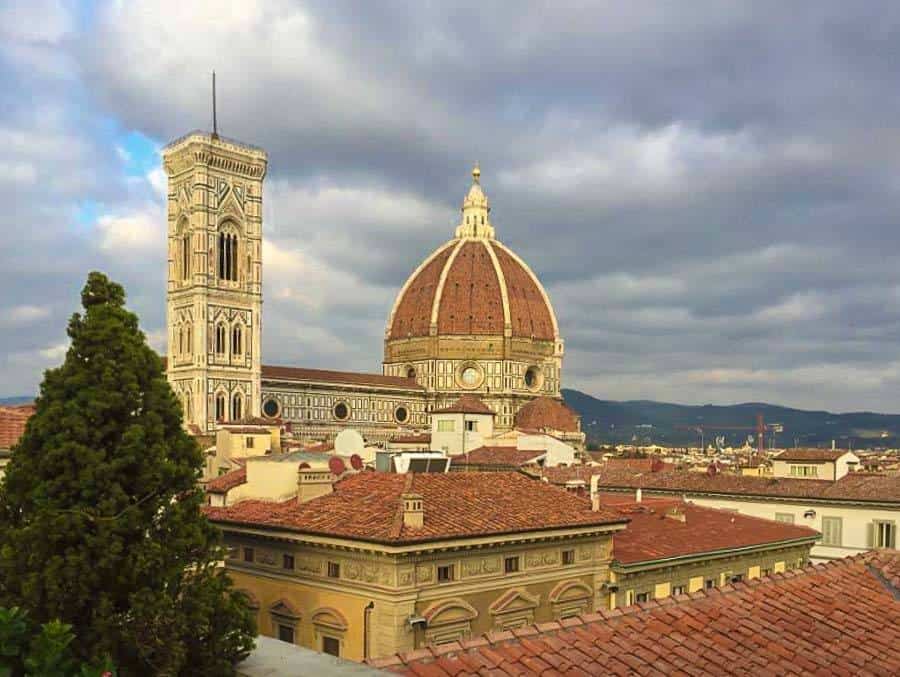 Finally, in 1418, a contest for the ideal dome design was announced and won by Filippo Brunelleschi, a goldsmith with no architectural training or experience.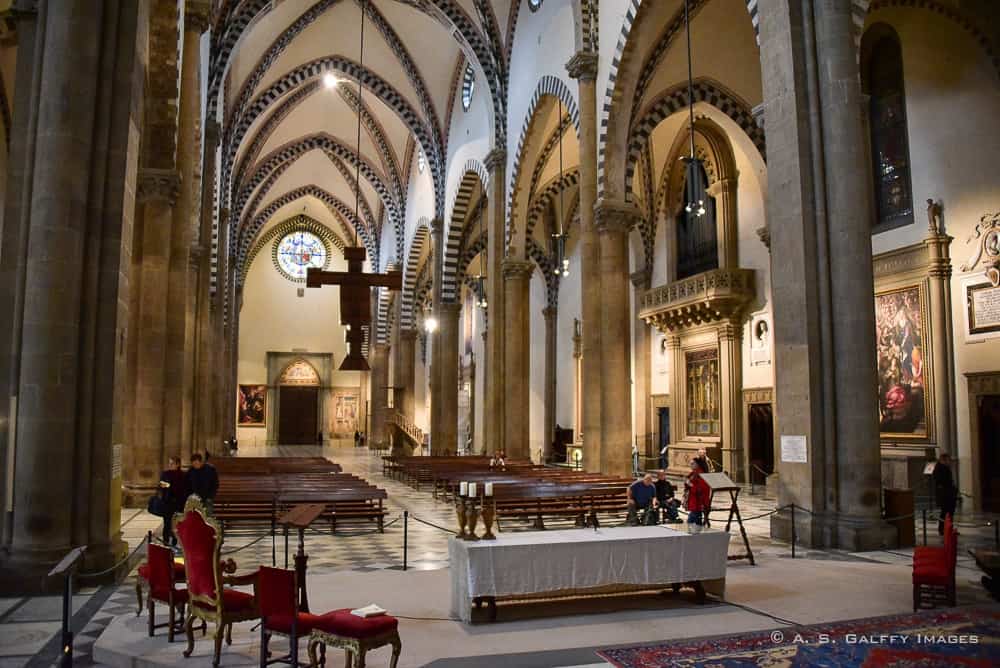 Brunelleschi managed to build the Cathedral's Duomo which is still standing today. A miracle? Surely not, but the Duomo of Florence remains an architectural mystery for those who look at it today. There are still many unanswered questions that surround the construction.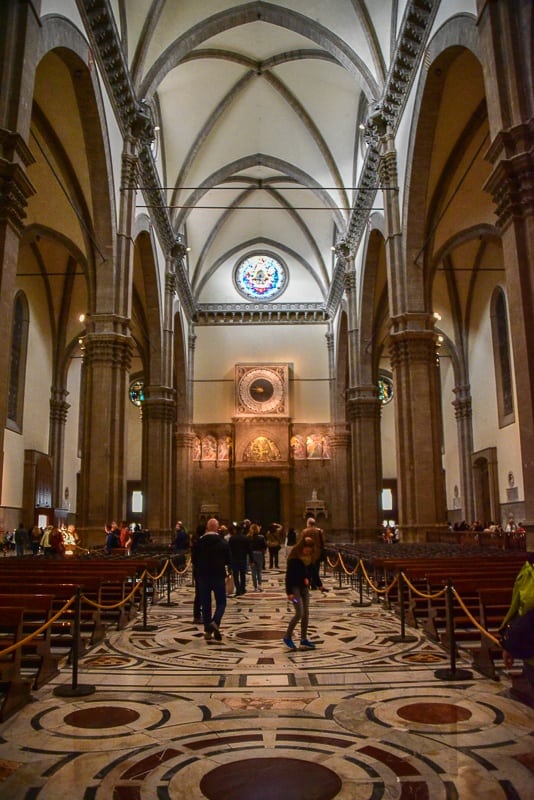 Visiting the Florence Cathedral is free of charge, which is why there is always a line to get into the cathedral. The line moves pretty quickly though.
However, if you want to climb up the dome and the bell tower, you'll have to pay. You can buy a single "Grande Museo del Duomo" pass that includes the Baptistery, the museum and climbing up the dome and the bell tower.
5. The Baptistery
Right next to the Duomo is the oldest religious site in Florence: the Baptistery. Its origins are unknown, but it is believed the Baptistery was erected over the ruins of a Roman temple dedicated to Mars, dating back to the 4th Century A.D.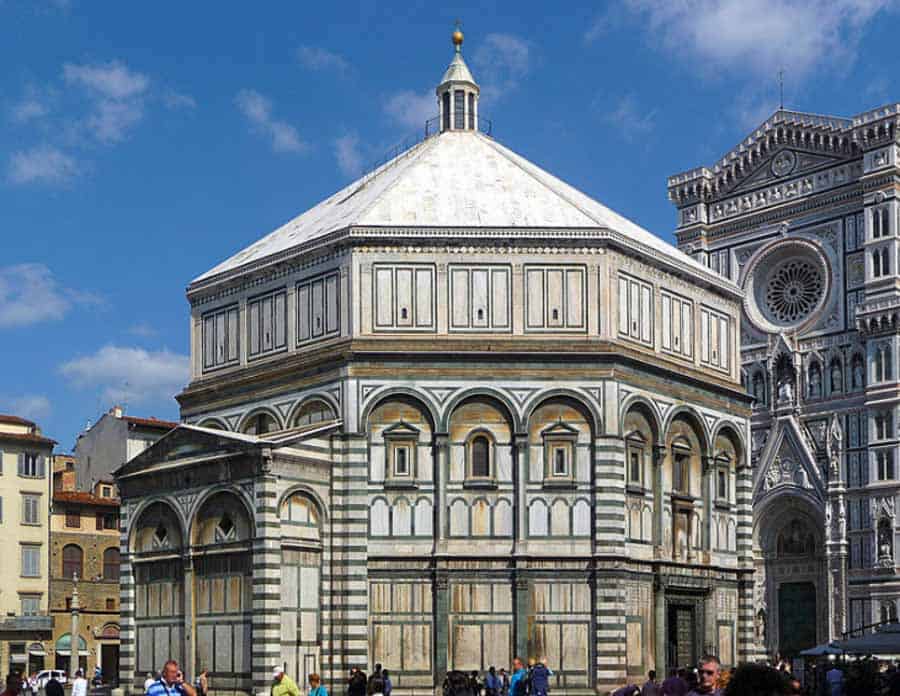 The Baptistery of Florence was consecrated in 1128 and up until the end of the 19th century all catholics in Florence were baptized in this building. Today, you can still have your child baptized here, but you have to request a date way in advance.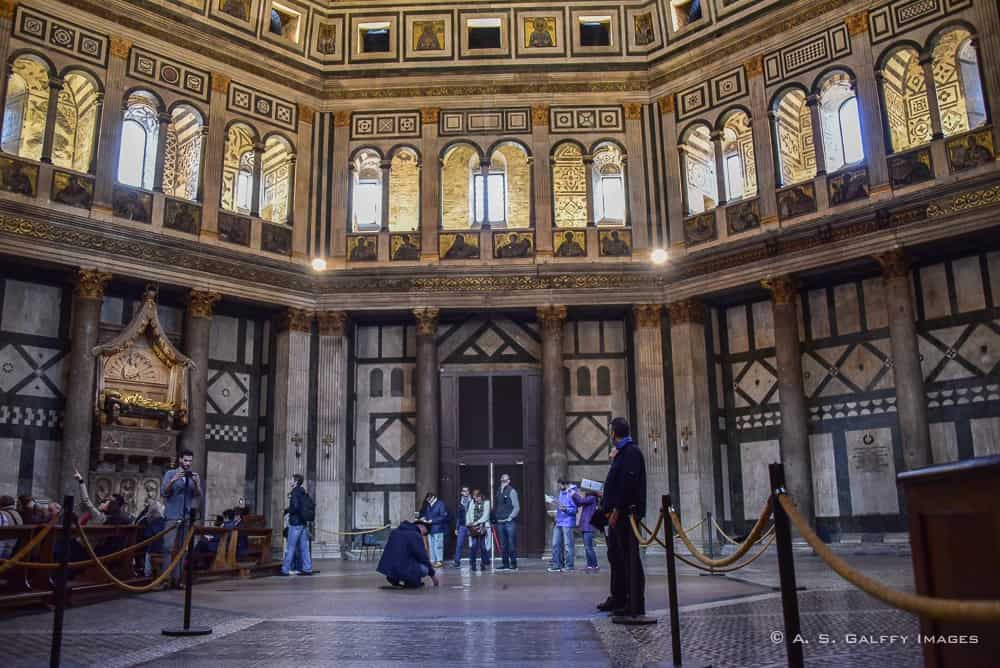 The Baptistery has an octagonal plan with an octagonal cupola. The façade is decorated with white Carrara marble and green Prato marble, typical of Florentine Romanesque architecture.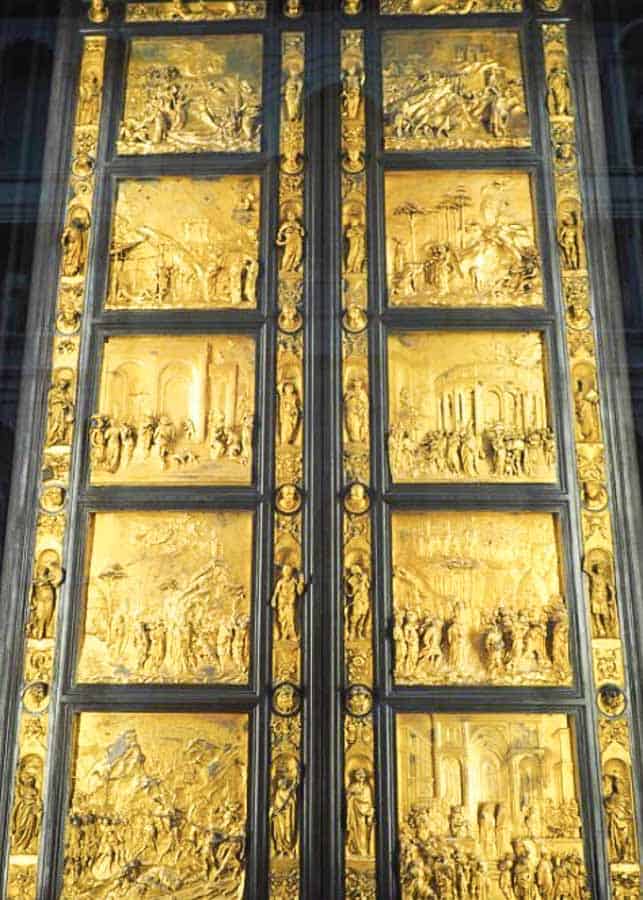 One of the most stunning part of the Baptistery are its bronze doors with relief sculptures done by Andrea Pisano and Lorenzo Ghiberti. The Gates of Paradise received their name by Michelangelo who considered them to be "perfect for the gates of paradise".
6. Stroll across Ponte Vecchio
Dating back to the medieval era, Ponte Vecchio (the Old Bridge) has certainly stood the test of time. A plaque near its central arch of the bridge commemorates its rebuilding in 1343, after a flood. Ponte Vecchio even survived the World War II, when all the other bridges in town were destroyed.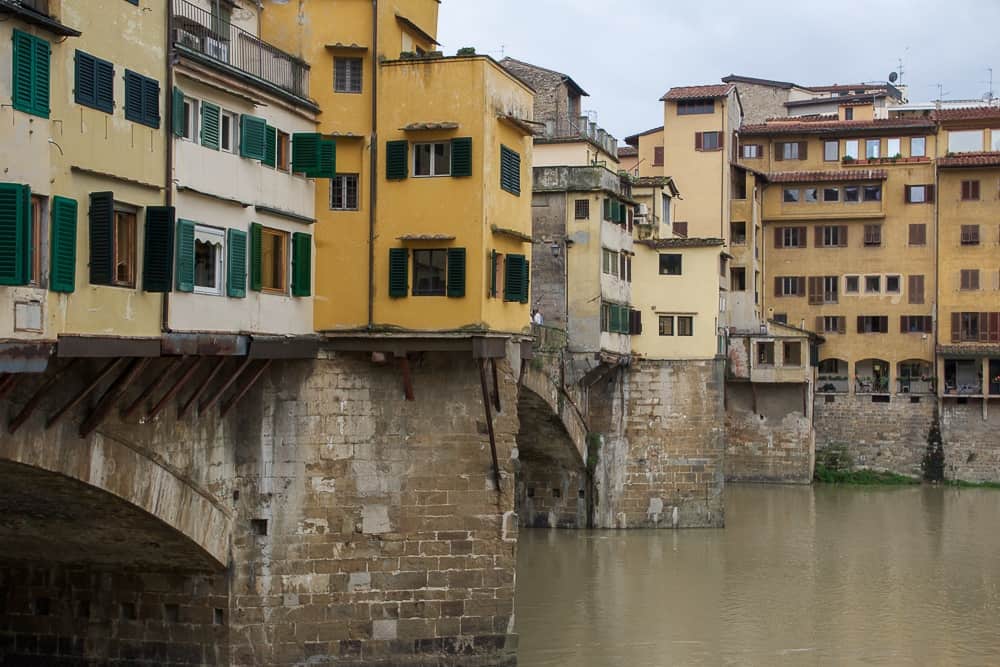 Visiting the Ponte Vecchio was one of the biggest highlights of our 2 days in Florence. It's a bridge like no other I've seen and I highly recommend adding it to your Florence itinerary. The bridge has an almost-golden glow, which it owes to the yellow stone from which it's built.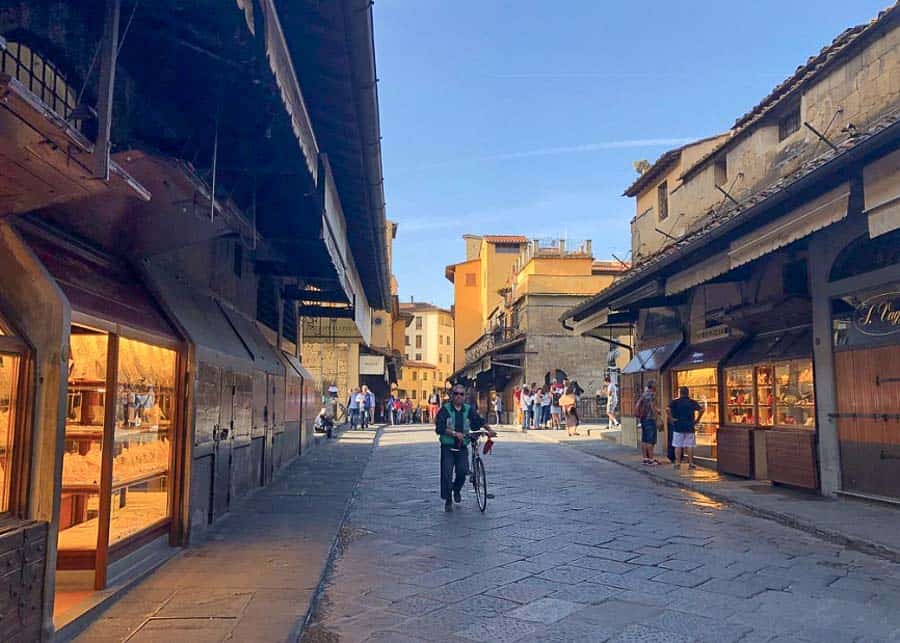 Ponte Vecchio is filled with jewelry stores, closely snuggled into each other. If you didn't know it's a bridge, you would probably think Ponte Vecchio is a street, that's how densely the shops are packed on its both sides!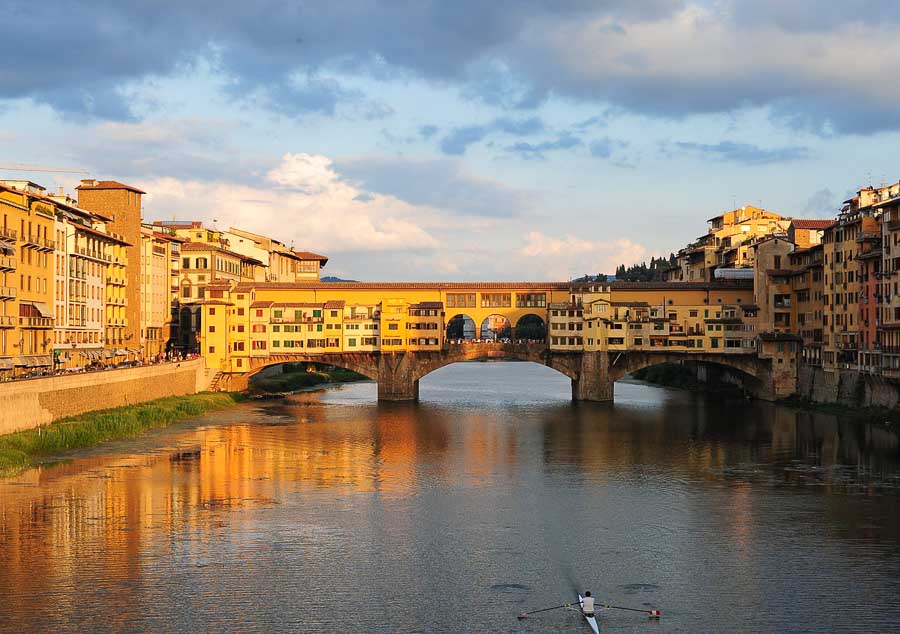 But the jewelry stores were not always crowding Ponte Vecchio. The bridge was first populated with butcher shops and tanneries. But the garbage and smell produced by these shops was unbearable. As a result, in 1593 duke Ferdinand I decided to allow only goldsmiths and jewelers to hold shops on Ponte Vecchio.
7. Cross the Vasari Corridor
One interesting place to visit in Florence is the Vasari Corridor, which runs along the top of Ponte Vecchio. This one kilometer long passageway that connects Palazzo Vecchio with Palazzo Pitti was the idea of the grand duke Cosimo de' Medici. He commissioned the passage in 1565 in celebration of his son's wedding with Joanna of Austria.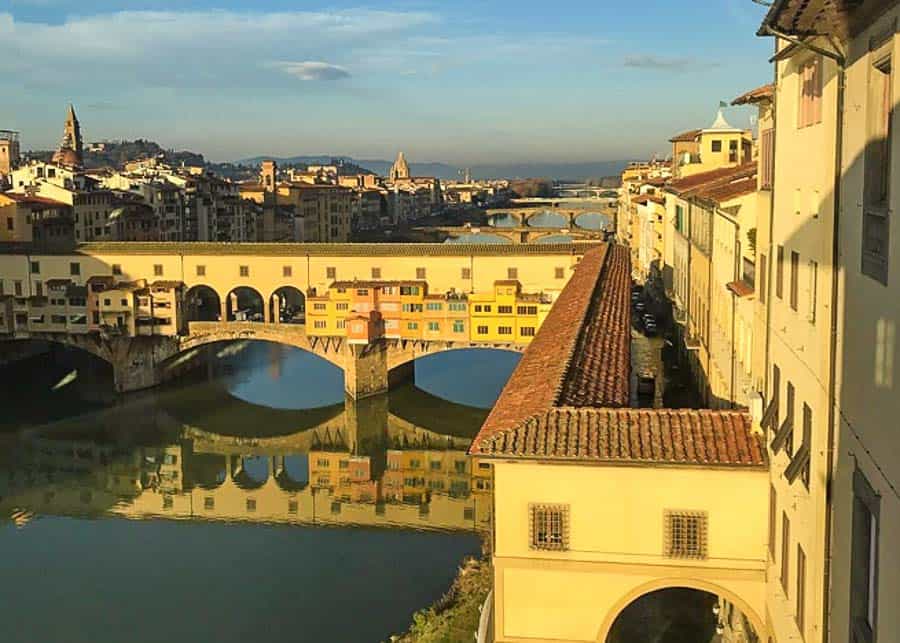 Thanks to this elevated passageway the Medici family could move freely and safely between their residence in Palazzo Pitti and Palazzo Vecchio, the government's headquarters.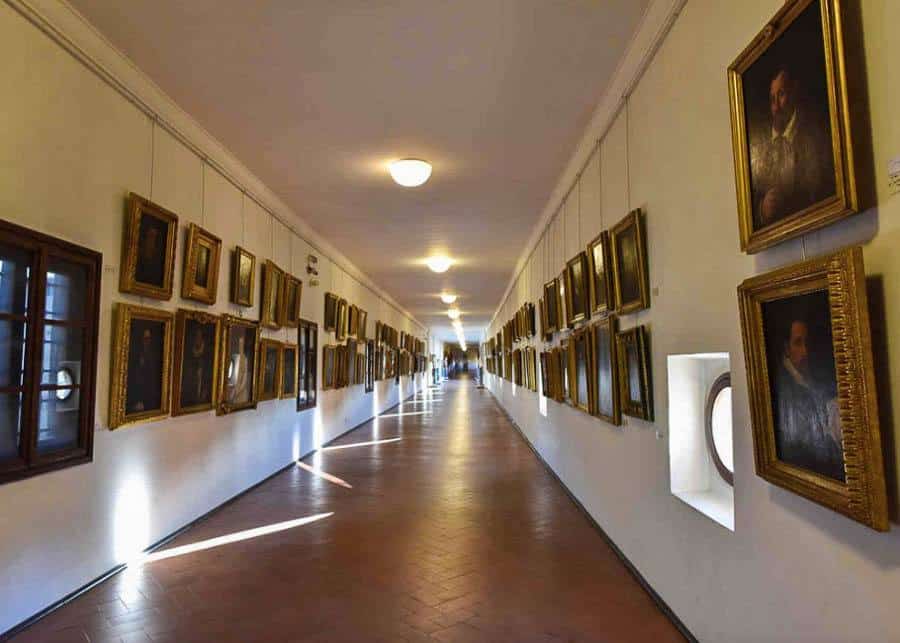 Today, the corridor still connects the two buildings and functions as a small museum, separate from the famous Uffizi Gallery.
8. Enjoy lunch at Mercato Centrale
Located in the colorful neighborhood of San Lorenzo, Mercato Centrale is Florence's most popular food market. Even since it was built in 1874, the two story building of Mercato Centrale was the place where the Florentines bought their food.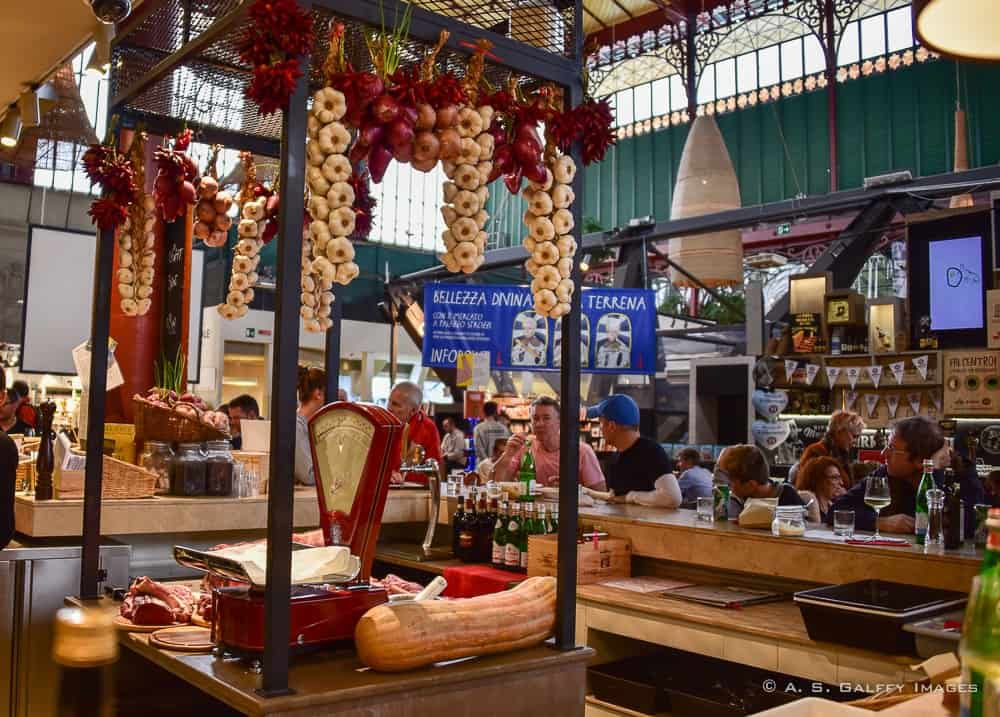 But only the main floor of the building was a market, while the upper floor laid abandoned for over 10 years. The market's popularity began to grow only after April 2014, when the upper floor suffered a major renovation, becoming an unmissable food destination.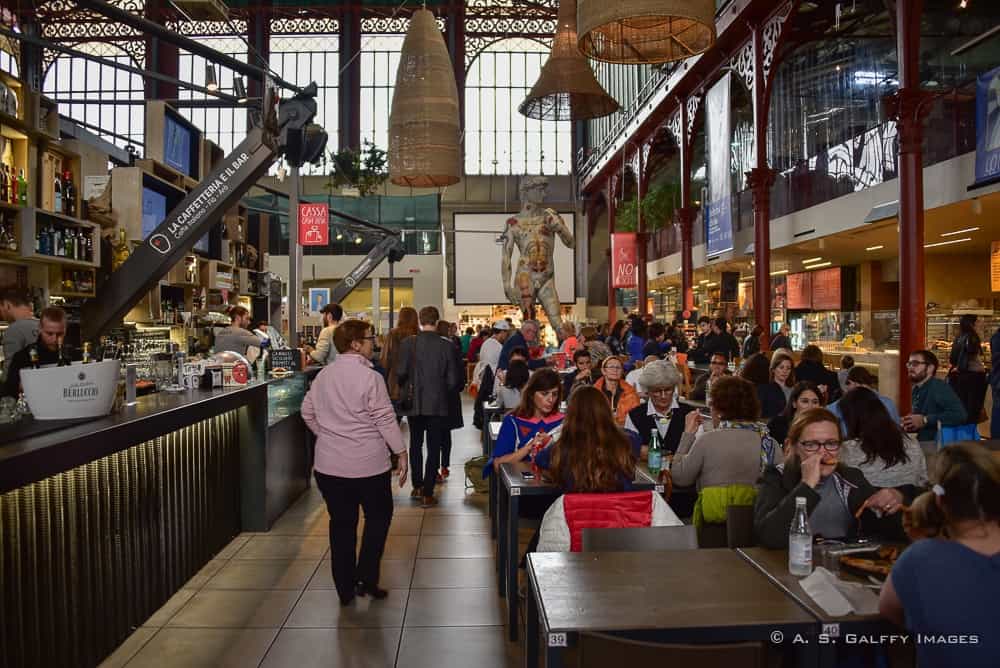 If you haven't visited the city since April 2014, you most likely missed the great restaurants at Mercato Centrale in Florence. This is a great place to enjoy the local Italian cuisine in a very casual atmosphere.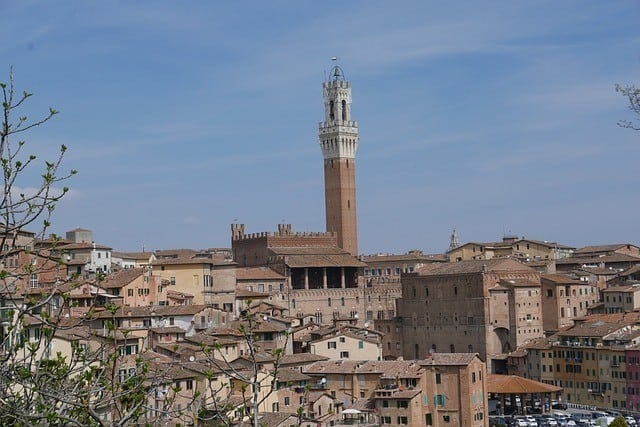 Day 2 Florence Itinerary
There is so much art in Florence, that it's hard to know where to begin. In fact, there is art almost anywhere you turn. We wanted to see at least one art museum on our 2 days in Florence and prioritizing which museums to see it's difficult, when you have so little time.
We had a choice between two great art museums: the Uffizi Gallery and Galleria dell' Accademia, and opted for the first.
1. Delight in Art at the Uffizi Gallery
We started our second day with a visit to the Uffizi Gallery, Italy's most impressive museum of art. No visit to Florence would be complete without seeing this great art gallery. Since we knew we were going to spend a few good hours here, we came very early in the morning.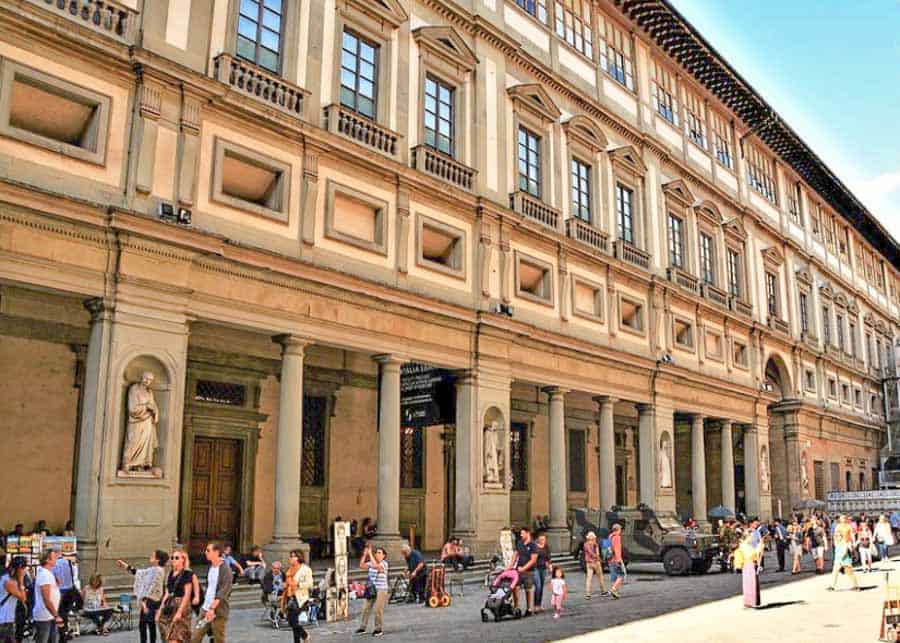 Tip: Even if you buy your tickets online, getting there early really helps beat the crowds. The gallery opens at 8:15 am. Also, if you carry a backpack, you'll have to leave it in a locker by the entrance.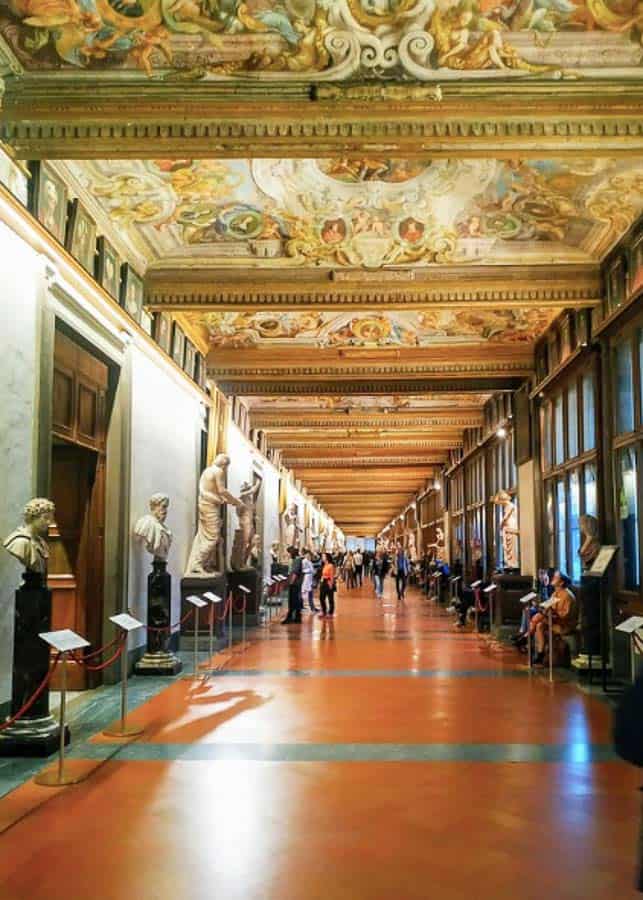 Considering that Florence was the cradle of the Renaissance, it's not surprising that this art gallery has an almost unparalleled collection of masterpieces.
Here you'll see some of the most famous paintings in the world by masters like Botticelli, Caravaggio, Raphael, Michelangelo, Da Vinci and more. It's an absolutely must-see attraction Florence, and having a guide really adds to the experience.
2. Visit the Basilica di Santa Croce
Another place to admire Florence's amazing art is at the Basilica di Santa Croce. The church, which belonged to the the Franciscan order since 1294, is the burial place for many great people of Florence.
You can see here Michelangelo's tomb, as well as Rossini's, Machiavelli's, Galileo Galilei's tomb. Galilei's body was interred here only 95 years after his death, as at the time when he died the Inquisition did not allow him to have a Christian burial.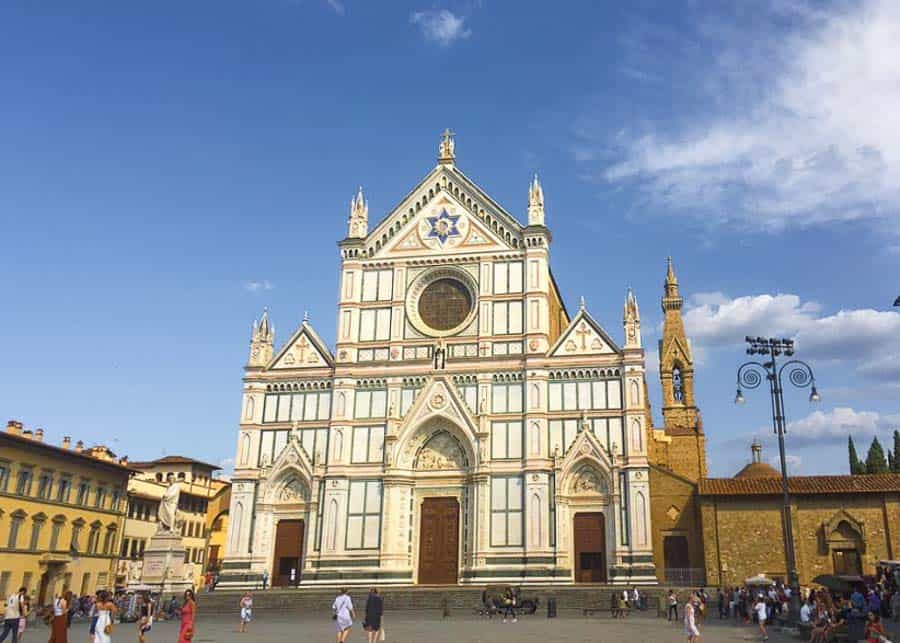 There is also a memorial to Dante at Santa Croce, but his sarcophagus is empty as his tomb is actually in Ravenna.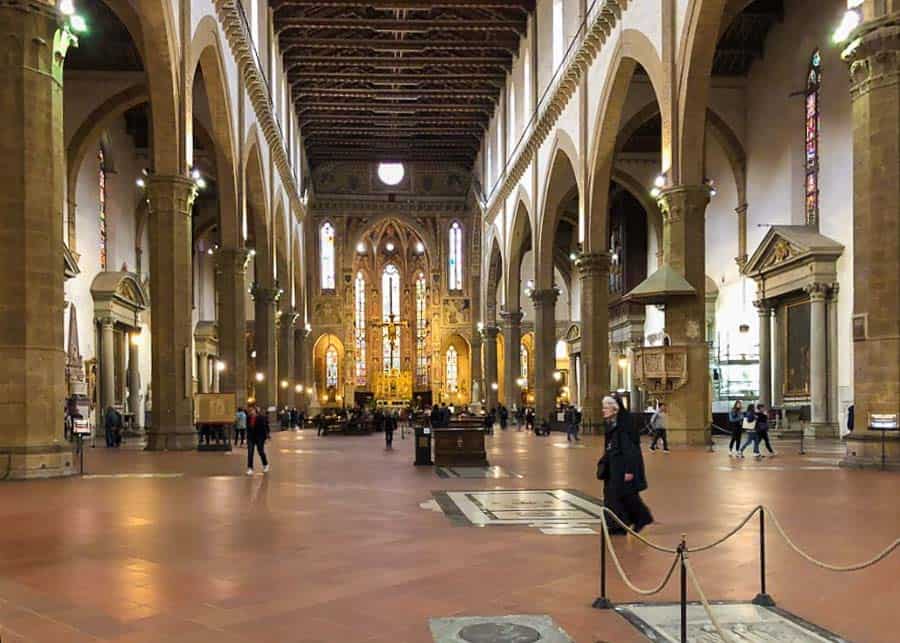 The beautiful Cathedral of Santa Croce had its fair share of misfortune over the course of history. The cathedral suffered tremendous damage in the flood of 1966 and then, in 2017, some loose masonry fell and killed a Spanish tourist. This tragic incident led to some serious investigations, but in the spring of 2019 the cathedral reopened its doors.
3. Visit Basilica of Santa Maria Novella
Located just across from the main railroad station in the historic center of Florence, Basilica of Santa Maria Novella is a fine example of Gothic architecture.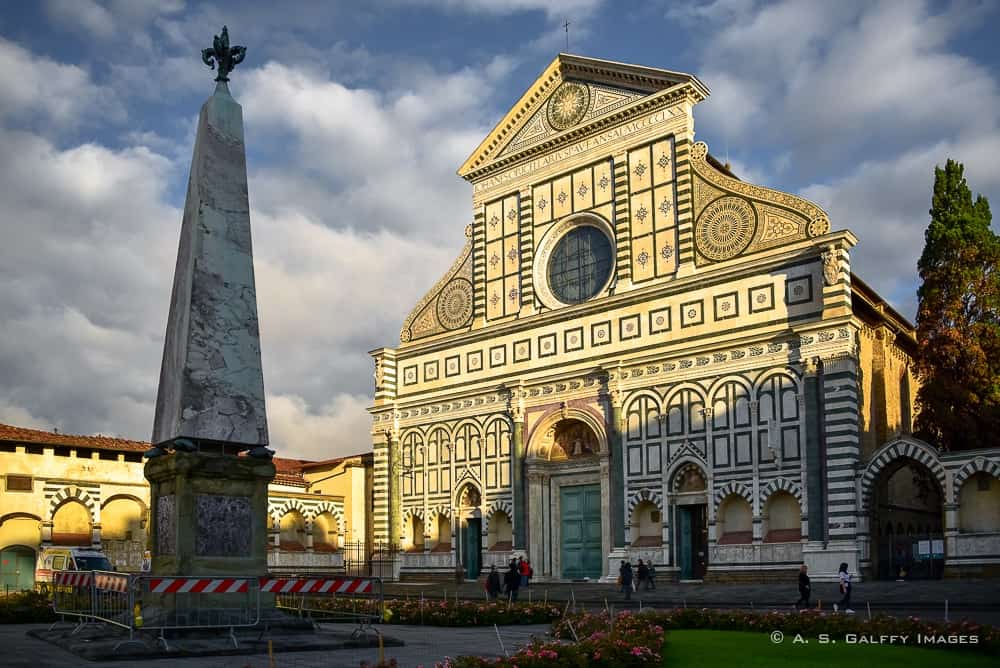 Although it doesn't enjoy the fame of its younger sister, Cattedrale di Santa Maria del Fiore, Santa Maria Novella is a beautiful church and is well worth a visit.
4. Visit the Palazzo Pitti
Remember the beautiful interior of the Palazzo Vecchio that Cosimo de Medici's wife didn't consider fancy enough? Well, if you thought that was exquisite, then imagine how Palazzo Pitti must look! After all, Cosimo wanted to make his wife happy and offered her something even better.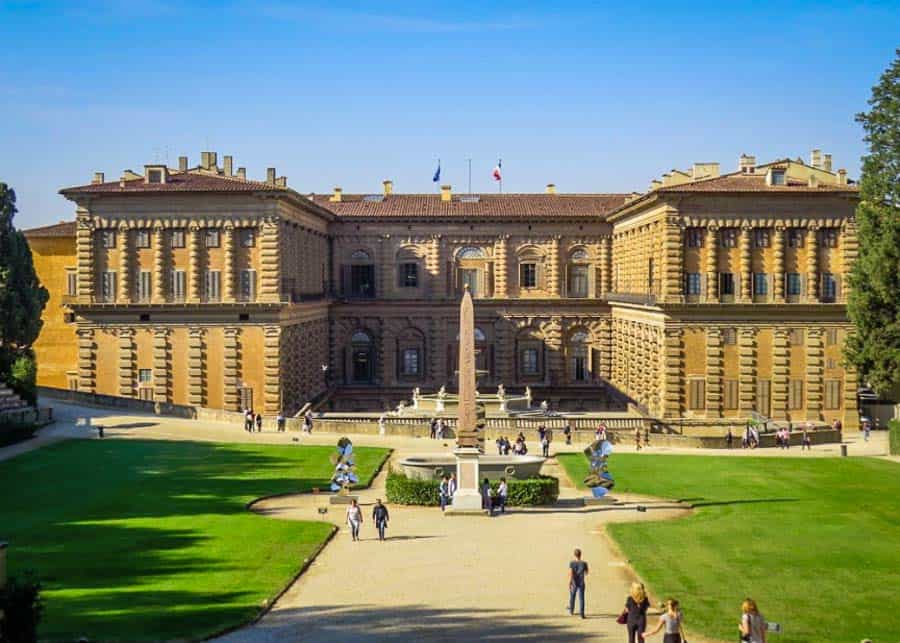 The palace became a great treasure house as later generations accumulated huge collections of silver, porcelain, paintings, and other luxurious possessions.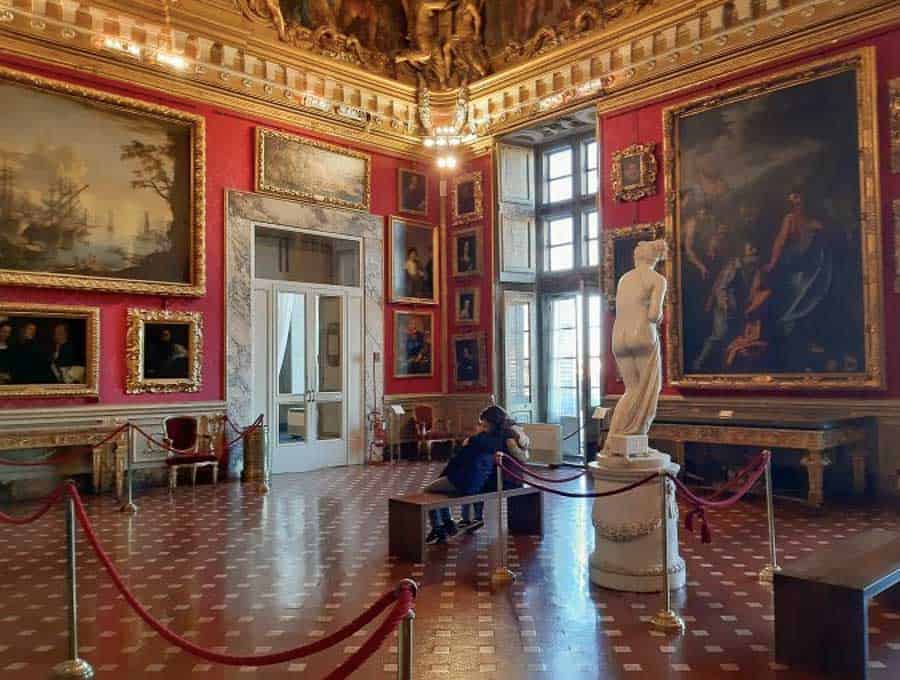 Today Pallazo Pitti is the largest museum complex in Florence where you can admire works by Raphael, Titian and Caravaggio as well as the huge collections gathered by its previous owners. The museums are totally worth visiting. If you have time, you should also visit the beautifully manicured Boboli Gardens outside the palace.
Tip: Both the Uffizi Gallery and Palazzo Pitti close on Mondays. Therefore, if one of your 2 days in Florence happens to be a Monday, you may need to adjust your itinerary.
5. Enjoy the city view from Piazzale Michelangelo
One of the highlights of our 2 days in Florence was the walk up to Piazzale Michelangelo, in Oltrano district. Perched up on a promontory, this square offers one of the most popular viewpoints in Florence.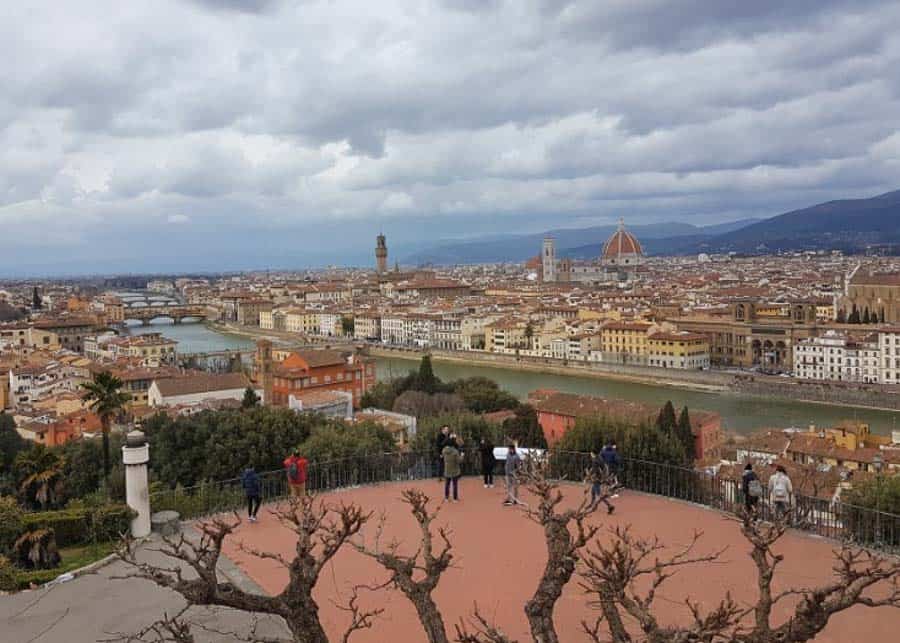 You can reach Piazzale Michelangelo on foot, but you'll have to be prepared to climb up a long stairway (164 steps) leading to the top of the Piazza. We took a cab up here and then walked down to the city center.
Visiting it is definitely well worth the effort. The ornate square offers the most amazing views of Florence, as well as a replica of Michelangelo's David.
6. Rub the Boar's Nose at Fontana del Porcellino for Good Luck
The Mercato Porcellino (or the Marcato Nuovo) is a covered market located in the historic center of Florence. The market itself is very touristy, selling all kinds of leather stuff, silk products as well as souvenirs. But the biggest attractions of the market is Fontana del Porcellino (fountain of the piglet) in the loggia that covers the market.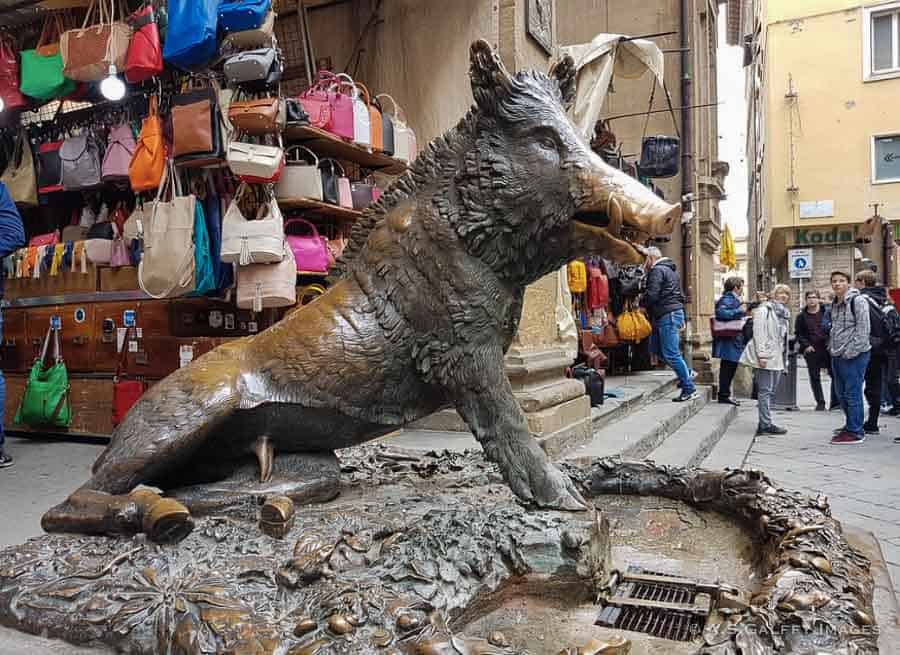 The bronze statue of a wild boar has been sitting here since 1634. Tourists put coins into the the boar's gaping jaws, with the intent to let it fall through the underlying grating for good luck. The legend says that your wish will come true only if the coin gets in the water drain.
Tips for Visiting Florence in 2 Days
Florence is not a big city and most its attractions are concentrated in a relatively small area. That makes Florence very easy to explore in two days.
The bad news is that being so popular, Florence always swarms with tourists. That means that you'll be competing with hundreds (maybe thousands) of other visitors for the same attractions.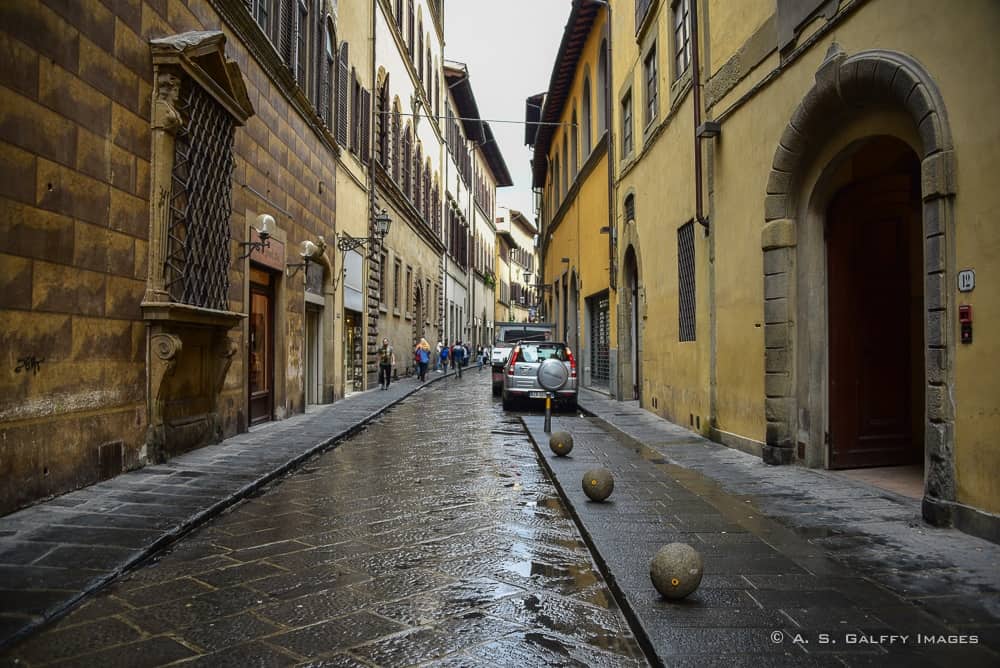 Since you only have 2 days in Florence, I recommend booking a tour in advance or buying skip-the-line tickets to save time at the attractions. The last thing you'll want is to have to give up some of the sites because of the long lines.
POPULAR TOURS IN FLORENCE
Getting Around Florence in 2 Days
Florence is not a big city and most its attractions are concentrated in a relatively small area. That makes Florence very easy to explore on foot. For those who want to travel farther away from the city center, there is public transportation, taxi cabs and Uber.
Florence is not a big city and most its attractions are concentrated in a relatively small area. The best way to get around Florence is on foot. In fact, you can walk from one end of the city to the other in about 30 minutes, passing many recognizable sites along the way.
If you get tired from walking, you have a few options for public transportation. Firstly, you can hop aboard one of the city's efficient ATAF buses. One-way tickets cost about 1.50 euros ($1.70) and are available at local convenience stores.
Secondly, you can use a cab. However, Taxis are expensive in Florence, so I wouldn't recommend this option. Especially if you are on a budget. Most travelers use taxis only for transportation to and from the airport or the train station.
Another option for getting around in Florence is to buy a ticket for the the hop-on-hop-off bus for 1, 2 or 3 days. This is also a good option for families traveling with children.
Florence is not a big city and most its attractions are concentrated in a relatively small area. That makes Florence very easy to explore on foot. For those who want to travel farther away from the city center, there is public transportation, taxi cabs and Uber.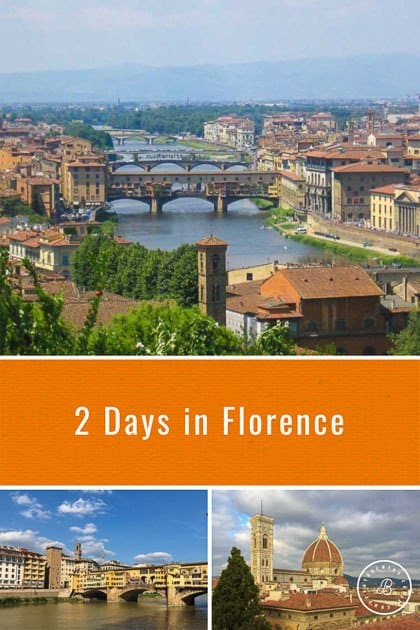 Where to stay in Florence
Since your time in Florence is very limited, you don't want to be wasting it traveling to and from your hotel in these two days . It's best if you stay the historical center which is so small that you can walk practically everywhere.
We found an excellent apartment on VRBO, just 3 minutes walk from Piazza della Repubblica, but we were traveling with some other family members. If you don't want to rent an entire apartment, Florence offers all kinds of accommodations, from hostels to high end boutique hotels and more. We recommend using Booking.com or TripAdvisor, to find a suitable room for your needs.
More Than 2 Days in Florence?
If you have more than 48 hours in Florence, you should take one of the many day trips in the beautiful region of Tuscany. This area is blessed with rolling hills covered with olive trees and vines, incredible landscapes and charming historic towns like Pisa, Siena, San Gimignano, Fiesole, or Lucca.
If you found this information useful, please pin this post to help other travelers to Florence: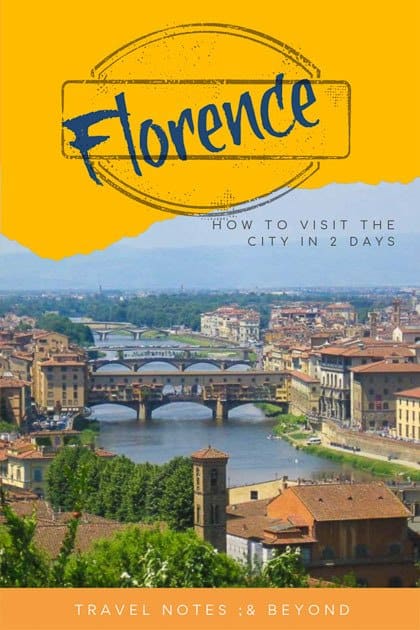 This post contains affiliate links. By using one one of these links to make a reservation, I will get a small commission at no extra cost to you.