Taormina is one of the most attractive and sought after towns in Sicily. Perched up on a high promontory overlooking the Ionian Sea, the city enjoys a spectacular location and a dramatic coastline. Unlike Siracusa which is a historic town, Taormina is more of a resort town, with beautiful beaches and quite a few fun things to do around.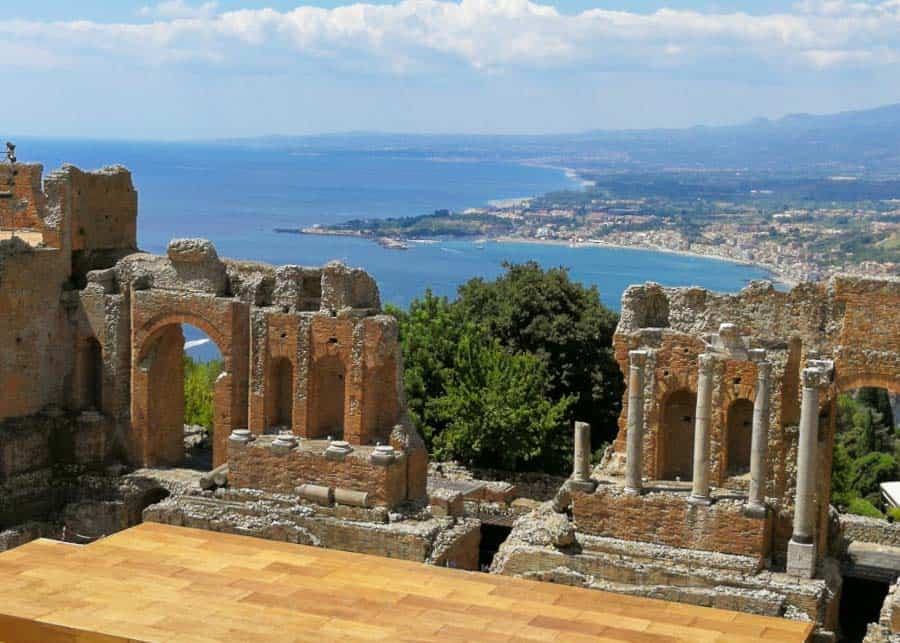 Best Things to Do in Taormina
Some may argue that Taormina is very touristy and always crowded. But that's understandable, considering that Taormina is one of Italy's most beautiful beach towns and a very popular winter destinations. So if you are planning to visit Taormina, here are some of the things you can do keep yourself entertained.
1. Visit the Greek Amphitheater
One of the first things you'll want to do in Taormina is visit the Greek Amphitheater. This is one of the most scenic places in Europe. Even if ancient history is not your thing, it's hard to resist the spectacular views you get from up there. On a clear day, you can see the entire Ionian coast with Mt. Etna in the background.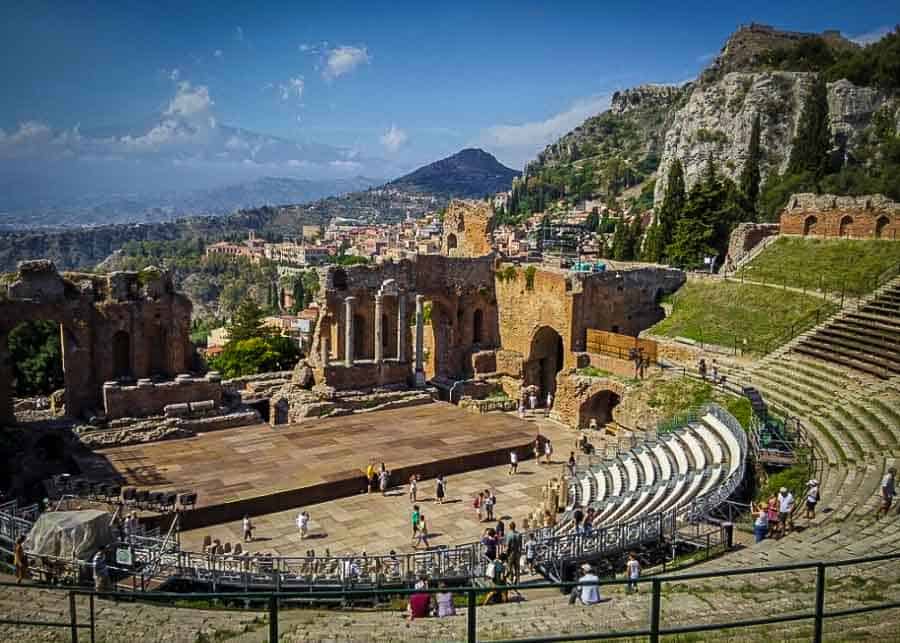 Once the stage for gladiator shows, the theatre now hosts various plays, concerts, and operas.
2. Take a Stroll on Corso Umberto
Taormina's main street – Corso Umberto – twists like a snake through the town's historical center. Despite being always crowded, the street looks irresistibly charming.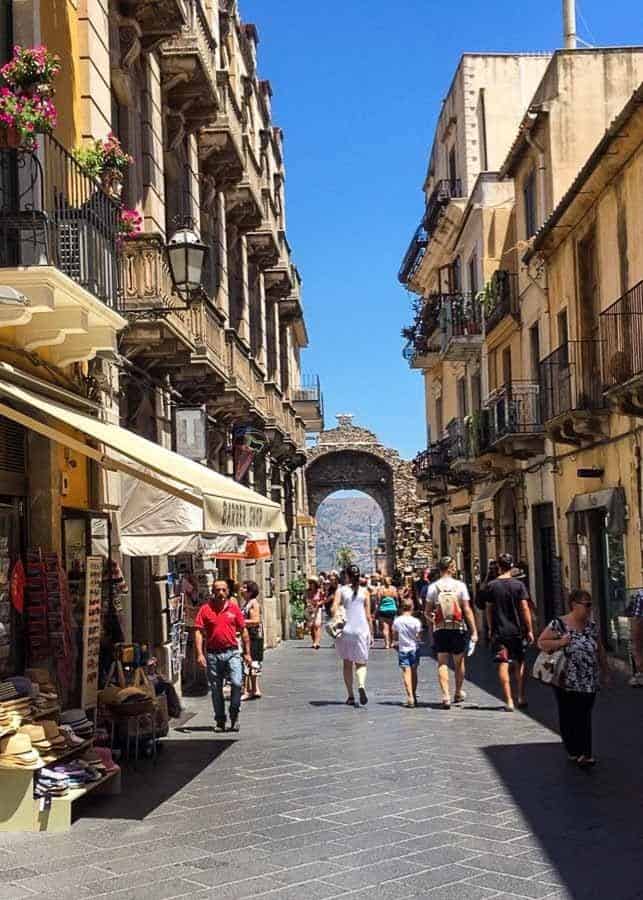 Corso Umberto stretches from Porta Messina to Porta Catania. The busy street is full to the brim with elegant shops, boutiques and cafés. People walk up and down the corso, window shopping and eating ice cream.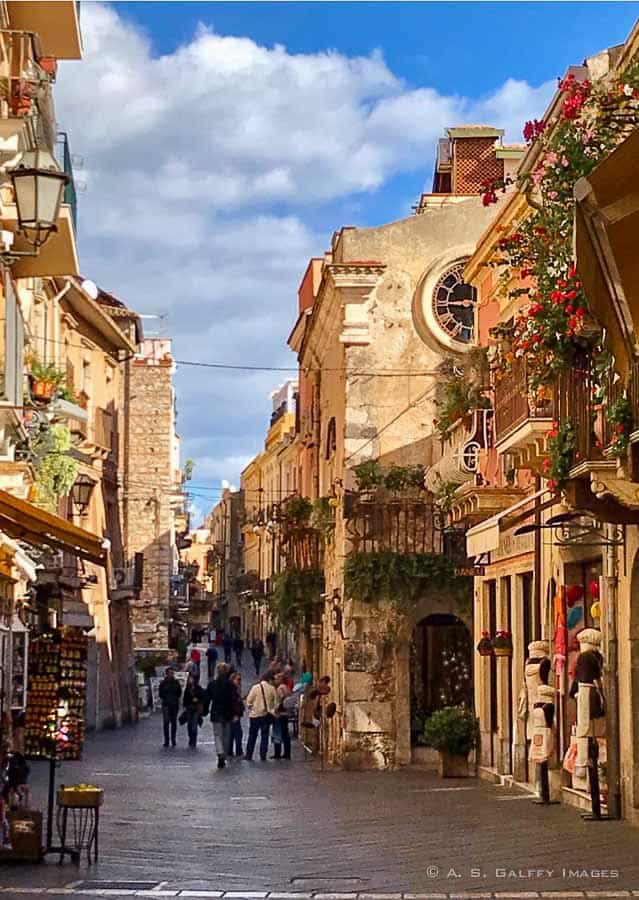 Walking by the beautifully ornate buildings with balconies draped with flowers, antique clocks and oil lamp posts, is lovely!
3. Admire Sicilian Folk Ark at Palazzo Corvaia
Palazzo Coravia is a beautiful medieval palace dating back to the 14th century. The oldest part of the palace – the tower – dates back to the 10th century, when Arabs ruled the area. In the early 15th century, when the Spanish ruled Sicily, they added another wing to the existing construction.
The palace earned its current name in the 16th century, when it became the property of the prominent Corvaia family. They owned the building until 1945.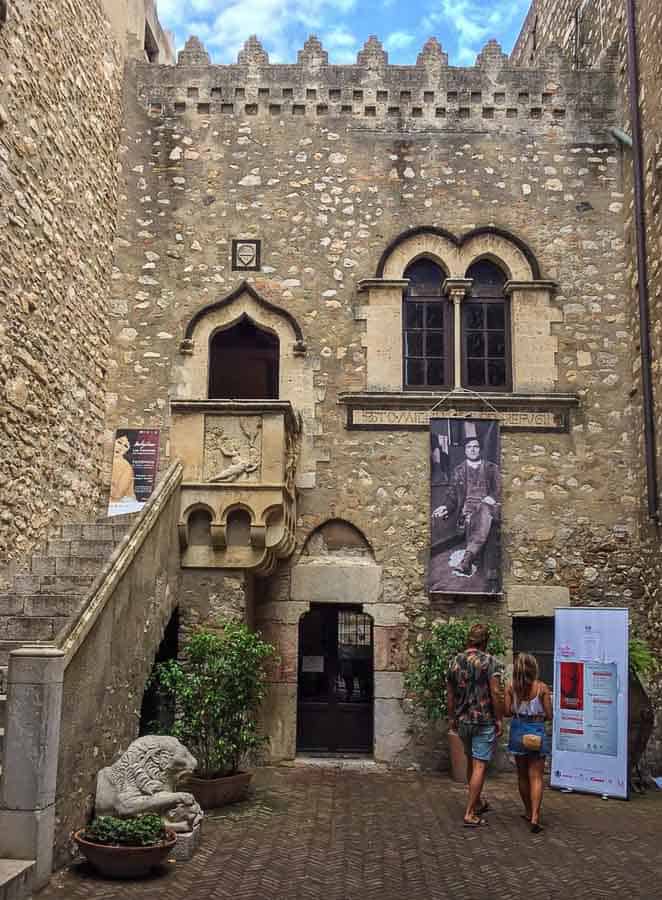 Today Palazzo Corvaia houses the Sicilian Museum of Art and Folk Traditions, where you see works by Sicilian craftsmen from the 16th to the 20th centuries.
4. Enjoy the Sea View From Piazza IX Aprile
One of the most popular places to hang out in Taormina is Piazza IX Aprile. This is a typical Sicilian square surrounded by many characteristic cafés and bars. What makes it very unique is the beautiful viewing platform that overlooks Mount Etna and the blue Mediterranean Sea.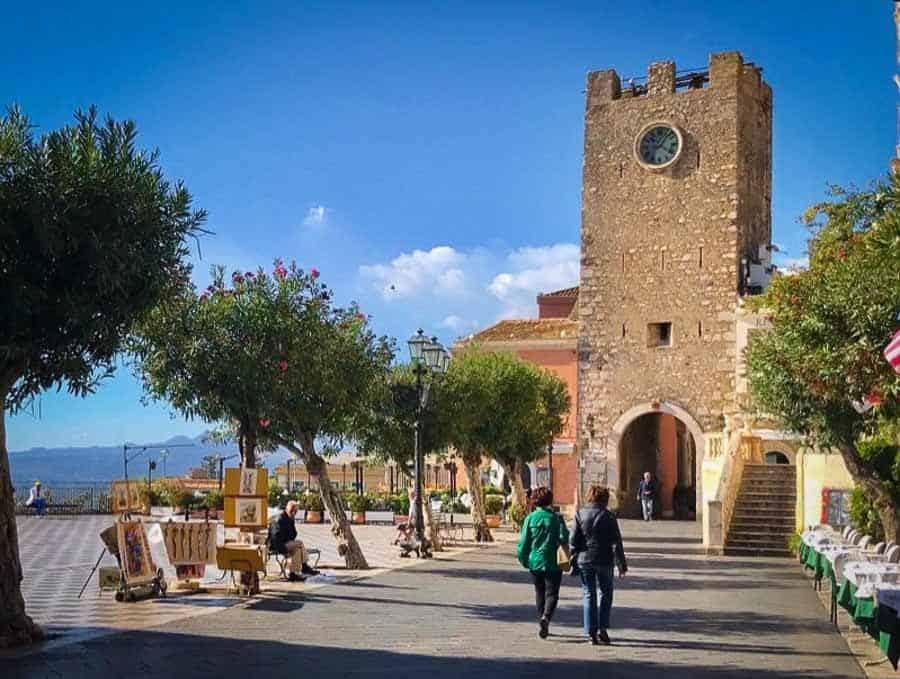 The black and white pavement is also very picturesque. Three of Taormina's most popular attractions are in this square: Torre dell'Orologio – Taormina's oldest clock tower, the Church of St. Augustine, and the 17th century Church of San Giuseppe.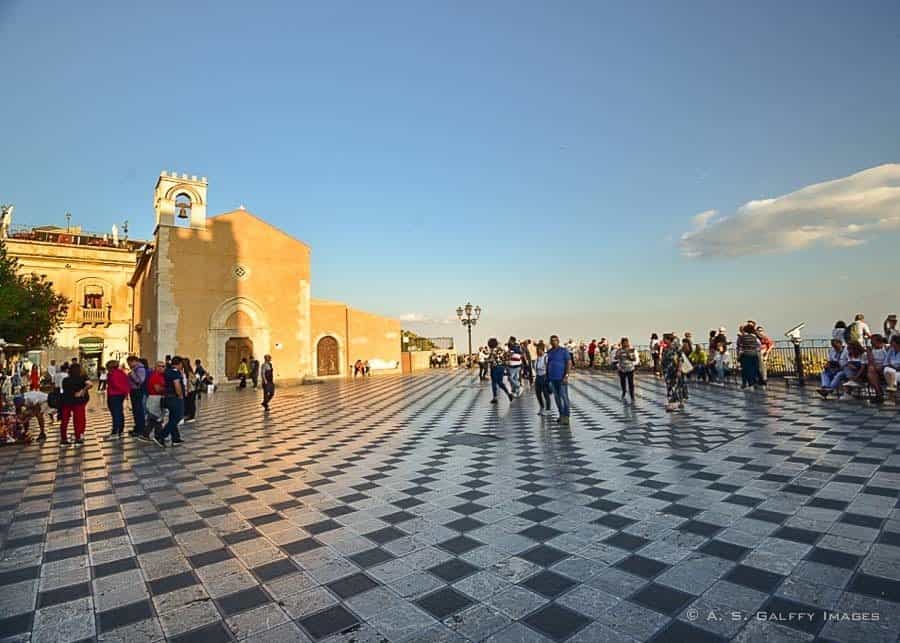 5. Go Window Shopping
There are plenty of stores in Taormina, mainly on Via Luigi Pirandello and Viale San Pancrazio. Just to make it clear, you won't find any bargains in this city. But that shouldn't keep you from entering the glittery souvenir shops and overpriced boutiques just to look.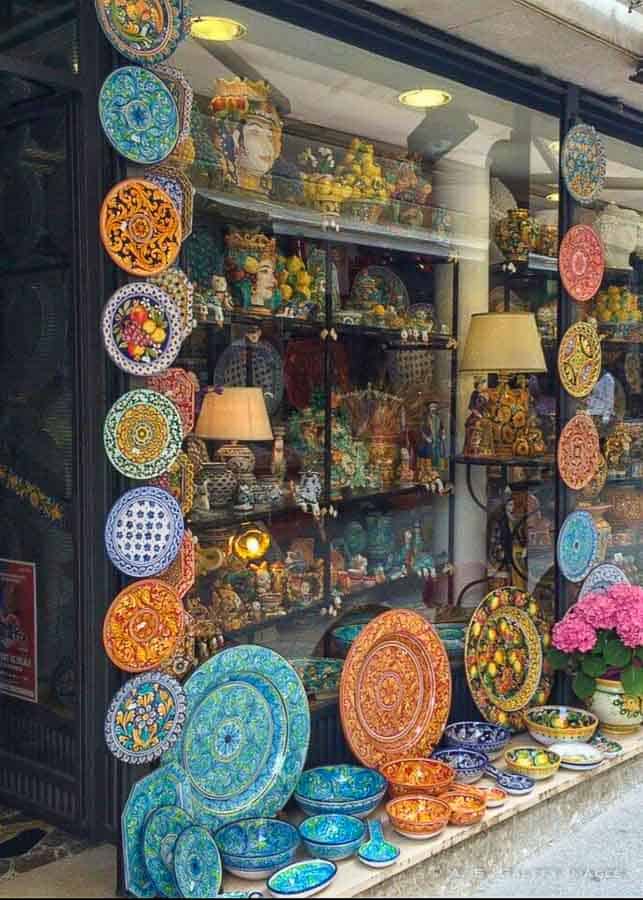 Antiques and pottery are the most common items you will find for sale in Taormina. Both are of excellent quality, but prices are high because of the fame of this place. If Taormina is not the only town that you'll visit on your trip, you may want to wait with your souvenir shopping. You'll make better deals in bigger cities like Palermo, or Catania.
6. Stop at Sant Agostino Church
The Church of Sant Agostino stands in one of the loveliest places in Taormina: the famous Piazza IX Aprile. The church was built in 1448 and dedicated to Saint Sebastian. According to the legend, Saint Sebastian miraculously saved the city from the plague. Later on, the church became a monastery of the Hermits of St. Augustine.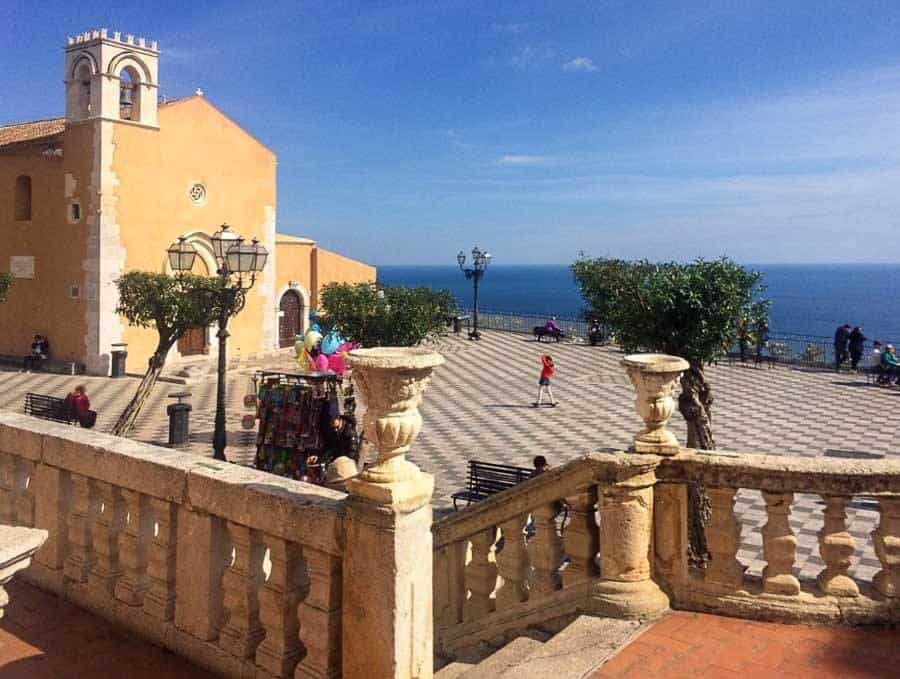 Sant Agostino Church was originally built in a Gothic style. In the 1700s the church underwent some major changes. This is when the crenelated bell tower and the arched entrance were added. Only the the small rosette window above the main door remained from the original church. Today Sant Agostino functions as a public library.
7. Visit Chiesa di San Giuseppe
Chiesa di San Giuseppe (the Church of Saint Joseph) stands near the famous Torre dell'Orologio in Taormina's main square. The Baroque style church was built in the second half of the 17th century as the seat of the Confraternity of the Souls in Purgatory.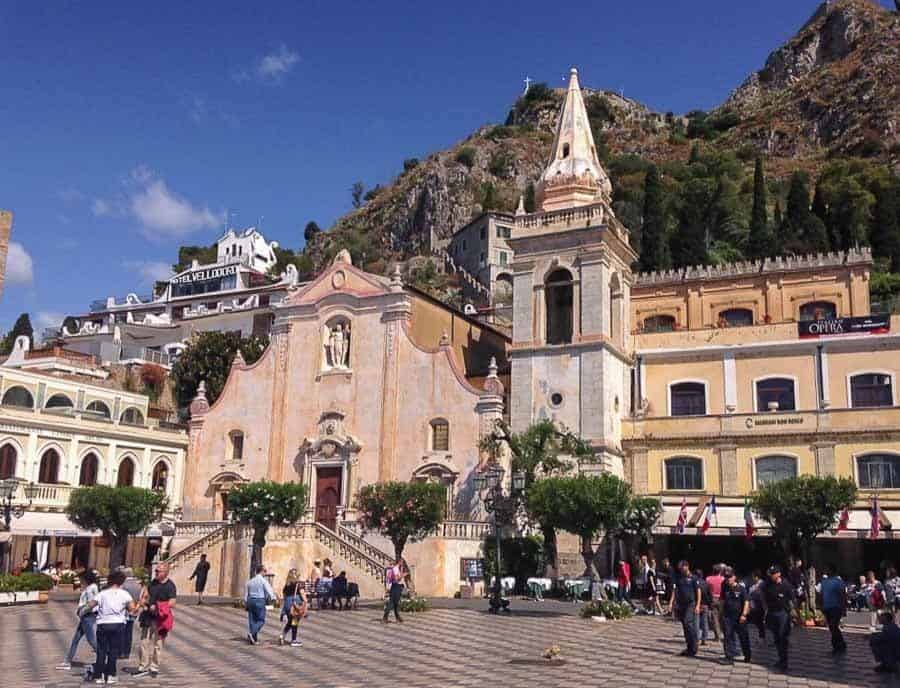 There is a majestic double staircase leading to the church's main entrance. Both the staircase and the front porch are fenced with a beautiful stone balustrade.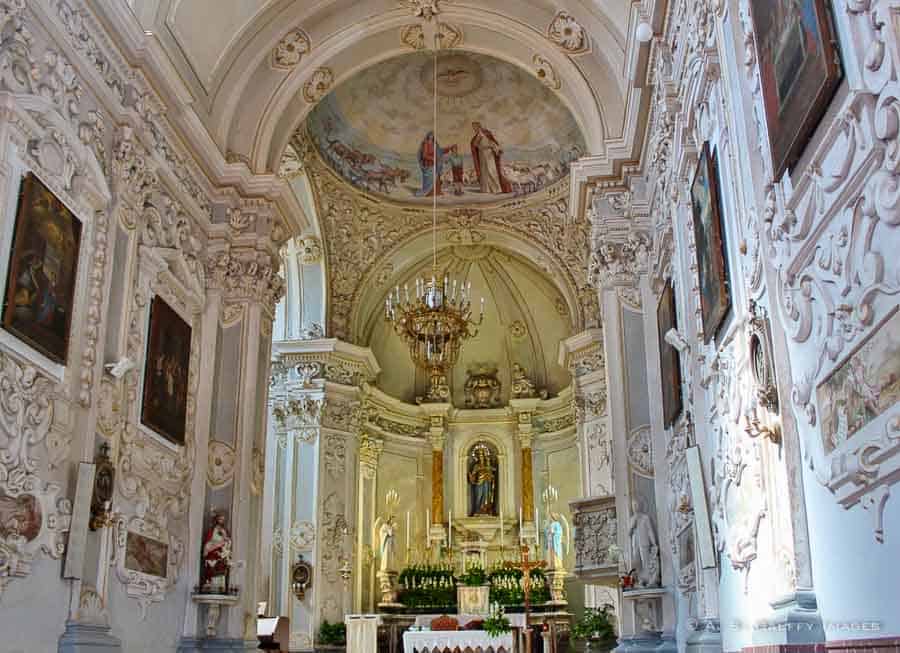 The church is very popular for weddings. It seems that people from all over the world come to Taormina to get married in the San Giuseppe Church.
8. Taste the Marzipan
Marzipan is an almond paste made with ground almonds, sugar, corn syrup, and lemon juice. The decorative deserts made of marzipan are an old tradition in Sicily, because Sicilian almonds are very rich in aroma and flavor. So make sure you try a piece of marzipan while you are in Taormina.
There are many pasticcerias (bakeries) in town selling a wide range of almond sweets, including beautifully made marzipan fruits, or chocolate with marzipan.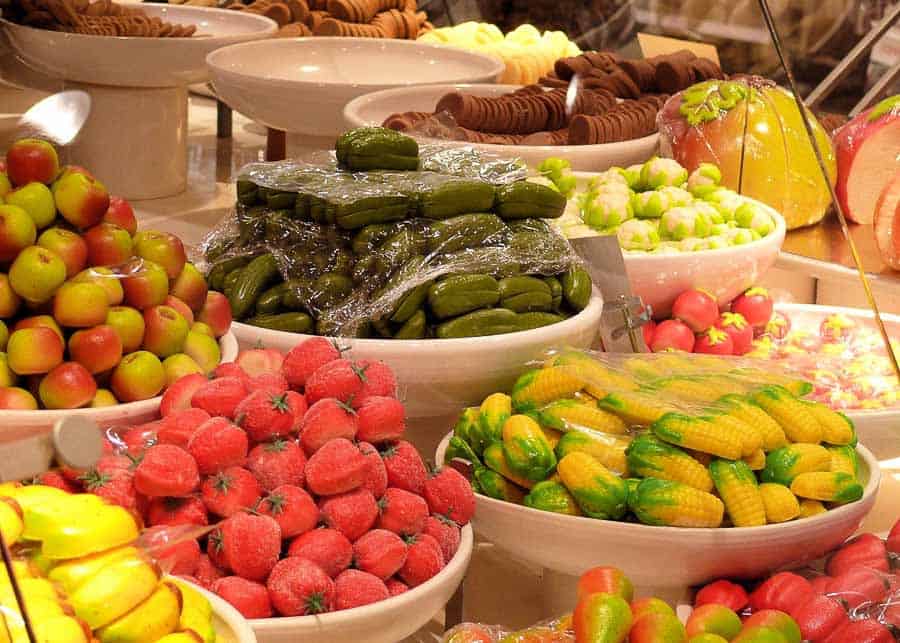 There are many varieties, including life size marzipan apples, strawberries and pears. You can also find smaller versions in gift boxes that make good take-home gifts.
9. Relax at Villa Comunale Municipal Park
One of the most refreshing things to do in Taormina is stroll through the shaded alleys of the Gardini Pubblici at Villa Comunale. The park was the creation of Lady Florence Trevelyan, a Scottish noblewoman who left her country after having had an affair with Edward VII, the heir to the throne of England.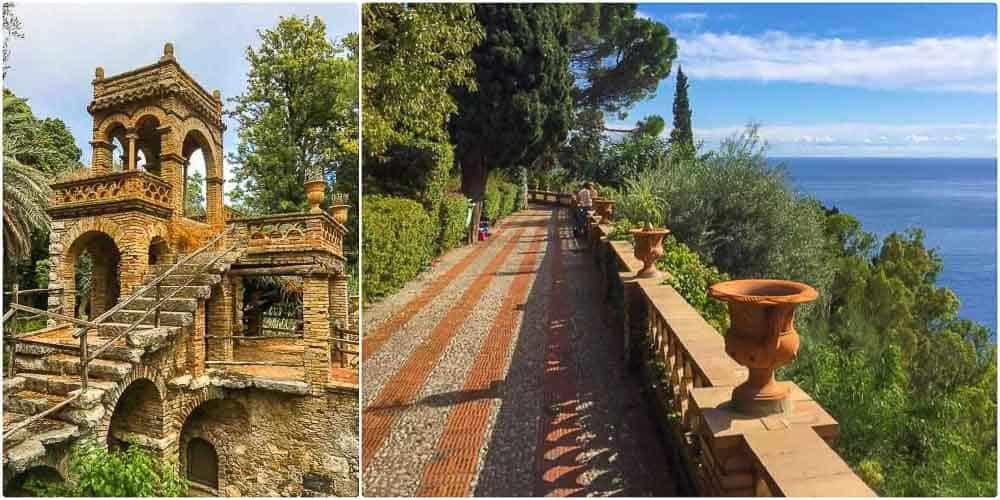 Villa Comunale sits on a high cliff that offers stunning views of the sea and Mount Etna. Its shaded alleys and lush, green vegetation are perfect for a stroll during the hot summer months.
10. Enjoy a Moment of Peace at Catedrale di San Nicola
Just off the main street, in Piazza del Duomo, you'll find the Cathedral of San Nicola also known as Duomo di Taormina. While this Duomo may not be as grand as the Duomo in Florence or other Duomos in Sicily, it's still a lovely church.
Founded by the Hohenstaufens in the 13th century and altered several times in the 15th to 17th centuries, it combines medieval and more recent features.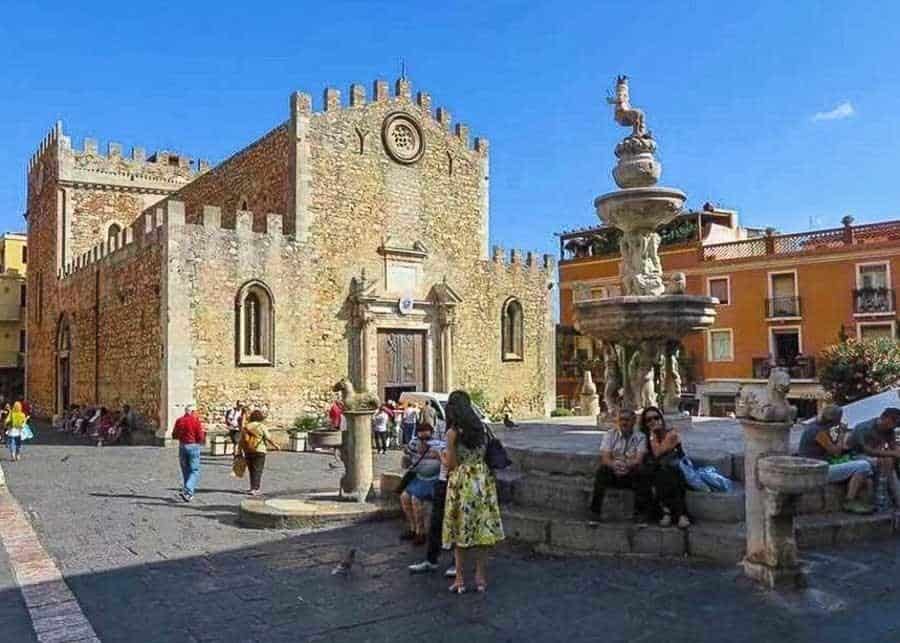 The interior is not particularly ornate, but the sense of calm inside is striking by comparison to the hustle and bustle in the street outside. There is a beautiful altar piece depicting the Last Supper.
Across from the church is a beautiful fountain where people usually stop to enjoy a moment of peace, while visiting this lovely little town. There are also some restaurants around where you can sit for a while too, while watching the world go by.
11. Eat at One of the Local Restaurants
Thanks to Etna's mineral-rich volcanic soil, Sicily grows some of Italy's finest produce: citrus, huge figs, pistachios, almonds, sweet eggplant, and porcini mushrooms.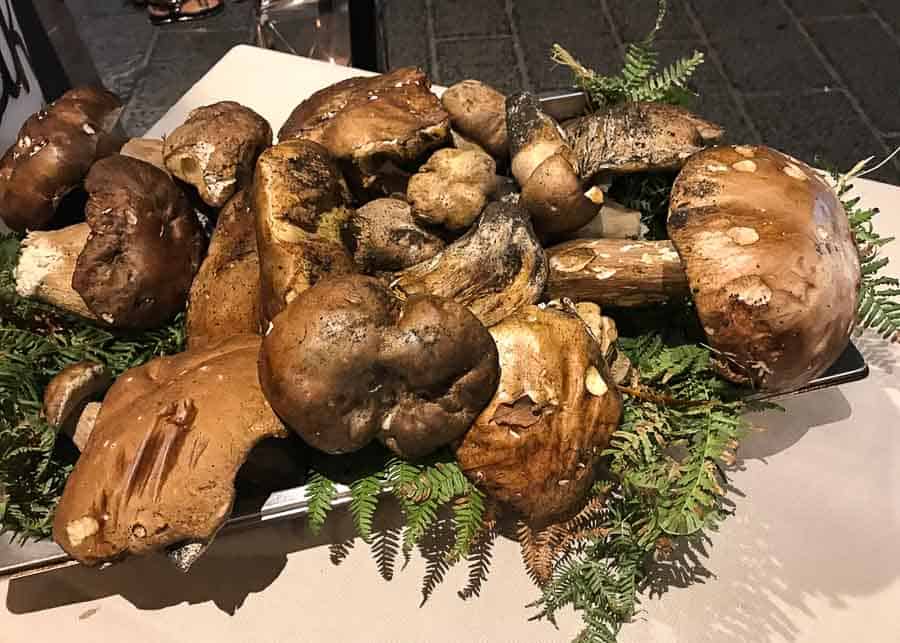 Add if you add to that the generosity of the sea (bass, swordfish, lobster, anchovies, sardines) and the skills of the Sicilian chefs, you'll realize you can't go wrong with the restaurants in Taormina.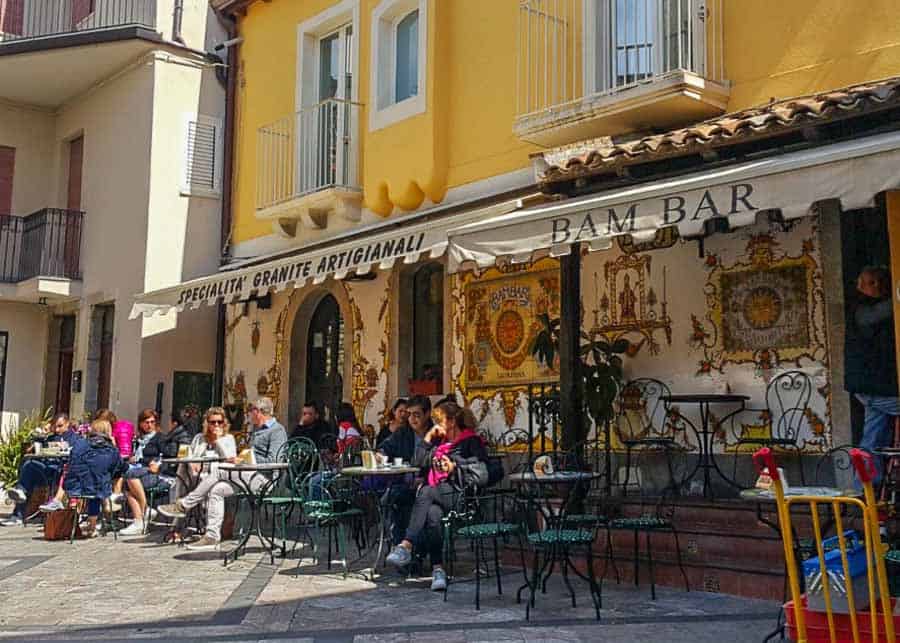 Some of the best places to dine in Taormina include: Maffei's, a family-run restaurant famous for al-dente pasta with sardines; La Botte's, famous for its wood-burning oven pizzas; Tratoria Don Ciccio, where you can sit out on the terrace and watch the busy life of Taormina.
12. Ride the Funivia (Cable Car) Down to the Beach
For just 6 euros round trip, you can take the funivia (cable car) from Taormina down to the beach. The cable car station is on Via Luigi Pirandello, just 3-4 min walk from Porto Messina/Corso Umberto.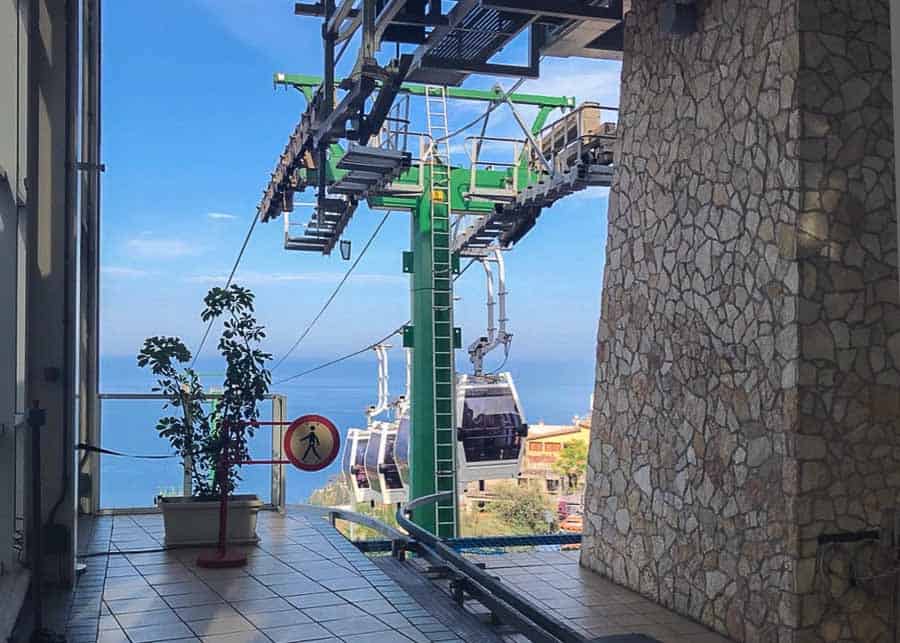 This scenic ride (too short) takes you to the street/stairs to Mazzaro Beach, which is really beautiful. Mazzaro is a pebble beach which is very rough on the feet. Make sure you wear your beach sandals if you go. It is however a lovely place to spend an afternoon! There is a restaurant right on the beach.
Things to Do Outside Taormina City Center
13. Explore Isola Bella
The area around Taormina enjoys many beautiful and diverse beaches. From sandy to pebbly and from small to big, you'll have almost every kind of beach in Taormina. Many of the beaches are free, but there are also some private lidos, with sun beds, umbrellas and seafront restaurants.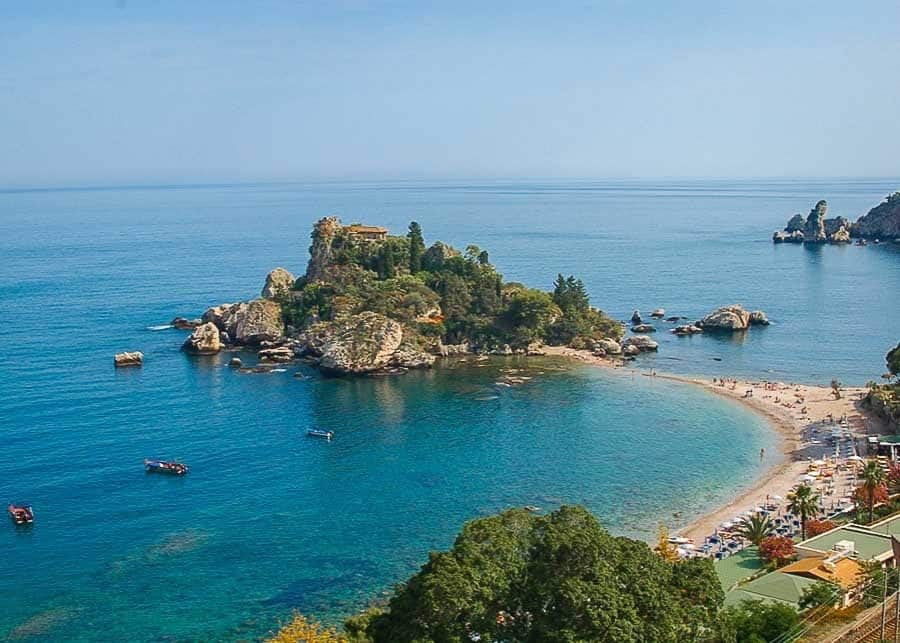 If you were to visit only one beach while you are in Taormina, it should be the one at Isola Bella. It's not much of a beach, just a narrow strip of land which links the islet to the mainland. This is however Taormina's most photogenic beach.
The beach is rocky and way too small for sunbathing, unlike the beaches in Sardinia which are wide and have very fine sand. But despite that, people crowd every inch of it. Towels are so close to each other, that it's almost impossible to step between them.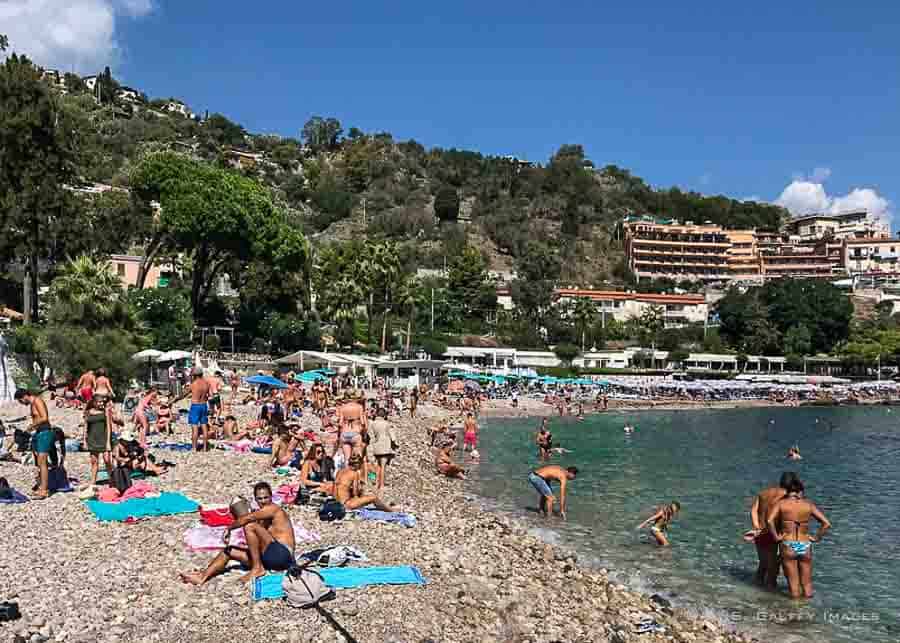 Isola Bella is home to several species of birds and a few types of lizards. Therefore the island has been designated a protected natural site. There is a €4 fee for visiting the islet, which was once the site of a fancy villa used by many celebrities.
14. Swim and Sunbathe at Giardini Naxos
Just a short distance away from Taormina (8.9 km) you'll find the beautiful beach resort of Giardini Naxos. Here you can relax on the beach, go for a walk along the beach promenade, shop, or use the opportunity to do different sport activities. There is also a small archeological park that you can visit here.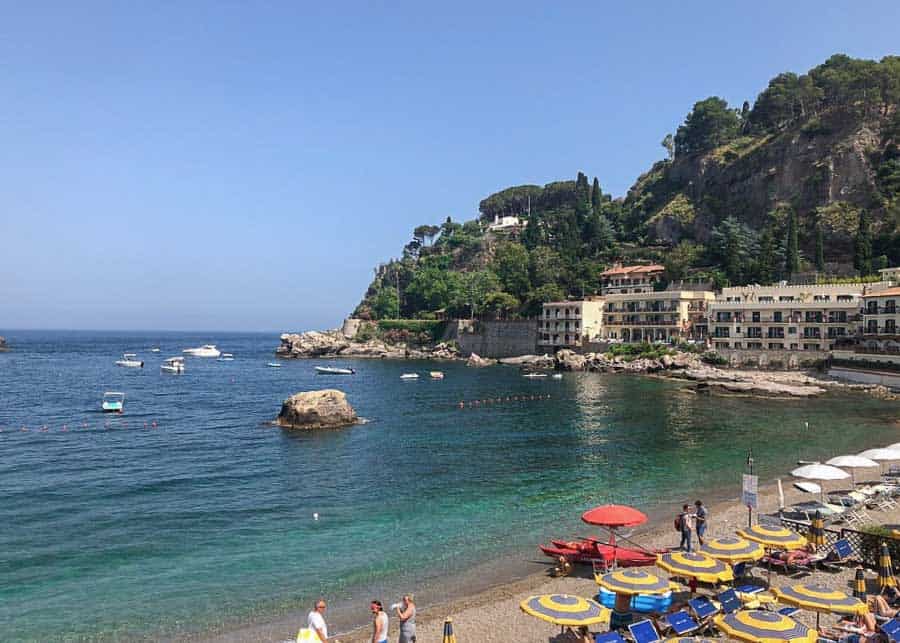 The resort is more low-key than nearby Taormina, but also less expensive. If you want to be close to Taormina but want something cheaper this is a good place to use as a base.
15. Visit the Shrine of Madonna della Rocca Church
Madonna della Rocca earned its name because it was built in a rock. The church of was founded by Abbot Francesco Raineri around 1640.
The origin of the Sanctuary of Maria della Rocca is rooted in a legend. The story says that a young shippers who was feeding his flock on this mountain was caught up in a big storm. Scared by the lightning, he took refuge in a cave nearby.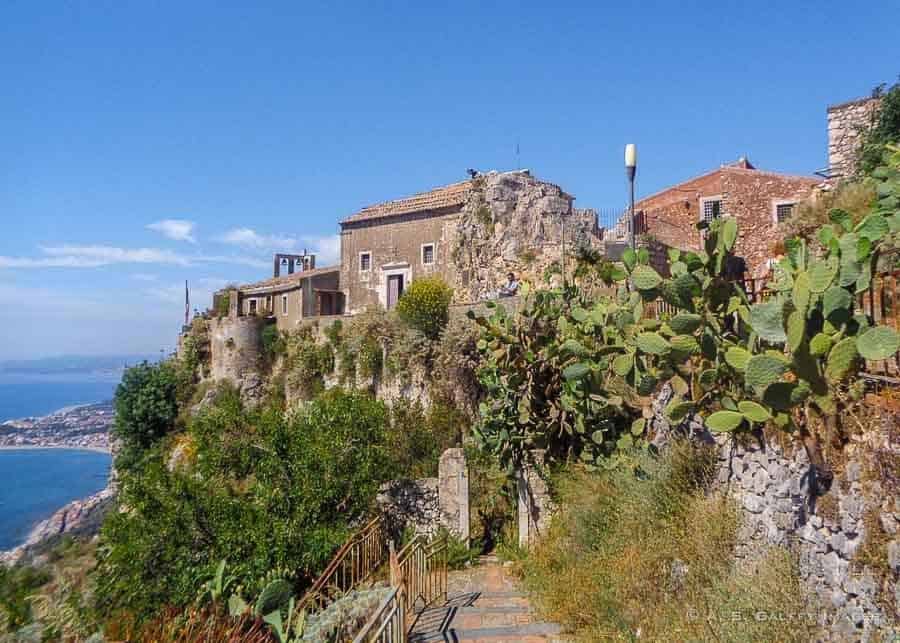 As time passed, the storm got worse and worse, so the poor boy was very discouraged. But he discovered a lady dressed in blue sitting next to him. She reassured him that the sun will come up soon.
After the storm the boy went home and told his parents. Curious villagers came to see the cave and discovered the lady dressed in blue, which was in fact the Madonna. They built a shrine there and named the place Madonna della Rocca.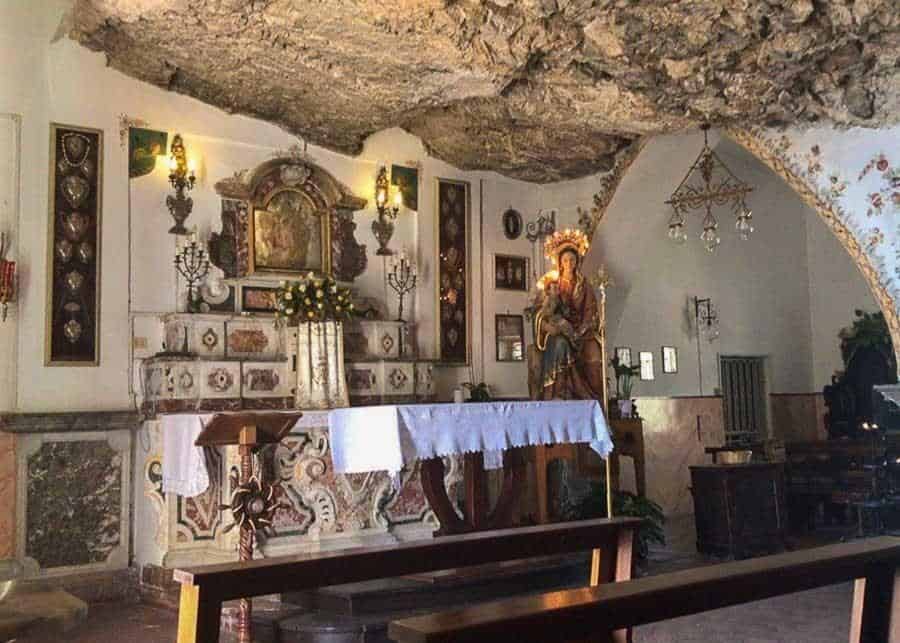 The Shrine of Madonna della Rocca is very modest and rustic, but its location is very beautiful. Behind the church there is a small hermitage that has been abandoned from a lot of years.
16. Explore the Village of Castelmola
Hanging on a mountaintop just 4 km above Taormina is the quaint village of Castelmola. This charming medieval town is largely ignored by most visitors to Taormina, although it's only 15 minutes away from the city. If you do not have a car, you can reach Castelmola by cab or by bus, which is what most visitors do.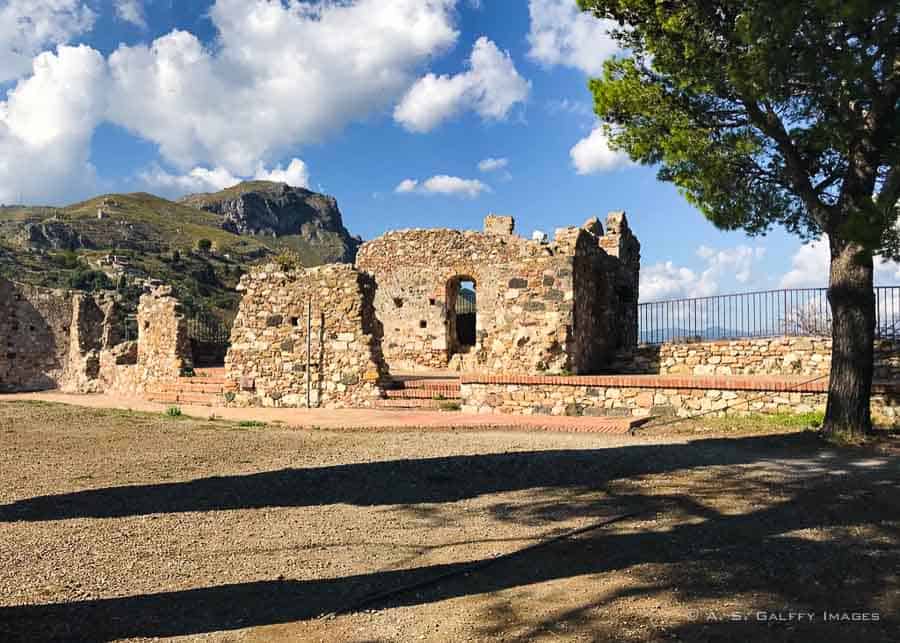 Castelmola was built to protect and defend Taormina from invaders. Once you get up there and see the unparalleled views of Mount Etna and the entire bay below you understand why this was a great strategic point. But the sweeping views are not the only good surprise in this sleepy Sicilian village.
The remains of a Norman castle will take you to the very top of Mount Tauro above the village. While there is not much remaining of this fortress, one can just imagine how grand it must have been in its time of glory. The 360-degree views from here make the short climb worth the effort.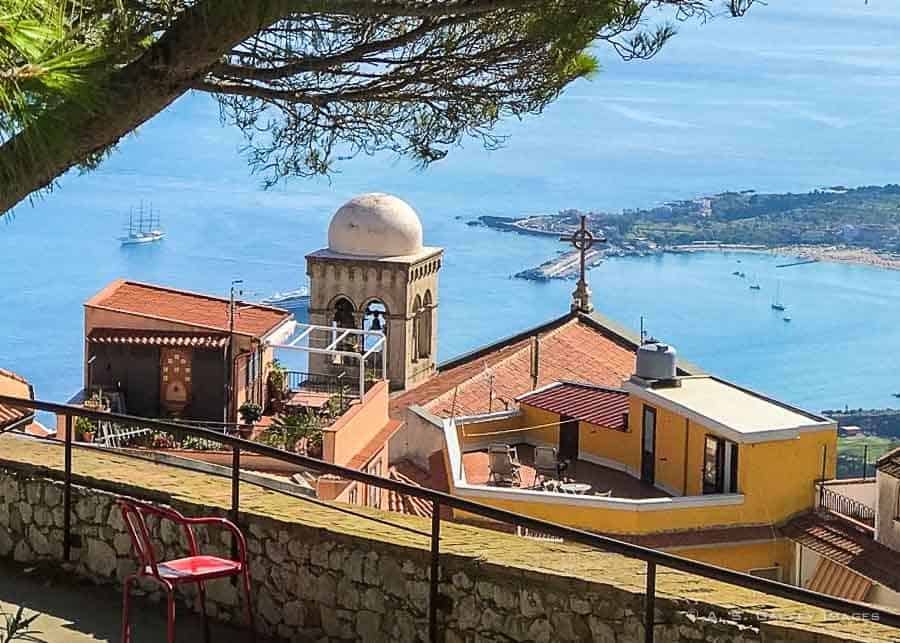 While visiting Castelmola, don't miss the small yet interesting Church of St. Nicholas of Bari, dating back to the 16th century. The current church was rebuilt in 1935.
Best Time to Visit Taormina
Spring is probably the best season to visit Taormina. From April to June the weather is perfect, with lots of sunshine and relatively warm beaches. Starting mid May you'll encounter more tourists, but March and April are ideal if you want to enjoy Taormina without crowds. Spring temperatures are medium to high and chances of rainfall are higher than in summer.
Sicily (thus, Taormina), enjoys long summers that sometimes start from much earlier than June, making the island an ideal place for summer vacations. Summers are quite hot in Sicily though, so July and August may be quite bad if you don't enjoy the heat.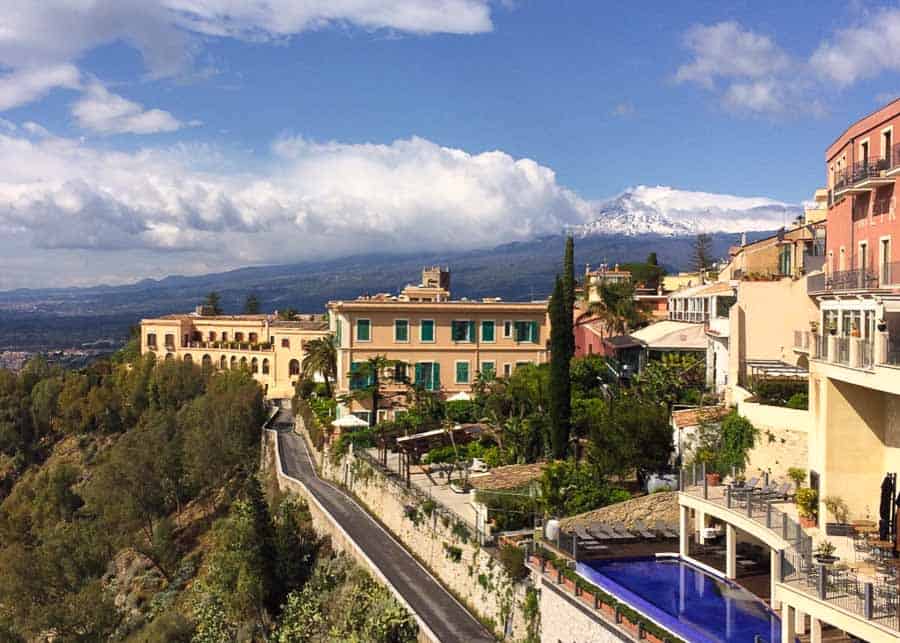 Fall is also a good time to travel to Sicily, especially September – October. Summer heat starts going down and the number of tourists decreases considerably.
Winter temperatures may be nice for walking around, but definitely not for the beach. Also, not ideal for photography as you'll have less sunny days and the sky may be overcast.
Where to Stay in Taormina
You'll find a wide variety of accommodations in Taormina, ranging from small B&Bs, to long-established luxury hotels. Because it's one of Italy's most popular tourist destinations, prices tend to be generally higher in Taormina than they are elsewhere in Sicily. There are also cheaper options, but they sell out fast. It pays to plan and book well in advance if you want to find the best affordable options.
Where to stay in Taormina really depends on what kind of vacation you're planning to have, as well as your budget. If you want to spend a lot of time at the beach, it's not point in booking a hotel in the historic center, which is more expensive. You'll find plenty of accommodations by the sea in resorts like Giardini Naxos, where prices are actually lower.
Book hotel accommodations for Taormina here
On the other hand, if you only plan to spend only a few days in Taormina and visit the town's attractions, you'll be better off with a place in the historic center.
One thing to keep in mind when booking accommodations in the city center is that if you come to Taormina by car you'll have to park it at the entrance of the city. Taormina historic center is entirely pedestrian.
If you enjoyed reading this post, please pin it to help other travelers to Taormina