Lake Como has the fame of being the playground of the rich and famous, but is it really so expensive? If you never visited Italy's famous lake, you may be wondering what to do in Lake Como if you don't have a lot of money.
Lake Como is undoubtedly one of the most popular destinations in Italy, but its popularity didn't affect its affordability. Unlike its Swiss neighboring towns like Zermatt and St. Moritz whose prices are through the roof, visiting Lake Como will not dig a hole in your pocket.
Lake Como's Claim to Fame
Lake Como has always been a magnet for the elite, even before celebrities like George Clooney discovered it. Noble families, artists, royalty, world leaders and the cream of Old Hollywood visited Lake Como since before World War I. But until Clooney's real estate purchase, Lake Como was not on the radar of mass tourism.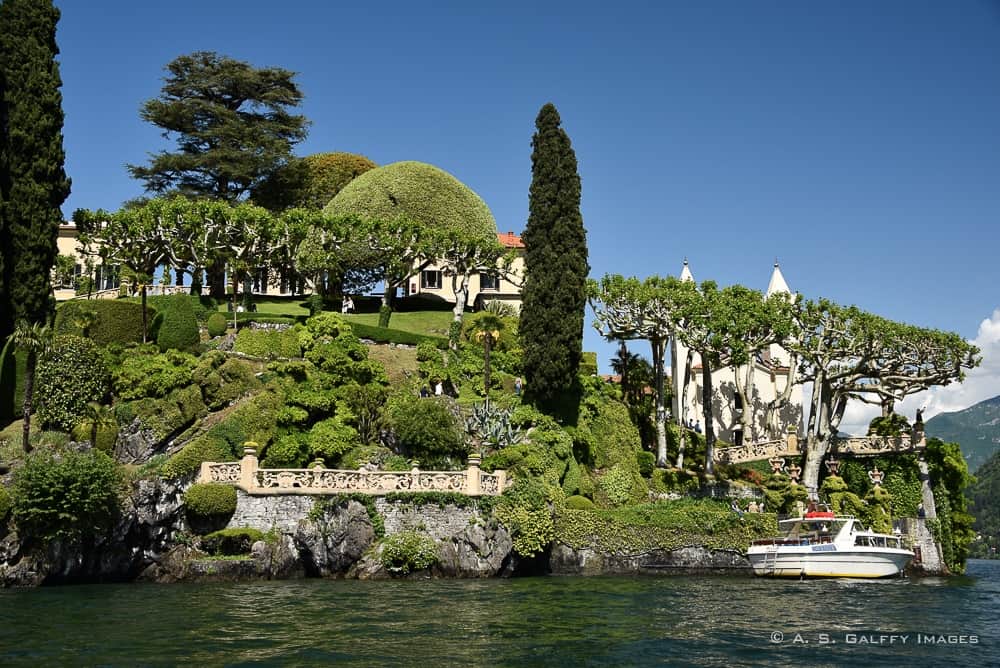 Now that Lake Como became part of almost every Italy itinerary, the locals started complaining about how crowded their paradise has become! They remember a time when sail boats were gliding on the lake and people were walking undisturbed on the narrow roads of the villages.
Today, the newly rich race their speed boats on the lake and hoards of tourists crowds the town's small squares. So it's no wonder that in a very short time the scenic Lake Como became one of Italy's best places for wedding photography.
First Impressions
Lake Como is one of those places that make you feel like you are in a dream. A perfect mix of scenery, culture and seduction. Quaint villages, elegant villas and snow-capped mountains. It is hard not to fall in love with it!
The Lake is stunningly beautiful, with sapphire waters, lots of vegetation. The subtropical climate make it a perfect retreat at any time of year.
What to Do in Lake Como on a Budget
In the last 3 decades, Lake Como grew into one of Italy's most luxurious destinations. Truly the playground of the rich and famous! After seeing the many attractions in Lake Maggiore, I was wondering if I'll be able to afford anything in Lake Como.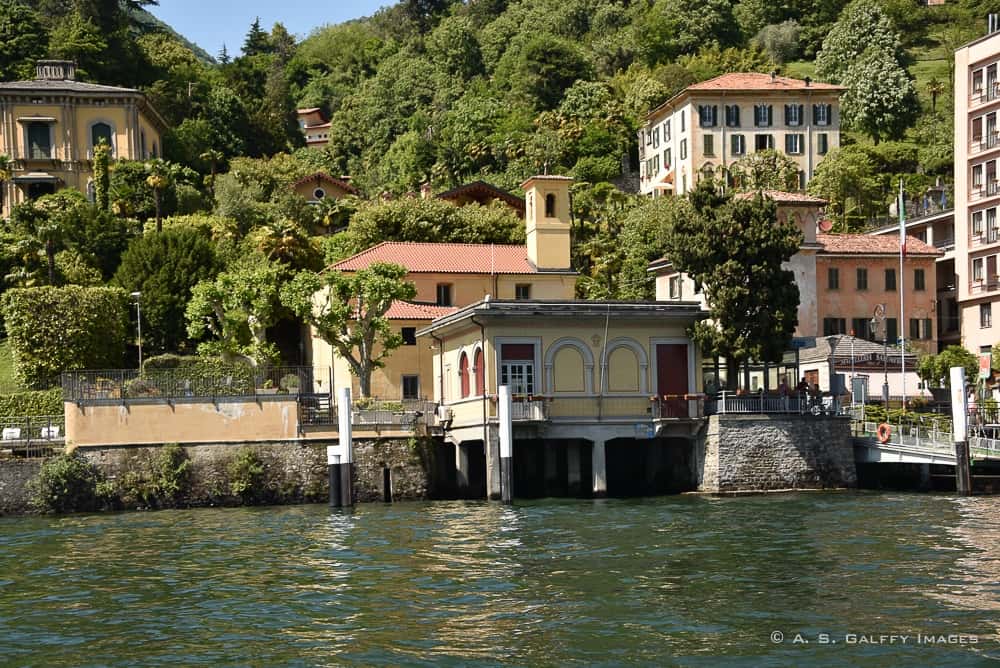 The good news is that Lake Como is not an unreachable dream for those who want to visit it but don't have a lot of money. In fact, there are quite a few affordable tours of Lake Como from Milan, if you're interested in exploring the lake's historic sites. So here is what you can do in Lake Como on a budget.
Visit Villa Balbianello
Located on a promontory that sticks out into the Lake, this magnificent 16th century villa can be reached by boat or by car. Villa Balbianello is known for its picturesque gardens that only display flowers and shrubs in the colors of the Italian flag: green, white and red.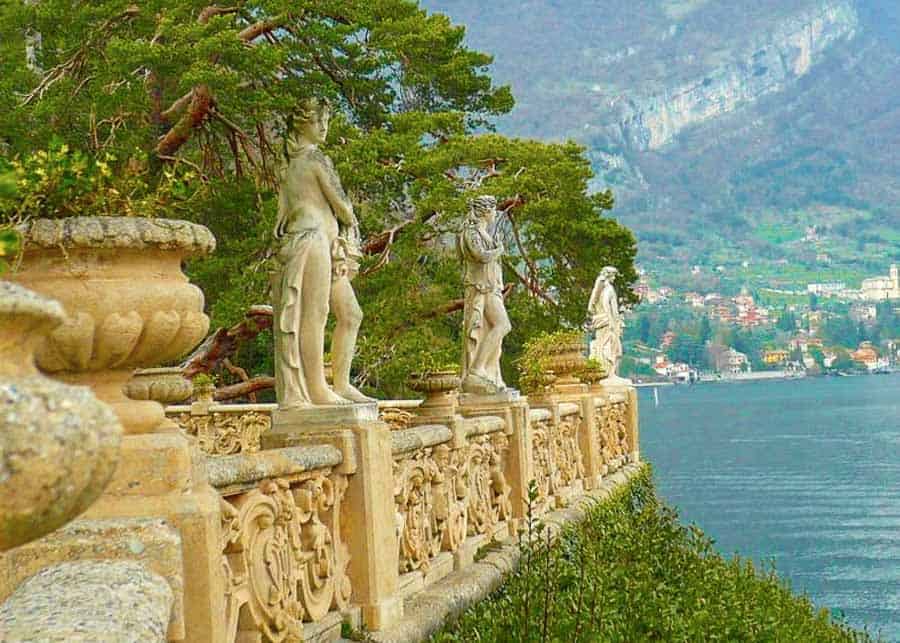 The terraced gardens open out onto the lake and from where you can see for miles across the lake. But aside from the gorgeous views, the villa itself has some amazing architecture worth seeing.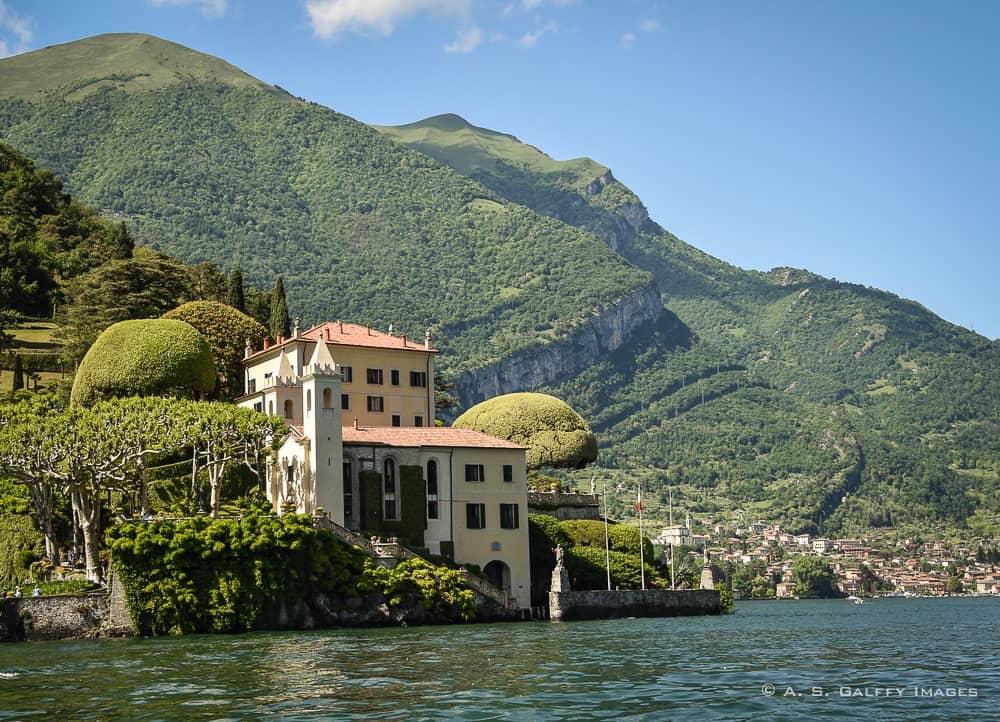 If Villa Balbianello looks familiar it is because it was the location of many James Bond movies.
Admission prices for Villa Balbianello are:
For Gardens only:
Adults – 10 Euros
Children – 5 Euros
Villa and Gardens:
Adults – 20 Euros
Children – 10 Euros
There is a separate charge for using your camera
Sit and Relax on the Lake Shore
One of the best things to do in Lake Como is simply sit, relax and take in the beauty. There is hardly a place in Europe that evokes more charm, glamour and tranquility than this lake.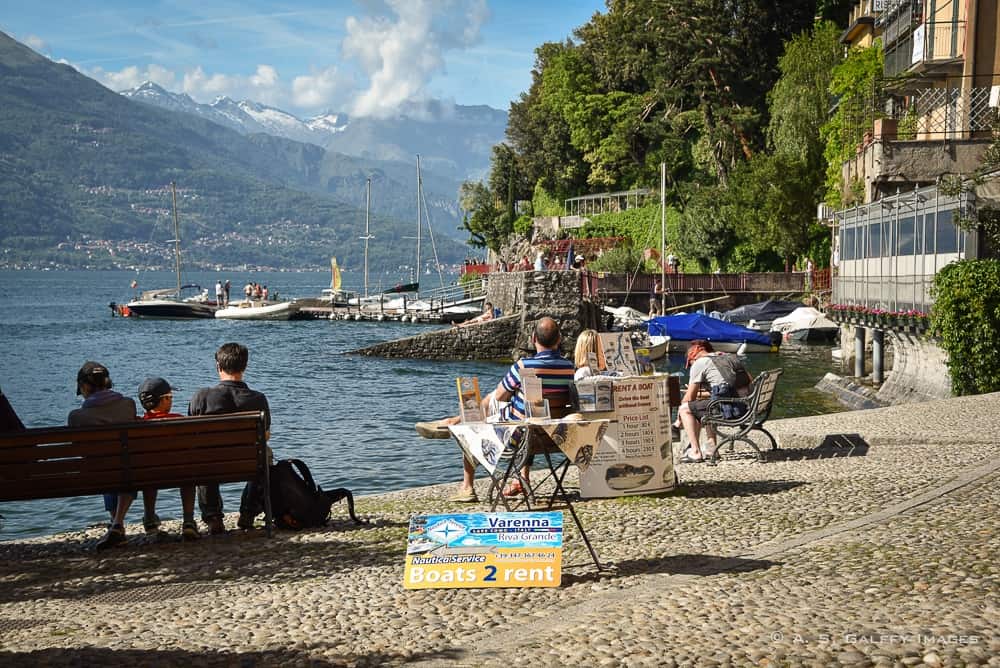 The azure lake waters, green ridge hills and romantic villas covered in bougainvillea offer such a relaxing landscape! Take time to enjoy this majestic scenery.
Explore Some of the Towns Around the Lake
There are quite a few beautiful towns worth visiting around the shores of Lake Como, so here the ones that you shouldn't miss:
Bellagio
Bellagio is often referred to as the Perl of Lake Como. The town enjoys a picture-perfect location, on the promontory where Lake Como separates into two branches. Bellagio has a beautiful waterfront promenade, some high-end hotels and many fancy boutiques and restaurants. You only need a couple of hours to walk through its picturesque old town center.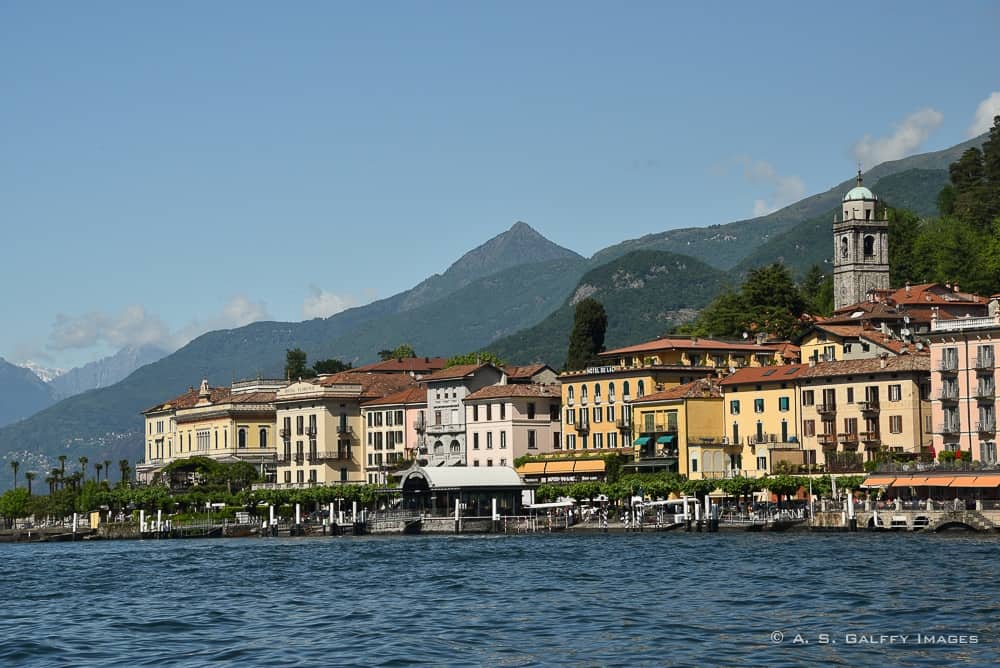 Como
Located at the southern end of the lake, Como is a lively little town with an appealing historical centre and a scenic location. The town has a very impressive cathedral (Duomo) that dates back to the 10th century. The town's art gallery (Pinacoteca) is also worth a visit. And while you are in Como, don't miss the the funicular trip up to the top of the hill from where you can enjoy a gorgeous view.
Menaggio
Menaggio sits on the western shore of the lake and is a good base for exploring area, with good bus and ferry connections. The town is very popular especially because of its elegant lake promenade and beautiful center.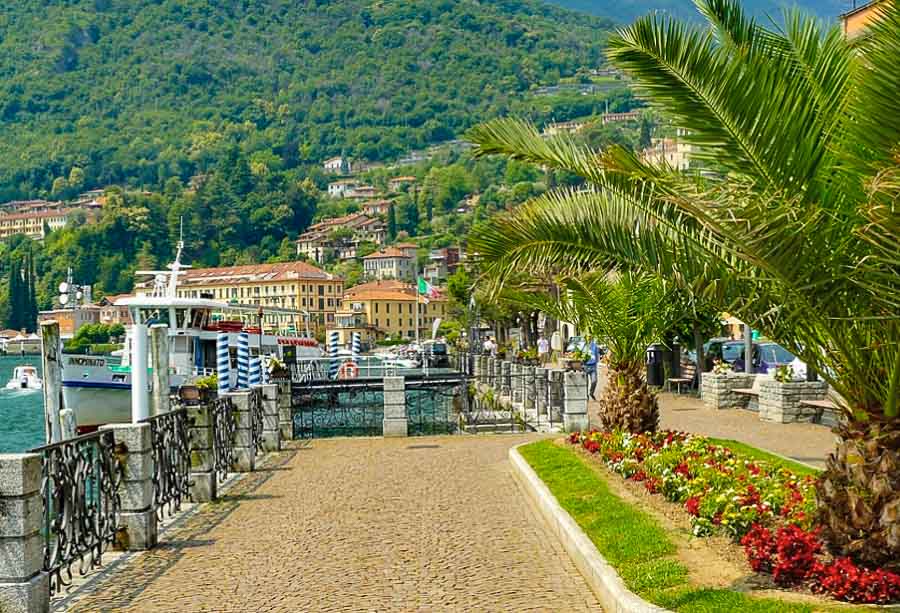 Varenna
Varenna is another good base for visiting Lake Como. I liked Varenna a lot! I think is the most photogenic of all the towns around the lake. The town smaller, quieter and more romantic than Bellagio.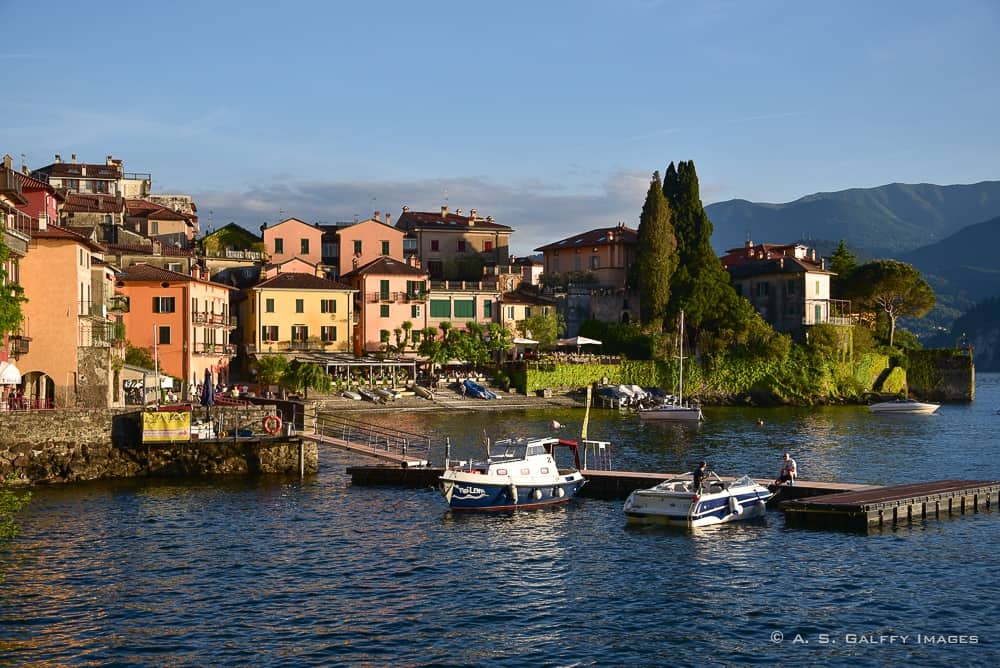 It is a very picturesque little village, just the right size for a relaxing vacation. It has a train station, a boat dock, a church and a small square. There are several lakeside cafés and restaurants in the harbor, most of which are very affordable.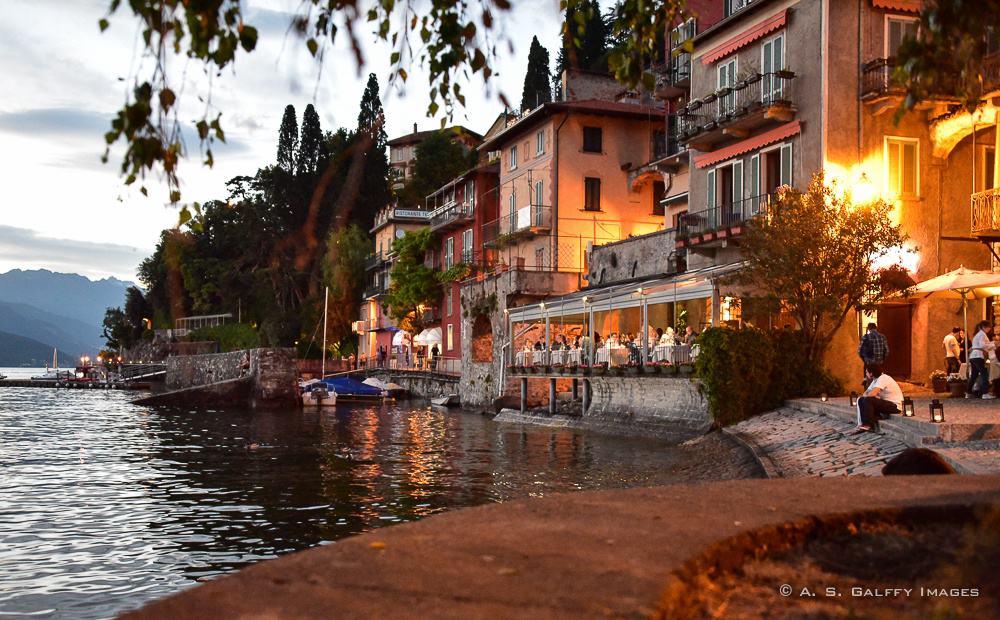 Take a Boat Ride
The best way to admire the gorgeous scenery and the resorts around the lake is from the water. There is nothing more relaxing than cruising around the lake in a boat. One option is to take one of the many ferries that cross the lake daily and stop in all the major towns.
For those a little more daring, there is an even better alternative: rent a motorboat and drive yourself around the lake. You don't need a license for that, but you need to have some some basic knowledge about boats, like how to start or stop the engine, steer the boat, or dock it.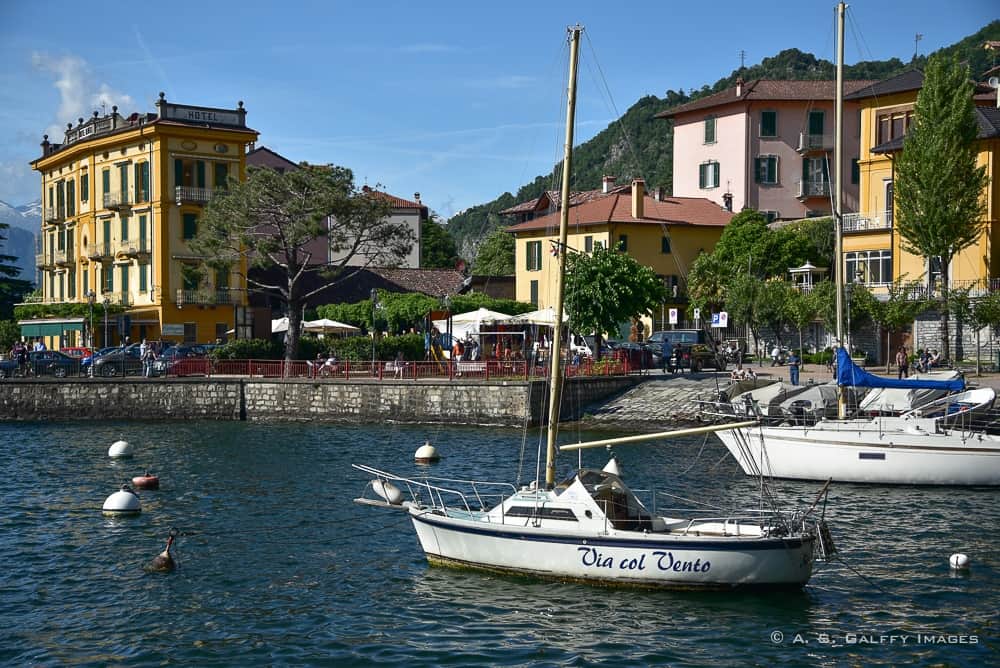 We rented a boat in Varenna and spent and entire day on the Lake. It was it May and the tourist season was just beginning, but the weather was absolutely perfect. We passed by many beautiful towns, but stopped in Bellagio, Lecco and Menaggio.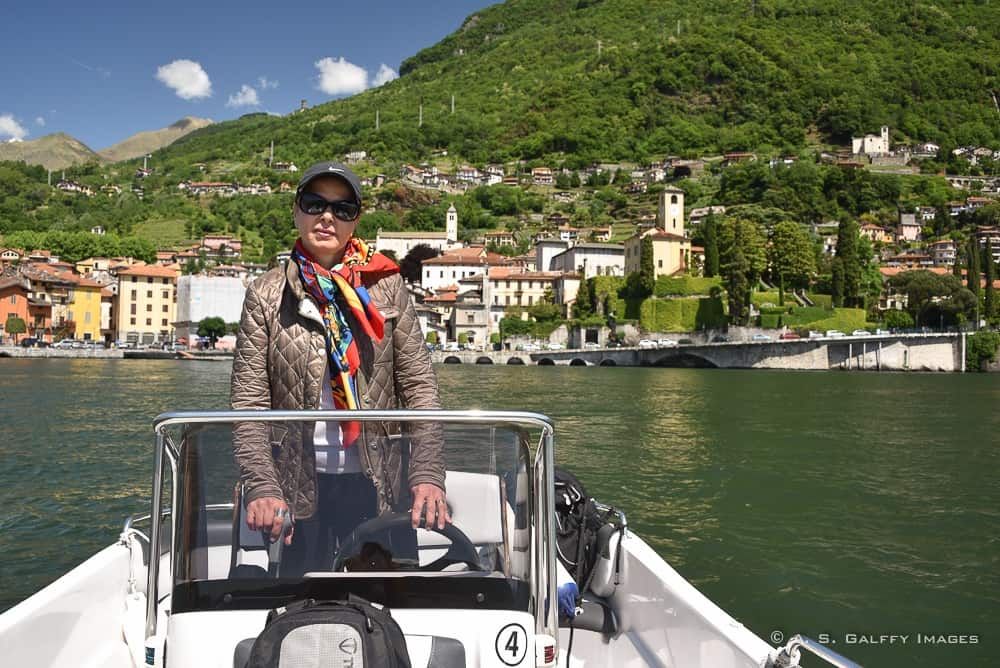 Lake Como abounds with small businesses that rent out clean and well performing boats, that you won't have any problems driving. The guys are very friendly and speak good English. You are allowed to take the boat wherever you want around the lake and can dock wherever you find a public dock.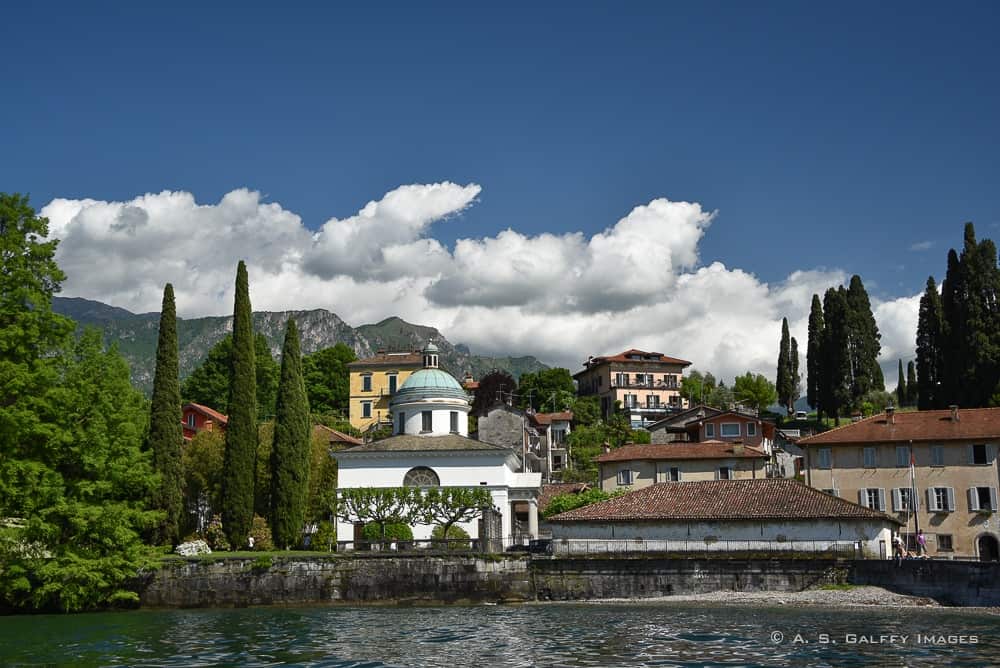 Visit a Farmers' Market
I can't think of a better way to experience the local way of life and the fresh produce of the region that visiting a farmers' market. On the weekends in Como, the Piazza Cavour hosts a local farmers' market. Here, you can enjoy cheese and wine samples, full lunches for very cheap prices and the freshest produce.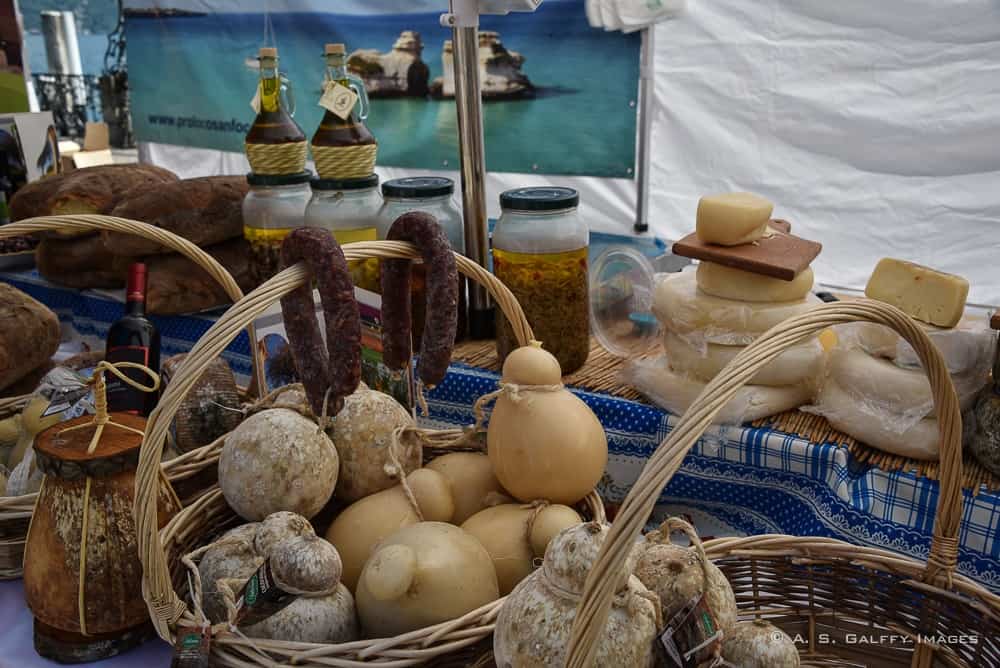 If you are interested in local crafts, clothes, hand-made soaps and other interesting objects, you should visit Piazza San Fedela, right in the heart of the city center
Try Some Local Dishes at One of the Restaurants Along the Shore
Italian food, anybody? Yes, please! Especially in one of the charming restaurants along the shores. You may think you already know what to eat in Italy, but here are some specialties that you should try in Lake Como, like the Risotto con Filetti di Pesce Persico (Perch With Risotto), Brasato di Cinghiale Selvatico (Braised Wild Boar), or Missoltino (Sun-Dried Lake Shad). You won't regret it!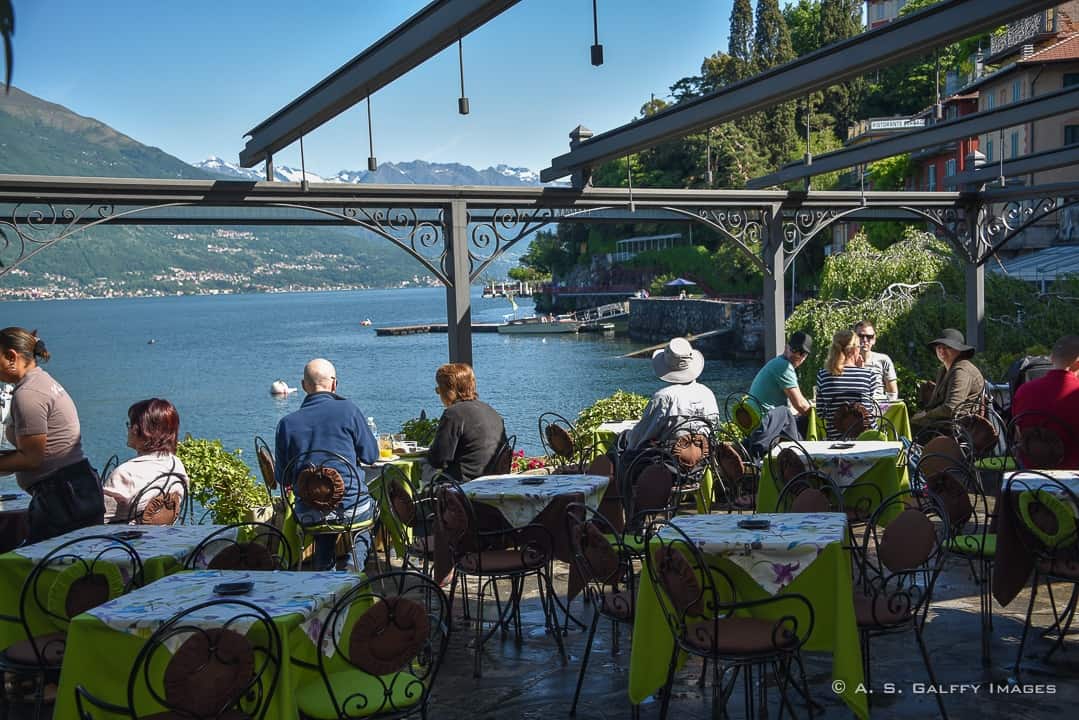 Many lakeside restaurants have their own docks where you can dock your boat and enjoy lunch or a drink, in case you rented a boat for the day. Or you can simply take the ferry and stop along the shore in one of the many towns.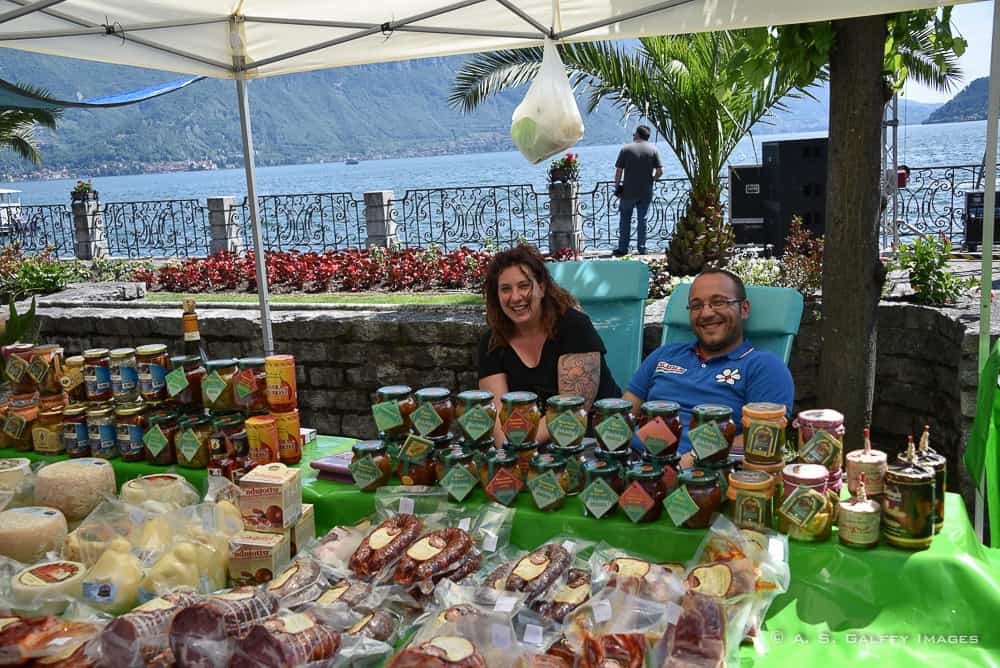 How to Get to Lake Como
We arrived in Como from St. Moritz, after finishing our Glacier Express tour in Switzerland. The lake is actually very close to the Swiss border, so we came by car. Most visitors arrive here from Milan, which is only 50 miles south.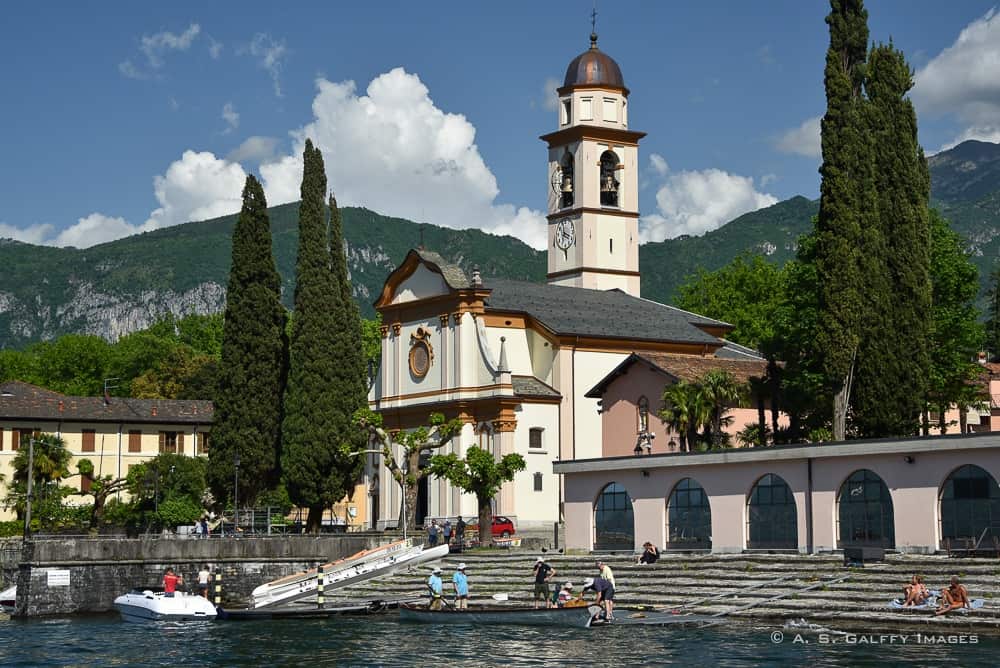 By Car
If you are coming from the north, such as Lugano, Switzerland, take Route 2 to Como. From the south, which includes most of Italy, you can take the A9 Autostrada which connects Como to Milan.
By Train
The main train station in Como is called Como San Giovanni. Trenitalia operates between Milan and Como every half hour during the week. The trip takes approximately one hour. If you come from other parts of Italy, you'll have to change trains in Milan to get to Como. Coming from Switzerland, Swiss rail lines operate trains from Lugano to Como a few times daily.
By Bus
Regular buses operate to Como from all over Italy and the rest of Europe. Also like the train, most buses will pass through Milan before going to Como. From Milan, about six buses depart for Como per day, and the trip takes approximately half an hour.
You can also visit Lake Como with a guided tour:
Where to Stay in Lake Como on a Budget
There are many beautiful towns around Lake Como where you will find affordable lodging. We stopped in Varenna and settled at Eremo Gaudio, a small hotel that clings to a bluff, just above the lake. The room was small and very modest, but the view was worth a million bucks!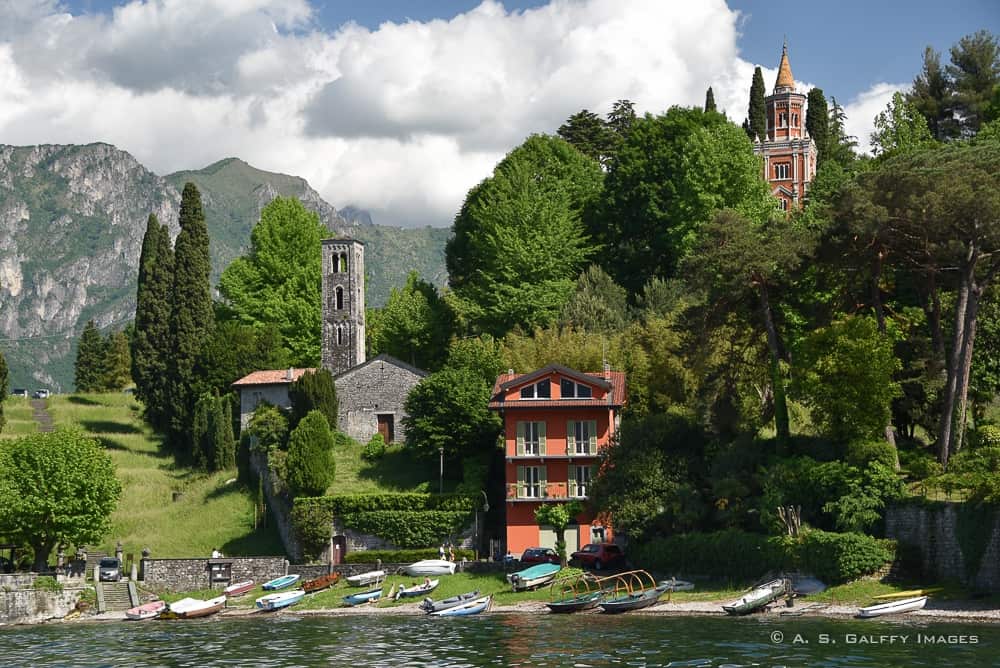 Varenna is a great home base for exploring the area around. Other affordable hotels in Varenna include Albergo_Beretta Hotel, Casa Stacy, and Casa San Giorgio. You can also check AirBnb, or VRBO for lower price accommodations.
Getting Around Lake Como
Bus service is a great way to move around Lake Como as most of the towns around Lake Como are well connected by the local bus service. The bus stops are just outside the main train stations.
Taxis are faster, but definitely more expensive than busses.
In my opinion, the best way to move around Lake Como is by boat. You can use the ferries to cruise the lake, or just reach your favorite destination like Bellagio, Varenna, Como, or one of the historical villas on the lakeshore.
Please pin this for later: