If this is your first time in Bucharest and wonder what to see and do here, you've come to the right place. As a former Bucharester, I always take pride in talking about my place of birth. Although I now live very far away from it, I believe there are many good reasons to visit Romania and its beautiful capital. In this article I'll give you an overview of the best things to do in Bucharest if you want to have fun. I will also give you tips on what to eat and where to stay when visiting the Bucharest.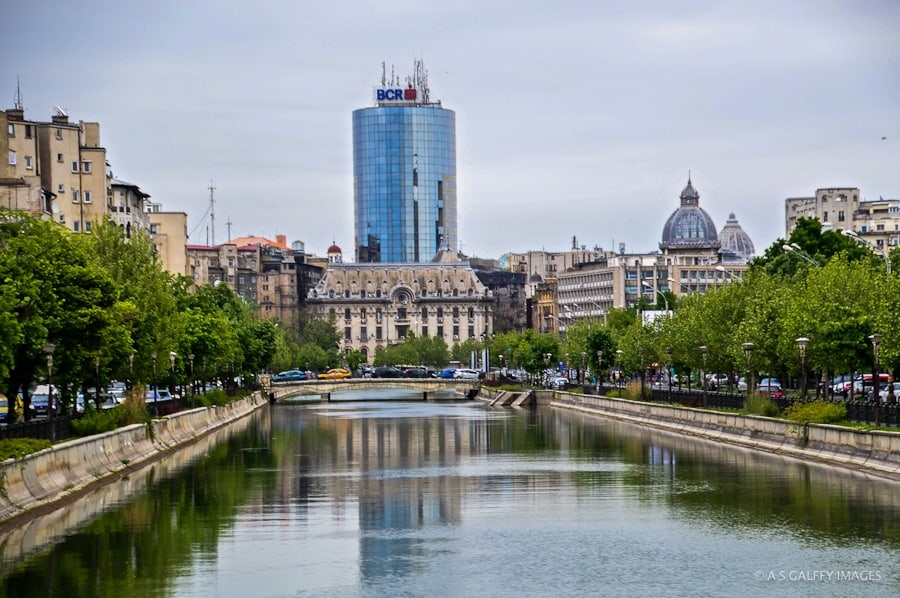 How Many Days to Spend in Bucharest
Despite being the fourth largest city in the European Union, after Berlin, Madrid, and Rome, Bucharest is not difficult to explore. The points of interest are concentrated within a relatively small area, so you'll probably be able to visit them in two-three days.
If you don't have any reason to leave early, you should plan on spending at least 2 days in Bucharest and a few days visiting Sinaia, Brasov and the surrounding area. It would be a shame to come to Romania and not visit this places too, especially since they are close to Bucharest and very easy to reach by train .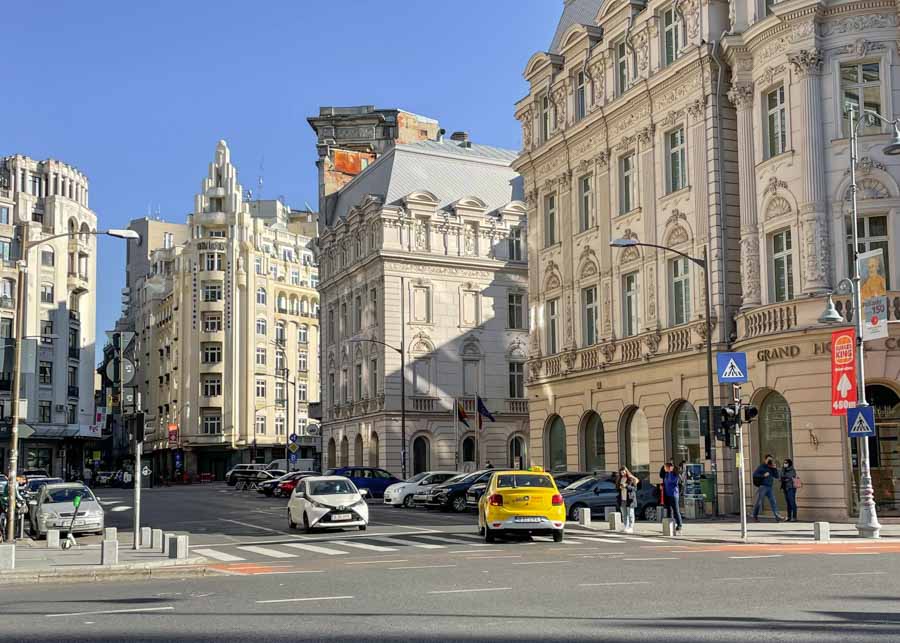 Best Things to See and Do in Bucharest
Bucharest will surprise you in a nice way. While it may lack the commercial attractiveness of other European capitals, it surely doesn't lack charm and vibrance. From wonderful museums to huge parks, impressive buildings, chic restaurants and a vibrant nightlife, there's plenty to do in Romania's capital.

Take a Sightseeing Bus Tour
Walking is definitely the best way to explore a new place. However, Bucharest is a big city with many interesting sites, so trying to see them all by foot would be rather difficult. So ideally, you should go both by foot and by bus.
Like all major cities in Europe, Bucharest has its own Hop-on-Hop-off Bus. The sightseeing bus stops at 13 of the most important landmarks and significant avenues in Bucharest. The cost is only 25 lei ($6.00) for adults and 10 lei ($2.50) for children. The ticket price also includes a free guided tour of the Old Town.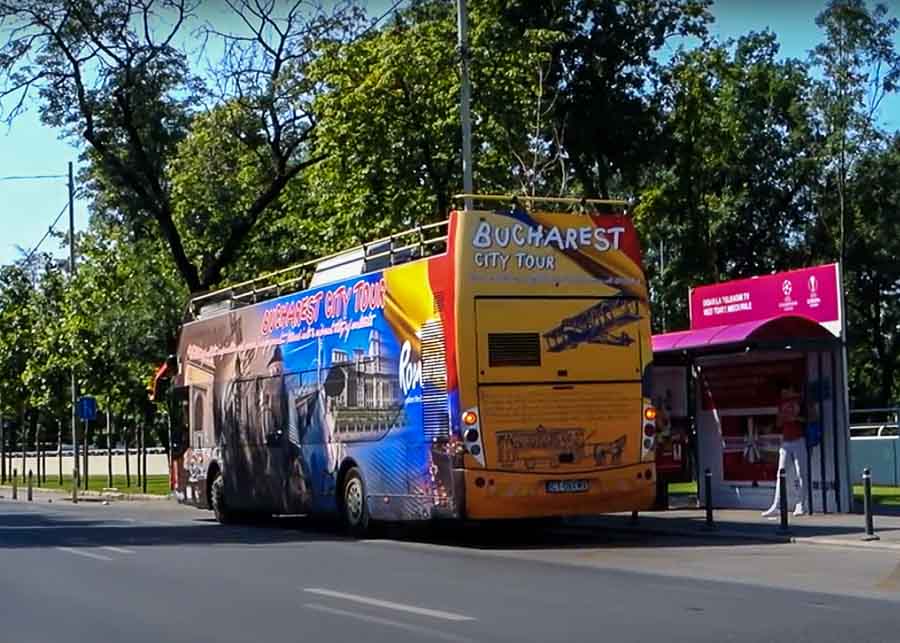 We tried the hop-on-hop-off bus out of curiosity and found it pretty reliable. Finding the signs that indicate the bus stop was a little difficult, but otherwise the tour was very convenient, with busses coming every 15 minutes.
The old Orthodox churches in Bucharest aren't probably the first thing that comes to mind when you think of places to visit in the capital. But many of these religious edifices are true architectural monuments, well worth your time, even if you are not into religious services.
Some of these churches date back to the 17th and 18th centuries and are decorated with Byzantine frescos and precious icons.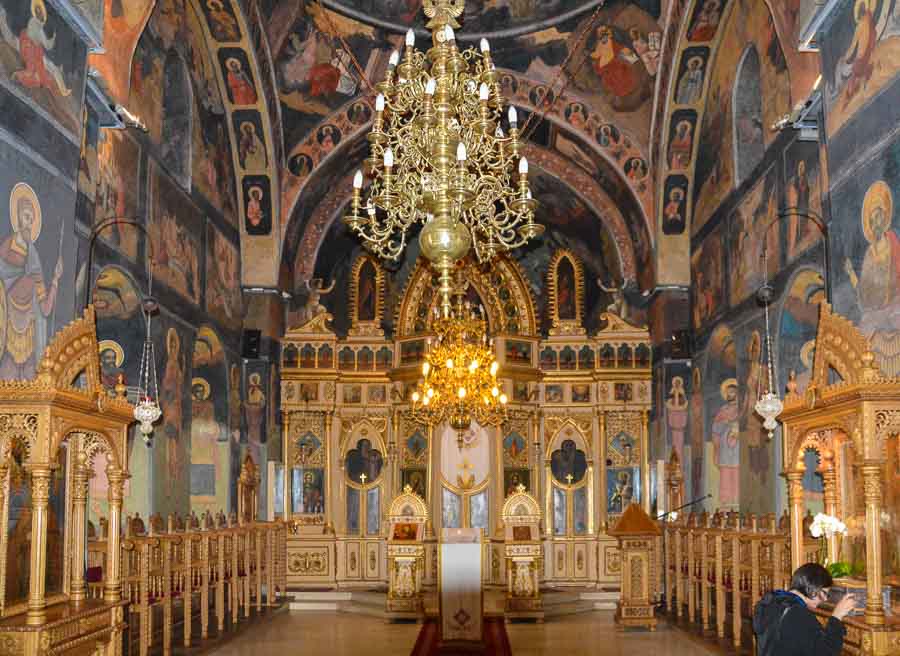 During the rule of dictator Nicolae Ceausescu in the 1980s, thousands of structures were demolished in the Romanian capital. Among them were many historic churches and chapels. In order to save them from destruction, some of these churches were relocated and hidden in small corners.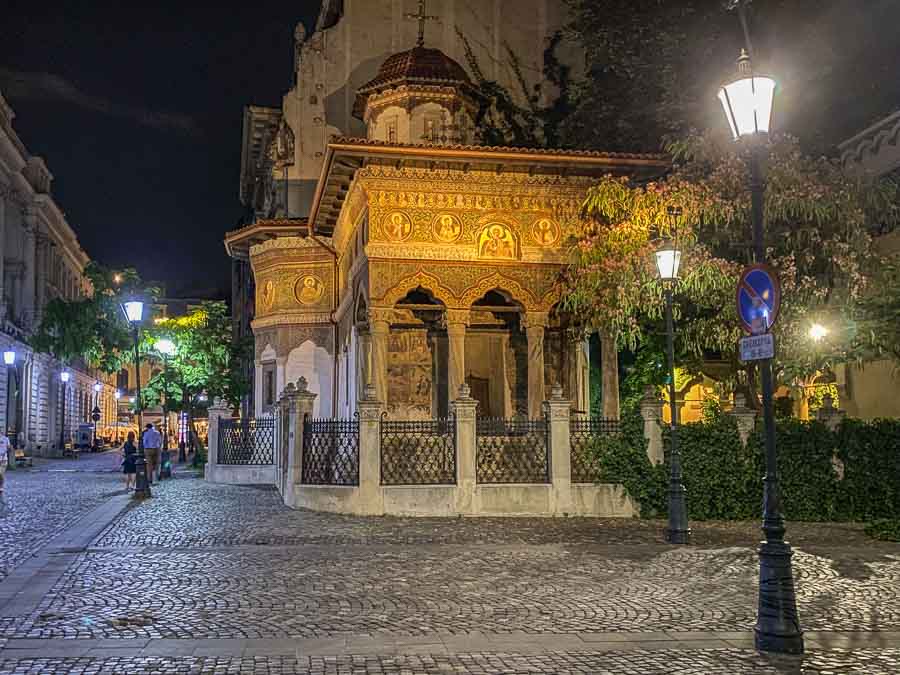 Others ended up squeezed among high-rise structures that were built around them during the communist regime. So unless you know exactly where they are, it's difficult to find them.
Some of the churches to look for are Stavropoleos, in the Old City, Kretzulescu Church, on Calea Victoriei, Antim Church, close to the Palace of the Parliament, and Biserica Doamnei, which lies pretty well hidden in the back lot of a Pizza Hut, at the crossing of Regina Elizabeta boulevard and Doamnei Street. They also count themselves among the most beautiful churches in Romania.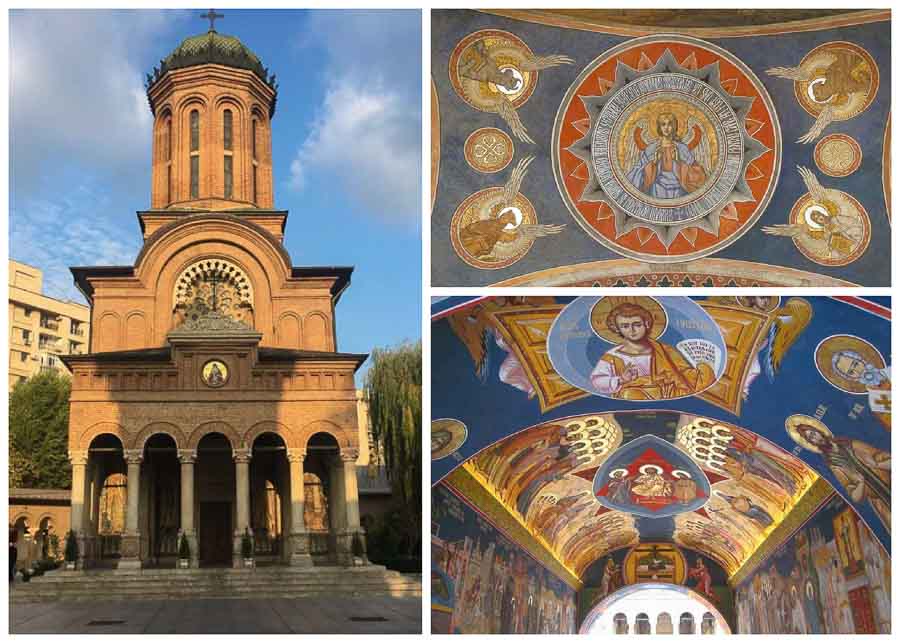 Take a Tour of the Revolution Square
When we lived in Romania, this place was known as Piața Palatului (Palace Square). But in 1989 some of the bloodiest fights took place on or near this square, so in commemoration of those horrific days, the square was renamed Piața Revolutiei (Revolution Square.)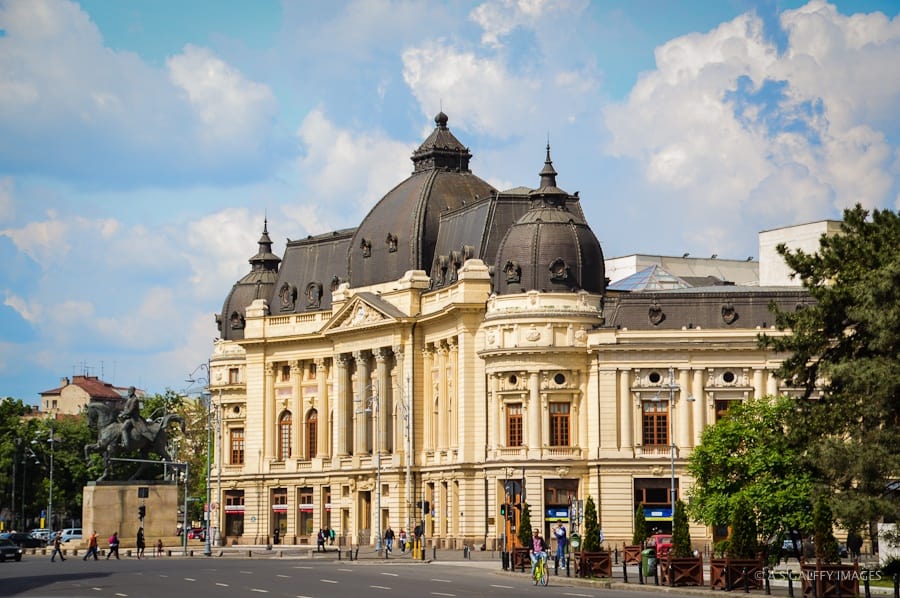 At the center of the square, right in front of the former Central Committee building of the Romanian Communist Party, they built a memorial in honor of those who died for the country's rebirth.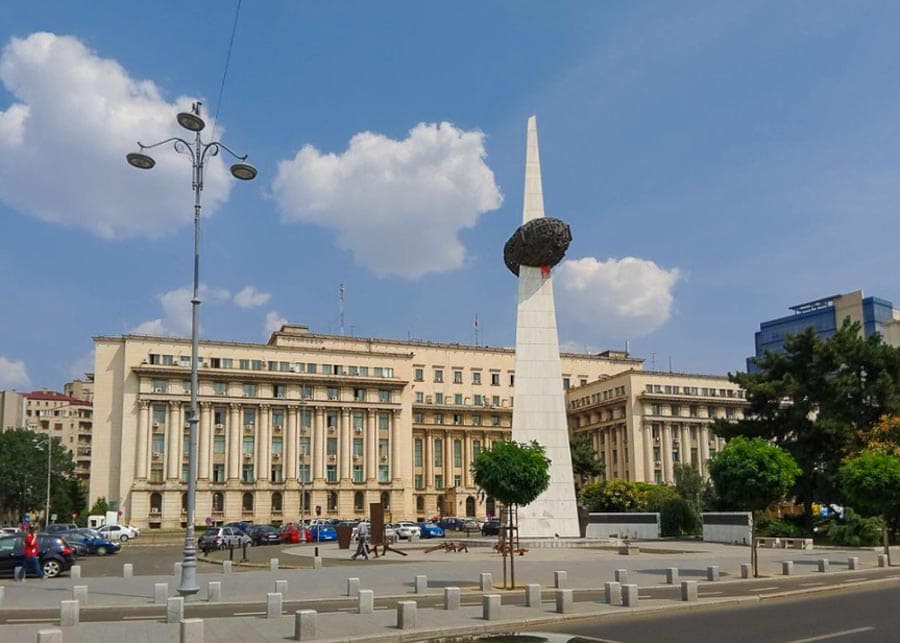 Ironically, from the balcony of this building Ceaușescu gave his final speech to the nation on December 21, 1989. Realizing that the crowd has turned against him, he tried to escape in a helicopter from the roof of the building. But a few days later, he and his wife were captured and executed.

Attend a Concert at the Romanian Athenaeum
At one end of Calea Victoriei you'll come across the majestic building of the Athenaeum, Romania's most prestigious concert hall. The building is strikingly beautiful, with a large portico adorned with Ionic columns and a high dome with round windows.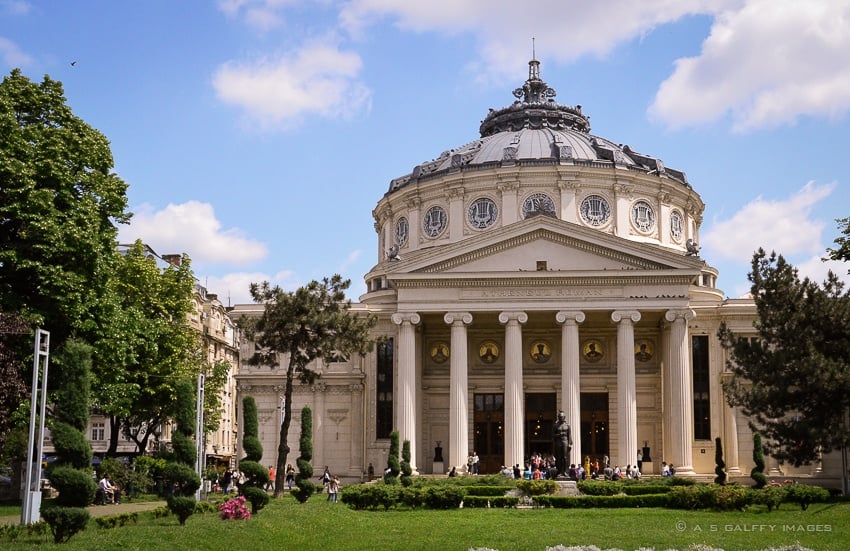 The inside of the building is equally impressive. The circular concert hall features rich decorative elements and a circular fresco depicting 25 scenes from the history of Romania.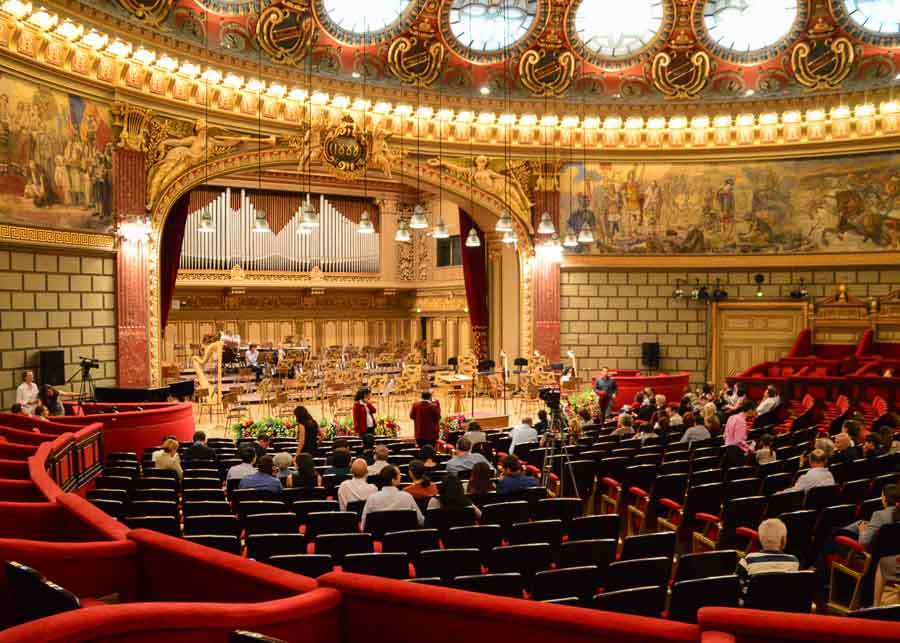 The Romanian Athenaeum is home to the George Enescu philharmonic orchestra and it's normally open only during concerts. Attending a concert here is one of the most rewarding things that you can do in Bucharest. Therefore, I would strongly encourage you do it if you have a chance. Or at least take a guided tour of the Athenaeum, if there are no concerts when you are here.

Roam Through the Streets of the Old Town
One of the biggest attractions in Bucharest is Centrul Vechi (the Old Town), which lies in the very center of the city. As the name suggests, this is the oldest area of Bucharest stretching from the north of the Dâmboviţa river, to Calea Victoriei on the west, Regina Elisabeta on the north, and Bulevardul Brătianu on the east. Here you'll find a mix of hipster cafès, beautiful bookstores, and small cobbled alleys.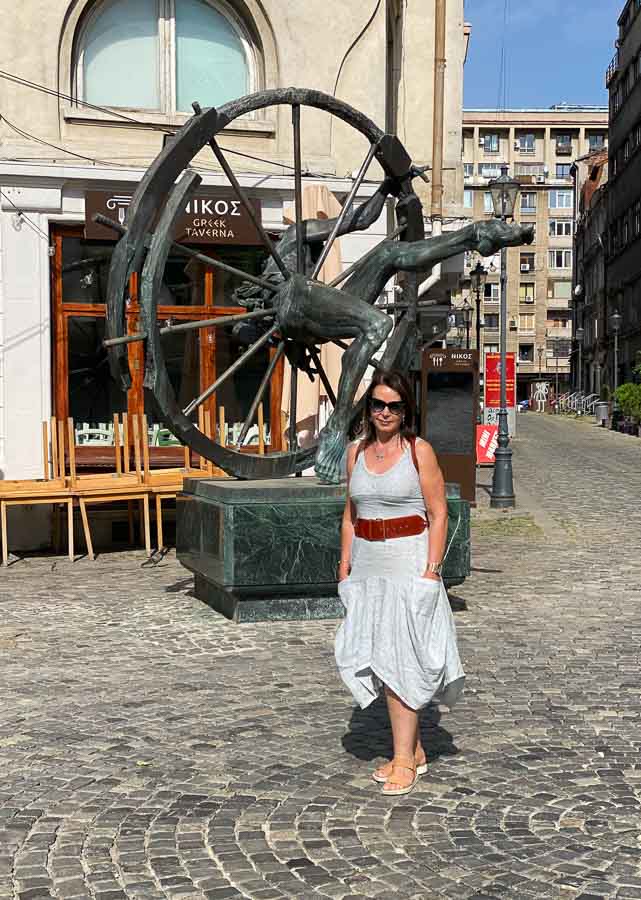 The most popular street in the Old Town is Lipscani. I remember this street a from long time ago, when it was very run down and neglected. Today, this entire area is full of life, beaming with new restaurants, pubs, and stores and alway full of people roaming around.
Although it's a is a hodgepodge of old and newer buildings (some in good condition, some not), the Old Town still maintains the charm and character of the old Bucharest.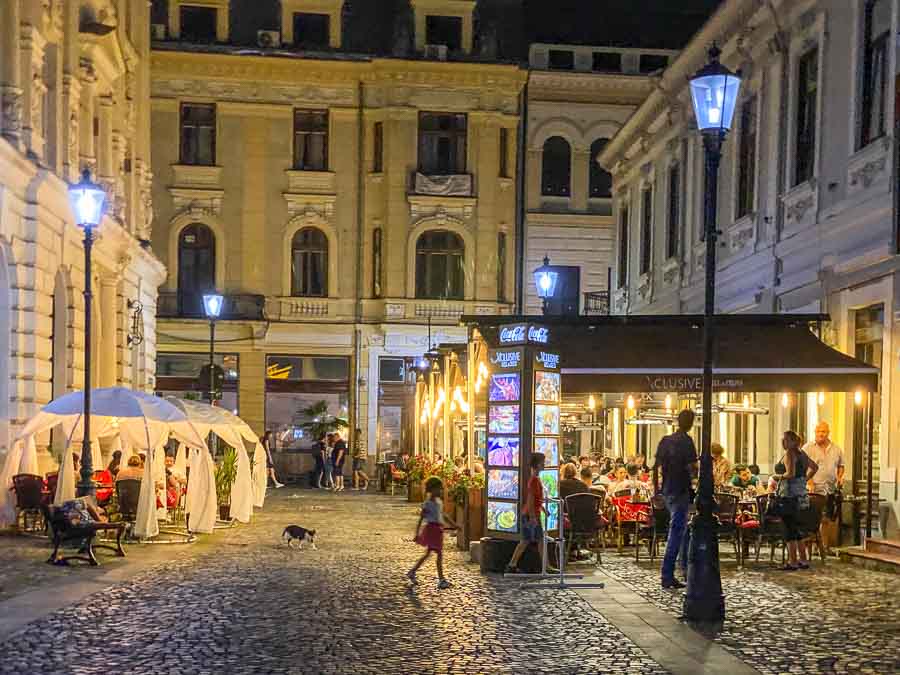 The area is great for walking and exploring many historic sites, shops, restaurants, cafes, and bars. It is also the best place if you want to experience Bucharest's vibrant nightlife.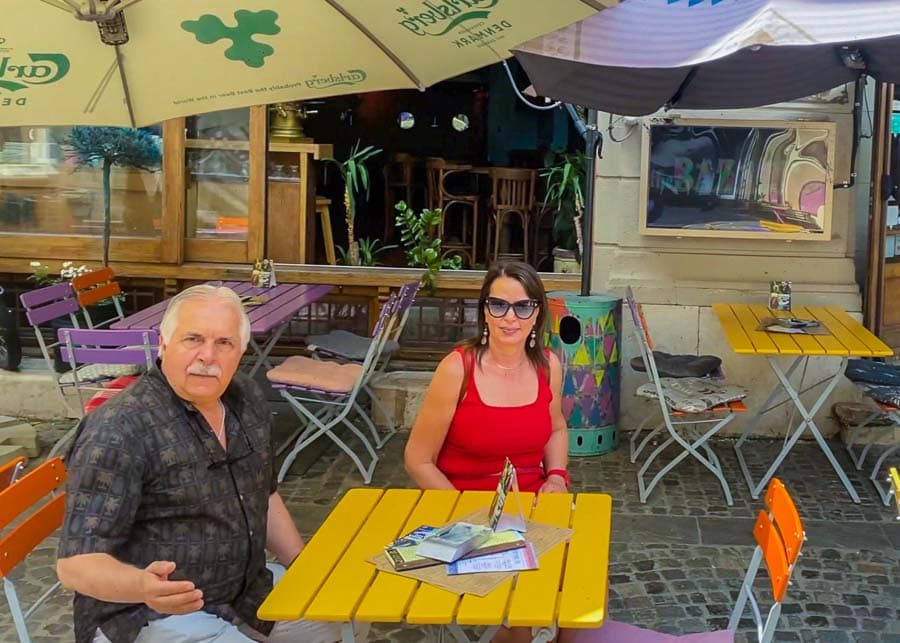 Pro Tip:
There is a free walking tour during the day, provided by Bucharest Walkabout free tours. The tour meets at the park across the street from the Old Town and provides some history and information about this area of Bucharest.

Curtea Veche (the Old Princely Court)Archeological Museum
Curtea Veche (the Old Court, or the Royal Court) is an archeological site located on French Street, in the Old Center of Bucharest. This used to be the center of political and economic activity in the medieval period of Bucharest.
The Palace at Curtea Veche was built during the rule of Vlad III Dracula, in 1459. Hence the statue of Vlad the Impaler you see in the yard. For two centuries, Curtea Veche was the residence of the rulers of Wallachia, in parallel with that of Târgoviste, the old capital.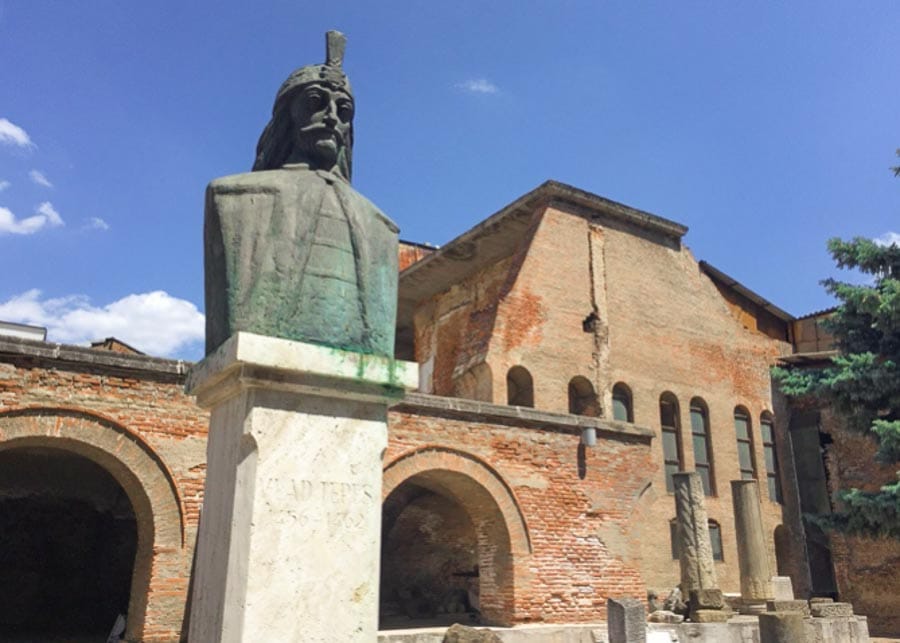 The complex at Curtea Veche consists of the Voevodal Palace, the Church of the Annunciation, plus various other buildings and some stables.
While there is no connection between Vlad the Impaler and the fictitious character of Bram Stocker, Dracula aficionados like to visit this place almost as much as they like to visit Dracula's Castle in Bran.

Admire the City's Beautiful Architecture
Bucharest has an astonishing architectural diversity. An interesting mix of Neoclassical, Art Nouveau, Modernist, and Soviet architecture. And while the latter is immediately apparent, in the city's central areas you will discover elaborate façades and many old buildings that display charm and elegance.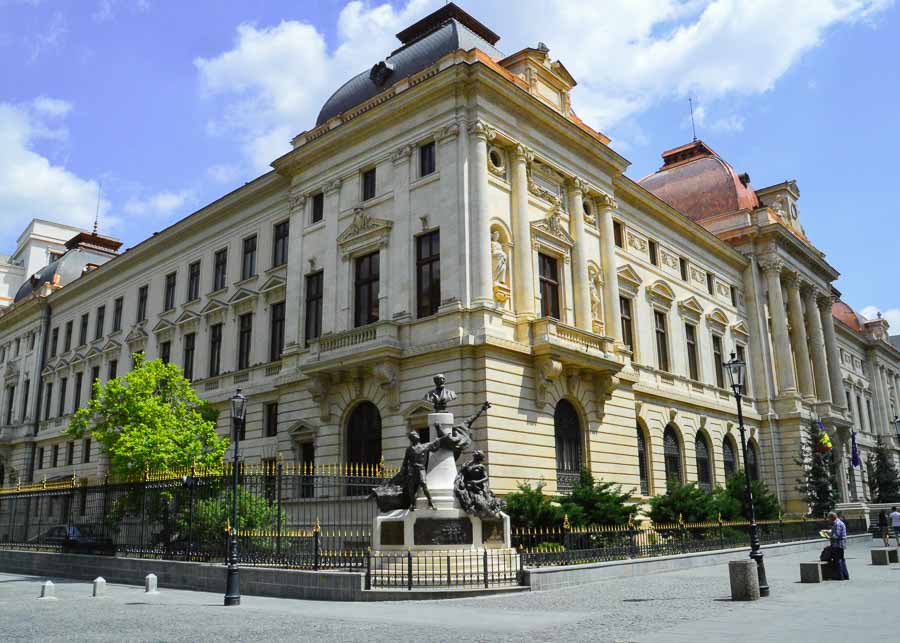 In terms of urban development, the city's main transformation took place between the two world wars, when Bucharest went through an intense constructions activity. Therefore, you'll see many beautiful Art Nouveau buildings in the city center.
Some of the most impressive buildings in Bucharest were build between 1901-1903. Like Cantacuzino Palace (the current location of the George Enescu Museum), the CEC Palace, Coltea Hospital, the Royal Palace, or the Central Library.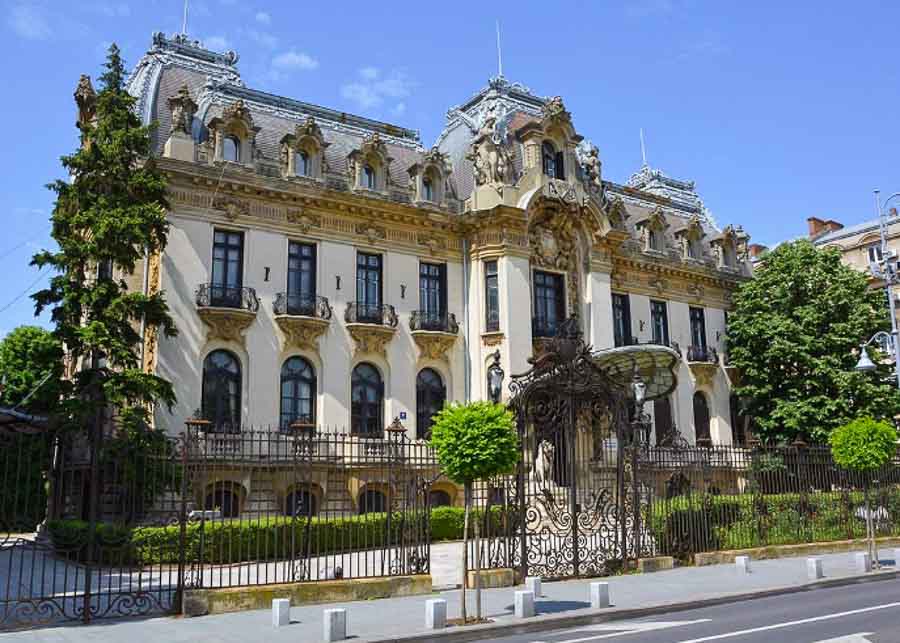 Unfortunately, many of the historic buildings in Bucharest are still in a state of disrepair. While there are some nice and well maintained buildings, in many parts of Bucharest you'll still see rundown and neglected ones. As you walk the streets of Bucharest, take time to notice both extremes.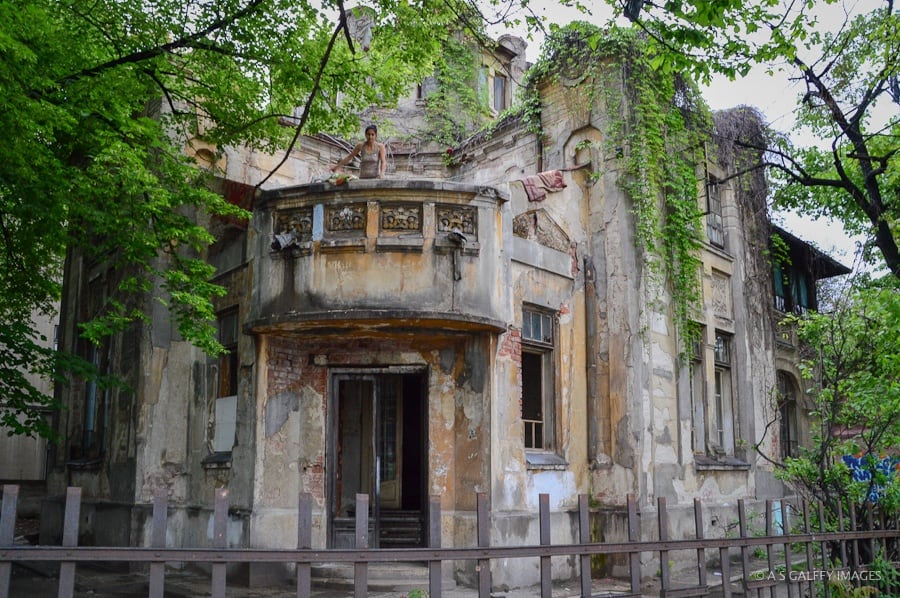 Visit the Palace and Cathedral of the Patriarchy
One of the most attractive touristic points in Bucharest is Dealul Mitropoliei (Mitropoliei Hill) and the two important buildings atop of it: the Palace of the Patriarchy, built in 1908, and the Cathedral of the Patriarchy, which dates back to 1654.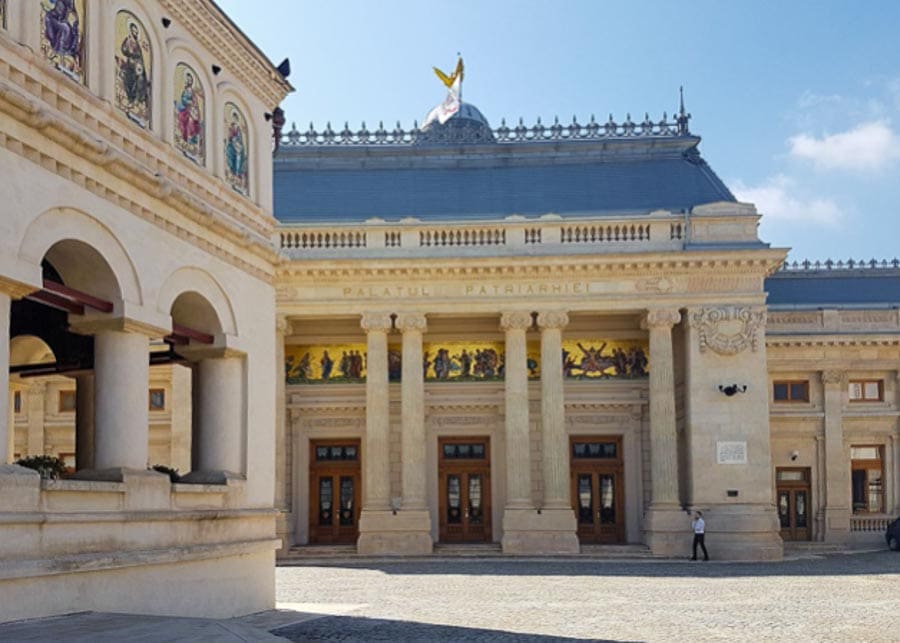 The palace serves as a conference center, event venue and is home to the administrative offices of the Romanian Patriarchate. As a result, the building is closed to the public but you can still admire it from the outside.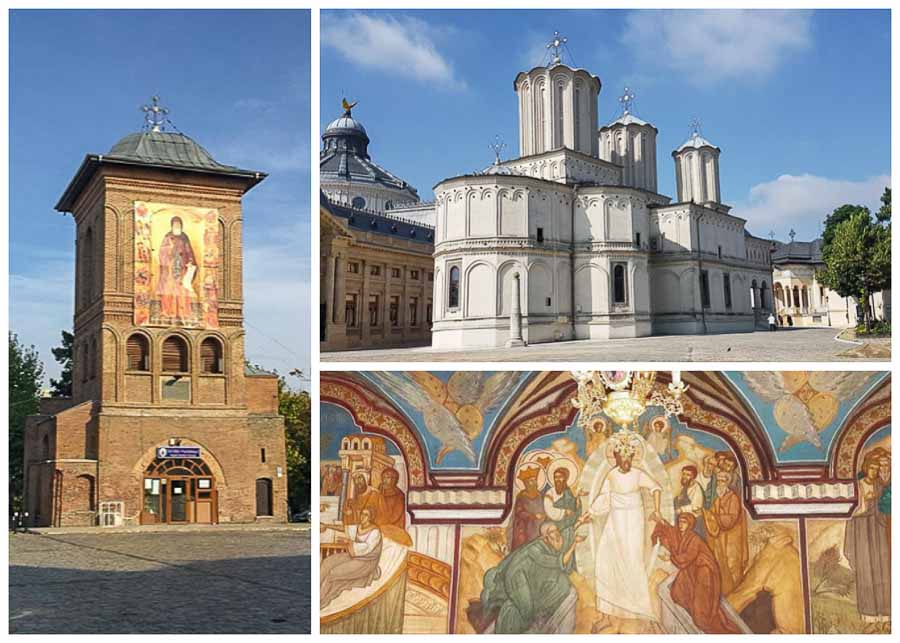 Next to the Palace is the Patriarchal Cathedral, which has been the centerpiece of the Romanian Orthodox faith since the 17th-century. The church has an outstanding bell tower and very beautifully painted frescos. The original frescoes have been destroyed, so the ones you see today are from 1923.
READ NEXT: Curtea de Arges Cathedral: From Legend to History and Back

Bucharest Village Museum
You wouldn't expect to see barns and rural homes in a bustling metropolis like Bucharest. And yet, nestled right in the heart of Romania's beautiful capital lies one of Europe's oldest ethnographic collections: the Bucharest Village Museum. An entire settlement designed to give you an insight into the rural Romanian life across time.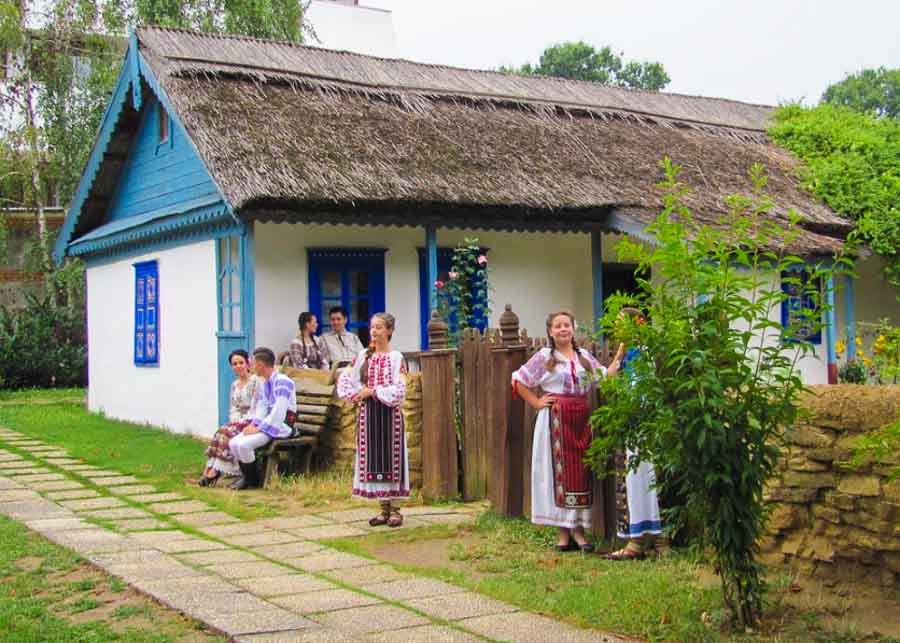 The location of the museum is absolutely enchanting: right on the shore of the Herāstrāu Lake, in a densely forested area.
Bucharest Village Museum is open daily, except for some public holidays. For more detailed information about opening hours and admission prices, please check the museum's website.

Relax in the Herāstrāu Park
Herāstrāu is Bucharest's largest park, spreading on 187 hectares. The park is old and aged, but it's really beautiful and the city keeps it clean and safe. Definitely one of the nicest places to visit in Bucharest.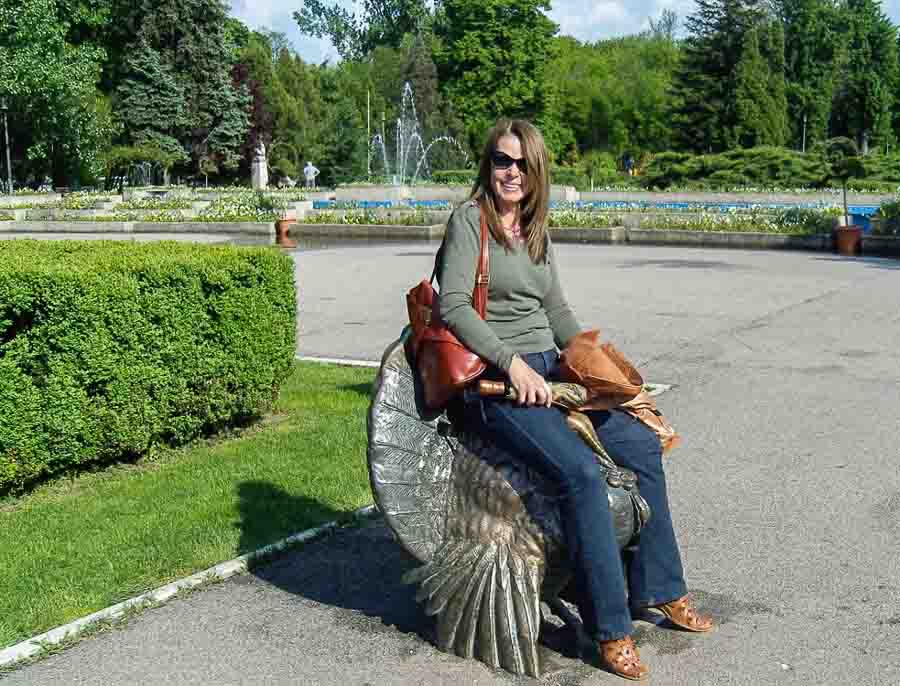 The park was laid around Lake Herăstrău which is fed by the Colentina river. The lake has a beautiful long promenade where you can walking, bike, or run. A loop around the lake itself takes several hours and is about 7 km (beginning and ending at the Aviatorilor Metro station.)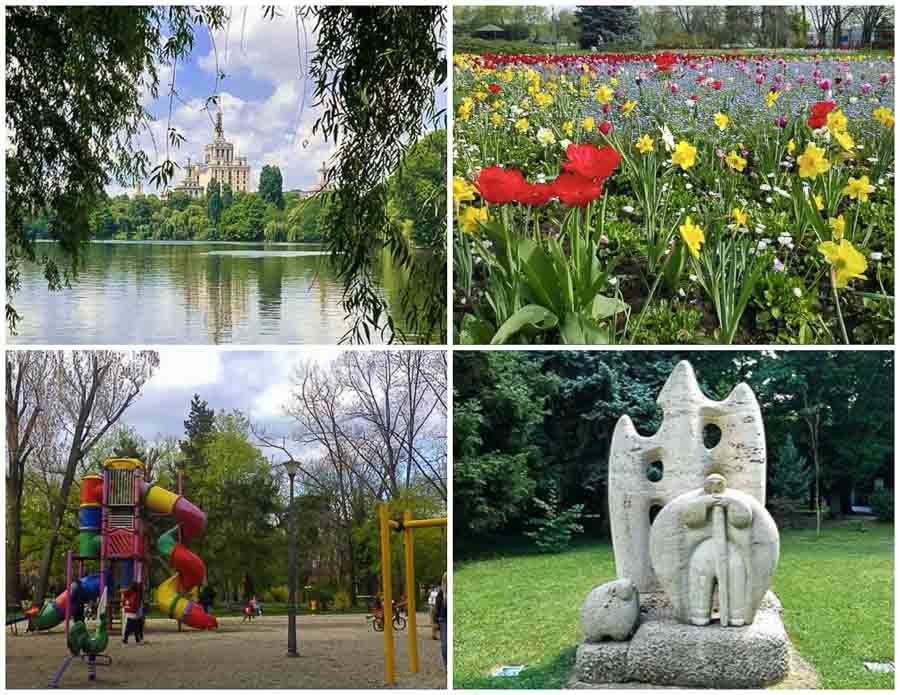 Herāstrāu Park has many beautiful statues, playgrounds, picnic areas, water fountains and even black swans on the lake. Consider allowing a day of your trip to visit this park, as there are many attractions around like boat tours, museums, clubs and restaurants.
Stop by the Cārturești Carousel Bookstore
You don't have to be a book lover in order to love the Cārturești bookshop, but if you are it's even better. Located in Bucharest Old Town, Cārturești Carousel is one of the most beautiful bookstores in the world.
The 19th century building that hosts the bookstore once belonged to the famous Chrissoveloni, an old family of bankers. During the Communist era, the building was confiscated and nationalized by the regime, who then turned it into a general store.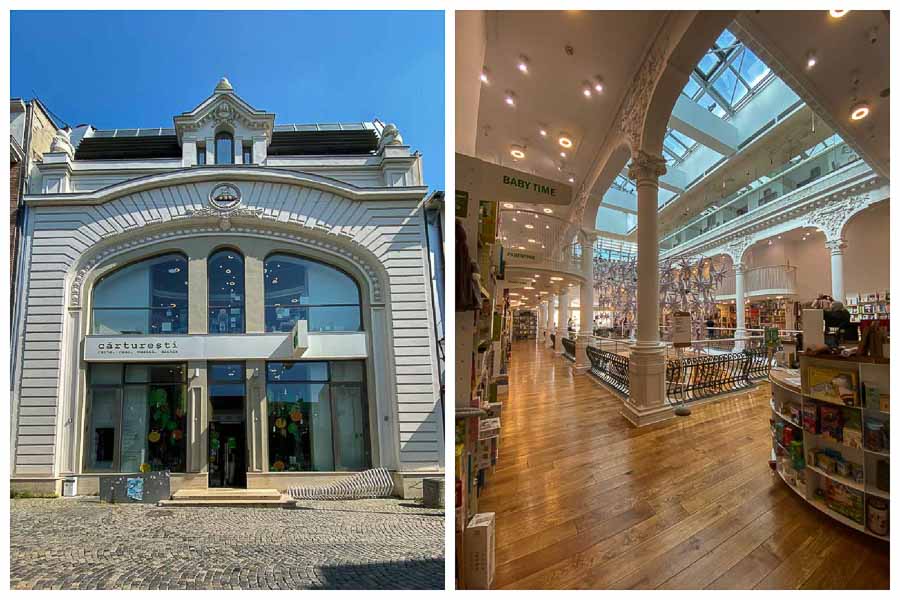 After 1990 the building was reclaimed by the Chrissoveloni family and it later reopened as Cărturești Carusel bookshop.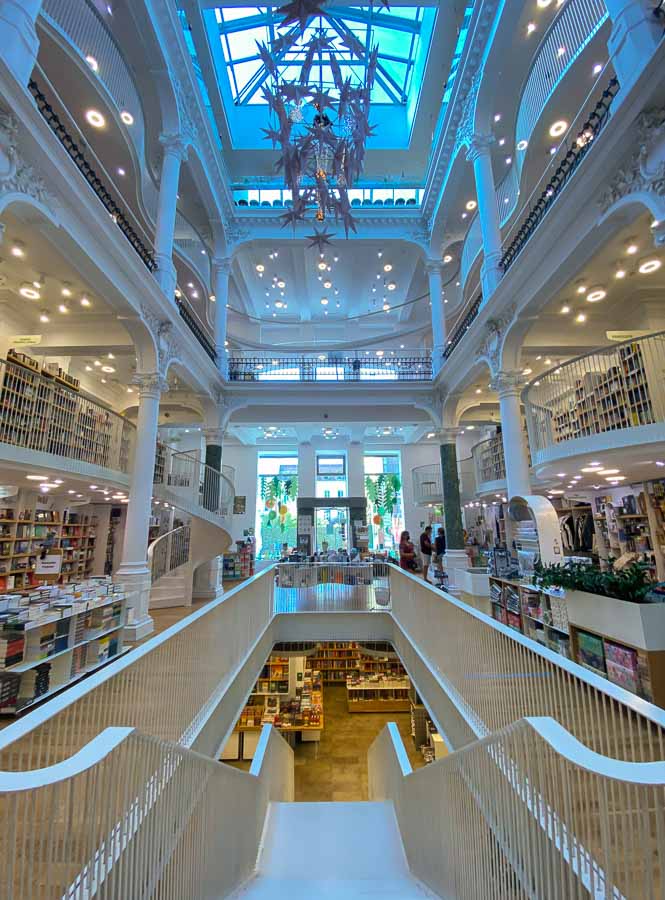 The bookstore extends on 6 floor and occupies 1000 square meters of space. There are more than 10,000 books, and a large collection of albums and DVDs. Most books are in Romanian, but there is also an English section. There is also and small gift shop on the main floor and a café on the top floor.
Opening hours: Monday to Thursday from 10:00 am – 10:00 pm; on Weekends from 10:00 am – midnight.

Visit the National Museum of Romanian History
We didn't get a chance to wander into this museum till our last visit to Romania. The building is surely intimidating from the outside, but it doesn't take too long to go over the entire museum.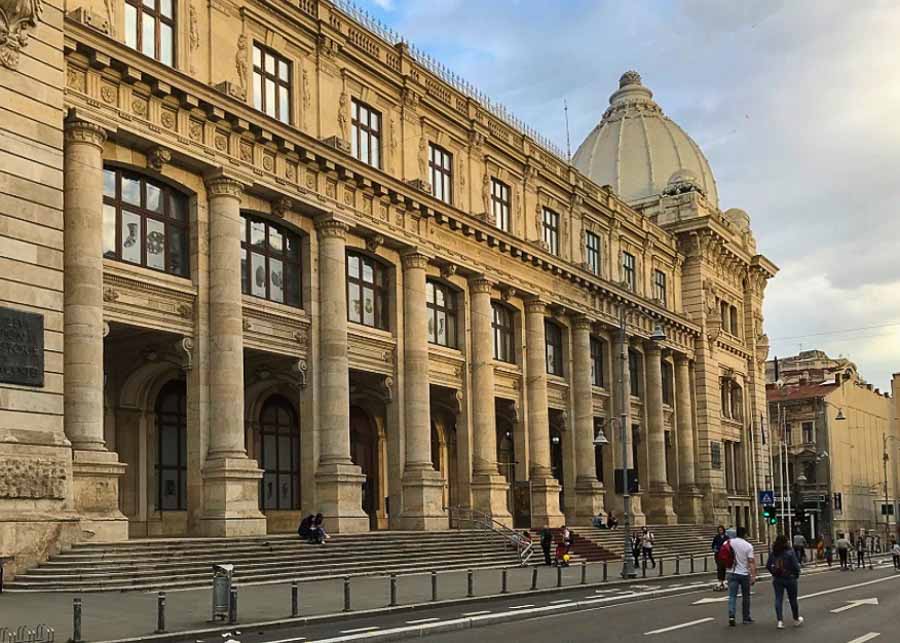 The museum has an impressive collection of stone artifacts and a grand display of royal tiaras, crowns, necklaces, earrings, plates, and travel dinnerware. There is also a collection of war art (shell art, grenade ashtrays, etc.), and a fantastic section of toys and games. When we visited, they had a special exhibit of Chinese jewelry on display. Everything was exquisite, very detailed and delicate.
Opening hours: Wednesday – Sunday from 10:00am to 6:00 pm

Take a Tour of the Gigantic Palace of the Parliament
The gigantic structure was the brainchild of Romania's former dictator, Nicolae Ceausescu, who had the ambition to build the largest administrative building in the world. And he succeeded.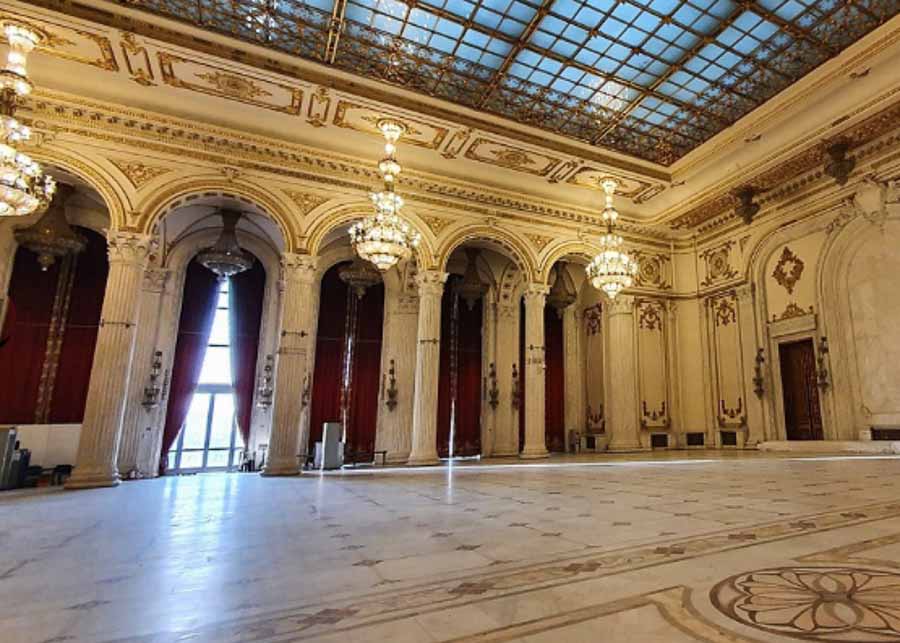 According to the Guinness World Records, the Palace of the Parliament (also known as the People's House) is indeed the largest and heaviest building in the world. The palace encompasses 365,000 square meters (3,930,000 sq ft) and contains over 700,000 tonnes of steel and bronze.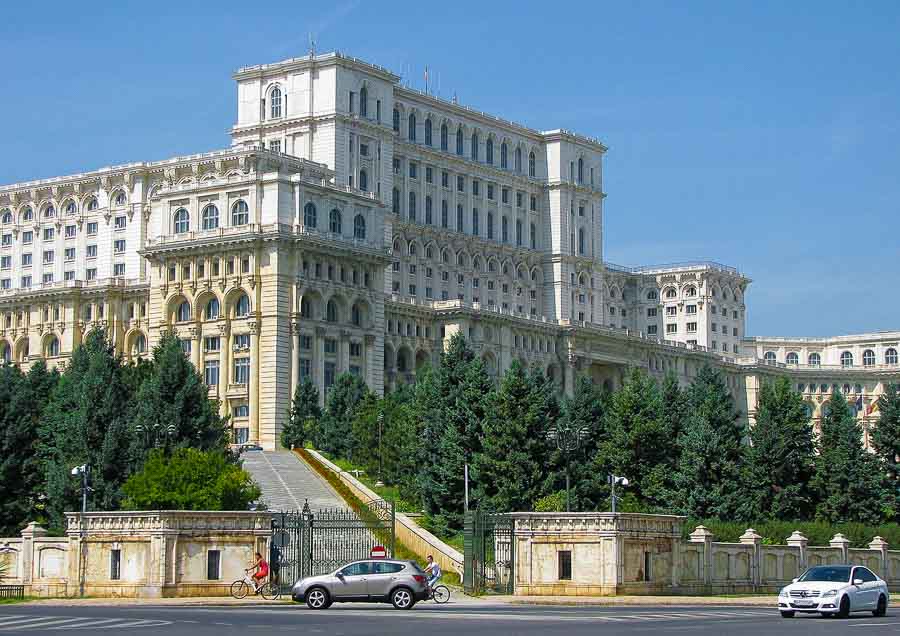 But for the Romanian people, the gigantic structure is just a sad memento to the dictatorial madness of Romania's former dictator, who spared no expense to build his dream palace. As for its patron – Ceausescu – he was executed before being able see his dream palace completed.
Opening hours: Monday to Sunday between 10:00 am – 6:00 pm. You can tour the Palace's interiors, but you must take a guided tour. Since this is one of the most popular places to visit in Romania, you should try booking your ticket online, in advance.

Admire Bucharest's Triumphal Arch (Arcul de Triumf)
Did you know that Bucharest has its own triumphal arch commemorating Romania's victory in the First World War? Arcul de Triumf is an almost identical replica of l'Arc de Triomphe de l'Étoile in Paris.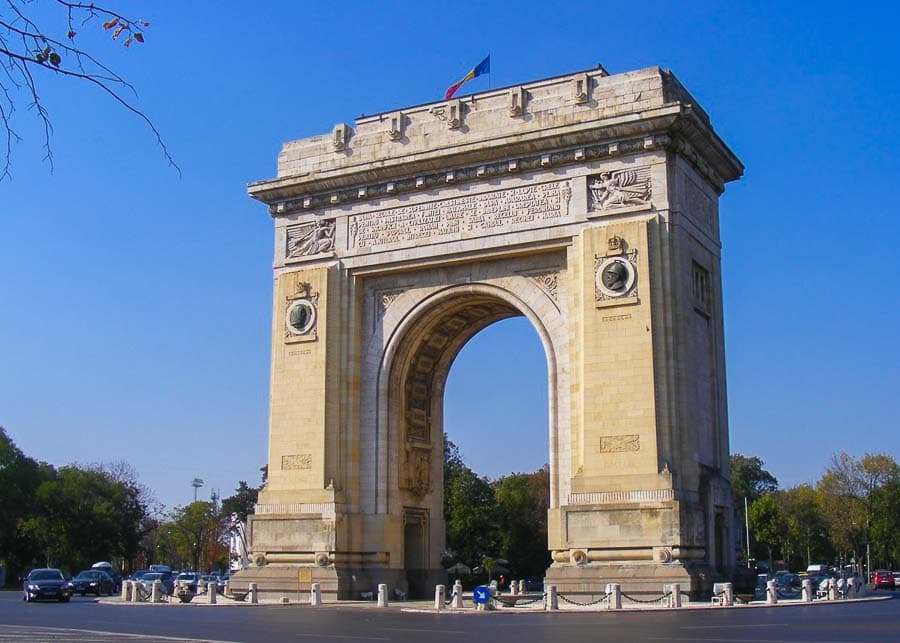 The arch sits at the intersection of three boulevards: Kiseleff, Mareșal Alexandru and Alexandru Constantinescu.
Opening hours: the monument is open only on weekends, (June to October) between 11:00 am and 10:00 pm. Admission is free.

Visit Grigore Antipa Museum of Natural History
One of the biggest attractions in Bucharest is Grigore Antipa Museum of Natural History. The 170 year old museum has close to two million items on display. There are geological, paleontology, anatomy, ethnographic and anthropological collections. There is even a mini cave.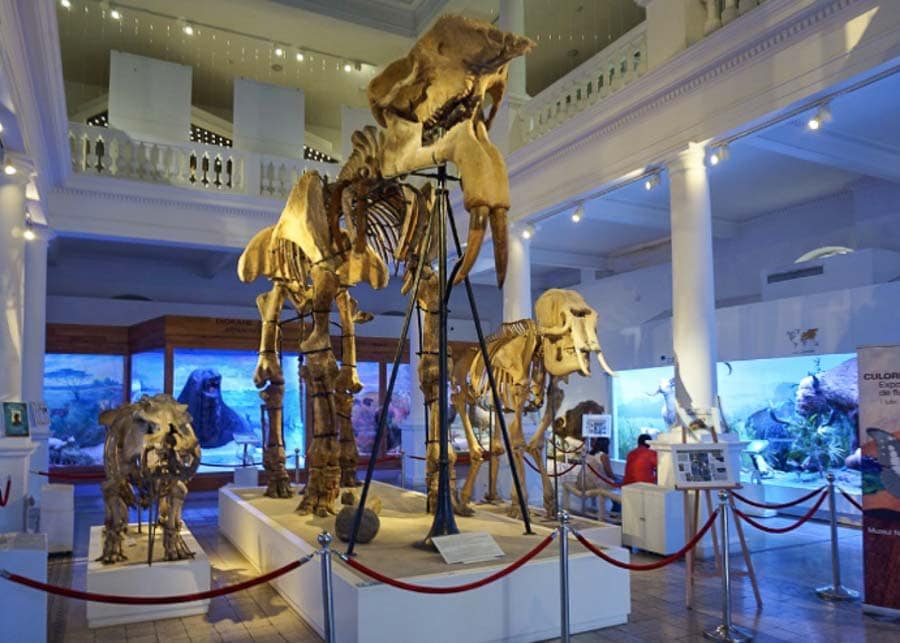 As you visit the museum, you'll discover all sorts of animals and even an impressive dinosaur skeleton.
Opening hours: Tues-Fri 10am-6pm and Sat-Sun 10am-7pm (until 8pm April 1-Oct 31).
Pro Tip: Skip the long lines at the museum by buying your tickets online.

Stroll Through the Cișmigiu Garden
Located in the center of Bucharest, this beautiful park is built around a romantic lake surrounded by old willow trees and wroth iron benches.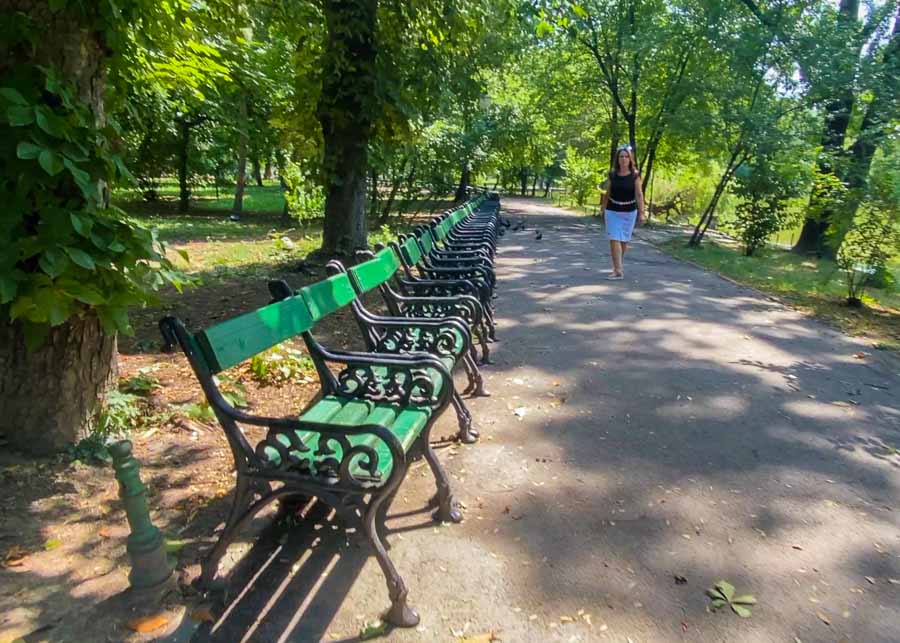 Some of my earliest childhood memories are from Cișmigiu Garden. We used to come here as children to feed the swans and pelicans that populated the lake.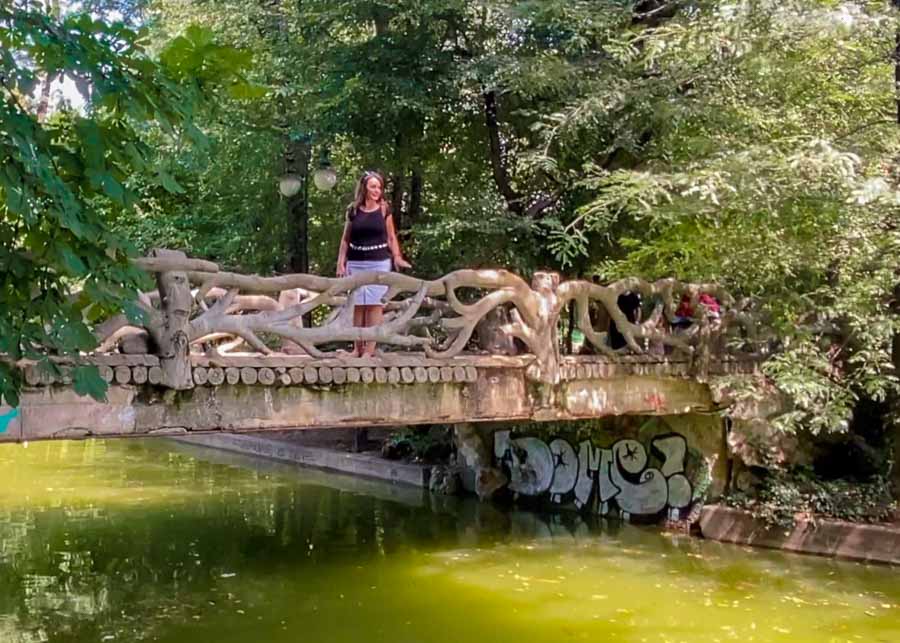 The park hasn't change much over time. It still has the same romantic atmosphere I once knew, with secret alleys and long, uninterrupted rows of green chairs and benches. There are plenty of shaded paths, some restaurants and also playgrounds for children. During the warm summer months, Cișmigiu is as almost always packed with groups of seniors playing chess.

What to Eat in Bucharest
No visit to Bucharest would be complete without trying the delicious Romanian food. There is a whole plethora of cafés and restaurants in Bucharest where you can sample delicious traditional dishes.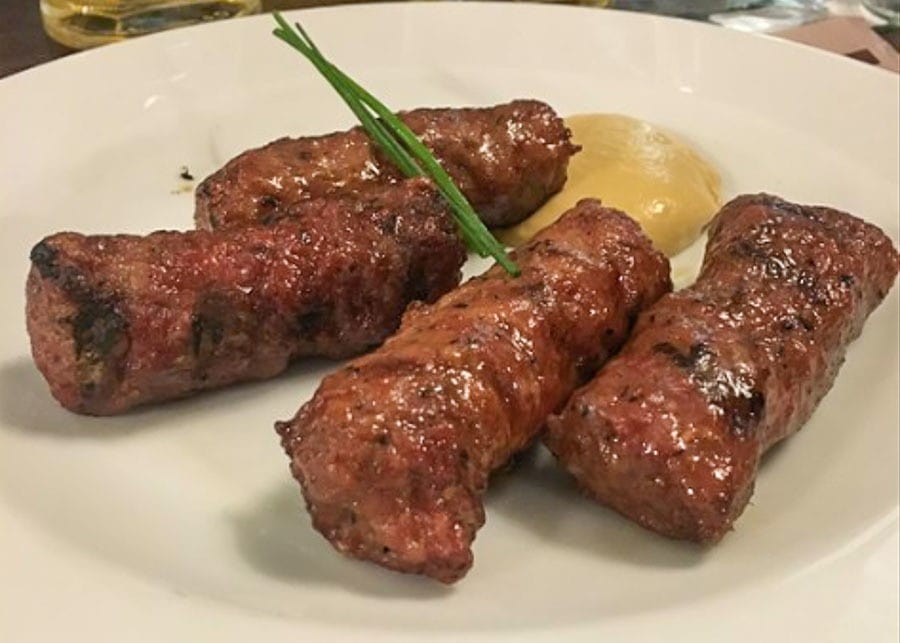 Some of the most popular dishes you should try in Bucharest are: Sarmale cu Mamaliguta (Stuffed Cabbage Rolls with Polenta), Mici cu Mustar ("Little Ones" with Mustard), Ciorbā de Burtā (Tripe Soup) and Pastrama de Oaie cu Mamaligutā (Grilled Mutton Pastrami with Polenta). You can find these dishes is almost any traditional restaurant in Bucharest.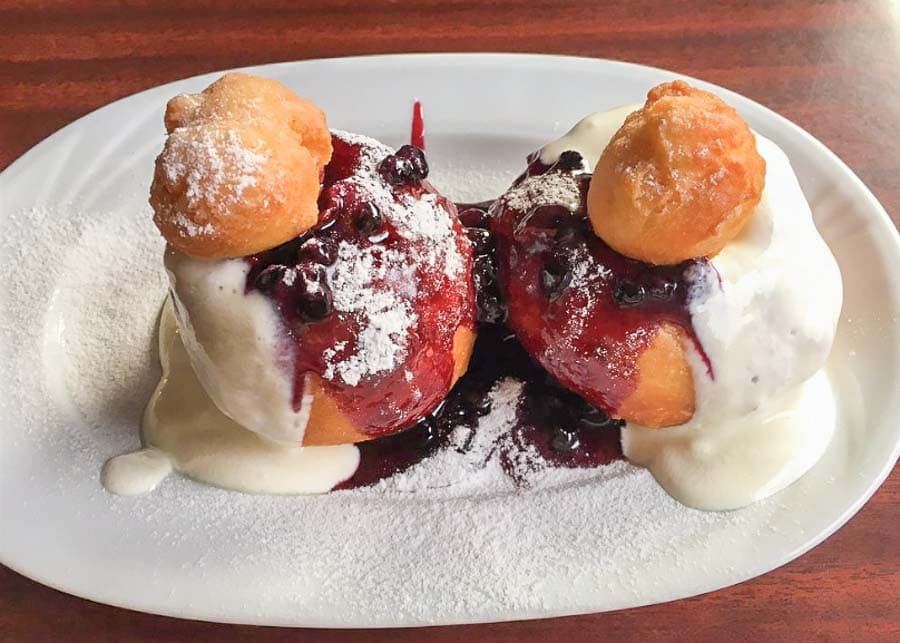 And if you have a sweet tooth, don't miss the mouth-watering Papanasi cu Smîntînā (Cheese Doughnuts with Sweet Cream). This a traditional dessert that you won't find anywhere else but in Romania.

Best Areas to Stay in Bucharest as a Tourist
If this is your first time in Bucharest, you'll want to stay as close as possible to the city center so that you can walk to at least part of the attractions. So here are a few suggestions.
Piata Unirii is one of the most convenient areas to stay in Bucharest. It is close to the Old Town, the Parliament Building, Mitropoliei Hill, as well as many nice pubs, cafés and restaurants. Some of the best hotels in this area are: Hilton Garden Inn, Concorde Old Bucharest, Europa Royale, Grand Pier Boutique Hotel.
University Square is another nice area to stay when visiting the city. Here is where most university buildings are located. From this square you can easily reach both the Old Town, the Cismigiu Garden, the National Theater and many beautiful churches. Nice hotels in this area are: Intercontinental Hotel, Metropole Apartments, and K+K Hotel Elisabeta.
Calea Victoriei is one of the wealthier and more sophisticated neighborhoods in Bucharest. Here you'll be close to the Romanian Atheneum, Revolution Square, as well as many museums and luxury stores. Nice hotels in this area include: Novotel Bucharest City Center, Athenee Palace Hilton, and Raddison Blu.
Piata Romana is a lively neighborhood, filled with cafés and restaurants. From here you can easily walk to the Old Town or University Square in one direction, or to the Grigore Antipa Museum in the opposite direction. Some beautiful hotels in this area are: Sheraton Bucharest, Mercure Bucharest, and Berthelot Hotel.
There are many other nice neighborhoods in Bucharest where you'll find comfortable lodging, but they are farther away from the city center.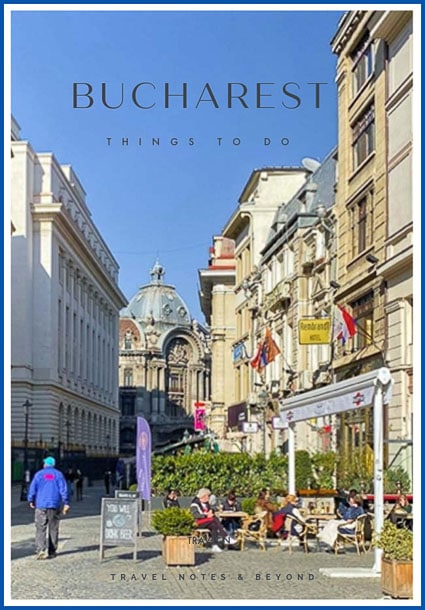 YOU MAY ALSO LIKE: