One of the things that people seem to remember best after visiting Bucharest is its amazing restaurants. Part of the reason is that food memories often feel more evocative than other types of impressions. But it's also because some of the best restaurants in Romania are actually in Bucharest. Yes, the country's beautiful scenery, medieval towns and historic castles are unforgettable too, but traditional Romanian food will linger in your memory longer than any other attraction.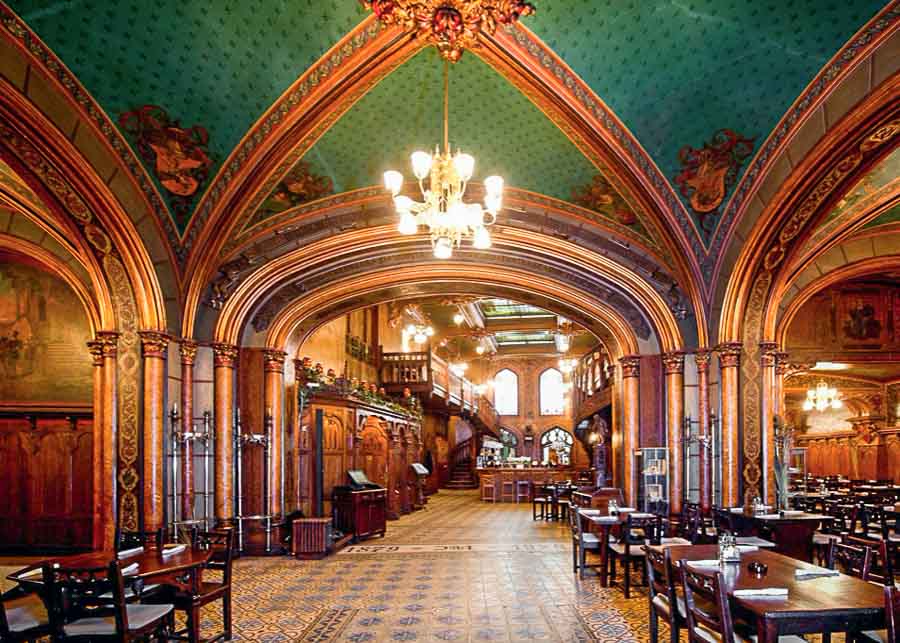 About Bucharest Restaurants
Romanians love to eat and you can tell that by the large number of eateries you find all around the country. In the last few decades Bucharest grills, cafés and restaurants sprang up like mushrooms after the rain. Today there is a whole plethora of eateries in Bucharest that serve delicious dishes in fancy salons, reminiscent of the wealthy bourgeois who once frequented them. And the menus are a decadent indulgence of local delicacies!
Nonetheless, finding the best places to eat in a city that you have never visited before is not an easy task. So in this article I'll give you a tour of the very best eateries in Bucharest, to help you choose wisely.
Best Traditional Romanian Restaurants in Bucharest, Romania
Some of the best restaurants in Bucharest are concentrated in the old town, so you won't have to run far and wide to find a good spot to eat while visiting the city. Most of them are located in historic buildings with elegant and beautifully ornate dining rooms.
Caru' cu Bere (the Beer Cart)
This one-of-a-kind restaurant started as a brewery in 1879, hence the name Caru' cu Bere (the Beer Cart). A few years later, the owners at the time decided to extend their operation by adding a restaurant next-door. They commissioned the design to an Austrian architect and the result was spectacular: vaulted ceilings decorated with paints, stained glass, mosaics and carved panelings.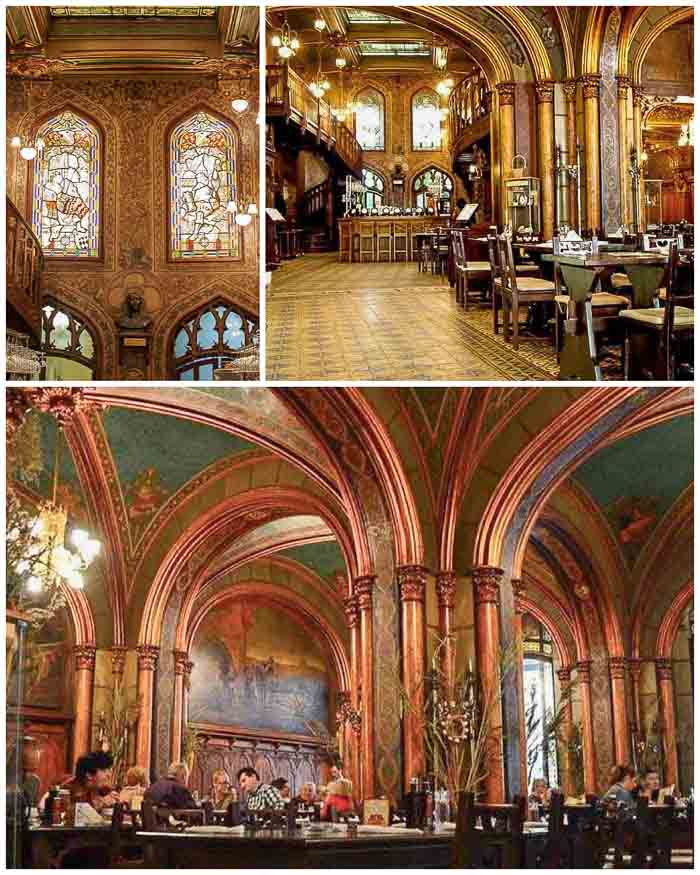 Today Caru' cu Bere is a favorite meeting spot for tourists and locals alike, which is why it's always packed. In summer time it's difficult to find a spot even if you make reservations.
One big disadvantage of eating here is that your order will not come quickly, as there are too many orders placed at the same time. Some locals say the food is not quite the best in Bucharest, but nonetheless this place is a legend. Coming to Bucharest and not visiting it, it's like going to Paris without seeing the Eiffel Tower.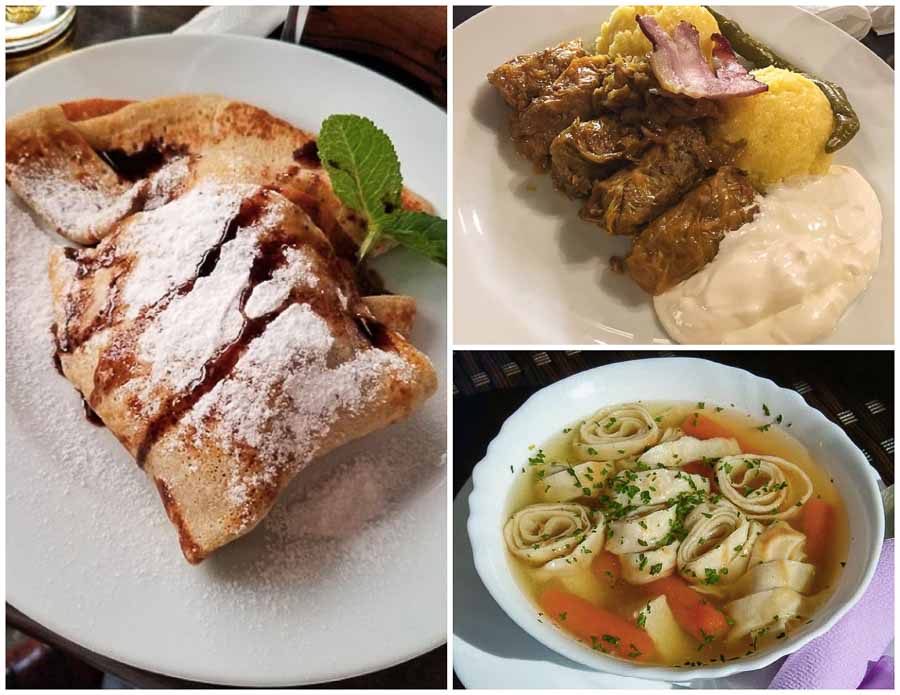 The restaurants sits next to one of the most beautiful churches in Romania – Stavropoleos Church – which you shouldn't miss if you are in the neighborhood.
Pro Tip
If you decide to eat at Caru' cu Bere, my advice is to come here a little before noon or after lunch, when it's less busy. Also, when making reservations specify whether you want to be seated inside or outside.
Adress: Strada Stavropoleos 5, Bucharest
Hanu' Berarilor (the Brewery Inn)
The name Hanu' Berarilor is a Romanian trademark that includes two restaurants in Bucharest housed in two historic buildings: Casa Opera Soare and Casa Elena Lupescu.
Both restaurants serve traditional Romanian dishes. Food is excellent and service is always prompt, with very short waiting time. We visited the restaurants quite a few times over the years and always had a great experience. The waiters were very polite and the food was excellent!
Hanu' Berarilor – Casa Soare
Casa Soare (also known as Hanu' Berarilor Interbelic) was built in 1914 by Oprea Soare, one of the wealthiest business men in Bucharest at the time. The building was designed by the Romanian architect Petre Antonescu, who designed many other famous buildings in Bucharest.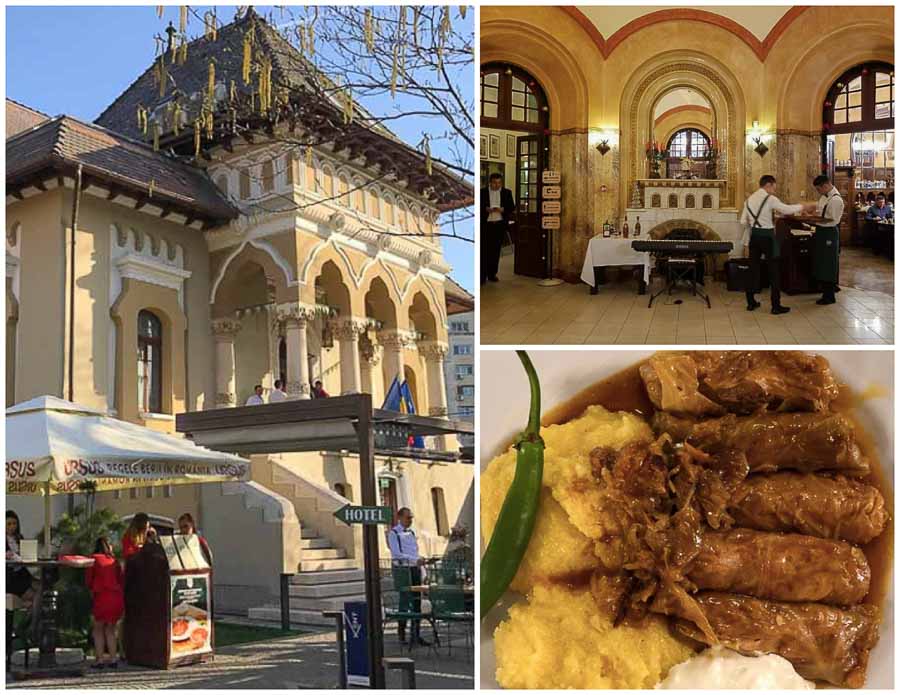 In addition to the grandiose interior, the restaurant also features a beautiful terrace, which is packed with people during the warm summer nights.
Address: Strada Poenaru Bordea No. 2, Bucharest.
READ NEXT: Bucharest Nightlife: Best Clubs & Bars in Bucharest
Hanu' Berarilor – Casa Lupescu
Hanu' Berarilor Casa Lupescu is a large aristocratic house built in 1925. It represents the old Bucharest, full of the charm and memorabilia of the interwar era.
The main floor is occupied by large ball room that spreads on two levels. Around it are four reception halls that can be rented for private events. In the original building, there was even a space for the orchestra in the ball room.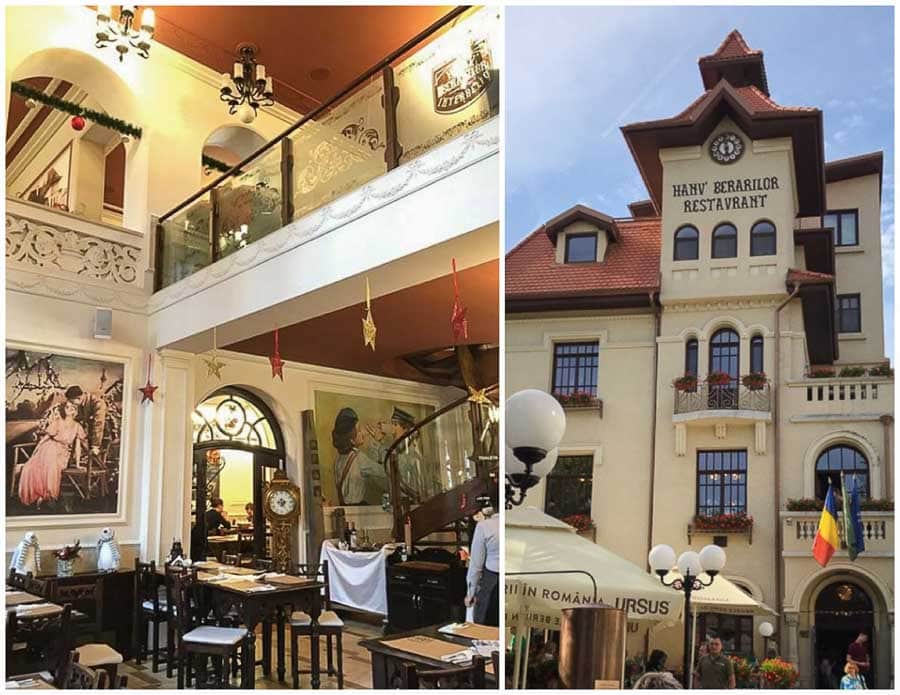 The restaurant retains a very elegant and special air: beautifully decorated arches, candlesticks and massive wrought iron lamps, solid wood chairs with carved backs and a large spiral staircase. The garden is also very beautiful, surrounded by big old trees.
Address: Strada Pache Protopopescu No. 51, Bucharest.
READ NEXT: The 16 Best Things to Do in Bucharest for Guaranteed Fun
La Mama (Like at Mom's House)
If you are looking for a reasonable priced and excellent meal, this is the place. We dined here 2-3 times in the past 20 years since they opened, and were always happy with the quality of the food and the service.
La Mama is a chain of restaurants in Bucharest that started from the idea and desire to eat well and cheap, like at Mom's house, where warm and tasty food was always on the table. This is a great choice for an easy-in-and-out meal if you're short on time or cash.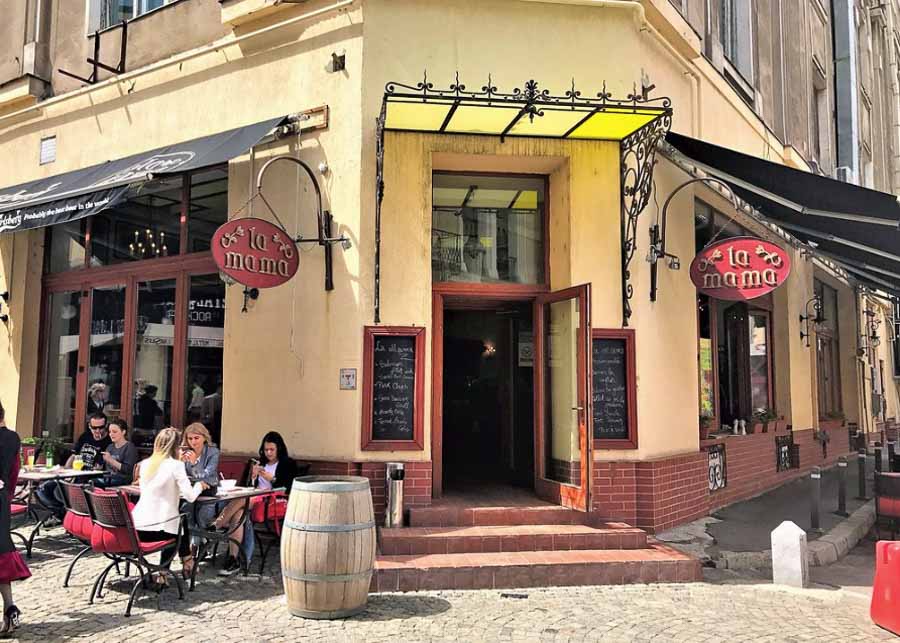 The interior of the restaurant is really nice and intimate, with a cozy atmosphere. There is no live music, which makes it possible to have a conversation. That's why we choose this place when we want to chat with old friends from Bucharest.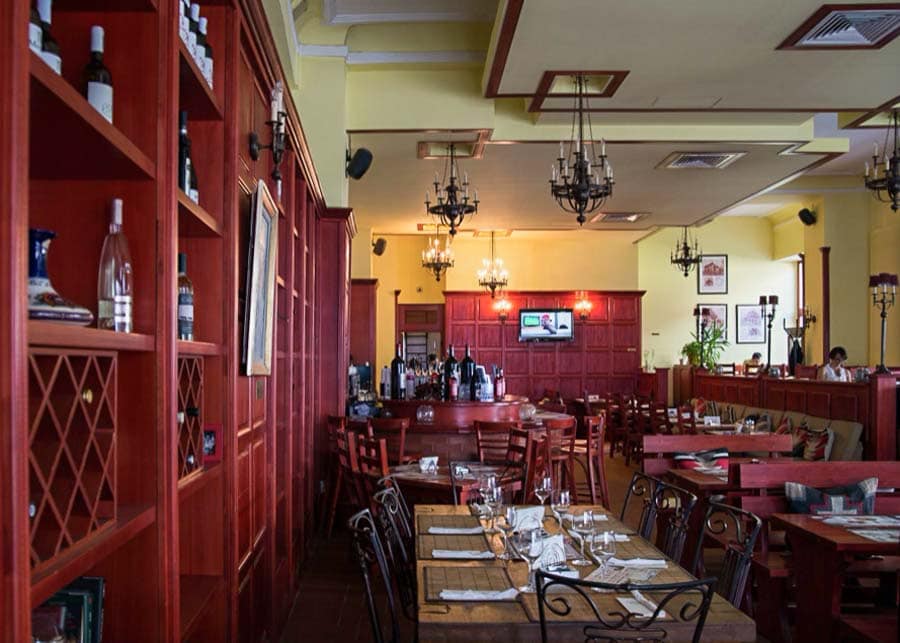 We've heard some complaints from the locals about the restaurant, but they were mainly related to the service, than the food quality. We may have been just lucky, but it's also possible that their service is not consistently good.
Pro Tip
Try the perfectly cooked rosemary potatoes, tripe soup and cabbage rolls. Also, leave some room for their excellent crepes filled with sour cherry jam.
Address: Strada Episcopiei No. 9 (near the Romanian Atheneum), Bucharest
Hanu' lui Manuc (Manuc's Inn)
Located in the heart of Bucharest, Hanu' lui Manuc is a real inn, with a rich and troubled history of over two centuries. The Inn was built at the turn of the 19th century by a wealthy Armenian named Emanuel Marzayan, better known as Manuc Bei (bei is a Turkish title).
After Manuc's death in 1818, the Inn changed ownership many times, but throughout its existence it was the meeting point for merchants and travelers from all over the world.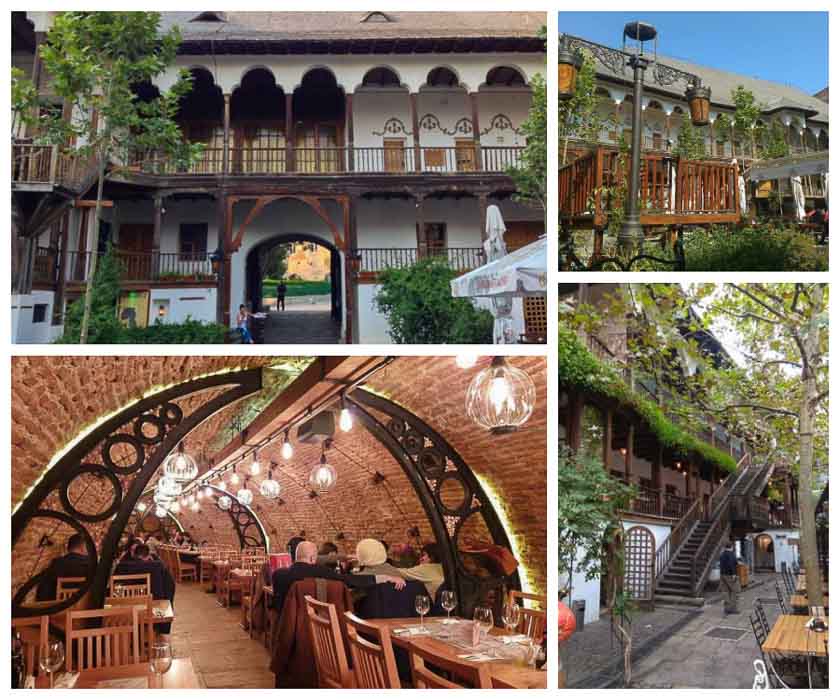 The restaurant serves authentic Romanian cuisine and has its own beer recipe. You can really feel the Romanian spirit and traditions there: the food, the music, the customs.
The large interior courtyard is a spectacular sight and a great place to eat and drink. On rainy days, you could head down to the crama (cellar) for a very authentic dining experience.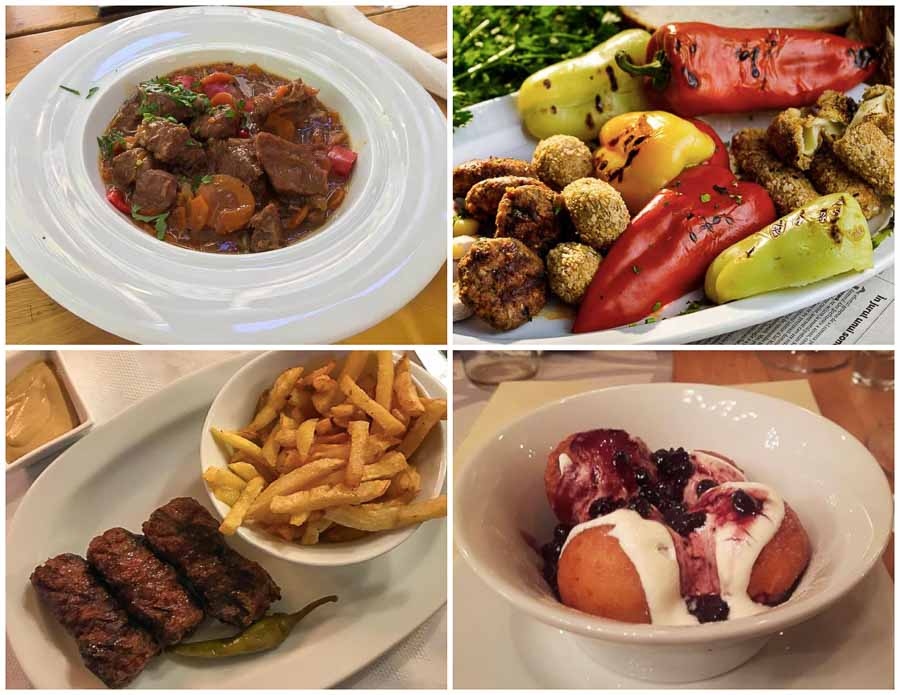 Hanu' lui Manuc also has a couple of beautiful party halls that can be rented for special occasions.
Address: Strada Franceză 62-64, Bucharest.
Locanta Jaristea (Jaristea Inn)
If you are in Bucharest and do not check out Jaristea Inn you'll miss a unique culinary experience. The exquisitely decorated dining rooms, service and large choice of high quality food will convince you of that.
This is one of very few restaurants in Bucharest where you can enjoy an entire suckling pig roasted especially for you (though you'll need to phone ahead as they start preparing it a day in advance). They also have some of the best vintage wines Romania has ever produced.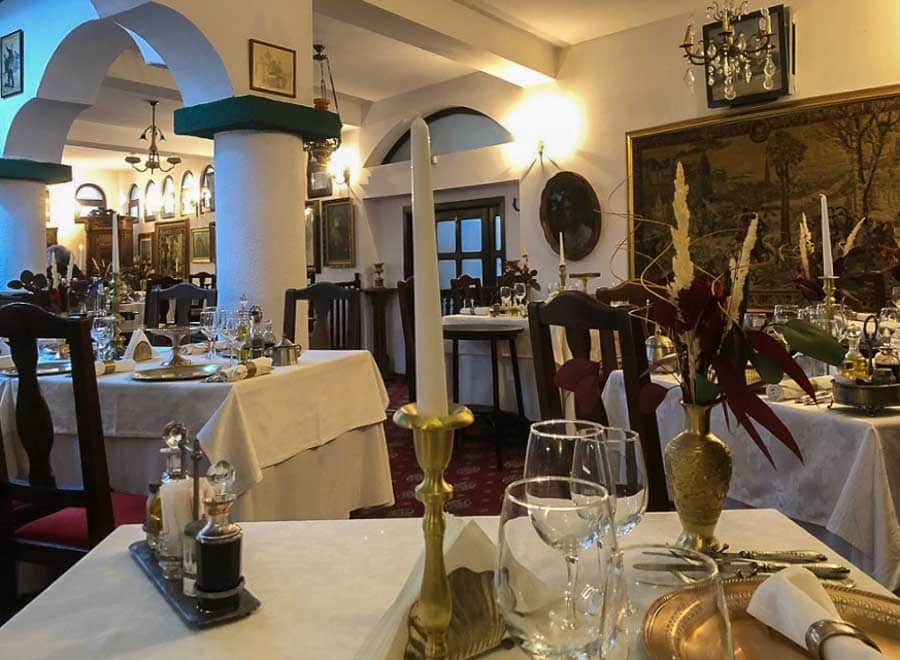 But Locanta Jaristea is not only a restaurant where you eat traditional Romanian aristocratic dishes. It's also a place where you discover the bohemian charm of the old Bucharest, when ladies did not leave the house without a hat and gentlemen raised their top hats when meeting an acquaintance.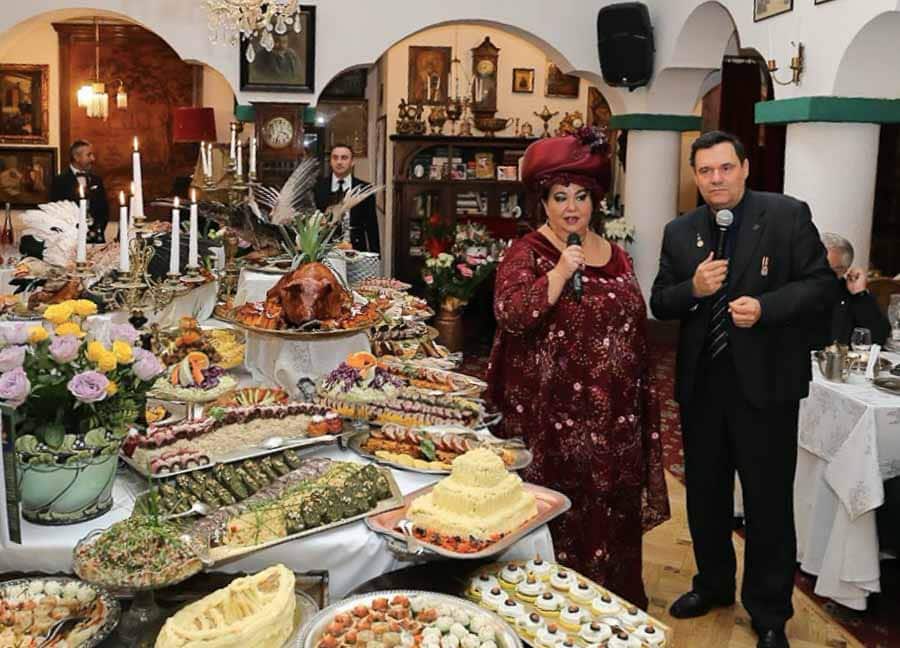 Although the restaurant is barely 30 years old, its owner – Aurora Nicolau (or Kira Calita, as she calls herself) – wanted to bring back the lifestyle of the Bucharest aristocracy from the interwar period.
Locanta Jaristea is a wonderful place to eat if you are in Bucharest at Christmas time or at Easter, when the cooks prepare a very traditional menu. But all throughout the year, the atmosphere is here amazing, with great live music programs, dance, and comedy.
Pro Tip
If you decide to dine here, you should try their Tochiturā Bucovineanā (beef stew with polenta). They make the best one I ever ate!

Adress: Strada George Georgescu 50-52, Bucharest
Best International Cuisine Restaurants in Bucharest
The Artist
Bucharest food scene is changing rapidly and dramatically and The Artist restaurant is living proof of that. We first visited this place before 2017, when they moved to their current location on Calea Victoriei 147.
The restaurant has a short, but very sophisticated menu composed of 5-6 appetizers, 5-6 main courses and some desserts. Plus 'spoon testing' for each category. The dishes are paired with wine, but the portions are relatively small so it's recommended to choose 2-3 courses (one can be the dessert).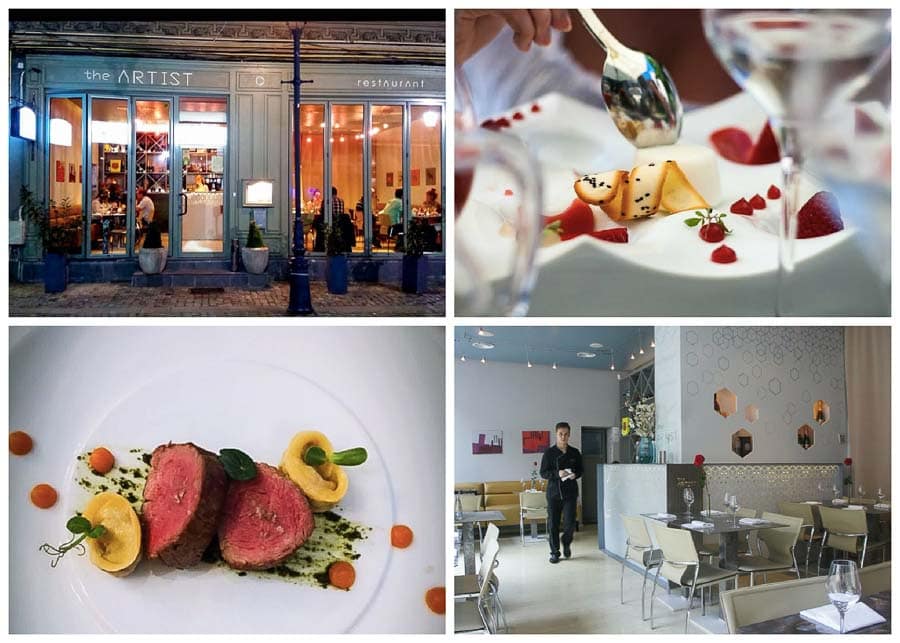 The Artist Restaurant, which is ran by Chef Paul Oppenkamp, is indeed one of the finest in the world in its category, so it can't be ignored. The food is spectacular and the service is impeccable. However, this wouldn't be my #1 choice of places to eat in Bucharest.
The reason is that restaurants like The Artist you can find in every big metropolis around the world. They have them in Hong Kong, in Budapest, London, or Paris and they have them here in the US from coast to coast.
If you are in Bucharest, my suggestion is to try some of the traditional Romanian restaurants which serve a plethora of delicious dishes that represent the local culture.
Address: Calea Victoriei 147, Bucureşti.
Zahanaua Zexe (Zexe Eatery)
The term zahana defines a small eatery located near a slaughterhouse. But since slaughterhouses are no longer allowed in cities (because of sanitary regulations) this sort of places to eat has actually vanished.
Zahanaua Zexe is considered one of the best restaurants in Romania and in my opinion it definitely has the best food in Bucharest. They say that if you want to taste properly cooked Romanian food, you should go to Zexe.
Their menu includes both traditional Romanian recipes and international dishes, like smoked duck breast, duck terrine with chives jam, or Foie Gras with spicy-sweet orange jam. Also, the restaurant has its own confectionery laboratory and their desserts are among the best in Bucharest.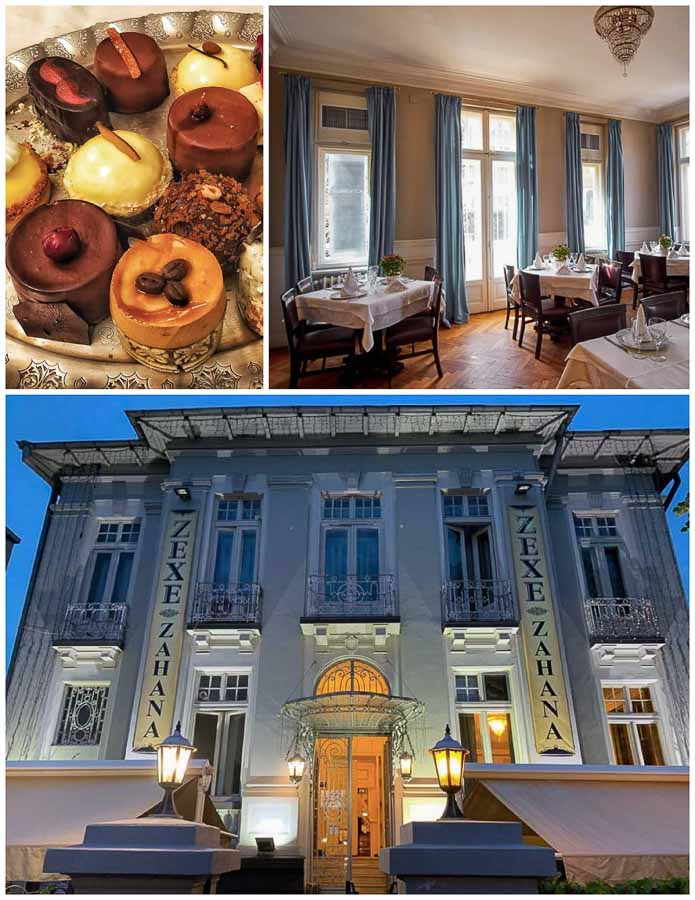 The restaurant has three locations: one on Sofia Street, another on Icoanei Street and an event salon on the shores of Lacul Tei (Tei Lake). We only visited the one on Sofia Street, which is the more spectacular one, but all three have excellent reviews.
Zahanaua Zexe is more expensive than other Romanian restaurants, but the quality and taste of the dishes justifies extra money you pay.
Pro Tip
Save some room for heavenly delicious cakes, tarts and macarons created by Pastry Chef Ana Consulea, the owner's daughter.
Address: Strada Sofia No. 1, Bucharest
Restaurant Joseph
This is one of the fanciest restaurants in Bucharest, located in an Art Deco house full of history and charm. The food is considered among the best, if not the best in this category of international cuisine.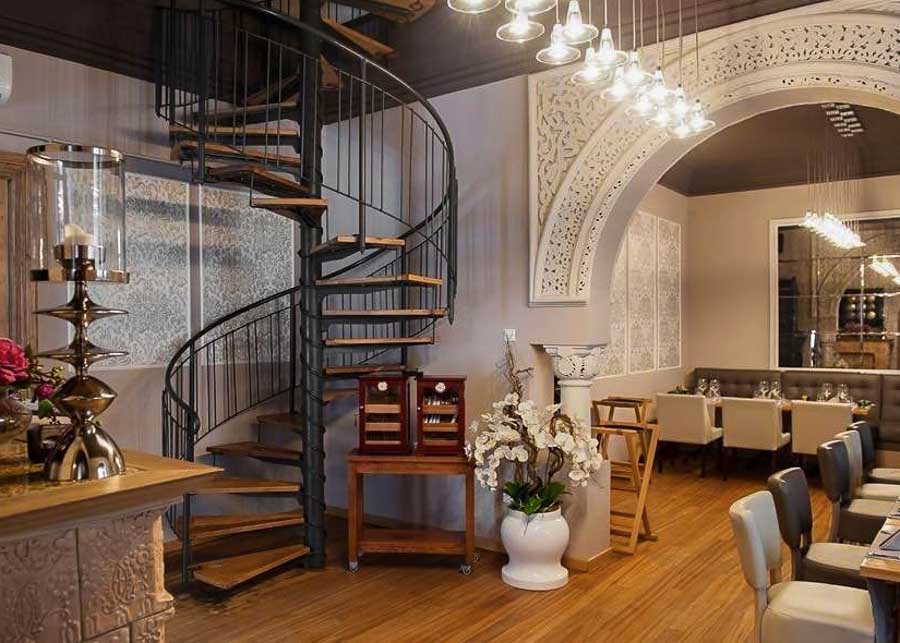 Most fine-dining restaurants I know usually serve ridiculously small portions, but not this one. It also has a great wine list and very professional service.
The owner, Joseph (Yossi) Hadad, is also the cook. He creates his recipes from scratch, inventing his own sauces and spices ad hoc. The result is perfect flavors, vibrant colors, and a superb presentation.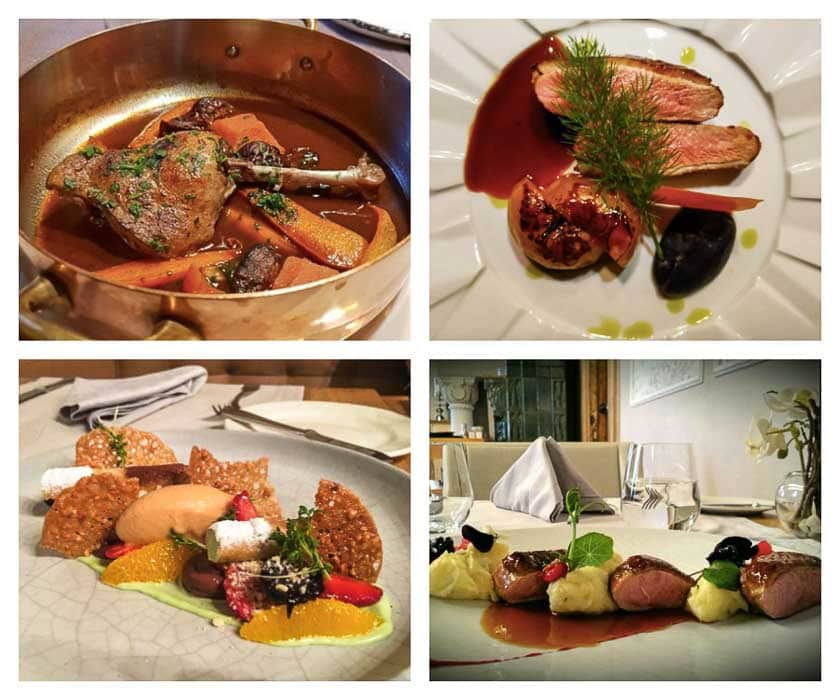 The restaurant is expensive by Romanian standards, but the food is some of the best in Bucharest! The cook uses only high quality ingredients and surprising fusions.
Casa Doina
Casa Doina is one of the oldest restaurant in Bucharest, which started in 1892 as a buffet. Its first name was Bufetul de la Sosea. The restaurant has been open ever since without interruption, even during the war.
The restaurant still retains the bohemian, elegant air of yesteryear, although it has been completely restored and renovated in recent years. For those who have time to look at the details, Casa Doina is a real museum, especially if you walk through the cellar, in the basement.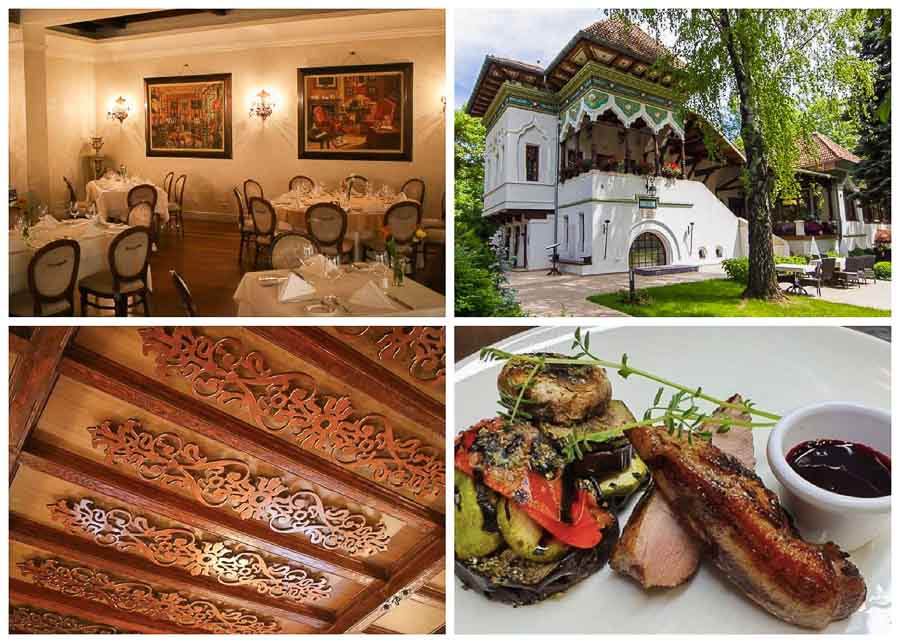 The menu focuses on traditional Romanian cuisine, but it also includes dishes from the international cuisine, like lobster tails with parmesan, ginger and chili sauce, or smoked salmon with iceberg lettuce and red onion.
Address: Şoseaua Pavel D. Kiseleff 4, Bucharest.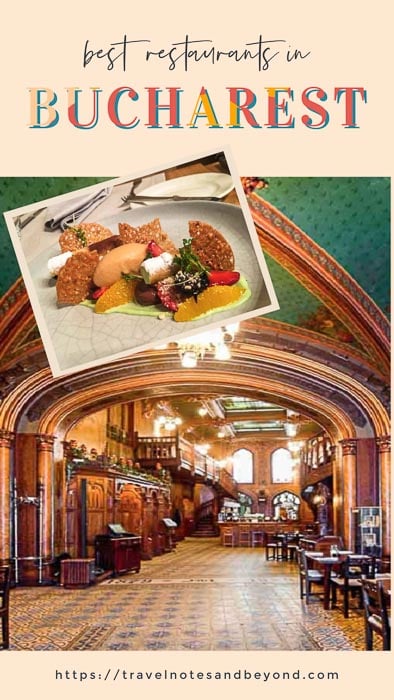 YOU MAY ALSO LIKE: