Toledo is a gorgeous place to see. With its majestic castle perched on a rocky bluff, Gothic cathedrals and winding cobblestone streets, the town looks magical, like out of a fairy tale. Due to its proximity to Madrid, Toledo is a very popular day trip for those who visit the Spanish capital.
Toledo seemed like a living museum to me, packed with history, art, and great medieval architecture. Its majestic castle was reminiscent of the castles and fortresses I visited in Romania. We only spent one day in Toledo when road tripping in Spain, but I wish we had more time in this dazzling walled city.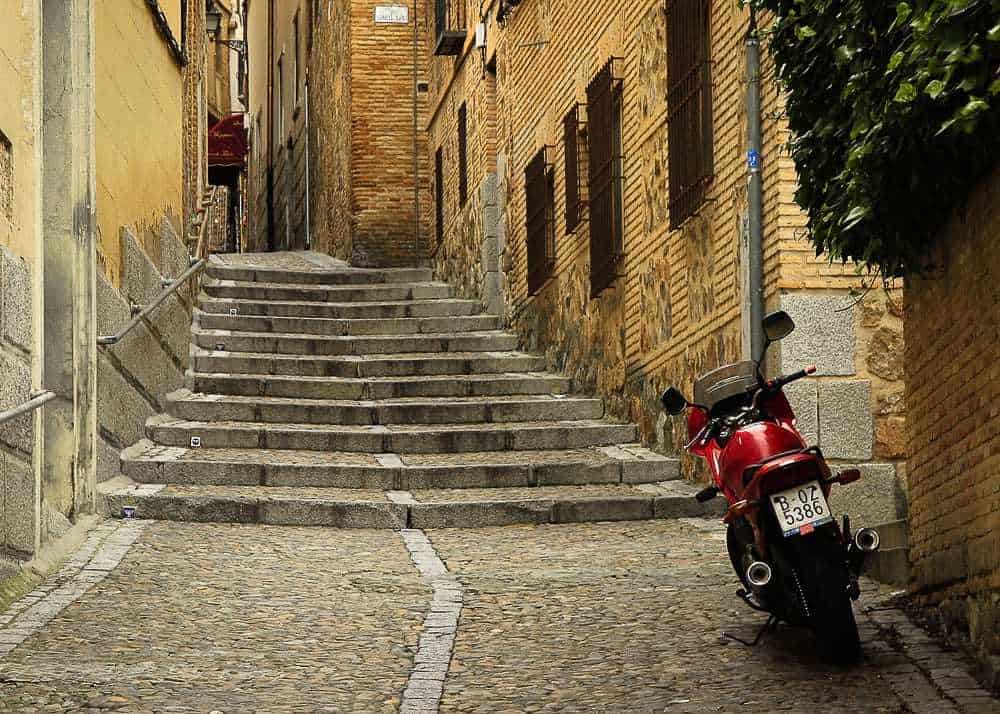 A Brief History of Toledo
Toledo had a tumultuous and fascinating history. It survived the Moors, the Visigoths, and the Spanish Civil Wa. It was Spain's religious and political center and the main site of the court of Charles V.
During medieval times, the city was a melting pot of cultures. For centuries Christians, Arabs and Jews co-existed peacefully within its walls, which is why Toledo was also known as the "City of Three Cultures." One of Toledo's biggest draws is the combination of architectural styles that derived from the mingling of these three cultures: Islamic, Jewish and Christian.
How to Get to Toledo from Madrid
Toledo makes a great day trip from Madrid. That is of course if you have more than just one day in Madrid. And thanks to the high-speed train, you can travel from Madrid to Toledo in just half an hour. There are however several ways to get to Toledo from Madrid.
By Bus
The cheapest way is by bus ($4 to $10/ticket). You need to buy your ticket before you get on the bus. The ride takes about one hour. The bus leaves from an underground hub in Plaza Eliptica in Madrid. There is also a bus service that will pick you up from your hotel and take you straight to Toledo, but that's a shared bus and it takes longer (1.5 hours on average).
Organized Trips from Madrid to Toledo
Another possibility is to choose an organized day trip to Toledo and you can find some recommendations on any Spain travel guide. There are several companies that offer all-inclusive guided tours from Madrid to Toledo.
By Train
The fastest way to take a day trip to Toledo is by high-speed train, which takes around 30 minutes. The train ride is not only shorter but also more comfortable, as you can stand or go to the bathroom. Trains depart daily from the Atocha station in Madrid.
The cost of the ticket is $14 each way. If you are not traveling during the high season, you do not need to make any reservations. You just show up and buy your ticket at the station. However, during the summer these trains get very crowded because they are also commuter trains, so it's a good idea to buy your tickets online ahead of time.
Things to Know when Planning Your Day Trip to Toledo
Toledo is probably the most popular day trip from Madrid and as a result it gets crowded in the middle of the day. If you want to avoid the crowds, plan to arrive here before 10 a.m.
There is a Lot of Uphill Walking in Toledo
Whether you arrive in Toledo by train or by bus you'll have a steep walk up to the city walls and the historic center. If you are in a good physical shape and want to take some picture, you can walk. The shortest path to enter the old city from the railway station is across the Alcantara Bridge. On this road you'll also get some beautiful views of the Tagus river.
But if you want to save your energy and you don't feel like walking, you have two options. One option is to take a cab all the way to the Alcazar, which is the highest point, then start walking down.
Or you can take a bus. Busses stop to the right of the train station, on the main street. Busses 5, 5D, 51, 61, and 62 will take one to the Plaza de Zocodover, which is downtown Toledo (up the hill).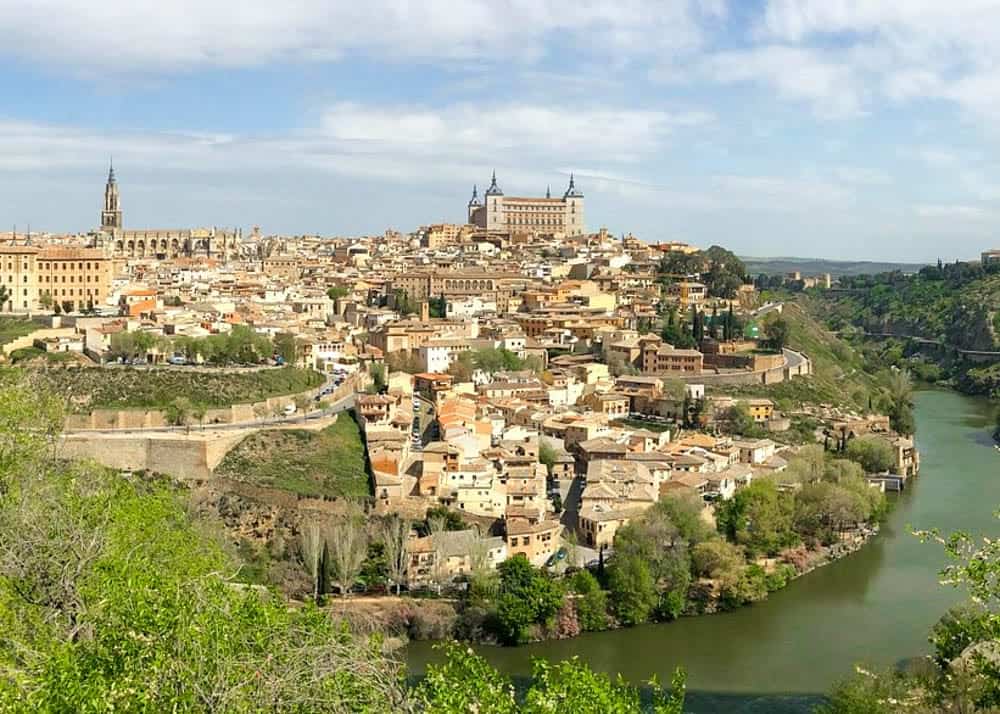 Another option to minimize the uphill walking is to buy a ticket for the Toledo Hop-On Hop-Off Bus ($20 for one day). Before entering the old town the tour bus goes first on the other side of the river and stops at some great viewpoints. Since your trip to Toledo is not very long, you probably won't have much time to go there on foot, so make sure you don't miss these great lookout points. The panoramic views of the city from across the river are stunning!
Buy a Map
Toledo has 3 major neighborhoods: –the Jewish Quarter, the Christian/Roman Quarter and the Muslim Quarter– all of which are interesting to visit.
The medieval old town is a labyrinth of winding pedestrian streets and alleyways. Finding your way gets sometimes pretty confusing, so it's a good idea to buy a map before you start your walk. Certainly, you can book a guided tour of Toledo if you choose to, but we preferred to explore the city on our own.
READ NEXT: Cheapest (Yet Beautiful) Countries to Visit in Europe
Things to Do on a Day Trip to Toledo from Madrid

Trying to fit all the attractions of Toledo in one single day is nearly impossible. There are over 30 museums and art galleries, more than a dozen churches and temples, and countless monuments. However, with some good planning you can easily see the main sights of Toledo. So here is what you shouldn't miss:
1. El Alcázar
A good place to start your day in Toledo is in the main square, where the tour bus will drop you. This is the highest part of town where you'll also find the palace-fortress of El Alcázar. The original building was an Arab fortress from the early 8th century. Later on the Spanish kings expended the fortress and eventually converted it into a royal residence.
El Alcázar is today the site of the Army Museum. The museum has a huge collection of army-related artifacts, from knights on horseback to modern aviation, toy soldiers and all things military. We decided to get in, but soon realized that was a mistake. The museum is outstanding, but way too big to be experienced properly if you only have one day in Toledo.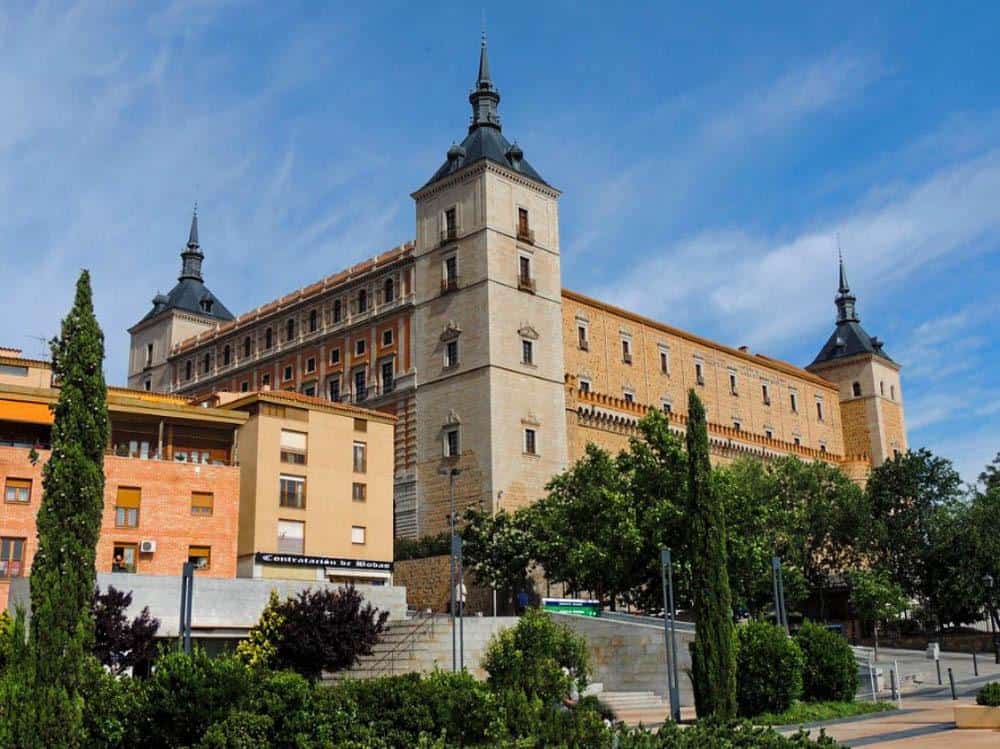 If you want to spend time visiting the Army Museum is fine. However, don't expect to see a beautiful castle interior. Alcázar doesn't look anything like a palace inside and there are hardly any views from its windows. So if you are only interested in visiting the building, the best experience is the exterior view.
2. La Catedral Primada (Toledo's Cathedral)
The Cathedral of Toledo (La Cathedral Primada in Spanish) dominates the city both architecturally and artistically. It is the second largest cathedral in Spain, after the Cathedral of Seville.
Erected on the site of a former mosque, the Cathedral took 267 years to build. That seems like a great deal of time for a construction! But when you look at this marvelous building you'll understand why its completion took so long. The Cathedral is absolutely stunning, with elaborately carved portals, a soaring 300 feet tower, and five naves stretching over 120 meters in length.

The interior is also jaw-dropping. There are so many artistic and religious artifacts! I was blown away by the sparkling gold reliefs, wood sculptures, decorated columns, and stained-glass windows. Don't miss the religious paintings of the great Spanish artist El Greco when visiting the cathedral!
READ NEXT: The Ultimate Guide for Visiting the Cathedral of Malaga
3. The Monastery of San Juan de Los Reyes
This church was originally planned by Ferdinand and Isabella as their last resting place. They changed their plans later and chose to be buried in Granada.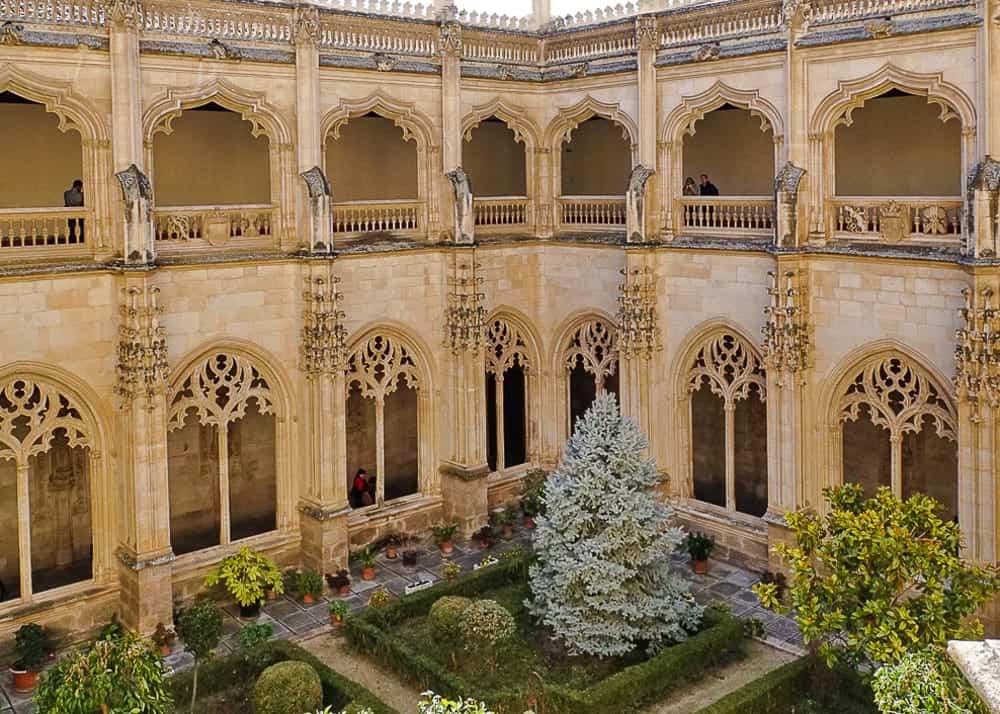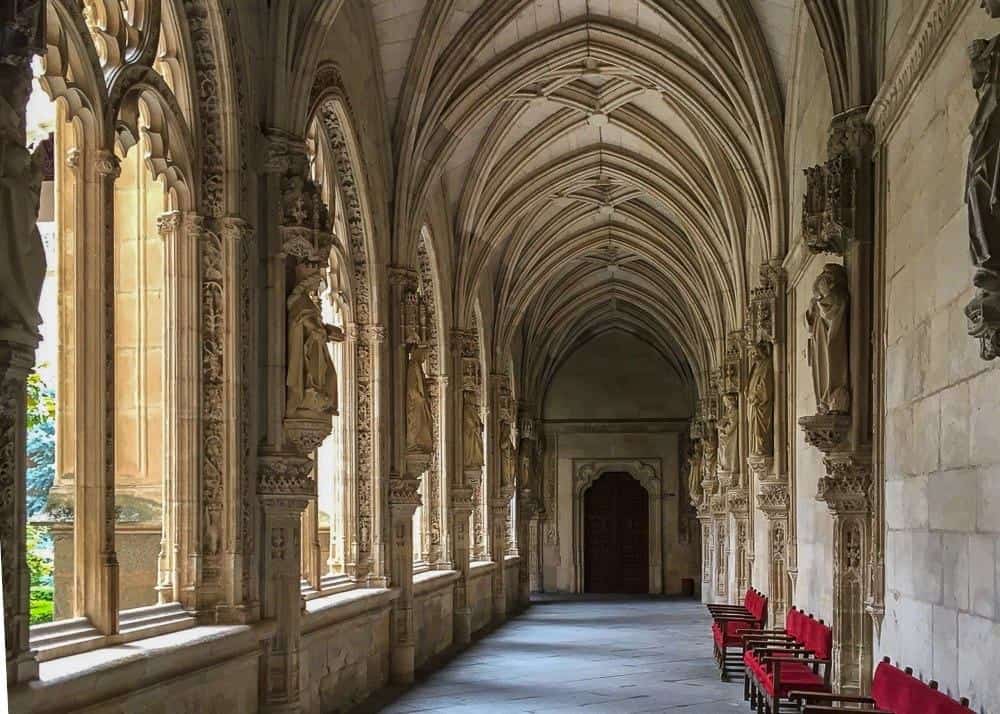 The most remarkable part of the church is its double cloister, which is decorated with carved stone arches and pillars.
4. Museo de Santa Cruz
Hidden behind Plaza de Zocodover is Toledo's most interesting museum and art gallery: Museo de Santa Cruz . The original building was a hospital during the 16th century and was built in the shape of a Greek cross. Besides containing a great art collection and many paintings by El Greco, the building's beautiful architecture is a draw in itself.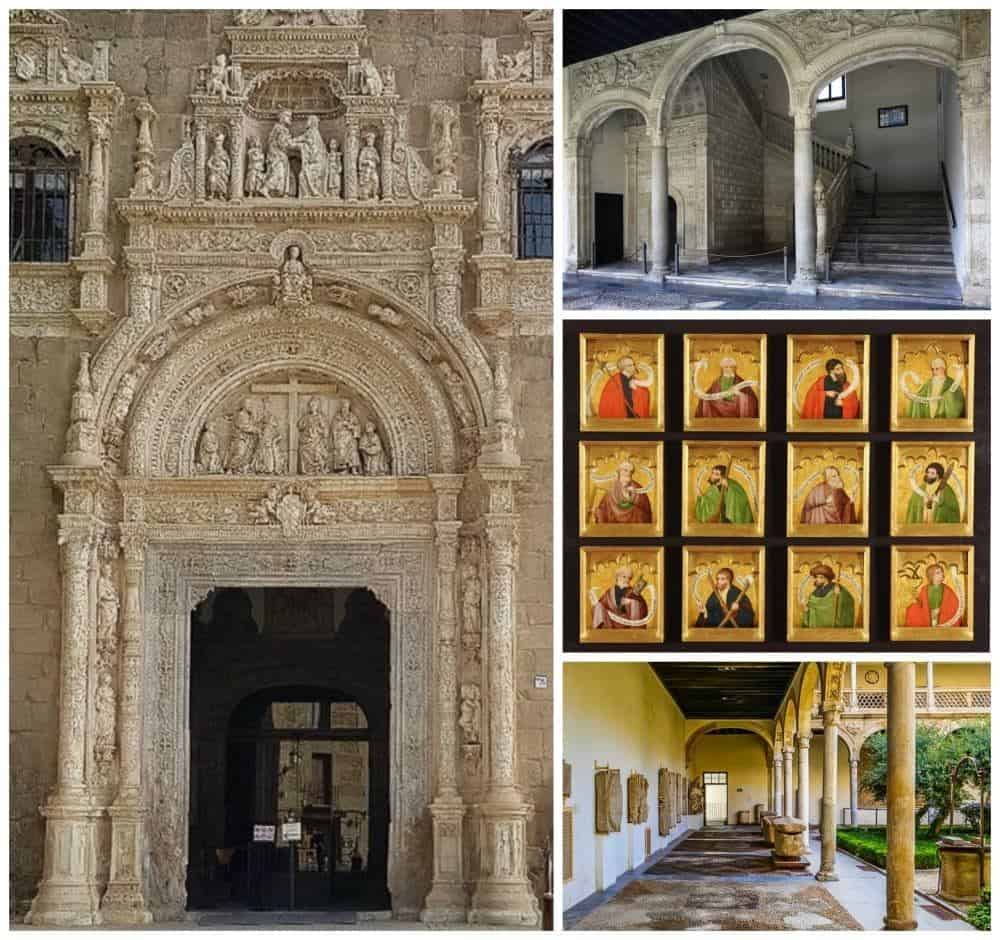 This place is worth visiting even if you are not a big fan of museums. It is also a good choice if you want to skip visiting El Greco Museum, yet see some of the artist's famous paintings.
5. Puerta de Bisagra (the Gate of Bisagra)
Puerta Vieja de Bisagra is only remaining part of the Moorish town walls. It's easy to imagine the strength of Toledo's ancient walls was when you stand before the monumental Gate of Bisagra!
To get a good look at it from the distance, you'll have to basically leave the historic old town and cross the highway. Then you'll have to return and pass through it again. Puerta de Bisagra is the kind of landmark that you'll only enjoy for a brief couple of minutes, while you pass through it. Nevertheless it's worth seeing.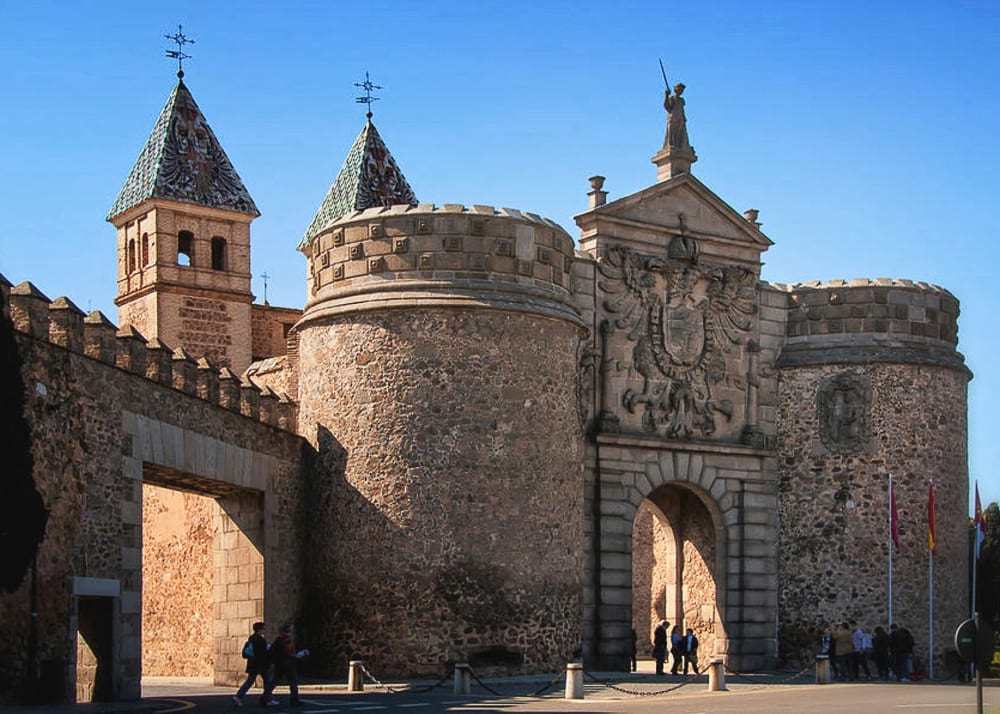 READ NEXT: Best Things to Do in Cordoba, Spain
Shopping in Toledo
Toledo is known for its traditional crafts, including antique-inspired swords. It's hard to resist the temptation to acquire one of these marvelously crafted swords that are on display. We bought three and had a lot of hassle bringing them back home, in California.
But if you are into swords, knives and amours, you should at least walk into some of these shops to admire the big variety. Some stores also explain and demonstrate how the swords are forged, using the damascene technique. It's quite an experience.
More Than One Day in Toledo?
There are many other interesting sites to see in Toledo, like the El Greco Museum, the Synagogue of Santa María la Blanca, or the Mosque of Cristo de la Luz. Unfortunately, you can only do so much on day trip to Toledo from Madrid. In the end, how you decide to spend your available time in the city depends a lot on your travel style and interests.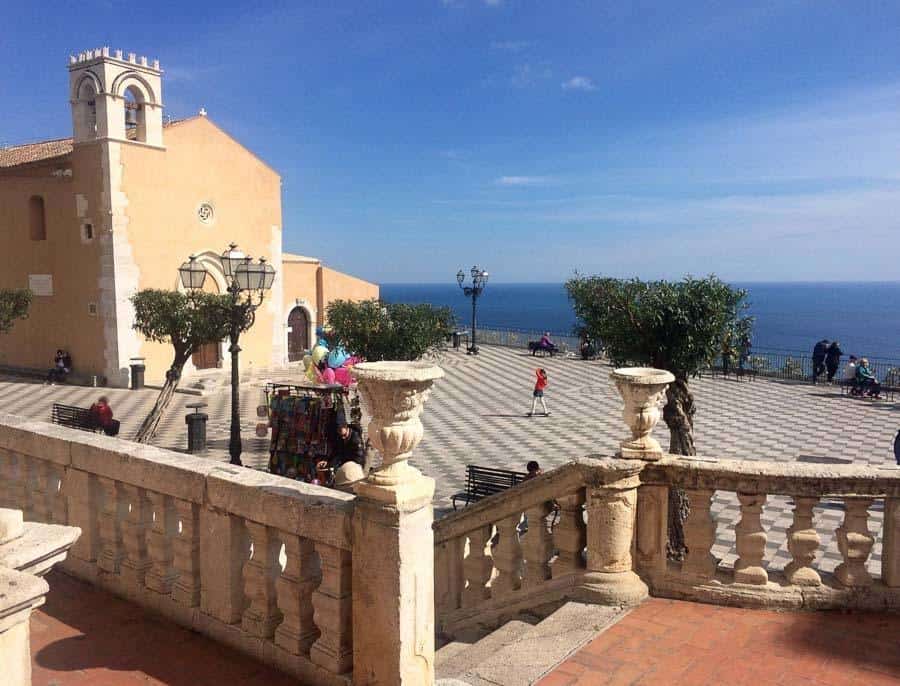 Tips for Visiting Toledo in One Day
Try to arrive very as early as you can (before 9am if possible), and leave late. Toledo is a very popular destination, so many tourists will follow the same itinerary as you.
Before you plan your day trip to Toledo, bear in mind that some attractions are closed on Mondays.
Wear comfortable shoes. The streets in Toledo are quite steep and walking can be physically demanding.
If you choose to book an organized day trip to Toledo from Madrid, be advised that you will not be allowed to stop in and shop as you please. You can only visit the stores that the tour company has an "agreement" with. And those are usually the most expensive ones.
It is possible to enjoy the city without spending a lot of money. You don't need to visit every museum, or get into every church. Simply walking the streets and admiring the landmarks can be a lot of fun.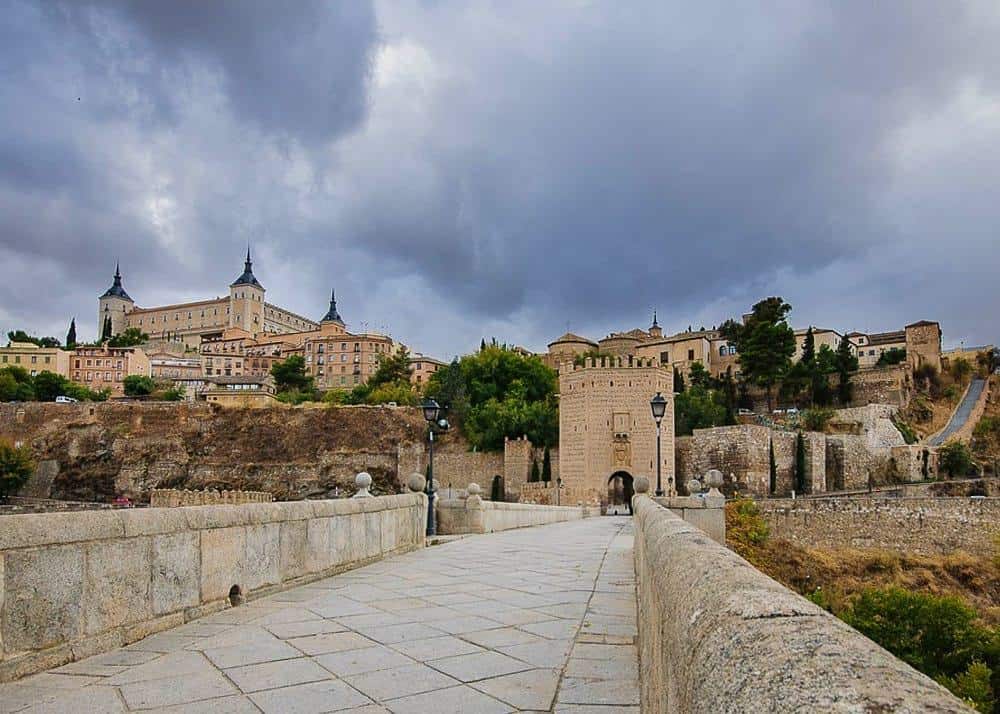 If you have never visited Toledo, make sure to include it into your next European itinerary. There is so much history in this city, so many great sites to see, and good food to taste!
Did you enjoy this post? Pin it for later.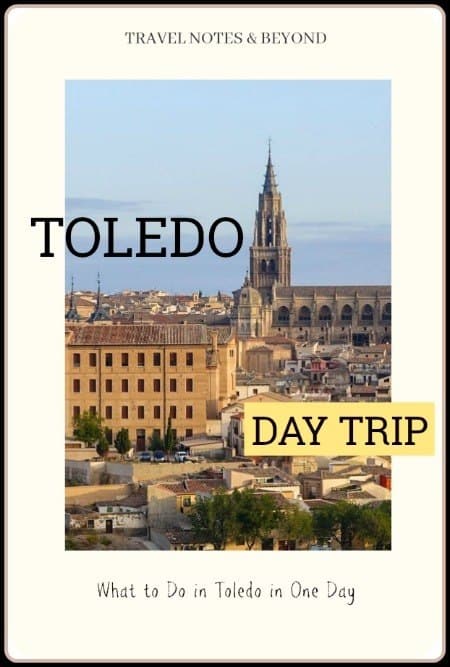 YOU MAY ALSO LIKE: