Split is one of Croatia's most beautiful cities and the perfect hub for day trips. There are plenty of amazing sights to see in Split, but if you have more time to explore the area around, there are endless possibilities for short excursions.
The Best Day Trips From Split
From Split you can head in almost any direction for a day trip and some new and amazing place. From historic cities, national parks, or island getaways, there are so many popular destinations in Croatia that is hard to decide which one to choose. Here are some ideas of beautiful excursions that you can take from Split.
TIP: Although many of the places below can be reached by bus, for more flexibility and time to explore you should consider renting a car for the day. Depending on how many people are in your group, renting a car might work out even cheaper than public transportation. You can compare prices at Auto Europe Car Rentals.
1. Trogir
Trogir is probably one of the easiest trips you can take from Split. It's just a short 40-minute drive. This small romantic coastal town will surprise you with its history and heritage. Trogir is actually an island connected to the mainland by a bridge.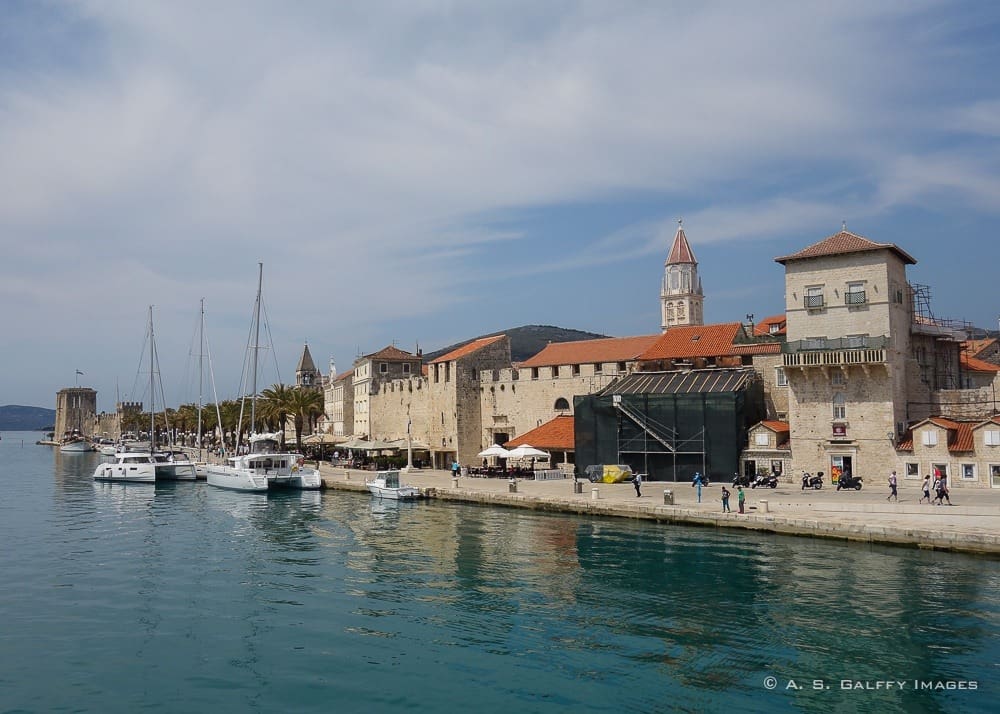 Trogir's history goes back to 3rd Century BC, when Greek colonists founded a town here named Tragurion (meaning 'Island of Goats'). Many of the buildings that you see today in Trogir were built between the 13th – 15th century.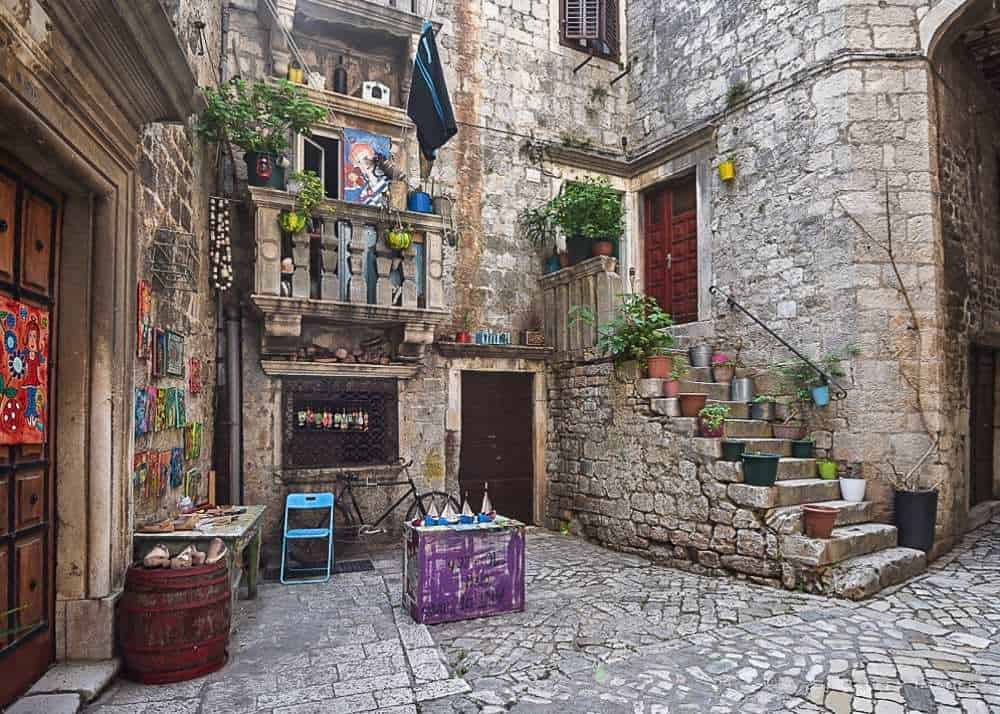 The main attraction in town is the St. Lawrence Cathedral with its bell tower and baptistery. The Cathedral that dates back to the 13th Century has an interesting portal built by the Croatian sculptor Radovan.
The best way to explore Trogir is on foot. Get lost in all the little side alleys and discover hidden gems along the way. The town is small so you can easily cover it in a day. You'll have plenty of time left to enjoy a good lunch in one of the restaurants along the Riva (the harbor front). Just be careful with the overly touristy ones (prices can be quite high).
How to Get to Trogir From Split
• By bus. There are direct busses that departs every 30 minutes from the main bus station in the harbor.
• By car. If you have a car, you can drive to Trogir in about 40 minutes, depending on the traffic.
• By boat. The Bura Lina has boats that depart from the Split Harbor and take you to the center of Trogir in about one hour.
2. Plitvice Lakes
One of the most beautiful day trips from Split is the one to Plitvice Lakes. It's one of those places that seems out of a fairytale! A labyrinth of boardwalks across turquoise waters, intersected by hundreds of beautiful waterfalls.
You could spend all day walking from one end of the park to the other and discovering its amazing beauty. The park is massive and has loads of areas to explore. Unfortunately, you can't swim at Plitvice Lakes. However, there is stunning scenery almost everywhere you turn in the park and great photo opportunities.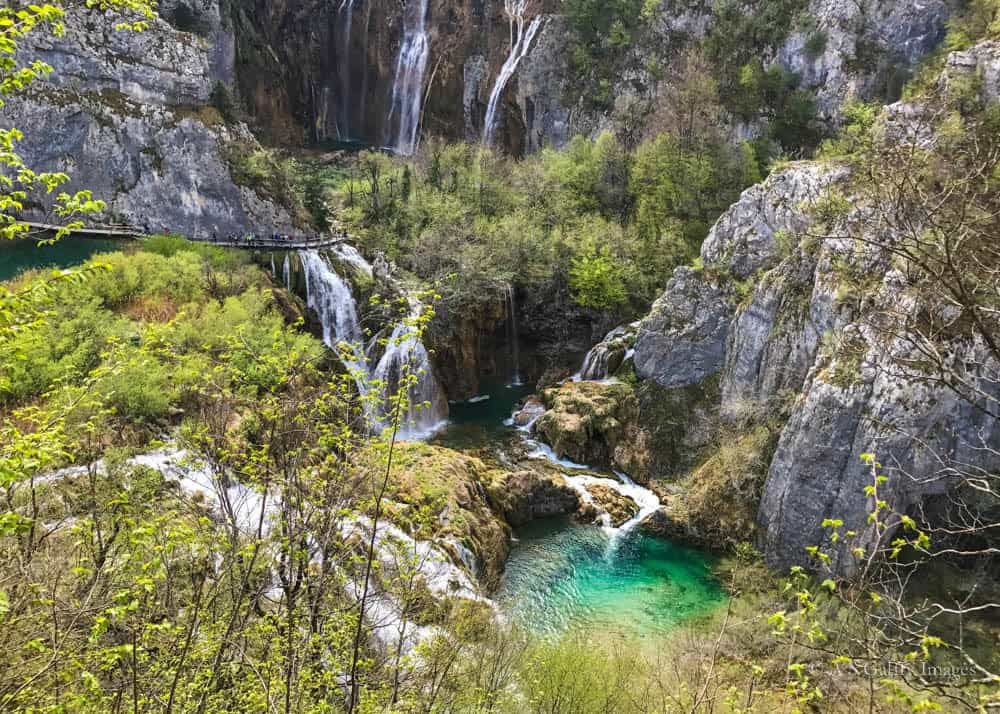 It is easy to explore the entire park on foot, following the numerous trails interlaced by wooden bridges. You can explore the National Park by small tourist train or by boat.
How to Get to Plitvice Lakes From Split
• By bus. The cheapest option is to reach Plitvice lakes by bus from the main bus station in Split harbor. The bus takes about 4–5 hours to get there.
• By car. The fastest way to get to Plitvice Lakes is by car. The faster route is via E71 and A1. Drive along the highway till you reach the exit for Plitvice National Park.
• By organized tour. You can also take a guided tour from Split, if you prefer organized excursions.
3. Klis Fortress
If you are a fan of the Game of Thrones TV series and are looking for an easy trip from Split, look no further. Just a few miles away from the Old Town, high up on a cliff, lies the majestic fortress of Klis.
Aside from its more recent celebrity as a filming location for the Game of Thrones, this incredible fortification was built to guard Western Europe against the Ottoman Turks. The ruins are in a great shape and the views from up there are fantastic.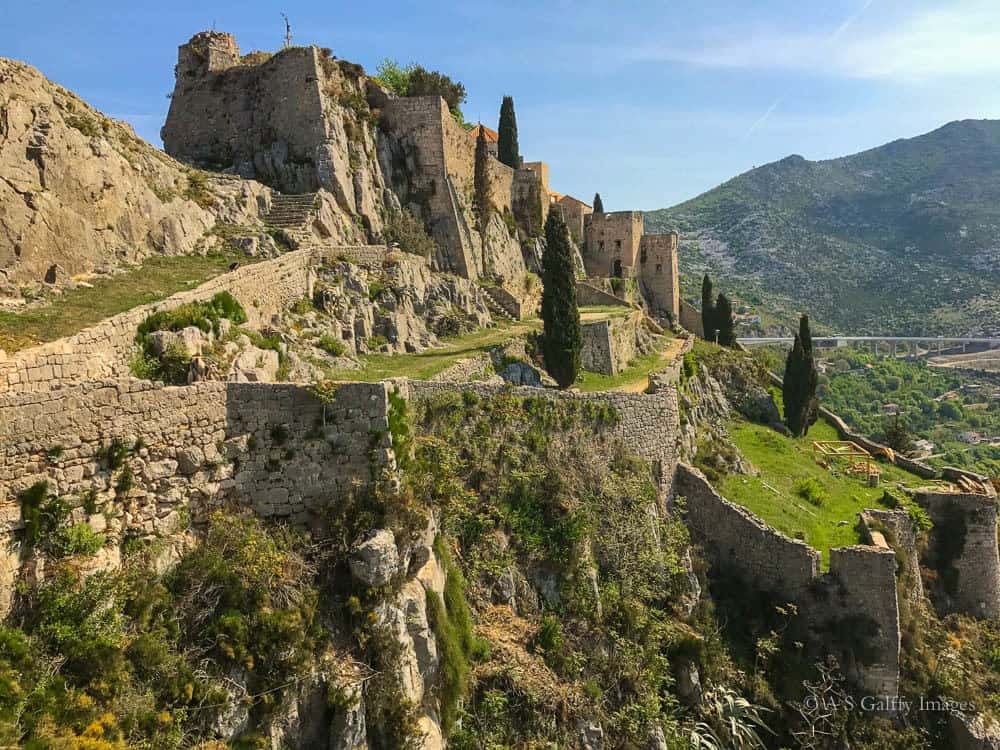 The reason why a day trip to Klis Fortress is not so popular is because not many visitors to Split know about this place. The fortress only gets around 15,000 visitors per year. This means you won't be fighting the crowds to get through the castle corridors. And if you go off season, you may have the the whole place to yourself.
How to Get to Klis Fortress From Split
• By car, using either the local road D8, or using the highway A1.
• By bus. There are 3 bus lines that run to Klis: 22 leaves from HNK (National Theater); 35 and 36 leave from Sukoisanska.
4. Zadar
Zadar is the second largest city on the Dalmatian Coast. It has the reputation for being one of the most attractive, yet least busy historic cities in Croatia. You may be wondering then if one day in Zadar be enough to see to see the city's attractions.
Although Zadar is pretty big, the historic part of town is actually very easy to explore on foot. That's in part due to its many pedestrian-friendly streets, but also to the fact that most of its attractions are concentrated in this area.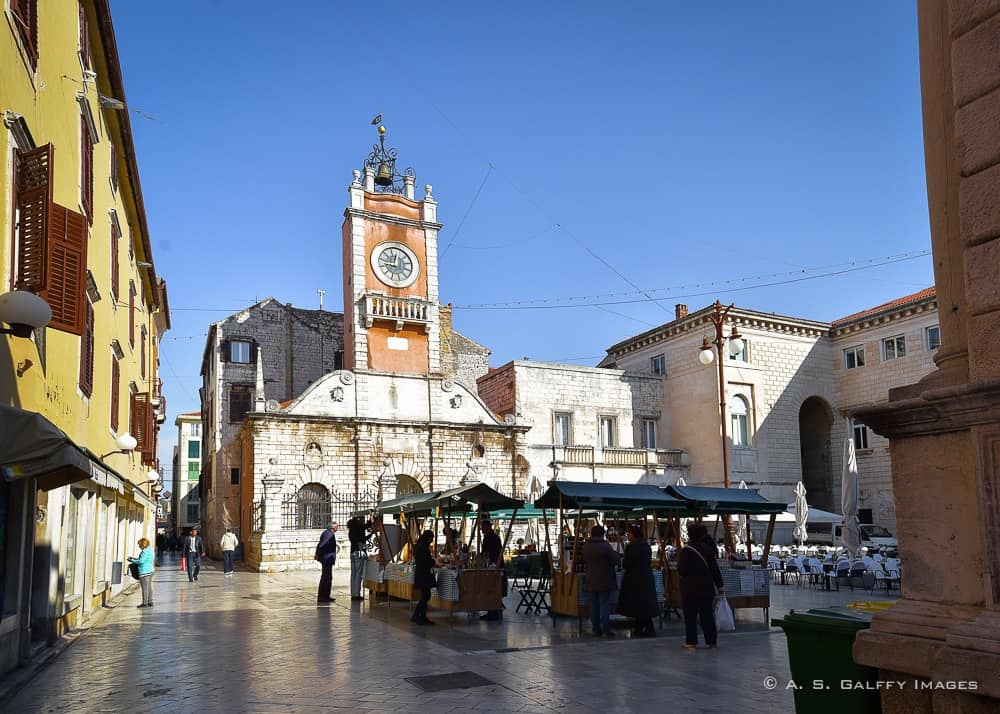 Zadar is a place for wandering. Roaming the streets and squares in the Old Town is a pleasure. The area is relatively small, but jam-packed with incredible sites that are easy to discover.
Some of the attractions not to be missed in Zadar include The Roman Forum, The Venetian Land Gate, Zadar Cathedral, and the Five Wells Square. However, the most popular attraction in Zadar is undoubtedly The Sea Organ, an ingenious work of art that captures the force of the waves producing an organ-like sound.
How to Get From Split to Zadar
• By bus. The fastest way is to take the bus that goes along the highway. The route is not as pretty as the one following the Dalmatian Coast, but you'll get there faster.
• By car. You can choose to drive on the highway, which is faster, or along the Dalmatian Coast which is more scenic but it takes longer.
5. Mostar
You may be thinking that a day trip from Split to Mostar may not work, as this town is in a different country. However, this trip is not difficult at all.
Located in Bosnia & Herzegovina, Mostar will surprise you with its cultural heritage. The town still has plenty of very visible scars from the terrible war of the 1990s, but is set in a stunning landscape.
Mostar is full of typical Ottoman architecture, mosques and other historic buildings, and plenty of markets and traditional restaurants.
Make sure to try their famous čevapčići –the traditional Bosnian coffee– often mistaken for Turkish coffee. The čevapčići is prepared in a different way than the Turkish coffee, but it's served similarly. Stroll through narrow streets lined up with traditional souvenir shops and don't forget to go down to the famous Mostar bridge.
How to Get to Mostar From Split
• By bus. It takes just about 3-4 hours by to get to Mostar by bus. The tickets are relatively inexpensive (14 € to 17 €), so this excursion from Split is worth taking.
• By car. The fastest way to get to Mostar from Split is definitely by car (2.5 hours on the highway). If you decide to go by car, make sure to have all the necessary documents since you will cross the Croatia-Bosnia border.
6. Dubrovnik
If there is one city in Croatia that will take your breath away, that is Dubrovnik. Perched up on the Dalmatian Coast along the sparkling Adriatic Sea, the city has unbelievably scenic viewpoints at almost every turn. Dubrovnik is surrounded by massive towering walls that have fortified the city since the 9th century.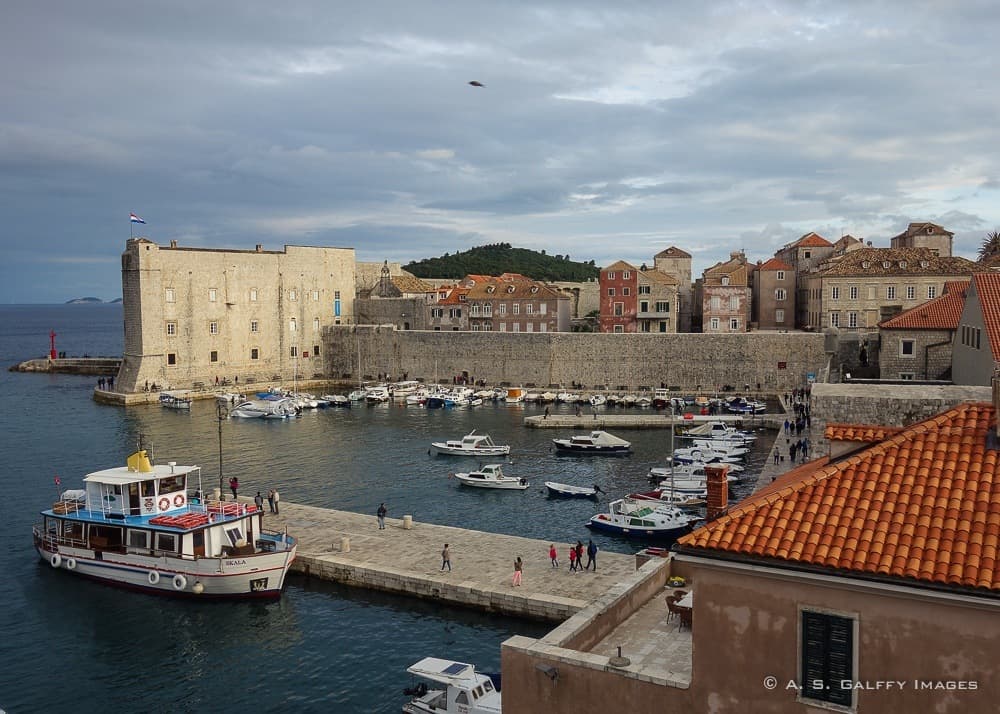 Walking around the City Walls is one of the must-do things in Dubrovnik.
Another interesting attraction is the Old Pharmacy Museum at the Franciscan Monastery. This is a complex of medieval cloisters surrounding one of the oldest apothecaries in Europe which is still in operation today.
Also, don't miss the Rector's Palace which is filled with artifacts dating from the time when Dubrovnik was a powerful medieval republic.
Another interesting place to visit in Dubrovnik is the majestic Fort Imperial at the top of Mt. Srd, reachable by cable car. Even if you don't visit the Fort, it's nice to go to the top of Mt. Srd for and a breathtaking glimpse of the town below.
How to Get to Dubrovnik From Split
• By car: the fastest and most convenient way is by car (229 km) and could be done in 3 hours. Although this is the most direct route, it involves two border crossings. There is a longer alternative if you want to avoid crossing into Bosnia-Herzegovina and back into Croatia. You may want to consider that in summer time, when there are lots of tourists at the border.
• By bus: the second option is by bus. Buses run every 1-2 hours between Split and Dubrovnik and the journey takes 4.5 hours.
• By boat: there is also a fast-boat service from Split to Dubrovnik which runs once a day each way from June-Sept. However, if you choose this option you will have to spend the night in Dubrovnik.
TIP: No matter which means of transportation you choose, remember to take your passport with you if you plan to do this day trip to Dubrovnik.
7. Day Trip to the Blue Cave and 5 Islands
If you want to spend at sea you should try this one-of-a-kind tour. They pick up only a small group of people on a private speedboat and visit 5 of the islands in the vicinity of Split. The tour also includes some snorkeling time in pristine blue waters, sightseeing in Hvar, and a visit to the famed Blue Cave.
A Final Note
So here you have it: the best day trips from Split! I am glad I was able to visit all these places as each one of them makes the list for the most beautiful spots to visit in Croatia.
If you plan to visit Croatia in the future and have any further questions, don't hesitate to contact me. I'll be happy to help you with your travel plans.
If you found this useful, please pin it to help other travelers to Croatia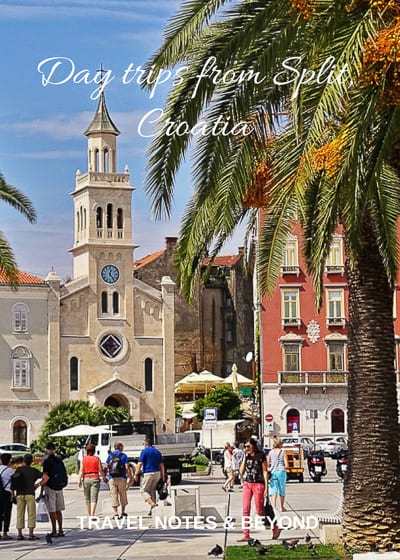 YOU MAY ALSO LIKE: