Athens certainly has a lot to offer in terms of history and culture, but it also makes a great base for day trips in Greece's mainland, the Peloponnese, or even the nearby islands. There are plenty of fascinating places to discover in this region, whether you are looking for peaceful beaches, historic monuments, or archeological sites. So if you have more than 3 days in Athens, you should definitely plan on taking a few short trips in the area.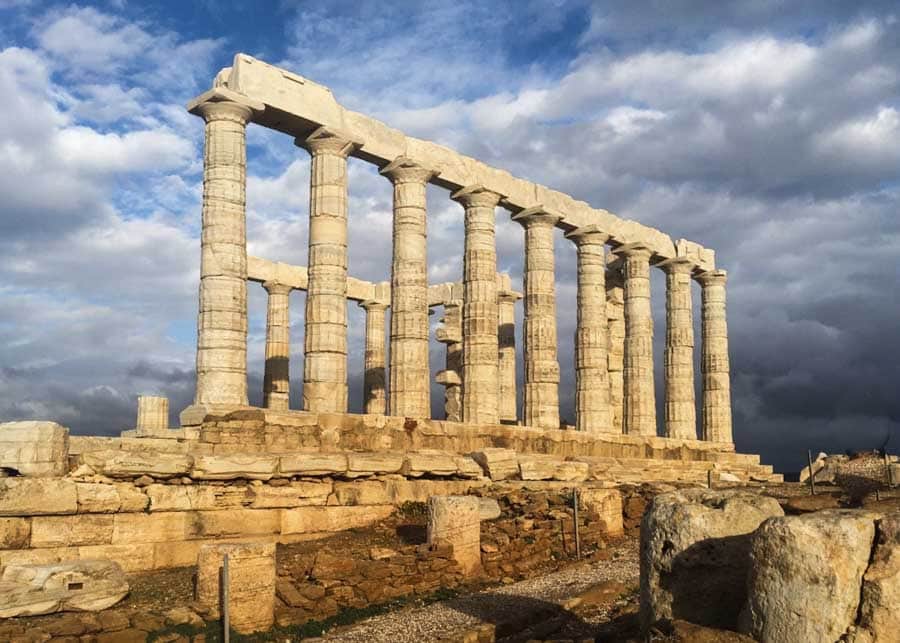 Things to Consider When Planning a Day Trip from Athens
One of the most important questions to ask yourself before planning a day excursion is what would you consider a reasonable amount of time to spend driving? In my mind, a day trip shouldn't require more than 2+ hours of driving in one direction. That is why destinations that are 4-6 hours away from Athens – like Meteora, Mystras, or Monemvasia – don't make good day trips (despite being often advertised as such!)
Once you decide on a destination the next thing to consider is whether to visit it by car, by bus, or by a guided tour. There are of course pros and cons for each of these options, so you'll have to weigh them all in before choosing one.
Car Rental vs Bus
If you prefer to travel independently you can do so by bus or by renting a car. Here are the pros and cons for renting a car in Greece.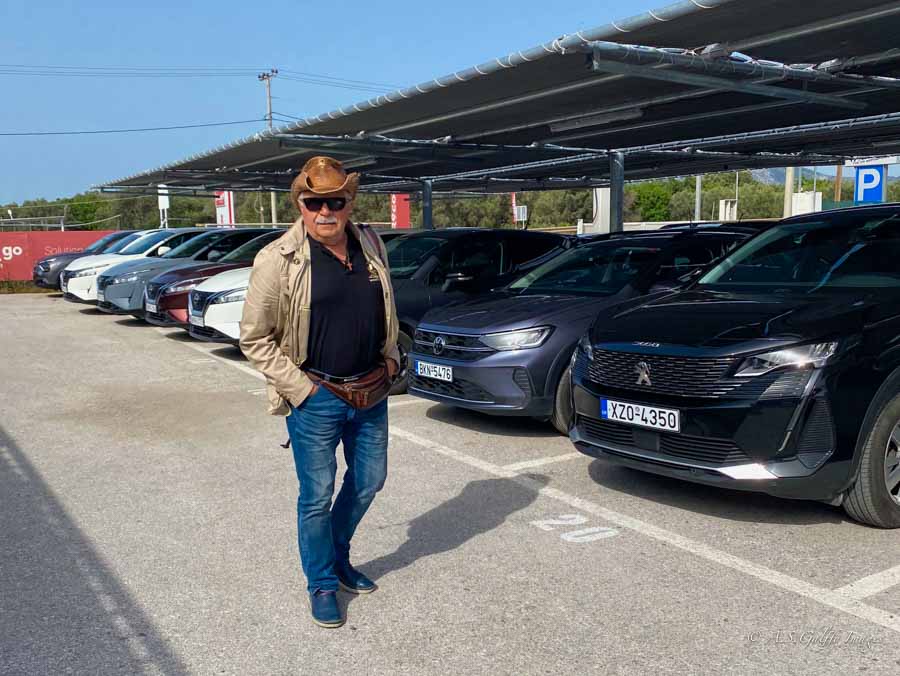 Pros
The easiest and most convenient way to visit the sites around Athens is by car. Having your own means of transportation is not only more comfortable, but also gives you more flexibility and independence. You can rent a car at Athens airport or at one of the car rental agencies in the city center. Keep in mind however that rates in the city center may be higher than at the airport.
Cons
Renting a car involves more expenses than riding the bus. Among other things you may have to pay for parking if you plan to park your car in Athens overnight. Rates run around €24/night and most hotels in the city center don't offer parking.
Another inconvenience is the stress associated with driving in another country. Although driving in Greece is overall much easier than driving in Sicily, or other parts of Europe, getting in and out of Athens is not exactly easy.
Traveling by Bus
If you choose to travel by bus instead, you'll be trading one type of freedom for another. You won't have the responsibility and the stress of driving, but you'll be completely dependent on the bus schedule. You'll also have to share your space with other travelers, which sometimes is not very convenient. Busses are however the cheapest means of transportation, so if you are on a budget they may be the best option for you.
Booking a Guided Tour vs Independent Travel
Although independent travel is more cost efficient and flexible, it's not suited for everybody. Many people prefer guided tours because they get access to an expert guide at all times and they won't need to worry about researching their destination. Also, single people often prefer being in a group rather than traveling alone in a foreign country.
TOURS FROM ATHENS:
There is a huge range of tour operators out there offering day trips to many destinations around Athens. Therefore it's important to choose the right one for you and compare what they offer before booking a tour.
Best Day Trips from Athens for Archeology Lovers
Driving distance from Athens: 185.1 km via A/D Pireos Athinon Thessalonikis (2 hr 16 min)
Up on the slopes of Mount Parnassus, about 185 km from Athens, lies one of the most iconic places in Greece: the Temple and Sanctuary of Apollo at Delphi. This UNESCO World Heritage site which is known today as the Delphic archaeological zone, is a pure delight for history and archeology lovers!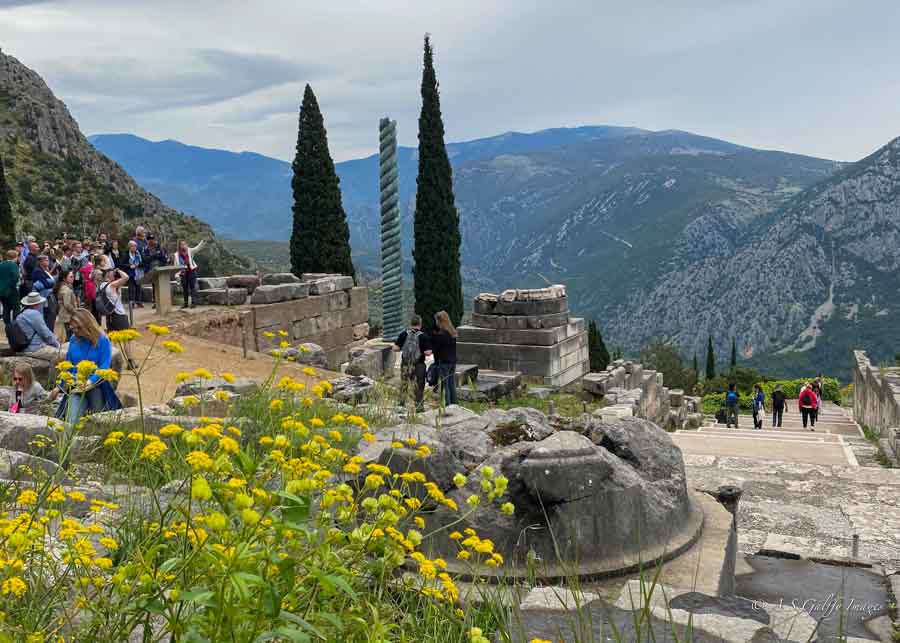 But the sacred sanctuary was best known as the home of the Oracle of Delphi and its priestess, Pythia, who had the power to foresee the future. As a result, kings and commoners alike would come here to consult her before all major enterprises, whether there be war, conflicts, or peace.
One of the sites not to miss in Delphi is the Sanctuary of Goddess Athena Pronaia, set just below the road about half a mile east of the Sanctuary of Apollo. Athena Pronaia was Apollo's half-sister and her main role was to protect him. The only structure still standing there today is the Tholos, a circular temple dating back to the 4th century B.C.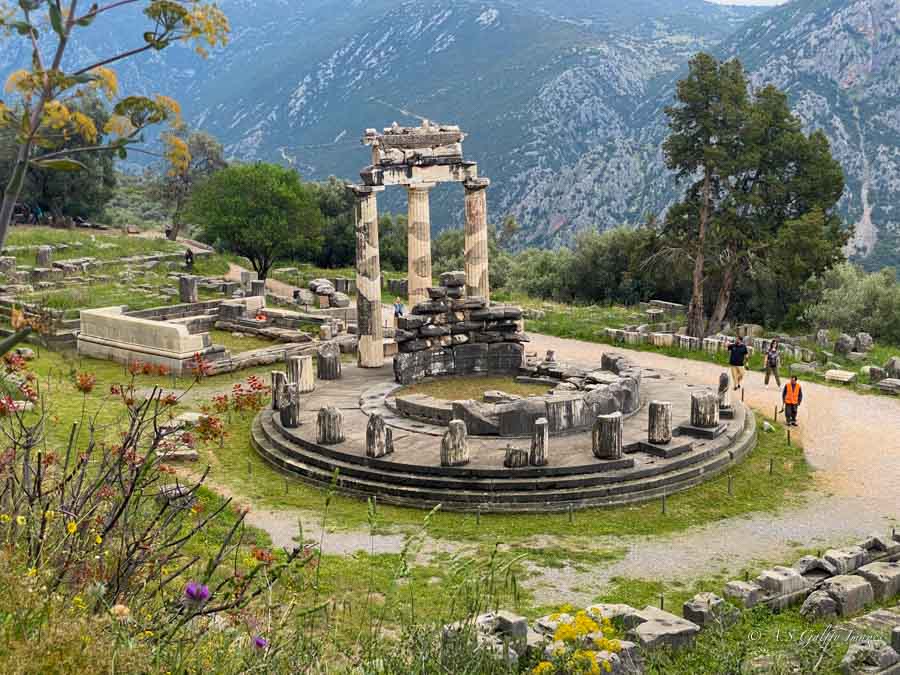 Delphi alone merits a full day to wander the impressive marble ruins that dominate the valley of Phocis. There is also a fine Archaeological Museum on the site that displays amazing gems discovered during the excavations.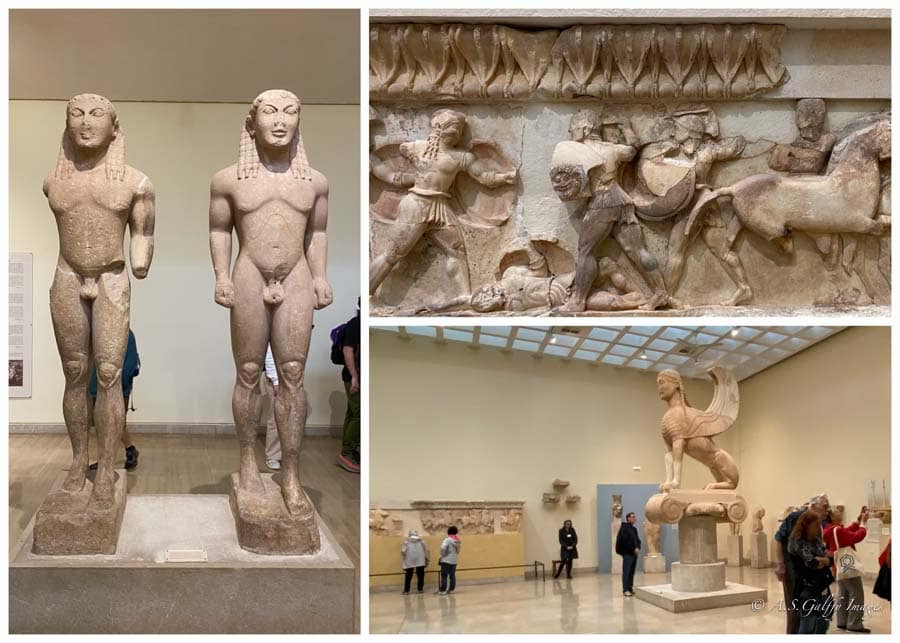 Delphi is mostly visited as a day trip from Athens. But if you don't want to return to Athens in the evening, you can stay an extra day Delphi and take a trip to the mythological caves and springs in this area, or visit the lush forests around. If you visit Delphi in spring you'll be amazed by the verdant valleys sprinkled with wild flowers and endless orchards of olive trees!
Practical Information
Opening hours: 8:00 am to 7 pm
Admission: €12/person (ticket includes both the archeological site and the museum)
Cape Sounion – Temple of Poseidon
Driving distance from Athens: 62.2 km via EO91 (1 hr 3 min)
Cape Sounion is worth fitting in as a short excursion for sunset, after visiting Athens. This place is well-known for being the best spot to witness some of the most spectacular sunsets in Greece.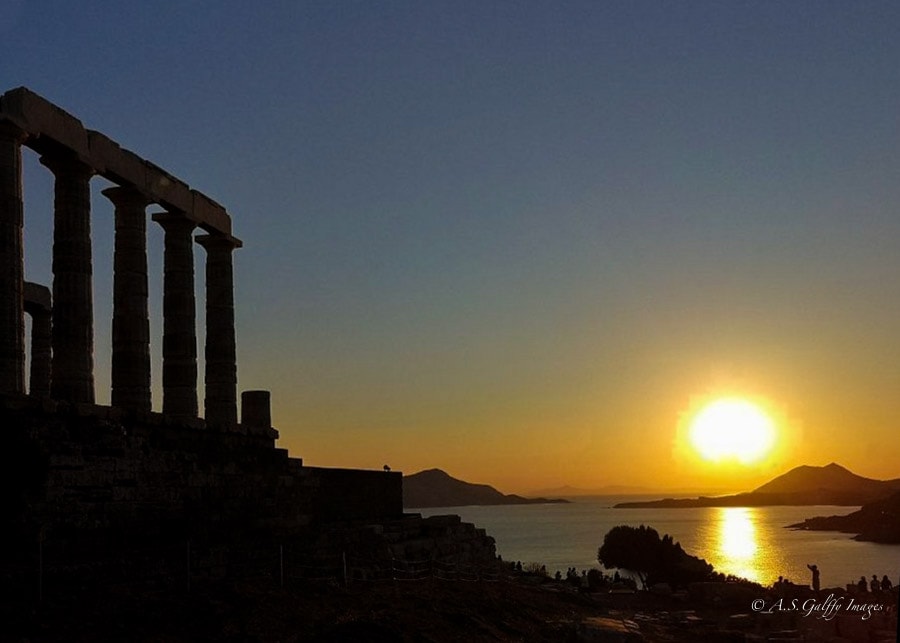 The most impressive structure to see here is the Temple of Poseidon overlooking the Aegean Sea. Erected in honor of Poseidon, the god of the sea, the temple was intended as a strong statement for the empire's maritime power. The location of this temple is also memorable. No wonder the ancient Greeks chose this remarkable landscape for their temple!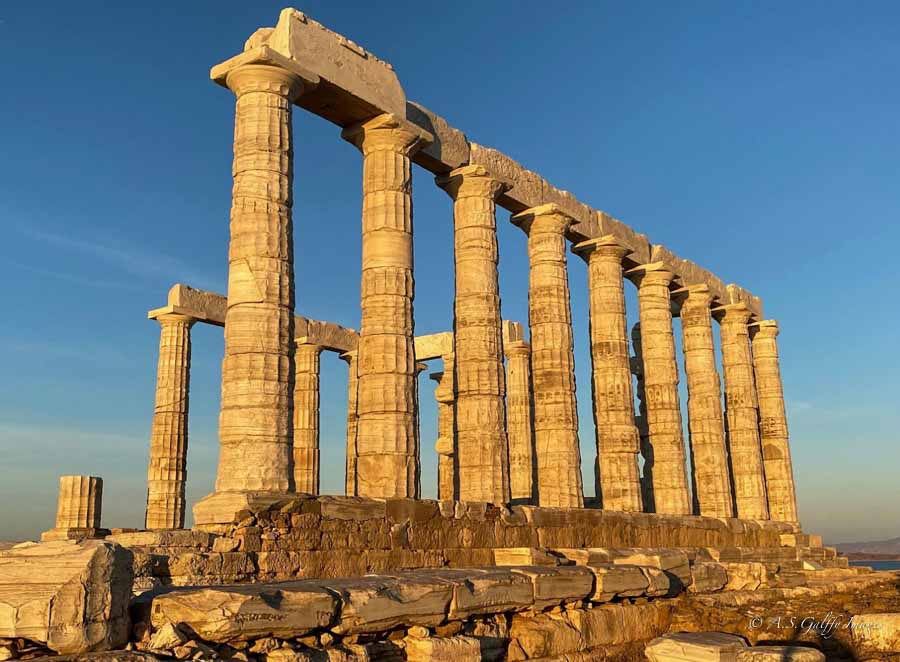 The best way to visit it is either by car or by cab (1 hour). Many tour companies offer guided half-day tours that include pick-up and drop-off in Athens. That would be my next choice if you don't have a car. As for public transportation, busses take 2 hours each way to get to Cape Sounion, so they will eat up a lot of your time.
If you have a car and want to take a full day trip to Cape Sounion, I suggest leaving Athens in the morning and spending the first part of the day at the beach. There are many beautiful beaches in this area, like Paralia Sounio, just below the temple, or Kape Beach a little further up the highway. Towards the sunset you can visit the Temple.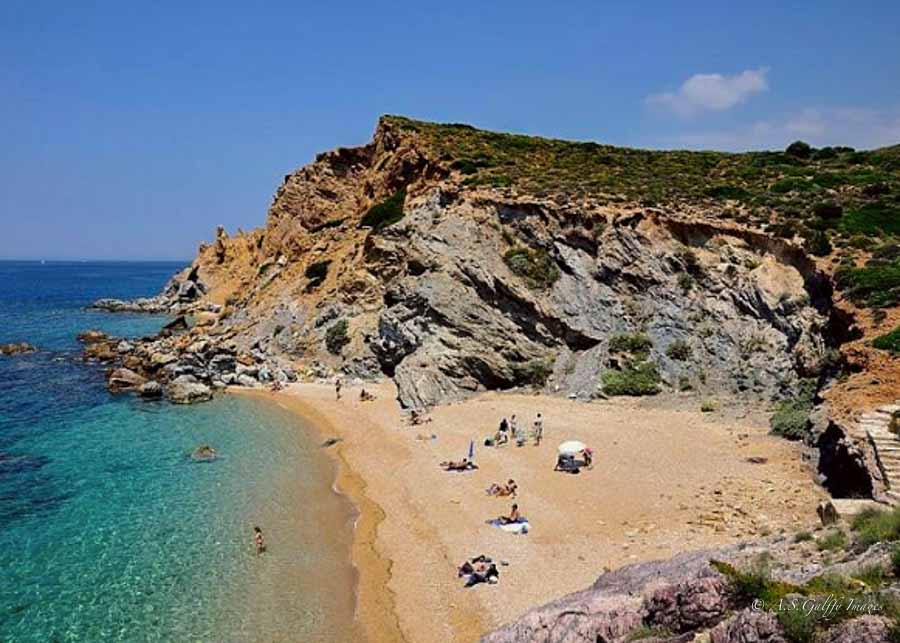 Practical Information
Opening time: The temple is open every day of the year from 9:30 am till sunset. The last entry is allowed 20 minutes before the sunset time.
Admission: €10/person
Trip to Ancient Corinth from Athens
Driving distance from Athens: 83 km via Olympia Odos A8/E94 (60 minutes)
One of the most interesting archeological sites to visit in Greece is that of Ancient Corinth. The site is just a short one-hour trip from Athens. The drive to Corinth will take you across the Corinth Canal which links the Ionian Sea with the Aegean, effectively turning the Peloponnese peninsula into an island.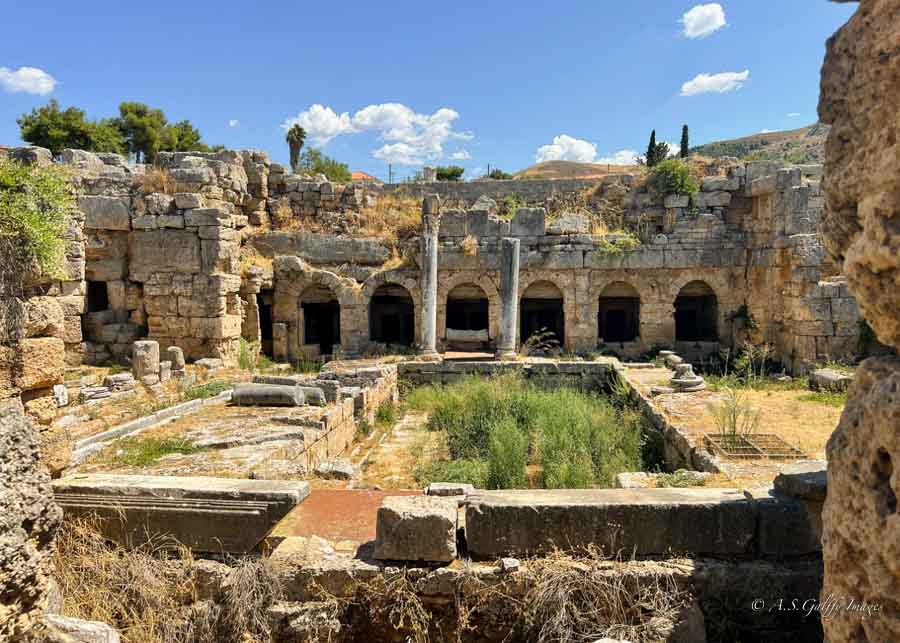 In ancient times, Corinth was one of the richest and most powerful cities in the Mediterranean. The most striking monument you'll see here is the Apollo Doric Temple, which dates back to around 500 BC. Looking at it you can only imagine how magnificent Corinth must have been in those times!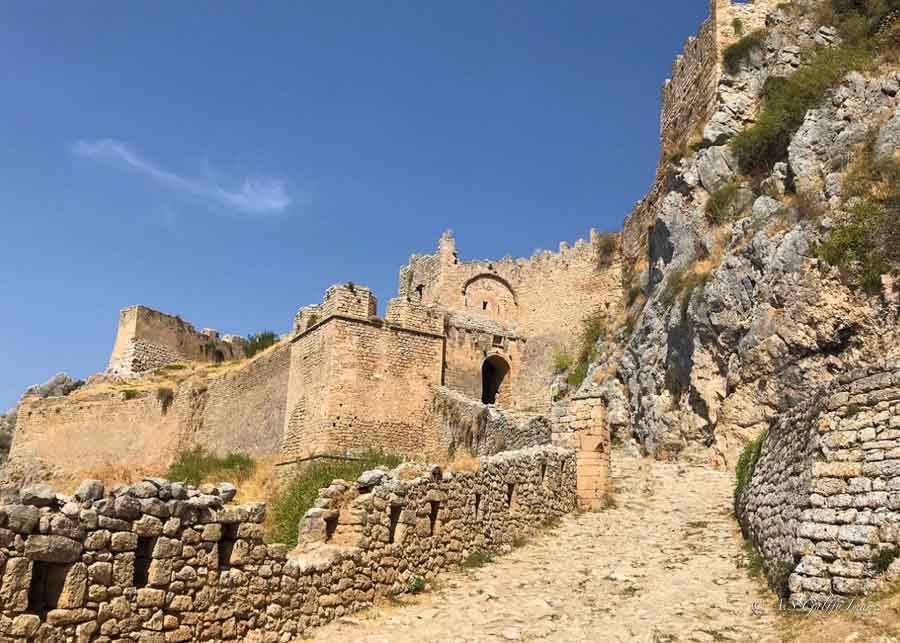 But the most interesting site to visit in Corinth is actually the Akrocorinth, which is only 10 minutes away from the Ancient Corinth. Here, standing high up on a rock, you'll see the largest and most important fortification in Greece.
Practical Information
Opening hours: 8:00 am to 7 pm (summer) and 8:00 am to 5 pm (winter
Admission: Free
Day Trip to Mycenae from Athens
Driving distance from Athens: 119.7 km via Olympia Odos/A8/E94 (1 hrs 30 min)
The archeological site of Mycenae holds a lot of history! During the Early Bronze Age this was home to one of the greatest civilizations of Greek prehistory – the Mycenaean civilization. According to legend Mycenae was the capital of Agamemnon, the ancient Greek king who conquered the city of Troy.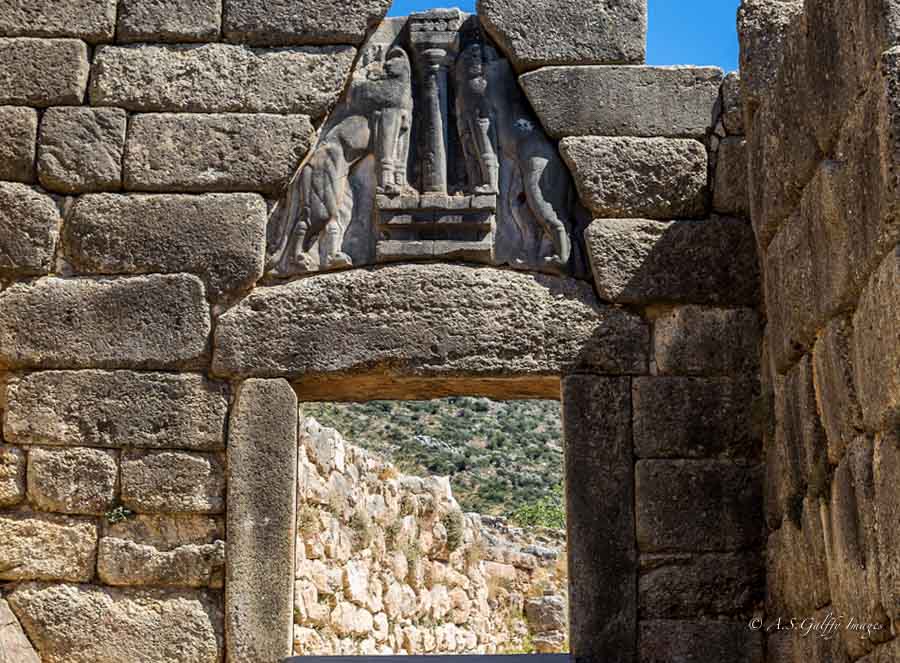 Not much has survived from the Mycenaean civilization though. The two structures still standing today are from the 14th century B.C. One is the Lions' Gate, at the entrance of Mycenae's citadel.
The other is the Tomb of Agamemnon – a beehive burial chamber built up of overhanging blocks of masonry. But despite the name, little is known of the persons who might have been buried in this tomb.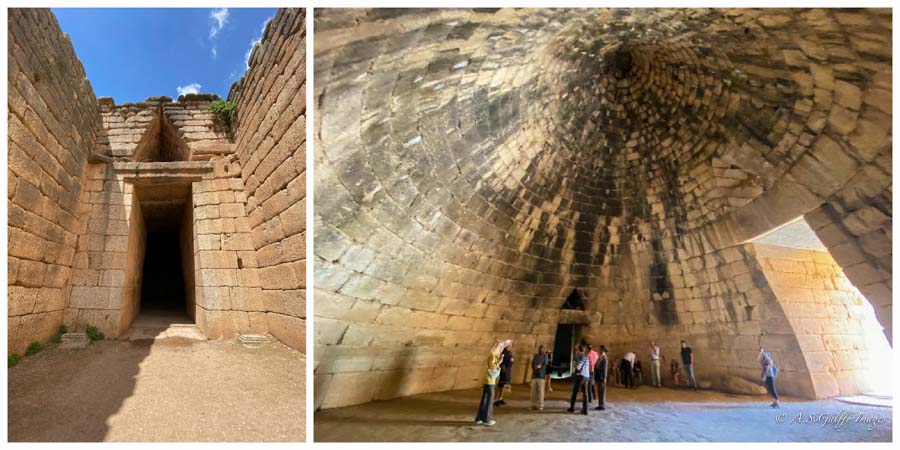 Day Trip to Nafplio
Distance from Athens: 138 km via Olympia Odos/A8/#94 (1 hr 44 min)
Nafplio is undoubtedly the most beautiful seaside town in the Peloponnese. It has everything you could want in a coastal town: beautiful beaches, walkable streets, buzzing squares, a vibrant port, an offshore island fort and two hilltop castles.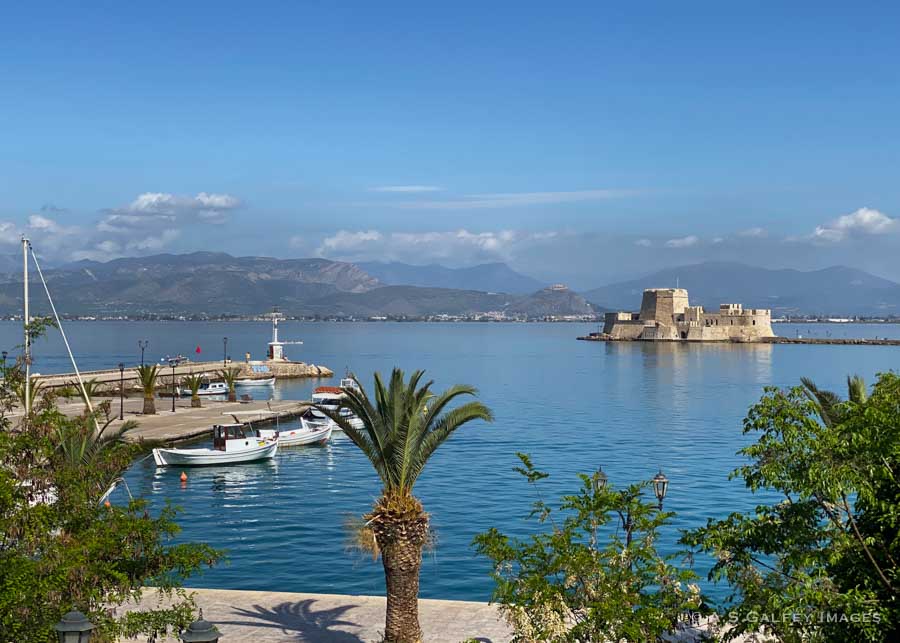 This little coastal gem which was the first capital of modern Greece has quite a few attractions. Besides its picturesque port, lovely seaside promenade and quaint beaches, Nafplio is also has some invaluable historic treasures. So if you are in town for only a day, make sure you don't miss the Palamidi Fortress, Bourtzi Castle, the old fortress of Akronafplia. Also worth a visit is the Church of Agios Spyridon – the site where Ioannis Kapodistrias, the first president of an independent Greece was assassinated in 1831.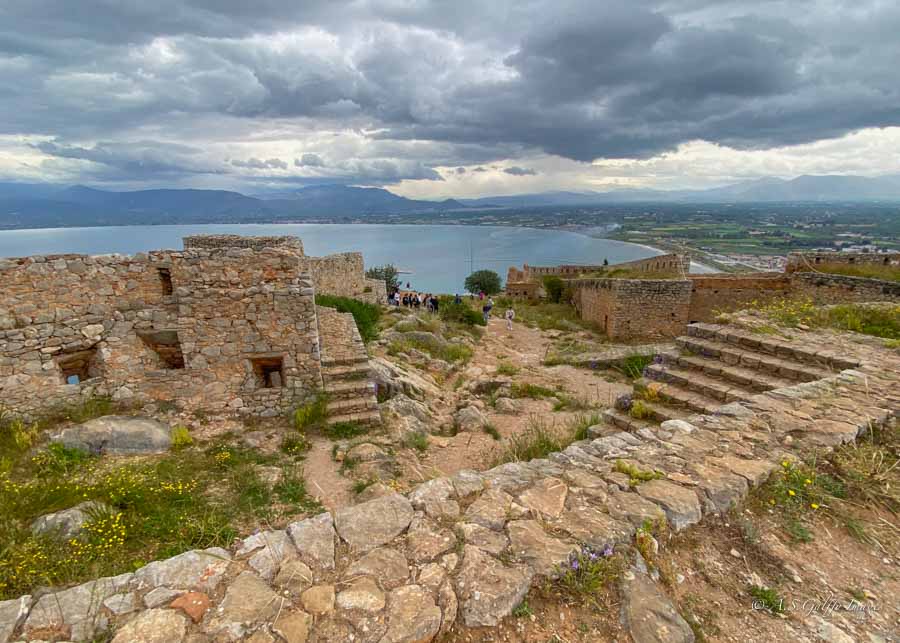 We visited Nafplio as part of our road trip through the Peloponnese, so we spent more than a day there. However, because it's less than a couple a hours away from Athens, most people visit it on day trip.
Trip to Argos & Epidaurus
Driving distance from Athens: 127.0 km via Olympia Odos/A8/E94 (1 hr 34 min)
Located roughly 90 minutes away from Athens, Argos and Epidaurus can be visited together as one trip, as they are just a short distance away from each other.
Argos
Argos claims to be the oldest city of Greece. There is indeed evidence of an old settlement in this area that dates back to the Neolithic (around 5000 BC). The top attraction in Argos is the Archeological Site of Fort Larissa, which is open 24 hours and is free to visit.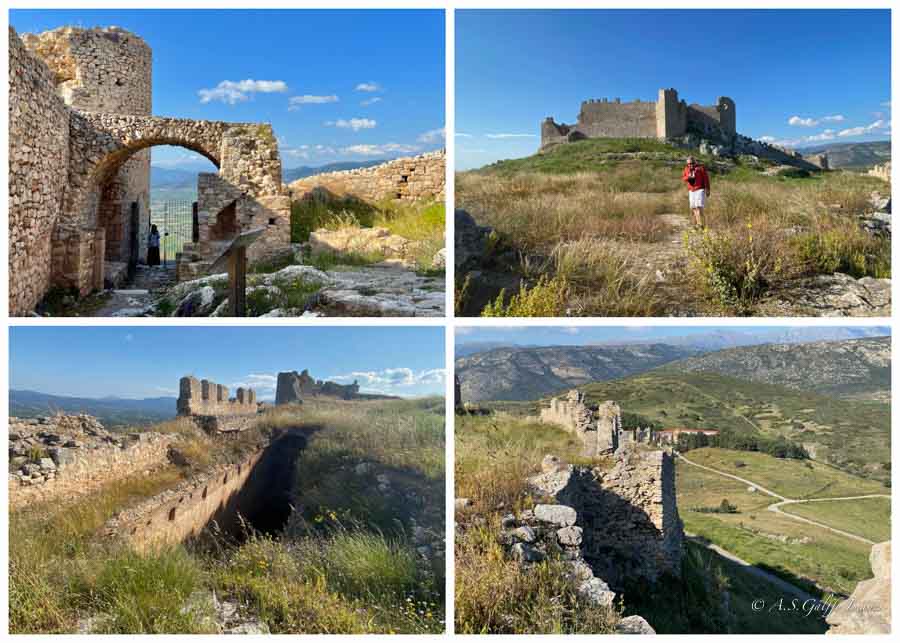 Downtown Argos is also nice to stroll if you want to see the Statue of Hercules, near the old town hall. This is an exact copy of the statue created by the ancient Greek sculptor Lysippos.
Epidaurus
The archaeological site of Epidaurus is one of the most beautiful and significant in Greece, dating back to the 4th century AD. This UNESCO Heritage Site is a large open-air space with a stunning Greek theater, temples, beautiful trees and hilly landscapes.
Epidaurus was the seat of the most important Sanctuary of Asklepios (Asklepeion), the God of Medicine who had the power to cure people of their pain and illness. There were many such sanctuaries scattered along Greece. However, the most famous was the one in Epidaurus, which was the birthplace of Asklepius, according to legend.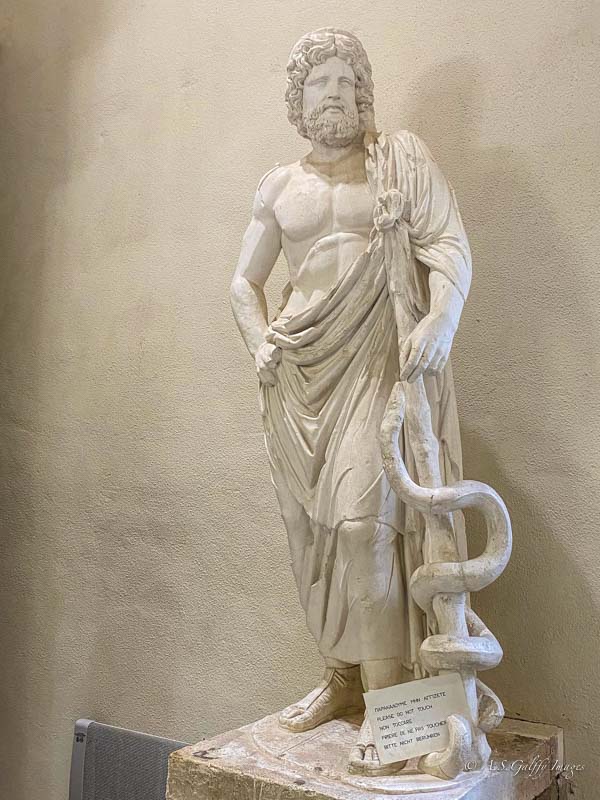 The theater hosted music and dramatic plays in honor of Asclepius and was also used as a means to heal patients. The ancients believed that entertainment had positive effects on mental and physical health. Isn't that true even today?!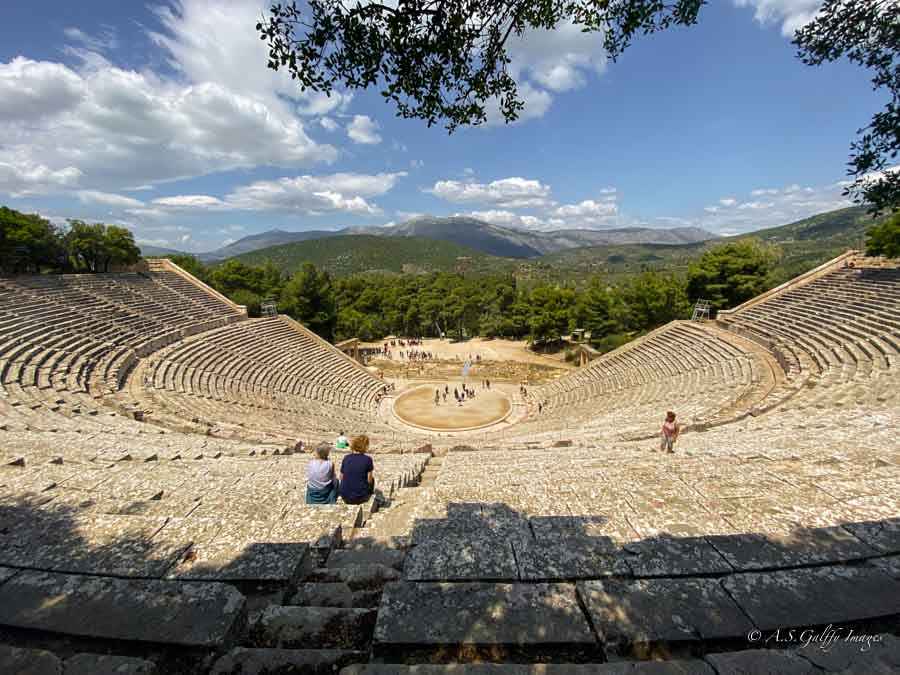 The ancient theater of Epidaurus, which has perfect acoustics, still hosts a variety of performances, including the Annual Epidaurus Festival.
Practical Information
Opening Hours: 8:00 am to 7:00 pm (summer) and 8:00 am to 3:00 pm (winter)
Admission: €12/person
The Sunken City of Epidaurus
While in Epidaurus, you shouldn't miss the ruins an ancient sunken city, which are just a short drive away the renowned Theater. Although not a huge site, the underwater city of Epidaurus is fun and easy to explore. The ruins are very close to the shore and just 2 meters below the sea level.
The ruins are visible from the air, or from a boat. However, if your trip takes place in summer when the water is warm, you should make it a point to swim to them.
READ NEXT: What to Wear in Athens – the Ultimate Packing List
Where to Stay in Athens
If you are a visitor to Athens you should aim to stay in one of the central areas like Syntagma, Monastiraki, Plaka, Psirri, or Koukaki. Staying close to the City Center has many conveniences. You will have easy access to the Acropolis, Agoras, and many of the museums in Athens and you will also be close to car rental agencies in case you want to rent car for your trips. use public transportation, or book a tour.
Tour operators are also around the City Center and public transportation is good as well. Here are some hotels we suggest:
If you found this information useful, please pin it for later: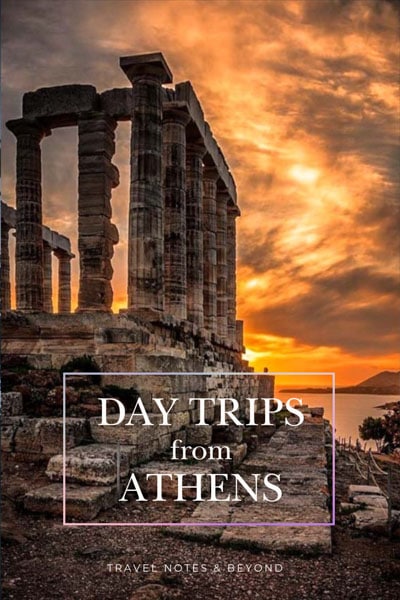 RELATED POSTS: