By virtue of its location – in southeastern Europe – Greece enjoys a milder climate than the rest of the continent. While in most parts of Europe the weather starts to get miserable in October, in Greece fall time offers the best of all worlds. Temperatures are still warm, prices are lower, and the herds of tourists are gone.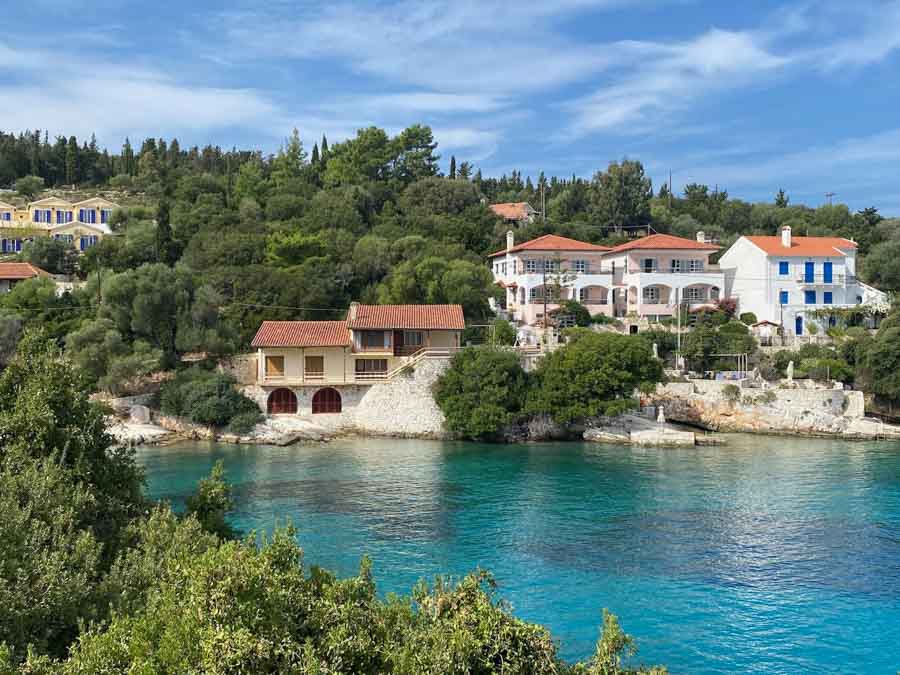 October marks the transition from summer to autumn, but many people consider it the ideal month for a vacation in Greece. But can you still swim and sunbathe in October? Keep reading to find out what to expect if you travel to Greece in the fall, as well as what are the best places to visit at this time of year.
What Is the Weather Like in Greece in October?
Although it's considered the shoulder season in Greece, the month of October feels more like the "Indian Summer," or "St. Martin's Summer," as they call it in Europe. It's period of abnormally warm weather, with clear skies and cool nights. The sun is still shining all day and the sea is pleasantly warm for swimming.
Autumn is colder in the northern part of the country and in the mountains, but in most parts of Greece the first half of October can be really warm.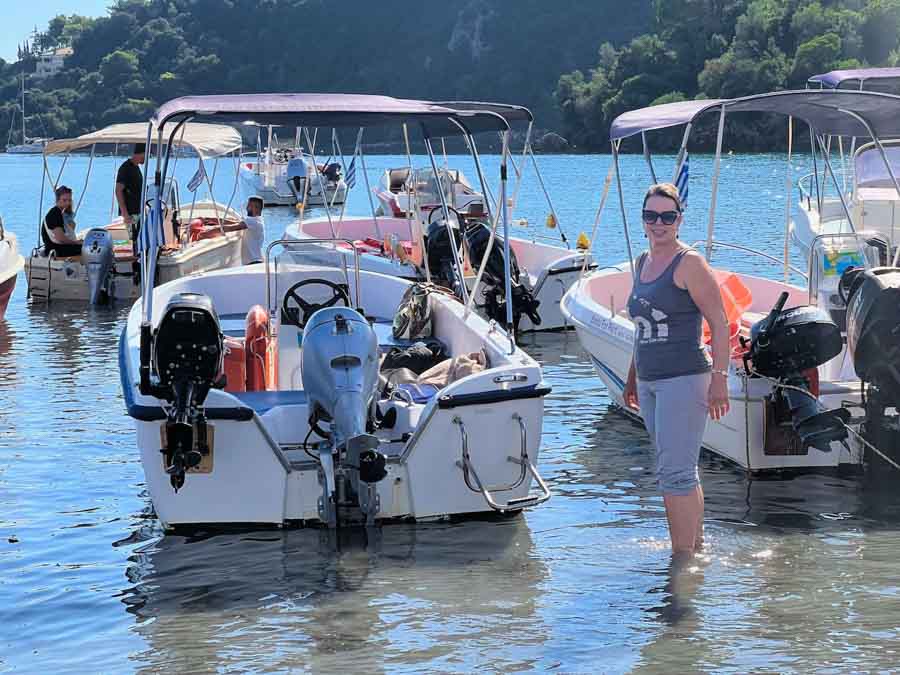 At the beginning of the month you can expect daily highs up to 82ºF (28ºC) and 10-11 hours of daylight per day. As the month progresses the temperatures will start falling and you'll may see occasional showers. However, the average rainfall in October doesn't exceed 5-6 days in Greece.
During the day-time the average temperature rarely falls below 20ºC (68ºF) in October, although mornings and nights are cooler (14ºC – 16ºC at). Even so, evenings are still warm enough for dining outside, but you may need a light jacket.
Where to Go in Greece in October
October is arguably the best month for visiting the top cultural sites in Greece. Besides good travel deals, the temperatures are pleasant for walking and you'll have fewer visitors to compete with at the archeological sites and major museums. If you want to stay on Greece's mainland, October may be a great month for taking a road trip in the Peloponnese.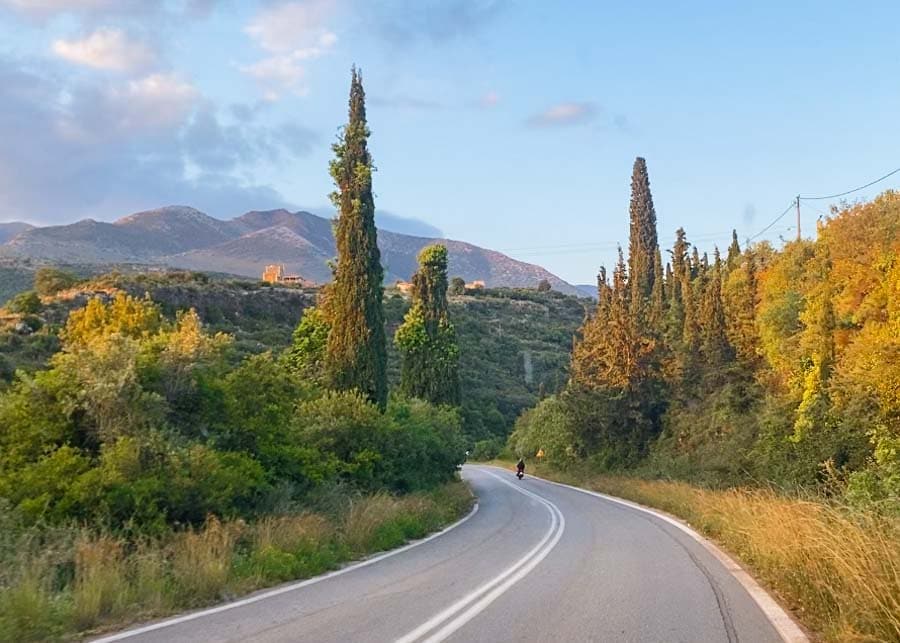 But autumn is also the best season for island hopping in Greece, when the crowds have dissipated but the beach life still continues into late October. Whatever your taste, you'll find plenty of fantastic destinations to choose from at this time of year.
Aegean vs. Ionian Sea: Which Islands Are Warmer in October?
The Greek islands are beautiful year-round, but the temperature varies quite a bit between the seasons. Although the weather is still pleasantly warm in October, some islands will experience higher temperatures than others. So which islands are warm enough for swimming and sunbathing in October, the Aegean or the Ionian?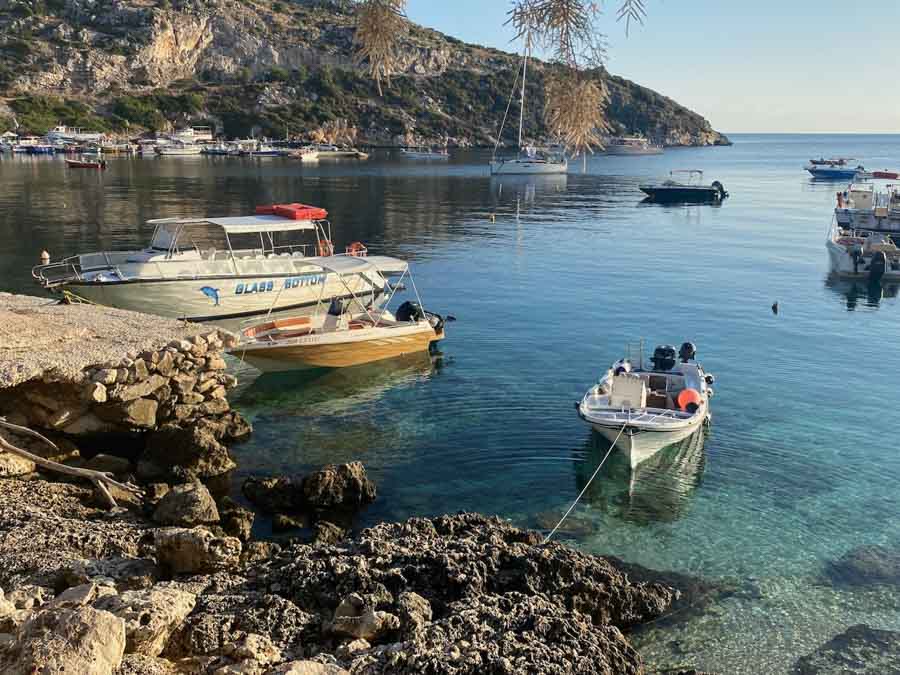 As a general rule, the earlier in the month you travel the warmer weather you are likely to get. But there is also a distinction between the Ionian and the Aegean Sea islands, when it comes to their fall climate.
The Aegean islands are known for their dry year-round weather, but the average annual temperature of the water is lower in the Aegean than in the Ionian Sea. There are however a few exceptions, like the islands of Crete or Rhodes, which have an average sea temperature much higher than any of the ones in the Ionian Sea.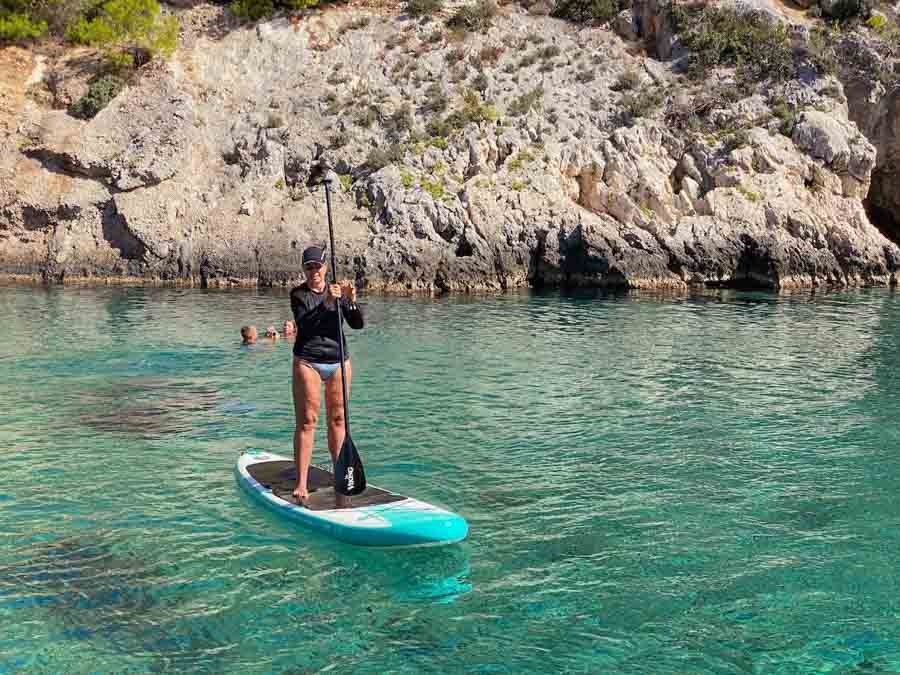 Another factor to consider when choosing between the Aegean and the Ionian Sea islands is the wind. Generally, the tender winds of the Ionian Sea in combination with the relatively low sea depths make these islands an ideal place for sailing. While the stronger winds in the Cyclades are suited for the more experienced sailors.
Best Islands in Greece to Visit in October
That being said, here are the best Greek islands to visit in October:
Crete
When compared to other islands in Greece, Crete gets the highest fall temperatures, which will last till the end of October. That's mostly due to its geographical location in the South Aegean Sea, close to North Africa.
Fall brings fewer crowds and quieter beaches, while the sea is still warm for swimming and the air temperature is just perfect for walking and sightseeing. The average day-time temperature in October is 25ºC, while the evening average is 18ºC.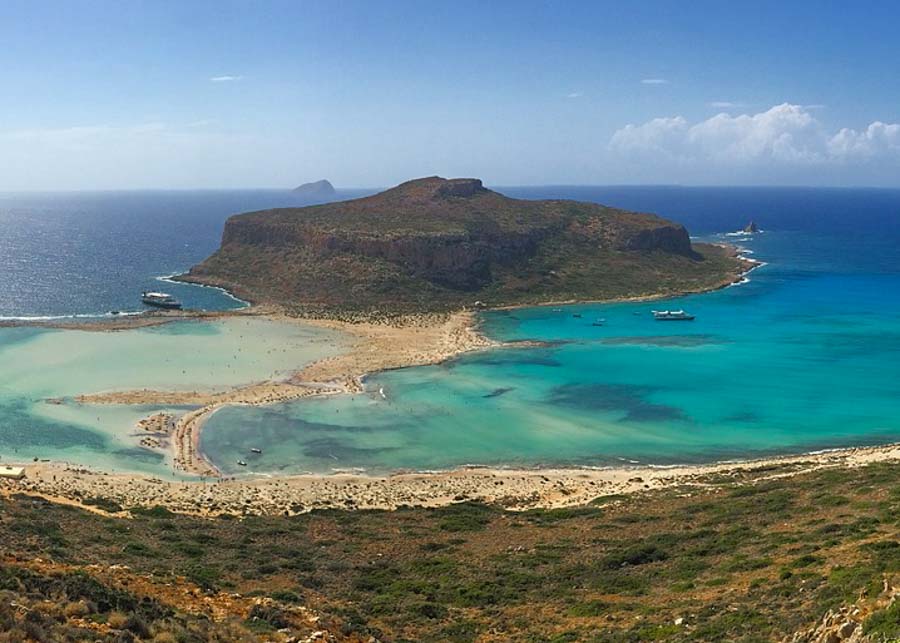 In the second part of the month the temperature begins to decrease – after all, it's autumn in Greece! You can expect some clouds and even a bit of rain, occasionally. But unless you are really unlucky, you should have mainly sunny days in Crete in October. That's especially true for the southern part of the island.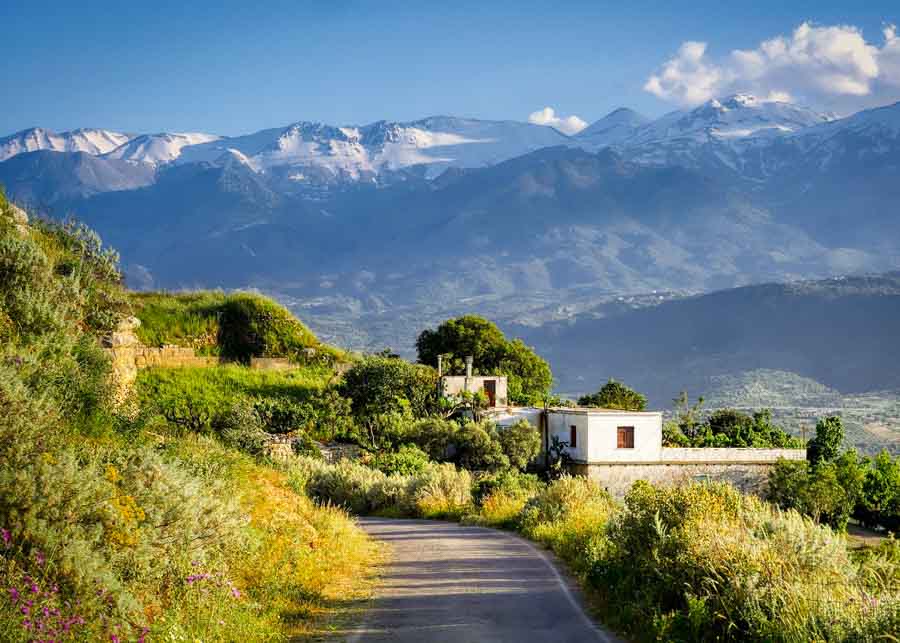 Crete is a pretty large place – 300 km long – so depending on where you are you may see some differences in climate, but not significantly big. The island is full of archaeological sites, beautiful lagoons, caves and quaint villages that are a lot of fun to explore at this time of year.
Rhodes Island
Autumn is a great month in Rhodes as well. We visited the island on the first week of October and everything was still open, although the places seemed much quieter. We enjoyed 30ºC (86ºF) all week, but usually the temperature here ranges from 70—76°F (21—25°C) in October.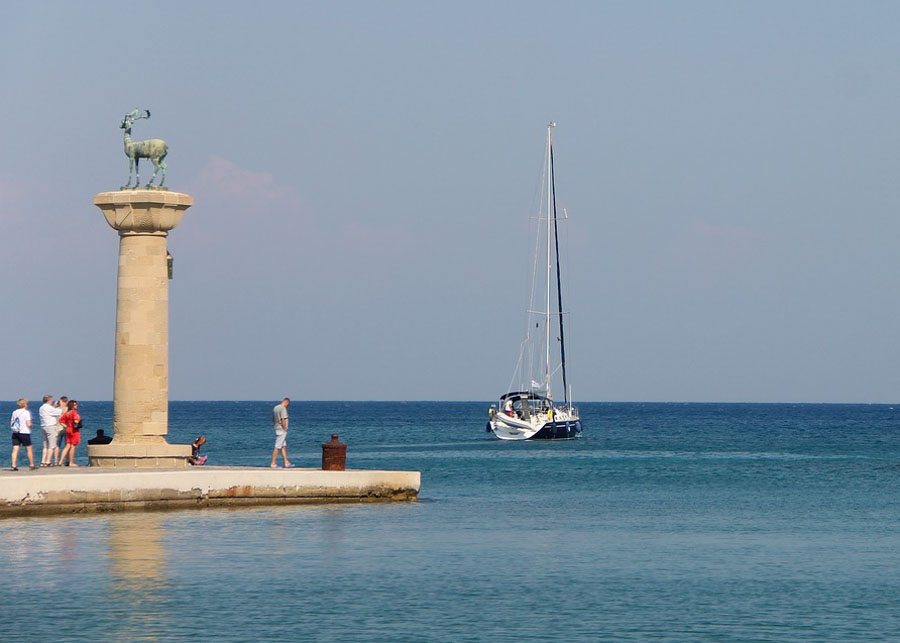 In ancient times, Rhodes was famous for being the home of one of the Seven Ancient Wonders of the World – the Colossus of Rhodes. Sadly, no trace of the huge statue remains today.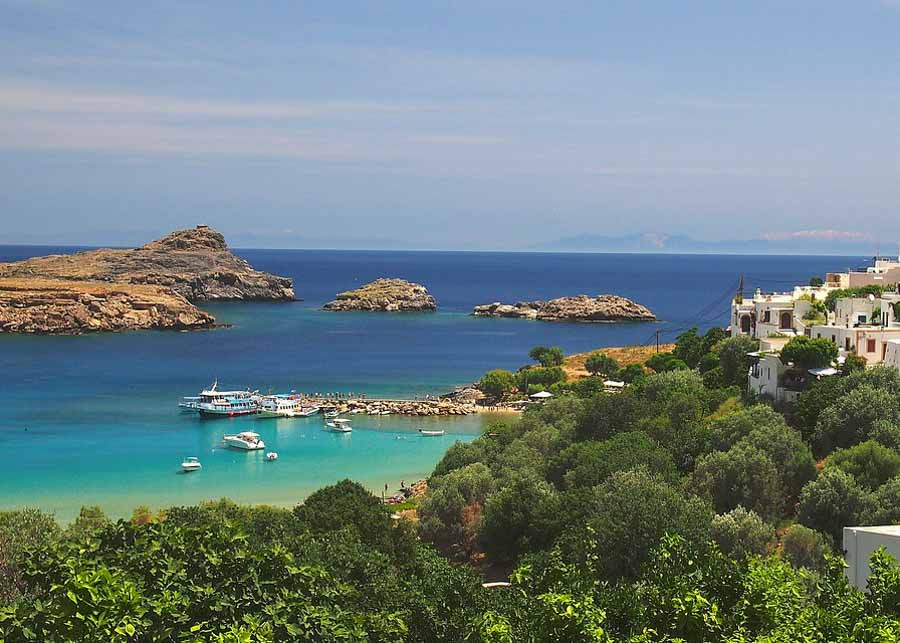 However, there is still a lot to see and do on this Greek island in October. Like visiting the city of Rhodes, the Palace of the Grand Master of the Knights of Rhodes, taking a boat tour around the island, or going on a wine tasting tour.
Zakynthos
Although there is really no "bad" time to visit the Ionian Islands, the best season is still in October, when the weather is mostly warm and sunny, but not too hot. As opposed to the Cyclades which are dry and barren, the Ionian Sea Islands are covered in vegetation and still very green in October. And Zakynthos is no exception.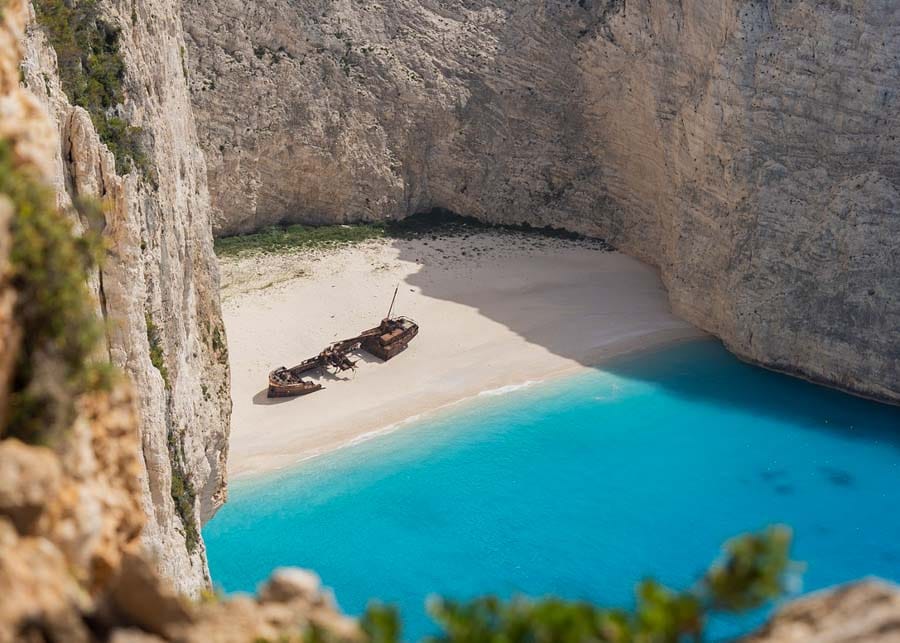 Zakynthos is one of Greece's most popular destinations, a paradise for snorkeling, sailing and hiking. Covered with olive groves and vineyards, the island is surrounded by secluded beaches and fantastic caves. Zakynthos is the ideal place for renting a boat and sailing around.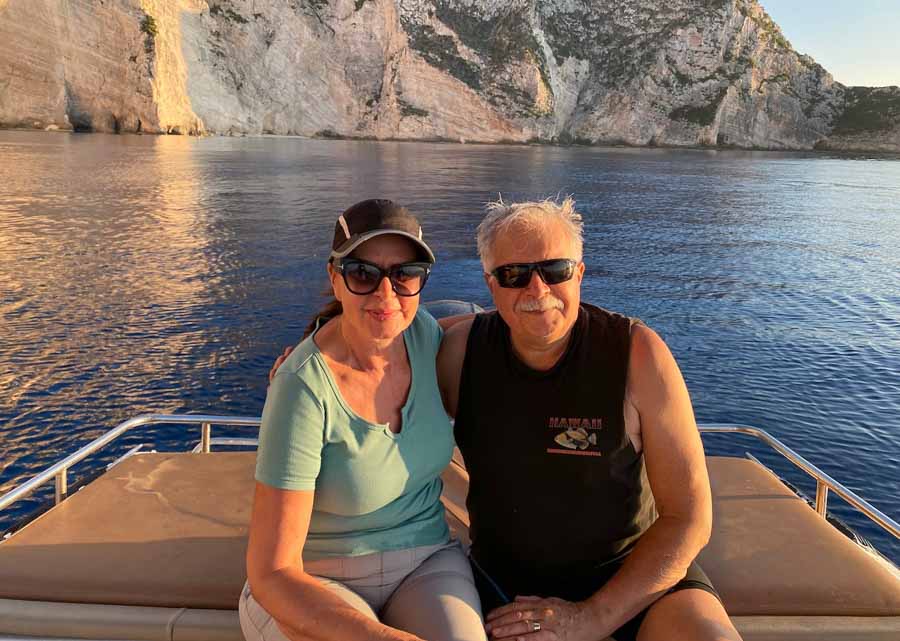 We visited the island in mid October, when the tourist season was winding down. This gave us a perfect opportunity to explore the rustic villages and enjoy the beaches without having too many people around.
Kefalonia
Being the largest of the Ionian Islands, Kefalonia never feels too crowded. Even so, in October the island becomes a paradise for those who love private escapes in Greece. Some of the beaches can be virtually empty, although the temperature stays in the high 70s (20ºC) till mid November.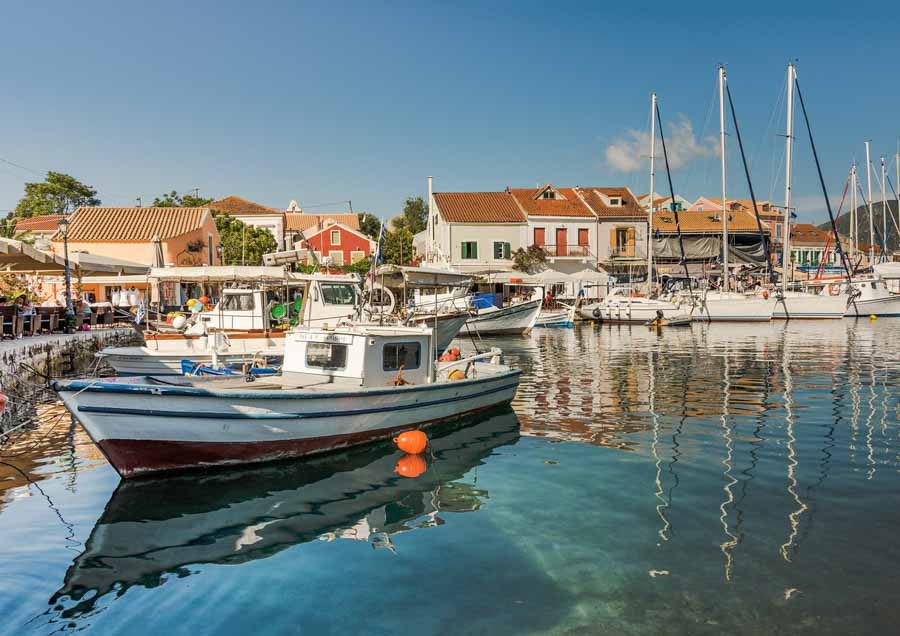 Some hotels and restaurants close in mid October, but even so you'll still find plenty of lodging and enough traditional tavernas that stay open year round.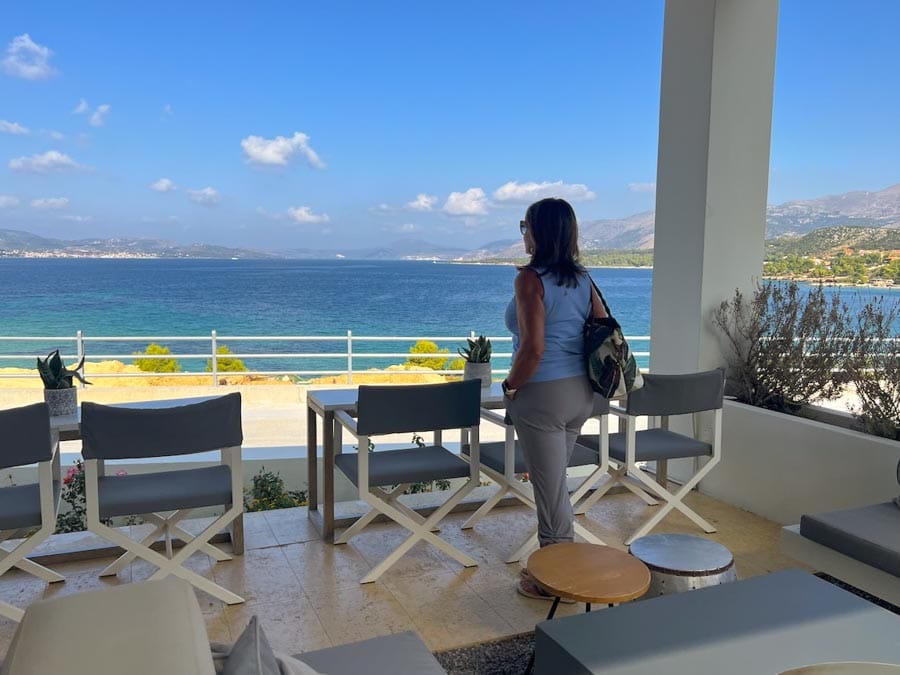 One of the main events that takes place in Kefalonia every year on October 20 is the Feast of St. Gerasimos, the island's patron saint. The saint's remains are paraded in a glided case throughout the streets of the island. After the parade, the locals party into the early hours of the morning with music, dancing, drinking, and eating.
Corfu
Corfu is beautiful year-round, but we prefer it off-season when it's more laid back and has so much quieter beaches. During October you can expect 11 hours of daylight with 6 hours of sunshine each day. The average day temperatures in Corfu is 24ºC.
The sea temperature is one of the best things about traveling to Greece in late fall and Corfu is no exception. The water starts to get cold only at the beginning of November, so October is still a great month for swimming.
As far as rain, the first part of October is still dry but towards the end of the month you'll begin to see more clouds and even some rain. Nonetheless, storms are short and usually clear quickly leaving behind sunny skies.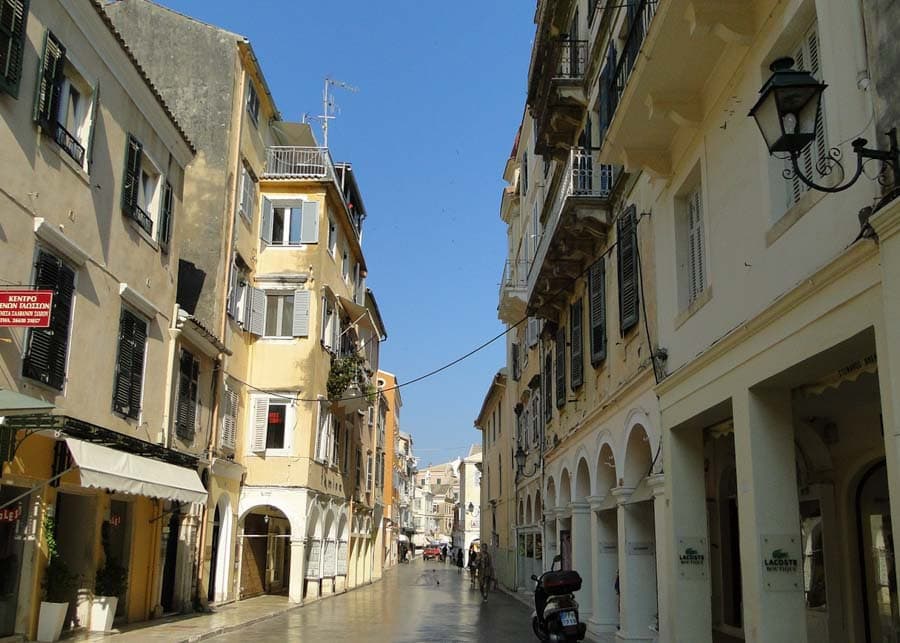 That being said, you should plan both beach days and sightseeing days and be ready to modify your itinerary as you go. You'll have plenty of fun things to do in Corfu, no matter what the weather is. And although some places close in mid October, most resorts are quite active throughout November and even year round.
Other Destinations in Greece to Visit in October
If you are a beach lover but want to stay on Greece's mainland, here are some places that make great beach destinations for October:
Athens
Although Athens is famous mainly for its sightseeing, there are many beautiful beaches to explore all along the Attica peninsula.
October average temperature in this area is 24ºC during the day and 14ºC at night. The weather is just perfect, whether you want to visit the archeological sites, tour some museums, or dine out at any of the tavernas, or visit the beaches.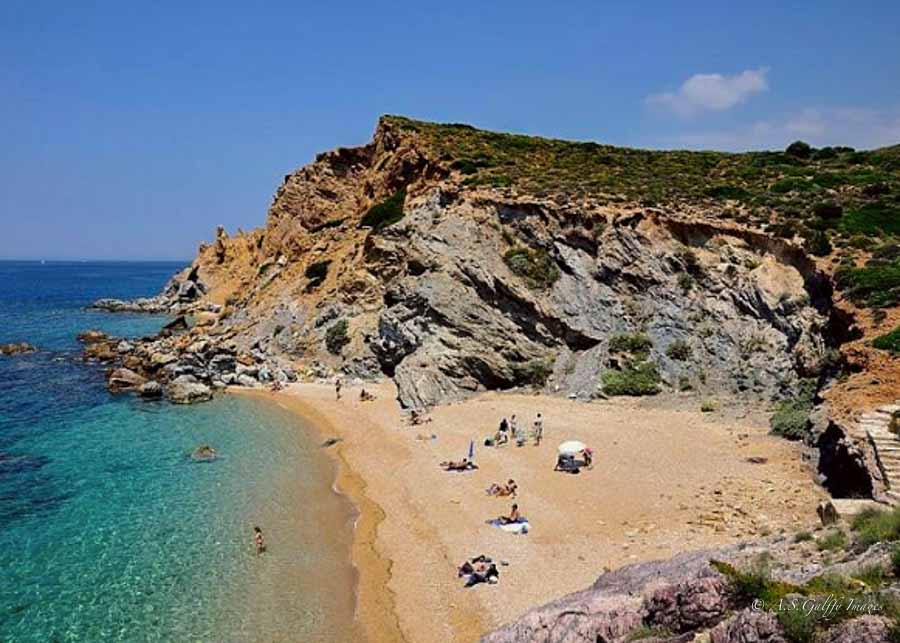 And if you have more than just 3 days in Athens, you can head to Delphi to check out the sanctuary of the Greek god Apollo and his priestess, Pythia. Or you can visit some of the wineries in the Attica region, Ancient Corinth, or the Temple of Poseidon. Whatever your interests, thre are plenty of easy day trips to take from Athens.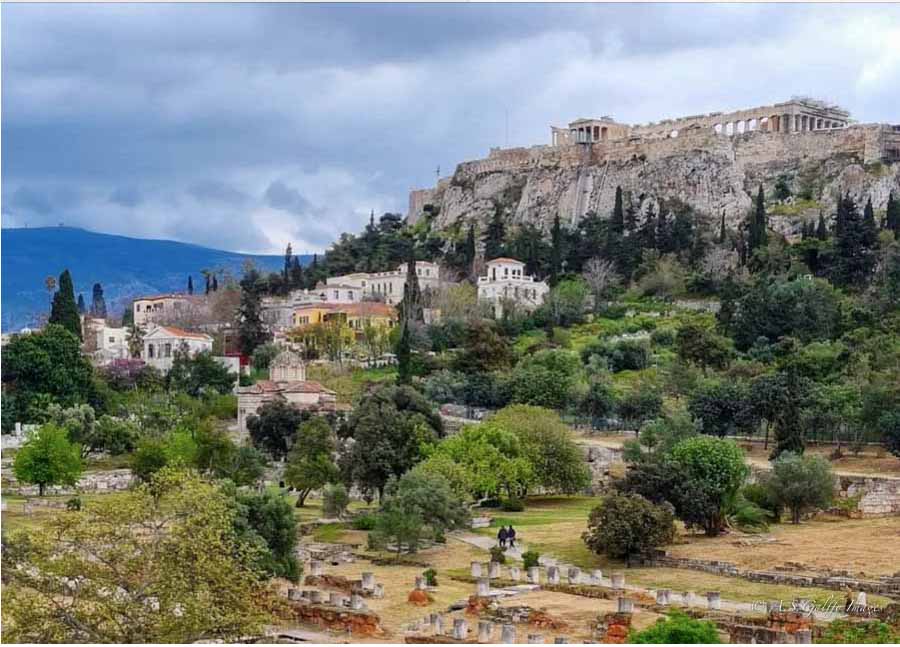 Athens is also home to some exciting art and culture festivals in October, so you can plan your autumn trip to Greece around them.
Meteora
The Monasteries of Meteora are one of the most astonishing religious sites in Greece, second in importance only to Mount Athos. Whether you visit Meteora for religious reasons or simply because you like to travel, the monasteries will leave a long lasting impression on your heart.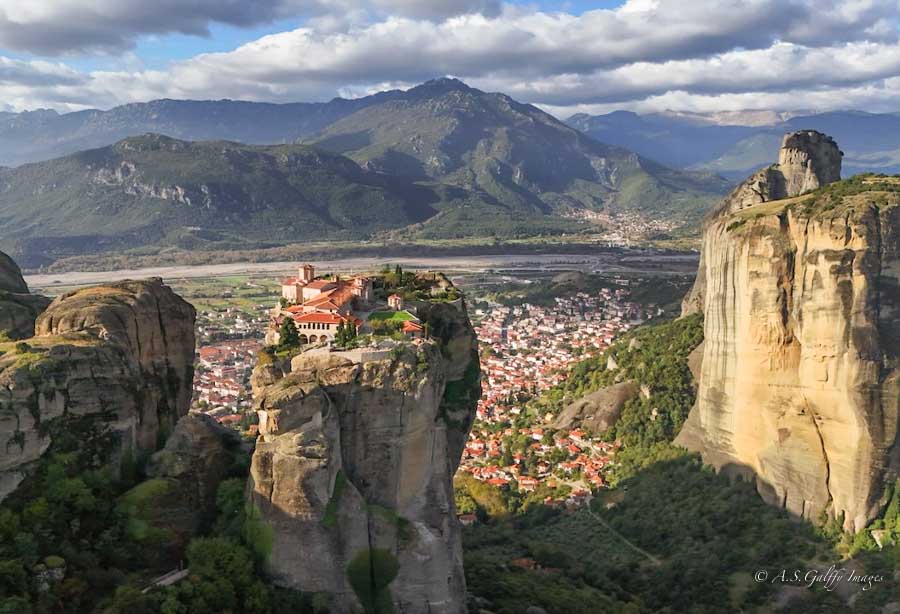 The utter immensity of Meteora's towering rocks gives you a sense of grandeur that is hard to put into words. This mystical landscape has an atmosphere that feels almost surreal and gives you a sense of peace and tranquility.
Meteora is a year-round destination and can be beautiful at any time of year. Even in winter. But if you come in summer, expect to walk shoulder to shoulder (literally!) with hundreds of other tourists. The best time to visit Meteora is in spring (April-May) or fall (October to mid-November). After November the weather changes dramatically and you can get a lot of fog.
Monemvasia
One of the most memorable places in Greece to visit in October is the citadel of Monemvasia. Hanging on the side of a solitary rock on a small island, the fortress is an absolute marvel!
October temperatures in Monemvasia range from 23ºC (73°F) to 19ºC (66°F), so this is one of the best fall destinations in Greece.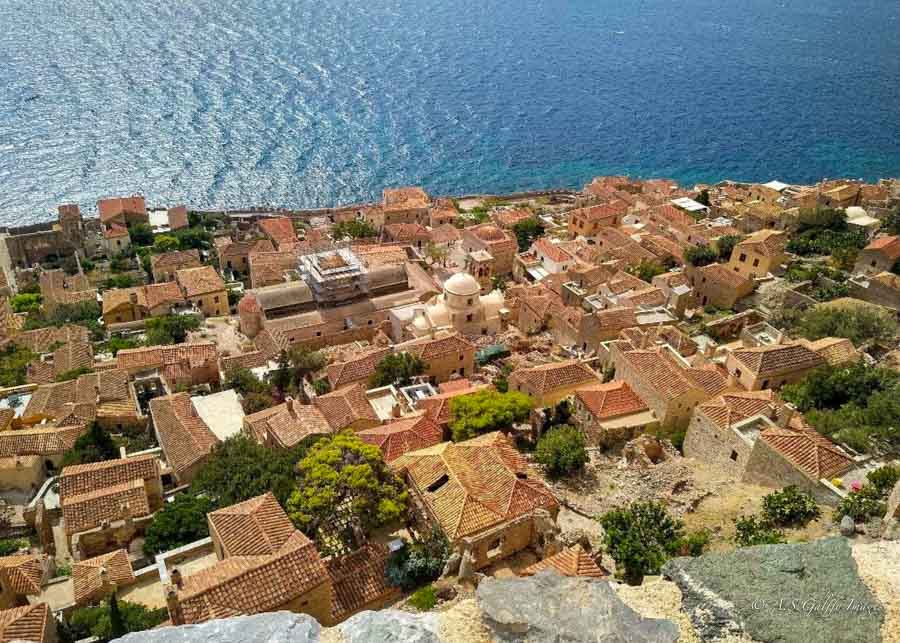 In Ancient Greece, the citadel of Monemvasia was probably home to thousands of inhabitants, but today only a handful of people reside here full time. Most of the old houses on the island are now boutique hotels or expensive weekend homes, making it an ideal choice for those who wish to stay within the castle citadel.
Outside of the castle of Monemvasia there is a hidden corner from which you can enjoy swimming in deep crystal clear waters of the Ionian Sea. Water temperature in October is around 24ºC, which is just pleasant for swimming.
Nafplio
Located on the Argolic Gulf on the eastern side of the Peloponnese, Nafplio is an incredibly picturesque seaside town. It's beautiful beaches, buzzing squares, and vibrant port make it an ideal fall destination in Greece.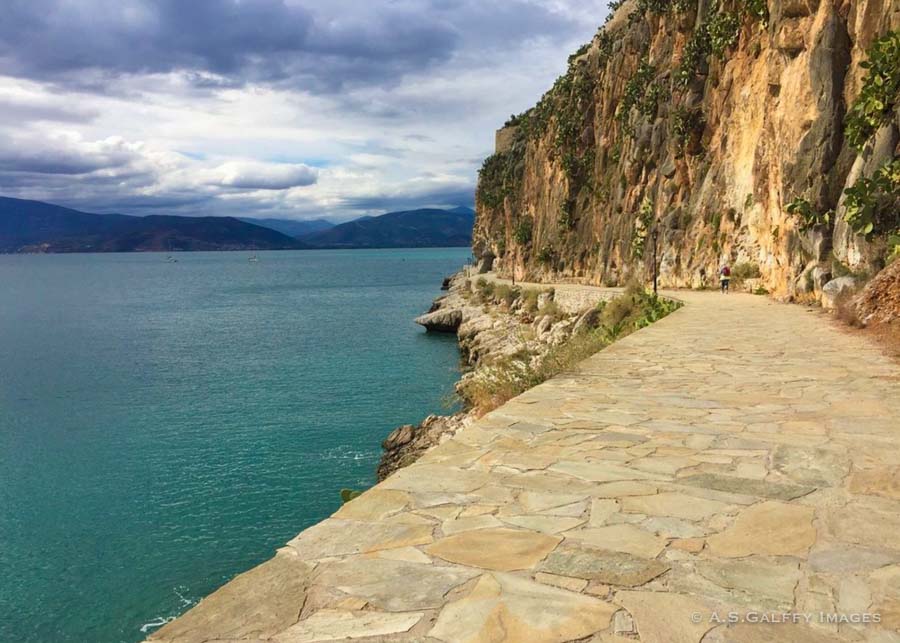 The small town is also home to two hilltop castles and an offshore island fort, which are very easy to explore when it's not too hot outside. October temperature in this part of Greece is very pleasant during the day, measuring around 23.5°C (74.3°F). At night the temperature goes down to around 14.2°C (57.56°F), which is still very pleasant.
The Downside of Traveling to Greece in October
Although overall we prefer Greece in autumn or in the spring, there are some inconveniences for traveling to off season.
• Many hotels and restaurants will close from mid October to April, so you'll have fewer lodging and eating options.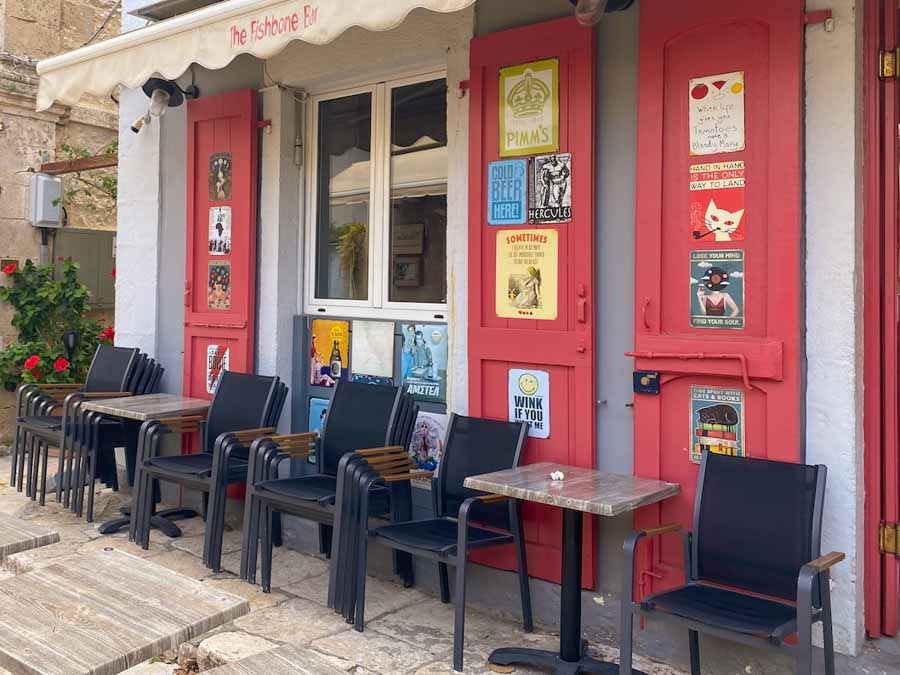 • Ferries change their schedule in fall and some routes may not even be available. For instance, during high season (June – September) there are 95 scheduled ferry crossings per week between Kefalonia and Lefkada. While during low season (October – May) there are only 7 ferry crossing per week. This may be an inconvenience.
• Daylight hours are shorter, as the sun rises around 7:30 am and sets at 6:45 pm.
• Water temperatures are obviously lower in fall. For instance, around the Ionian Islands they may not exceed 74ºF (23ºC) in October. I still consider that temperature comfortable for swimming, but many people prefer the water warmer.
How to Pack for Greece in October
Packing for Greece is generally easy, as you won't need any fancy clothing or special attire, like when you pack for Patagonia for instance. But if you travel to Greece in the fall, I recommend packing both summer and autumn clothes, as the weather can be a mixed bag at this time of year. So here are some items that shouldn't be missing from your luggage: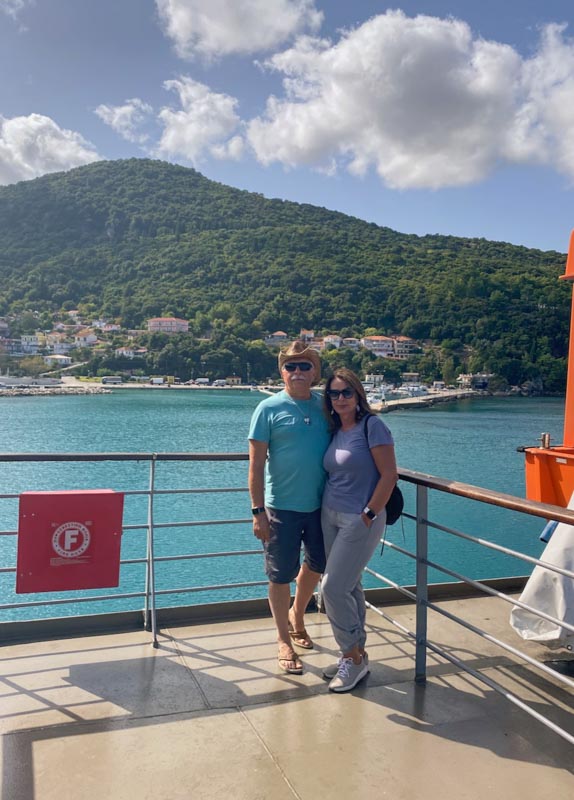 Light weight clothes
Greece is just the right place for wearing cotton and linen clothes. I alway pack a couple of long-sleeve tee shirts, some tank tops, a skirt and a few summer dresses. For my husband I pack shorts, tee-shirts and some white slacks.
Raincoat
Even though temperatures will be in the upper 70s (24-25ºC) in October, I definitely recommend that you bring a raincoat if you travel to Greece in fall. The chance of rain is fairly high, so a lightweight raincoat is a good idea.
Swimsuits and a hat
Chances of having mostly sunny and warm days in October is pretty high in Greece. As average temperatures are above 20ºC, you'll most likely spend a lot of time on the beach, so make sure you bring swimsuits and a hat.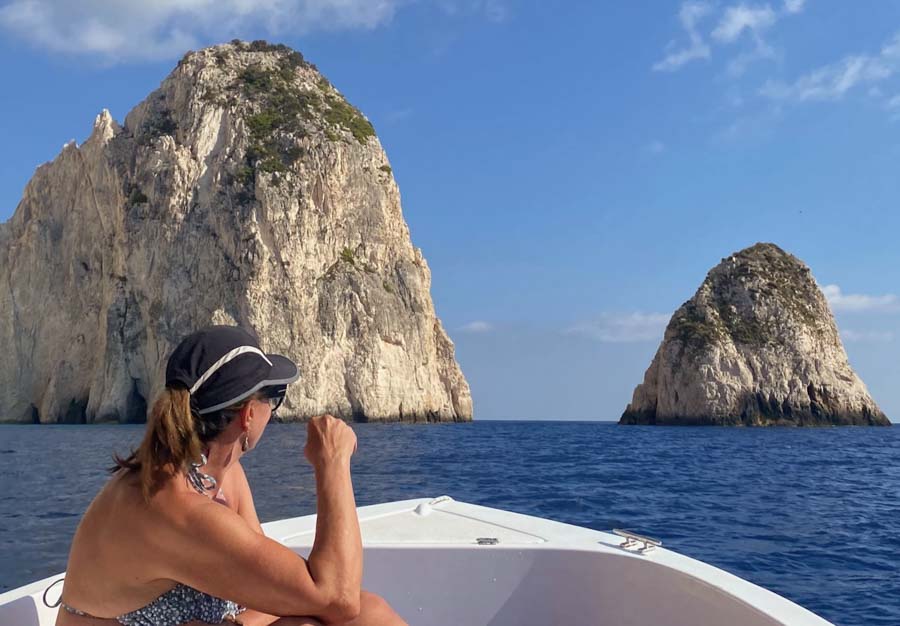 Snorkeling gear
No matter where you are in Greece you'll never be too far from the sea, so bringing your snorkel is a must. The crystal clear waters around the Greek island are just perfect for snorkeling!
Lightweight Jacket
Evenings are definitely cooler in October and many tavernas have only outside seating. So, if you like to dine outside or stroll around in the evenings, I strongly recommend bringing a long pair of pants and some warm clothes. Sometimes it gets pretty chilly after the sun goes down.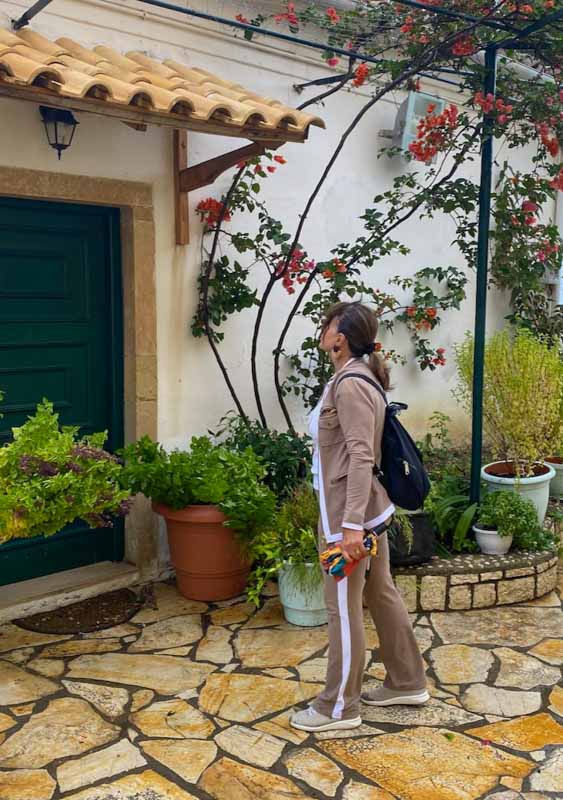 Comfortable shoes
If you travel to Greece in autumn you'll most likely do a lot of walking, so you should bring some comfortable shoes. Also, you should be prepared for pebble beaches. Besides sandals, I also carry of pair of choral shoes which come in very handy if I need to hike a short dirt trail (to/from the beach).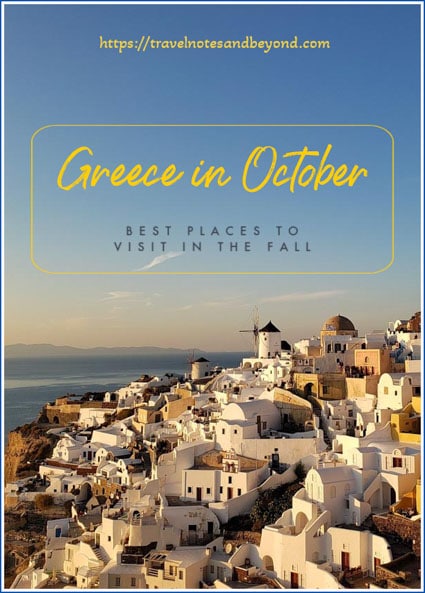 You May Also Like: