This year's unusually wet winter has been a curse in many parts of the United States, but not in California. After years of drought, California's usually lifeless and arid-looking desert has been magically transformed into a stunning landscape of colorful wildflowers. This extraordinary California desert 'super bloom' is something quite rare in this barren area. Most of the time, California doesn't get enough rain, so desert blooms are usually small or inexistent. But this year the desert looks like it has been painted with with color. There is yellow, purple, red, blue and even green in the brown desert.
Where to See the Desert Super Bloom
Anza-Borrego Desert State Park
The colorful array of wildflowers popping up in Anza-Borrego Desert State Park makes the area look more like a big garden than a desert. According to the park officials, it's the biggest bloom they have seen in 20 years!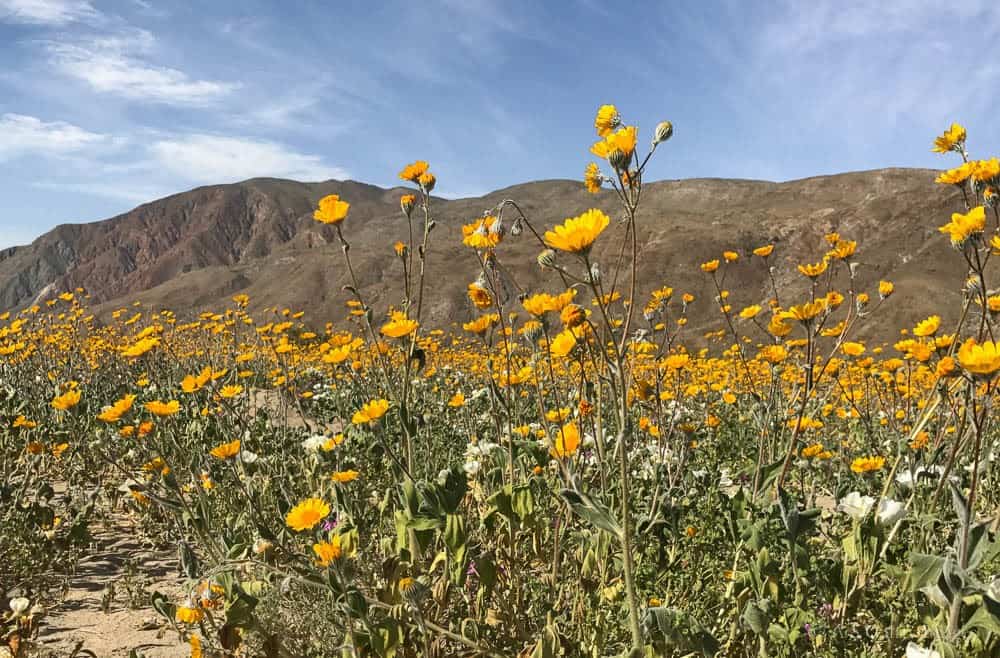 Joshua Tree National Park
Joshua Tree National Park got its fare share of beauty too this spring. There are flowers everywhere: dune primrose, beavertail cactus, sand verbena, chuparosa, mariposa lily and wild Canterbury bells.
Even the Joshua tree is in bloom, a rare and spectacular event that doesn't happen every year. What is even more interesting about this phenomenon is that it's synchronized. The bloom happens in the same year, at about the same time throughout the desert areas.  The ocotillo and beavertail cactus are beginning to bloom too.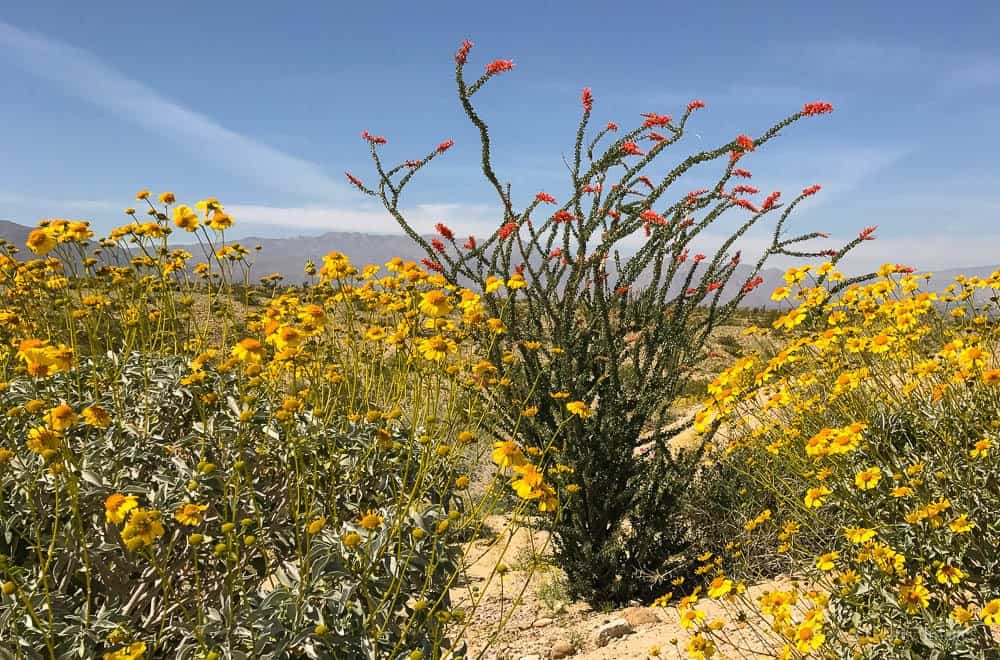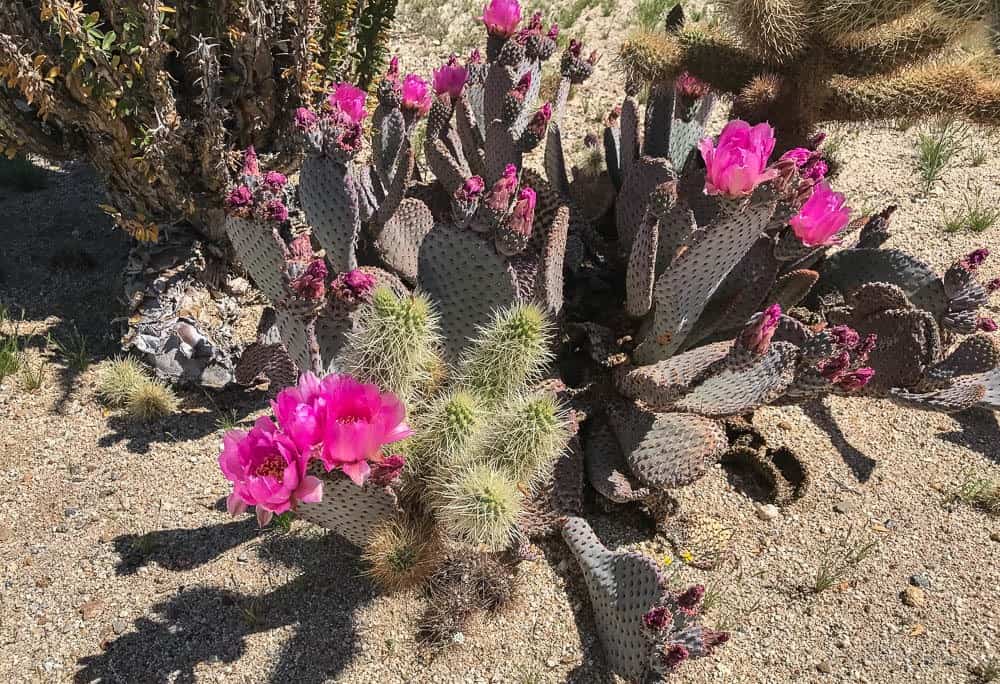 With such a display of beauty, there is no surprise that people are flocking to see the colors covering the hills and valleys of the California desert. Visitors are coming from as far as Europe, Africa and Asia. This super bloom is so rare and so special, that looky-loos seem to forget about the torrid temperatures in the desert and sometimes end up fainting from dehydration.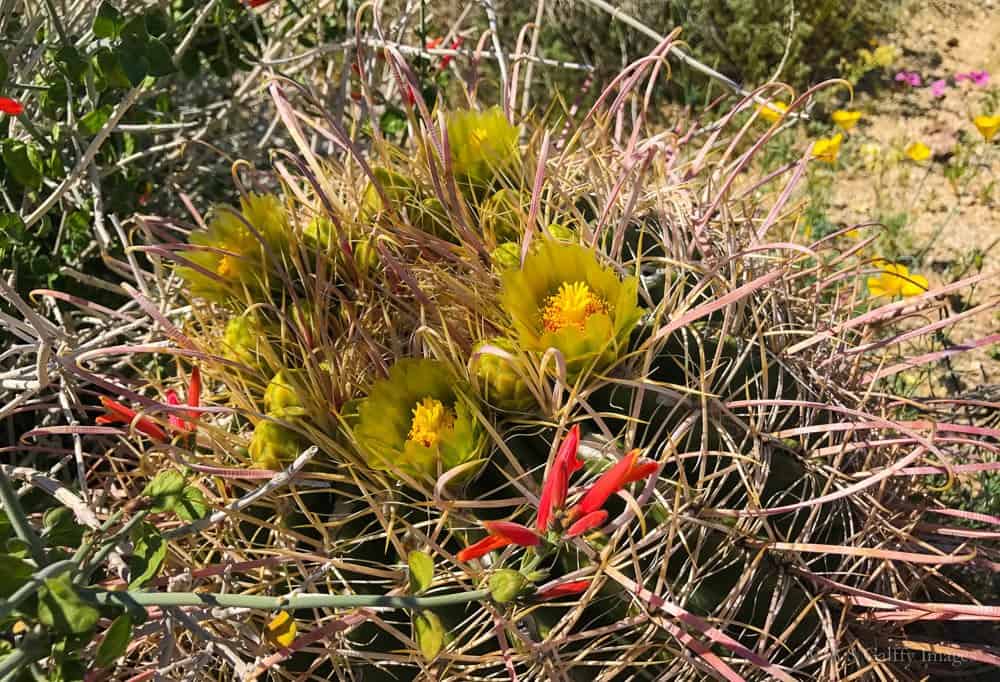 Tips for Visiting the Desert
If you want to see the desert super bloom in person, you still have time to go. With rain in the forecast this week, the bloom will most likely last till mid April this year. The best time to visit the desert is either early in the morning or late in the afternoon, just before the sun sets. Evenings are particularly beautiful in the desert. When the evening breeze starts blowing, the temperature gets cooler and the sweet smell of wild flowers begins filling up the air. During the day time temperatures in the desert may raise up to 92ºF, making it hard to appreciate the scenery. Springtime is the best season to enjoy the short lived beauty of the desert.