Traveling to a place called Death Valley may not inspire much confidence, but don't let the name put you off. Despite its ominous name, Death Valley National Park is a fascinating place for those who like the desert. Every year, millions of visitors are lured by its rolling sand dunes, rainbow-colored mountains, and barren salt flats. There is indeed a lot to see and do in Death Valley, so in this post I'll give you a roundup of the most popular sites to visit in the park.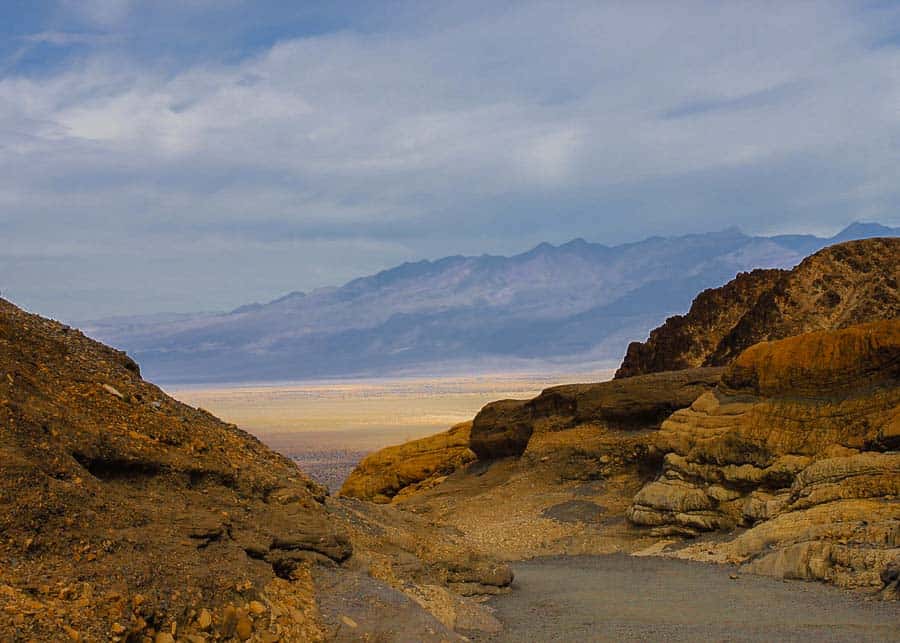 But before I do that, let me tell you a few interesting things about this fascinating place called Death Valley.
Interesting Facts About Death Valley
Death Valley was given its creepy name by a group of explorers who got lost in this area in the winter of 1849-1850. Even though only one of the group died they thought they would all perish, so they nicknamed the place 'Death Valley.'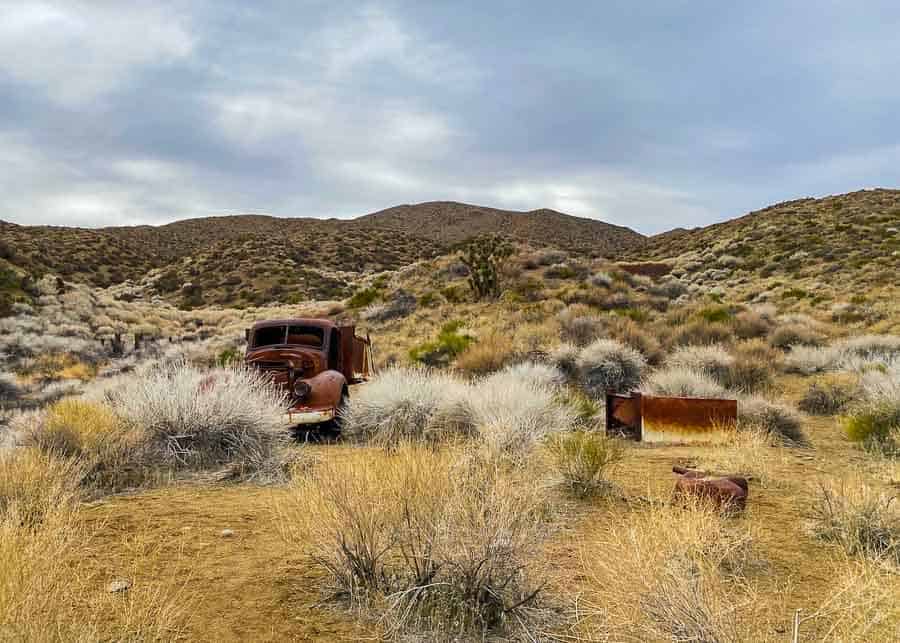 Located in the Mojave Desert in California, right on the border with Nevada, Death Valley is a very rough and inhospitable area. It's the hottest and driest place on Earth! A land of extremes: extreme temperatures, extreme altitudes, and extremely strange environmental occurrences.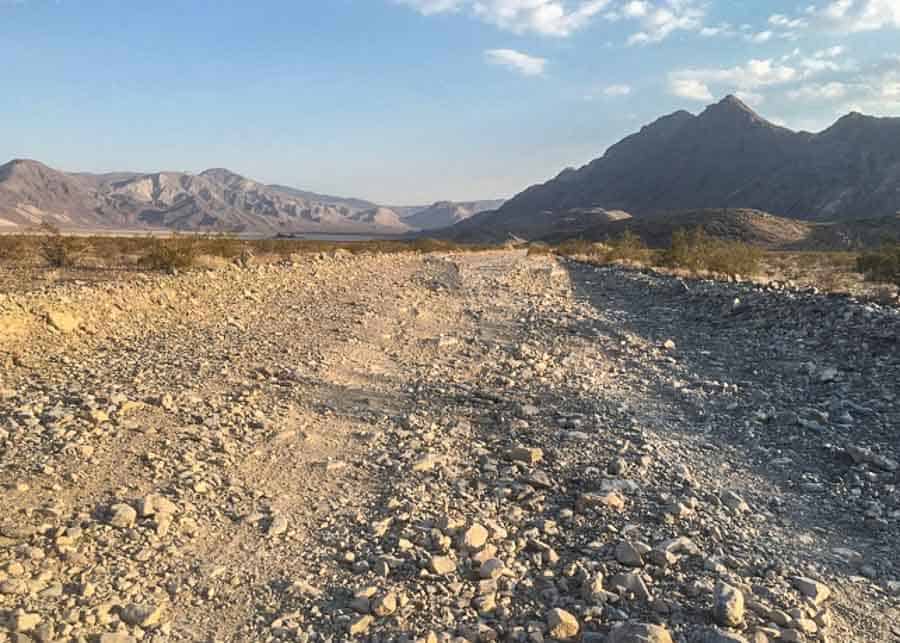 The highest temperature ever recorded on Earth was in Furnace Creek – an area of Death Valley – where in the summer of 1913 the thermometers hit 134º F.
But despite being a harsh environment, Death Valley has a surprisingly diverse plant life. As a result, this is one of the greatest places to see the desert bloom in spring, when there is enough rain in California.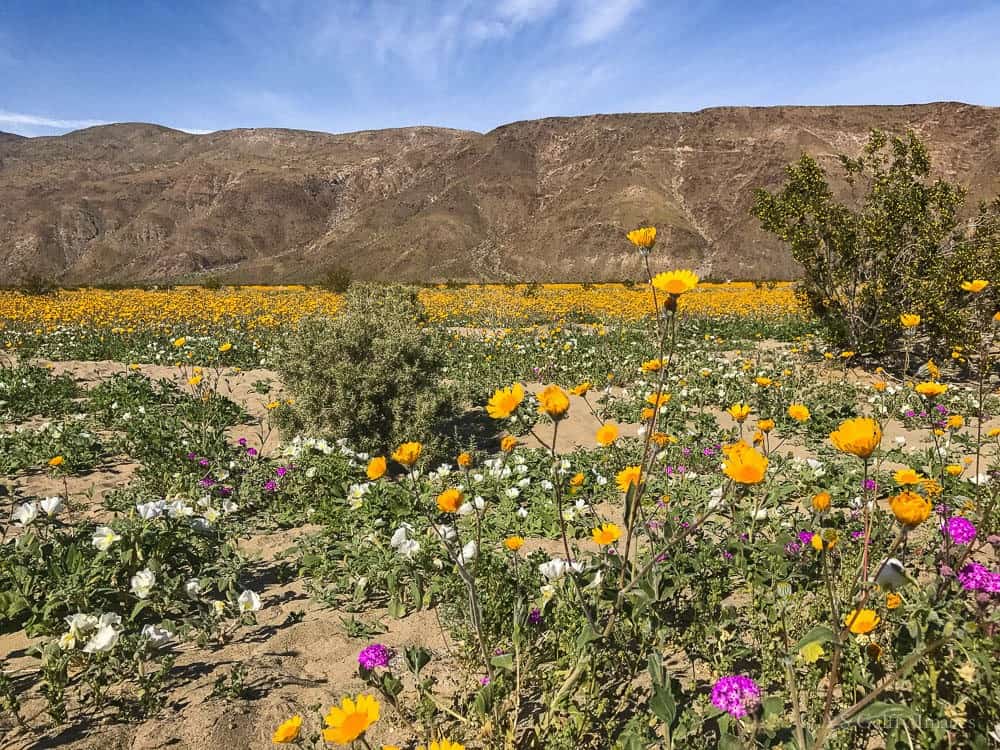 Death Valley is the largest national park on the continental United States, spanning over 5,000 square miles. The Park is home to the lowest point in North America – the Badwater Basin – which lies at 282 feet below sea level.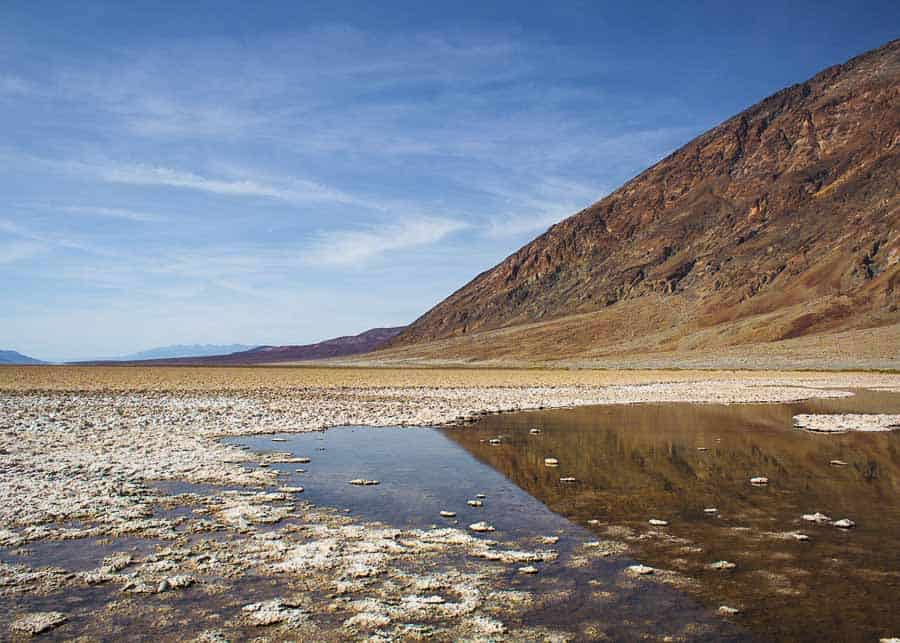 In the early 1900s, the gold seekers who prospected the mountains of Death Valley built many settlements around the area. But when the mining ended in 1915, all these once bustling towns were slowly abandoned, so today there are more than 100 ghost towns in Death Valley.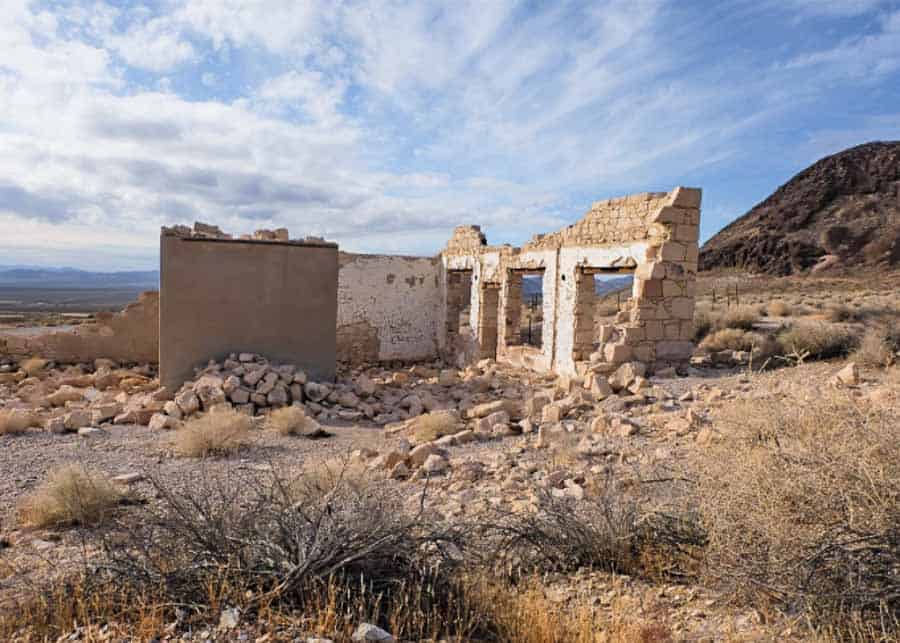 The most famous one is Rhyolite, located right outside the park.
Best Things to See and Do in Death Valley National Park
The first time you see the landscape of Death Valley you feel like you are on another planet. It's impossible not to be impressed by the immensity of this valley that opens in front of you. The park is so huge that you can spend weeks exploring it.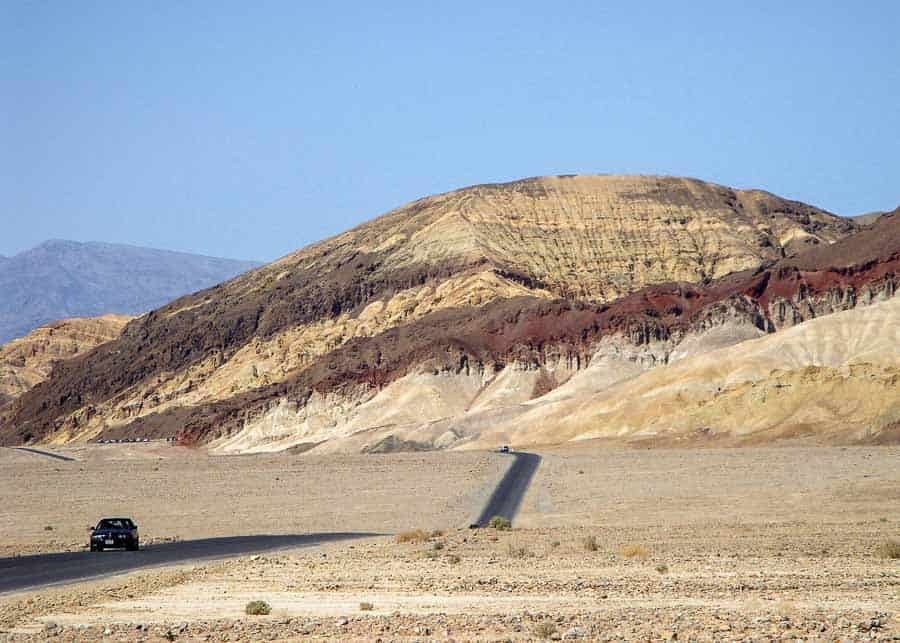 Unfortunately, most people don't have that kind of time, but you should consider spending at least 2 days in Death Valley. Here is a list of the 17 best places to visit in Death Valley.
1. Dante's View
Located on Highway 190, about 16 miles south of Furnace Creek, Dante's View is considered one of the most scenic viewpoints over Death Valley. It's a great place for photography. I highly recommend stopping here first because you'll get a great perspective of the entire area, as well as amazing views of the Badwater Basin.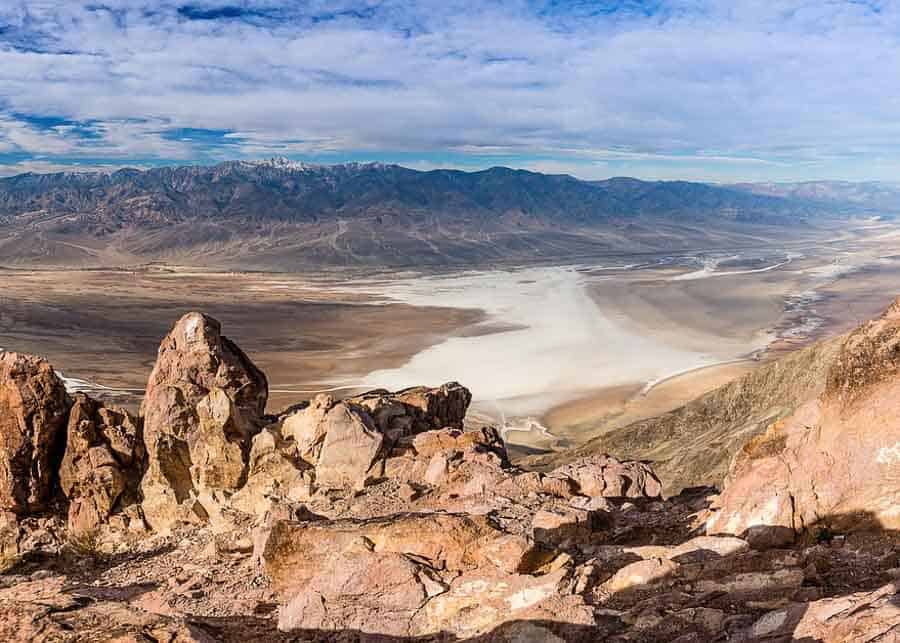 The viewing platform is right next to the parking lot, so there is very little walking to do for those with mobility issues. Hiking to the viewpoint itself it's not too difficult. Just make sure you wear good hiking shoes as there are loose rocks along the way.
2. Zabriskie Point
This is another great spot for photography. The light is particularly good at sunrise, when you'll witness a truly amazing palette of colors that changes very fast, as the sun goes up.
Going up to the viewing platform requires only a short walk from the parking lot. But try to get there early, as the place gets packed with with photographers trying to snap a good shot.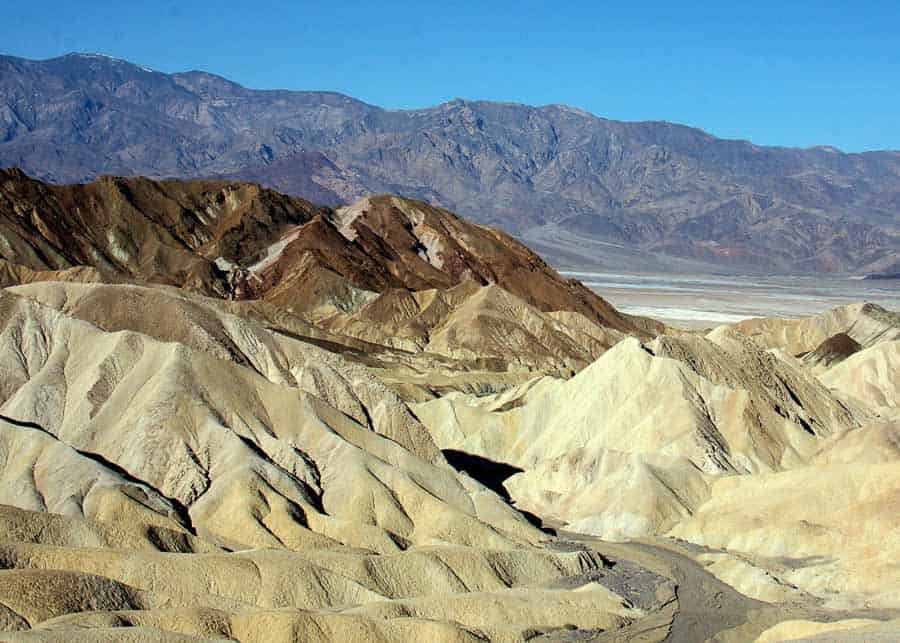 3. Badwater Basin
The Badwater Basin lies 282 feet below sea level. This point marks the lowest dry elevation in North America. That's quite something when you think about.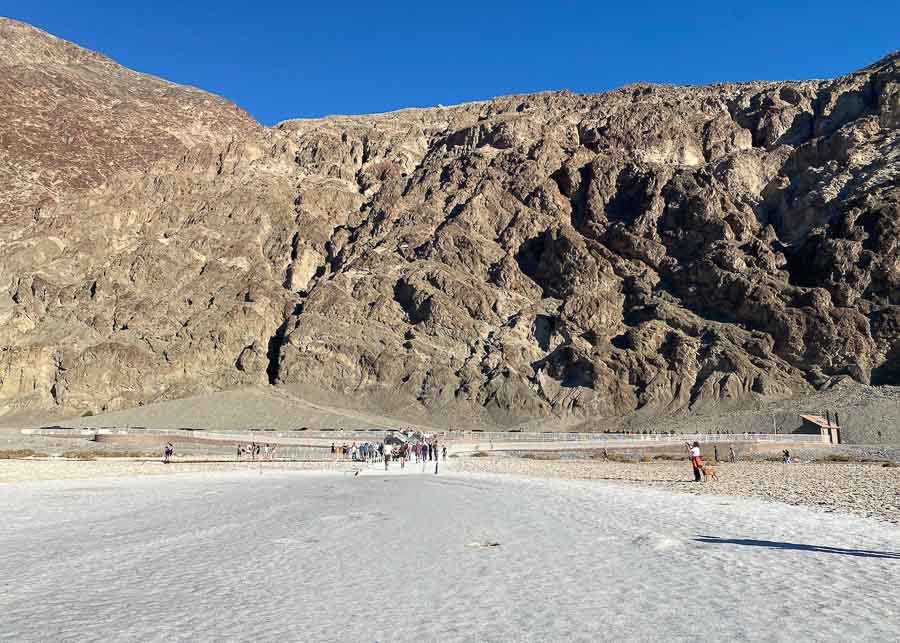 You can't really appreciate how vast this salt flat is until you get there and look around. It just seems to stretch for miles! Take a stroll for as long as you want and then turn back. That's about all you can do in this place.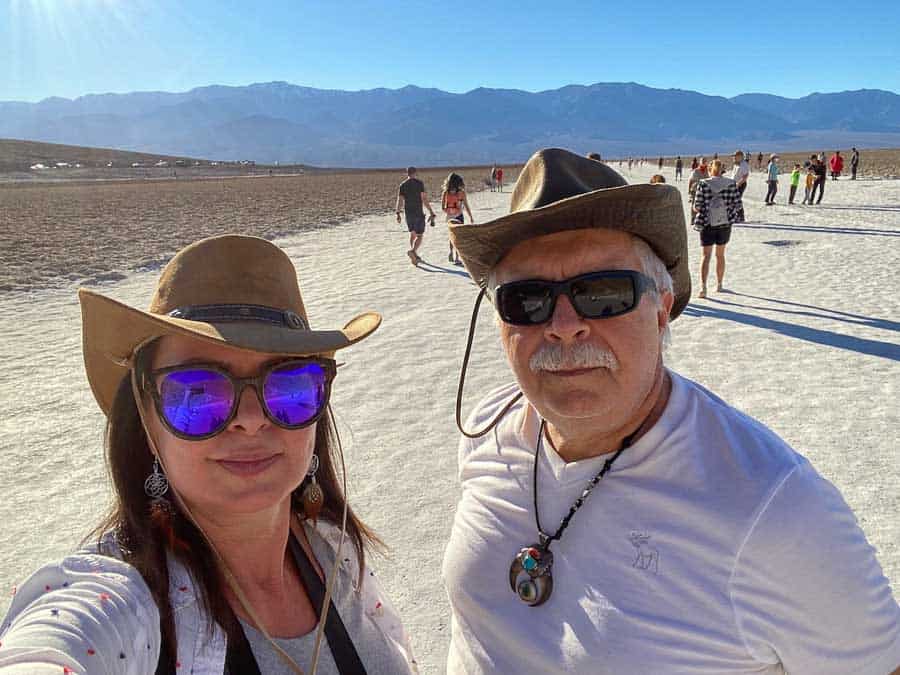 Parking is really tight here, but you can also park on the side of the road if there is no space available.
4. Artists Drive & Artists Palette
The drive up to Artists Palette is one of my favorite things to do in Death Valley. The entire drive is 9 miles and is one way, so you can stop along the way to take pictures. The scenery is absolutely spectacular!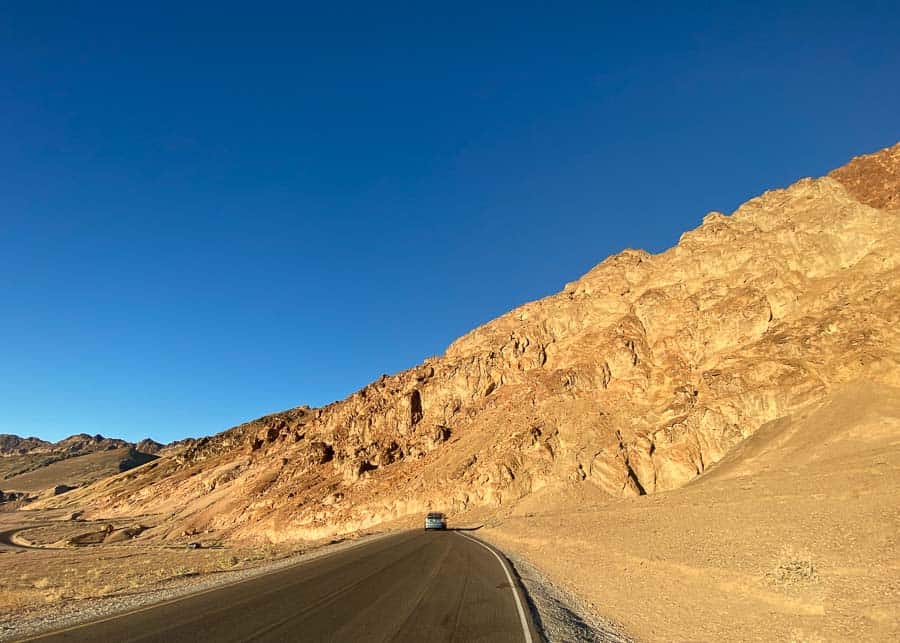 No wonder Artist's Palette was one of the filming locations for the movie Star Wars. When you get here, I recommend walking to the right on the near side of the dry creek bed to see where the Sand Crawler was parked in the first Star Wars movie.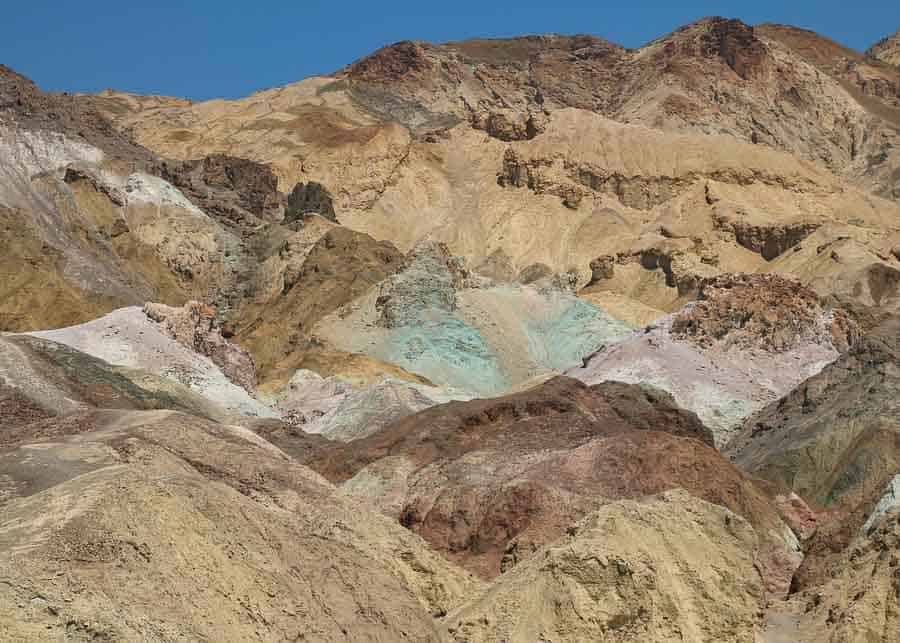 Access to the Artist's Drive is off Badwater Road. Along the drive there are places where you can park your car and out and hike into the rock formations.
5. Darwin Falls
Darwin Falls is an unexpected oasis in the middle of the desert. The trailhead close to the Park entrance , when coming from the California side.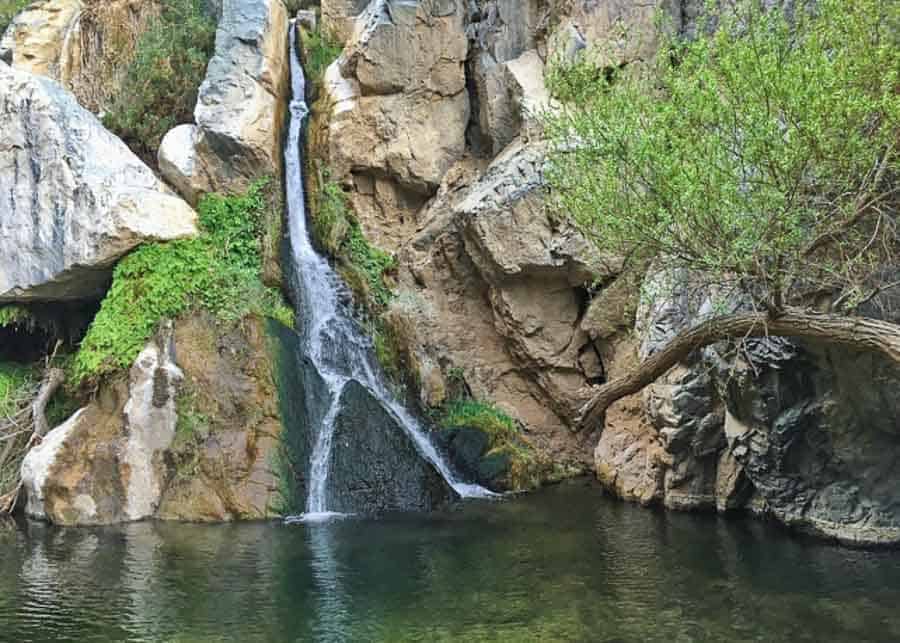 The dirt road (2.5 miles) is lovely, going though an area with a lot of vegetation and the waterfall at the end is pretty amazing when you think how dry Death Valley is. This canyon reminds me a lot about the Deep Hot Springs hike along the Mojave River. Very similar scenery: an oasis in the middle of the desert.
6. Devil's Golf Course
I can't think of a more dreadful and inhospitable scenery than the lumpy salt flats at Devil's Golf Course.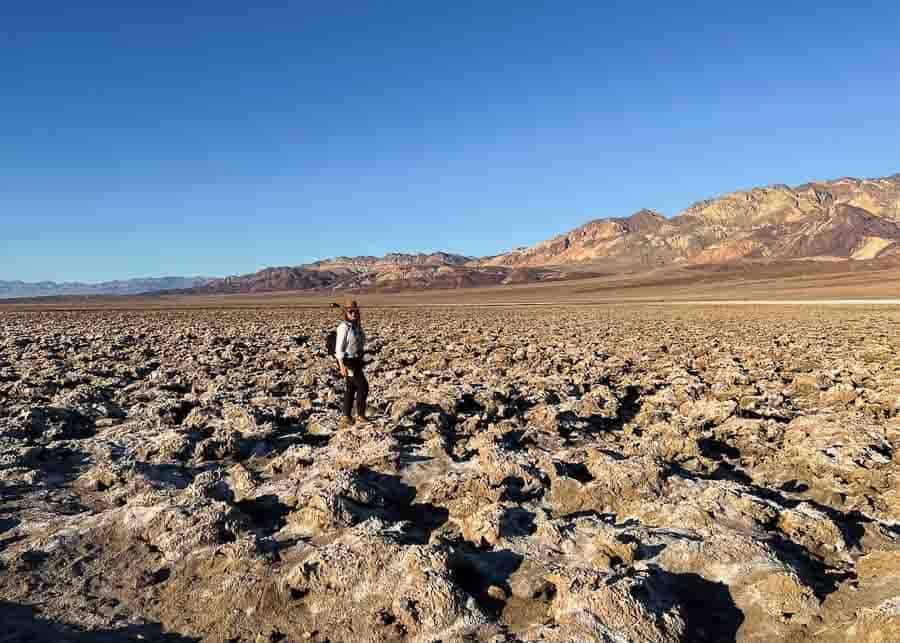 Located near Badwater Basin, these area is worth a quick stop just to see what strange forms salt can take sometimes. These formations can be surprisingly sharp, so be careful when stepping on them.
7. Harmony Borax Works
Harmony Borax Works are the ruins of an old borax ore-processing plant in Furnace Creek Springs. Borax was the "white gold" of the desert, an ingredient used in laundry detergents and in the production of fiberglass.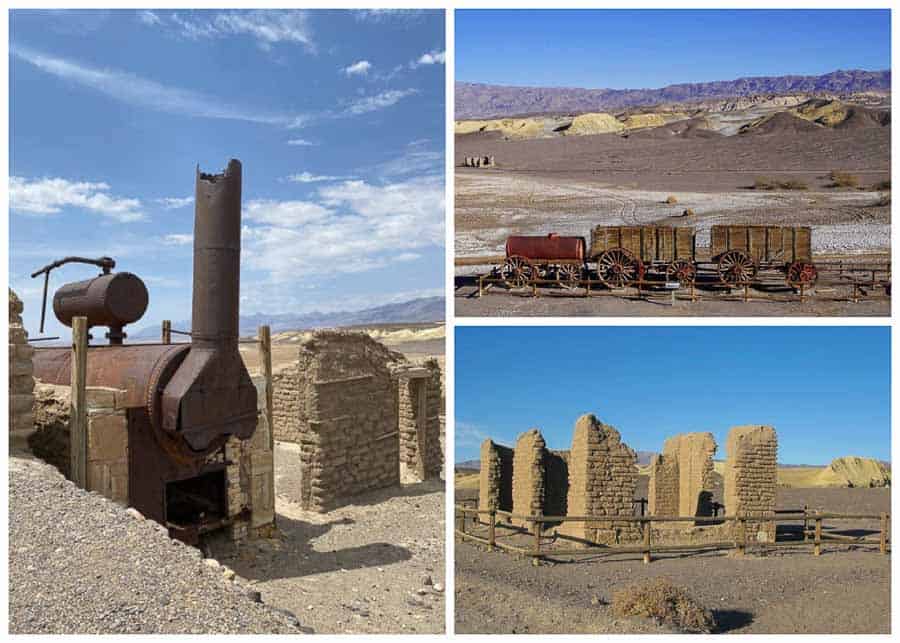 The 0.4 miles Interpretive Trail shows the remains of a building and a well-preserved 20-mule team wagon (minus the mules). It's not much to see, but it's still interesting and I think it's worth the short walk off Highway 190.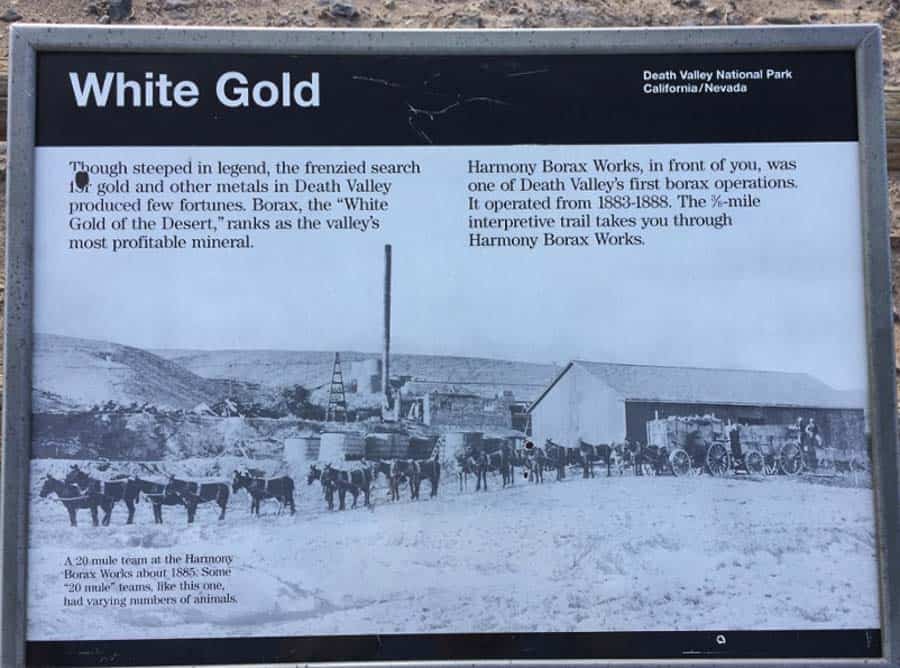 8. Father Crowley Vista Point
Father Crowley Vista is located 7.5 miles west of Panamint Springs along Highway 190 near the western boundary of the Park. This is a good place to stop and enjoy a panoramic a view into Rainbow Canyon.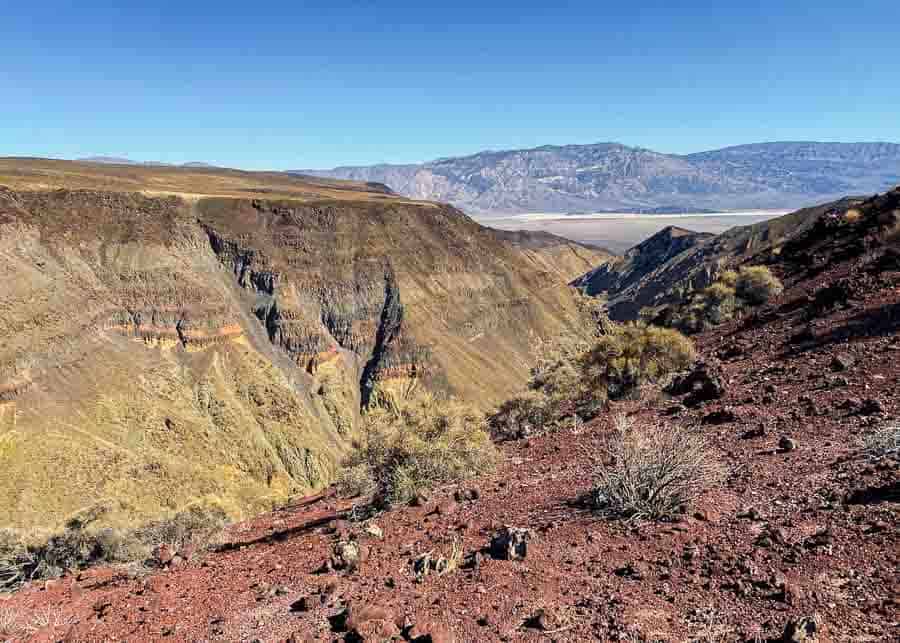 9. Ubehebe Crater
Ubehebe Crater is 30-40 miles away from Furnace Creek, which is a good 45 minute drive, but it's worth the trip. Some people hike down into it, but it requires a lot of effort to get back up, so we didn't. We only hiked around the crater, which is also very impressive.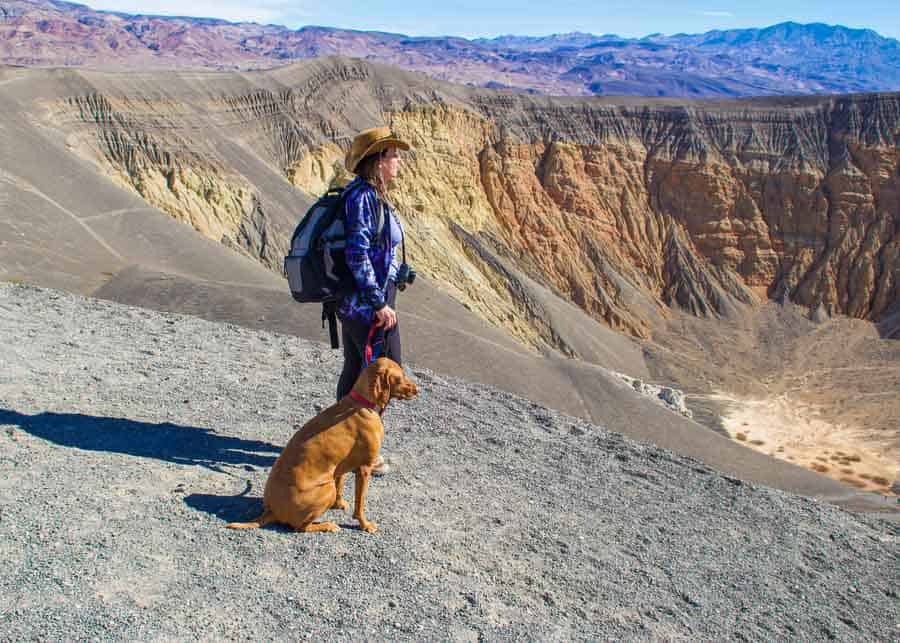 10. Racetrack Playa
Ever since I heard about these mysterious rocks that travel by themselves over a dry lake bottom, I wanted to see the Racetrack Playa. But this is not an easy place to reach.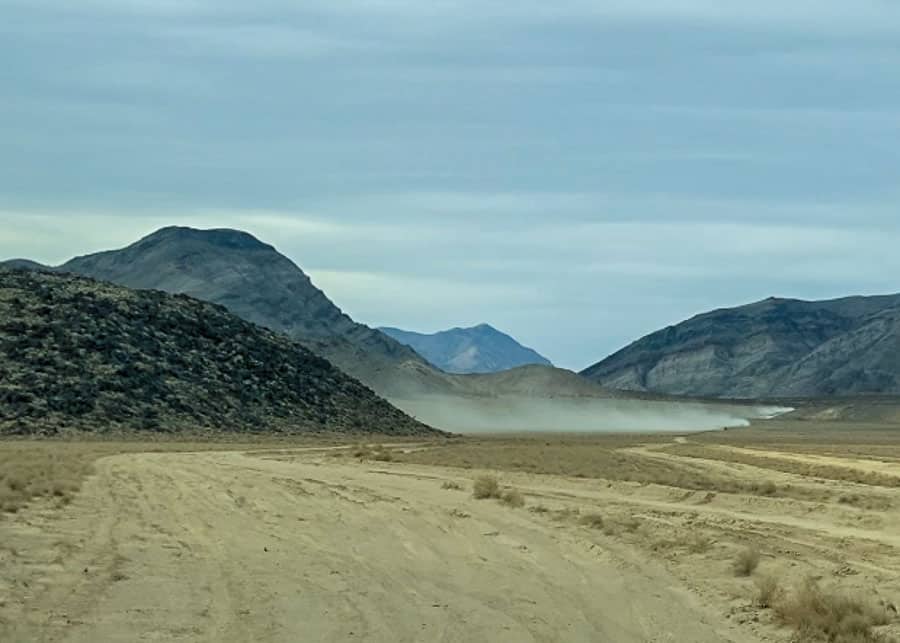 The only way to get there is via a rough, rocky road covered with gravel and sharp rocks, that passes though a very remote area. Flat tires and accidents are very common on this road. We've seen at least 3 on our way there. You'll need a 4 WD car with high clearance and special off-road tires.
This 27-miles dirt road will take you roughly 2.5 hours to drive (one way.) But once you get there, the scenery is absolutely amazing.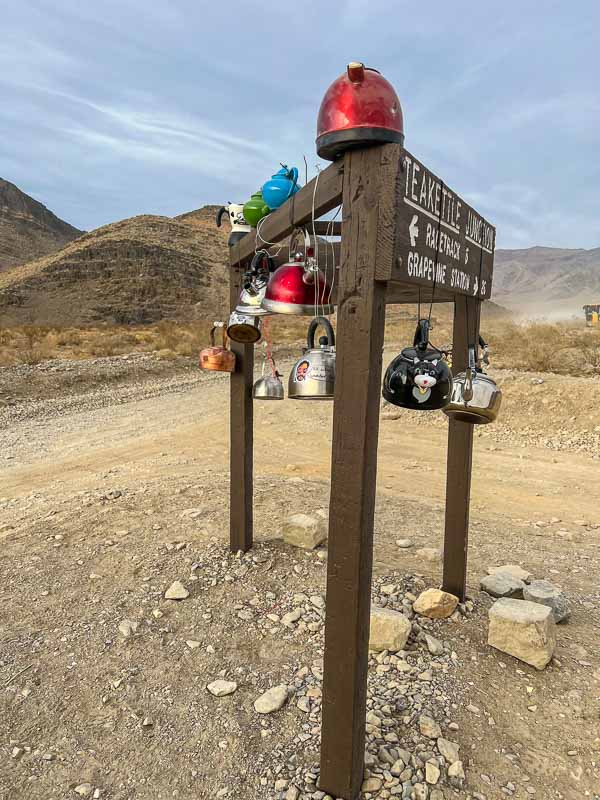 The Mystery Behind the Sailing Rocks
There are obvious traces that prove the rocks are actually moving, although the surface is perfectly level. But how are they moving? What's the mystery behind these sailing rocks?
It was long thought that strong winds pushed the stones, but it appears that the movement of the rocks is the result of a perfect balance of ice, water, and wind.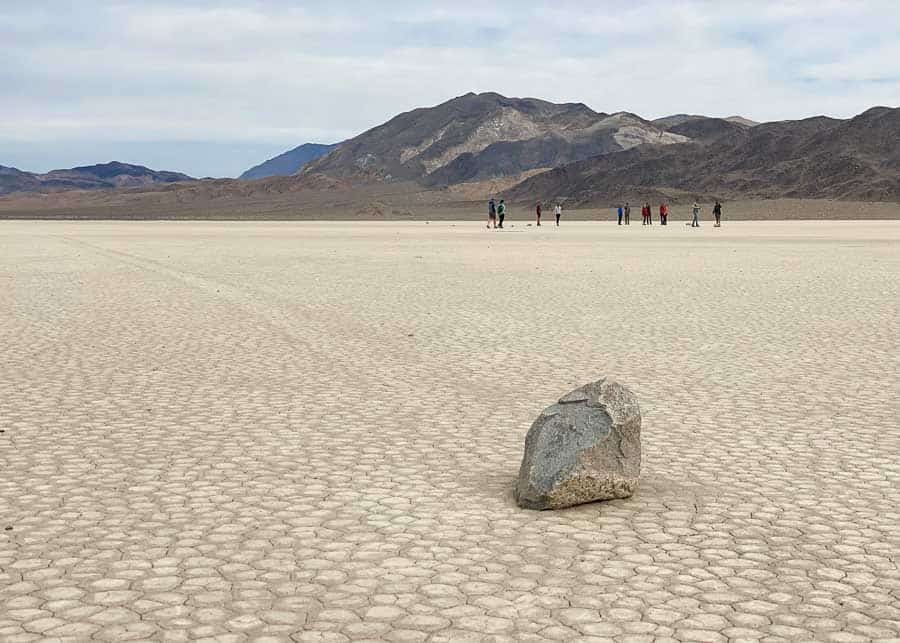 In the winter of 2014 the scientists were able to capture some time laps that explained the mystery. The rain formed a small pond that froze overnight creating a vast sheet of ice. Driven by a light wind, this sheet of ice broke up and accumulated behind the stones, slowly pushing them forward. And this is how the rocks were sailing.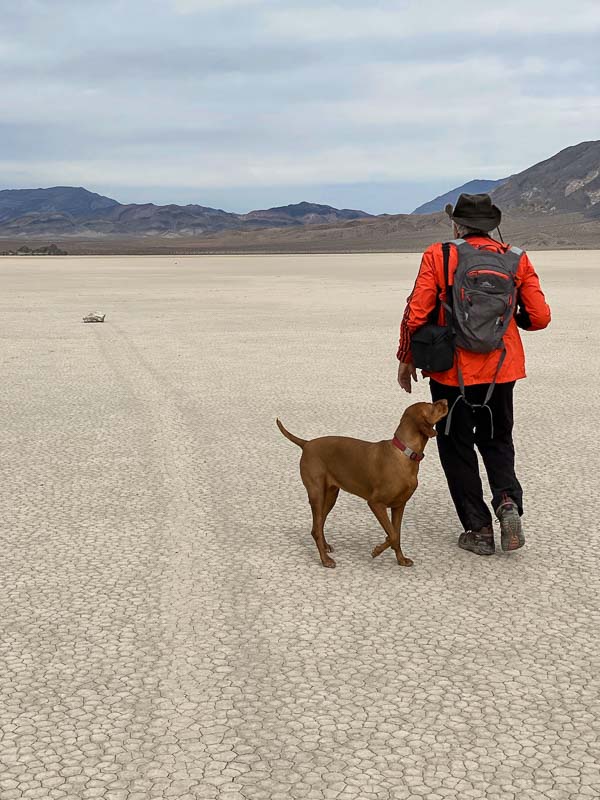 This is a very interesting place, but getting here is a challenge and it's not for everybody. We've spent over 7 hours on the road (from Furnace Creek) and swallowed a lot of dust. For us it was worth it, but you'll have to decide for yourself if you want to put up with this kind of challenge to see the moving stones.
11. The Natural Bridge
This is a short 1 mile hike (each way) located only 10 minutes away from Badwater Basin.
The Natural Bridge is the perfect spot for a photo-op as you'll be underneath a stunning 50 foot tall bridge. So if you only want to take a few shots, it takes about 10-15 minutes to reach the natural bridge from the parking lot.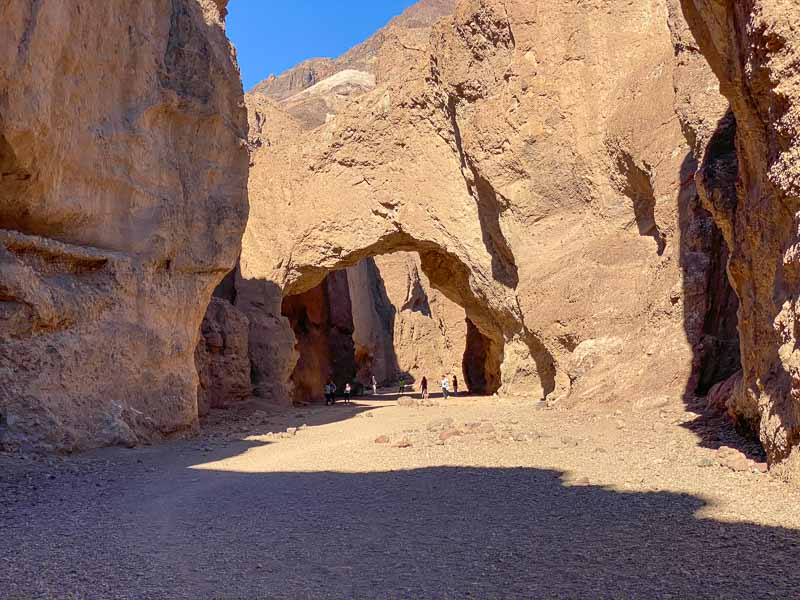 The trail is fairly flat with a minor uphill walk through the canyon. After about a mile you'll see a large boulder lodged in a narrow part of the canyon. This trail is short and can be crowded, but is well worth it.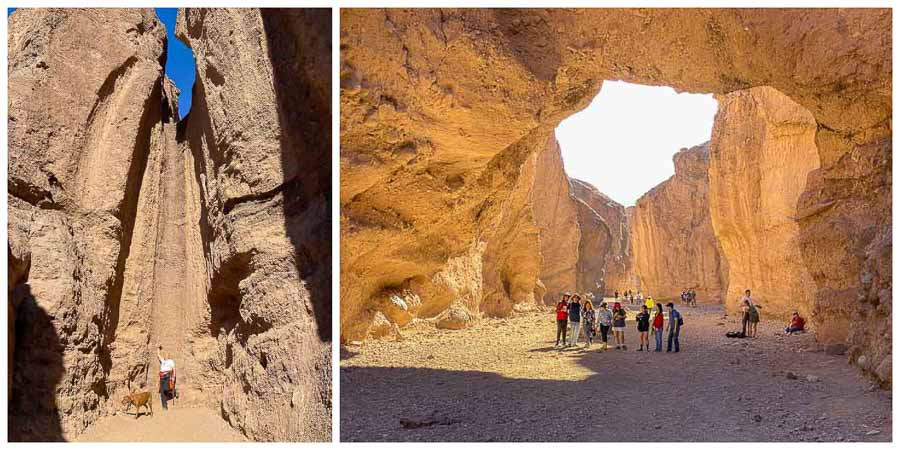 12. Mosaic Canyon
Having been to Death Valley a few times, I was surprised we haven't done the Mosaic Canyon till now. The 1.7 miles trail ends at a steep (dry) waterfall. It's a beautiful canyon, and even though there were some tricky, steep, parts, the hike is not particularly challenging.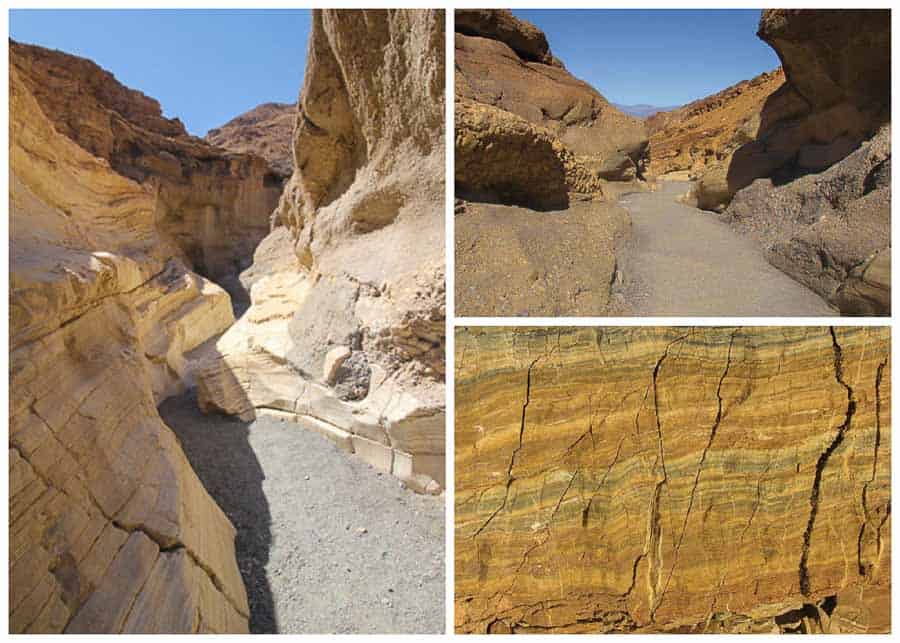 We took our time to take photos and made it in and out in 3 hours. But you could easily go faster if you want to. We highly recommend doing this hike, but bring lots of water no matter what time of the year you visit, as it gets pretty hot.
To get to Mosaic Canyon, you'll have to drive about 2.4 miles on a dirt road. We had a 4 WD, but a 2 WD would be ok, as the road is flat.
13. Stargazing
If you are in Death Valley, don't miss the opportunity to do some stargazing. The desert's low humidity and remote location away from the city's glare make the jet-black nights in Death Valley the perfect place for seeing constellations, planets and even distant galaxies.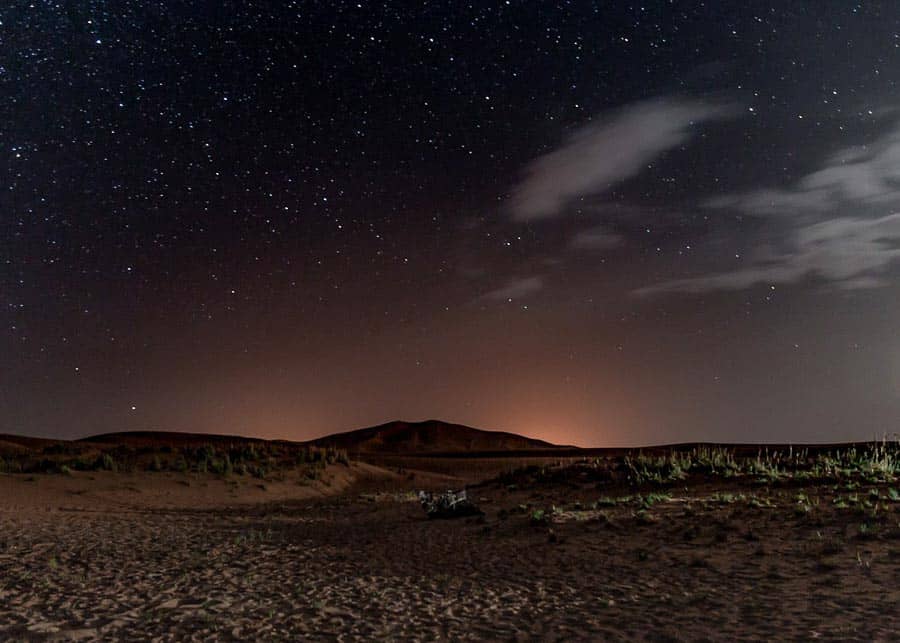 There are a few very good spots in Death Valley for stargazing, depending on whee your lodging is. One is at Harmony Borax Works, close to Furnace Creek Visitor Center. Another one is at Mesquite Flat Sand Dunes, close to Stovepipe Wells, or at Badwater Basin.
14. Lee Flat Joshua Tree Forest
If you think you have to go to Joshua Tree National Park to see a Joshua Tree forest, think again. Scattered along a dirt road in one of those remote, isolated parts of Death Valley, we came across a huge forest of JTs.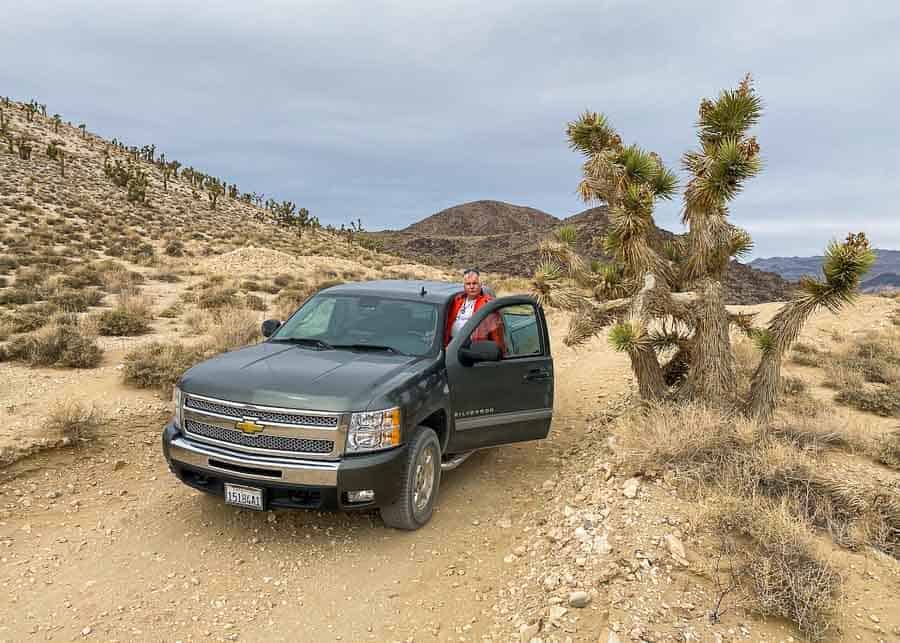 The only downside of visiting the Lee Flat Joshua Tree Forest is that you'll have to drive for about 23 miles on a gravel road. We accessed this place through Saline Valley Road.
15. Wildrose Charcoal Kilns
A little detour off the Trona-Wildrose Road will take you up to the Charcoal Kilns, at a 6500-foot elevation. Higher elevation means lower temperature, so take a sweater with you. Especially if you plan to visit this place towards the evening.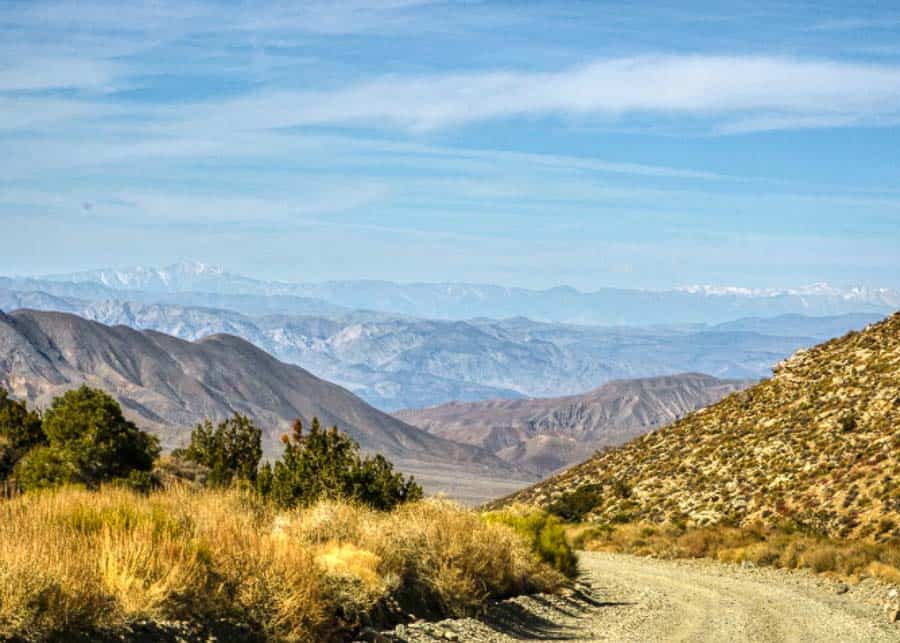 Sadly, not many visitors to Death Valley will take the time to come to the Charcoal Kilns. It's true that getting up here is not easy. It's long and exhilarating drive, with some treacherous curves hugging the mountain, but it's worth the effort.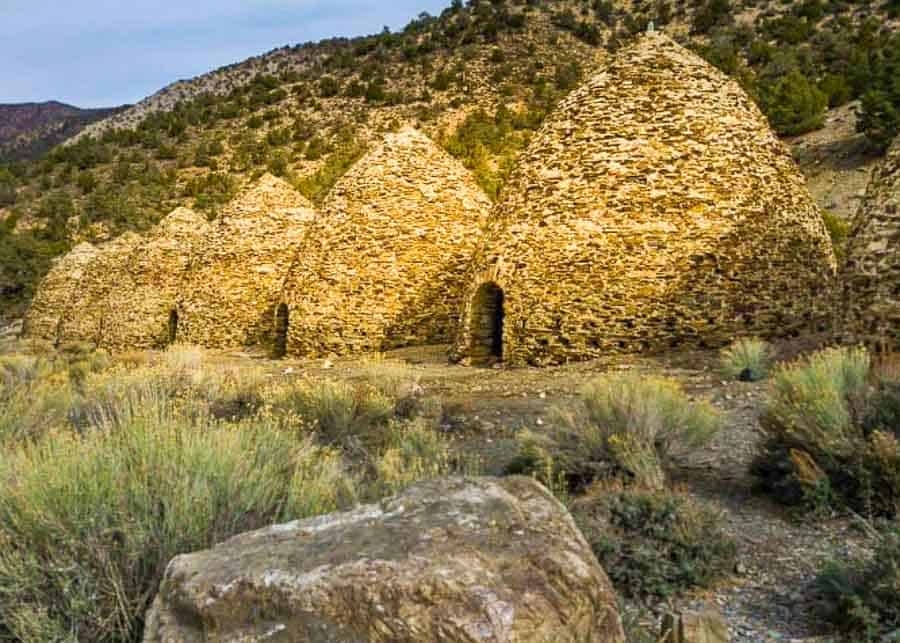 The 10 perfectly lined up Charcoal Kilns that you see up here were built in 1877. They are exceptionally well preserved and perhaps the best example of historic charcoal kilns in the West. Back in the 1900s they were used in the mining districts of the West to provide fuel for mills and refineries.
When you see them, it's hard to believe they are 150 years old. They look like you could produce charcoal even today.
16. Mesquite Sand Dunes
These are not the tallest dunes in Death Valley, but they are very easy to access (as you drive on Hwy 190, heading to Stovepipe Wells). The highest dune (which is about 1 mile from the parking lot) rises only about 100 feet. It may still look impressive if you photograph it from the right angle.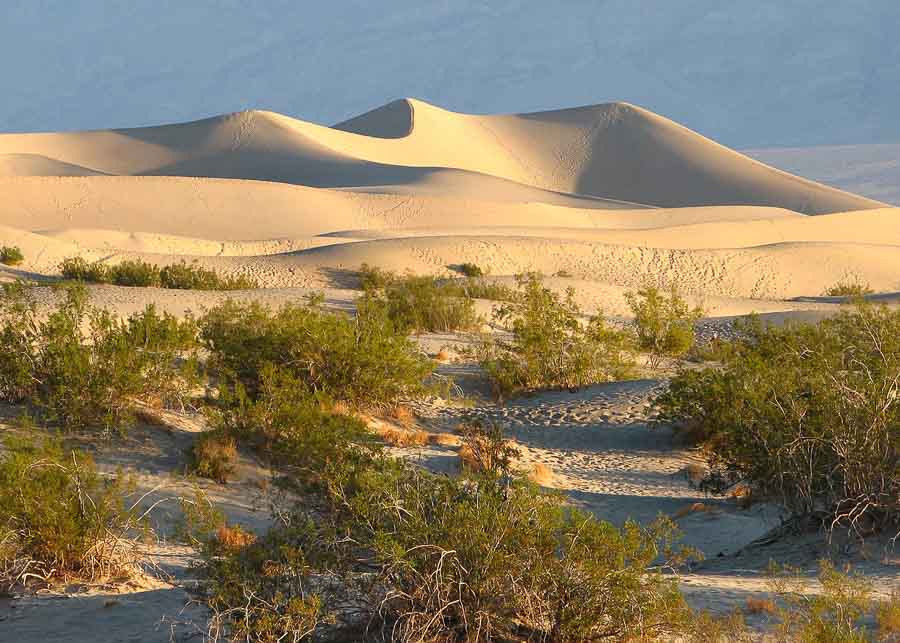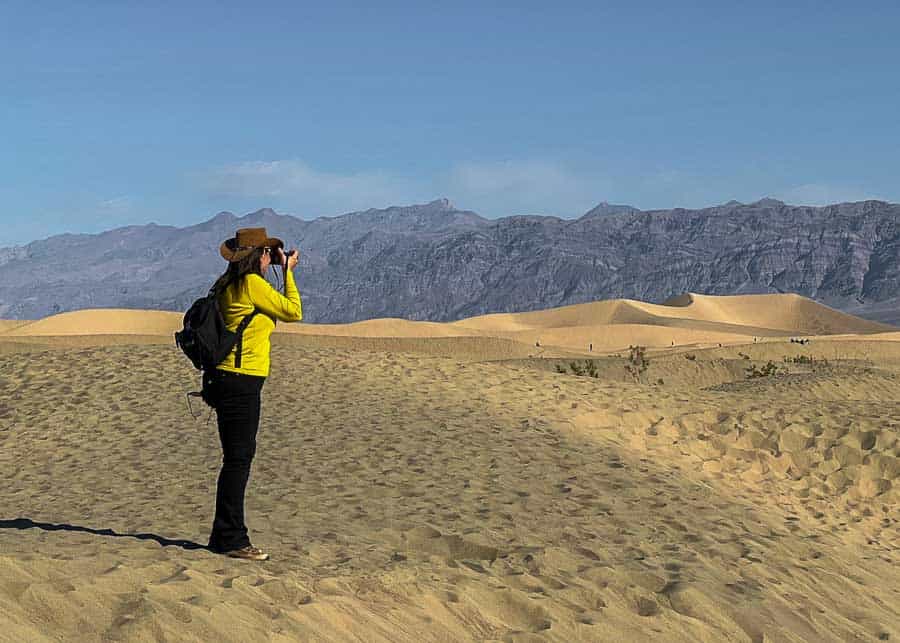 You have to stop and take a short hike on the dunes, just for the experience. It's a bit of a challenge, so don't get carried away. Save your energy to walk back to the car. Walking on sand is harder than you think!
17. Scotty's Castle
Scotty's Castle was built as a lavish vacation home for Walter Scott, a wealthy gold prospector from the 1920s. Since 1970s, the luxurious mansion resembling a castle (hence the name) was owned and operated by the National Parked Services who led tours of the castle.
Unfortunately, in 2015 the villa was severely damaged in a flood and subsequently almost burned down in a fire.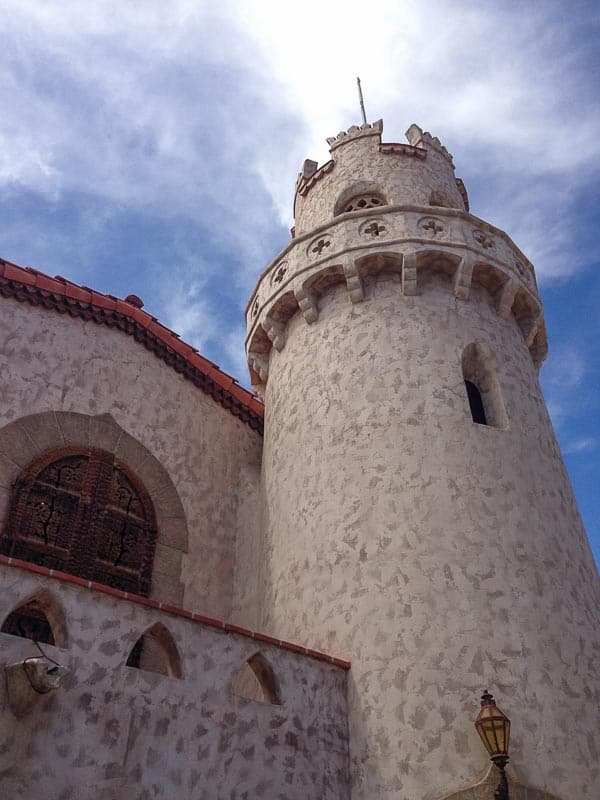 Currently Scotty's Castle is temporarily closed to the public, but there are plans to reopen in 2023. We saw it on one of our previous visits, many years ago and plan to revisit it after they reopen it.
Important Things to Know Before Visiting Death Valley
There are a few things that you need to know for before you enter the park, so I'll be listing them below: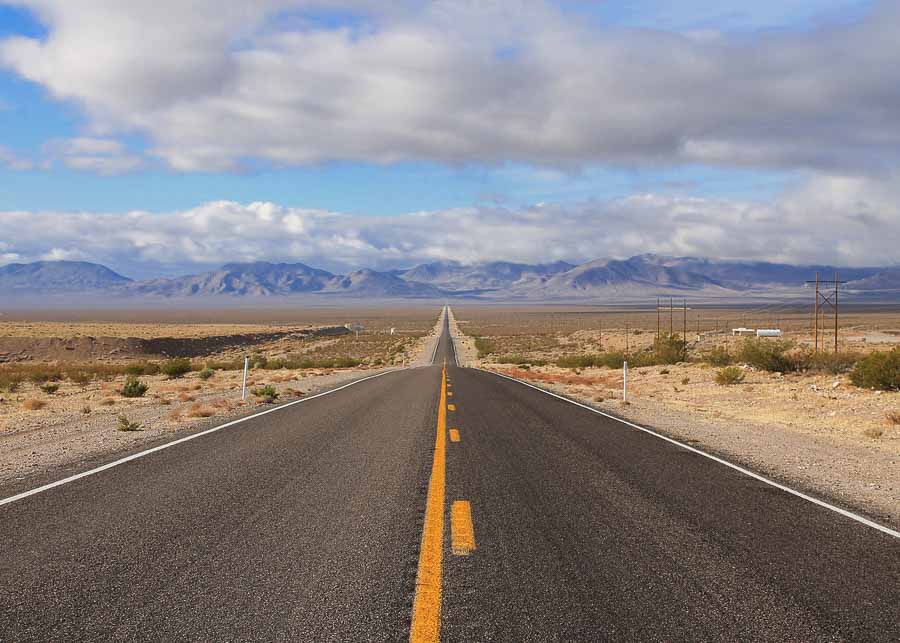 Death Valley is a HUGE park, so expect to do A LOT of driving between the points of interest.
There are very few gas stations in the Park and the prices are double than anywhere else in California. Even so, fill up your tank whenever you come across a gas pump.
There is no GPS or cellular service in Death Valley, so we recommend bringing a map with you.
We recommend buying a good Death Valley Map, since the ones provided by the Visitors Center are very sketchy.
Internet is unusable in Death Valley. Some hotels offer free WiFi, but the signal is too weak.
Entrance Fee for the Park is $30/vehicle (valid for 7 days) and can be paid at any of the park entrances or pay stations.
Best Time to Visit Death Valley
Death Valley is one of the most popular National Park in the United States and it's open year round. By May the valley is too hot for most visitors, yet throughout the hottest months, visitors from around the world still flock to the park.
SPRING
Spring is the most popular season in Death Valley, with temperatures between 75-90ºF. This is the beat time of year to see wild flowers, if California received enough rain the winter before.
SUMMER
By May the valley is already too hot for hiking, yet all throughout the summer, visitors from around the world still flock to the park in the hope of catching a glimpse of its beautiful sites. Summer temperatures are between 110-116ºF.
AUTUMN
Fall arrives in late October in Death Valley. The temperatures start cooling off considerably and it's time again for hiking the canyons and visiting the sites. Temperatures vary between 93-55ºF.
WINTER
Winter has cool days and chilly nights, with some snow on the high mountains. Average temperatures are between 40-60ºF. This period is particularly beautiful for exploring the valley.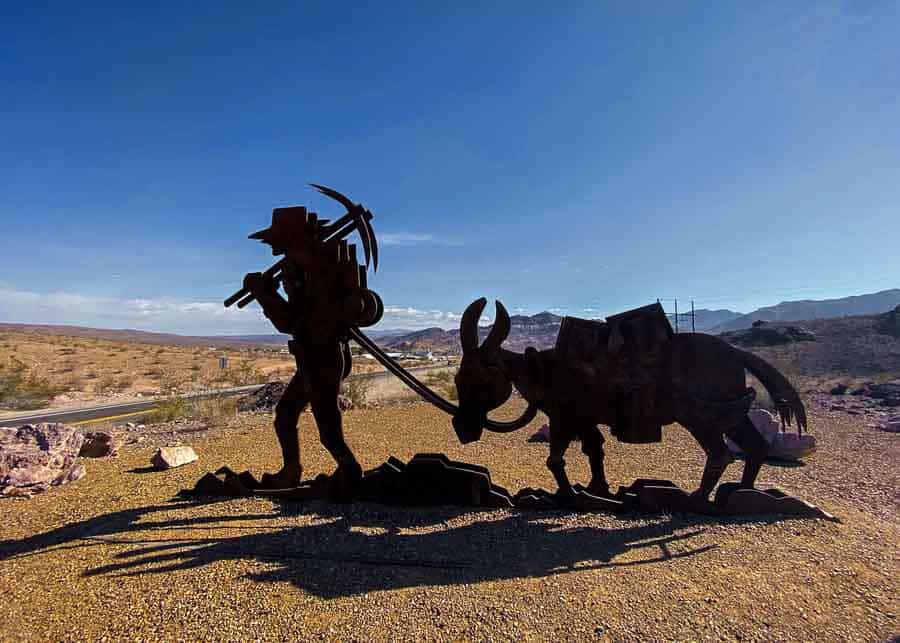 Where to Stay When Visiting Death Valley
There aren't many lodging options in Death Valley, so expect to pay a lot if you want to stay the park (between $370-$580/night). The only hotels available are: the Ranch at Death Valley, the Inn at Death Valley, and Stovepipe Wells Village.
The first time we visited Death Valley we stayed at Amargosa Opera House Hotel, at the Death Valley Junction. This is a modest hotel, but with a very interesting history. Even if you don't stay there, the hotel it's worth visiting for its strange Spanish style Opera House, dating back to 1923.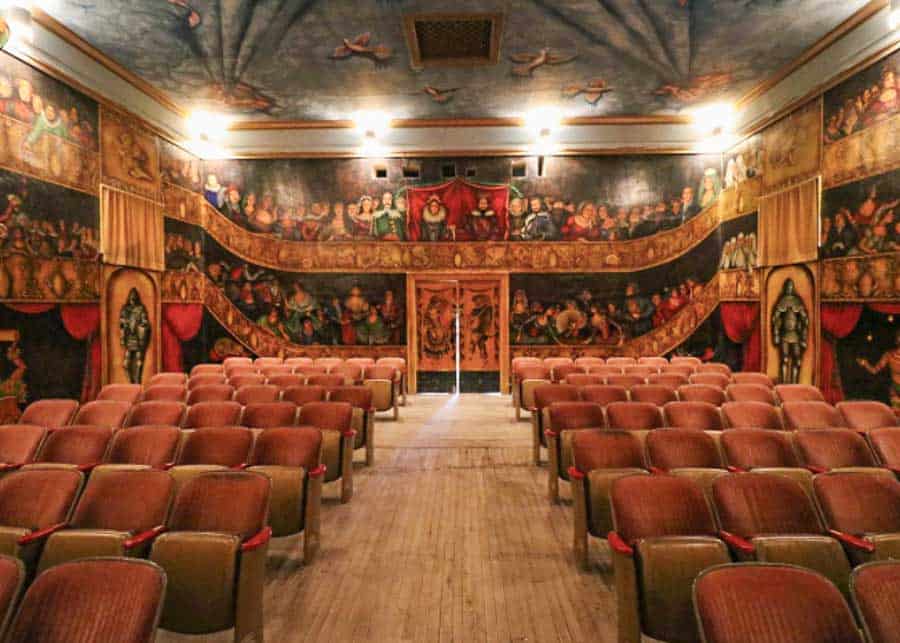 This time we stayed at the Inn at Death Valley and we were very pleased with the level of comfort, but the prices were through the roof! We paid for the convenience of staying in the park, so we were close to all the attractions.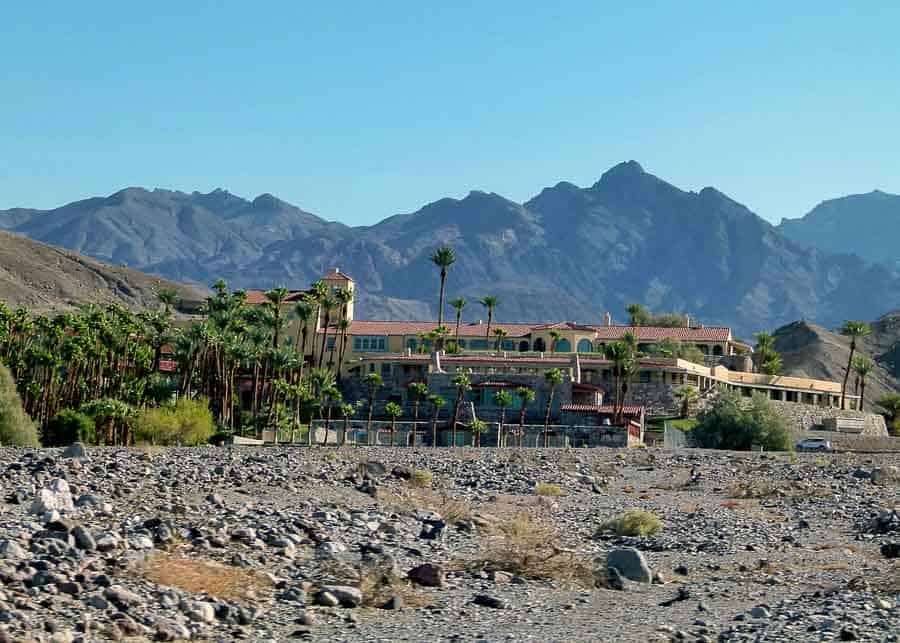 They have a first class restaurant on the premises, a large swimming pool, a huge terrace, a bar, and a beautiful green park with a pond.
You May Also Like These: