The Island of Hawaii – often referred to as the Big Island – is famous for its Kona coffee, amazing scenery and the great array of things to do. Considered the largest and youngest of the Hawaiian archipelago, the Big Island encompasses four climate zones: tropical, monsoon, tundra and desert – all within an hour drive. It also enjoys a great landscape diversity, which is why it's my favorite Hawaiian island.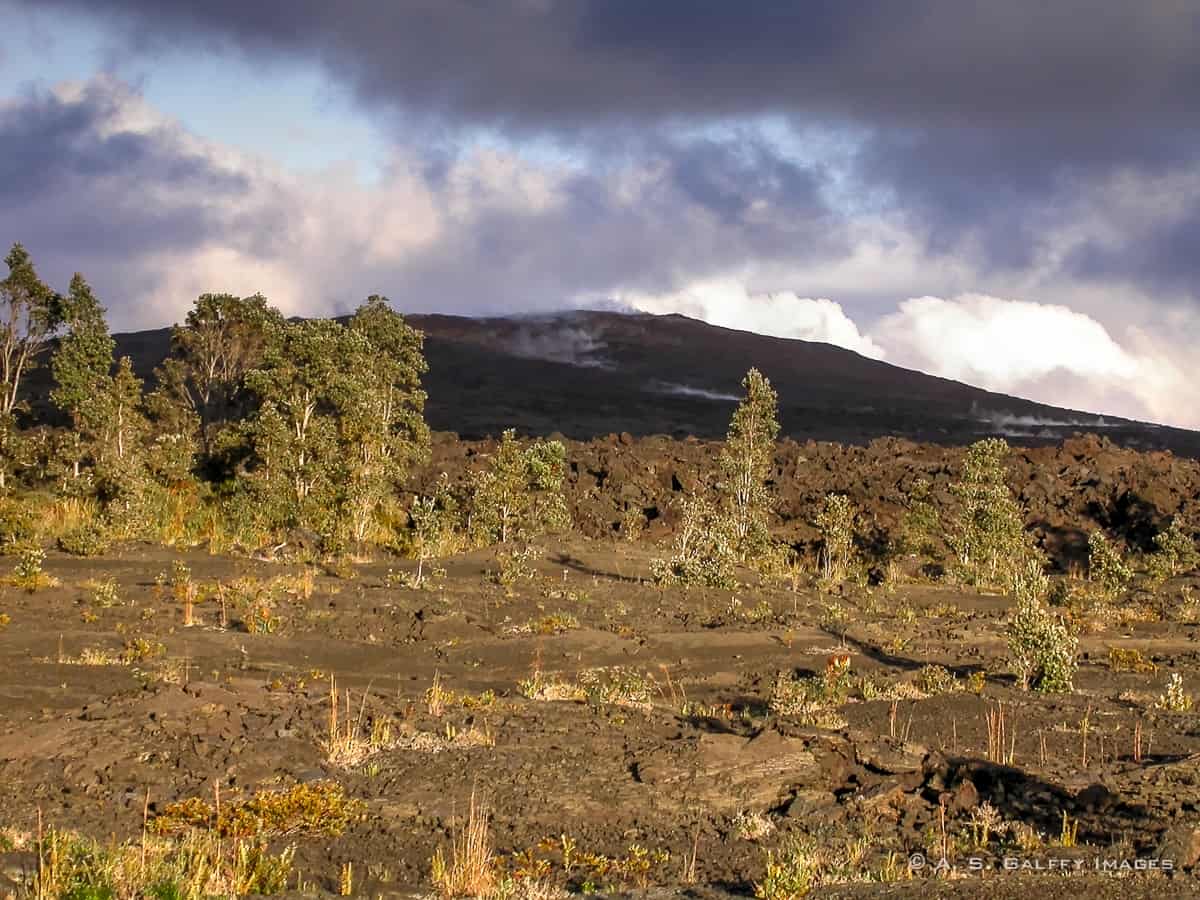 On the Big Island you can do just about everything: walk across vast fields of lava rock, go atop snow capped mountains, or hike across volcanic craters. You can descend into deep lava tubes, dip your feet in green sand, watch red-hot lava flowing into the ocean, or swim with turtles and Manta Reys in turquoise blue waters.
20 Amazing Things to Do in Kona and on the Big Island of Hawaii
Life may be moving at a slow pace on the Big Island, but is surely isn't boring! There are so many attractions around, that you won't know where to begin. We know because we've seen them all many times, over multiple visits.
The Big Island is separated into 6 main regions: Hamakua Coast, Hilo, Kau, Kona, Kohala and Puna. Ideally, should explore each one of them, as they are all different and very beautiful. If this is your first time here, let me tell you what are the best things to around the Big Island.
1. Visit the Black Sand Beaches
Seeing a true black sand beach for the first time is a bit strange. It somehow doesn't feel right, especially when compared to the pearly-white beaches you are so used to seeing on tropical islands. But the black sand beaches on the Big Island are really beautiful, so you should check them out.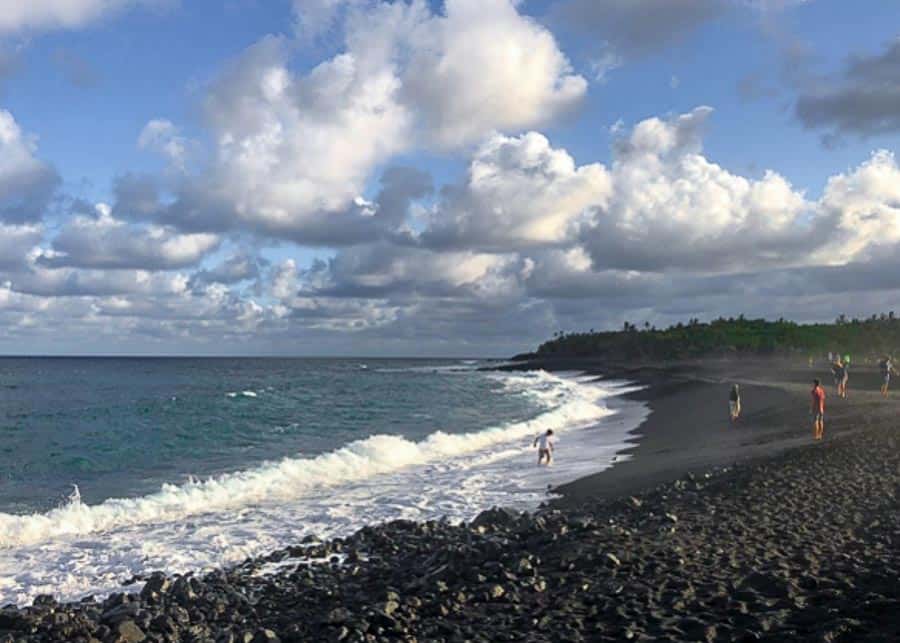 The most famous ones are Pohoiki, Kehena, Kaimu and Punalu'u, on the southeastern coast of the island.
2. Night Snorkel/Dive With Manta Rays
One to the best activities on the Big Island is the night snorkel or dive with manta rays. There are several local companies in Kona that offer tours to the site where you can watch the playful creatures come to feed on the plankton. The plankton is attracted by the bright lights which are attached to a platform that floats in the water.
Witnessing the feeding frenzy of these giant creatures in the darkness of night is a little intimidating, but also very exciting. The manta rays can be as large as 16 feet across and weighing 1,000 lbs. But the good news is that they can't harm you as they have no stingers, barbs, or teeth. They are just gentle giants that glide through the water with grace and ease.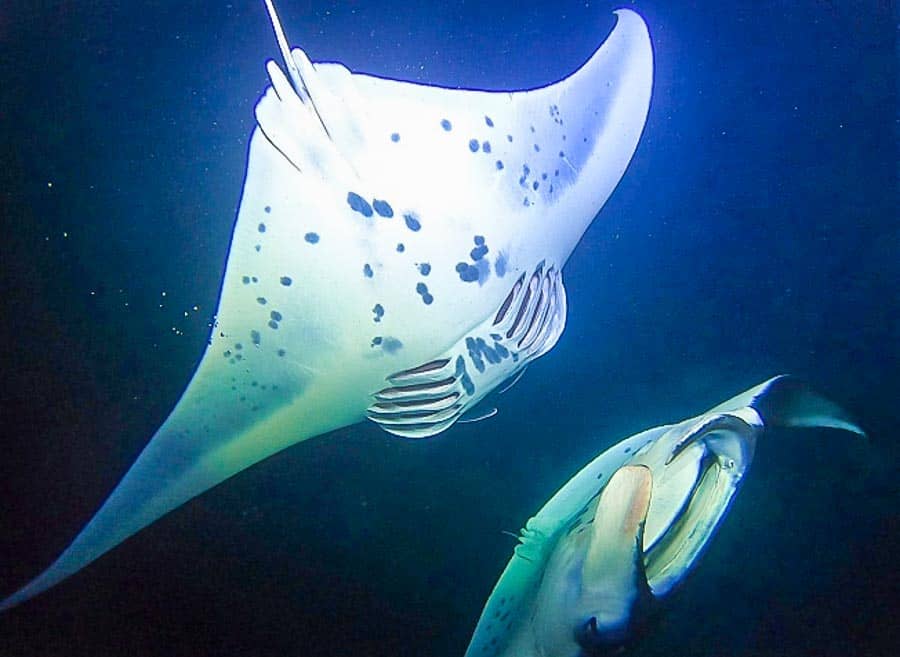 You don't need to be an expert swimmer or snorkeler do do this snorkel tour. You just grab the lightening board and watch the show. The cost can be anywhere from $70 – $139, depending on the company you hire. In my opinion, it's not worth paying more, as you see the same manta rays.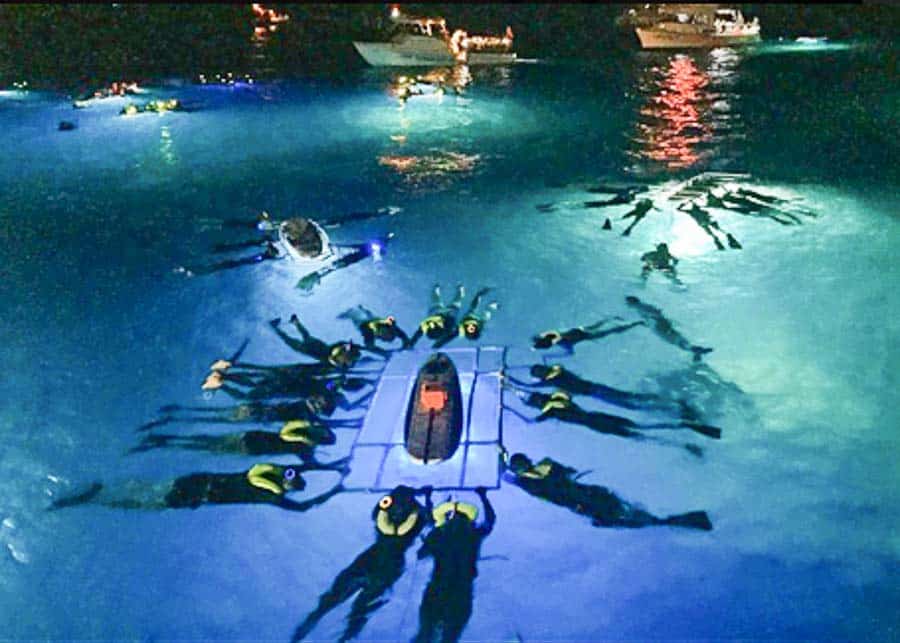 The Manta Rays Tour is unique to the Big island, so make sure you don't miss it. All necessary equipment is provided for your excursion, so you don't need to bring anything. They also serve light refreshments and snacks on board.
3. Hike to the Waterfalls
There are few more exciting to do on the Big Island than hiking to one of the stunning waterfalls. The experience is deeply fulfilling: the lushness of the rainforest, the earth-damp path, the plumeria-scented air, and finally, the moment of revelation when you spot the torrent of water cascading over rocks into a deep pool.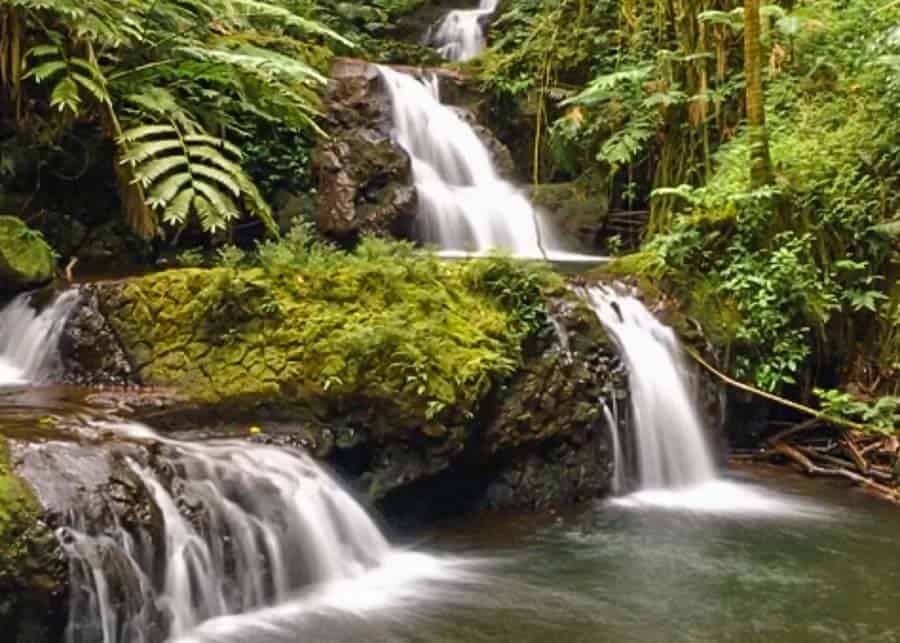 The Big Island of Hawaii is full of amazing waterfalls. Some of them require serious hiking or climbing, so if you are adventurous you'll have a blast discovering them. But there are also many easy-access falls that can be visited by almost anybody, including families with small children.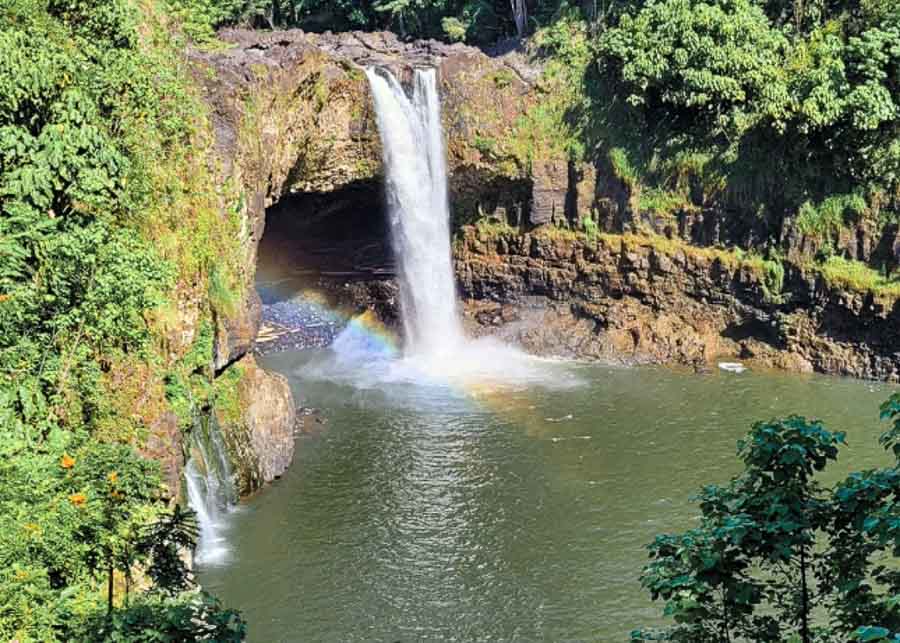 Such are: Akaka Falls, Rainbow Falls, Onomea, or Pe'epe'e Falls. Most waterfalls can be found on the northeastern part of the island, on the coastline between Hilo and Hamakua.
4. Visit the Lava Fields in Puna District
It's hard to believe the kind of destruction a volcanic eruption can cause, until you see the Puna district , on the east side of the island. In 2018, a new eruption of Kīlauea volcano changed the island of Hawaii forever. From May through August, large lava flows covered almost completely the towns Kalapana and Kapoho, destroying over 700 homes and devastating residential areas in the Puna District.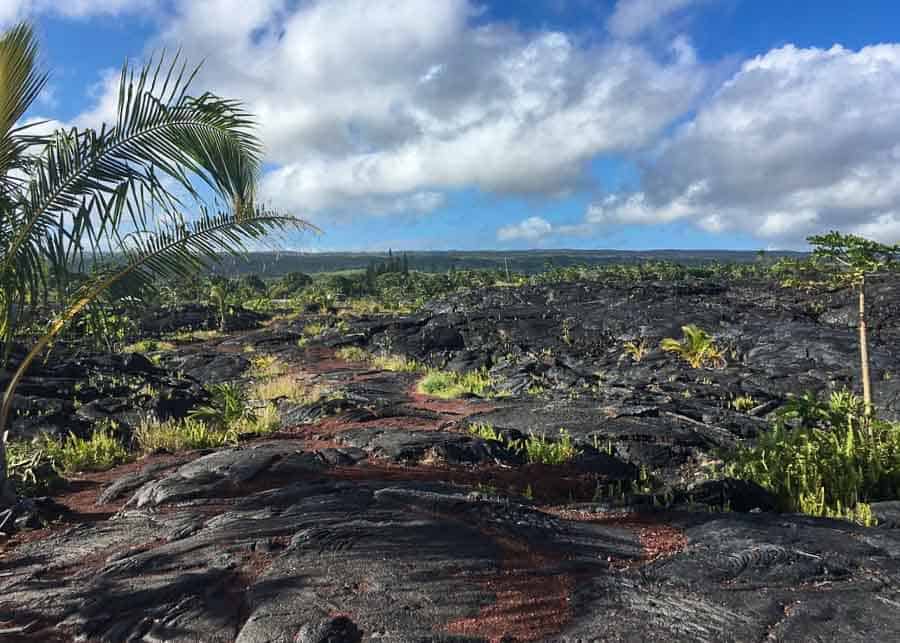 Walking on the lava fields in Puna District is one of the most unique thing to do on the Big Island, because it gives you a sense of the great power of nature.
5. Walk Across the Caldera of the Kilauea Iki Crater
One of the best hikes in Hawaii is the Kilauea Iki Trail, located in the Volcanoes National Park. Walking across what used to be a lake of molten lava, is a first hand encounter with the raw nature of Hawaii.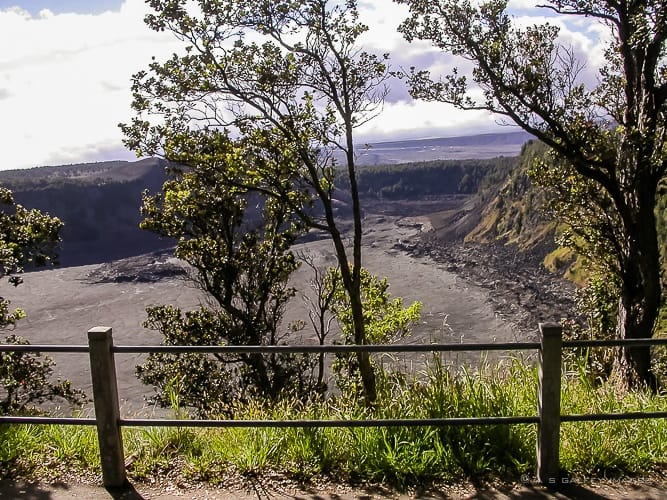 Kilauea Iki Trail is a beautiful hike that will take you right across the caldera. But if you don't want to do this hike, you can just drive around the crater rim. Crater Rim Drive is an 11-mile long road that encircles the caldera. The road gives you access to several scenic points which can be reached on short walks.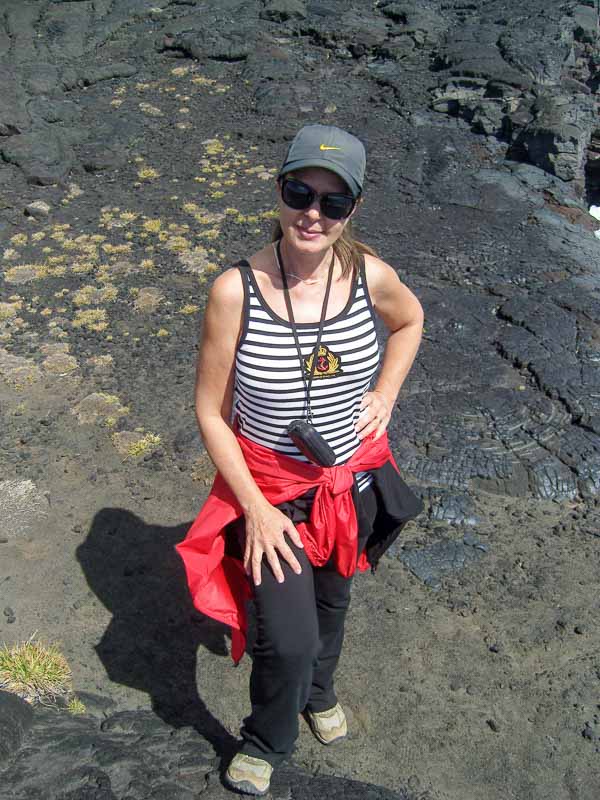 However, to fully appreciate the power of this volcano, you should definitely do the Kilauea Iki trail that takes you inside the crater.
6. Visit the Thurston Lava Tube
Also located in the Volcanoes National Park is the Thurston Lava Tube, another unique attraction on the Big Island. Walking through the lava tube is a short but impressive hike. A real "journey to the center of the earth!" It looks pretty much like walking through a cave.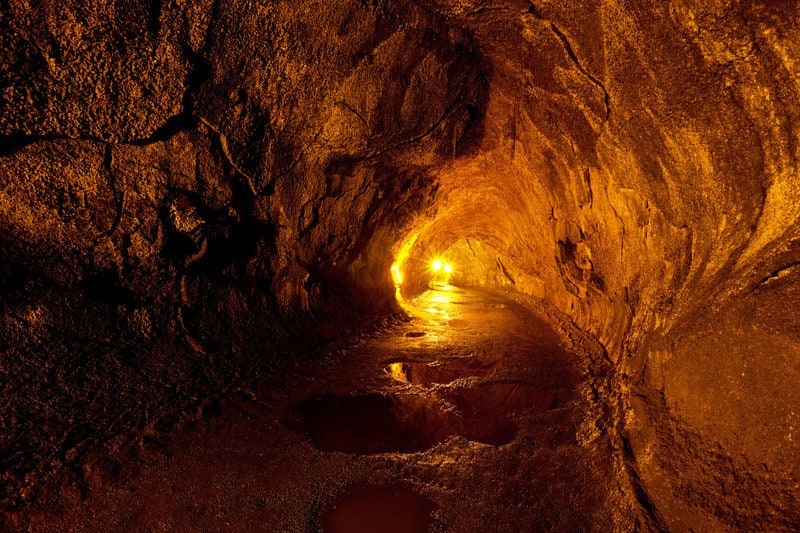 Lava tubes are formed when lava flows down towards the ocean and the outer crust begins to harden while the inner lava continues to flow. Once the flow stops, the tunnel formation remains. Thurston Lava Tube dates back some 350-500 years.
7. Kayak and Snorkel at Captain Cook's Monument
Kayaking and snorkeling at Ka'awaloa Cove in Kealakekua State Historical Park, is one of the most exciting things to do on the Big Island. In addition to paddling across the blue ocean water, you'll get to snorkel in one of Hawaii's best snorkeling sites.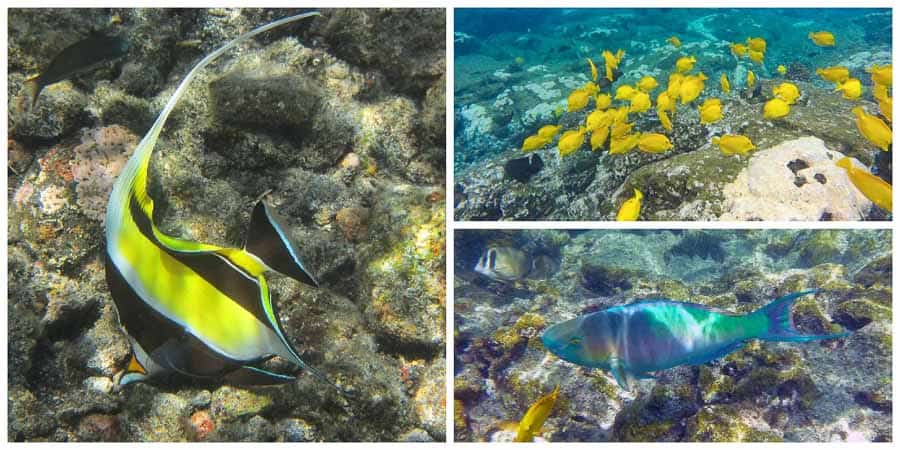 This is also the site where Captain Cook – the British explorer who discovered the Hawaiian Islands – was killed by the locals in 1779. A 27-foot high obelisk was built to honor of the famous captain.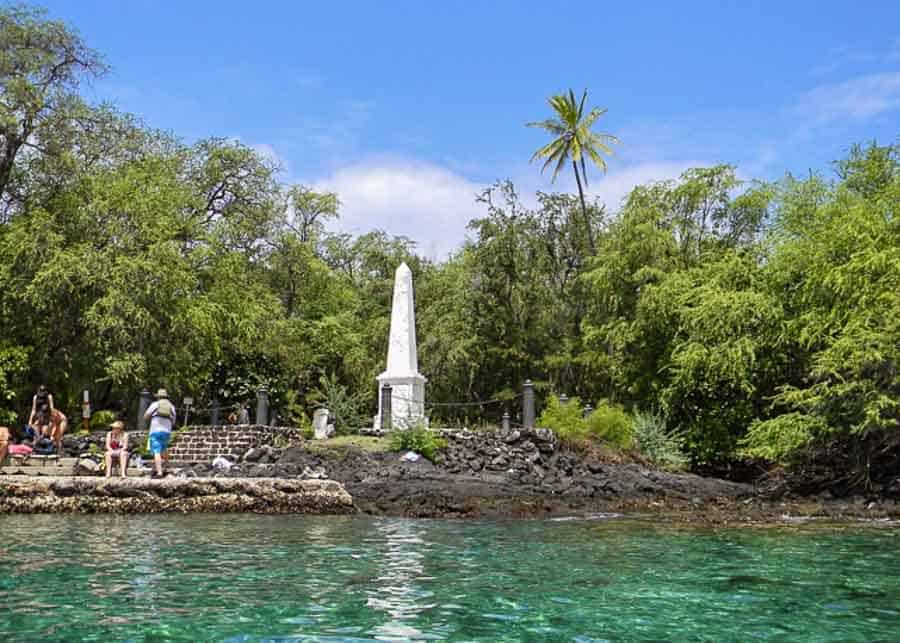 There are many companies offering kayak and snorkeling tours to Captain Cook's. However, they charge a great deal of money (from $125 and up). In my opinion, it's worth paying that when you can rent a kayak for $49/day and do the same thing on your own.
We usually rent our kayaks at Alii's Adventures, in Kona, but there are other places that rent kayaks as well. They give us straps to tie the kayaks up on the car and when we are done, we return the kayaks back to them. We managed this for years and years and never had any problems, so we encourage you to do the same.
8. Visit Hawaii Tropical Botanical Gardens
Hawaii Tropical Botanical Garden is located close to Hilo on Highway 19, between mile marker 7 and 8. The botanical garden itself is gorgeous and it sits in an unbelievably serene location, so it's totally worth visiting. Besides the beautiful flora and fauna species that are native to Hawaii, you'll be able to see some of the most exotic plants and rare species of orchids.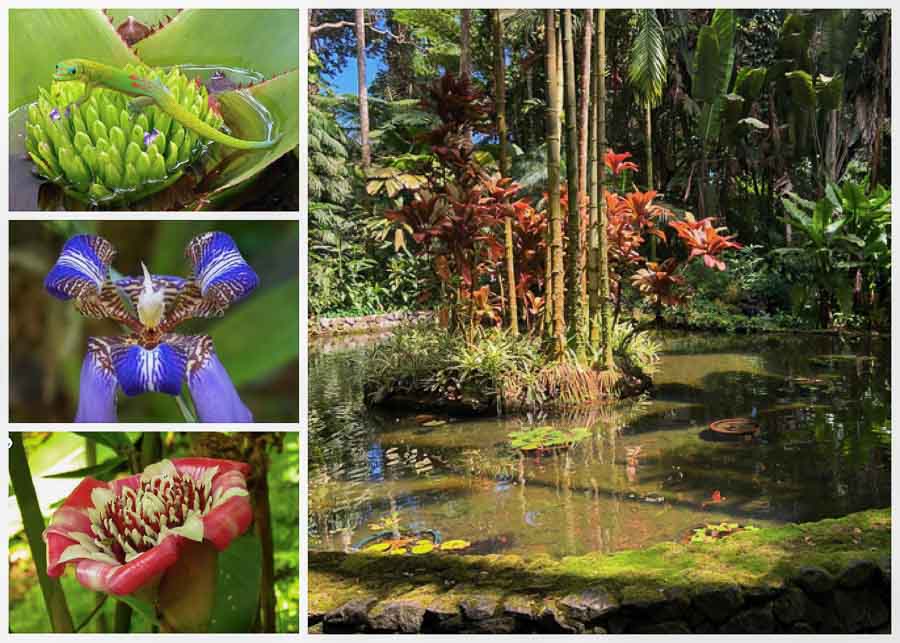 Inside the botanical garden, on the Scenic Loop, you find one of Hawaii's most beautiful waterfalls: Onomea Falls. On the way to the waterfall you'll pass by Boulder Creek, which is a gorgeous sight to see. The view of the ocean at the bottom is spectacular as well.
Admission fee is $15 for adults, $5 for children up to age 16, and free for children under age 6.
9. Take a Helicopter Tour to Over the Red-Hot Lava Flow
What distinguishes the Big Island from the other Hawaiian Islands is that it's home to two active volcanoes: Mauna Loa and Kilauea. There are not very many places on this planet where you can still watch the earth being born. While these volcanoes don't shoot lava way into the air, they have sections where the lava swirls around the surface.
But drifting a few hundred feet over an active volcano with lava swirling about is not for everybody. However, if you are an adrenaline junkie, you'll love this helicopter tour!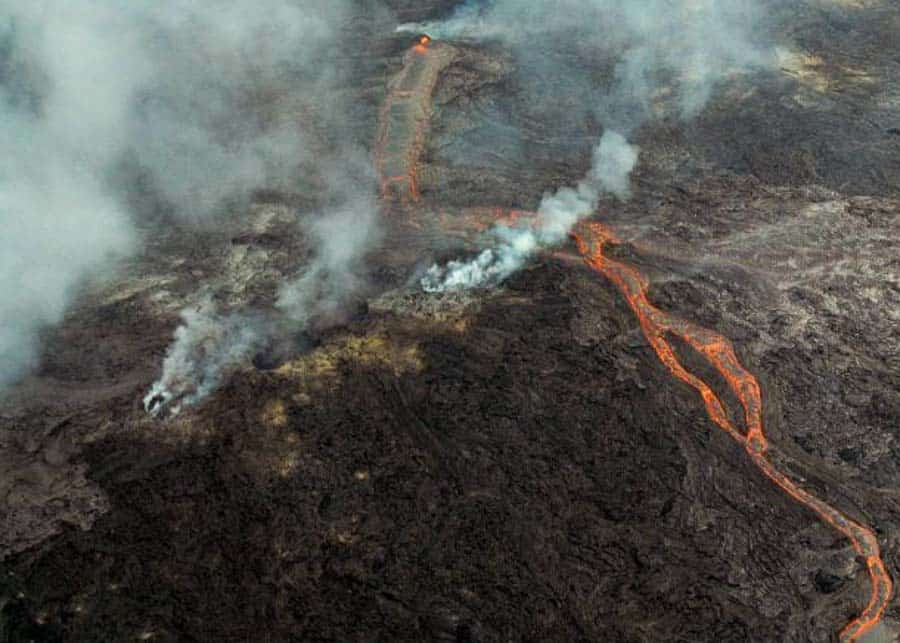 You'll find lots of helicopter companies willing to take you into the air to see the volcanic activity. It's a very interesting experience, although a little pricey (around $425).
10. Snorkel With Turtles and Tropical Fish at Kahaluu Beach
Kahaluu Beach Park is a real life aquarium! Located just a couple of miles south of Kona town, in a protected bay, this beach offers some of the island beast and easily accessible snorkeling.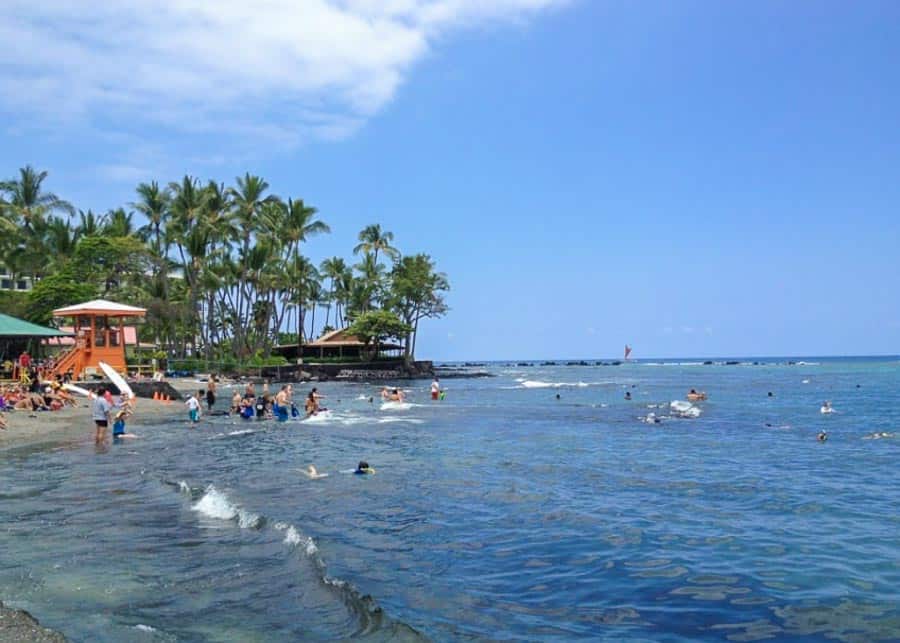 The protected waters of this bay are almost always calm and crystal clear, so you don't need to be a pro or venture far from the shore in order to come face to face with sea turtles, coral, and a variety of tropical fish.
11. Take a Horseback Riding Tour Through Waipi'o Valley
Steeped in history and surrounded by legends, Waipi'o Valley enjoys a majestic scenery: lush jungle trails, flowering canopies, curving streams, and tall waterfalls. Visiting this private land on horseback is a whole lot more than just a trail ride!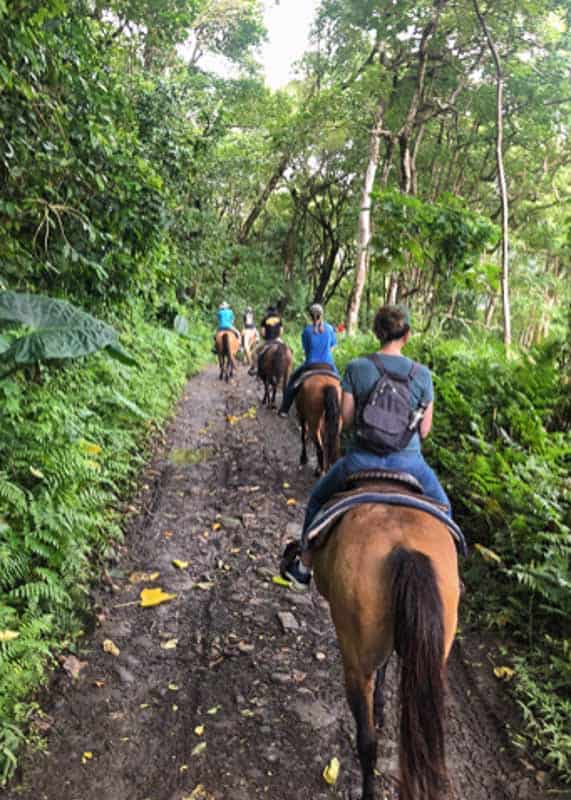 As the valley is also their home, the guides will teach you a lot about much about the history, farming and people of Waipi'o Valley. This is a must-do experience on the Big Island!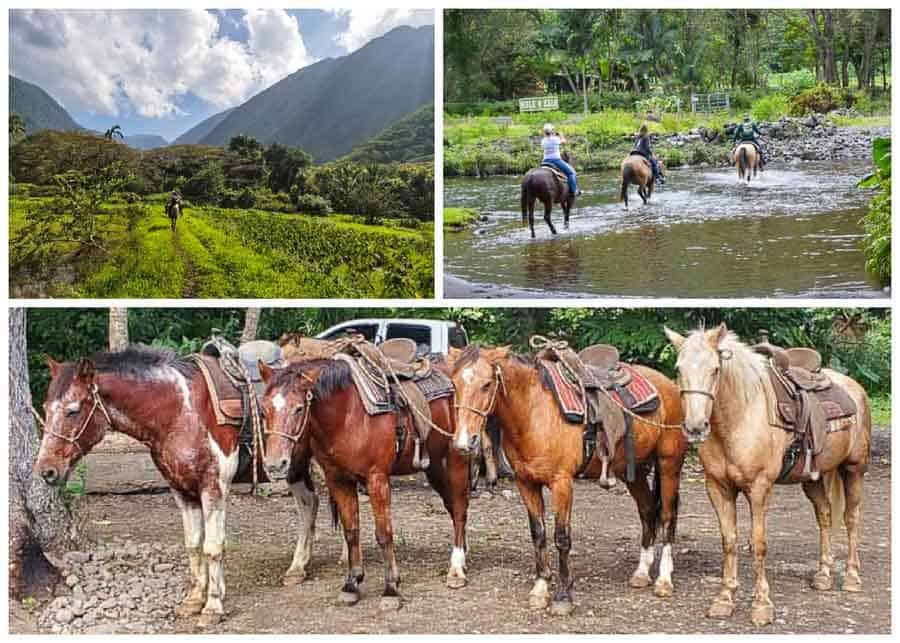 12. Visit a Kona Coffee Plantation
There is a reason why Kona is on the world's coffee map. And since you are already on the Big Island, it would be a pity not to visit a plantation and see how the famous coffee is harvested and processed. Besides, Kona coffee is one of the most appreciated gifts that you can bring to you family and friends from Hawaii.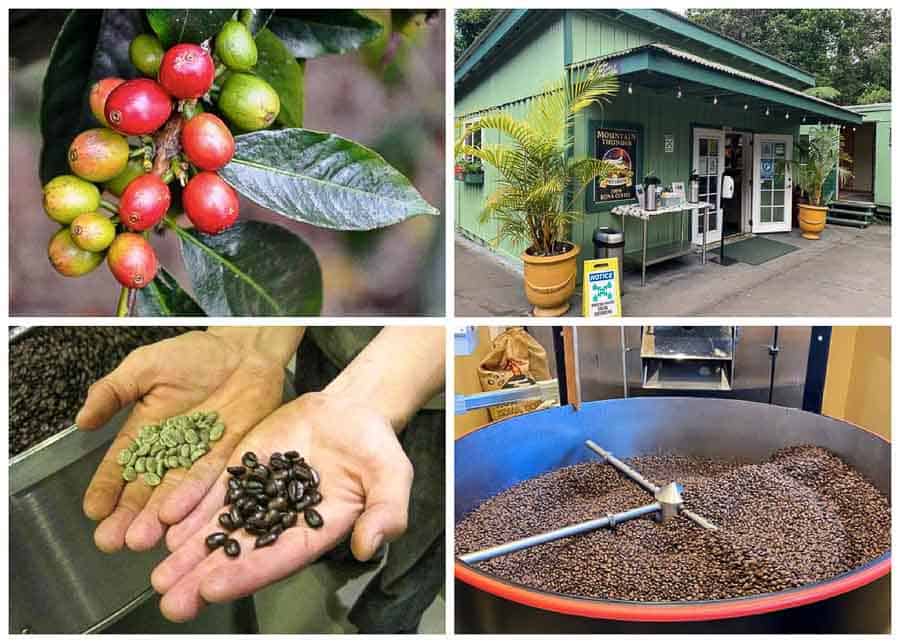 Also, buying it directly from the farm is a guarantee you are buying the 'real deal', not a Kona-blend which has a limited amount of real Kona coffee.
When visiting a farm, you are invited to experience how the coffee is grown and processed. You can taste the coffee while enjoying the beautiful setting of the plantation. There are many farms to choose from. Some require a reservation and charge a tasting fee, others are free. We visited Greenwell Farms who organizes free tours throughout the day.
13. Explore the Kaumana Caves
The Kaumana Caves were formed by a lava tube that stretches for kilometers below the earth. Lava tubes are formed during volcanic eruptions If you're not familiar with lava tubes, they are natural pipes through which lava travels beneath the surface of a lava flow.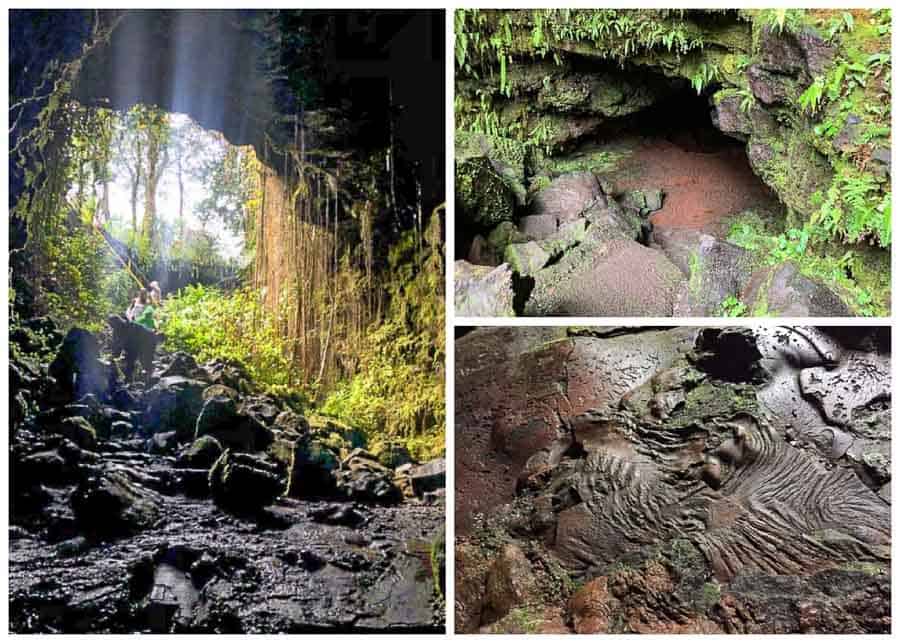 The tubes form by the crusting over the lava channels and pahoehoe flows. So when you're exploring the Kaumana Caves, you're actually walking through a place where lava used to gush out in massive amounts.
Today, the Kaumana Caves are damp and cool and look a lot more like caves, but they are actually lava tubes. If you come here, make sure to bring a headlamp. The light from your phone doesn't provide much help.
14. Go Stargazing at Mauna Kea
The summit of Mauna Kea is one of the most beautiful places I have been to! Not only is it an amazing place to watch the sunset, but the night sky is amazingly clear for stargazing! We make this a must do every time we come to the island! Once you are up above the clouds, you'll feel more like you're on Mars or the moon than in Hawaii.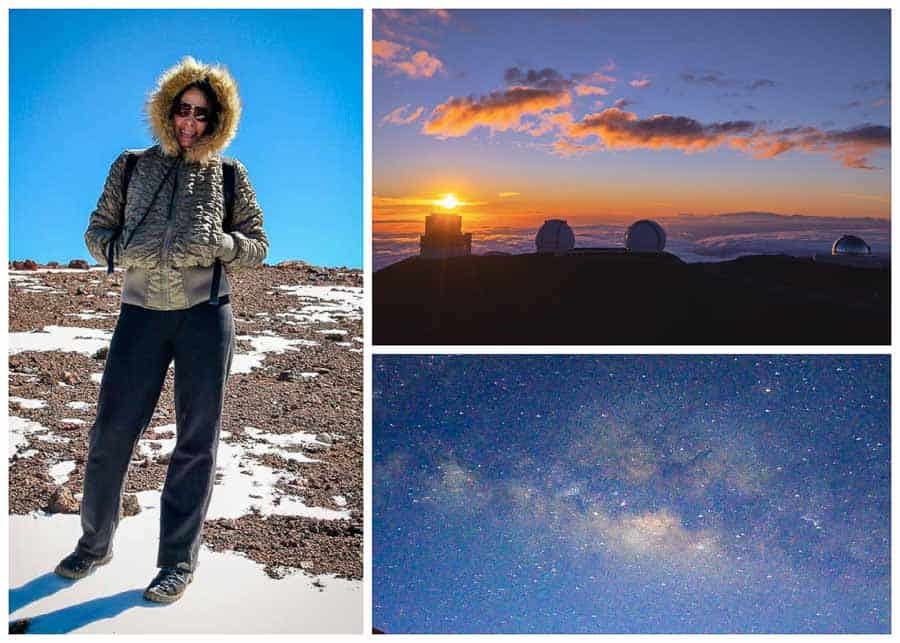 The summit of Mauna Kea (which is dormant) sits at 14,000 feet above sea level. Its hight and location make it the ideal place for viewing the sunset above the clouds and for stargazing. It gets pretty cold up here once the sun goes down, much like watching the sunset or the sunrise atop the Haleakala volcano, in Maui, so you should dress appropriately.
Mauna Kea Stargazing tours are very expensive ($200/person) and in my opinion not worth the price, as it's possible to do this trip on your own (with a 4×4). It's easy enough to get to the visitor's center. The road is a little winding, but completely paved.
15. Discover the White Sand Beaches
When compared to Maui, the Big Island doesn't have as many sandy beaches. However, it has a couple that are purely white. And purely white sand beaches you won't find on any other Hawaiian islands, so make sure you see them.
The first and most beautiful one is Makalawena beach, on the sleepy north Kona coast, which is really hard to reach, as you'll have to drive (and hike) on a very rough lava road. But it's worth the effort.
The other one is and Mau'umae, located between Spencer Beach Park and Mauna Kea Resort. To get access to this beach you have to go to the Mauna Kea Resort and request a beach pass at the guard shack. They only issue 10 passes at one time, so your best chance is toto come here early in the morning
READ NEXT: 12 Best Beaches in Kauai: How to Find Your Perfect Spot
16. Visit the City of Refuge (Puʻuhonua O Hōnaunau Historical Park)
Up until the late 1850s, Hawaiians on the Big Island who broke the law could avoid the punishment of death by fleeing to this place on the west coast known as pu'uhonua, or "place of refuge." Here they would be forgiven by an area priest, and as long as they stayed here they were untouchable. But if they left the area and get caught, they would fall under the law again.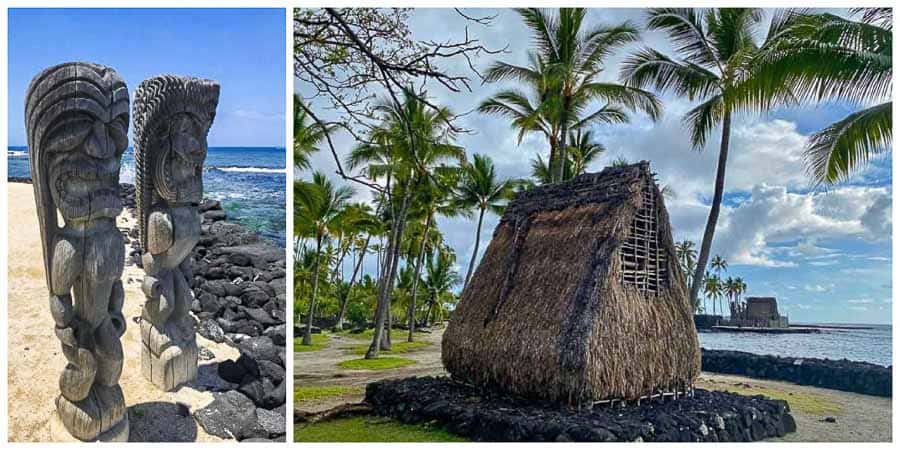 Today, this historical landmark is very popular for its unusual history, eye-catching temples and strange wood carvings.
17. Go Diving/snorkeling at Honaunau Bay (Two Step Beach)
Located right next to the Puʻuhonua O Hōnaunau Historical Park is another attraction you shouldn't miss on the Big Island: the Two Steps Beach.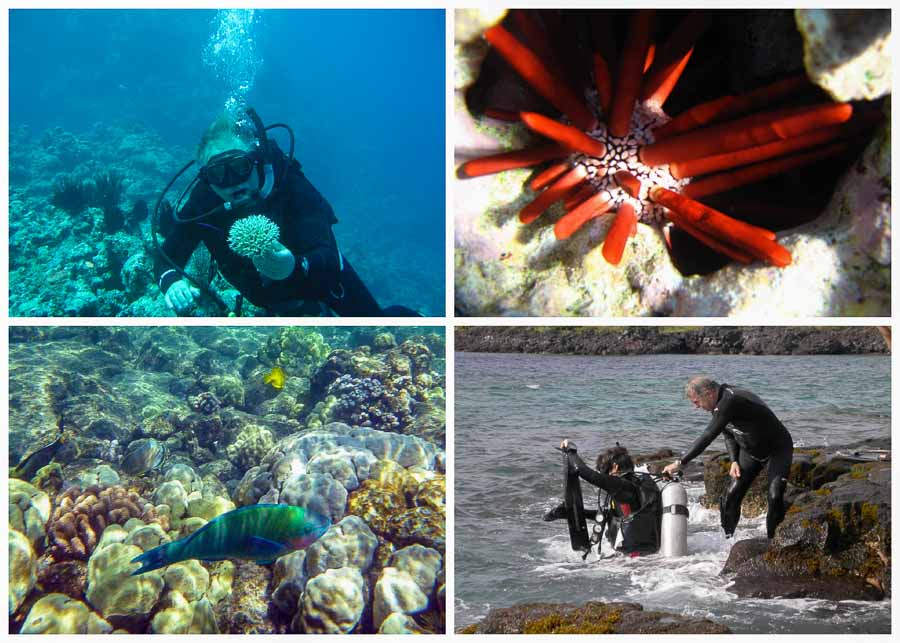 Honaunau Bay (or Two Step Beach) offers world-class diving among impressive coral reefs and lava rocks, so if you are a diver you probably already heard about this place! The variety of marine life you can see in this place is absolutely amazing: squeed, octopuses, eels, turtles, and tons and tons of tropical fish! I am not a diver, but my son and my husband are in awe of this place!
18. Spend a Day at Hapuna Beach
Hapuna is my kind of beach: pearly-white, swimmable, clean, civilized and with first class facilities. The beach is located about 27miles north of Kona, on Highway 19. There is a $5 charge for non-Hawaiians to access the beach, but it is well worth it. It's rated among the best beaches in the world.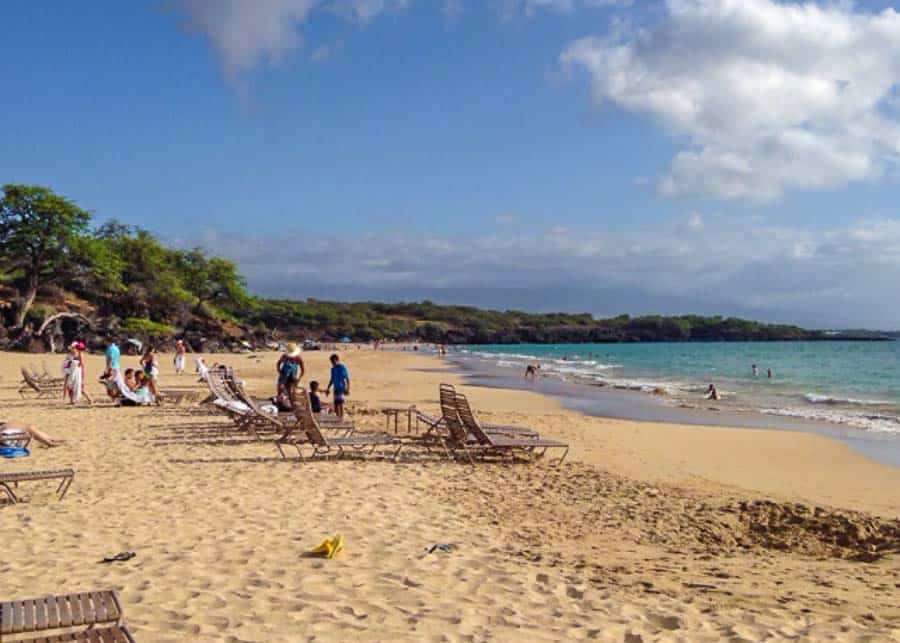 This is one of the few beaches on the Big Island with actual life-guards. Depending when you go, there is usually plenty of sand. At certain times of the year high waves may wash away some of the sand from the beach. There is a nice café on the beach, in case you decide to have lunch there.
19. Visit Hilo's Farmer's Market
0ne of the most famous farmers' markets on the Big Island takes place on Wednesdays and Saturdays in Hilo, on Saddleback Road. It's a big market, with over 200 local farmers and crafters selling their produce, crafts, gift items and tropical flowers in a festive outdoor atmosphere.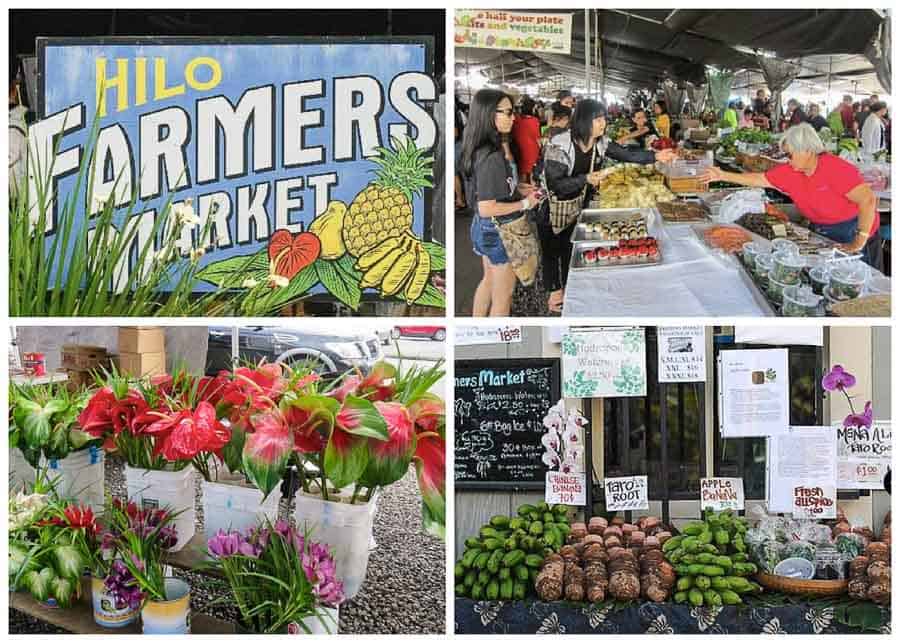 This market is a favorite of both locals and visitors, and a great place to pick up gifts and souvenirs for your loved ones back home! If you are in Hilo on any of these days, it's a nice to check it out. The market is actually open on other days of the week as well, but not all 200 vendors are there, so it's not as good on other days.
20. Go Shopping for Souvenirs in Kailua-Kona
Kona is a nice quiet town, so there are not many shops around to go on a shopping spree. Having said that, this is the best place to go shopping for Hawaiian souvenirs and also buy some cloths that you can wear in Hawaii. You'll also find quite a few beautiful jewelry store and art galleries in Kona.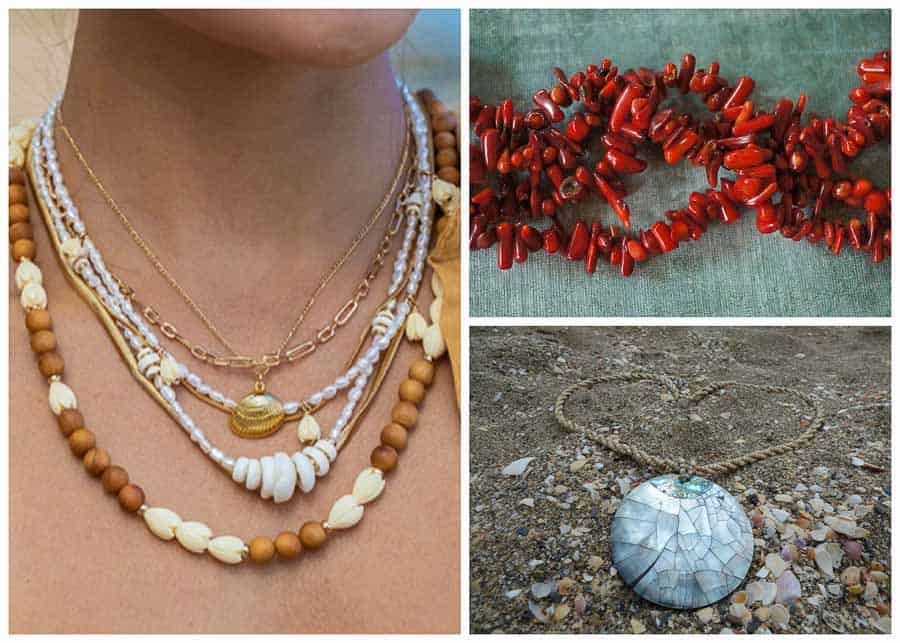 So if you like shell jewelry, Aloha shirts, Koa wood carvings, or other tropical gifts, Kailua-Kona will make you very happy.