Best Beaches in Kauai – a Guide For First Time Visitors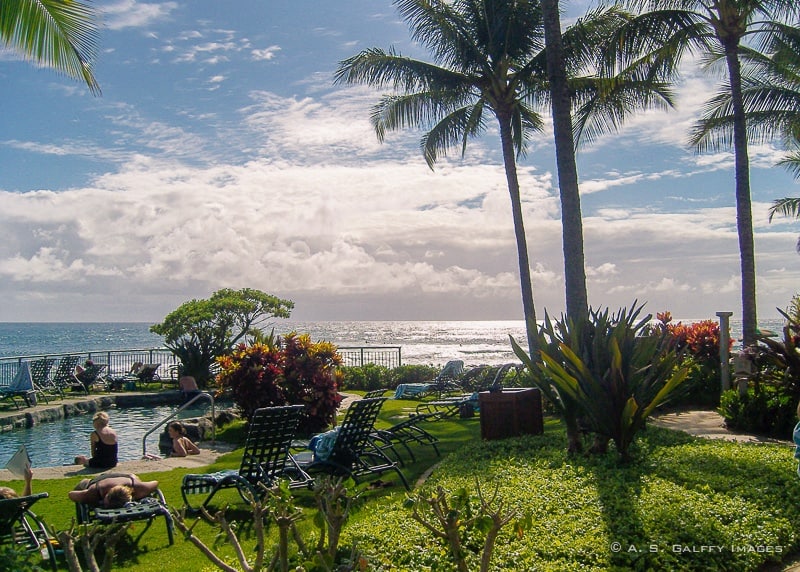 Last updated: April, 2019
It's hard not to fall in love with Kauai. It has everything a tropical paradise should have: navigable rivers, rugged mountains, lush vegetation, crystal blue waters. But most of, Kauai has the best beaches of all the Hawaiian islands. Kauai beaches are not only spectacular, but also very diverse. They each have very unique qualities. Some are accessible only by trail, others only by sea, but most of them are accessible by car. Some beaches are great for snorkeling and scuba diving. Others have very calm, sheltered waters and are good for swimming and families with children. And then there are a few that are quite pristine and secluded, but are not really very safe. In this post I will highlight the best beaches in Kauai based on these three criteria.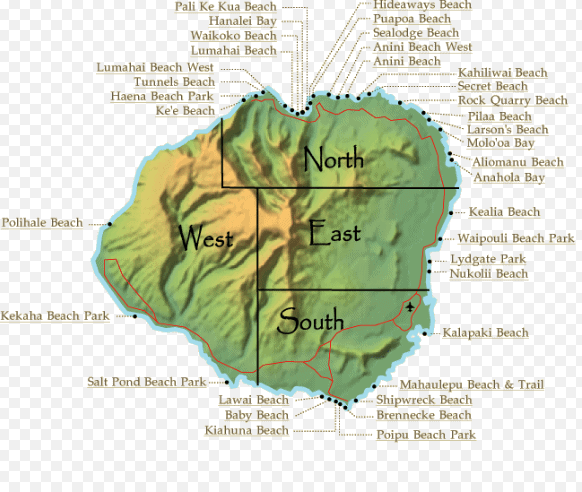 Best Snorkeling Beaches in Kauai
• Beach is my most favorite beach in Kauai. Unfortunately, it's many other people's favorite too, so it's almost always crowded. Ke'e is located at Ha'ena Point, on north shore of the island, where the highway ends. Ke'e Beach marks the beginning of the Na'Pali Coast. Here is where you'll find the Kalalau trailhead, in case you are planning to do any hiking on this island. The beach is a picture-perfect! A stretch of golden sand backed by ironwood trees and the beautiful backdrop of the Na Pali Coast. As you approach the shoreline, you'll discover that most of it is lined by beach rock and coral. This is what makes Ke'e one of the best snorkeling beaches in Kauai. Even if you are not a snorkeler, you'll still enjoy this beach. In summer, when the waters are calm, Ke'e Beach is good for swimming and even for families with children.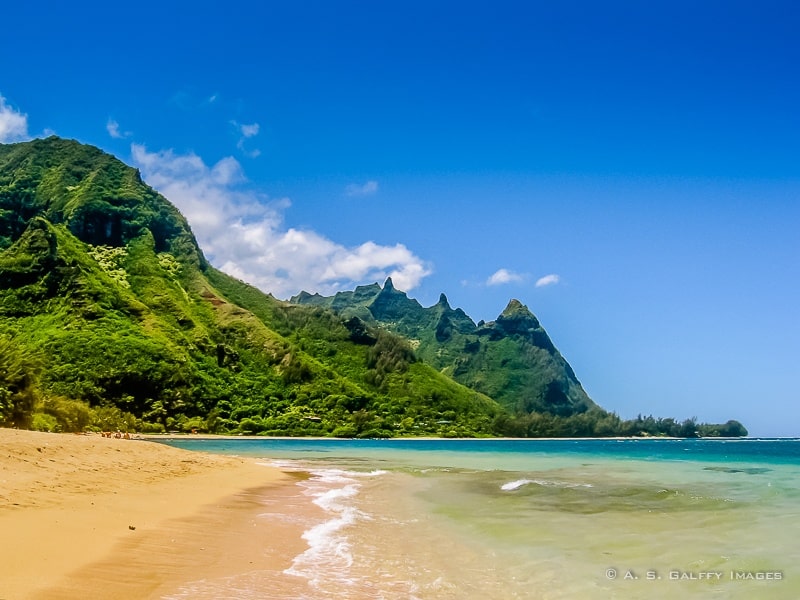 Be warned however that outside the reef there are very strong currents and sometimes big waves. The beach has only one lifeguard on duty, so if you venture further away beyond the reef you are on your own. Parking is small and it fills out fast, so you have to come early in the morning. Parking on the side of the road is very limited and is almost always taken by local vendors who try to make a buck.
• Tunnels Beach is also a great place for snorkelingand it's a good alternative to Tunnels. Especially when you can't find parking there. Unfortunately, if you have never been here before, it's quite difficult to find the beach access from the road. It is basically located nearly directly across from mile marker 8 on Highway 560 going east from Hanalei towards Ha'ena. Parking on the street is not highly recommend, as you may be ticketed. There is however a wide drive that leads to the entrance of some of the houses in the area. If you happen to see it and find any spots available, you are in luck.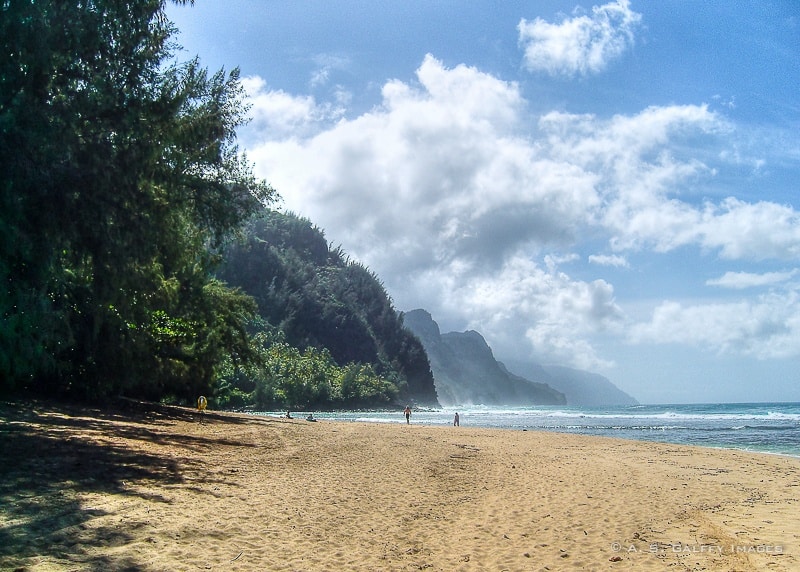 The water is very calm here most of the time, creating the ideal conditions for snorkeling. Outside the coral reef is the best place to see turtles and big tuna fish. To the left, the beach ends in the mountain drop down, but to the right it stretches for miles and miles making it perfect for waling and picture taking. The views of the Napali Coast from here are gorgeous.
Best Swimming and Family Friendly Beaches in Kauai
• Hanalei Bay Beach is set in one of the most picturesque locations in Kauai: between three rivers, with a rim of waterfalls on the distant mountains. And it's not only gorgeous, but also tranquil and relaxing. There is something for everyone here —surf, kayak, stand-up paddle board, swim, sail, sunbathe, or walk. Underwater there is mostly sand bottom, so the beach is not good for snorkeling. Like most North Shore beaches in Kauai, Hanalei has very calm waters in summer, but more strong currents in winter.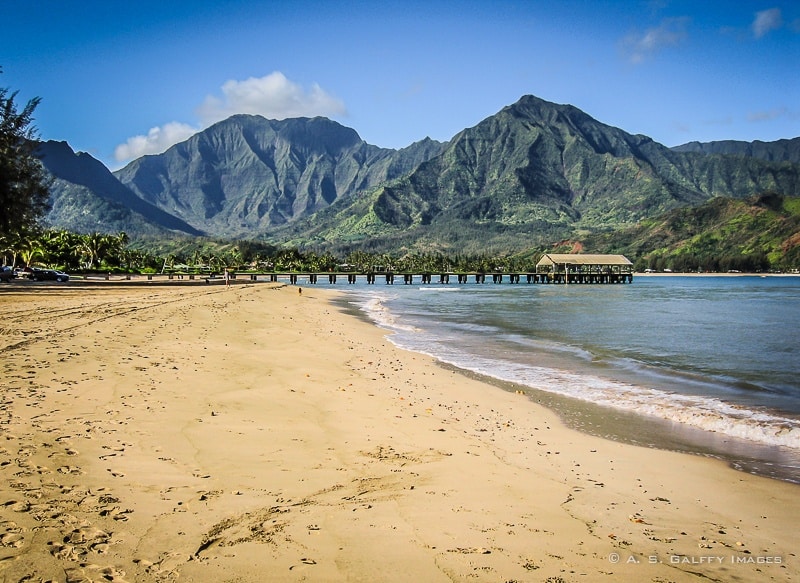 Hanalei Beach is great for swimming and ocean kayaking. Trivia: the beach was the filming location for the 2011 movie, The Descendents.
• Kalapaki Beach is a crescdent-shaped beach in the Nawiliwili Bay, adjacent to the famous Kauai Marriott. It is one of the most peaceful beaches on Kauai, with calm breezes and moderate waves that make it very inviting for swimming, kayaking and paddle boarding.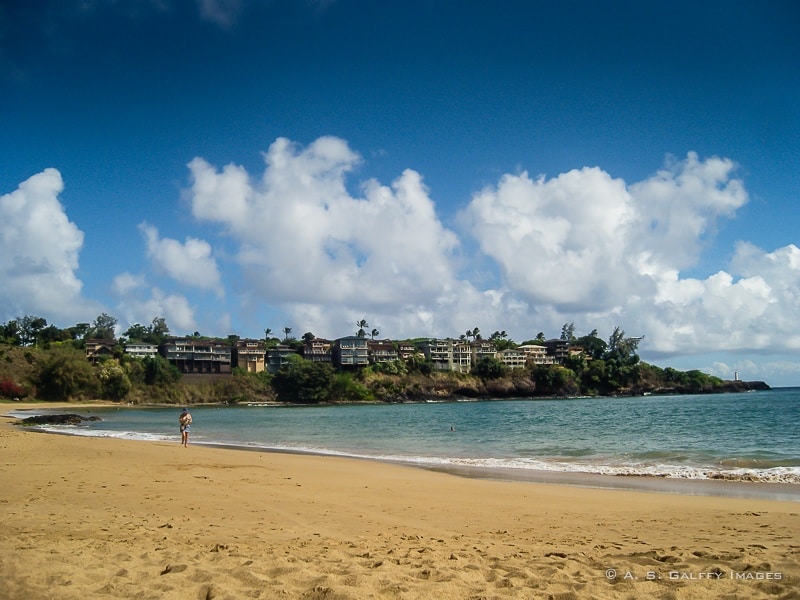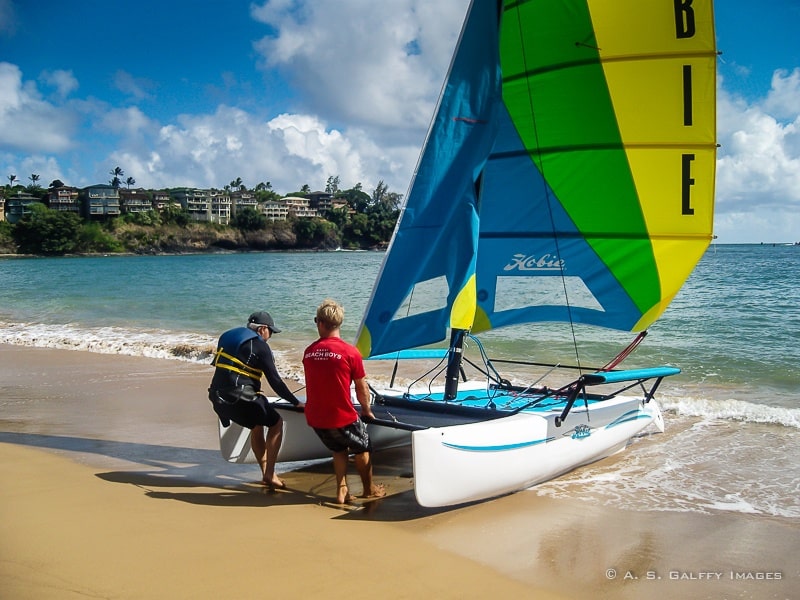 You can take surf lessons here, catamaran cruises, or play beach volleyball. Next to it are the Kauai Lagoons –40 acres of freshwater that serve as a sanctuary for exotic wildlife. One of Kauai's best restaurants (and our favorite) Duke's Canoe Club is on Kalapaki Beach.
• Poipu Beach I saved this beach for the last because it's a place like no other. No, it's not the color of the sand, or the clarity of the water. Poipu Beach is very special because it enjoys the best climate on the island. Traditionally, the South Shore is considered the "sunny side" of the island, while the northern area receives a fair amount of rain. I remember a vacation in Kauai when it rained every single day, from morning till night for 7 days. There was no way you could go to the beach, or do any outdoor activity. So driving around the island in search of a dry spot, we discovered that at Poipu beach it was sunny every single day. So we drove there for the rest of the week and came home with a tan.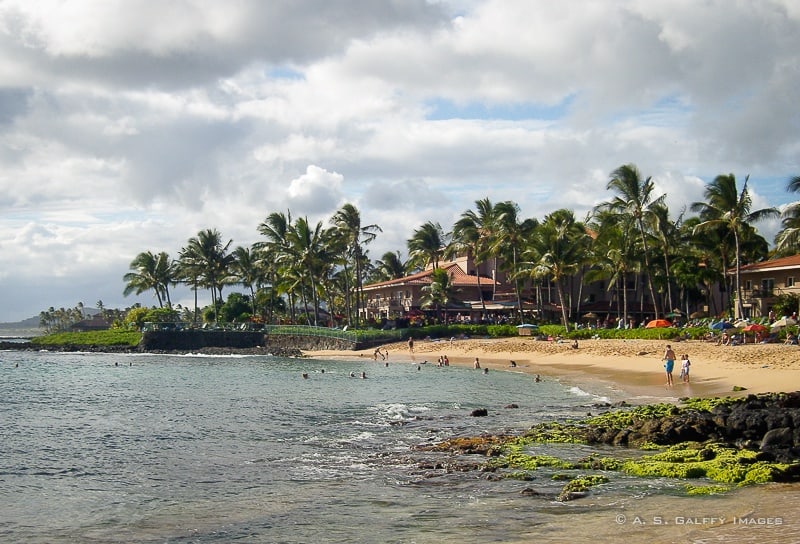 Another thing that makes this beach special is the wild life population. Almost every time we go there, there are either monk seals or turtles on the beach, or both. You wouldn't expect these shy animals to mingle with the humans when there are so many hidden beaches around where they could rest in peace. But they seem like Poipu Beach and don't mind the attention.
Poipu Beach is considered among the safest in Hawaii, with a lifeguard on duty seven days a week. Swimming, boogie boarding, surfing, snorkeling and scuba diving are all found within a one mile stretch of coastline. The beach is small and crowded, but there are plenty of shaded areas under trees and pavilions. There are showers and bathrooms and plenty of parking. The water is beautiful. There is a great variety of tropical of fish to view when snorkeling.
• Anini Beach is a gorgeous blue lagoon with golden sand and shallow water along the north shore of Kauai. It is protected from the deeper ocean by one one of the longest reefs in Kauai. The 5-6 feet of warm water make Anini the best swimming location on the island. Because it's sheltered by the reef, Anini Beach is one of the safest beaches in Kauai for families with kids. The water is so calm that you'll see toddlers and even babies playing in it.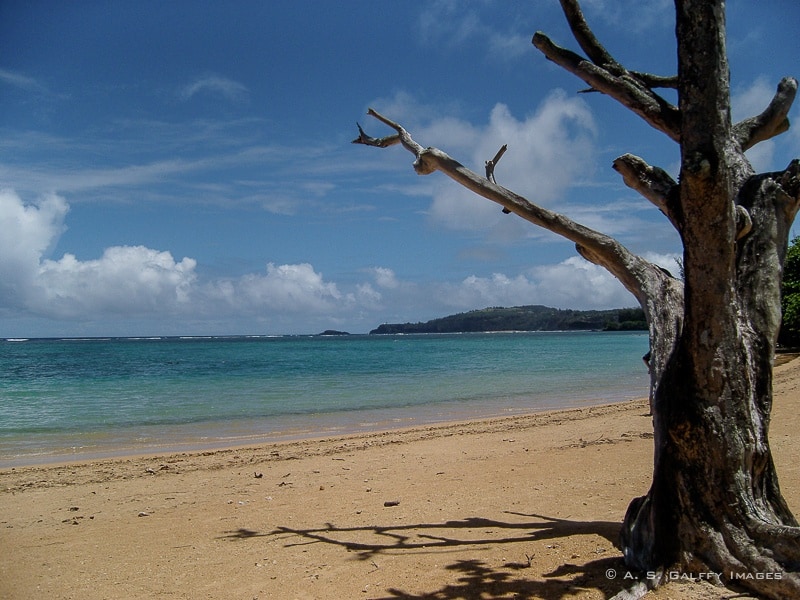 The beach is relatively secluded and less crowded than some of the other Kauai beaches. On week-ends however, many locals broom their families here for picnic and barbecue parties. Anini has parking and campground facilities also.
Best Beaches in Kauai for Adventure Seekers
• Kahili Beach If you're looking for a remote beach, you came to the right place. This beautiful and isolated beach is on the oceanside of the Kilauea Bay, where the Kilauea Stream meets the ocean. The beach is very popular for paddle boarding, fishing and kayaking. The water is murky sometimes, although calm. Those who love the ocean know that a picture-perfect beache don't necessarily mean safe beach. Underneath the clear blue surface there can be very strong and dangerous currents, or rip tides that come in cycles. Many people have lost their lives to the harsh ocean conditions, so families with children should not consider this beach.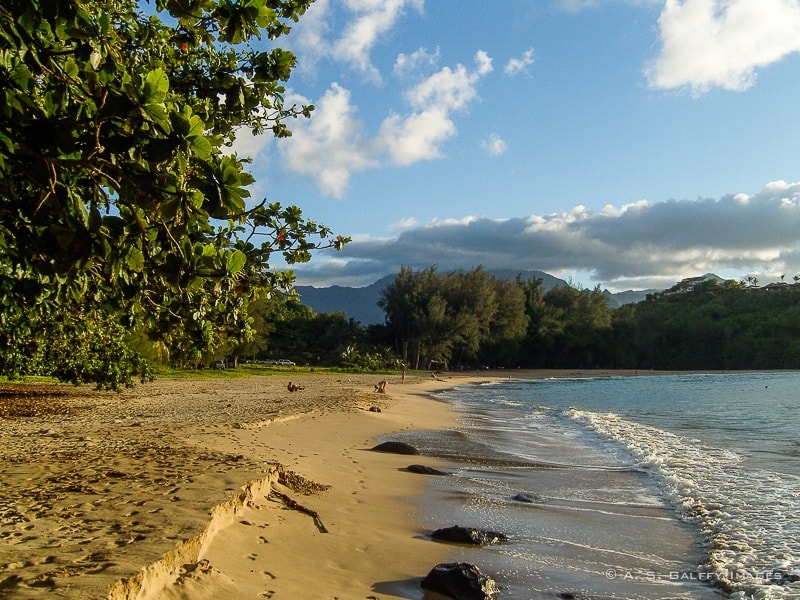 The stream hits a sand bar as it reaches the sea and forms a large pool good for swimming. The fresh water spot is good to rinse off after riding some waves or kayaking. We usually rent kayaks and take a trip up the Kilauea Stream. It's a nice and easy short paddle.
Hanakapi'ai Beach
The beach is located on the Na Pali Coast and can only be reached by hiking the Kalalau Trail. The beach is very secluded and majestic, but despite the idilic look it's very deceitful. The huge surf and strong currents make the area very unsafe. Over the years, many people have been swept off this beach or drowned in these waters.