The trail to the Hanakapiai Falls is one of the most beautiful, yet difficult hikes in Kauai. The trailhead starts at Hanakapiai Beach and continues up the valley for another 2 miles. To get to this point you'll have to hike the first part of the Kalalau Trail, which goes along the shore, revealing breathtaking views of the ocean and the rugged cliffs of the Na Pali Coast covered in lush vegetation.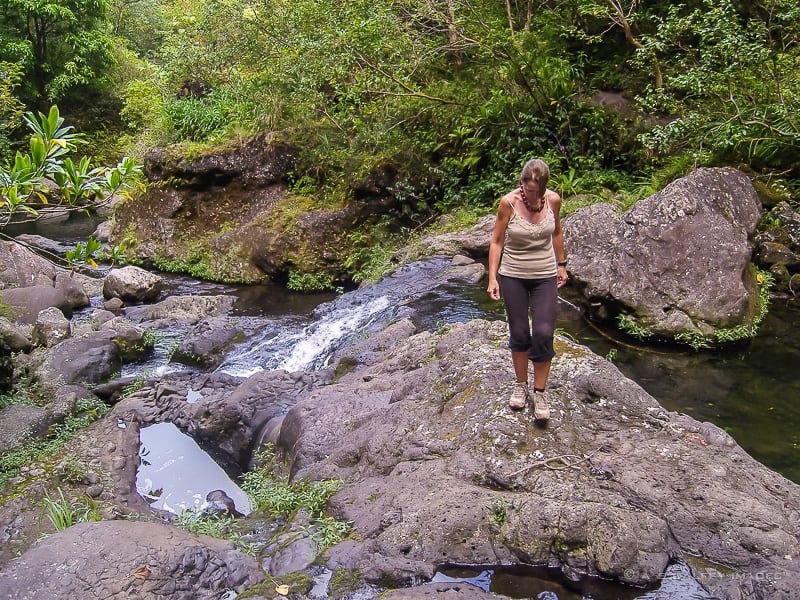 TIP: Things have changed a lot since we first did this hike, back in 2014. Now you need to MAKE A RESERVATION for the state park ahead of time to even get in! To get a parking permit and entry ticket in advance, go to https://gohaena.com.
What to expect when hiking the Hanakapiai Falls Trail
Hanakapiai Falls Trail is one of the most difficult excursions you can take in Kauai. From the moment you set foot at the base of the trail, you will be confronted with a continual barrage of mud, mosquitos and steep terrain. I absolutely loved this hike, although I found it a little difficult in some points. However, the stunning views along the way will reward you for your effort. The hike is not very long, but it's really strenuous!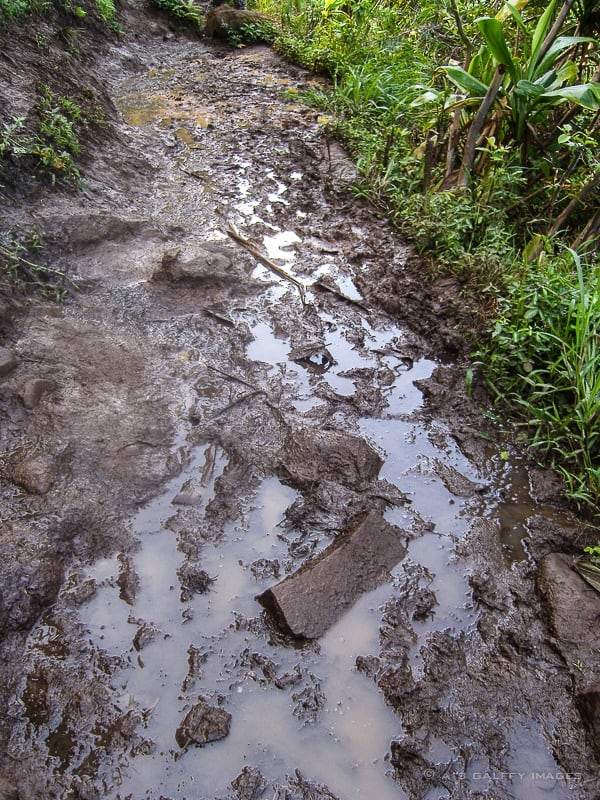 After crossing the stream at the Hanakapiai Beach, the trail continues through twisted vines, crossing boulders and passing through bamboo forests. The road is totally unmaintained and difficult to navigate.
Some parts of the trail have very narrow passages on high cliffs, which I found very scary. What I found particularly challenging was the stream crossing and bolder jumping.
It is really hard to keep your balance on those loose rocks moving under your feet. Also, there are long stretches of the trail that go through slippery and muddy slopes. But the good part is that you'll find a lot of guava trees on this trail that will quench your thirst.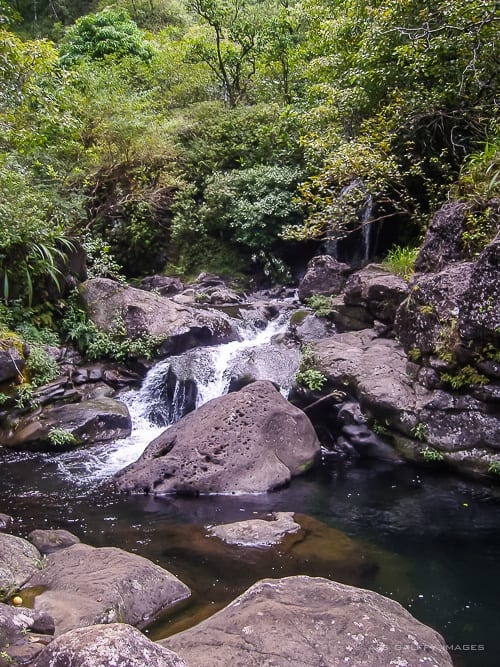 How difficult is the hike to Hanakapiai Falls?
This isn't your regular day hike! The hike to Hanakapiai Falls is strenuous and challenging, passing over slippery rocks, but it can be done. Don't be fooled by the distance though (4 miles in, 4 miles out). It's muddy, hot, humid, and there are many ups and downs.
We hiked for about 9 hours that day – from the starting point at Ke'e Beach to the Hanakapi'ai Falls (8 miles round trip).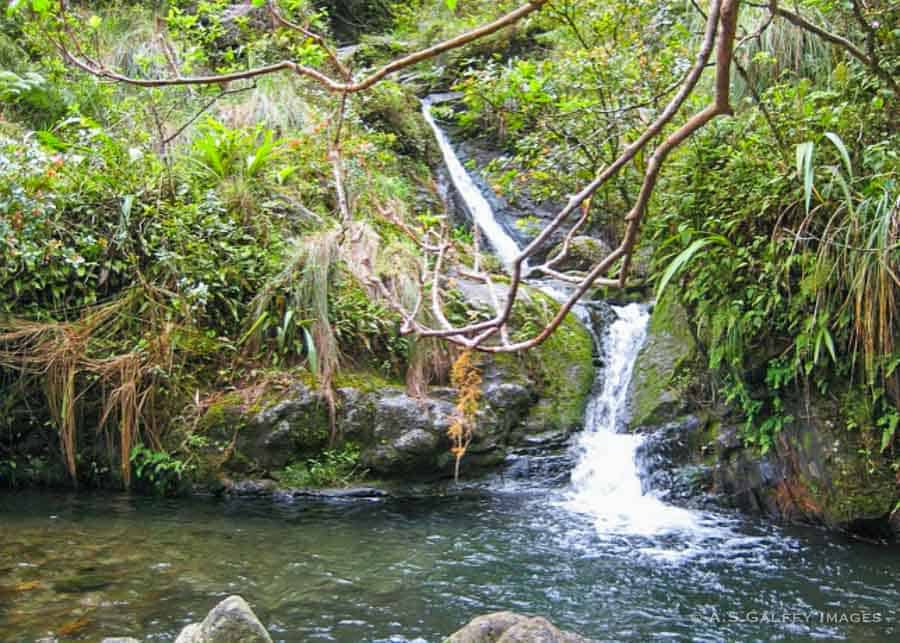 You need to be at least moderately fit and have some hiking experience in order to attempt this trail safely. Even for those in good workout shape this is a challenging hike at every level! Overweight, lack of water or good shoes, and the half a mile of mountain climb will cause many to turn back before they reach the falls.
On the Kalalau Trail the trekking poles come in very handy, but for the Hanakapiai Falls they are of no use. Here you rather need to hang on to tree branches or roots, or to crawl.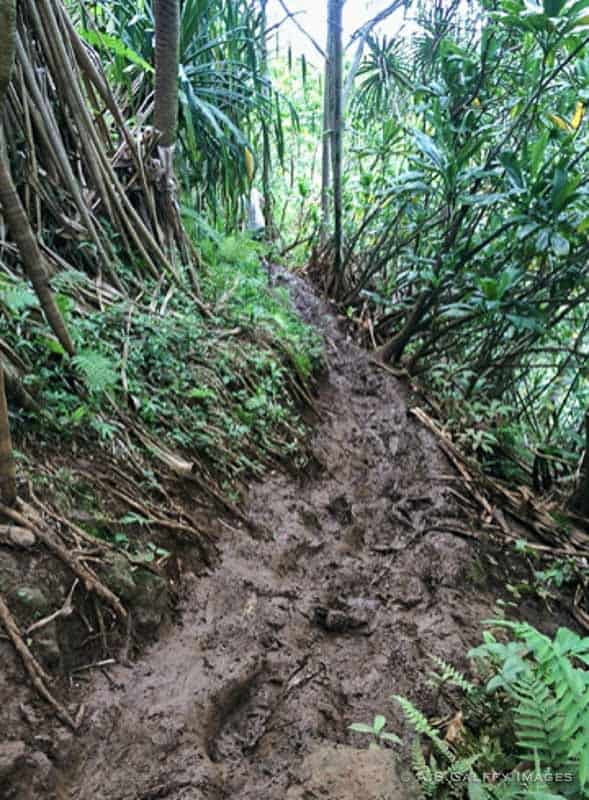 One important thing to remember is that this road can be hiked only in good weather conditions. Heavy rainfalls may cause dangerous flash floods and falling rocks from the waterfall, so this hike is safe only in summer.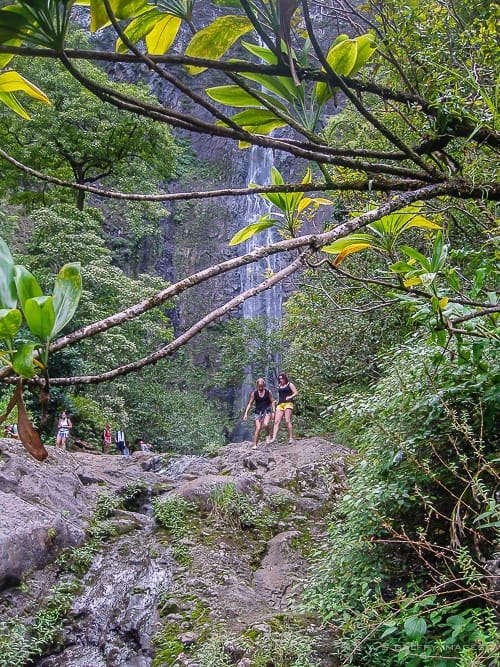 On the way back from the Hanakapiai Falls, my husband had the bad idea to follow the river bed instead of the trail. He thought that jumping from bolder to bolder would take him down faster, but that proved to be a bad decision. The rock jumping was possible only for a short while, after which the deeper water forced him to scramble back to the trail.
Is Hanakapi'ai Falls worth the effort?
The hike may be tough, but the Hanakapiai Falls are well worth the effort. Once you reach the 300 foot tall waterfall, you'll feel rewarded: the fresh, clear water looks so inviting after the 4 mile sweat!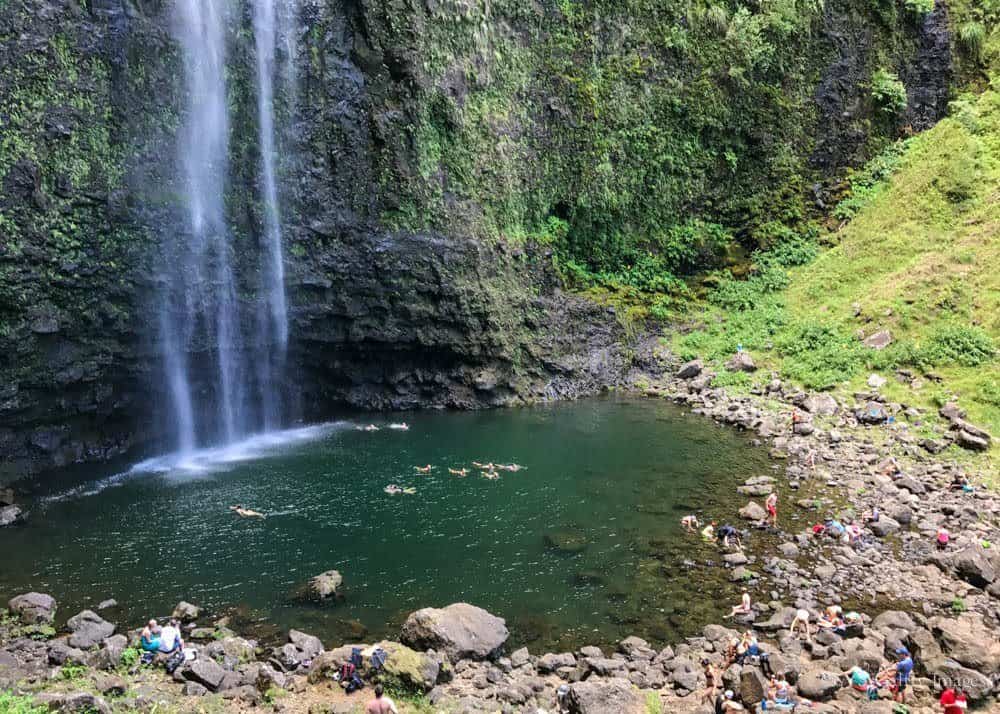 Finally, you can wash the mud off and take a swim. You can eat, drink and relax and then begin your return home. Take plenty of water and wear hiking shoes.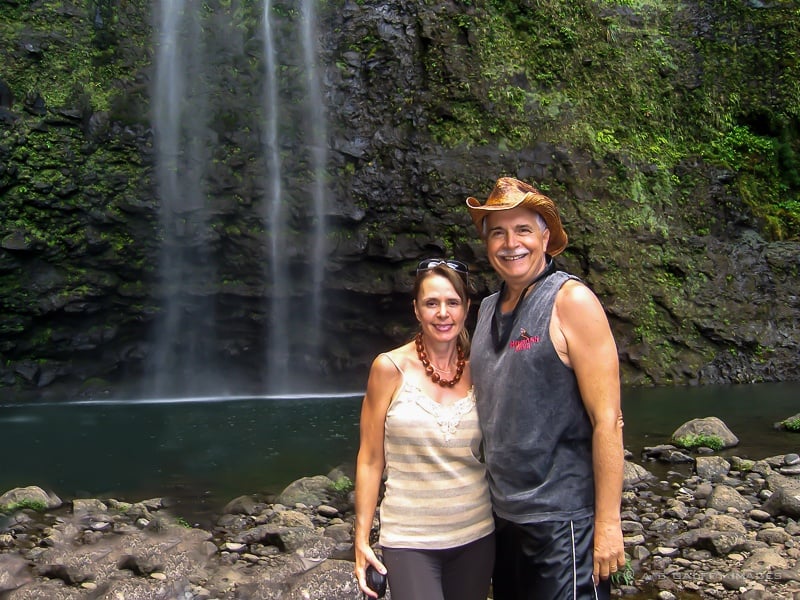 We didn't bring any swimsuit, which was a big mistake. The water was so refreshing that at some point I thought of swimming with my clothes on, but I was wearing cotton which dries up very slowly.
What you should bring on your hike to Hanakapiai Falls
take plenty of water (at least 1.5 liters), or bring a purifying water bottle with you, as there are plenty of streams around to fill it up; the greatest danger during these hikes is the dehydration. Not drinking enough and sweating abundantly can make you dizzy and even delirious.
get the best hiking shoes. You won't be able to do this hike in sandals or flip-flops;
carry lightweight backpack with some snacks and a first aid kit;
hat, polarized sunglasses and long pants to protect your legs from scratches;
sunscreen and insect repellent;
bathing suit and a towel; you'll be glad that you have them when you make it to the falls.
Planning a trip to Kauai? You may also like these:
Pin this for later: