Hike to Hanakapiai Falls – Great Hikes in Kauai (Part II)
Last updated: July, 2018
From the Hanakapiai Beach we continued up the valley for another 2 miles. The hike to Hanakapiai Falls seemed even more difficult than the Kalalau Trail. The area is extremely beautiful, with fresh water streams and waterfalls.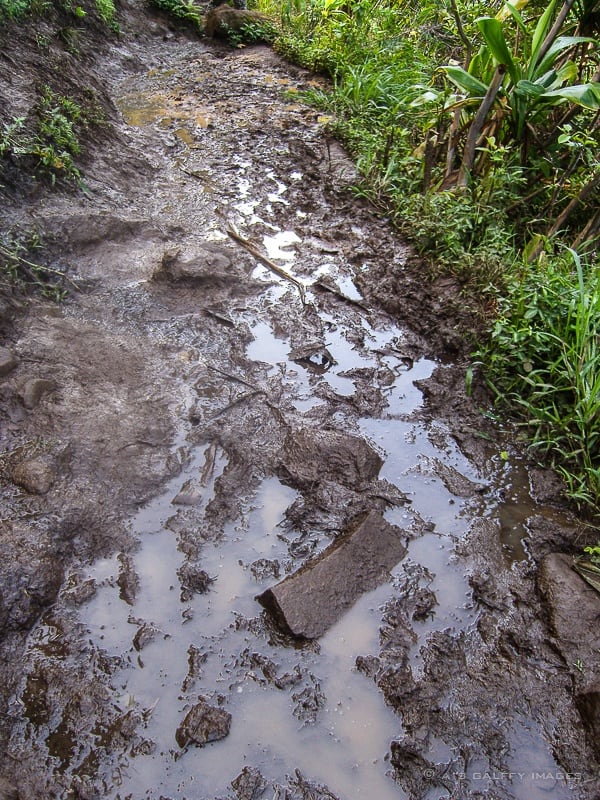 What you should expect on the trail
The road is totally unmaintained and difficult to navigate. Some parts of the trail have very narrow passages on high cliffs, which I found very scary. What is particularly challenging is the stream crossing and bolder jumping. It is really hard to keep your balance on those loose rocks moving under your feet. Also, there are long stretches of the trail that go through slippery and muddy areas. The only compensation for that is that you you'll find a lot of guava trees on the way that will quench your thirst.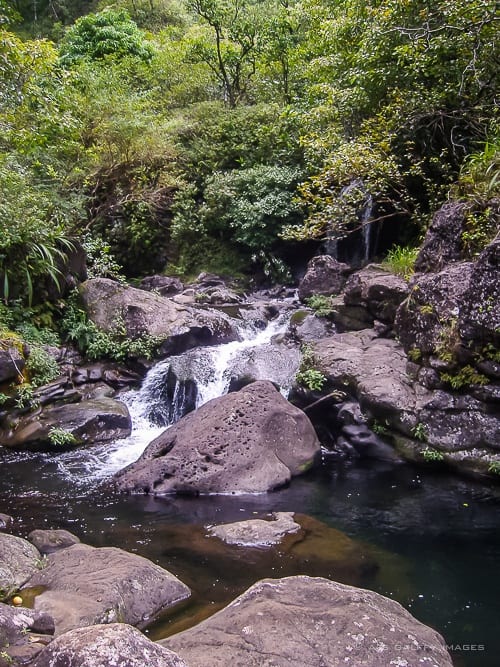 How difficult is the hike to Hanakapiai Falls?
Hiking to Hanakapi'ai falls is strenuous and challenging, but it can be done. We hiked for about 9 hours that day – from the starting point at Ke'e Beach to the Hanakapi'ai Falls (8 miles). On the Kalalau Trail the trekking poles come in very handy, but on this road they are of no use. Here you rather need to hang on to tree branches or roots, or to crawl. One important thing to remember is that this road can be hiked only in good weather conditions. Heavy rainfalls may cause dangerous flash floods and falling rocks from the waterfall, so this hike is safe only in summer. The greatest danger during these hikes is the dehydration. Not drinking enough and sweating abundantly can make you dizzy and even delirious.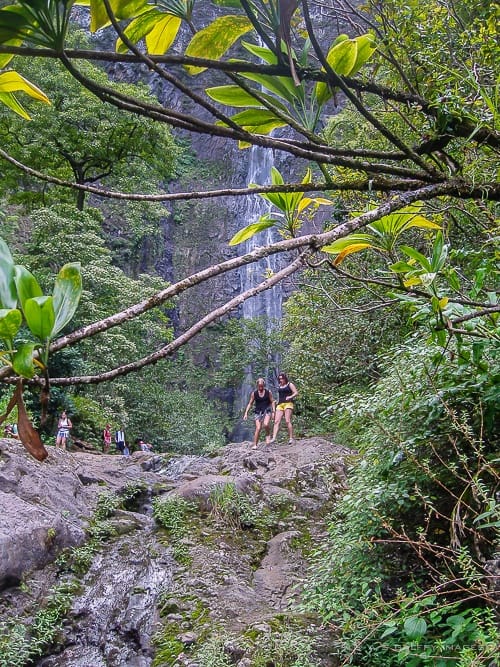 On the way back, my husband had the bad idea to follow the river bed instead of the trail. He thought that jumping from bolder to bolder would take him down faster, but that proved to be a bad decision. The rock jumping was possible only for a short while, after which the deeper water forced him to scramble back to the trail.
Is the hike to Hanakapi'ai Falls worth the effort?
The trail may be tough, but the payoff is definitely worth it. Once you reach the 300 foot tall Hanakapi'ai Falls, you'll feel rewarded: the fresh, clear water of the falls looks so inviting after the 4 mile sweat. Finally, you can wash the mud and cool off!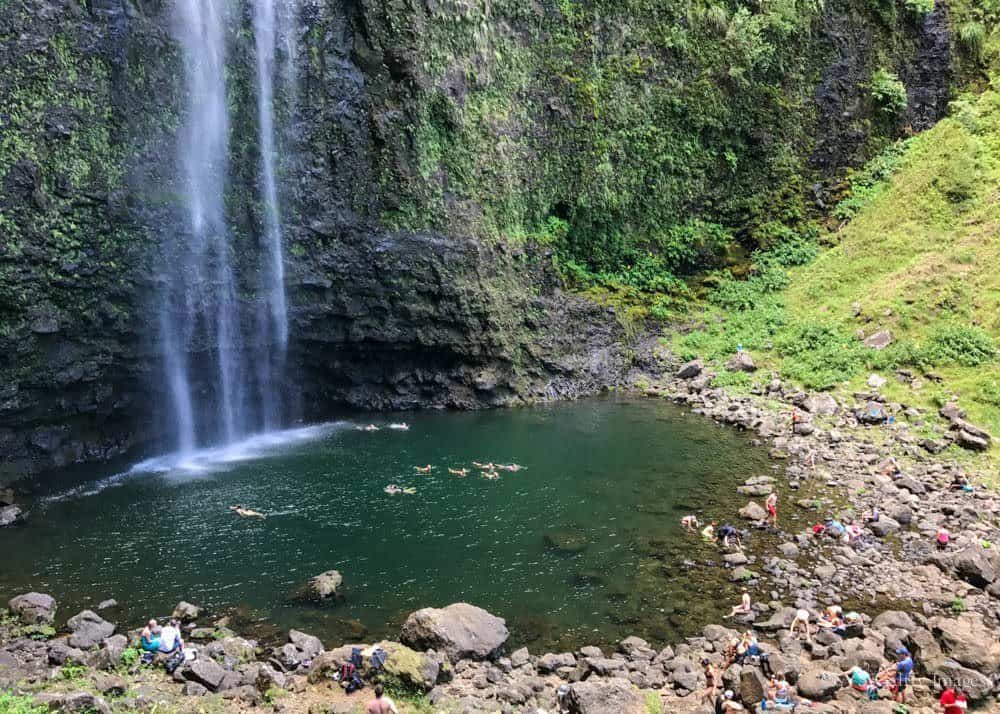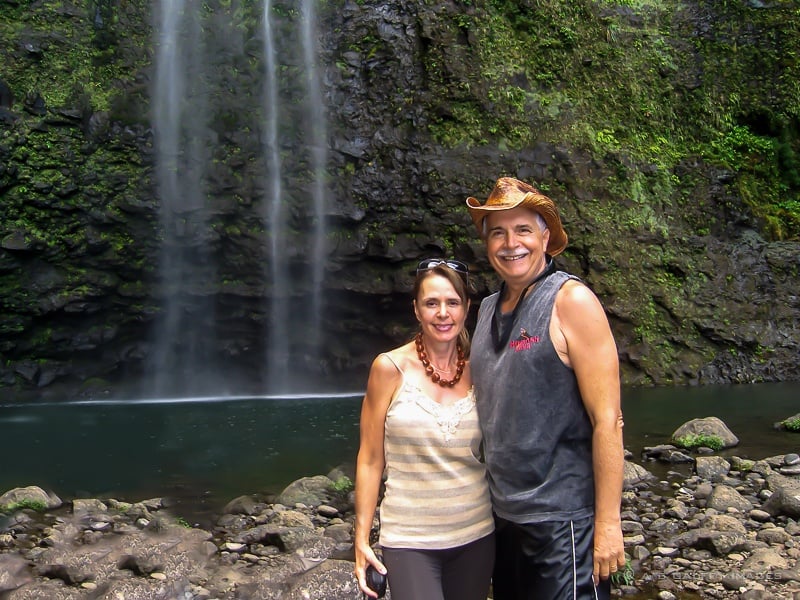 We didn't bring any swimsuit, which was a big mistake. The water was so refreshing that at some point I thought of swimming with my clothes on, but I was wearing cotton which dries up very slowly.
What you should bring on your hike to Hanakapiai Falls
take plenty of water; if you don't want to carry extra weight, take a purifying water bottle with you, as there are plenty of streams around to fill it up;
get the best hiking shoes; I usually check out the reviews at GearWeAre to make sure I have the best;
a lightweight backpack with some snacks and a first aid kit;
hat, polarized sunglasses and long pants to protect your legs from scratches;

sunscreen and insect repellent.
* Disclaimer: This post contains affiliate links for products I'm using on my travels – therefore I can highly recommend using them. By using these links you won't pay any additional fees, but support me to keep this site running!
Pin it for later: