We've been hiking in the mounting around Lake Arrowhead, California, for a long time and never heard about the Deep Creek Hot Springs before. Until one day when another herhiker told us about a cluster of natural hot springs in an isolated canyon in the San Bernardino Mountains.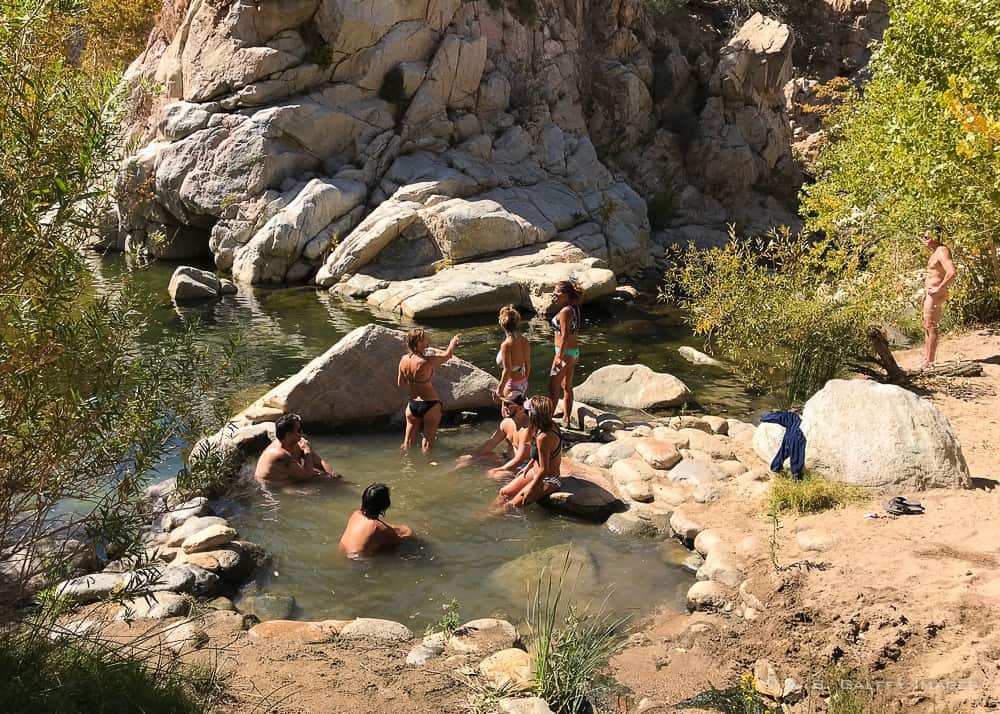 What? Mountain canyons, sand beaches, swimming holes and natural hot springs? What more could we wish for on a hiking trip? And so our adventure began.
Most people hiking the trails of San Bernardino Mountains in Southern California know how dry and dusty they can be. The chance of finding springs, or waterfalls is quite remote. But the chance of finding nude hot springs is really far-fetched.
How to Reach the Deep Creek Hot Springs
For any outdoor lovers reaching this spot is a great opportunity to get some hiking in along the Pacific Coast Trail which follows the creek for about 16 miles. The hot springs are along the Mojave River (also known as Deep Creek), on public land near Lake Arrowhead in the San Bernardino National Forest. There are two ways to get there, depending on the direction you are coming from.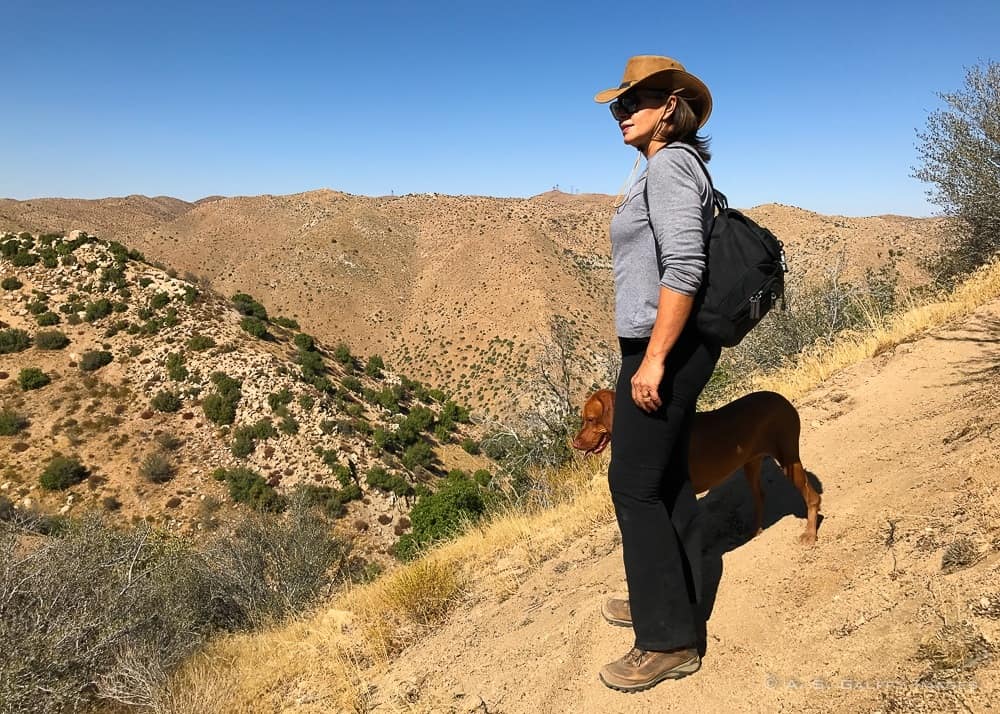 The Bradford Ridge trail comes up from the south, so if you are coming from Los Angeles, San Bernardino or Lake Arrowhead this is a more direct option but requires a gradual 6-mile hike. Parking is free.
The Bowen Ranch trail, on the other hand, comes from the north and the road to it originates in Victorville area (off Highway 15). The trail accesses the site through private land, so a fee is charged. Part of the drive, after getting off the freeway in Hesperia, is on a dirt road. After you park your car, there is still a 2-mile hike down (very steep) to the hot springs.
The "Naked" Truth About the Deep Creek Hot Springs
To our surprise, when we reached the Deep Creek we discovered that these are nude hot springs! We didn't realize this was a clothing-optional oasis until we got very close to it. So if you are planning to visit this place, prepare yourself for nudists, because there are plenty.
Deep Creek Hot Springs are a real gem and will amaze you once you get there – unless you have a problem with public nudity. My first I-can't-believe-it shock wasn't about seeing naked people in a public place. It was about seeing them here, in California, only two hours away from Los Angeles. What happened to the prude Americans? Did they decide to stop having a boring life?
What to Expect at the Deep Creek
The area is completely natural and undeveloped, with a small sandy beach, several pools of varying temperatures, each bearing a different name. There is also a large swimming hole in the creek, which was refreshingly cool at this time of year. The area is maintained by volunteers. There are no trash cans around, so visitors are encouraged to take their trash with them when they leave.
The Deep Creek Hot Springs have become a very popular over the years for obvious reasons. The place is particularly crowded during the week-ends. Most of those who visit the springs come during the daylight hours, but we've seen some campers as well.
In the past, the area has been frequented by hippies who used it for illegal activities. As a result, camping was officially banned. But even though it's illegal, some people still camp here overnight. My guess is the authorities turn a blind eye to it.
Tips for Visiting the Deep Creek Hot Springs
• First of all, don't go if you are not in good shape. This is a vigorous hike and the trails are very steep.
• If you choose to go in summer, start very early in the morning. The temperature rises up quickly in this high desert area.
• Bring LOTS of water and some energy bars. This long and dusty hike will drain all your energy.
• Bring a first aid kit. Help is hard to get here and there is no cell phone reception.
• Wear good hiking shoes and a hat. If you are planning to swim, bring a swimsuit and a towel.
• Use caution when entering the water. The rocks in the pools can be extremely slippery.
• Don't submerse your head under the water in the hot springs. There seems to be an amoeba in these water that causes a nasty illness known as Naegleria fowleri.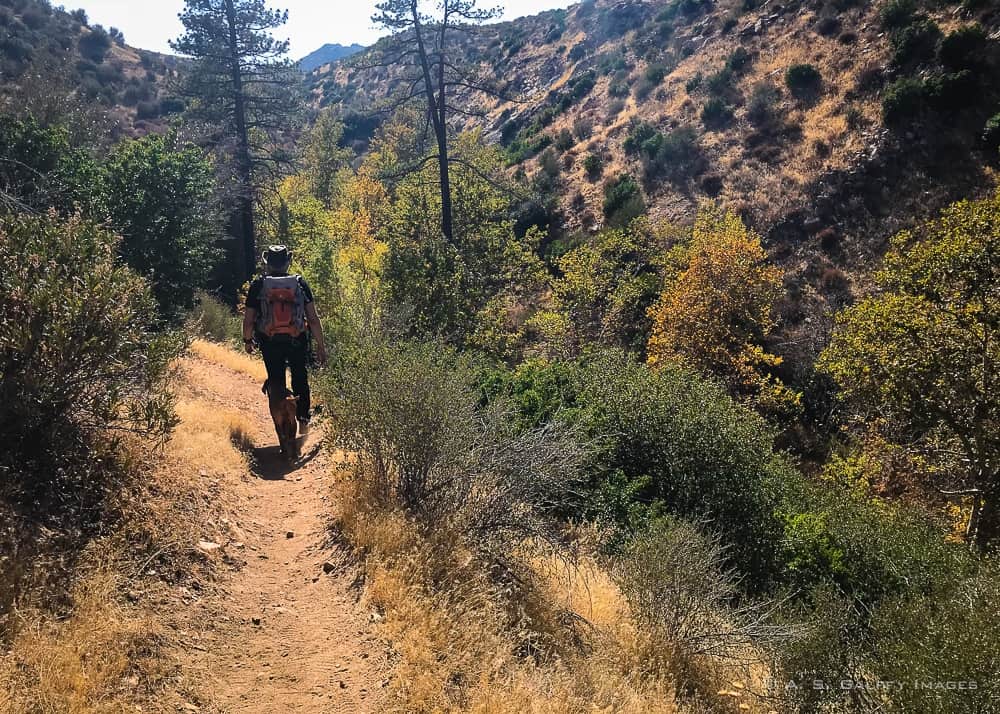 Have you ever visited a nude beach? Did it make you feel uncomfortable?
If you enjoyed reading this post, pin it for later: