A Local's Guide to Lake Arrowhead – Things to Do, Places to Eat and Stay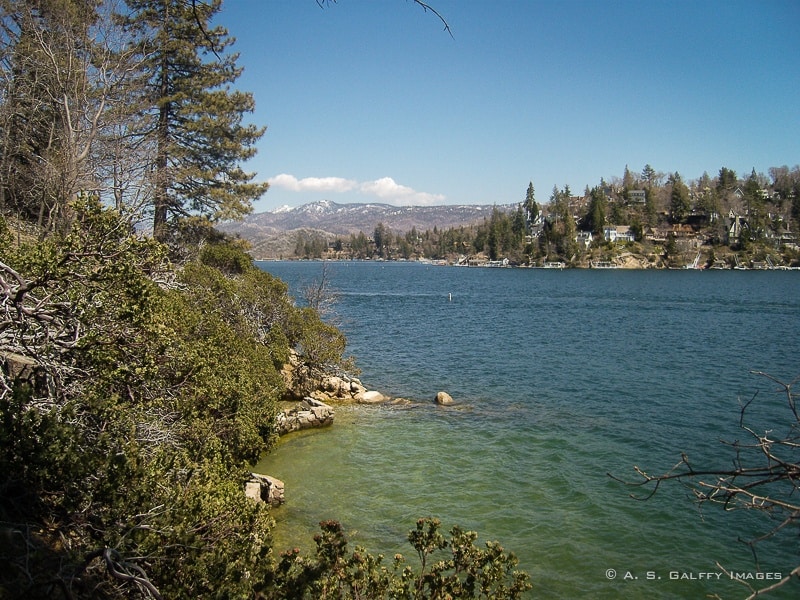 High up in the San Bernardino mountains, at an elevation of almost 6,000 feet, lies one of the best kept secrets of Los Angeles: the stunningly beautiful Lake Arrowhead and its upscale mountain resort. This is one of the easiest and most relaxing weekend getaways from Los Angeles. We had an eye on this area since we first moved to California and eventually, a few years ago, we purchased a property here to spend our week-ends. Located only 80 miles away from the busy Los Angeles area, this place is a countless resource of recreational activities. So in this post I will share with you the wide range of things to do in Lake Arrowhead.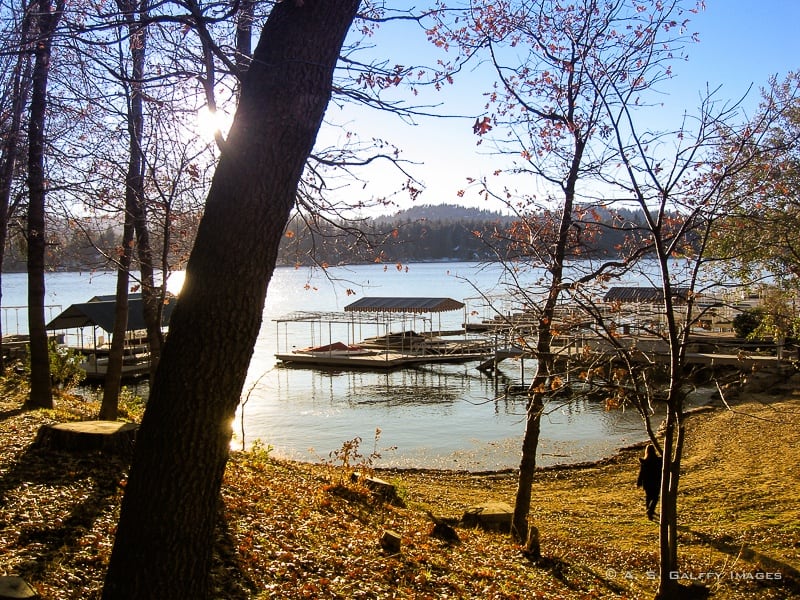 A Brief History of the Lake
The history of Lake Arrowhead began in the 1890's. A group of entrepreneurs chose the Little Bear Gorge to built a reservoir that would supply water to the valley. When the dam was completed and the lake formed they named it Little Bear Lake. But the idea of diverting the water from the area did not sit well with the ranchers on the upper desert. People on this side of the mountain relied on that water for their own domestic use.
The State ruled in the favor of the ranches, so in 1920 Arrowhead Lake Company bought Little Bear Lake and the surrounding land and began developing the area into a resort community. The name was changed into Lake Arrowhead, deriving from a rock formation in the shape of an arrowhead that sits on the face of the San Bernardino Mountains.
The developers build three hotels, a golf course and a club house. The land around the lake was subdivided and sold for private homes.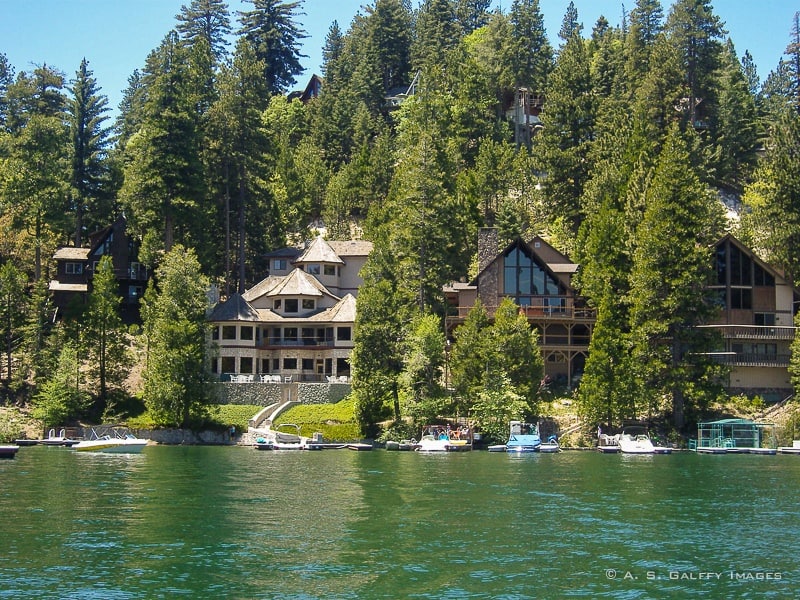 Many Hollywood stars purchased land in Lake Arrowhead building gorgeous estates around the north shore area.
What to Expect in Lake Arrowhead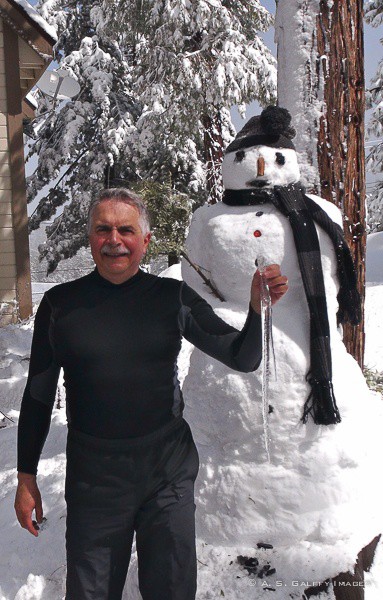 Because of its high altitude location, Lake Arrowhead enjoys four distinct seasons which allow a great variety of activities year round. The climate up here is very different from the one in the valley. The summer temperature is about 20 degrees cooler while in winter it regularly drops below freezing. The average snowfall is 80 inches a year. Snow may start as early as November and last till the end of March. This makes Lake Arrowhead a great escape from the heat and smog of L.A. in summer. The lake also makes a beautiful white retreat in winter.
Things to Do in Lake Arrowhead
Lake Arrowhead is a countless resource of recreational activities. From hiking, horseback riding, bicycling, to swimming, water skiing and lake tours and fishing you can do just about anything. For those who come here off season, there are many options for great dining and shopping.
• Skiing and snowboarding
There are no ski slopes in Lake Arrowhead, but just 20 minutes away there is a nice ski area called Snow Valley that almost always gets some snow. And if you are up for more serious skiing, you can drive a little higher up to Big Bear Lake (just 50 minutes away from Lake Arrowhead) for the beautiful Snow Summit and Bear Mountain ski resorts.
• Boating, kayaking, paddle boarding, water skiing and swimming
.Most boat owners in Lake Arrowhead also own docks on the lake where they dock their boats during the summer. The docks have piers where people usually party or barbecue with friends. The lake waters are exceptionally clear and warm. The swimming season may start as early as June and sometimes extends well into the first two weeks of October.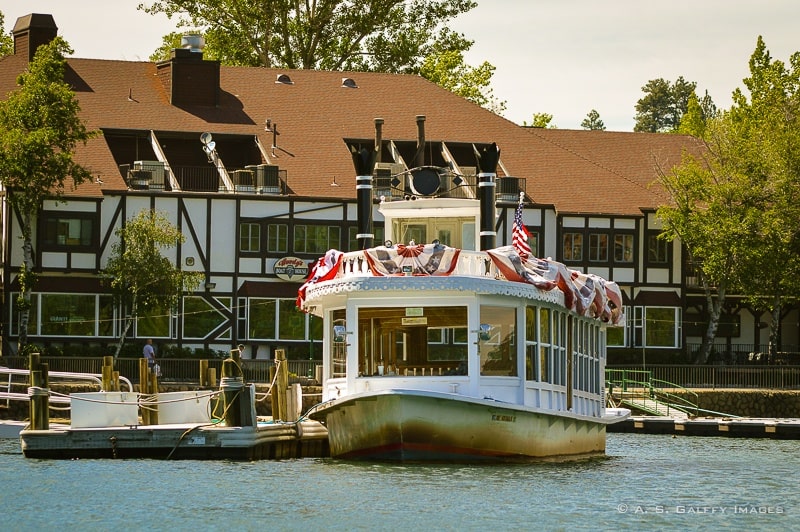 Lake Arrowhead is a private lake and can be used only by the homeowners in a tract of land known as "Arrowhead Woods," which extends about 1 mile perimeter around the lake. Because it's private, the lake is never crowded. Visitors may not use the lake unless they are guests of the property owners who must assume full responsibility for them. But there are many water activities which can be enjoyed by the general public as well. Visitors can tour the lake by boat on The Arrowhead Queen, or water ski through the local Ski School. or simply stroll through the Village area and enjoy the small boutiques and good restaurants.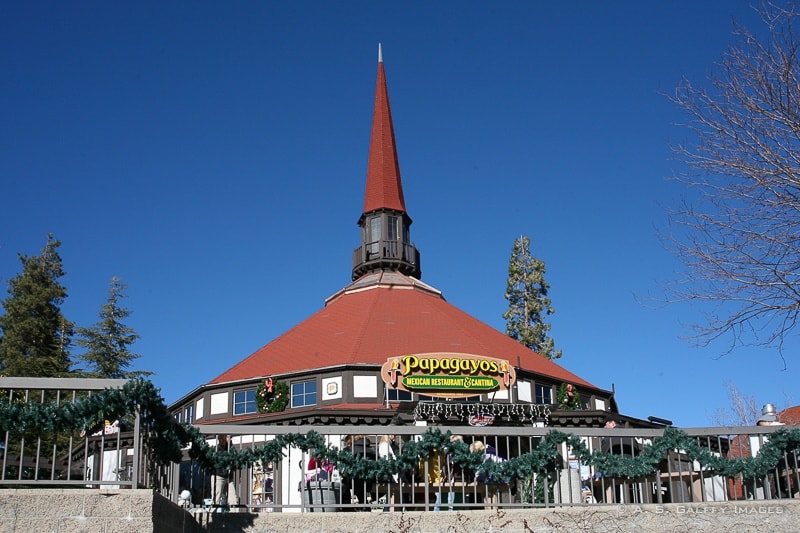 • Stroll Through the Village
The Village is a really nice place to stroll thorough if you're in the area. You can hang out and relax, grab a bite in one of the good restaurants, shop in the small boutiques, or just feed the ducks. In summer they have jazz and classical music concerts here, as well as art and wine festivals or different craft fairs. Lake Arrowhead is a dog friendly area and sometimes they have dog competitions in the Village.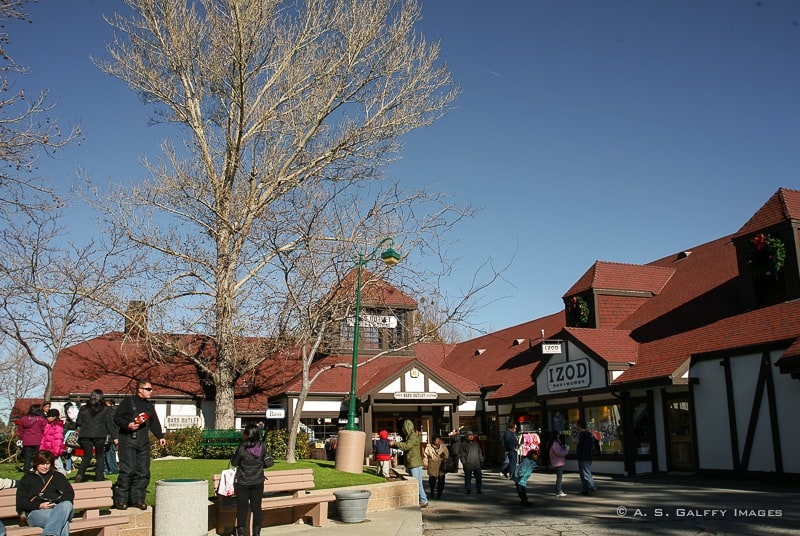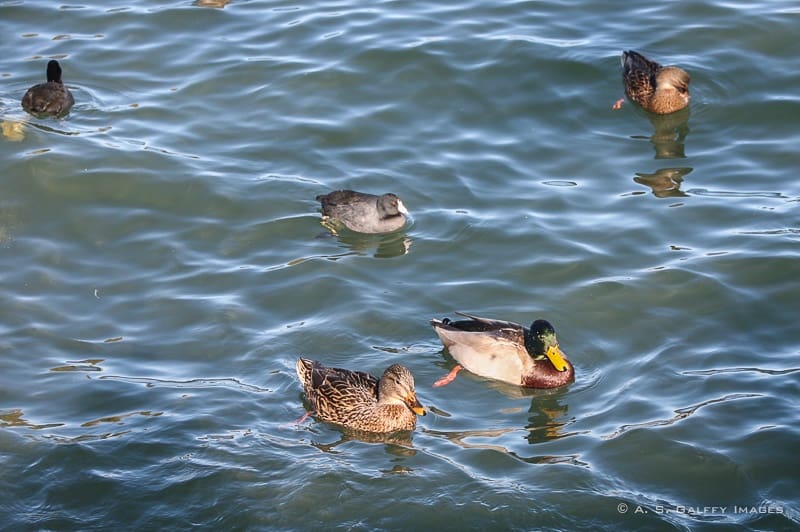 • Watch the 4th of July Fireworks
The most popular event in Lake Arrowhead is the spectacular 4th of July fireworks show. Boats start gathering on the lake since early afternoon trying to get as close as possible to the platform from where the fireworks will be launched. Live music is being played while hundreds of people bring their boats so close to each other that they almost touch. When the fireworks explode in a shower of lights that gets reflected in the water, the air fills up with ahhhs and ohhhs.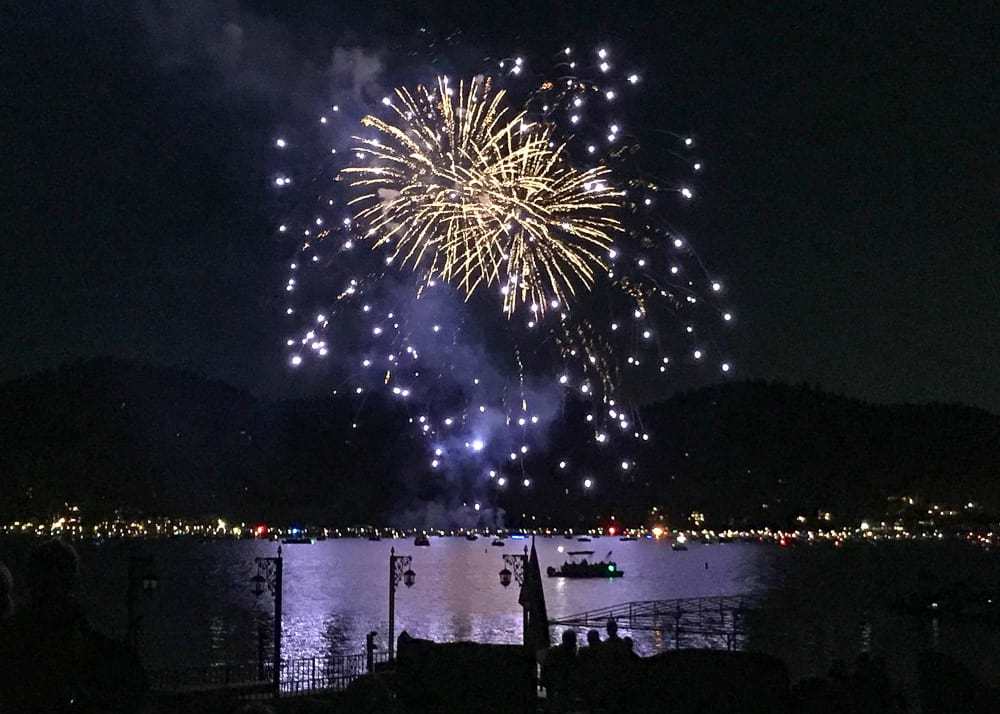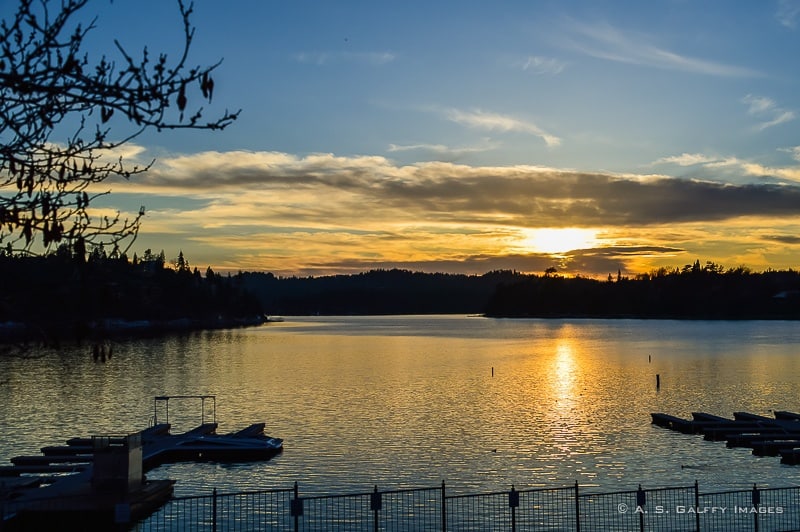 • Fishing
Lake Arrowhead is a paradise for fishing. There is a lot of trout, bass and carp in this lake and if you know what you are doing, you can catch a lot of fish, but the limit is 5 pieces/person with a fishing permit. Every year at the beginning or April there is a fishing competition that takes place in the marina area.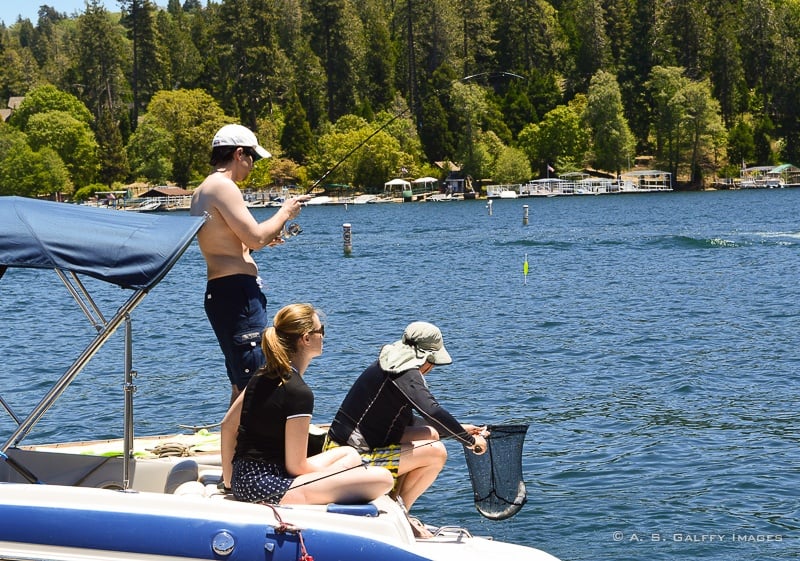 • Hiking
The best way to experience the area is by hiking. Lake Arrowhead has numerous hiking trails with different levels of difficulty. Most trails can be enjoyed year round and have a beautiful and varied scenery, from desert flowers to mountain pines. But San Bernardino are very wild and dangerous mountains, so before beginning a hike you have to read about the area, consider the length of the trail and your available time, the weather conditions, and always carry water with you. People often get lost in these mountains and get caught unprepared.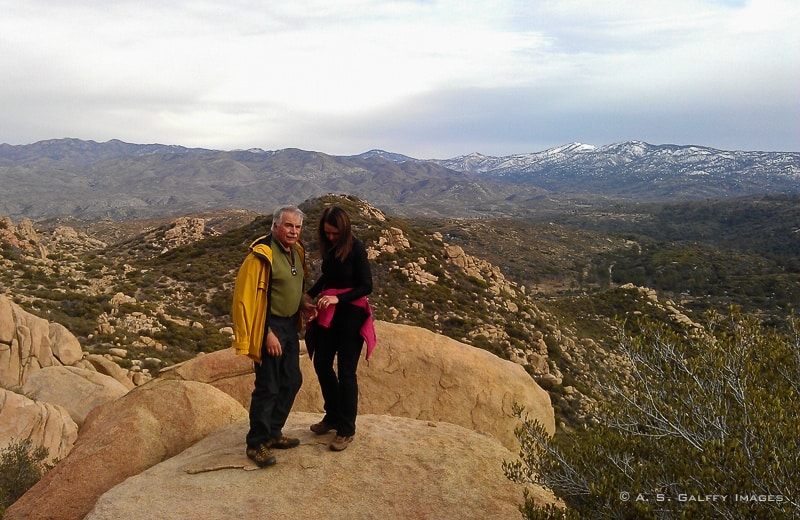 Best Time to Visit
Lake Arrowhead is beautiful year round. Also, no matter when you visit, you will always have something fun to do here. Most of the activity in Lake Arrowhead takes place on week-ends and around the Village. However, if you came here during the week, you'll discover a quiet and peaceful oasis. That's because 60% of the Lake Arrowhead properties are vacation homes and 20% of the permanent population are retirees.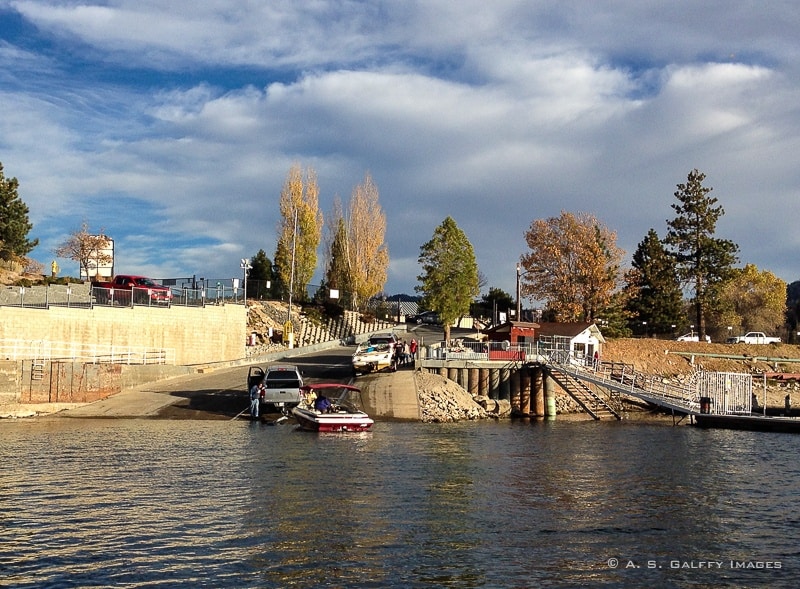 Where to Stay
There are numerous inns, hotels and bed and breakfasts throughout Lake Arrowhead's upscale area. In addition to that, many of these vacation homes are being rented by their owners. So if you happen to be Los Angeles, you should also visit this jewel of Southern California.
Pin this for later: