For those of you who wonder how is food in Budapest, let me tell you: Hungarians take their food very seriously, so finding good food in Budapest it's not a problem. There are countless eateries, cafés, and bistros, all bragging about the excellent food they serve. However, finding quality traditional Hungarian restaurants in Budapest that are also a good value is not that easy.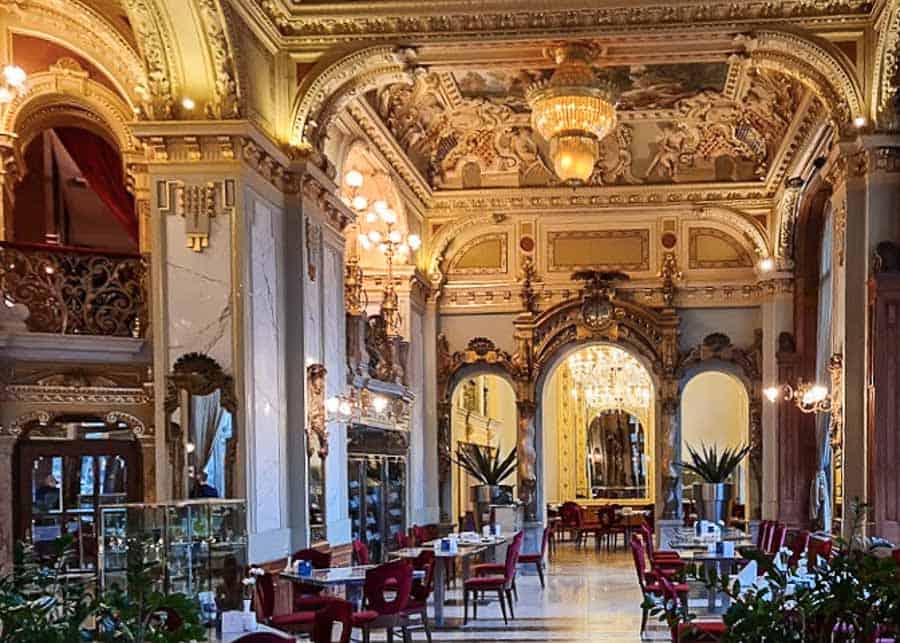 12 Best Traditional Hungarian Restaurants in Budapest
With such a plethora of choices, it's easy to get confused and fall into a tourist trap. Especially in the city center, or in the Old Town area. We know that from our own experience. With that in mind, I decided to put together a list of the best Hungarian restaurants in Budapest which we tried ourselves on many occasions.
Best Fine Dining Hungarian Restaurants in Budapest
If you are looking for a fine dining experience and not just having a meal, the following three restaurants are a great choice for memorable dinner in Budapest:
Gundel
Gundel is Budapest's most famous Hungarian restaurant: Hungarian cuisine at its finest! The restaurant serves the best and most authentic Hungarian food. It is also one of the oldest restaurants in Budapest, with an outstanding dining room.
The restaurant has been standing proud at its current location for over 150 years. Gundel has an old culinary tradition and serves some of the most delicious Hungarian dishes that I have ever tasted. You can order à la carte, or a prix fixe menu (with up to eight courses). Each corse is paired up with the wine that best compliments the food.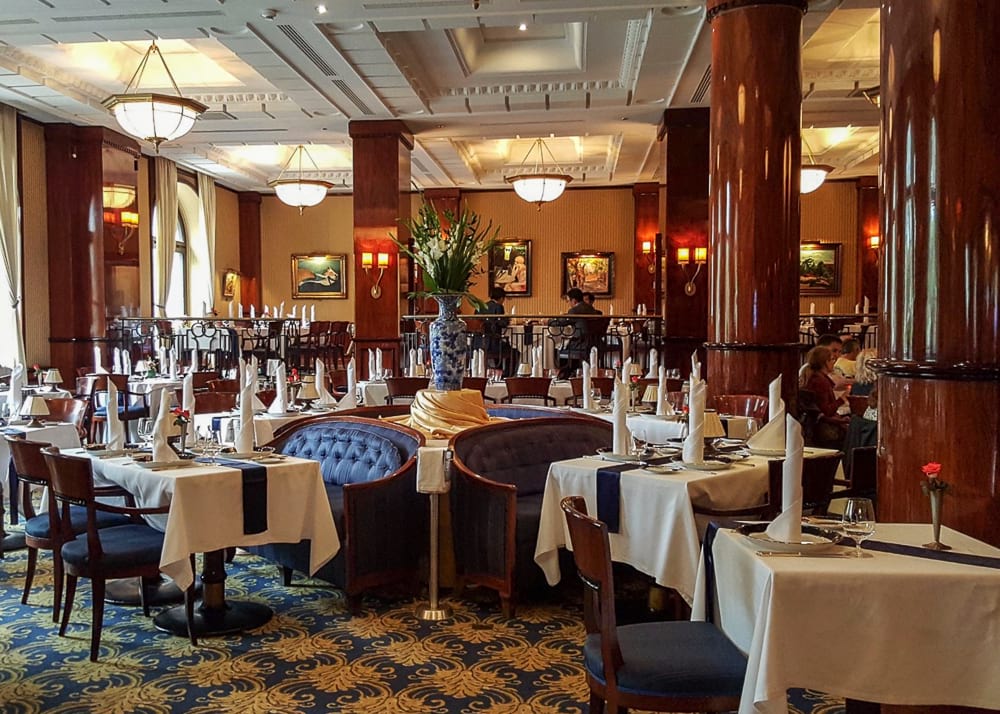 The restaurant also has a gypsy band that plays a wide variety of music, from old Hungarian folk songs, to waltzes and modern hits. Excellent food, good service, nice atmosphere, but very high prices. A dinner for two may cost anywhere from $450-$600, depending on the kind of wine you order.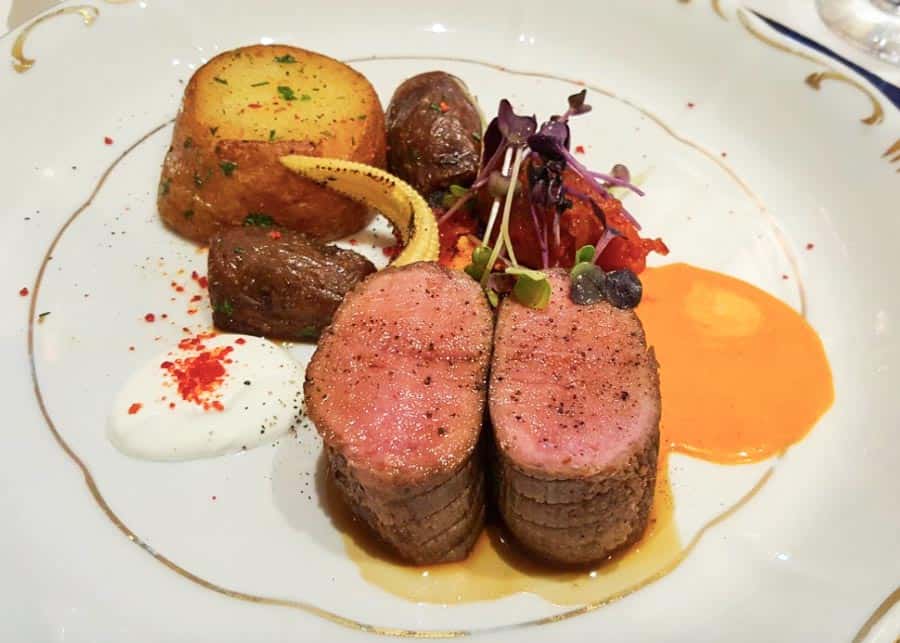 On the downside, the food portions are rather small, so you are more or less forced to order more courses if you don't want to leave with an empty stomach. But I guess you don't go to Gundel to eat, you go for a culinary experience. Dress code is high end casual. Don't show up without a blazer!
Address: 14th district, Gundel Károly street 4, Budapest

Halászbástya Étterem (Fishermen's Bastion Restaurant)
If you want to dine Budapest Old Town, you should give the Fishermen's Bastion Restaurant a try. Perched high up on the wall of the Fisherman's Bastion, Halászbástya Étterem is one of the fanciest Hungarian restaurants in Budapest, enjoying a royal interior and the best location in town. Great panoramic city views and live gypsy music.
In summer you can enjoy a drink on the terrace. The central section of the restaurant features the Knight Hall, with a round expandable table that can accommodate a party up to 25 guests.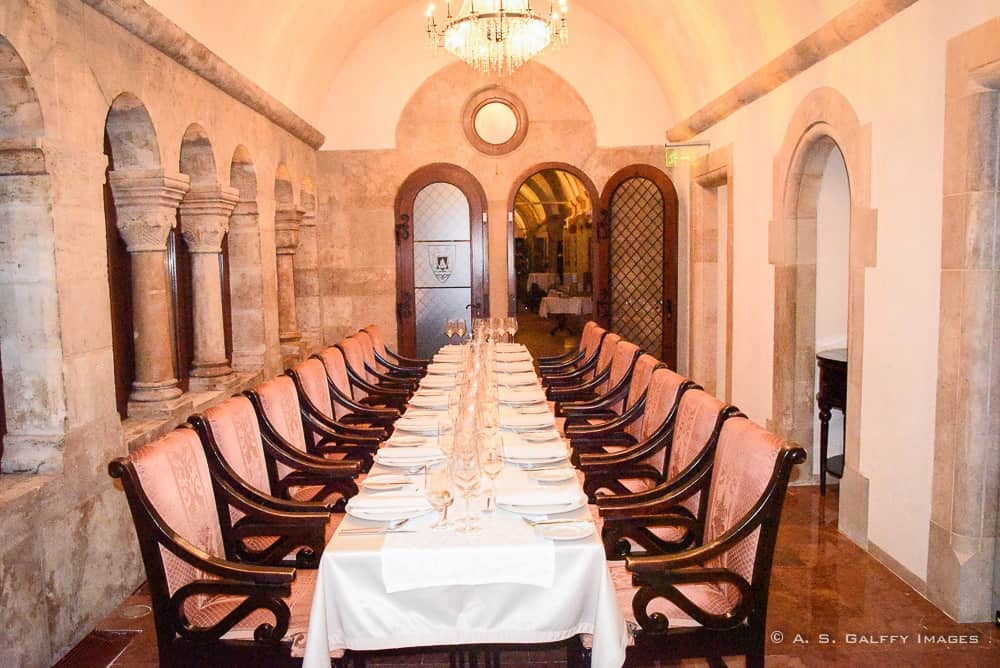 Food is good (but not excellent), the atmosphere is nice and romantic, but prices are high. This is the ideal place if you want to impress your date, or if you want to propose.
Address: Fisherman's Bastion, North Tower, Buda Castle
READ NEXT: The Ultimate Itinerary for 3 Days in Budapest
Csalogány 26
This bistro style restaurant is very popular among the locals and almost totally unknown to the visitors. Located in a residential neighborhood in Buda, Csalogány 26 is so well hidden that you can easily miss it.
Don't be fooled by its unassuming appearance and non-ceative name (named after the address). Csalogány 26 is one of Budapest top ten restaurants, despite its remote location.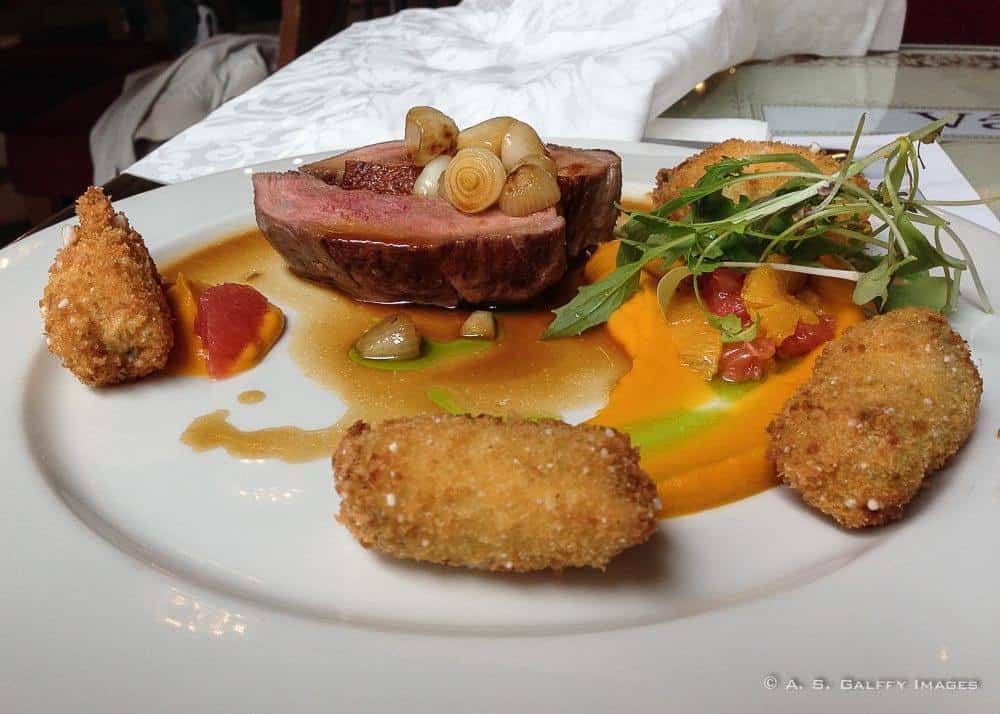 The food they serve is absolutely divine! They have a great selection of wines. You can choose from an à la carte menu or a prix fixe menu with several courses paired up with wine.
Prices are high, but the portions are reasonable. I ordered a single entree from the à la carte menu and didn't leave feeling hungry. The restaurant is small and intimate, with a very cozy atmosphere. Service is great too.
Address: Csalogany utca 26, Budapest 1015, Hungary (District I / Buda)
Best Moderately Priced Hungarian Restaurants in Budapest
Hungarian food is one of the reasons we keep going back to Budapest almost every year. But we can't always afford the fancy Gundel! The good news is that you don't have to burn a hole in your pocket to have a good meal in this city. There are quite a few reasonably priced Hungarian restaurants in Budapest where even (where even the locals eat), which will satisfy both your taste buds and lust for luxury.

Bagolyvár Restaurant (The Owl's Castle)
The Owl's Castle is a cheaper version of Gundel (has the same owner and shares a kitchen with the much more expensive establishment). The restaurant which is exclusively run by women, is located just a stone throw away from Gundel, in a reproduction of a Transylvanian house from the 19th century.
The restaurant serves both lunch and dinner and also has a patio that is opened during the summer months.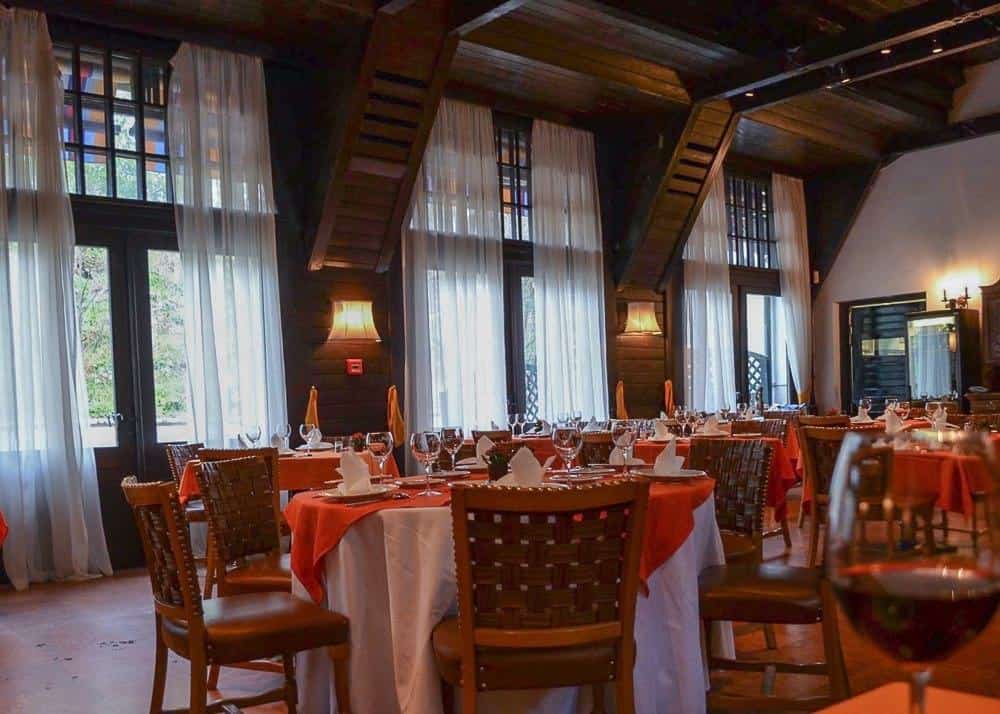 For dinner the restaurant has live piano music, alternated with short appearances of the the gypsy orchestra from Gundel. The food is wonderful, reasonably priced, and the service is good too. This is a better alternative for Gundel if you are looking for a great place to eat.
Address: Allatkerti ut 2, Budapest 1146
Mátyás Pince (Matthias Cellar)
Matthias Cellar is one of the oldest and most traditional restaurants in Budapest. The restaurant was named after Matthias Corvinus, one of the most beloved Hungarian kings.
The restaurant is located in a former brewery, very close to pedestrian Vaci utca right next to the Danube. Although very touristy, the restaurant preserved its atmospheric authenticity.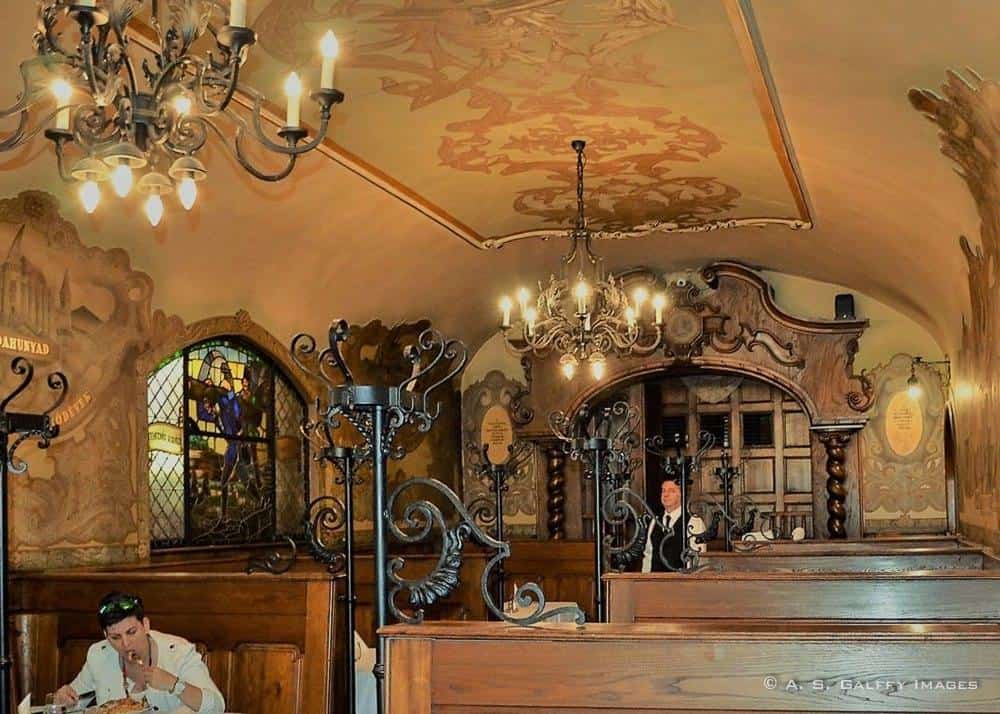 They serve good, traditional Hungarian food. A Gypsy band plays here every night, from 7 PM to midnight. Prices are a little high, but the restaurant is still a good value. It also serves lunch on week-ends.
Address: H-1056 Budapest, Március 15. tér 7
Note: Mátyás Pince restaurant is temporarily closed due to renovation.
Best Inexpensive Hungarian Restaurants in Budapest
While it's so easy to overspend on fancy restaurants, it's a little harder to find cheap places to eat that are also a good value. But if you know where to go, you don't have to compromise on your dining experience. So let me give you a couple of suggestions for good and inexpensive Hungarian restaurants in Budapest.
Rakoczi Restaurant
This little tavern located close to the Nagy Vasarcsarnok (Central Market Hall) is one of our favorite pubs in Budapest. Rakoczi Restaurant is cosy place nice good service, decent Hungarian food, and excellent prices.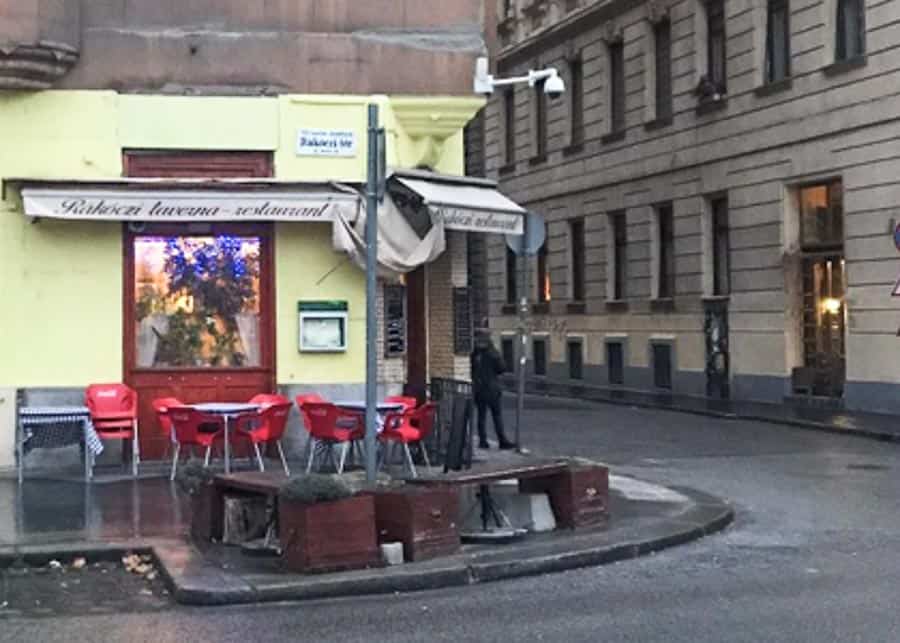 Try their goulash or the crispy veal schnitzel (€9). I also love their túrós palacsinta (crepes filled with sweet-tart cottage cheese).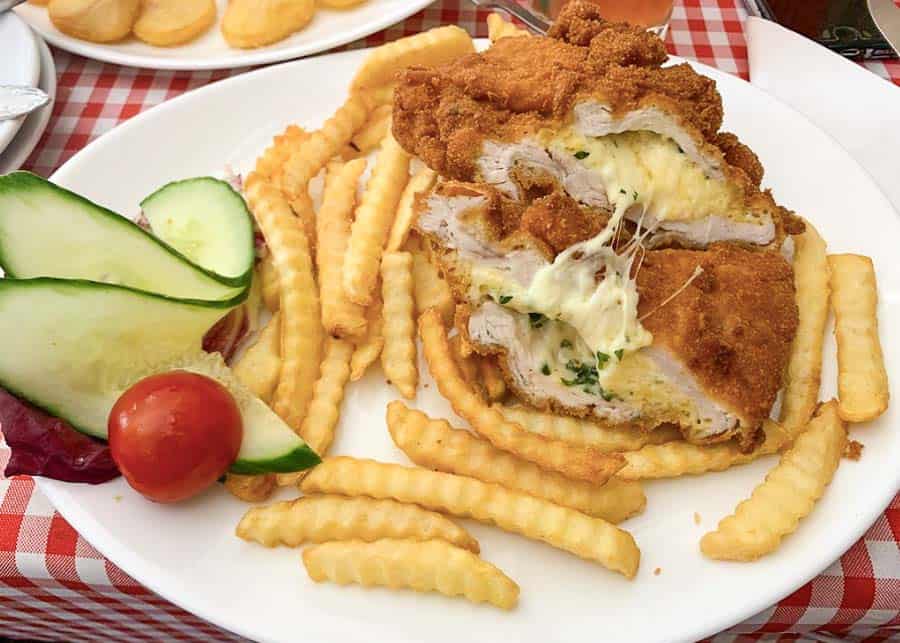 The locale is totally unpretentious, but very atmospheric and is frequented mainly by the locals. If all you want is a tasty, hearty meal after a day of sightseeing, you won't be disappointed here.
Address: Budapest, Rákóczi tér 9, 1084 Hungary
Frici Papa Kifözdéje (Papa Frank's Canteen)
Frici Papa is favored by visitors and locals alike for its low-priced Hungarian dishes. The prices are truly rock-bottom, even by local standards, but the food is not bad at all! The restaurant has an old-school vibe, with waiters dressed like they were dropped here from the 80s.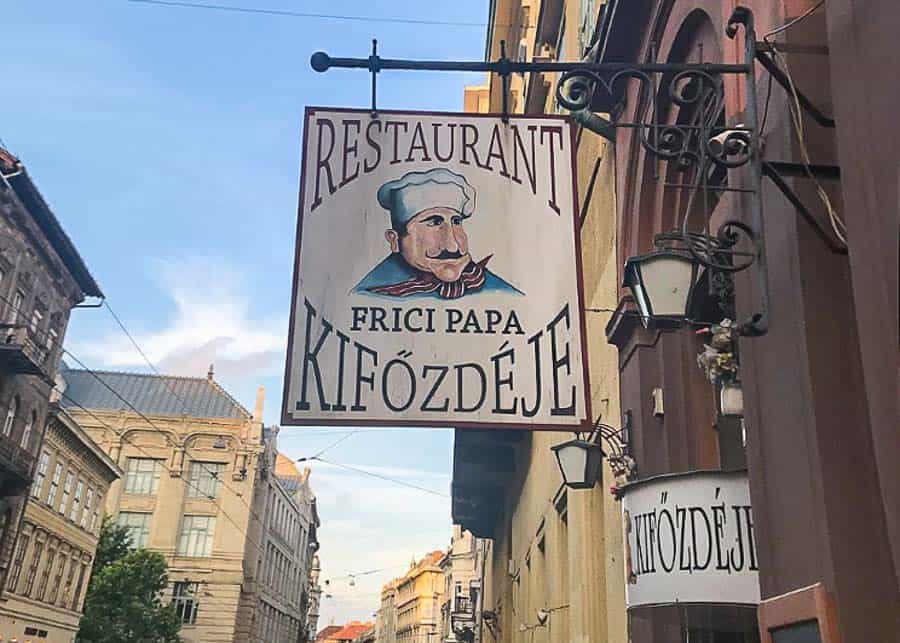 This no-nonsense place certainly won't win any awards for class, but if it's cheap, no-frills food you're after, Frici Papa fits the bill.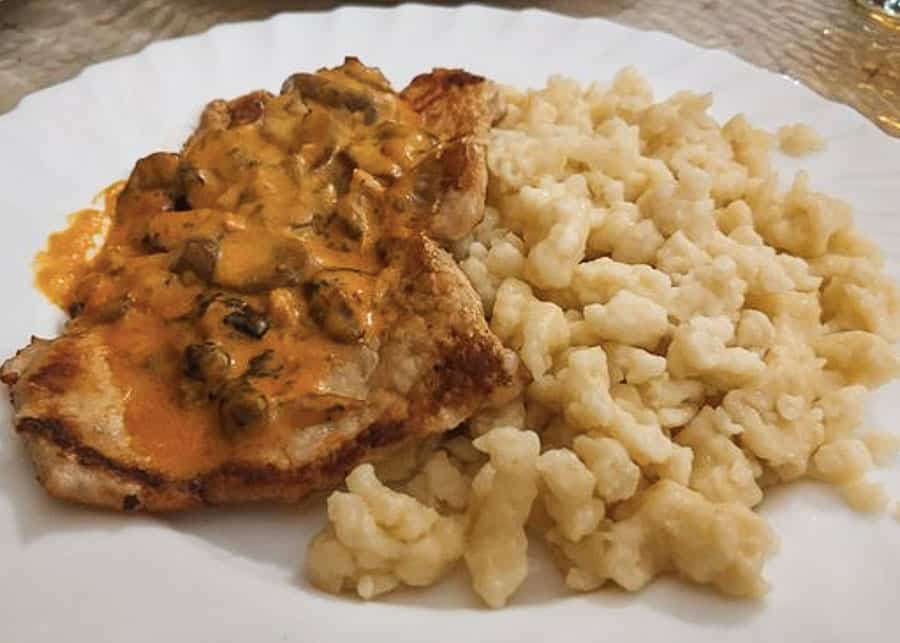 Address: Budapest, Király u. 55, 1077 Hungary
Retek Bistro
If you are looking for a cozy restaurant that serves traditional Hungarian dishes at very reasonable prices, Retek Bistro in Budapest is your place. This is a family-business traditional Hungarian restaurant with typical home style meals and friendly service.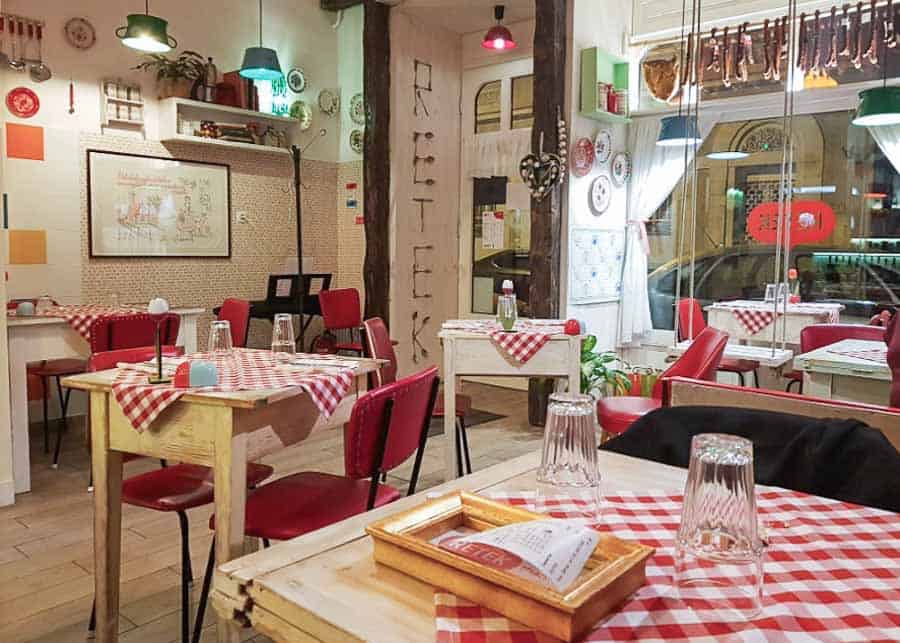 They serve the traditional gulas soup, stuffed sour cabbage, crispy duck leg and many other Hungarian delights.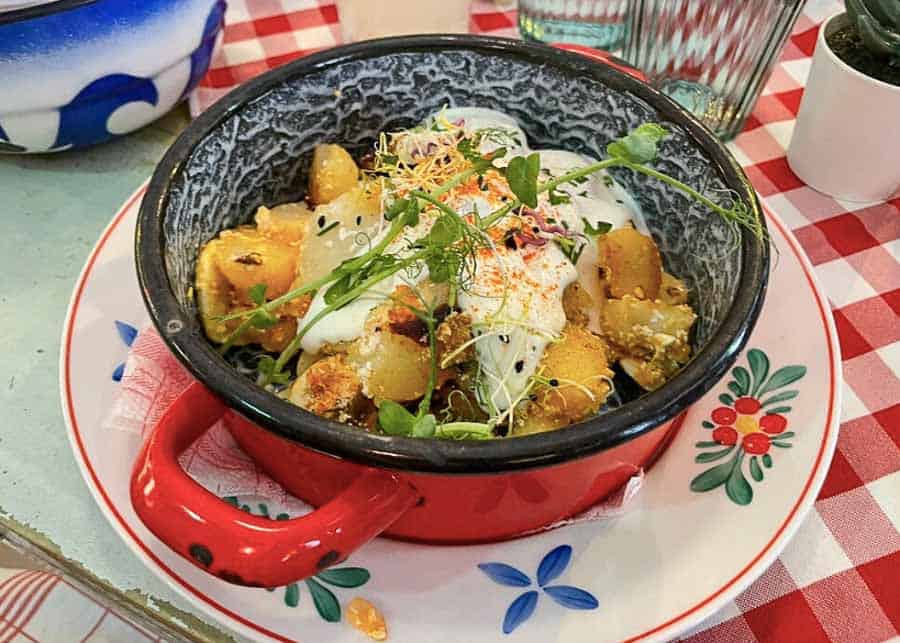 Address: Merleg utca 10., Budapest 1051 Hungary
READ NEXT: Best Hungarian Souvenirs to Buy from Budapest
Famous Cafés in Budapest
Café Gerbeaud
Located at Vörösmarty Square (at one end of the pedestrian Vaci street), Café Gerbeaud is one of Budapest's landmarks.
Today the legendary Gerbeaud tries hard to hang on to its old glory. Unfortunately, what was once Budapest's finest café and the meeting place of the city's elite, became a very touristy and overpriced café.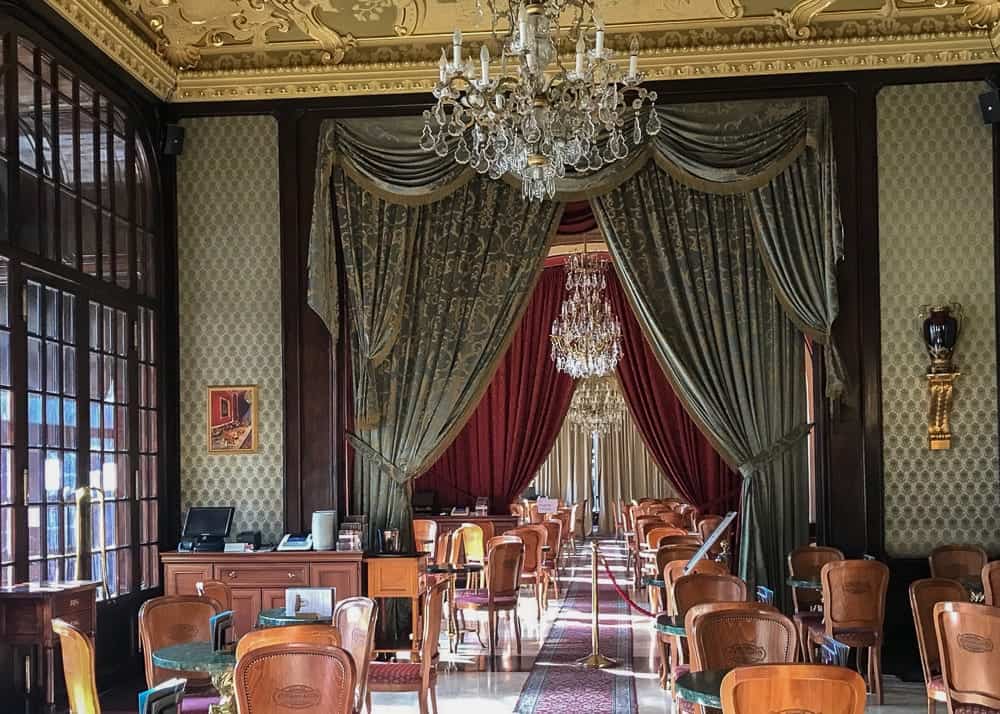 Still, if you want to see one of the most traditional coffee houses in Europe, you should stop here for a Sisi cave (Sisi coffee). The grandeur of its chandelier-lit rooms covered with red velvet may justify your money.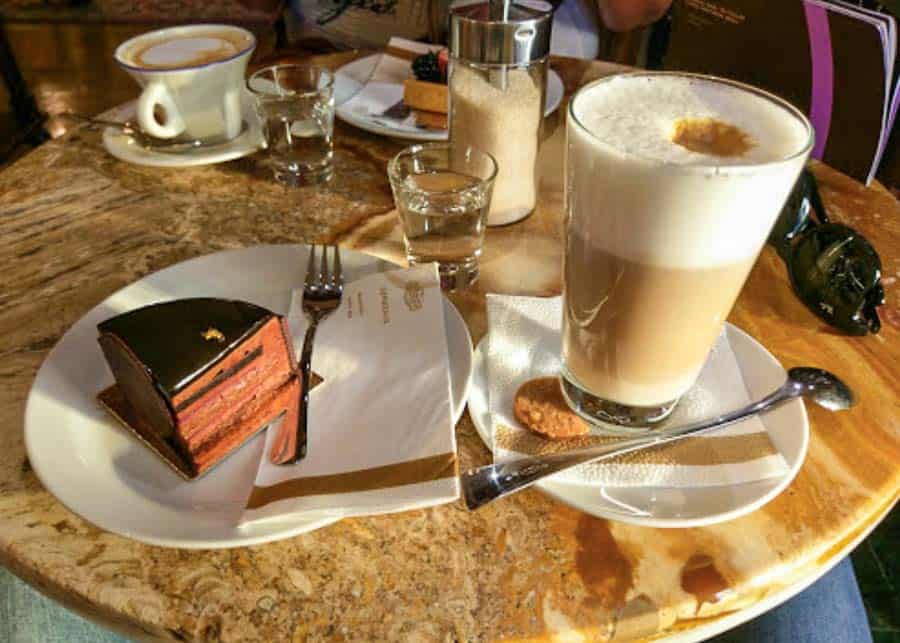 Address: Budapest, Vörösmarty tér 7-8, 1051 Hungary
Café New York
Another historic café in Budapest that was the gathering place of famous artist figures is Café New York. Built at the end of the 19th century, this architectural gem went through some bizarre transformations over the years.
During the Communist era, the place became a sporting goods store (of all things!) In 1954 it reopened as a restaurant and was renamed Hungaria. In 1989 it finally became a café again and reopened under its current name.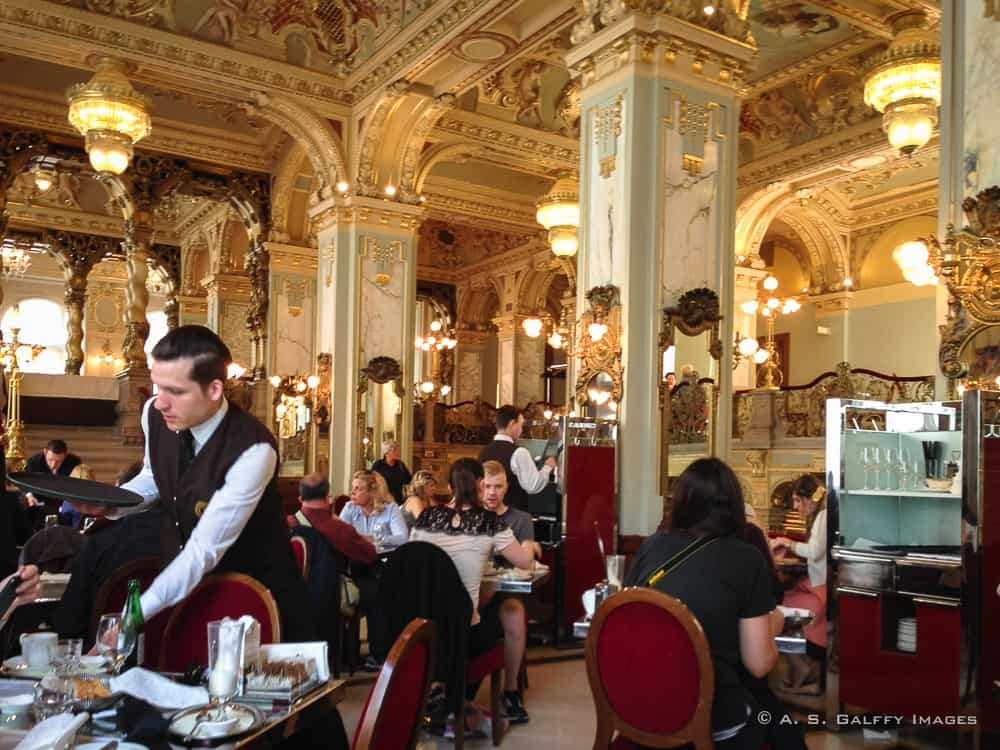 Café New York is located on the ground floor of the New York Palace Hotel. Its rich and opulent decor is stunning. Everywhere you turn you see marble, bronze, silk, crystal, and velvet. The café still maintains the old time tradition of serving coffee on silver trays.
Prices are very high (around 980 HUF/$4 for a regular coffee and 2000 HUF/$8 for a slice of cake). Even so, this place is worth seeing, at least for the sake of enjoying the ambiance of a great coffee house.
Address: Budapest, Erzsébet krt. 9-11, 1073
READ NEXT: Where to Find the Best Christmas Markets in Budapest
Ruszwurm
The 200-year old family-run café is the oldest existing pastry shop in the city. Their delicious pastries and coffee make your mouth water.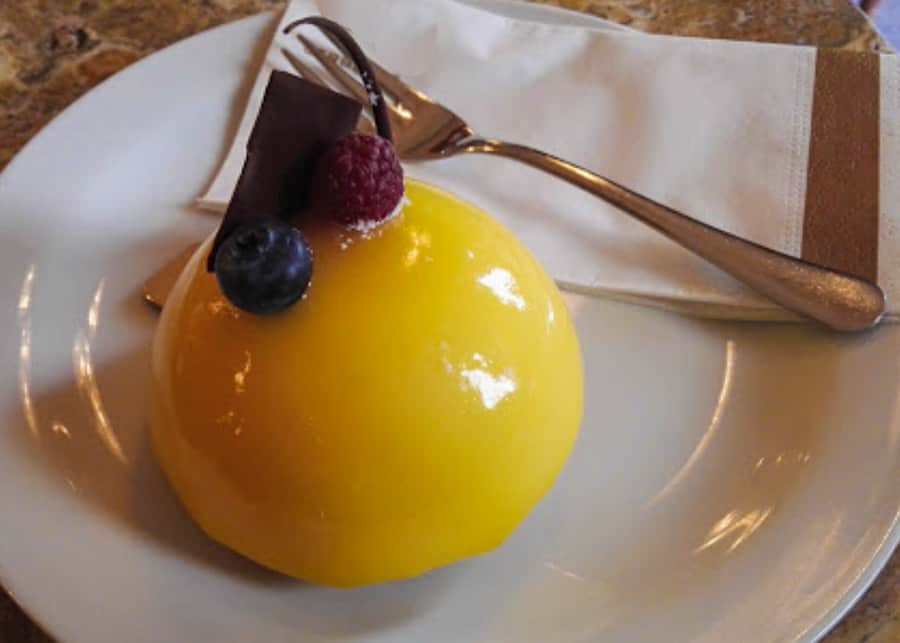 Located in the Castle District, the tiny café still operates with great success. Ruszwurm is owned by the Szamos family, a famous confectionary dynasty.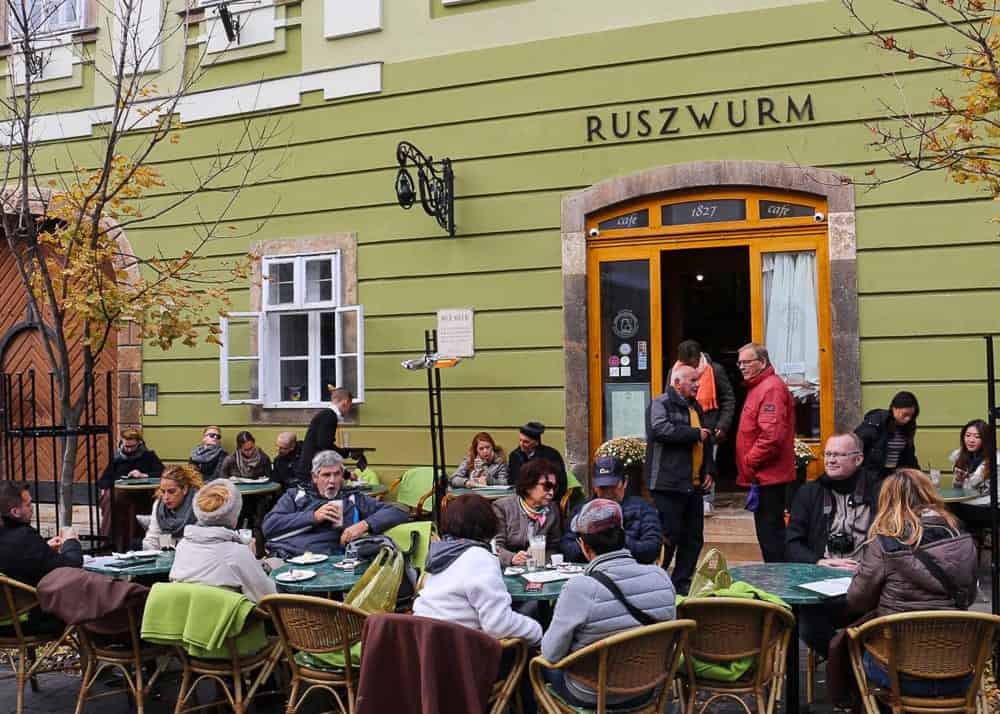 Prices are moderate to high, service is good. Due to its fame and location, it is always a challenge to find a table here.
Address: Budapest, Szentháromság u. 7, 1014
Europa Café
Europa Café is another famous coffee house in Budapest, serving a big selection of pastries and sweets. The café has both inside and outside sitting and is very popular among the locals.
Europe Café is located on Szent Istvan körut, opposite one of Budapest's most famous venues –the Comedy Theater. The atmosphere is reminiscent of the small Parisian cafés where the old timers meet to catch up with each other.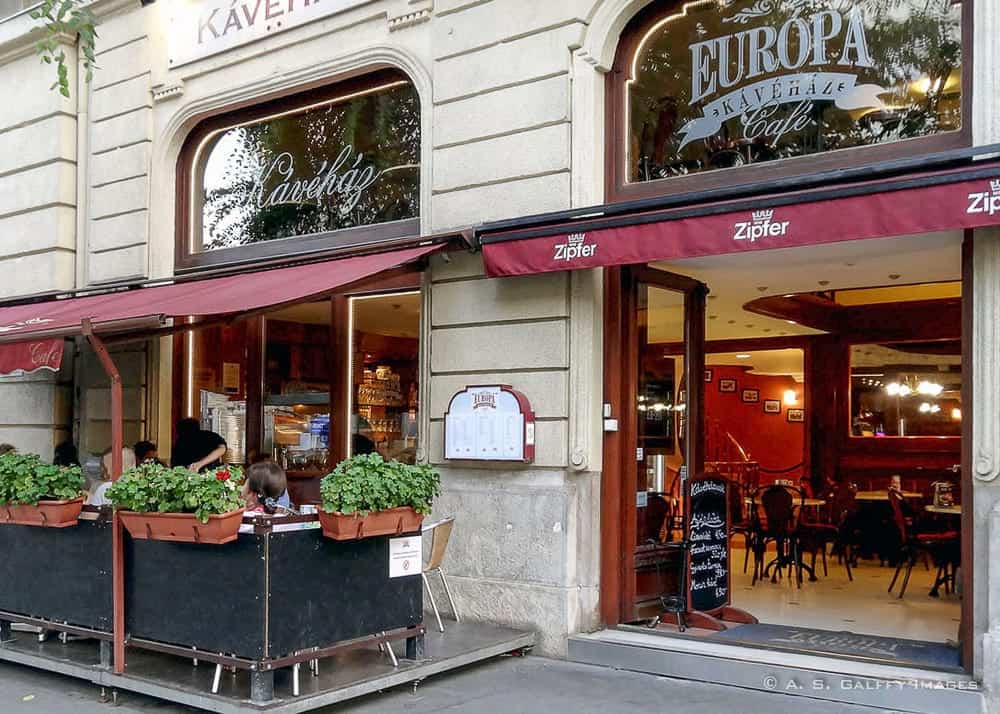 Prices are moderate, service is good and the atmosphere is very pleasant. Because of its proximity to our apartment in Budapest, we visit the café quite often when we are in town. But even if you don't stay in the area this place is definitely worth a visit.
Address: Budapest, Váci u. 45, 1056
And while you are in Budapest, check out their famous Ruin Pubs, a series of quirky bars and nightclubs opened in abandoned buildings.
Headed to Budapest? You may find these helpful:

Budapest Practical Information for First Time Visitors
Buda or Pest? Where to Stay in Budapest as a Tourist
10 Interesting Facts About Budapest
How to Spend a Magical Holiday in Budapest in Winter
Prague vs. Budapest: How to Decide Which One to Visit?