Hungarian cuisine is definitely not for people on a diet! I realized that after my first trip to Budapest, when I returned home with 7 extra pounds! But even though I know I'll pay the price, I can't refrain from eating the fattening but delicious Hungarian dishes, every chance I have.
Characteristics of the Hungarian Dishes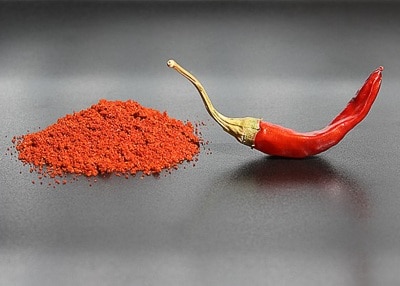 Hungarian food may seem heavy, but it's rich in flavor and aroma and very tasty. Hungarians use a lot of sour cream, lard, fried garlic and onion when preparing their food.
Paprika is also a quintessential ingredient, used in preparing many of the Hungarian dishes. Other characteristics of Hungarian cuisine are the fruit soups, casseroles, and pastries.
Bread plays an important item in the Hungarian diet. Hungarians eat bread with almost everything and at every meal. They eat it at breakfast, with butter and jam; at lunch, with soup, salami, or sausages; and also eat it at dinner, with meat gravy or lard.
Hungarians also use a lot of bread when cooking. Many of their meat dishes are dipped in bread and then baked or fried.
Hungarian Signature Dishes
I love Hungarian food (and wines!) and because I'm married to a Hungarian, I learned to cook some of these dishes over the years. So here are some of my favorites:
Gulyás (goulash)
Goulash is the most popular Hungarian dish, something between a soup and a stew, made with beef, potatoes, tomatoes, onion and paprika.
The recipe varies a little in each region of Hungary. Some cooks make it with pork and also add carrots to the mix. However, the traditional Goulash is made exclusively from beef or veal.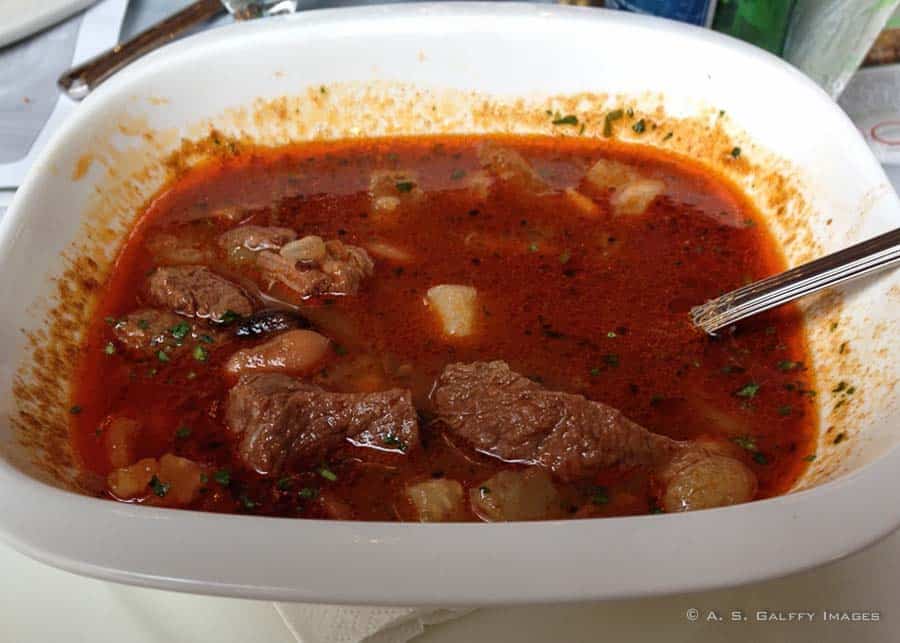 The meat, tomatoes, onion and paprika are cooked for several hours at a slow fire. Diced potatoes are added only when the meat is very tender. The potatoes will make the goulash thicker and smoother.
Goulash is a very popular food in Hungary and in the 1800s it was declared a national dish. They serve Goulash in almost any restaurant in Budapest, but if you want the real deal, look for a traditional Hungarian restaurant.
Pörkölt (meat stew)
Pörkölt is a rich stew made of any kind of meat, tomato, paprika, and onions. It's usually served with a side of Hungarian noodles called nokedli. The taste is very similar to that of Goulash, which is why many visitors don't make a distinction between the two dishes.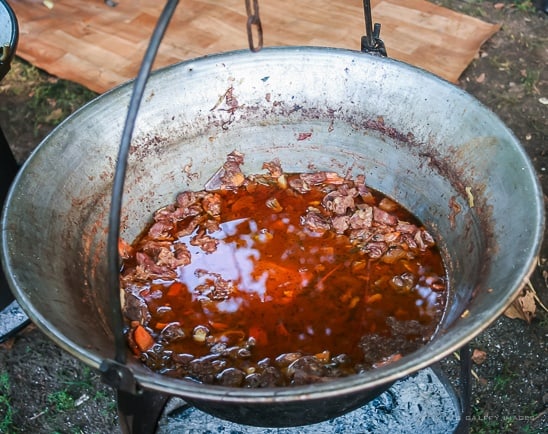 For best results, the meet needs to be cooked for hours. Traditionally, Pörkölt is cooked outside, over an open fire, in a heavy metal pot called bogrács.
Meggyleves (sour cherry soup)
Meggyleves is a sweet soup made of sour cherries, sour cream, and sugar. The first time my mother in law served this to me, I thought it was a desert. The fresh creamy soup is served cold, with sour cream on top. The dish looks and tastes like a delicious desert, but it's actually eaten at the beginning of the meal, as a regular soup.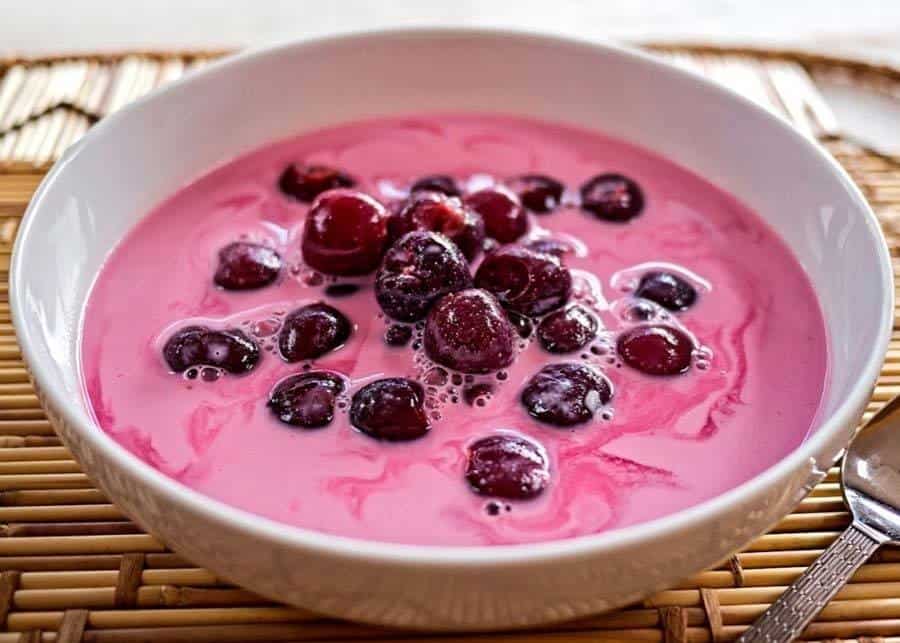 Lángos (deep fried flat bread)
Lángos is a deep fried flat bread which many people eat with shredded cheese and sour cream. I personally like to eat the Lángos plain, without any other ingredients. If they are properly fried, the dough is crunchy and very tasty.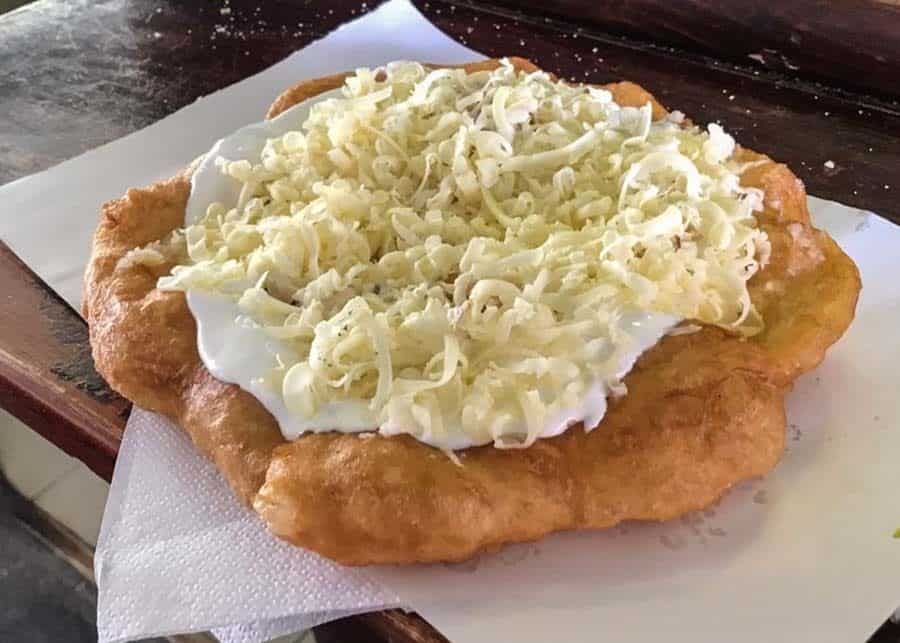 Langós is a very well liked Hungarian food, but don't look for it in restaurants. It's one of the most popular street foods in Budapest and a staple at any Budapest Christmas market. The best Langós I ever tried was at the Great Market Hall in Budapest.
Töltött Káposzta (Hungarian stuffed cabbage rolls)
Although a traditional Hungarian food, Töltött Képoszta is actually common to many other Eastern European countries. However, the Hungarian recipe has a very specific flavor.
The Stuffed Cabbage Rolls are made with sauerkraut, sour cabbage leaves, beef and pork, onion, tomato sauce and paprika. The Romanian version of this dish has no paprika, but instead it uses cumin and thyme. In Polish cuisine there is also a variation of this dish, called Polish Golumpki.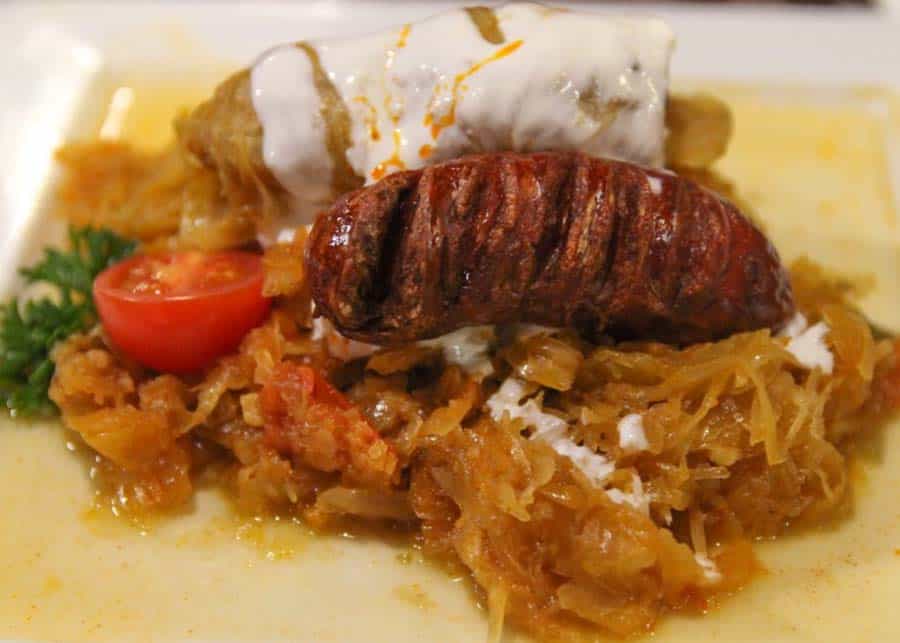 Also, Hungarians eat their Stuffed Cabbage Rolls (Töltött Káposzta) with sausage, sour cream and bread. As opposed to Romanians who eat their Stuffed Cabbage Rolls (Sarmale) with polenta.
Csirke/Borju Paprikás (chicken/veal paprikash)
Chicken/Veal Paprikash is my favorite Hungarian dish. I've learned to cook it myself, but it never tastes as good as the one they make in Budapest.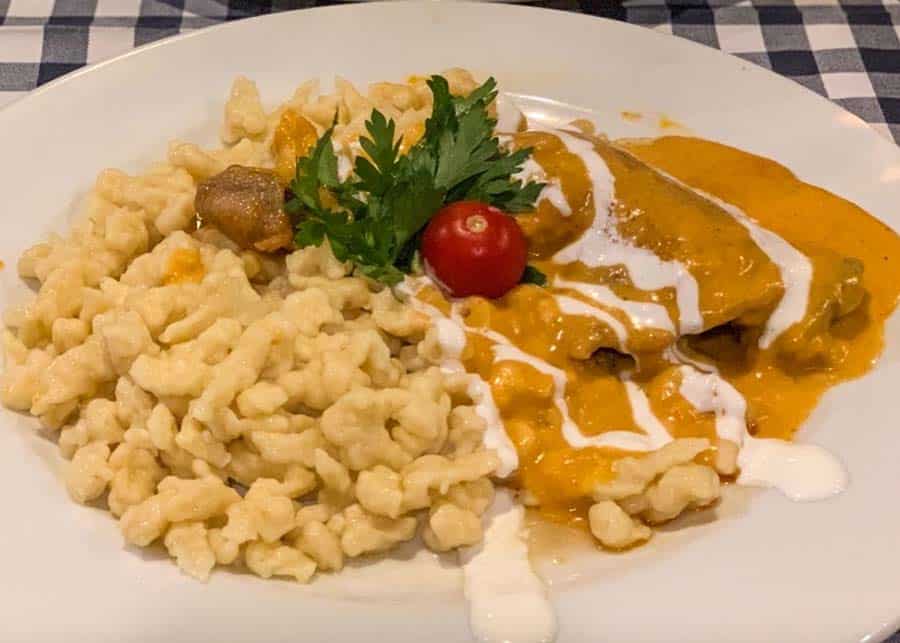 Paprikás is a stew made with chicken or veal, sweet red pepper, paprika powder, garlic, onion, and tomatoes. They serve the Paprikash with galuska (dumplings) and sour cream.
Hortobagyi Palacsinta (meat pancakes)
Hortobagyi Palacsinta is my favorite Hungarian dish – a rich stew of minced veal or chicken tucked inside the pancakes. The pancakes are baked in the oven and served with sour cream and paprika sauce.
Unfortunately, not all restaurants in Budapest know how to cook this properly. If you want to taste the real thing, look for a good Hungarian restaurant, not just any tourist-trap eatery.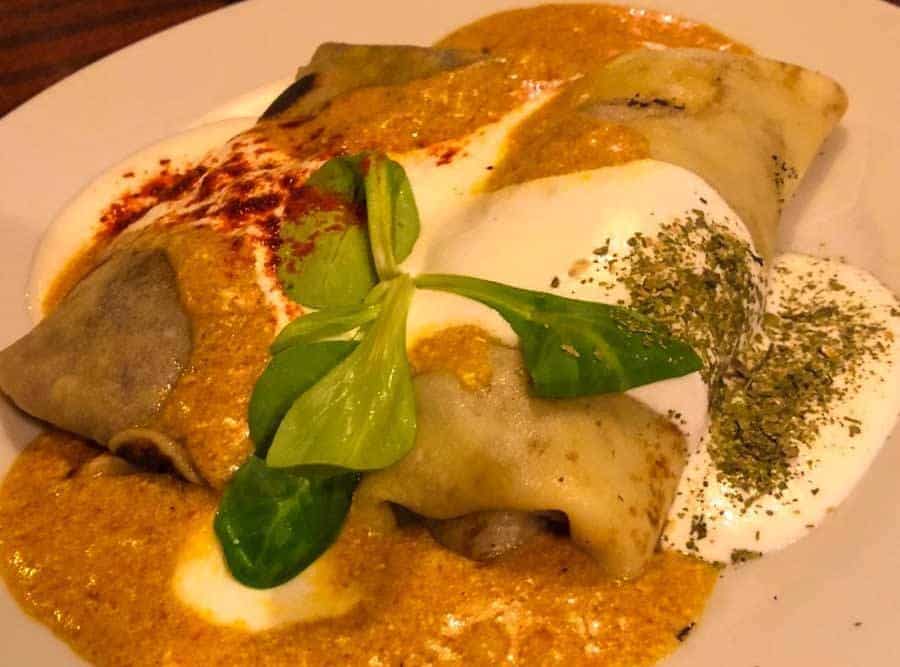 Libamaj (roasted goose liver/fois gras)
Foie gras is a well-known delicacy in French cuisine, but Hungarians specialize in producing it. In Hungary geese force-feeding is a tradition that dates back to the 15th century.
If animal rights activists could have their way, the custom of force-feeding the geese would vanish entirely. Truth be told, the procedure fits the bill for animal cruelty, but anyone who ever tried the famous roasted goose liver can't forget the experience.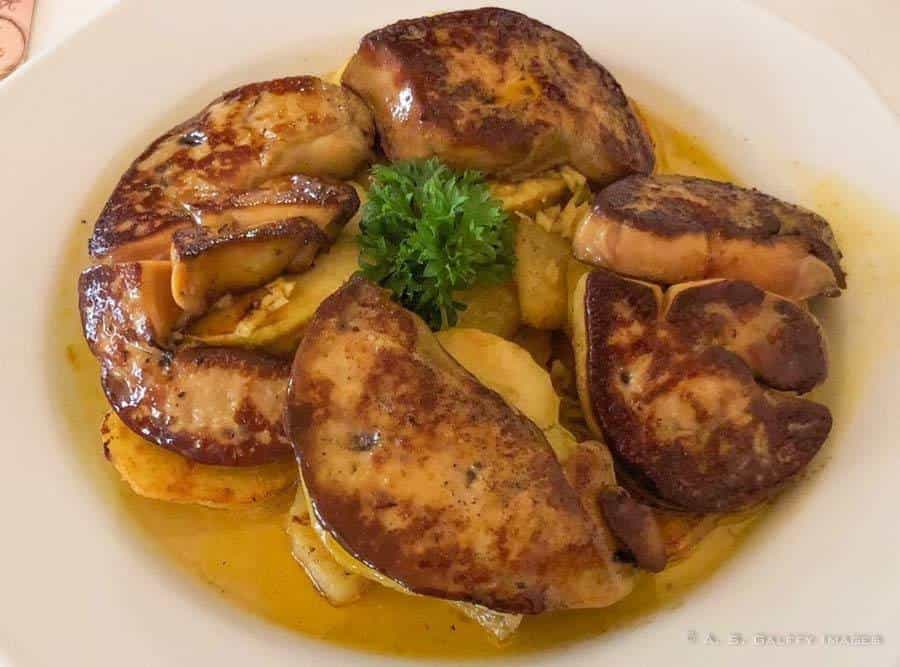 Libamaj (roasted goose liver) is one of the most delicious Hungarian dishes and a must-try if you are in Budapest. Libamaj (foie gras) is on many restaurants' menu, but it's pricey. Be warned however that some places may pass the regular goose/duck liver as foie gras, so be sure to ask specifically if they have the real thing. Especially if the price seems very reasonable.
Lechó (ratatouille)
Lecsó is a Hungarian thick vegetable stew made with yellow pointed peppers, tomato, onion, garlic and paprika. The onions and peppers are usually sauted in lard, or sunflower oil. It can be a main course or a side dish.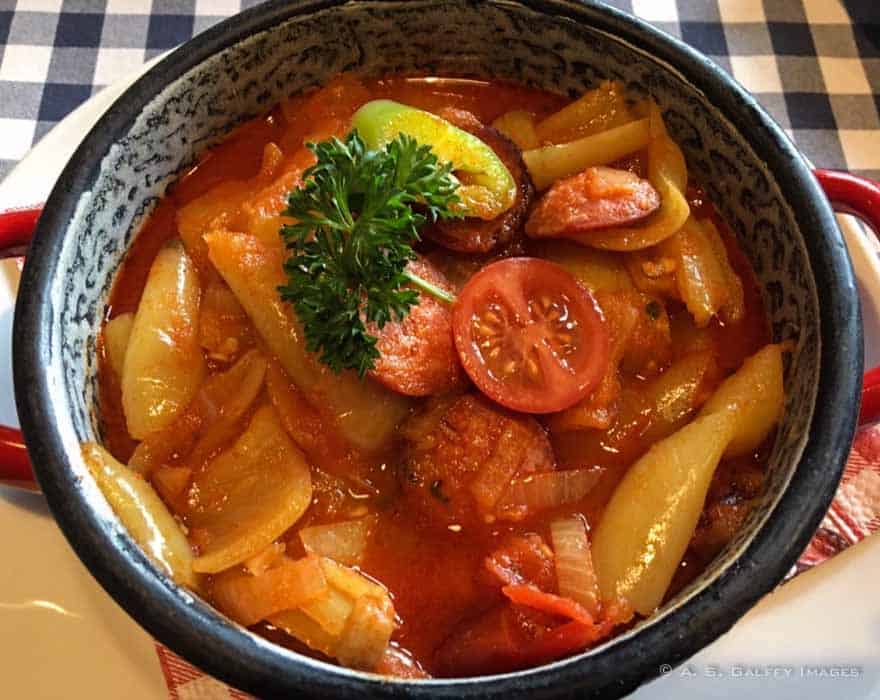 READ NEXT: Best Hungarian Souvenirs to Buy from Budapest
Best Traditional Hungarian Desserts
Hungary is renowned for its fine pastries and desserts. Some of the Hungarian confectionery are more modern, going back only 150 years. Others sweet recipes are much older however. The list of delicious traditional Hungarian desserts is endless, but I'm going to mention some of my favorite ones:
Dobos Torta (Dobosh cake)
Dobos torta is Hungary's most famous cake. It was invented in 1884, and it's made of severn thin layers of sponge cake alternating with rich chocolate butter cream. The top layer is covered with hardened caramel.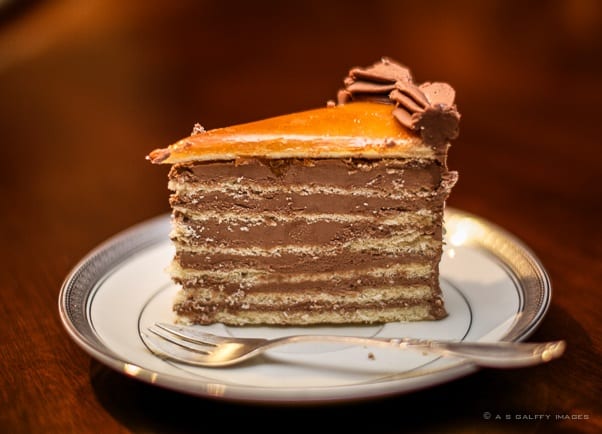 I was never able to bake it myself, but that's probably for the better because I can't stop eating it! Dobosh cake is a must-try if you are ever in Hungary.
Meggyes Rétes (sour cherry strudel)
Meggyes rétes is puff pastry strudel filled with sour cherries and poppy seeds. It tastes divine especially when it's made with fresh fruit. But since sour cherries are a seasonal fruit, it's usually made with canned sour cherries.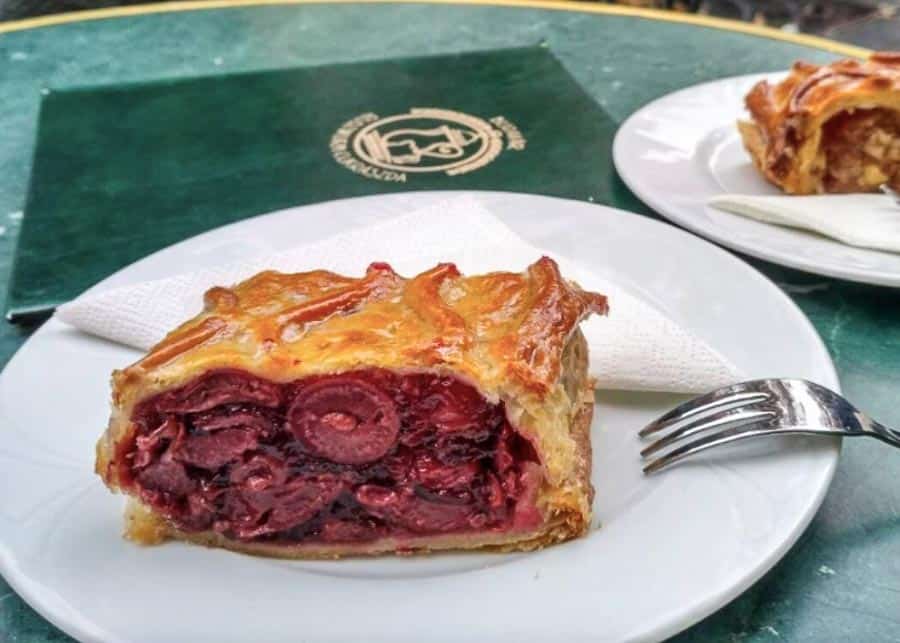 Szilvas Gomboc (plum dumplings)
Hungarian plum dumplings are a dish made with a mashed potato dough filled with plums. The dough is flattened out and cut into squares. The plums are pitted, wrapped completely in dough then dropped in boiling water.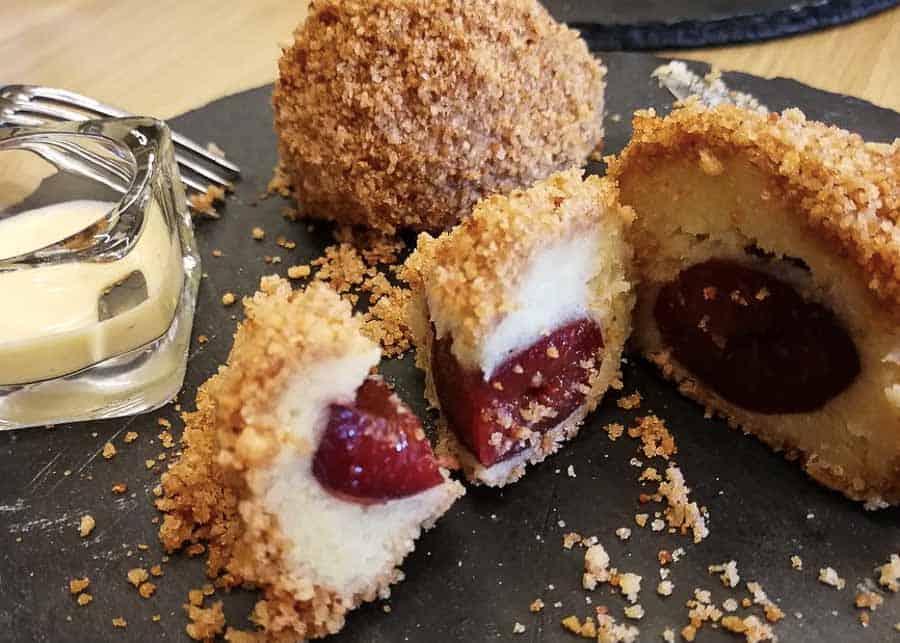 When they start floating, you take them out, sprinkle them with sugar, and serve them. You can also cover them with breadcrumbs fried in butter.
Kurtos Kalacs (Chimney Cake)
Kurtos kalacs (chimney cake) is Hungary's oldest pastry. The chimney cake is made by wrapping pastry around a cylinder, coated with lots of sugar and baked in an open fire oven.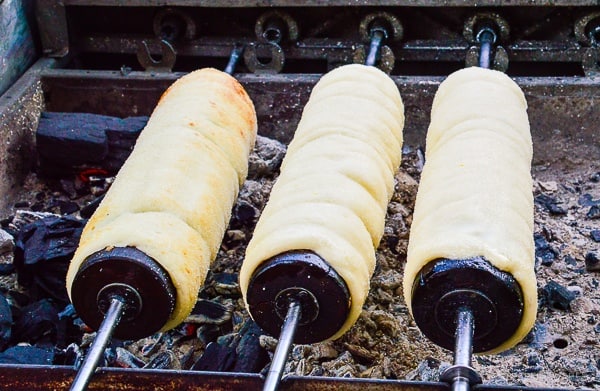 Chimney cake is a street food, so you'll find it at food stands and small bakeries around town. Since the recipe originated in Transylvania, you'll find this delicious pastry in the small villages in Northern Romania as well.
You may also like: