I absolutely loved Istanbul! The city is a melting pot of cultures, a conglomeration of delights that can feed both the body and the soul. Istanbul's food scene is as eclectic as its culture, but the Turkish dishes are the ones that impressed me the most.
I'll be the first to admit that food preferences are definitely a matter of taste. That being said, you may like the food in Istanbul or not, depending on your taste. However, I would encourage you to try forget about the international (fast) food chains while you're here, and experience real, authentic Turkish food.
Traditional Turkish Breakfast
There were a couple of things that surprised me about the food they served us for breakfast in Istanbul. One was that tomatoes, cucumbers, olives and garlic were present at every Turkish breakfast.
The other is that tea replaces the coffee. We had to ask for it specifically if we wanted to have coffee at breakfast. That came as a surprise, considering that Turks drink coffee all throughout the day.
They also serve a white cheese (similar to feta), butter, and a thick cream called kaymak. The rest of the the dishes were very similar to what we get for breakfast in the US (honey, jam, omelet, sausages).
I strongly suggest trying the Menemen, a delicious Turkish style omelet made with roasted onions, peppers and tomatoes mixed with eggs and different herbs.
Traditional Turkish Dishes to Try in Istanbul
Traditional Turkish food is a mixture of Central Asian, Middle Eastern and Balkan cuisines. Although not very sophisticated, the Turkish food may be really tasty if it's well prepared. If you are not a fan of the Mediterranean cuisine, you will have very few food choices left in Istanbul.
However, if you're heading to Istanbul I suggest you exercise your taste buds and try these authentic foods. Chances are you may fall in love with them.
Shish Kebab
This is one of the many types of kebabs that originated in the Middle East. The dish is made either with lamb, beef, or chicken cubes that are served on a skewer.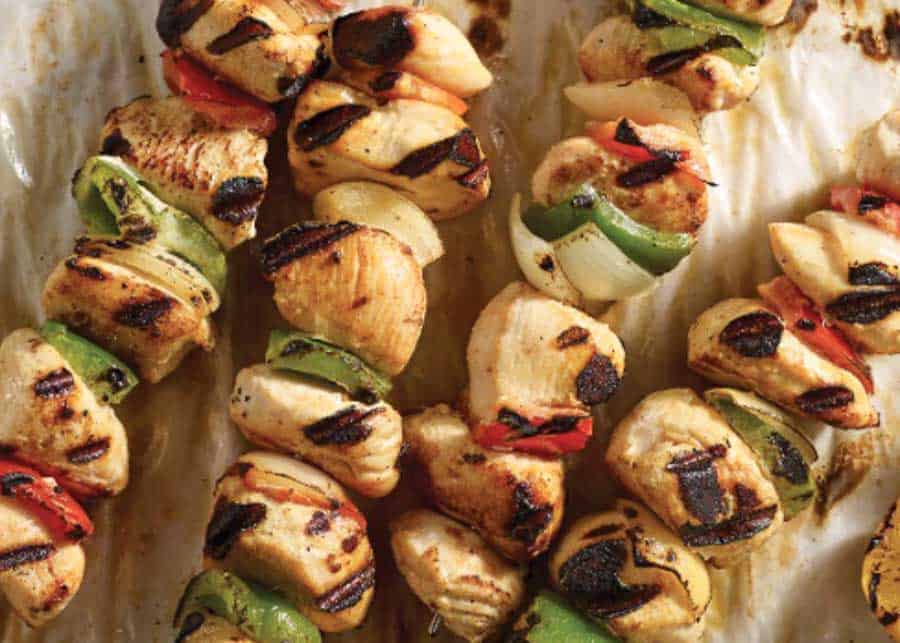 Lahmacun
Another traditional Turkish food to try in Istanbul is Lahmacun. This is a super thin, crispy pizza topped with a flavor-packed mixture of minced meat with peppers, tomato, fresh herbs and earthy spices.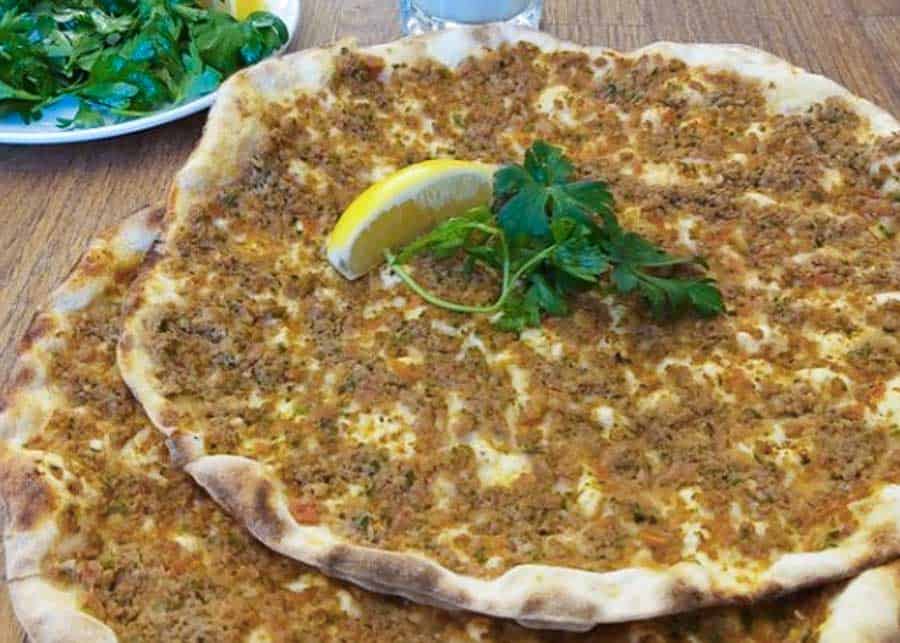 Yaprak Sarma
This is a dish made with grape leaves stuffed with rice and sometimes ground lamb, currants, or other ingredients. The rolled up leaves resemble small cigars, and are usually eaten room temperature.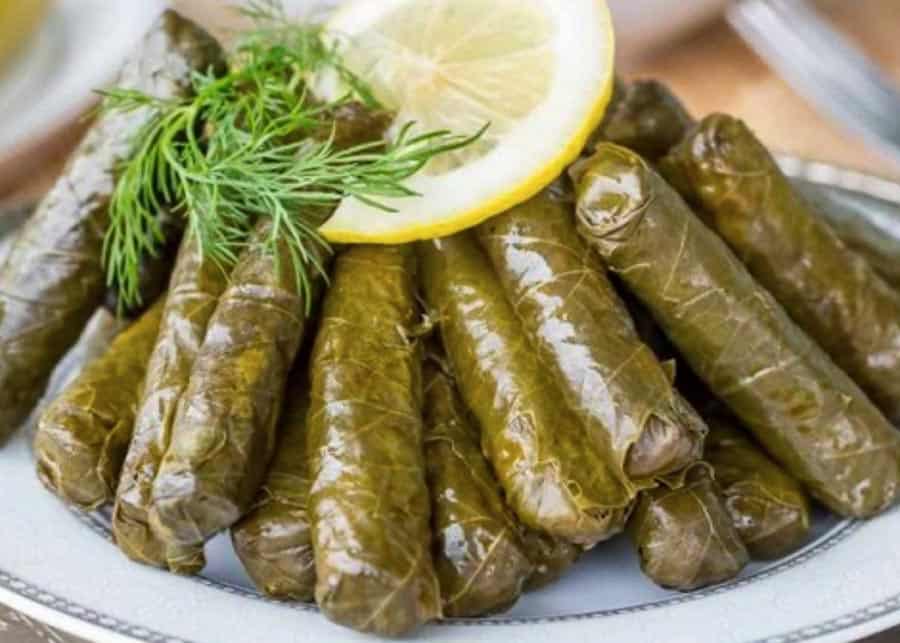 The true origins of this dish remain contested, as some consider it from Greece, others claim it's Turkish. You'll find Yaprak Sarma in Romania too (obviously bearing a different name), although it's not necessarily considered a traditional Romanian food.
Shawarma
This dish is made of meat cut into thin slices, stacked in a cone-like shape and roasted on a slowly-turning vertical rotisserie or spit. Originally made of lamb or mutton, today's shawarma may also be chicken, turkey, beef, or veal.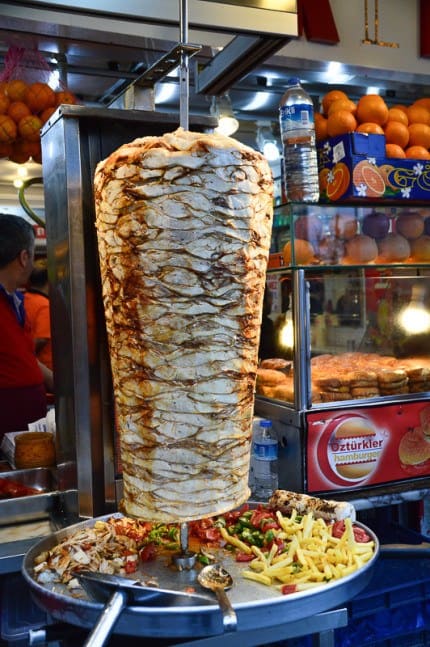 The name "shawarma" comes from the Turkish word "çevirme," which means "turning." In Greece you'll find a very similar dish, called gyros.
One thing I need to mention is that finding good restaurants in Istanbul may be a real challenge, so I recommend checking the restaurant's reviews before eating there.
Turkish Desserts
One of the best things to do in Istanbul is try the Turkish dishes and deserts. The Turkish traditional food may not be my #1 choice, but when it come to the Turkish deserts, they are among the best in the world!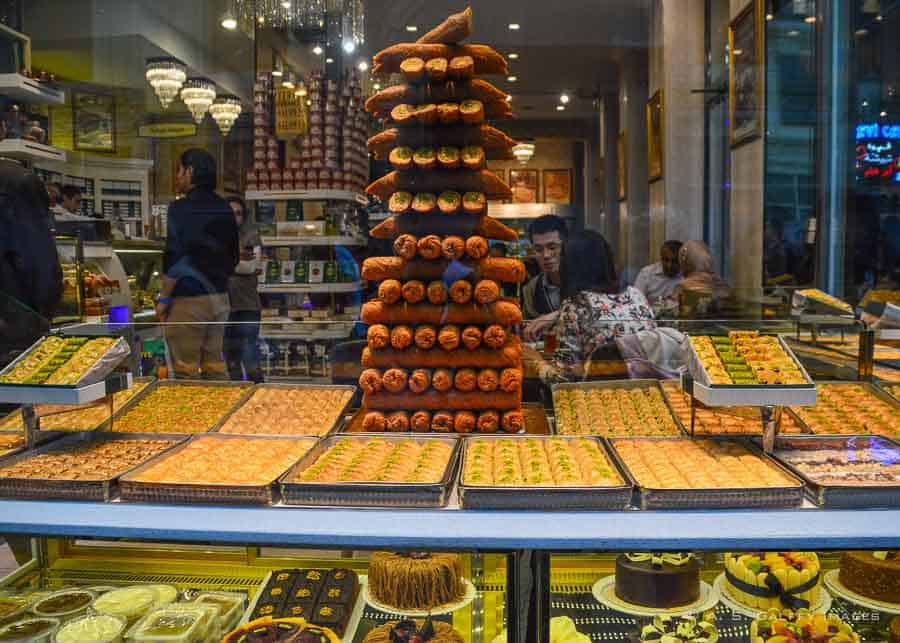 Istanbul is truly a sweet-lover's paradise. There are literally hundreds of kinds of Turkish Delight, Baklava, Halva, dried fruit and other delicious sweets. So if you have a sweet tooth, Istanbul is the place where you may easily loose your waist line. In the 3 days we've spent in Istanbul, I managed to gain 5 pounds!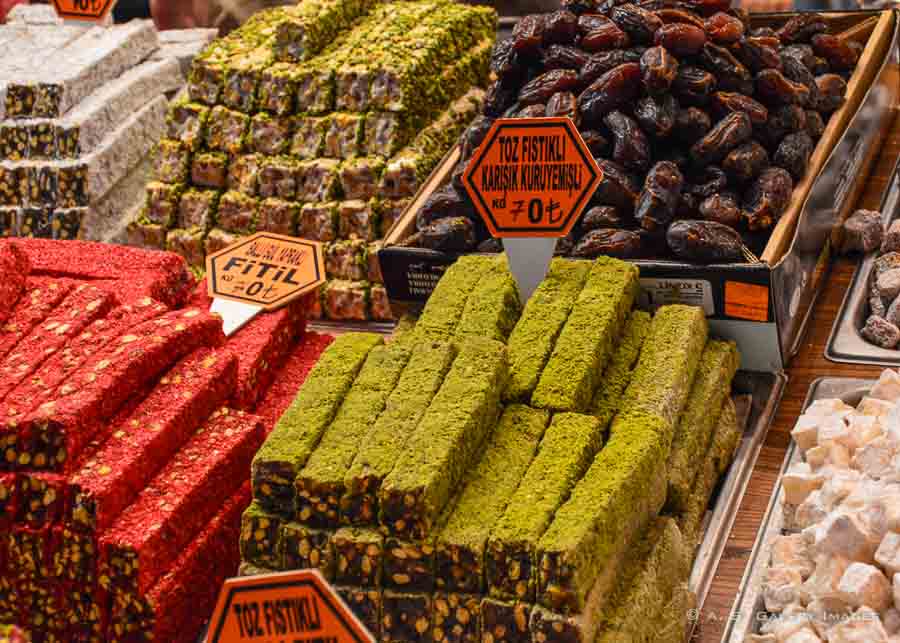 Street Food in Istanbul
Street food and snacks shops are very much a part of Istanbul's way of life. Especially in the old town, Sultanahmet, where tourists account for most of their customers.
Buying from the street vendors is pretty safe, especially if you get cooked food. Fresh fruit are O.K. too but I suggest you ask them to cut or peal them in front of you.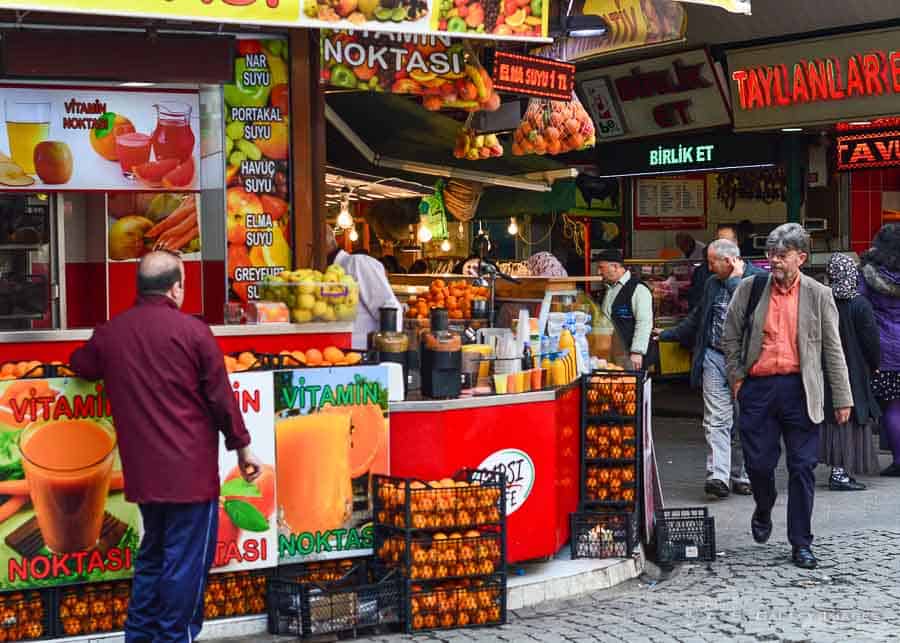 We bought some very delicious watermelon and pomegranate and didn't experience any negative effects. But if you want to play it safe, I suggest you wash the fruit in your hotel room. Either way, on Istanbul streets and open markets you'll find the freshest and sweetest fruits possible. Absolutely delicious!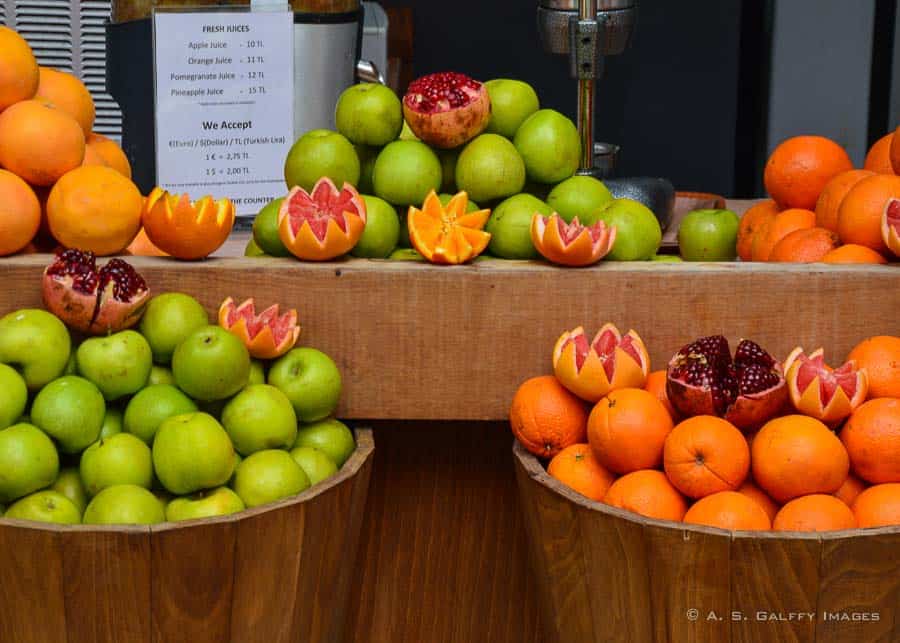 Buying Food in Istanbul's Open Markets
You'll find a great variety of Turkish dishes and fresh food in Istanbul's open markets. In fact, the open markets are an old tradition in Istanbul dating back to the Ottoman times.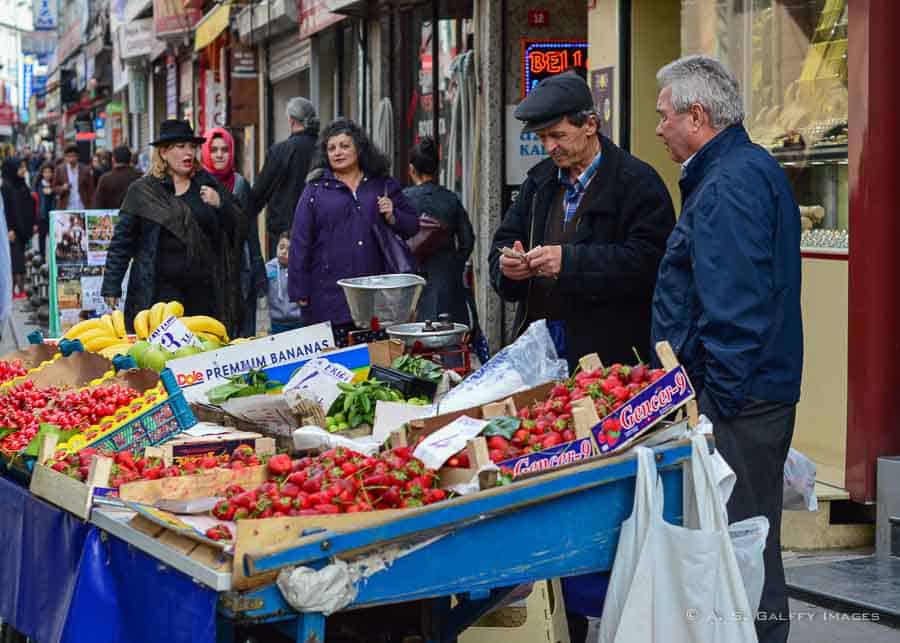 They sell almost anything here, from household items, textile and leather products to fruit and vegetables. One thing to be aware of is that in the open markets prices are negotiable. There is always room for bargaining. How much room? A lot, depending on the time of the day and the items you are buying.
If you are buying perishable items (like fruit and vegetables) and you are approaching the end of the day, the seller will definitely not want to take them home and bring them back the next day.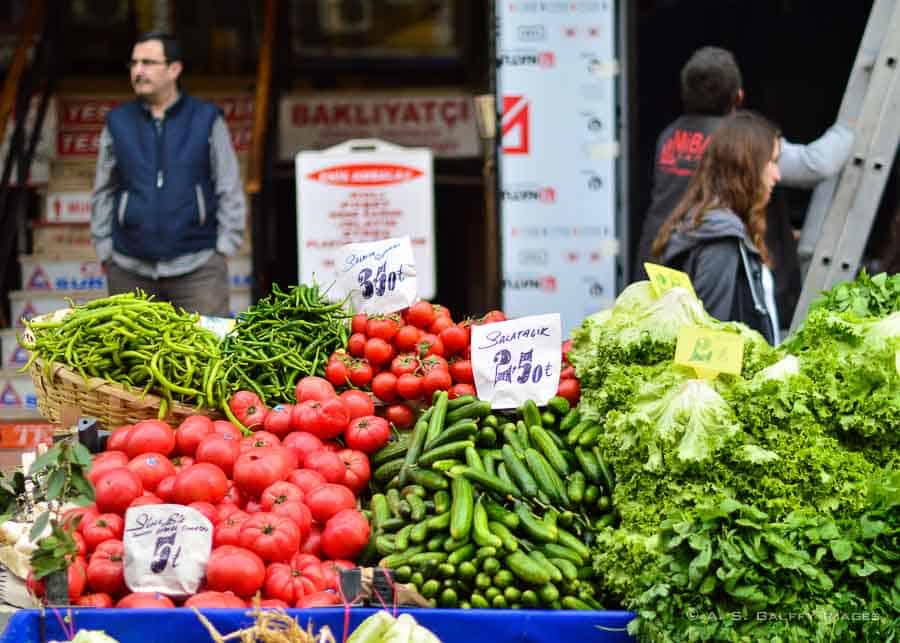 If it's clothing or other items that have already been discounted (like 2 scarfs for $5) you may bargain if you buy a larger quantity. In general, prices are inflated by about 50-60%.
Nonetheless, you might not be able to get this discount all the time. Like in every deal making, it depends on your bargaining skills and likability as well as the seller's mood and urge to sell.