Exploring Istanbul's Restaurants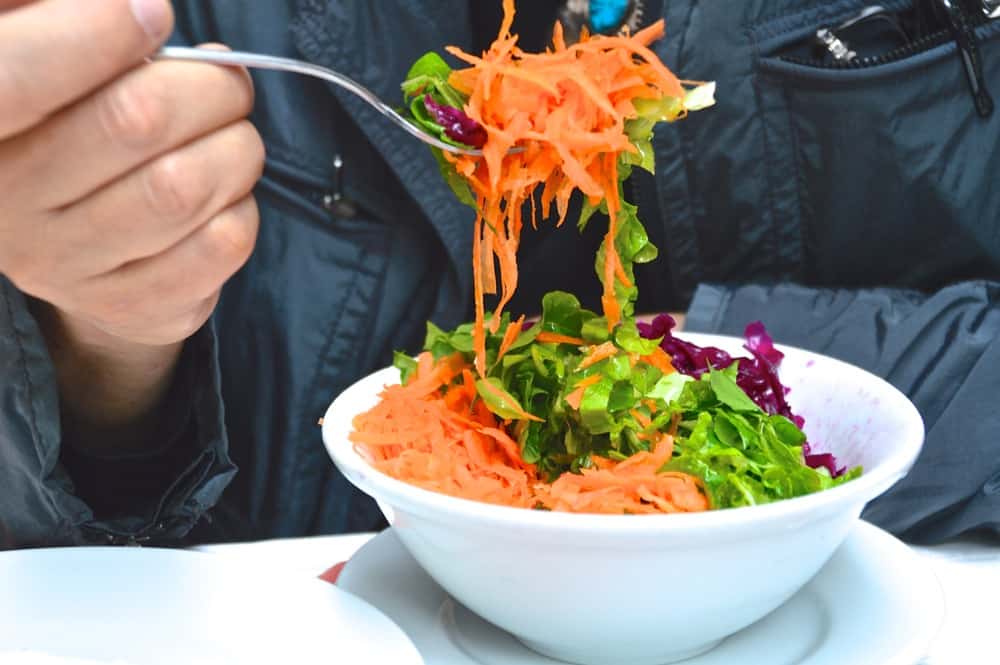 Last updated: January, 2018
When you start planning your travel, what is the first thing you google? Is it airfare, hotel prices, tourist attractions, or is it food? Even if food is not my first priority, I always make a list of some good places to eat in the area we plan to visit. However, I have to admit that this time around the culinary aspect of our short trip to Istanbul wasn't very well researched. I say this in defense of all the good restaurants that may be hiding somewhere in the City of the World's Desire, known only by the locals or by the food experts. So what can I say about Istanbul's restaurants?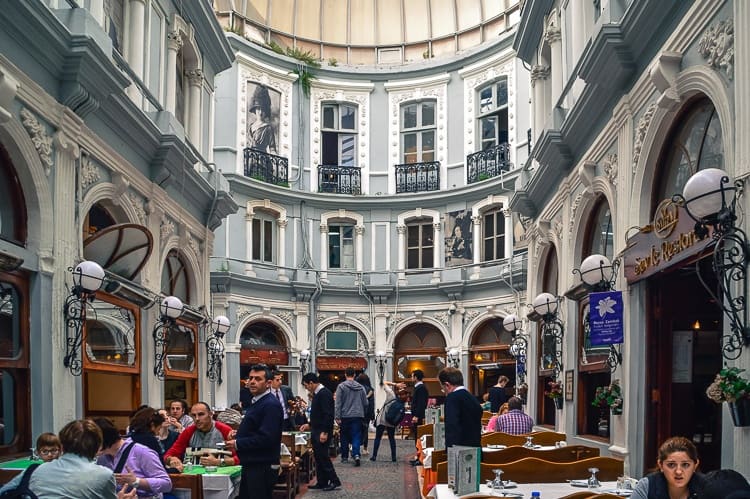 I think it would be just fair to start by saying that I am not a big fan of the Mediterranean food. I can enjoy it all right if it's at its best, but finding a good place to eat in Istanbul posed a real challenge for us. Most of the restaurants we ate at were less than mediocre, except for maybe a couple. But before I mention them, here are a few general observations about Istanbul's restaurants:
Food prices are higher in Istanbul compared to other Eastern European countries ($20-$40/main course). Many of the items that a restaurant serves are not listed on the menu and as such their prices are not visible. The waiter will bring you a cart with all kinds of dishes, or fresh fish for instance, but not tell you how much each costs unless you specifically ask. Don't assume that a 15 inch Red Snapper can't be too expensive. You may be surprised with a $200 bill at the end that is not even itemized. And speaking of the bill, some restaurants will add a hidden service charge without advising you that a tip is no longer necessary.
Service is relatively poor. Waiters try to please you, but they don't seem to have the culture of serving. In most places we received a rushed service, which is equally unpleasant to having to wait forever for your food.
In many restaurants dishes seem to be prepared in advance, so when you order something they just reheat it. Bread is almost always cold. In one restaurant I ordered some flaky pastry that sounded great from the description, but I was brought something that looked more like deep fried dough.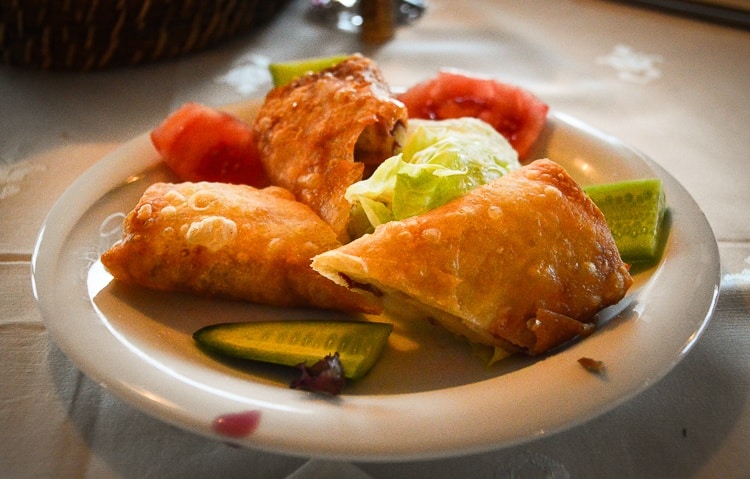 In Turkey –a strongly Islam-oriented country– the consumption of alcohol is strictly regulated. Many restaurants don't even serve alcohol. The ones that do are mainly located in the tourist areas, but have a very reduced selection of wines, mostly Turkish and at very high prices (between $45-$200/bottle).
Most of the restaurants in Sultanahmet have very beautiful terraces overseeing the Bosphorus, Golden Horn, Hagia Sophia and the Blue Mosque, which is most likely why people put up with their mediocre food and poor service.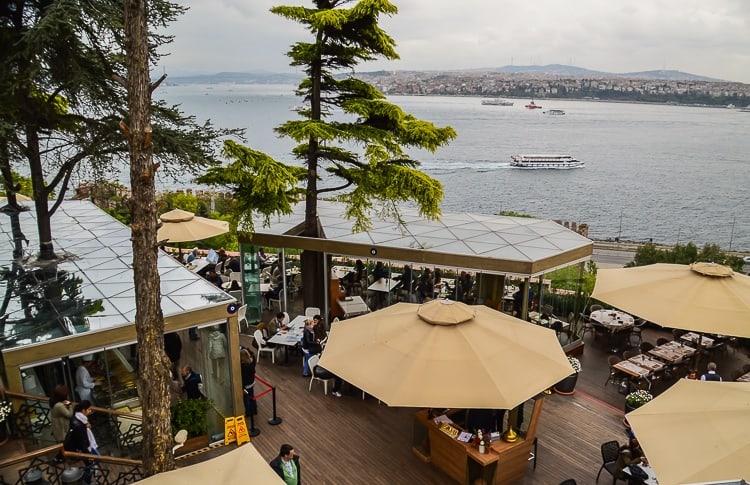 However, in our quest to discover good restaurants in Istanbul, we found a couple that I think are worth mentioning. One of them is Y-Pera (on Mesrutiyet Cad. Oteller Sok. No:1/A, Beyoglu, Istanbul, Tel. + 90 212 243 1121), a newly opened bistro style restaurant located in Beyoglu, close to Istiklal Caddesi street. They are open for breakfast, lunch and dinner and serve all kinds of delicious salads, soups and other international dishes.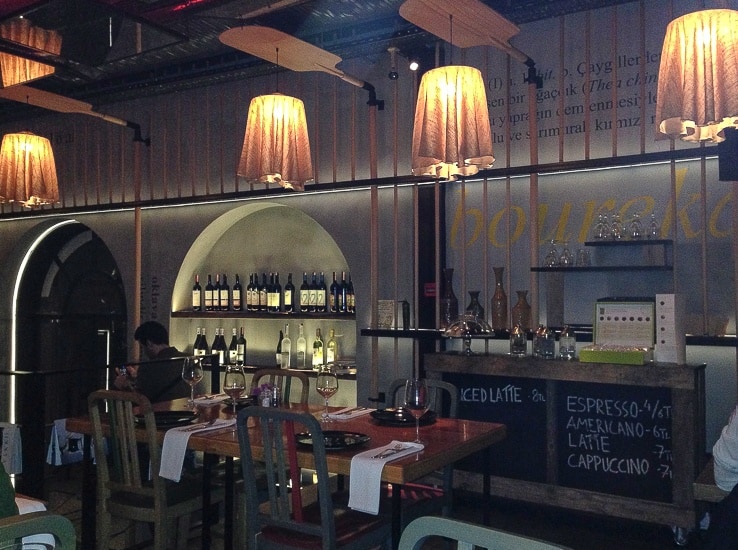 We went there for dinner. The food was very tasty, the service was excellent and the music was outstanding – traditional jazz from the 1920's played by the Uninvited Jazz Band. The owner, Ahmet Aytaç, came to greet us and after a little chat he offered us to taste his favorite wine.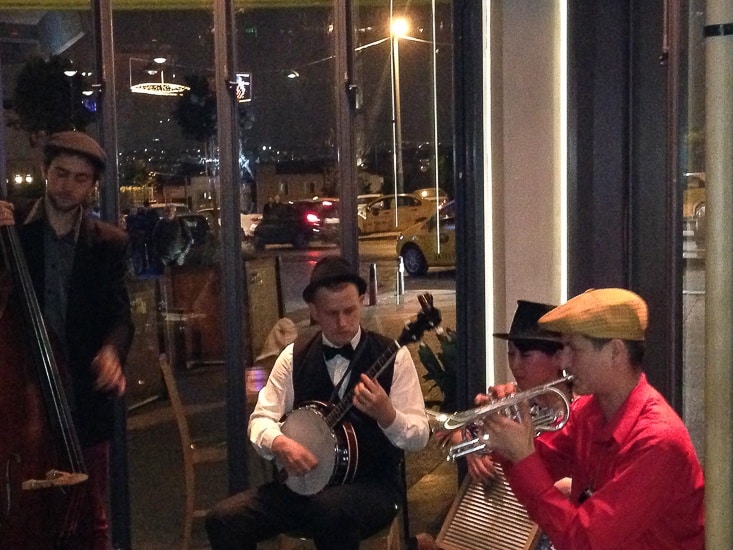 The other restaurant we liked is CaféKat 4, located in one of the historical buildings of Eminönü, in Faith (Hobyar Mh., Yalı Köşkü Cd No:64, 34112 Eminönü, İstanbul, Tel: +90 212 514 6688.) The significant advantage of this restaurant is its location that offers a unique panorama. The terrace atop of the building is facing the Bosphorus and Istanbul's most important historical symbols, such as Topkapı Palace, Bosphorus Bridge, Dolmabahce Palace, Galata Tower, Galata Bridge and Golden Horn.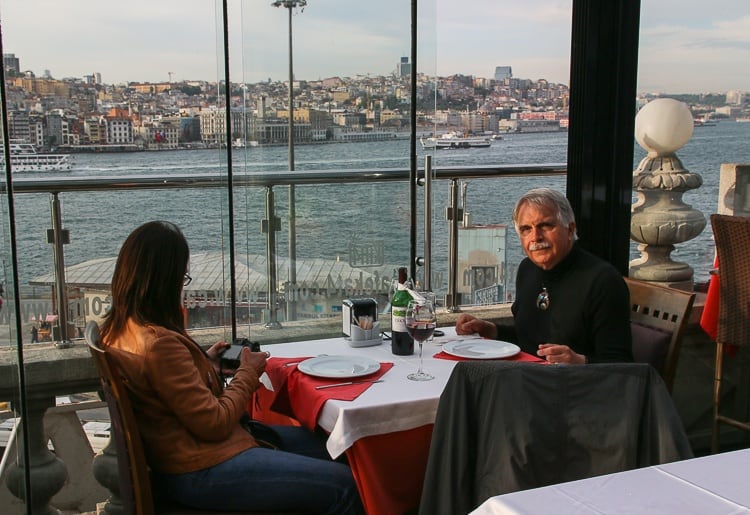 The restaurant serves local and international dishes. The food is good, but not excellent. Prices are relatively high, especially for wine. Atmosphere is extremely relaxed and pleasant and service is very friendly.