First time in Istanbul and not sure what to expect? Visiting Istanbul may be a little intimidating at first. But once you get to know the city better, it will stick to your heart like no other place in the world! In this post I'll give you some helpful tips that will help you blend in with the locals and enjoy the city's great culture.
Istanbul First Impressions
How would I describe Istanbul? Huge, crowded, majestic and unique.
Huge, because the city boundaries cover almost 2,000 km2 out of the 6,220 km2 of the entire Province of Istanbul.
Crowded, because everywhere you go in Istanbul you walk almost shoulder to shoulder with thousands of other people.
Majestic, because it displays some of the most magnificent churches, palaces and mosques that ever existed.
Unique, because Istanbul is a city of many worlds. A vibrant mix of old and new, where the muezzins' calls to prayer mix with the hustle and bustle of the bars and restaurants.
Istanbul is also one of the very few cities the in the world that spans two continents. Yes, it is true. Istanbul is considered a European city, yet it occupies two different continents. One part of Istanbul lies in Europe and the other part lies in Asia.
Istanbul's European part is separated from its Asian part by the Bosphorus strait, a 31-km-long waterway that connects the Black Sea with the Sea of Marmara.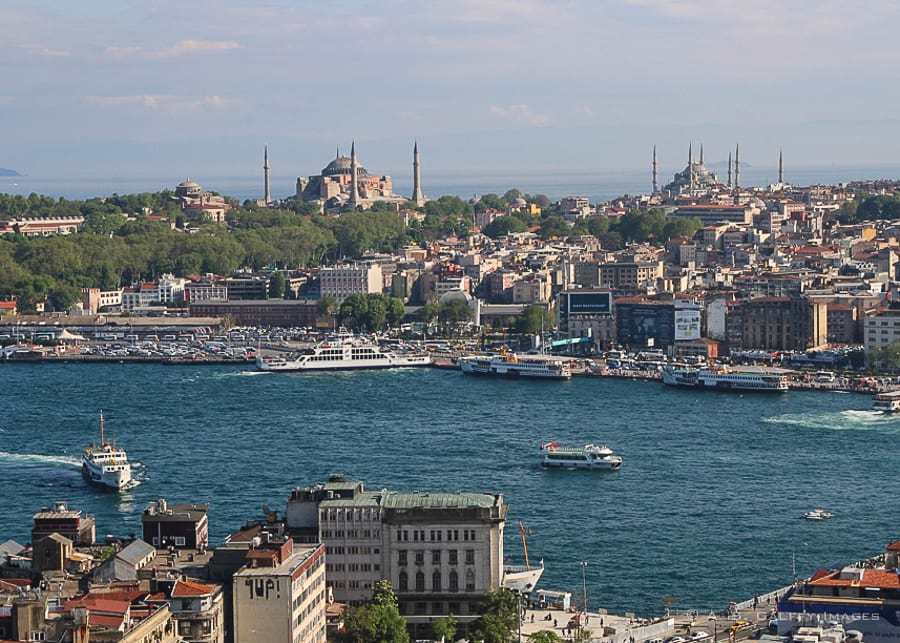 Like most of Turkey, the majority of Istanbul's population is of Islamic religion. Although two thirds of Istanbul lie in Europe and despite the fact that its Christian history is much older than the Islamic one, Istanbul feels a lot like an Islamic city.
Some may argue against it, but it's difficult to consider European a city where there is a mosque on every block and you hear the muezzins's call to prayer five times a day.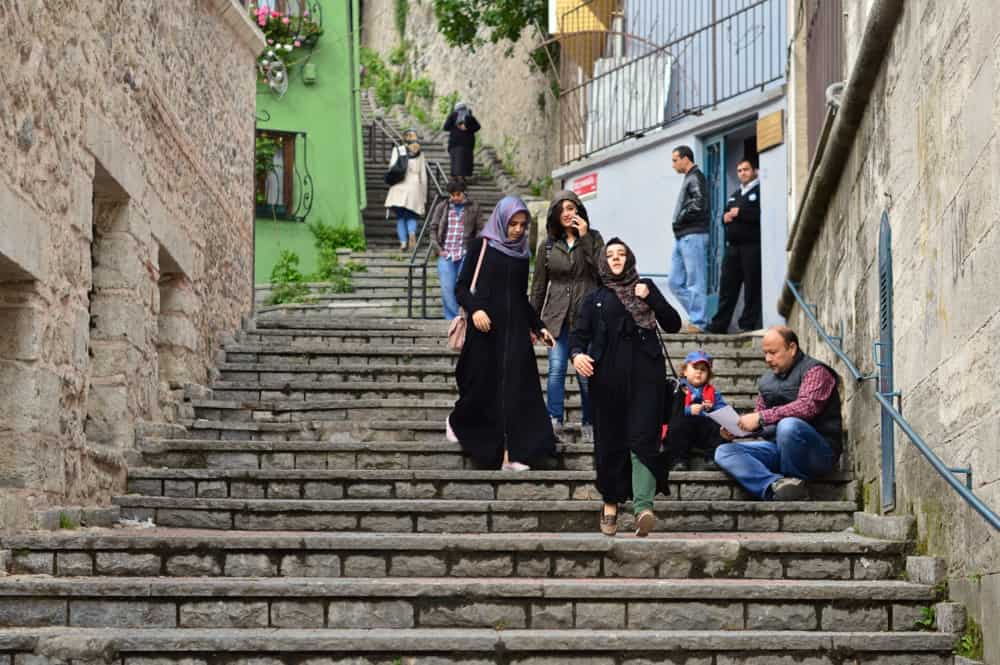 This Oriental atmosphere is even stronger on the Asian side of the city, across the Bosphorus Straight, where the head scarfs and the burkas are the street fashion.
Rather than a melting pot, Istanbul seems more like a place where many cultures co-exist peacefully side-by-side, but they are not really touching. Unfortunately, all these striking differences make Istanbul's future seem rather uncertain.
Tips for Visiting Istanbul
Skipping the Line: Museum Pass vs. Hiring a Local Guide
Istanbul is one of the of the best places to visit in Turkey. But it is also one of the top 10 most populated cities around the world. That means that everywhere you want to go, or whatever attraction you want to visit, you will have to face big crowds. No matter how early (or how late) you show up to your tourist objective, you'll find a long line when you arrive. So how can you get around the line?
Depending for you long you are in Istanbul, buying a Museum Pass may save you a lot of money. However, in terms of skipping the, the pass will not save you a lot of time. That's because the longest lines are are not for buying tickets, but for seeing the attractions.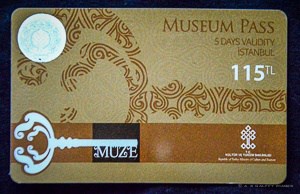 The only way to bypass the long lines is either by booking a tour, or tipping one of the local "guides" who will take you to the front of the line and act like your private tour guide. Remember, this is the Orient where bakshish (tip) is king!
Where would you find a local guide? They are always hanging around the ticket lines, soliciting the visitors. The price may be a little more expensive than you would pay for an official guided tour, but you can try to negotiate.
One of the things you'll have to keep in mind while you are in Istanbul is that bargaining is the name of the game here! The advantage of hiring one of the local guides is that you'll visit the attraction in a very small group (usually only you and your family members).
Communication in Istanbul
Unlike other European cities where locals act like they can't understand a word you say (although they do), the Turks will gladly address you in your native language. How do they know what language you speak? They don't, but they will try their very best to convince you to do business with them.
Istanbul is the most multi-cultural city in Europe, on whose streets more than a dozen languages are commonly spoken. From Italian to Persian, Greek or Arabic, you can hear almost almost any language in Istanbul. So fear not, you will not have to walk around with a dictionary in your hand in this city.
Visiting the Mosques in Istanbul
Visiting the mosques in Istanbul should definitely be on your list of things to do in Istanbul. If you ever traveled to Muslim countries before, you are probably aware of rules of etiquette for visiting the mosques. Even as a non-Muslim, you are expected to respect some rules during your visit.
Taking off your shoes and covering your head, arms and legs are some of the things that will be imposed on you by the watchmen at the entrance. But besides these, you should use your common sense in showing the same kind of respect that you would in any house of prayer.
Staring at the people praying or pointing the camera towards them, making jokes, or laughing out loud would be considered very offensive.
Where to Stay when Visiting Istanbul
Like in all my other European travel guides, I always recommend the most central location you can afford in a city. I can't stress enough how important it is to be close to the tourist attractions, as well as have good restaurants, parks and shopping around. There are quite a few nice neighborhoods where you could rent a place for visiting the city.
Beyoğlu
Beyoğlu is the European side of Istanbul. In Beyoğlu are some of the most popular areas of istanbul, like Taksim Square, Pera, Galata, the trendy Karakoy and the pedestrian Istiklal Caddesi, famous for its shops and fancy restaurants. These are all nice areas to stay when visiting Istanbul, as they are close to some of the main attractions in Istanbul.
If you stay in the Beyoğlu and want to go to Sultanahmet, you'll have to take the tram right through Galata and the Grand Bazaar, but that's a good opportunity to stop and visit these other landmarks.
Sultanahmet & Eminönü
The best area to stay as a first time visitor to Istanbul is definitely Sultanahmet, the historic district. Most tourist attractions are located in this area and can be easily explored on foot if you are in a decent physical condition.
Eminönü is also a good option visiting the historical sites of Istanbul. You will find a lot of hotels in these areas and also a great deal of restaurants and souvenir shops. The advantage of staying in this part of Istanbul is that you will be close to the ferry terminal. That comes in handy for trips across the Bosphorus.
Şişli and Beşiktaş
Şişli District and Beşiktaş are two very upscale neighborhoods in Istanbul. This is where you'll find the banks, businesses, and shopping malls in Istanbul. These neighborhoods are a little farther away from Istanbul's attractions.
If you choose to stay here, you will need to use public transportation to get to the attractions. If you are looking to mingle with locals rather than tourists, this area may be a good location for you.
Staying on the the Asian side of the strait doesn't seem like a good idea. Especially if you only have a few days in Istanbul! Getting to the tourist sites from here presumes taking the ferry every day to cross the river.
Getting Around in Istanbul
Public transportation works great in Istanbul. It includes boats, subways, buses, trams and funiculars. We used mainly the tram and occasionally a cab. Taxis in Istanbul have a bad reputation of ripping people off. If you decide to use a cab, one of the first things to check is if they use a meter.
To use all public transit in Istanbul you will need the magnetic card (Istanbul Kart). You find it in the small kiosks near all metro stations, piers, and also bus stations. Istanbul Kart is a prepaid and is rechargeable. This means that you don't have to stand in line for tickets every time you use the public transportation.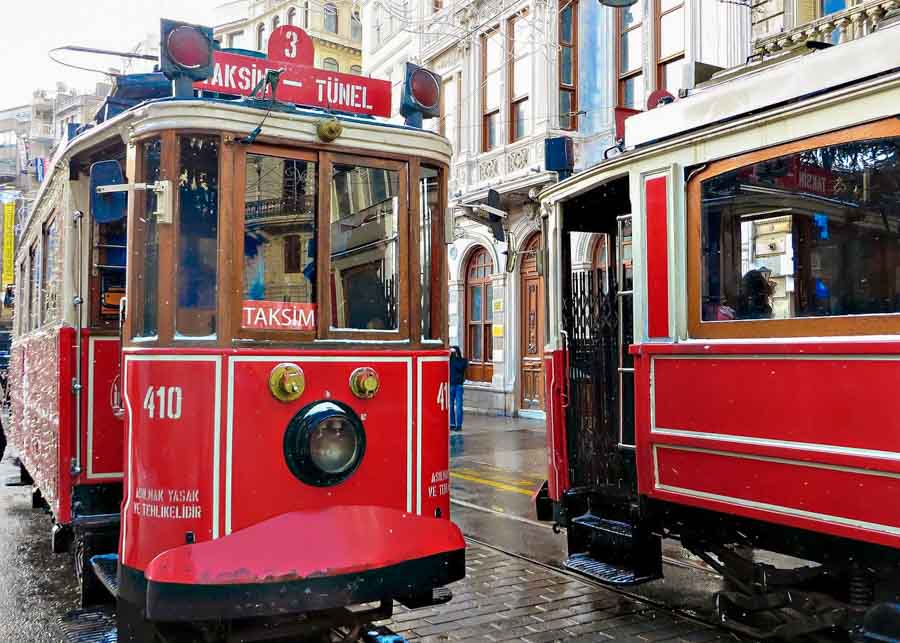 Another convenient thing about Istanbul Kart is that you don't need to buy multiple cards as one card can be used for up to 5 passengers.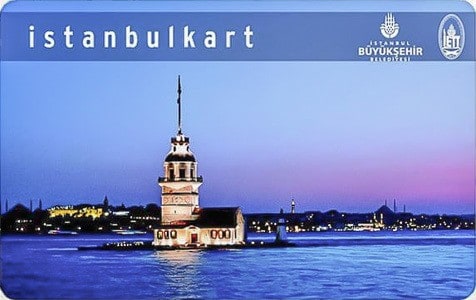 How to Travel Between Ataturk Airport and the City Center
Ataturk airport is only 25 km away from the city center. The cheapest way to travel between Ataturk airport and the city center is by a shuttle bus. The cost is 67 TL each way ($3) and the trip takes 40-45 minutes, depending on the traffic.
Taxi is the fastest and most convenient way is by taxi. This is a good option if you're traveling with your family and luggage. If you decide to hire a cab, go outside the terminal and you will see the line for the taxi. The cost is is about 350 TL to the city center ($13.)
There is also a metro line that will take you from the Ataturk Airport close to Taksim Square, but this is probably the least convenient way to travel from the airport if you're traveling with luggage.
Staying Safe in Istanbul
Like every big city in the world, Istanbul has its fare share of scams and tourist traps. When it comes to safety, you will be fairly all right as long as you stay away from unpopulated areas at night and avoid talking to strangers.
There are many women who travel in groups to Istanbul and don't complain of any incidents. However, having a male at your side when visiting Istanbul makes a big difference.
As for scams, we've been warned of some very common ones like the pick-pocketing, cab overcharging, or shoe-shine boys using different tactics to make you accept their services and then pretend ridiculous amounts of money. If you are a seasoned traveler, you probably came across these scams in many parts of the world.
Istanbul is a shopping paradise. From spices and delicious desserts, to cottons, fine jewelry, art objects, and leather goods you can find just about everything.
Tips for Shopping in Istanbul
The best shopping experience in Istanbul is definitely in the Grand Bazaar. For leather goods and good quality shoes you should go to Istiklal Caddesi, in Beyoğlu district. Buf you want to buy brand name items, don't expect to make a deal. Prices are like everywhere else in Europe. However, for almost everything else you can find great bargains.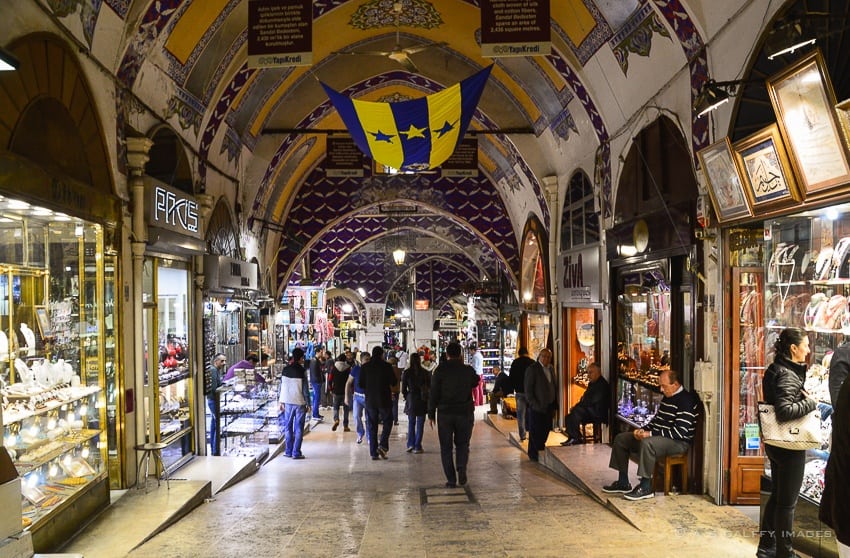 Unfortunately, with today's airplane luggage allowance, you can actually buy very few things when you travel. The one thing that tempted me in Istanbul were the desserts, so I bought lots of Turkish sweets. You can make great deals on food in Istanbul, especially if you buy it from the open markets.
I hope I was able to provide you with some good tips for visiting Istanbul. If you never visited Istanbul you missed one of the world's most culturally significant cities. But it's not too late to add this dream destination to your list.
YOU MAY ALSO LIKE: