Spending 4 days in New York sounds so exciting! Whether this is your first time or your hundredth time, New York is always a good idea. But no matter how thrilled you may be, planning a New York itinerary is always a challenge. You probably already have a long list of places hope to see and souvenirs you' like to buy in New York.
Is 4 Days Enough to Visit New York?
The average time that most visitors spend in New York is between 2-4 days, so with the right itinerary you'll be able to see most of the city's attractions in this amount of time. But if you'd also like to do more unusual things in New York, then four days won't be enough.
There are hundreds of museums and historical landmarks, thousands of restaurants and cafés, and countless quirky things to do. You'll have to come to terms with the fact that you can't "see" it all in just one visit. Not even the locals can brag about having experienced everything there is to see and do in New York.
There are many possible ways to see New York, depending on your travel style. If you prefer guided tours, this post may not be for you. The itinerary below was designed for independent travelers who want to explore the city on their own.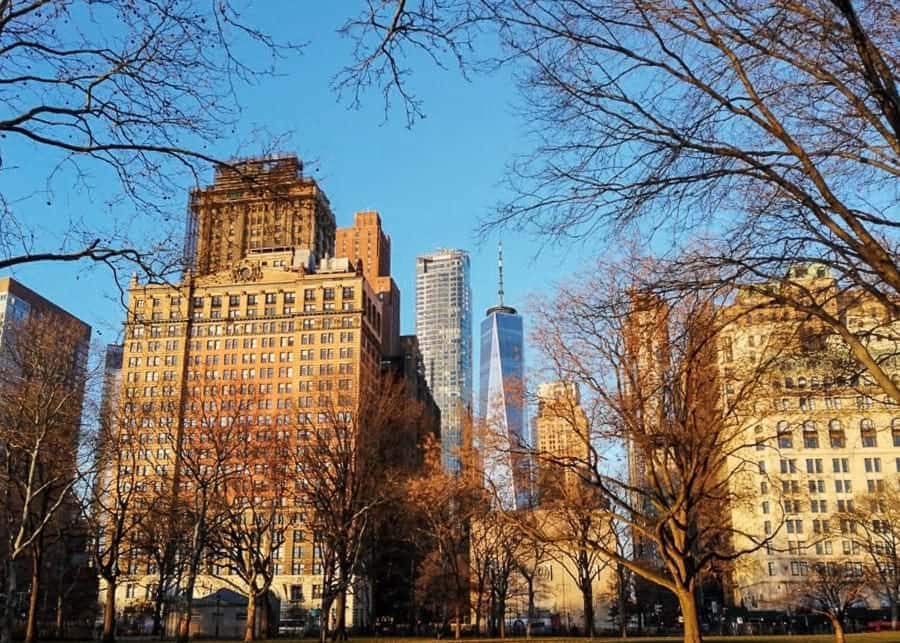 How to Spend 4 Amazing Days in New York
This itinerary covers my favorite things to do in New York and is good for 4, 5 or 6 days. So if you have more than four days, you can do this route at a slower pace and spend more time at each of the attractions.
Day 1 Itinerary: Lower Manhattan
Start your four days in New York in Lower Manhattan, where many of the city's attractions are located. Today you can visit Ellis Island, the Statue of Liberty, Battery Park, Wall Street, the 9/11 Memorial, Trinity Church, and the Brooklyn Bridge.

• Ellis Island and the Statue of Liberty
As an immigrant, I will always have a soft spot in my heart for Ellis Island (nicknamed The Island of Hope and Tears). It reminds me of our humble beginnings in this country. I won't forget the cultural shock I experienced as a European Immigrant when we first moved to California!
If this is your first time in New York, I would strongly recommend a visit to the Ellis Island Immigration Museum. Even if you are not an immigrant or the direct descendent of one, it's impossible not to sympathize with the immigrants' experiences at Ellis Island.
The museum also documents the general history of immigration to the United States, so I think it's important to add it to your New York itinerary.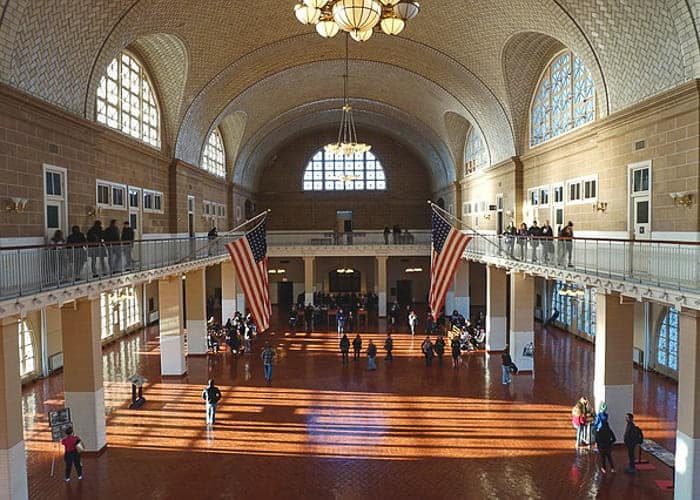 You should take a moment to visit the dormitory and try to imagine the life of those waiting at Ellis Island. The inspection process took several hours and did not guarantee that an individual or their family would pass.
Immigrants endured medical inspections and hours of legal questioning before they could step on American soil. Many were detained because they were sick. One of the exhibits that melted my heart was the "Treasures from Home" – items that immigrants brought with them when passing through Ellis Island.
The Statue of Liberty is most likely at the top of any New York itinerary. Visiting the grandiose statue is a very rewarding experience that you should try at least once in your lifetime. A symbol of freedom and democracy, the Statue of Liberty was a gift of friendship from the people of France to the people of the United States.
To enter the pedestal museum or climb up to the crown, you need to make advance reservations.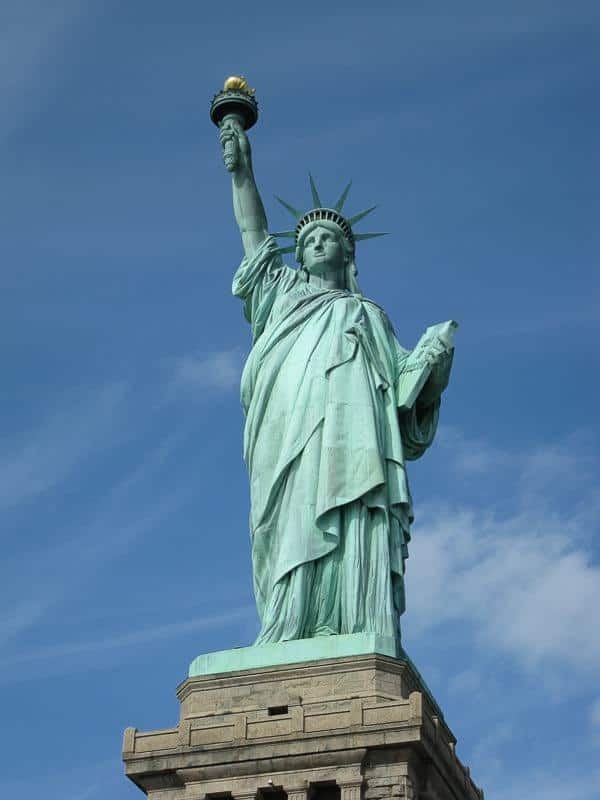 How to Get to Ellis Island and the Statue of Liberty
To visit both islands you need to take a ferry from from Battery Park, in Lower Manhattan. Ferries depart daily between 9am to 3:30pm, but unfortunately the lines are always very long. Especially on weekends and in the summer.
Sometimes even during the week days you can expect to wait over an hour to get on the ferry. Ideally, you should try to catch the first ferry of the day and visit the islands on weekdays. Expect an airport-level security when boarding the ferry, which explains why the line for the ferry is so long.
TIP: If you don't want to wait for the Liberty Island ferry, you can take the free Staten Island ferry for photos of the statue.
• Walk Around Battery Park
On your way back from Ellis Island, take a few moments to walk around Battery Park and enjoy the amazing views of the waterfront. Named for the old cannons (batteries) that once defended the city, Battery Park is a relaxing place where people come to relax or enjoy the harbor views.
You can also find a few attractions in this area, like the Museum of Jewish Heritage, or the Skyscraper Museum. These are great places to see if you have an interest and can fit them in your NYC itinerary.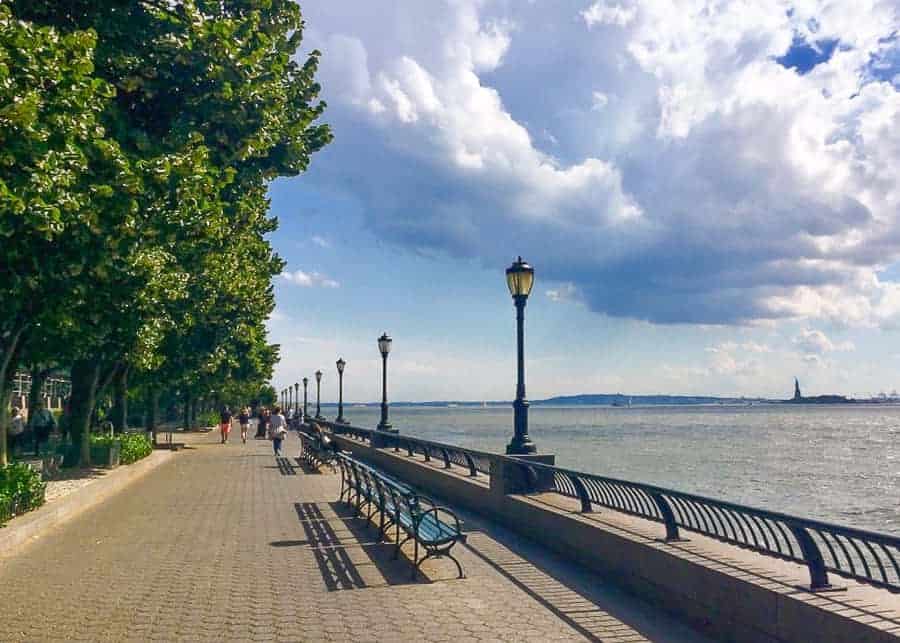 • Financial District (Wall Street)
After taking a break in the Battery Park, head over to Wall Street in the heart of New York's Financial District. Here you'll see the famous New York Stock Exchange, the largest stock market in the world where billions of dollars worth of stocks are traded every day.
You can admire the famous building and its beautiful marble columns from the outside at Broadway and Wall streets.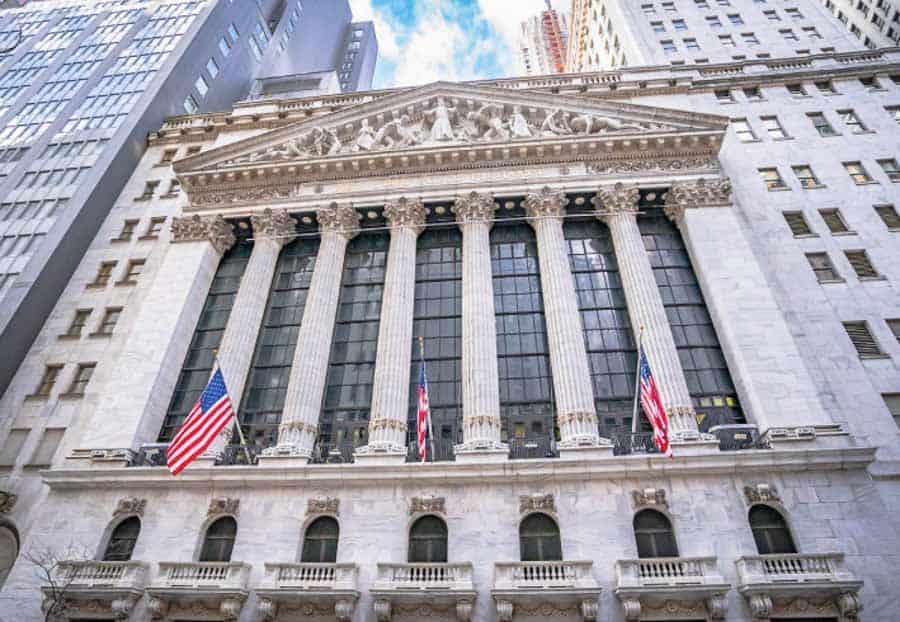 Sadly, the New York Stock Exchange building is no longer open to the public for tours. But don't be disappointed. The trading floor is no longer the exciting and chaotic scene that we see in the movies. Since computers replaced paper transactions, the trading floor became a much quieter place, although I'm sure the tension is still there!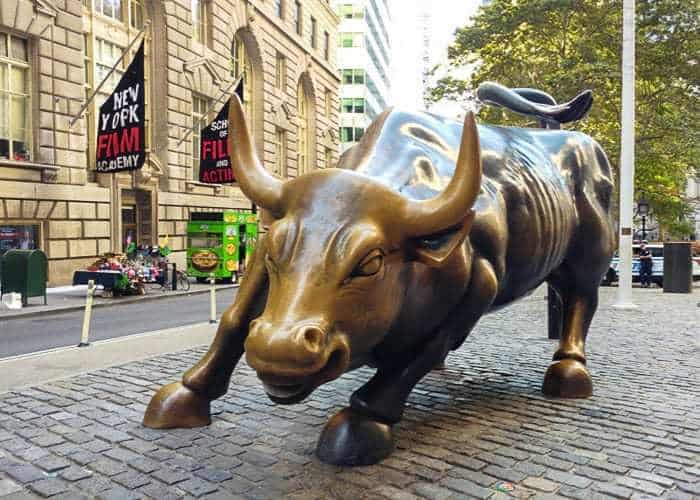 Also in the Financial District, in the Bowling Garden, you will see the famous Charging Bull. The bronze sculpture is arguably one of the most iconic landmarks of New York, which is why it's almost always surrounded by visitors who want to get their picture taken with the bull .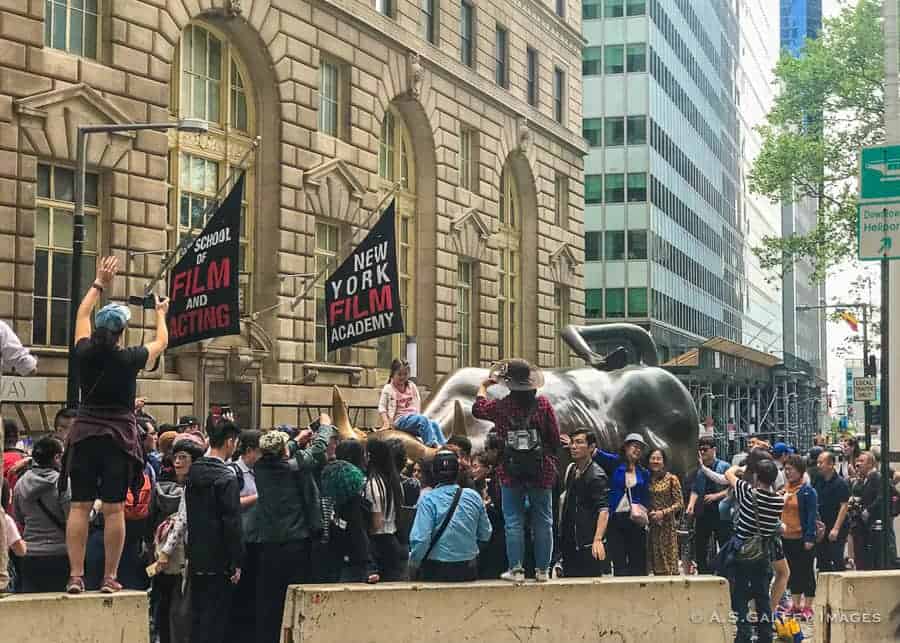 Right across from the NYSE building is one of New York City's most overlooked museums – the Federal Hall Museum. If you have time, this is a very interesting place to visit.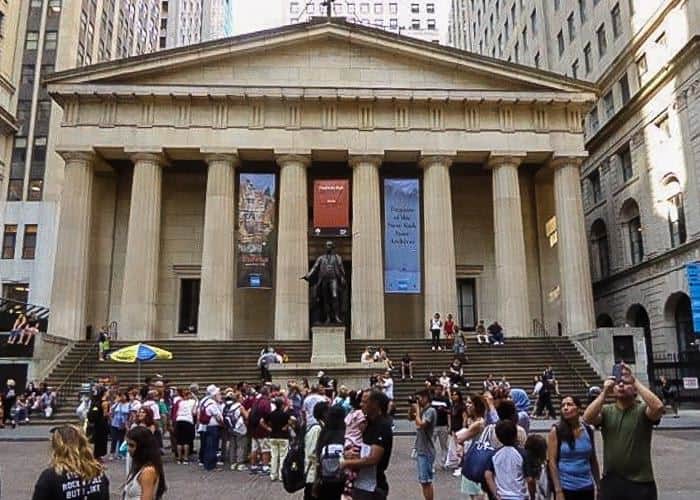 This building was the first seat of government of the United States and also the place where George Washington was inaugurated as President in 1789. In the museum you can still see the Bible on which George Washington was sworn in.
The Federal Hall Museum is at 26 Wall Street, Financial District, Lower Manhattan. Opening hours are Mon–Fri (9am–5pm). Museum is closed on weekends.
• Trinity Church
Right near the intersection of Wall Street and Broadway in the Lower Manhattan is one of the oldest and most iconic churches in NYC – Trinity Church. The church's neo-Gothic architecture makes a striking contrast to the surrounding skyscrapers.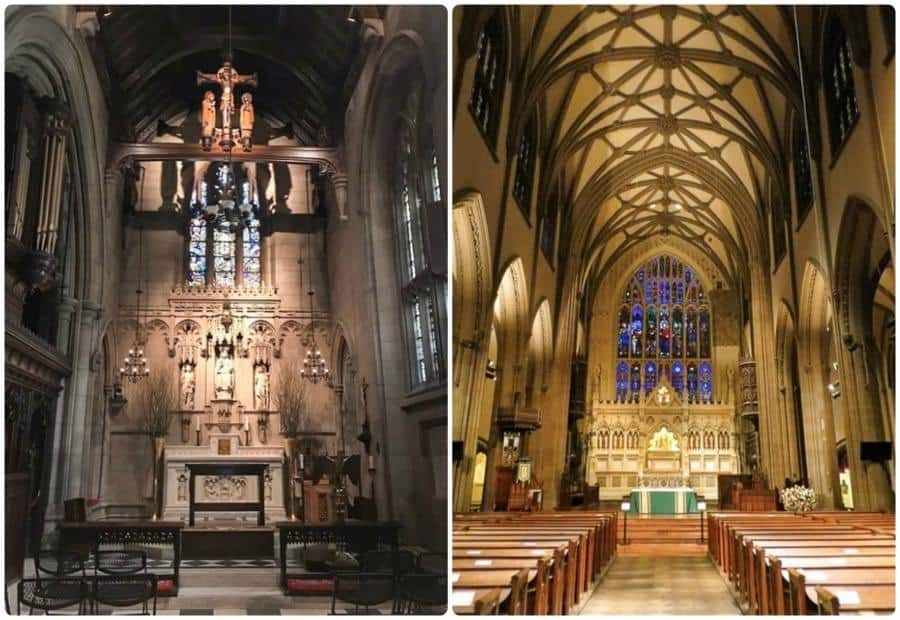 The bronze exterior doors are absolutely gorgeous, depicting scenes from the Bible and church's history. The interior of Trinity Church is also very beautiful, with its dark wood panels and colorful stained glass windows. A lovely edifice to include in your New York plan if you like churches (like I do.)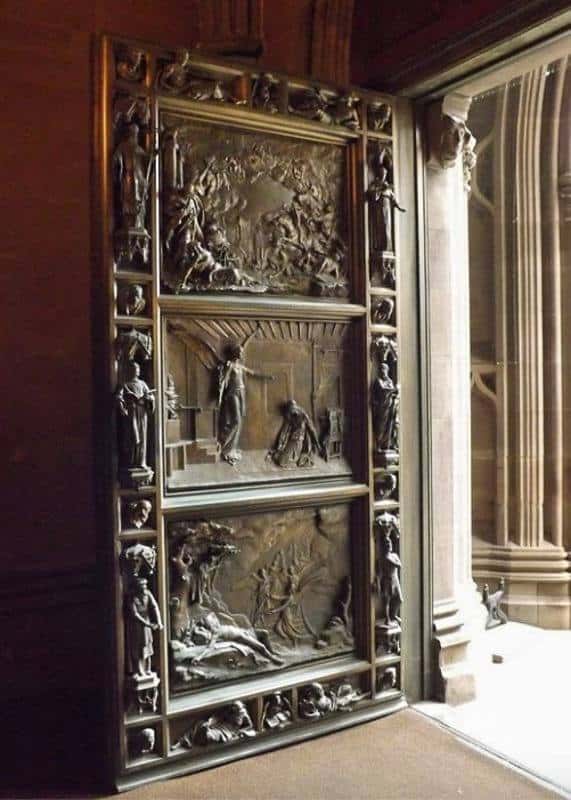 The church is most famous for its colonial graveyard, where you'll find the tombs of many famous Americans, like Alexander Hamilton.
• 9/11 Memorial Museum
Also in Lower Manhattan is one of NYC's most important sites: the World Trade center and 9/11 Memorial Museum. Visiting the site of the infamous events that completely shook our world on September 11, 2001, is an absolute must for every NYC itinerary.
If you ever visited New York before that tragic day and can still remember the Twin Towers, you won't be able to hold back your tears. Whether you have a personal connection to this tragedy or just want to visit this fascinating site, you should plan on spending a good couple of hours here.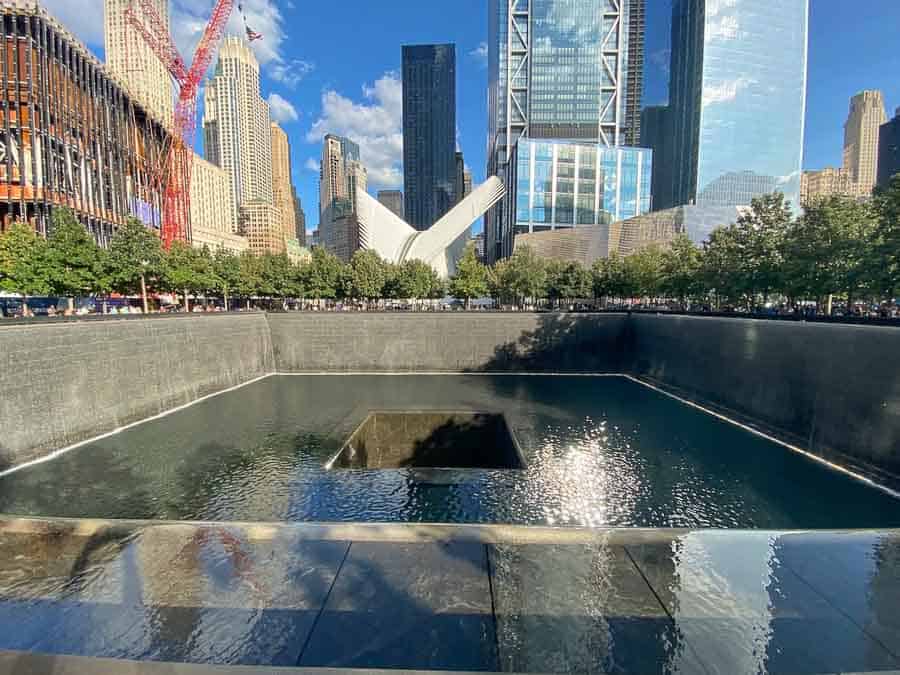 Climb up to the Freedom Tower for a panoramic view of the city. There is a lot of information about the 9/11 terrorist attacks. Don't miss the outside of the memorial which commemorates the victims of the attack. This is one of those museums that's always packed with people, so pre-booking your tickets is highly recommended.
The 9/11 Memorial Museum is at 180 Greenwich Street, Financial District, in Lower Manhattan. Opening hours are from 9am–8pm.
• Brooklyn Bridge
Crossing the famous Brooklyn Bridge won't take too long, so it's an interesting experience to add to your 4 days in New York itinerary.
The bridge has an old and interesting history dating back to the late 1800s. Brooklyn Bridge was initially built for providing safe passage across the water for the Brooklyn residents who worked in Manhattan.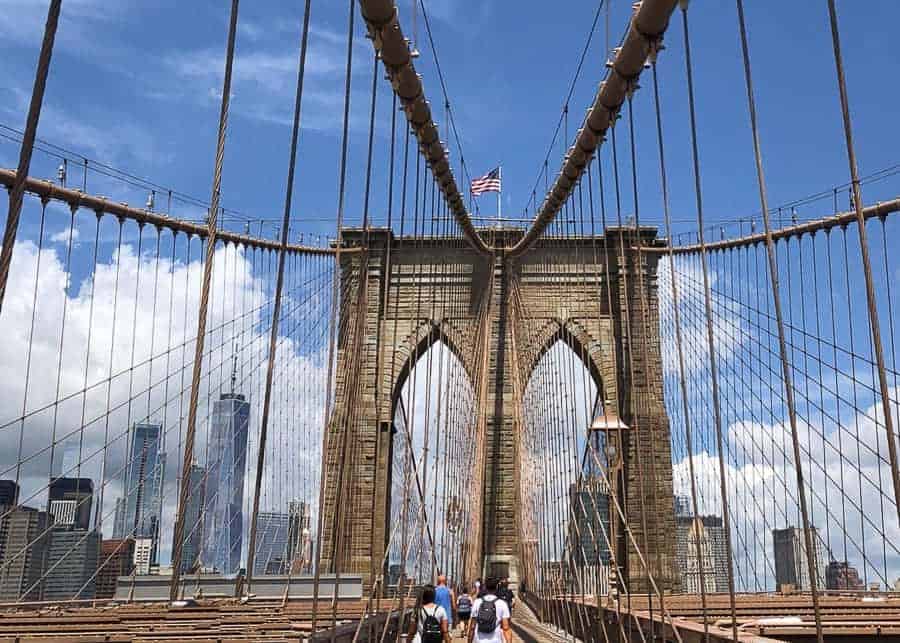 There are quite a few funny stories connected with the Brooklyn Bridge. It seems that a woman and her rooster were the first to ever cross the bridge. Emily Warren Roebling earned the honor of being the first human to make the trip across the historic Brooklyn Bridge. That was about a week before the official opening in front of a huge audience that included President Chester A. Arthur. Emily crossed the bridge riding proudly in her carriage with a rooster in her lap, a symbol of good luck.
Another story says that in 1884 21 elephants from a circus in town have been marched across the Brooklyn Bridge in order to convince America that the bridge is safe for transportation.
Day 2 New York Itinerary: Mid Town Manhattan
Spend the second of your 4 days in New York in Mid Town Manhattan. This area is home to the most popular attractions in New York and some kid-friendly restaurants. Today you spend some time in Time Square, go to the top of the Rockefeller Center and Empire State Building for the best views of Manhattan, visit San Patrick's Cathedral and roam around Grand Central Terminal.
• Times Square
Start the second day of your New York itinerary in one of the liveliest and most animated places on Earth: Times Square. It's hard to find this kind of energy anywhere else in the US, except perhaps in Las Vegas! Neon billboards flashing day and night, cars struggling to keep moving, costumed characters trying to entertain the crowds.
Times Square's original name was Longacre Square. In 1904, after the New York Times newspaper moved its headquarters to the Times Building, the square changed its name to Times Square.
Time Square is mostly famous for being the venue for the New Year's Eve ball which draws huge crowds every year. The square is also the center of a thriving theatre district on Broadway and surrounding streets.
• Rockefeller Center
Another famous landmark in New York itinerary that you shouldn't be missing is the Rockefeller Center. This is a complex of commercial buildings that stretches between the 48th and 51st streets in Midtown Manhattan.
The most famous building of the complex is Comcast building, (also know as the Rock). This massive Art Deco houses the NBC studios, where the comedy show "Saturday Night Live" is filmed.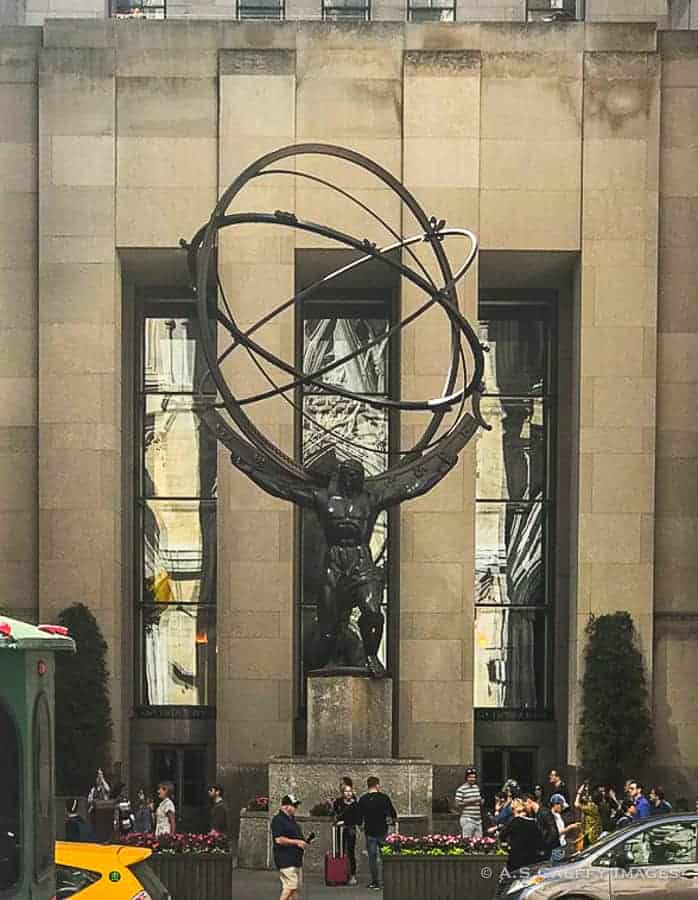 Rockefeller Center is a busy place with plenty of shopping, eating and entertainment options. The area is even more alive in December, when a huge Christmas Tree is set up here.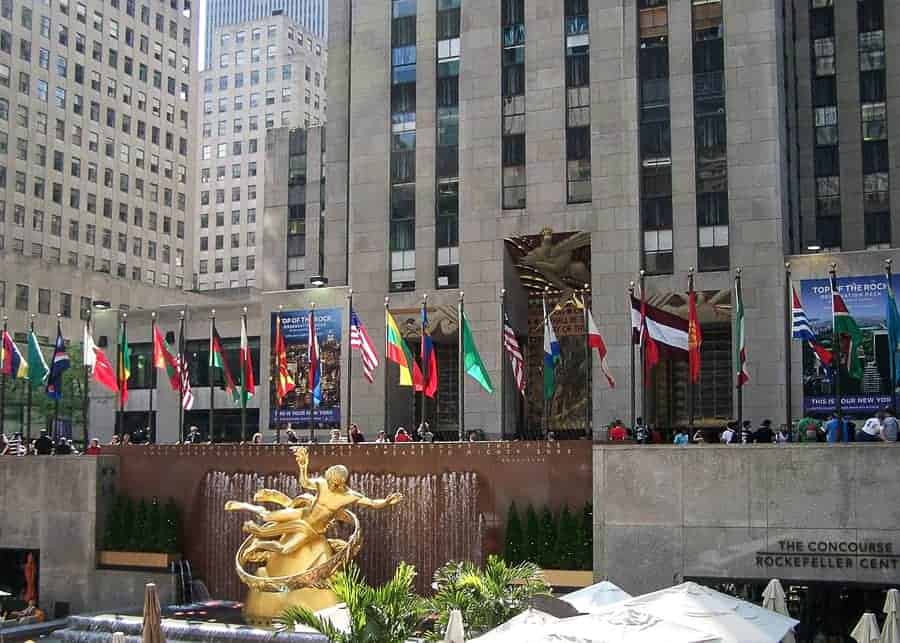 One of the most sought after attractions in New York is the Top of the Rock, an observation deck located at the top of Comcast building. In my opinion this is the best viewing platform in town as it gives you great views of the entire Manhattan.
From up here you can see almost like on a map all the attractions in New York, like the Empire State Building, Chrysler Building, Times Square, Central Park and many others.
Practical Information for Accessing the Observation Deck
There are three observation decks in the Rockefeller Center: on the 67th and 69th and 70th floors. The ticket cost is the same to visit all three floors. The main entrance for the viewing platforms is on 50th Street, between 5th and 6th Avenues. There is also an entrance on the concourse level of 30 Rockefeller Plaza.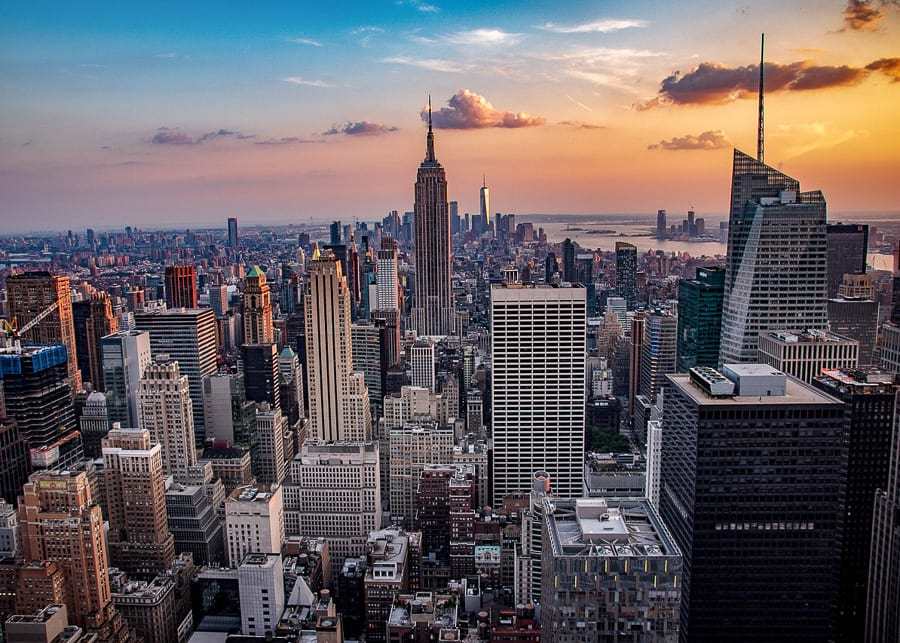 You can purchase tickets for the observation decks either online, or at the Box Office ticket booth at the venue. Tickets for the Top of the Rock are "timed tickets," which means you cannot start your tour until the date and time specified on your ticket.
TIP: book your flexible ticket here and skip the line.
• Museum of Modern Art (Optional)
Also in this area is the Museum of Modern Art (MoMa) which houses the world's greatest collection of modern and contemporary art. The museum showcases many classics, like Vincent van Gogh, Salvador Dali, Andy Warhol, and other great artists.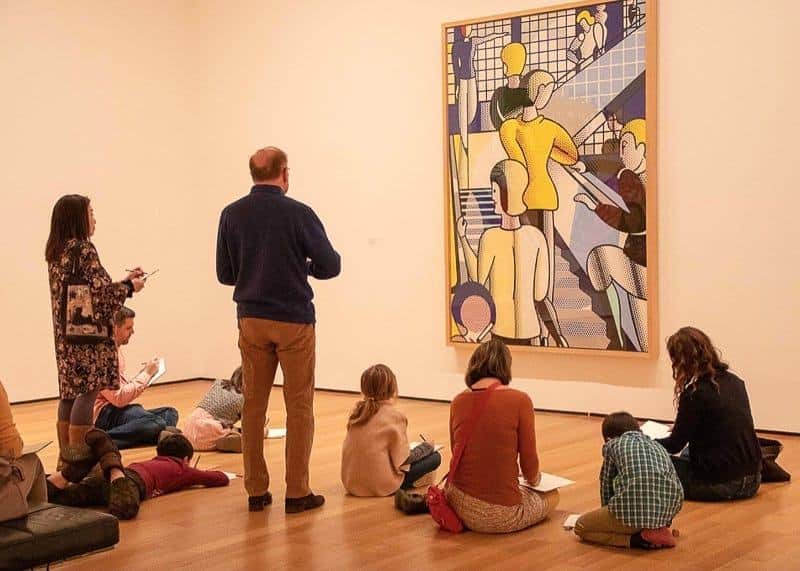 If you are a modern art aficionado, you can easily spend here an entire day. But since you only have 4 days in New York I would recommend saving this museum for another time.
• St. Patrick's Cathedral
We can't brag about many impressive cathedrals on this side of the Atlantic, but St. Patrick's is one that can rival any European cathedral. This breathtakingly beautiful Gothic structure with fine and intricate details will leave you in awe. You will be happy you added it to your New York itinerary, even if you are not a religious person.
One interesting thing to notice at St. Patrick's is the large number of animals used in the decorations. You can see them practically everywhere – on the stained glass windows, in the ceiling architecture, and even on the altar decorative accents. The presence of these animals is most likely symbolic, but it's fun trying to detect them.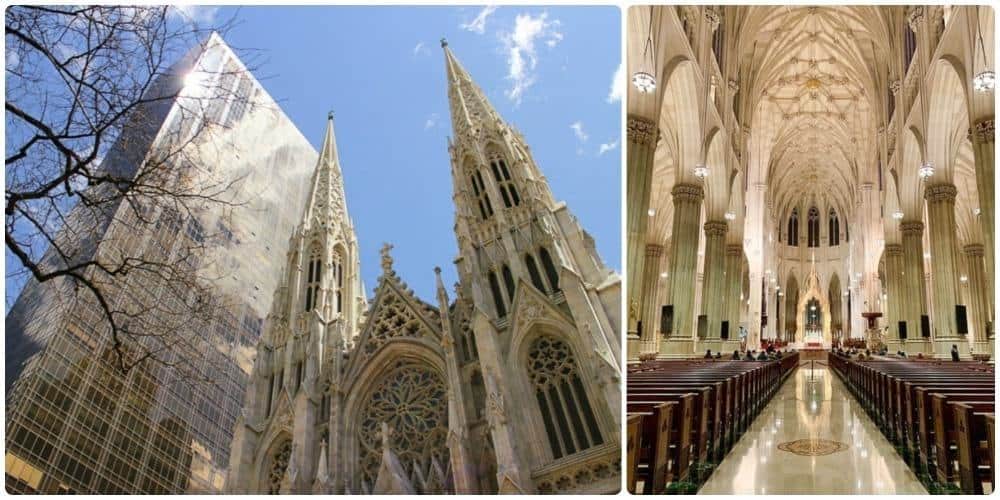 One other interesting thing to look at are the church's 19 bells. The bells bear names and have different sizes. Nowadays the bells are controlled from an electric keyboard panel, so no bell ringer climbs up to the tower to ring them.
• Grand Central Terminal
I love train terminals and have seen quite a few beautiful ones over the years. Some that come to mind are the Milano Centrale, in Italy, or the beautiful Musée d'Orsay (a train-terminal-turned-museum), in Paris. But none of them compares to the opulent Grand Central Terminal in New York City.
Grand Central Terminal is an amazing display of beautiful architecture and is packed with shops, restaurants, and much more. An absolute must on any New York itinerary!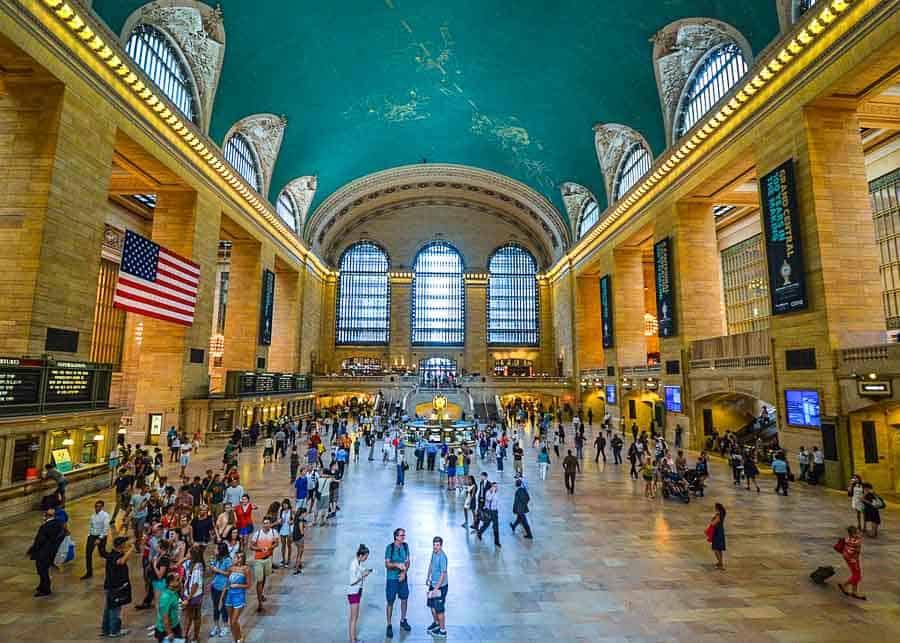 The most striking feature of the Terminal is its unusual zodiac ceiling that features 12 constellations gilded with gold. But the zodiac ceiling is not the only attraction at the Grand Central, so don't stop here. There is so much more to see and do here.
Don't miss the 23 karat gold plated chandeliers hanging above you in Vanderbilt Hall. Each one weighs 2500 lb and contains 132 bulbs. Also, notice the oak leaves and acorn details all around the Terminal, symbols of the Vanderbilt family, who financed the construction.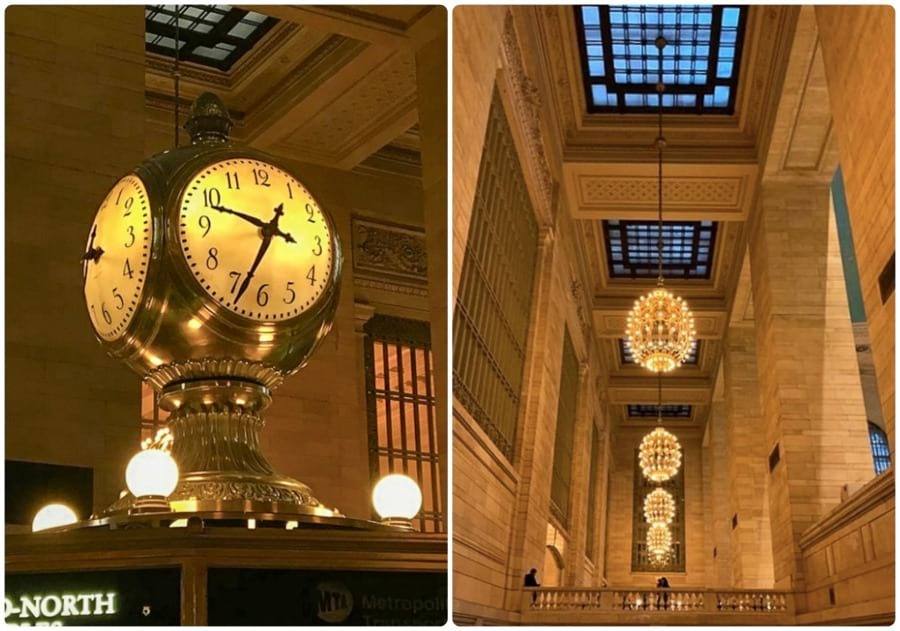 Another landmark to look for is the clock above the information booth. If it doesn't look like much to you, maybe I should tell you that its estimated value is $20 million! The clock's time is set by the atomic clock in the U.S. Naval Observatory in Bethesda and is accurate to 1 second every 20 billion years! That's quite an accurate clock, I'd say.
• Empire State Building
The Empire State Building is one of the three buildings in New York that have observation decks. The other two are Comcast building in the Rockefeller Center and One World Trade Center building located at the corner of West Street and Vesey Street.
Unfortunately, there is always a long line for the observation deck at the Empire State Building. If you have already climbed up one of the other two buildings, you may want to skip this one.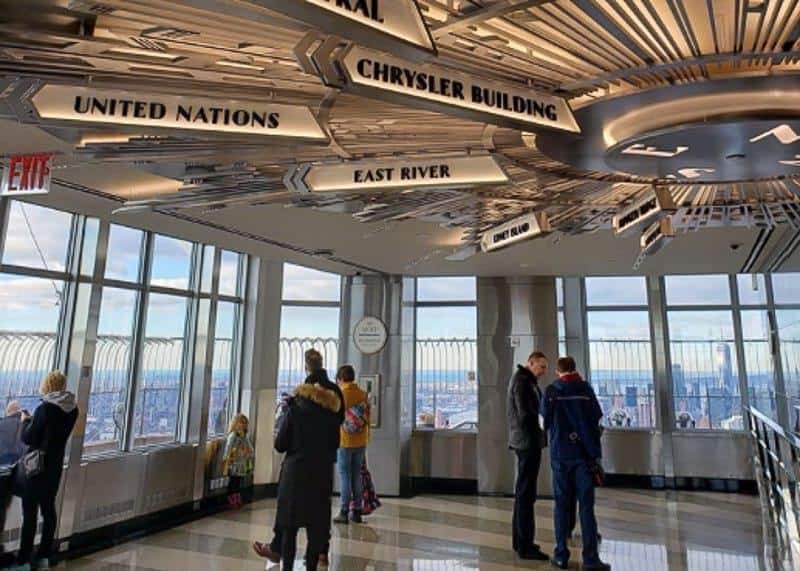 Practical Information for the Empire State Building
There are two observation decks at the Empire State Building: one on the 86th floor and one on the 102nd floor. Tickets to the 102nd floor Top Deck are more expensive than tickets to the 86th floor observation deck.
The Empire State Building is located on Fifth Ave between 33rd and 34th Streets. You can purchase your tickets either online, or at the Box Office ticket booth at the venue. Tickets purchased online are valid for one year, but those purchased at the Box Office are valid only for 14 days.
TIP: Book your Empire State Building tickets here and skip the line.
Day 3 New York Itinerary: Mid Town and Upper Manhattan
Today is "museum day." You will be visiting two of the most remarkable museums in New York: the Met (Metropolitan Museum of Art) and the Museum of Natural History. You will also be strolling through Central Park, visit New York Public Library and discover one of New York's best kept secrets: Morgan Library and Museum.

• Museum of Natural History (Optional)
It's been many years since I first visited the Museum of Natural History in New York, but I can still remember how impressed I was with it. At the time our son was only a toddler and he was enchanted by the huge skeletons displayed in the museum.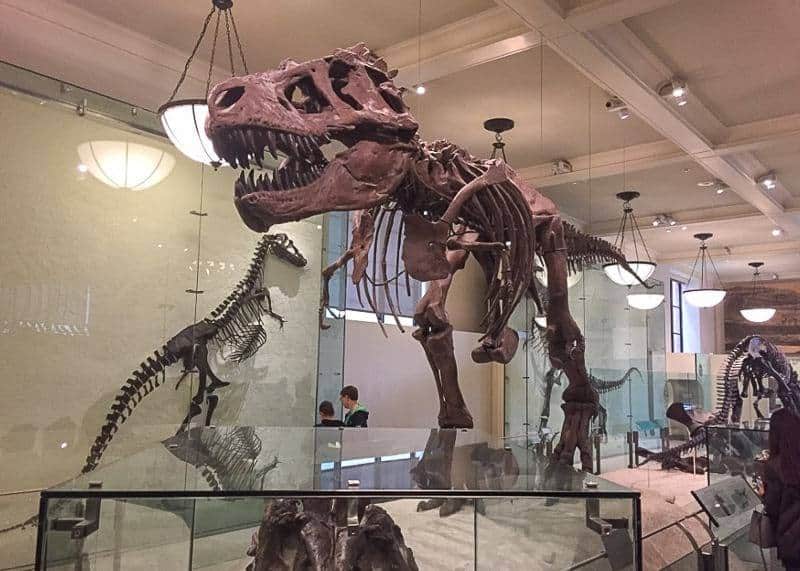 If you are traveling with children, I would strongly encourage you squeeze a visit to this museum in one of your four days in New York. The museum well organized, very educational and easy to visit. One of the best, if not THE best of its kind in the world!
The museum is open daily between 10am and 5:45pm. Ticket prices are between $13-$23.
BUDGET TIP: The fee for the Natural History Museum is actually a "suggested donation." If you are on a budget, or travel with a big family, you can pay what you wish.
• Metropolitan Museum of Art
Your other museum option today is the Metropolitan Museum of Art (also known as the Met). If you were to visit only one museum in New York, it should be the Met. I think there is only one other museum in the world that can compare to it: the Brutish Museum.
You don't have to be an art buff to be absolutely stunned by the amazing display of beauty at the Met. There are more than 2 million objects covering 5,000 years of world history.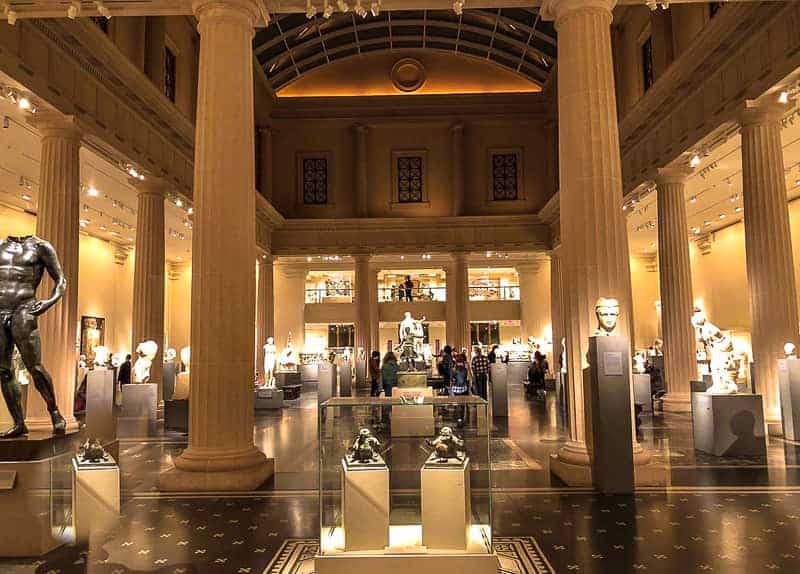 The Metropolitan Museum of Art is open 7 days a week, between 10am to 5pm. Ticket prices are: $22 for adults, $12 for students, and free for children under 10.
BUDGET TIP: On Wednesdays, between 2pm to 6pm, you can "pay-what-you-wish" for admission at the Met.
• Central Park
Central Park is New Yorkers' retreat from the city's hustle and bustle. A green oasis right in the middle of Manhattan.
In 1853, when the local officials decided to build a park for the citizens of New York, this piece of land was rocky and swampy. The gorgeous green garden you see today is the result of a tremendous amount of work that lasted over 15 years and costed $14 million. A huge amount of money, back in those days!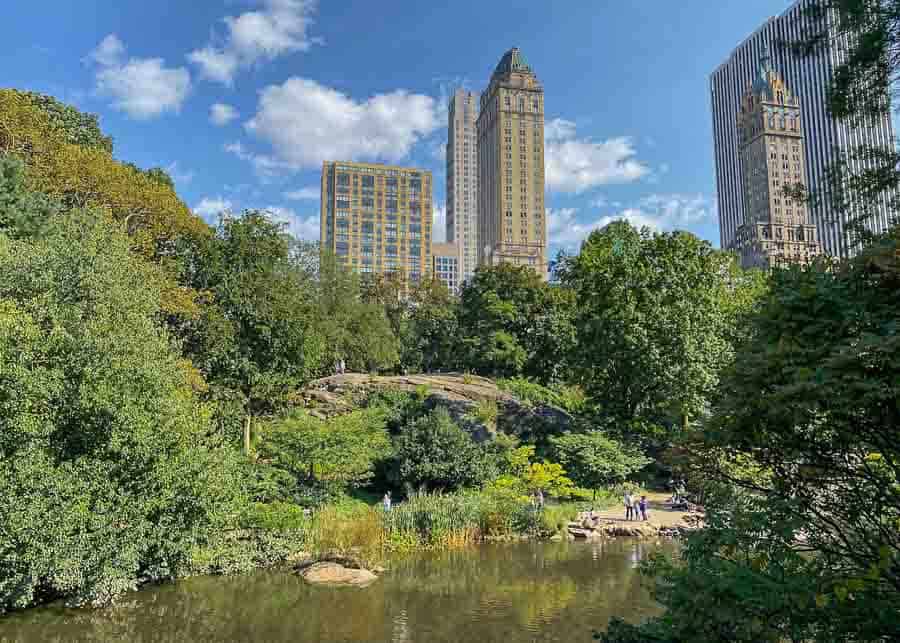 The park is huge, encompassing an area of 1,317 square miles (843 acres). But these numbers may not give you an idea of how huge Central Park really is until you try to cross it.
There are countless things to do in Central Park, from attractions, events, or concerts, to sports and children's activities. You can easily spend an entire day here visiting the zoo, the Belvedere Castle, or rowing around the lake. However, if you only have 4 days in New York I suggest just passing through to get an idea of how beautiful it is.
• New York Public Library
If you like grandiose buildings, you'll love the New York Public Library! You don't need to spend much time in here. Just peak inside for a few minutes. With its imposing columns and beautiful Beaux-Arts architecture, the library building is guaranteed to impress you.
If you want to spend more time here, the library offers guided tours. We just chose to walk around on our own. Take time to look at the adorned coffer ceilings, grand staircases and rich wood panelling.
This is a functioning library, but I don't know how anyone gets anything done here with so many tourists walking in and out.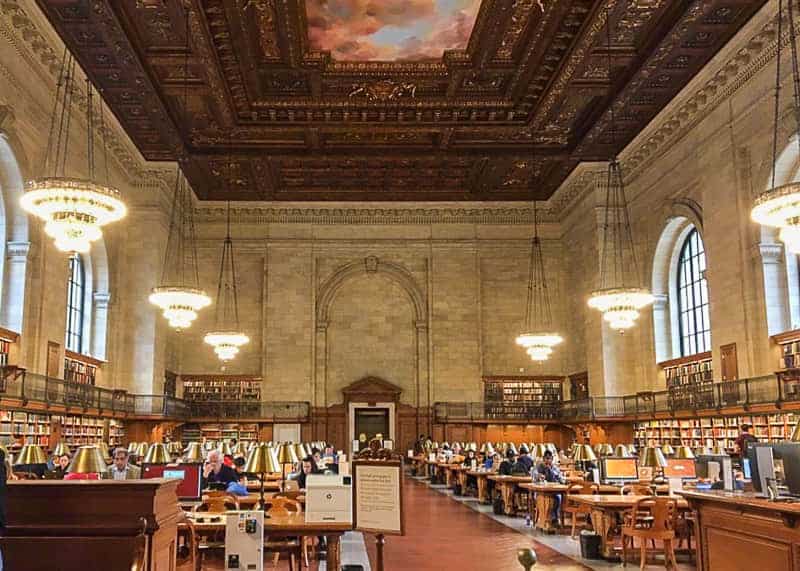 • Morgan Library & Museum
You don't have to be a book lover to like the Morgan Library. The intimate palazzo-like structure was once the private library of financier Pierpont Morgan, one of the wealthiest men of his era.
The library is actually a museum that displays a rare collection of books and special exhibits, including drawings, prints, old artifacts.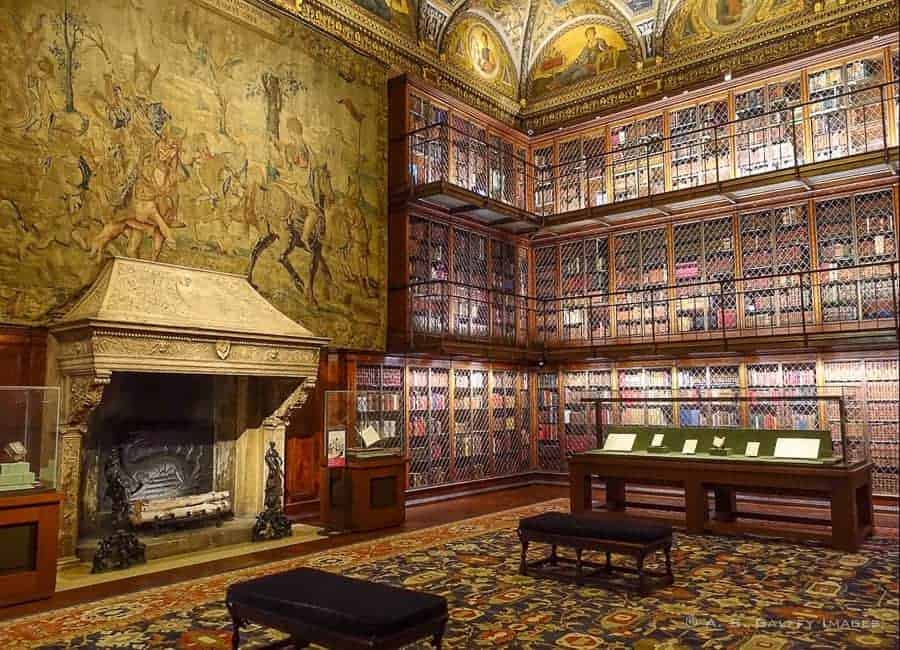 The Morgan Library is located at 225 Madison Avenue at East 36th Street. Opening hours are Tuesday through Thursday: 10:30 a.m. to 5 p.m.; Friday: 10:30 a.m. to 9 p.m.; on weekends: 11 a.m. to 6 p.m.
Day 4 New York Itinerary: China Town and Other Fun Places to Visit
Now that you crossed off your list most of the of New York's landmarks, you can take it a little slower. Your last day in NYC should be a day of fun and relaxation.
You can start with breakfast at the Chelsea Market, then check out the shopping scene in Chinatown. In the afternoon you can relax at the ancient AIRE baths, then discover the abandoned City Hall subway station. Close the evening with an unforgettable concert at the Carnegie Hall, or a Broadway show.
• Chelsea Market
Chelsea Market is an enclosed complex that contains a food court, retail shops, restaurants, and office buildings. The market is located in West Chelsea, one of the most chic neighborhoods in New York. This place is a food lover's paradise! You can spend an entire day eating your way through Chelsea Market.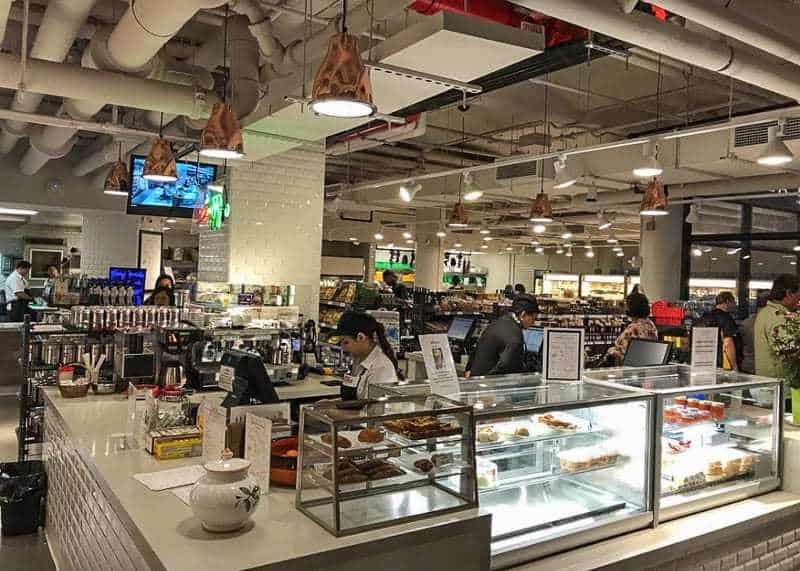 I visited this market for the first time last year and was very impressed with the endless food choices. Therefore I decided to return to it every time I am in New York.
• China Town
Manhattan's Chinatown developed in the mid 19th to the early 20th century, a time when big waves of Chinese immigrants came to New York in search of a better life.
The district still retains its traditional character, with a mid 19th century buildings, usually made of brick, tiny food stores and endless street markets.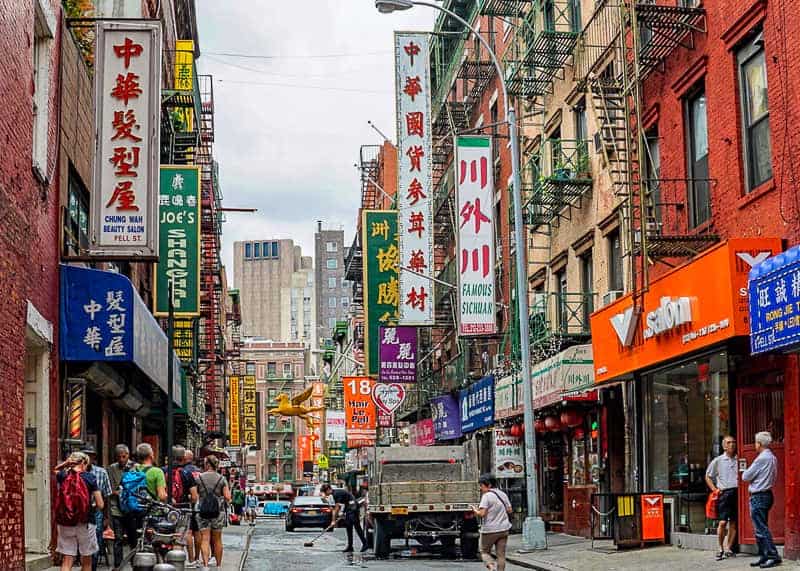 If you like Chinese food, this is the place to go, with over 200 restaurants that serve the best authentic Asian specialties. And this is also the place to go if you want to buy fake Gucci bags and mock-up Rolex watches for pennies!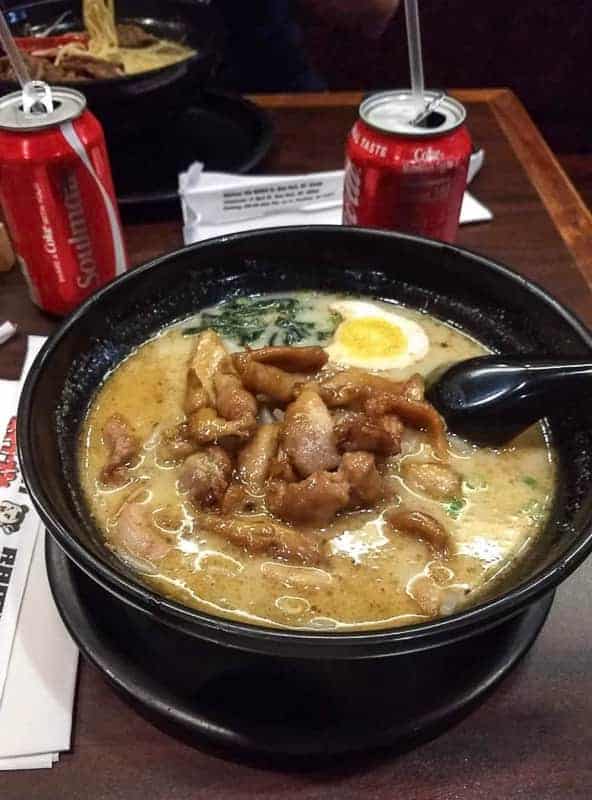 The best time to visit Chinatown is in the morning, when shops and restaurants open their doors and the markets on every street sell live seafood, exotic fruits and everything else. Stay for lunch and enjoy a hearty Chinese meal.
• Relax at the Ancient AIRE Baths
In the afternoon stop by the Ancient AIRE Baths on Franklin Street, one of New York's best kept secrets. It's difficult to discover this place on your own, unless a local will tell you about it.
Hidden in an industrial building from the turn of the 20th century, the AIRE is one of those upscale places where you can pamper yourself without feeling snobbish. Have a a mineral bath treatment, a massage, or just experience the sensations that run through the different thermal baths.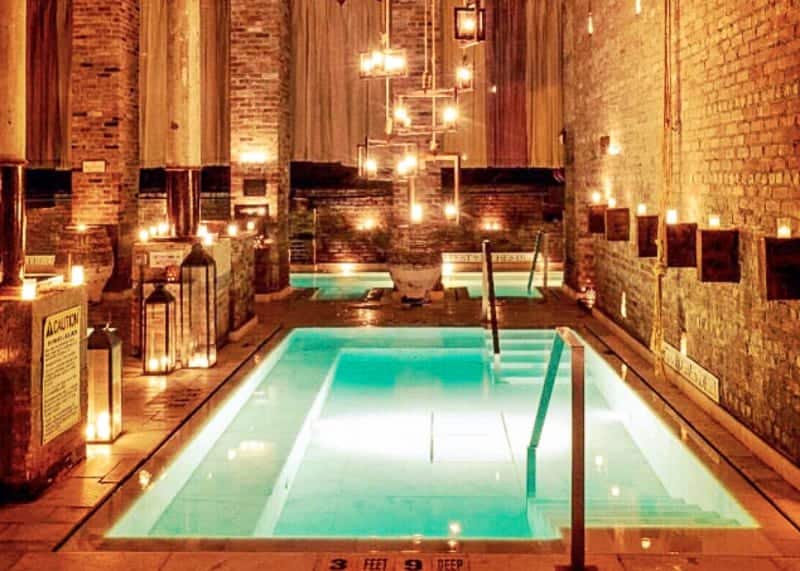 If you decide to use the spa, make sure you call ahead of time to make a reservation. The sessions start every hour, from 9am till 11pm all weekdays and from 12pm Fridays and Saturdays.
During the session you will have access to all 5 thermal baths the warm pool, as well as different steam rooms. AIRE baths are located at 88 Franklin St, New York.
• Visit the Abandoned City Hall Subway Station
So what else can you do on your last day in the City That Never Sleeps? Visit the Old City Hall subway station! When it was opened in 1904, this was the most beautiful subway station in the world.
With its elaborate tile design, arched ceilings and elegant chandeliers, City Hall station was the jewel of the NY subway system. But its glory days were short. In 1945 the station was closed because its platform was not long enough for the new, modern subway trains.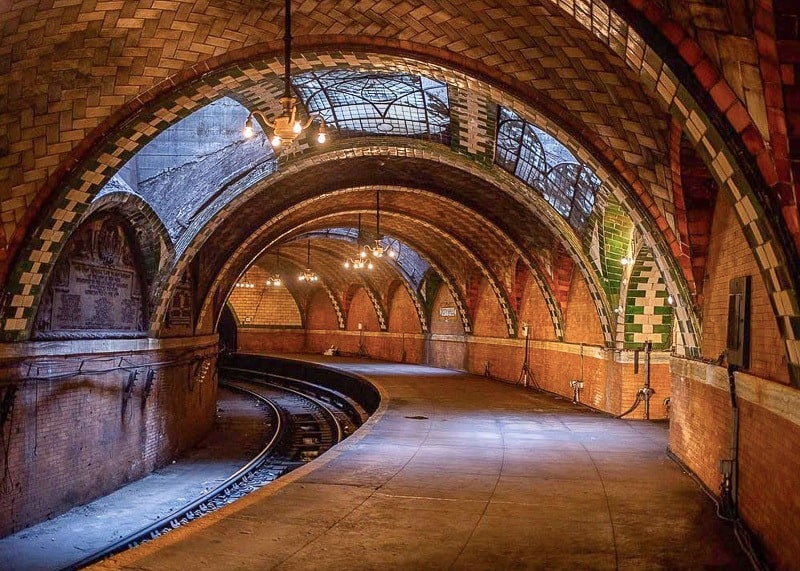 The station laid abandoned for decades and trying to access it was illegal. Today the New York Transit Museum offers guided tour of the old subway station for $50 a ticket. But there is a catch! You must become a member of the museum to be able to purchase tickets. Museum membership costs between $40-$60/year.
• Get Your Music Fix at the Carnegie Hall
What better way to close your 4 day New York itinerary than going to a concert at the famous Carnegie Hall? It's one of those New York experiences that will fill your heart to the top, if you are a music lover.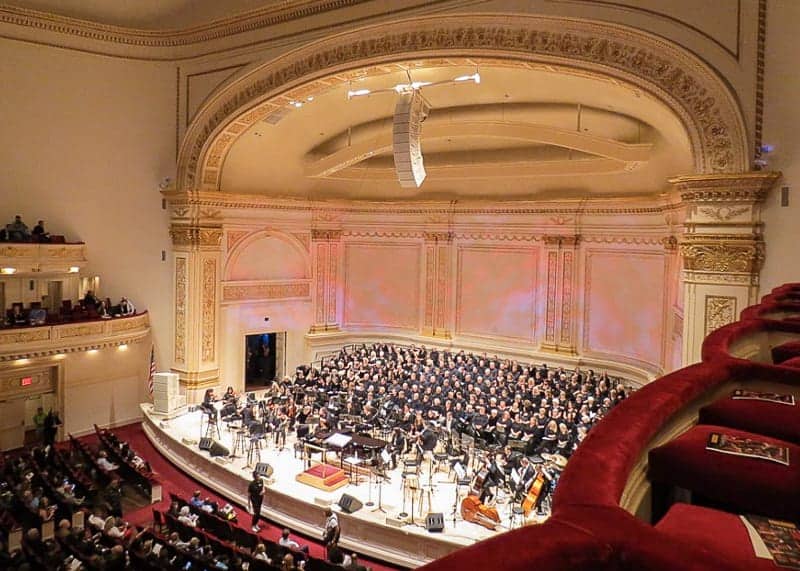 People come from all over the world to attends concerts at Carnegie Hall. Since its inauguration in 1891, this prestigious venue saw some of the world's finest orchestras, conductors and stellar artists.
From famous composers like Tchaikovsky, Dvořák and Mahler, to celebrities like Benny Goodman, Judy Garland, and The Beatles. Anybody who's anybody in the world of music performed at the Carnegie Hall at some point in their career.
Carnegie Hall is located at 881 Seventh Avenue, two blocks down of Central Park, in Midtown Manhattan. You can buy concert tickets online at carnegiehall.org, or in person at the Box Office (Monday to Saturday 11am to 6pm).
• Attend a Broadway Show
Ok, let's face it, not everybody loves classical music and not all visitors may like to spend their last evening in New York listening to Mahler's 5th symphony. I get that! But I don't know too many people who will hesitate do add a New York Broadway show to their itinerary, especially when they have 3 or 4 days there.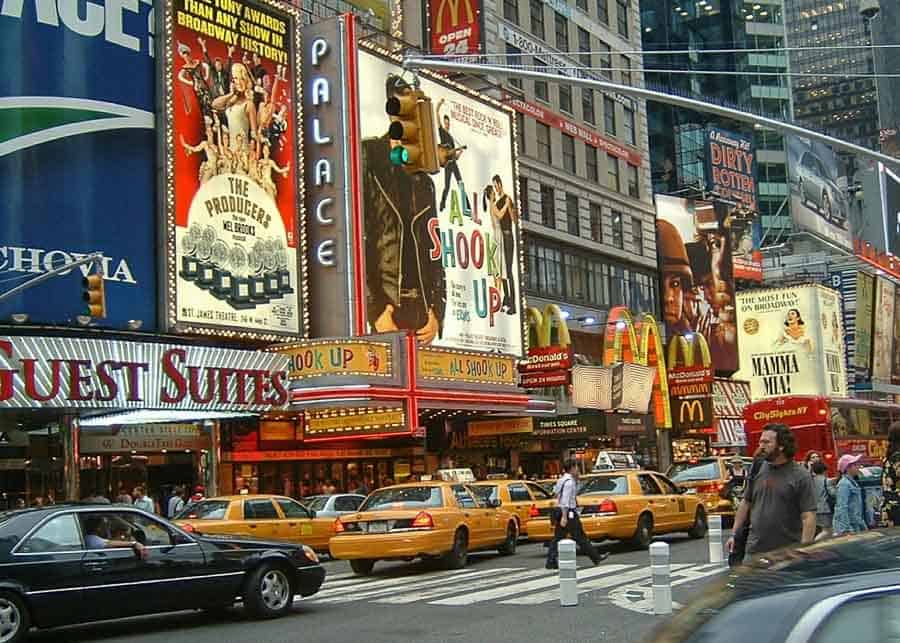 Theater entertainment remains one of the most popular attractions in NYC, featuring over 40 Broadway theaters and a wide variety of shows.
Tickets for Broadway shows are generally expensive, so if you are on a budget you can choose an off-Broadway show, which is less expensive. The difference between the two is the size of the theater and the production, not the quality of the show.
How to Get Around New York
I am not going to get into any specifics with regards to NYC public transportation, but rather give you some advice based on my own experience. If you need more precise information, there are several dedicated websites out there that can provide you with maps and explicit details about every means of transportation in New York.
New York City is comprised of 5 boroughs, but the 4 days itinerary above is designed only for Manhattan, where most attractions are located. So here are your options for getting around in Manhattan:
Walking
The Island of Manhattan if about 13 mile long and 2.5 mile wide, which is pretty big. Although you should try to walk everywhere you can, it's practically impossible to reach all the attractions on foot.
Subway
The NYC subway is the best public transportation alternative in the city. It is functional, cheap and efficient. Unfortunately, it's the dirtiest and worst-smelling metro I have ever seen. Nonetheless, if you want to get around fast in New York, the subway is your best bet. If you want to ride the metro you must purchase a MetroCard from any subway station kiosk.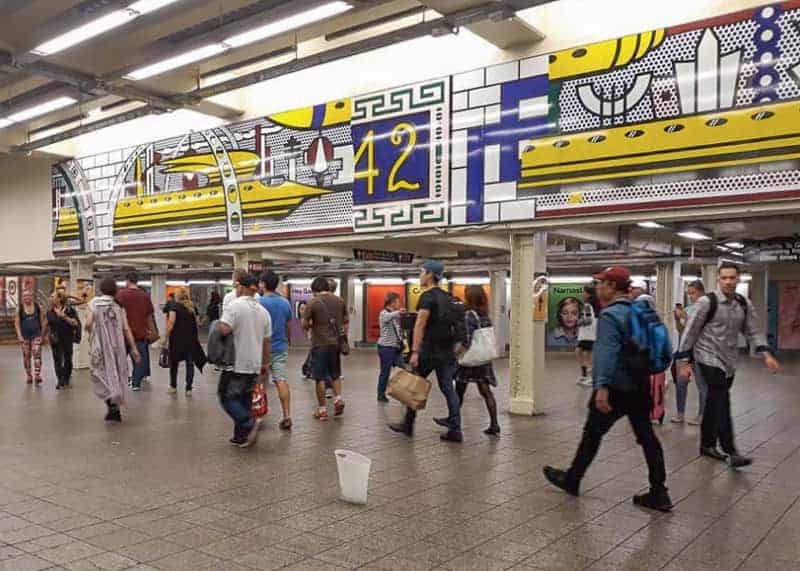 There are two types of MetroCards: Pay-Per-Ride ($2.75/ticket) and Unlimited Ride (which allows users to purchase an unlimited number of rides for a fixed price.) For four days the best option is a 7-day Unlimited Ride card, for $33.
Hop-on-Hop-off Bus
One option to get around in New York is to buy 4-day ticket for the hop-on-hop-off buss. This is a very efficient way to see New York's attractions at your own pace. When you book an all around tour you'll get a free boat tour with it.
Bus
Buses are not a very reliable mode of transportation in New York, due to the heavy traffic. However, if you decide to ride the bus, keep in mind that your MetroCard can be used on the bus as well.
Taxi
We rarely use Cabs, Uber, or Lyft when we are in New York. On only use cabs when we come or go to the airport. Within the city this means of transportation is not very efficient because of the high traffic. During the rush hours is particularly difficult to go by car in the city.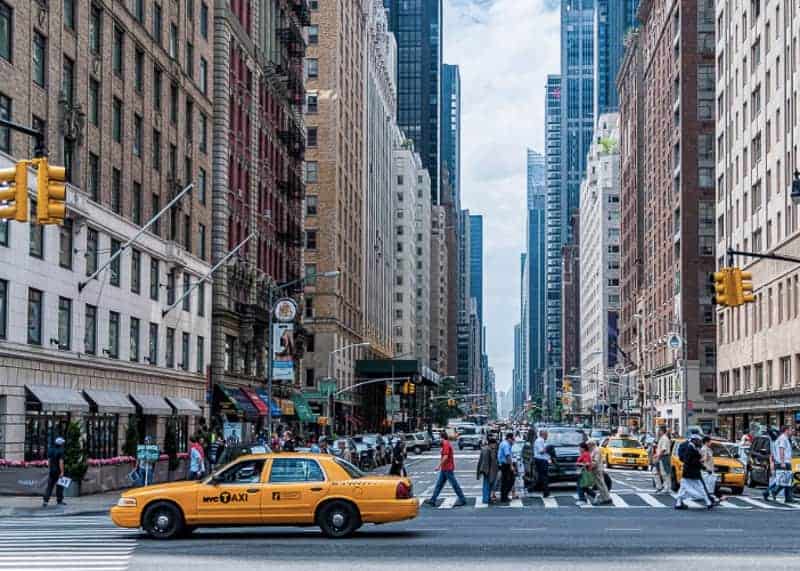 Cabs are all yellow in New York, so they are easy to spot. They are however difficult to hail, much slower and definitely more expensive than the subway.
Driving
Don't even think of driving your own car in New York! You'll be stuck in traffic forever and won't be able to get too far.
How to Save Money in New York
Like any big city in the world, NYC is expensive. Between accommodations, restaurants, attraction fees, and entertainment, you may spend thousands of dollars in 4 days in New York. Keeping an eye on your spending is important, even if you are not on a tight budget. Here is how you can save money in New York:
Saving Money on Lodging
You can't stay anywhere in Manhattan for less than $150 during the peak season. If you want to save money on lodging, you should probably look for hotels outside Manhattan. There are some pretty well connected neighborhoods like Brooklyn, or Queens. However, the commute time into Manhattan will be at least 30 minutes, which will leave you with less time for sightseeing.
Since your time is limited, I would recommend staying in Manhattan. Sometimes you can find some last minute deals on Expedia or at HotelsCombined. I never used Airbnb or VRBO in New York, so I can't speak for that.
Saving Money on Food
New York food is great! Sith such a wide variety on cuisines, it's pretty hard to get it wrong, no matter where you eat. But when it comes to prices, the sky is the limit! If you want to save money on food, try to stay away from fancy restaurants. New York has an endless array of small eateries, where you can have some excellent food at very reasonable prices.
You can also try some of the small restaurants in Chinatown, or the food court at the Chelsea Market.
Saving Money at the Attractions
You'll be visiting a lot of attractions during these 4 days in New York, so the best way to save some money is to buy a CitiPASS, or an Explorer Pass. These passes will grant you access at over 86 tours and attractions in NYC.
The cost is $64/person, which is quite reasonable considering how much you save as opposed to paying for each attraction individually.
What to Pack for 4 Days in NYC
New York loves fashion! However, depending where you go you may see very sharply dressed people, or very poorly dressed ones. The majority of New Yorkers dress in practical and comfortable clothes, but trendy.
What you pack for New York depends lot on your travel lifestyle and the season. I personally like to dress like a European, which means casual elegant. So here are some things that you should consider packing for your four day trip to New York:
a light jacket which you can wear in the evenings or if it's cooler (for spring or summer)
a warm winter coat, boots, hat and loves if you go in winter
comfortable clothes and shoes for day time
some dressy clothes and shoes for the evening, if you plan to go to restaurants, shows, or concerts
A Final Note
This is a jam-packed itinerary that includes my favorite places to visit in New York. If it seems too much for only four days, you can choose to see whatever piques your interest from this list.
One thing to keep in mind when planning your NYC itinerary is that your goal is not to load your schedule to the limit, but rather enjoy yourself and make these 4 days really fun. There is no right or wrong way for visiting this city.