Europe in Winter: Best European Cities to Visit in December
Visiting Europe in winter may not sound very appealing to some people. There are fewer hours of light, chilly temperatures and many attractions are closed. But depending on what you are looking for, winter may be a fantastic time to visit Europe. Especially in December, when European cities dress up with fairy lights, candy canes, and lovely Christmas trees to welcome the Holidays. Although it's cold, December isn't usually the coldest month of the year so you can still walk around and do some sightseeing. So if you are looking for the best European cities to visit in December, here are some recommendations from the experts.

Best European Cities to Visit in December
Aosta, Italy
(contributed by Gemma, from A Girls & Her Dog on the Road)
For visitors staying until the end of December, the Torchlight Procession at the Cable Car in Pila is not to be missed. Staff and ski instructors from the resort form a torchlight line down the slope. There is an impressive fireworks display and a fun party atmosphere for locals and tourists alike.
Bergen, Norway
Berlin, Germany
(contributed by Kristin, from Be My Travel Muse)
Europe in winter may be really charming. Especially in December. And Berlin is no exception. Each year, Berlin turns festive as Christmas markets turn up all around the city. And if we get lucky, we might even get a dust of snow as well. Although there are dozens of Christmas markets in Berlin, some of the best are at Charlottenburg Palace. Over 250 vendors and 40 local pastries open their booths, selling Christmas decorations, traditional foods and sweets. There is also a medieval themed market at Urban Spree.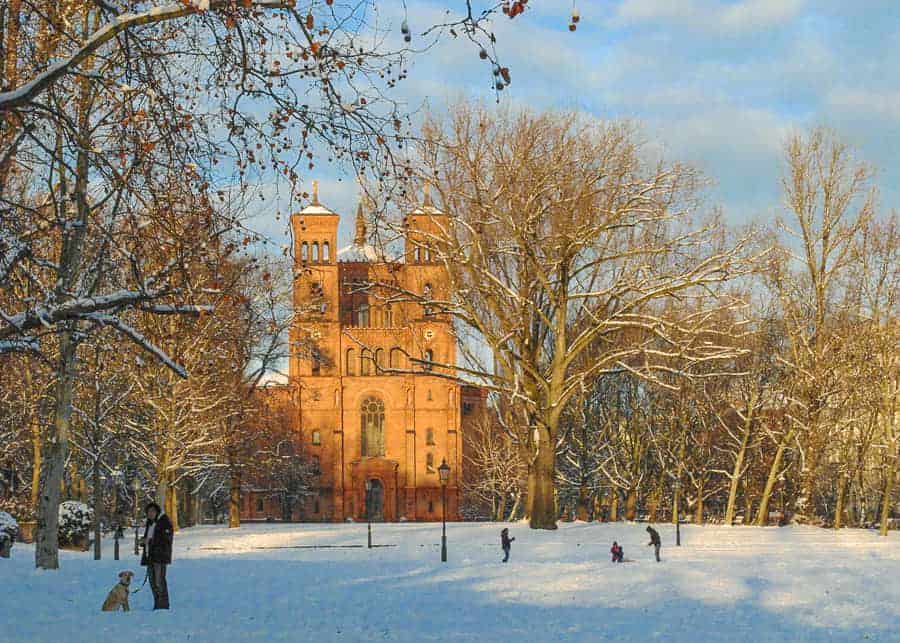 Another favorite of mine in Berlin is the Botanischer Garten which has a Christmas lights display beginning mid December. If Christmas isn't your thing, then dip into the sauna culture and stop by another favorite of mine, Vabali spa. Keep in mind that eastern Germany is free with nudity, and you're not allowed to wear bathing suits inside this coed spa. Embrace it and enjoy the different culture while alternating between hot and cool saunas and pools. There's no better time to enjoy Berlin than in December.
Dresden, Germany
(contributed by Maria, from Europe Up Close)
London, England
Nuremberg, Germany
(contributed by Jo, from Frugal First Class Travel)
Prague, Czech Republic
Sofia, Bulgaria
Sofia makes a wonderful, off-the-beaten-path winter destination in Europe. Sofia in December is a magical place, as there are a lot of Christmas-themed activities going on. For example, there is the annual Christmas Market in Borisova Gradina, which serves German-themed snacks and beverages like wurst and glühwein. A few open air ice rinks open up all over the city where you can ice skate in one of Sofia's many beautiful green places.
Stockholm, Sweden
Tallinn, Estonia
If you are looking for a more modern experience, explore the Telliskivi Creative City – an open outdoor area full of street art and modern designs. Or, if you are an outdoor enthusiast, check out Jagala Waterfall, a particularly impressive destination to visit in winter. By visiting Tallinn in December you'll reap the benefits of visiting during Estonia's low season. This helps the city combat over-tourism and eases extra pressures on its resources. Plus it gives you more accommodation options. A win win in our books!
Zurich, Switzerland