The legendary figure of Snowshoe Thompson is not very well known outside the Carson Valley area. But if you ever visit the little mountain village of Genoa, you'll surely find out about him. After all, John (Showshoe) Thompson is Genoa's greatest hero!
Who Was Snowshoe Thompson?
Born Jon Torsteinson Rue in the Telemark district of Norway on April 30, 1827. After his father died, Jon he came to America with his family from Norway, settling on a farm in Illinois.
In 1851 when the gold fever struck, the 24 years old Jon ran off to the Sierra Nevada mountains and began working as a miner. Later he moved to Placerville, about 30 miles east of Sacramento and took up farming. At about the same time he Americanized his name to John Thompson, after his stepfather's family name.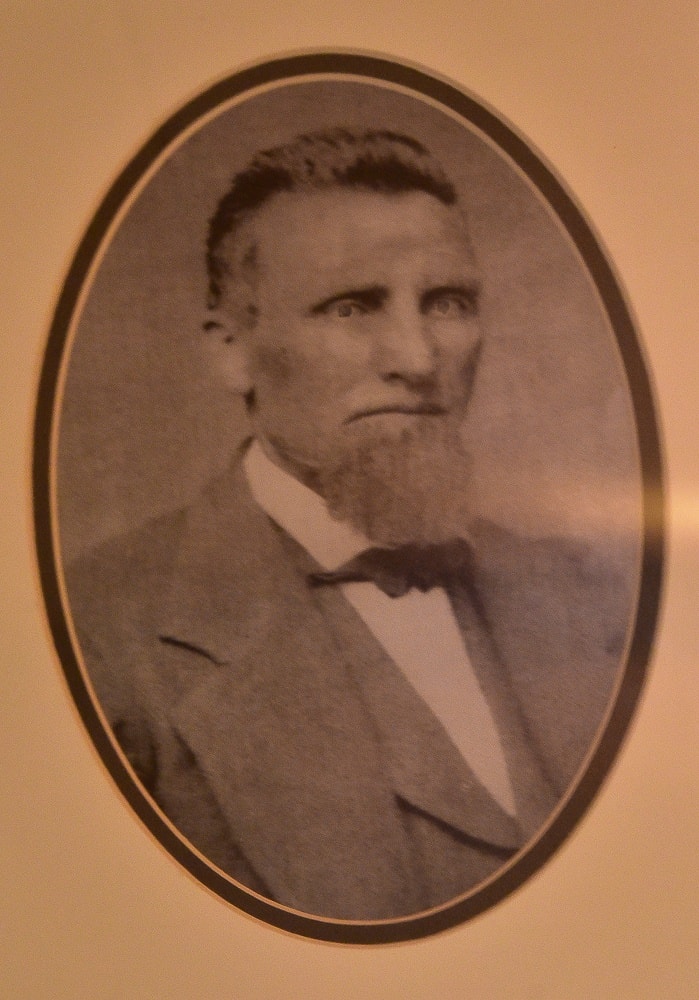 With the Gold Rush, the demand for communication between California and the rest of the country increased considerably. At the time, the only passage to California was over the Sierra Nevada mountains. But the brutal blizzards and deep snow made it impossible to cross the mountains in winter. Remember, this was almost 20 years before the nation's first transcontinental railroad.
People were cut off from any communication and supplies, so the postal service began looking for a mail carrier who could travel between Placerville and Genoa during the winter months. Many people attempted to carry the mail over the mountains during winter, but almost all of them failed.
A unique way to carry mail
In 1855, Jon (Snowshoe) Thompson saw an ad in the Sacramento Union: 'People Lost to the World: Uncle Sam Needs Carrier' and thought about applying for the job. He remembered that when he was a kid in Norway, his father made him a pair of "snowshoes" to go to school during the heavy winter months.
But what Thompson was calling "snowshoes" were not even close to the wood-frame paddle shaped style of snowshoes common in the West. Thompson's 'snowshoes' were two hand carved long wooden boards that, when attached to your feet, would help you side on the snow. They were the precursors of modern skis.
The technique of sliding down these wooden boards was something new to the West. Only a few people from Scandinavia knew about it. No one in the area had seen skis before when Thompson carved himself two ten-foot (over 3-meter) boards upturned in the front and began hauling the mail over the Sierra Nevada mountains. He was using a single sturdy pole, generally held in both hands at once or used for breaking.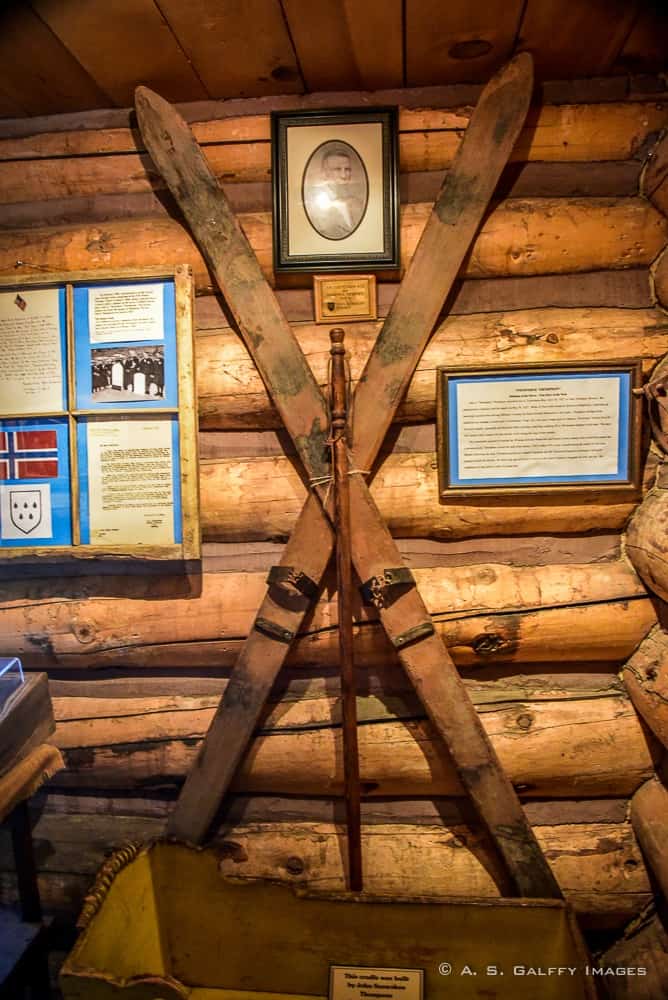 Snowshoe Thompson becomes a faithful mail carrier
Thompson delivered mail between Placerville, California and Genoa, Nevada, until his death in 1876. Twice a month for 20 years, the Norwegian immigrant carried an 80-100 pounds rucksack on his back and crossed the mountains. Sometimes his bag was loaded with medicine, clothes, even pots and pans, or whatever people needed besides the letters.
He managed to do the 90-miles trip over the Sierra Nevada mountains in the middle of winter – alone – in only 3 days. After delivering the mail, he would turn around and rush back home in only two days.
Snowshoe Thompson carried no gun, no blanket, no camping gear, and no compass. But he always carried matches –to start a fire– and his Bible. He snacked on dried sausages, jerked beef, crackers, and biscuits. He was wearing only a simple jacket and a wide hat. And, to prevent snow blindness, he used to blacken his cheekbones with charcoal. Thompson's ability on skis was legendary, so much so that the local newspapers began writing about him.
An Unpaid Job
Despite his great service to the community, Snowshoe Thompson was never paid for his job. When he first offered to deliver mail, he didn't sign a contract with the U.S. Posts service. He kept thinking that if he fulfills his duty and delivers mail, he will eventually get compensation.
For years and years the local authorities promised to pay him, but they never did. In his 20 years of work Thompson never received a dollar from the U.S. Government. He tried to use his political connections and even made a trip to Washington D.C. himself, but nothing came out of it. Later on he attempted to charge $1/letter delivered, but with not much success. Many people refused to pay him, but expected their mail to be delivered anyway.
Snowshoe Thompson's posthumous Recognition
'Snowshoe' Thompson was only 49 when he died of complications derived from an appendicitis. He was buried in Genoa's graveyard. His tomb is marked by a simple white stone that reads "Gone but not forgotten." The town still remembers his heroic efforts.
There is a small museum bearing his name and a statue that stands on the grounds of the Mormon Station State Park in Genoa, Nevada.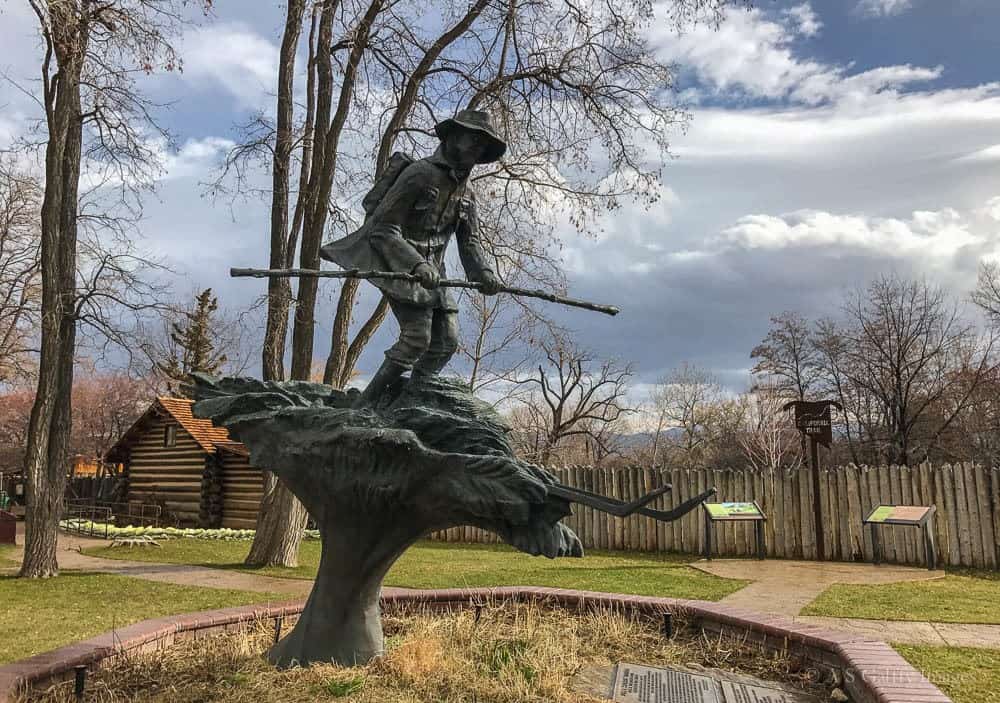 The statue represents Thompson on his skis, with his arms stretched forward, holding the stick he always carried with him. He does not look like a big man, but surely had a very big heart!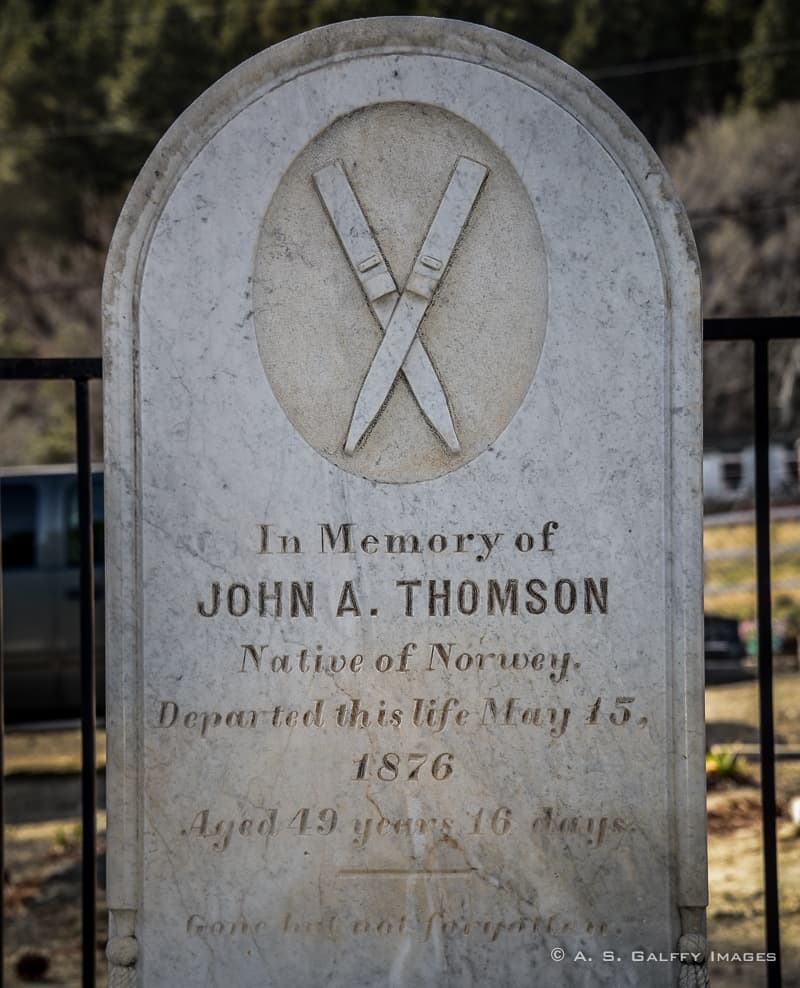 When I go skiing in Lake Tahoe, I often think of Snowshoe Thompson, Who would have thought that a young Norwegian boy would become a memorable name in the history of the US Postal Service?