Sprawling between California and Nevada, Lake Tahoe is a great winter destination that enjoys 249 sunny days a year. Although beautiful year-round, Lake Tahoe really comes to life in winter, when skiers from all around California gather here to enjoy its beautiful slopes. But if skiing or snowboarding are not your thing, there is still plenty of fun things to do in Lake Tahoe in winter.
Best Things to Do in Lake Tahoe in Winter
Lake Tahoe is our family's favorite skiing destination. So much so, that spending a week here every winter became a family tradition. We pack our skis, boots and our dog and head to Tahoe every year in February. On the way we always stop at Bravo Farms, on Highway 99, to fill up with cheese specialties and good wine.
We love it Lake Tahoe because it's not great only great for winter sports, but also for many other fun activities.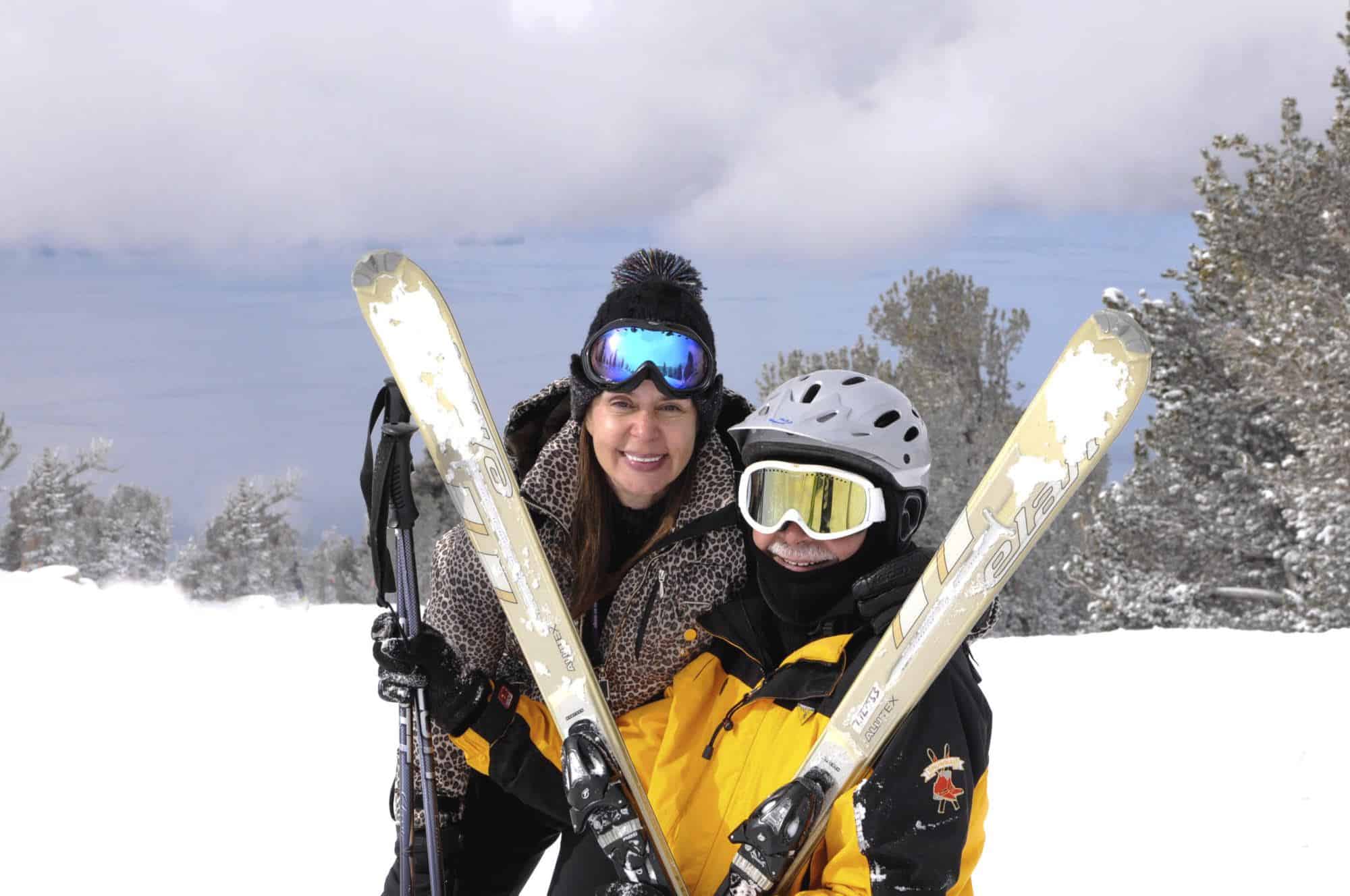 Skiing and Snowboarding
Skiing and Snowboarding are by far the best things to do in Lake Tahoe in winter. Tahoe is one of the two ski meccas in California, the other one being Mammoth Lakes.
This area is home to over a dozen ski resorts and some of the best ski slopes that we have ever tried. After hosting the 1960 Winter Olympics Games, Lake Tahoe became one of the most desirable ski resorts in the country.
Take a Ride to the Top of Heavenly Mountain With the Gondola
You don't need to be a skier or a snowboarder to get to the top of Heavenly Mountain. The gondola in the middle of town will take you up to Tamarack Lodge, where you can have a beer while watching the skiers go down the slope.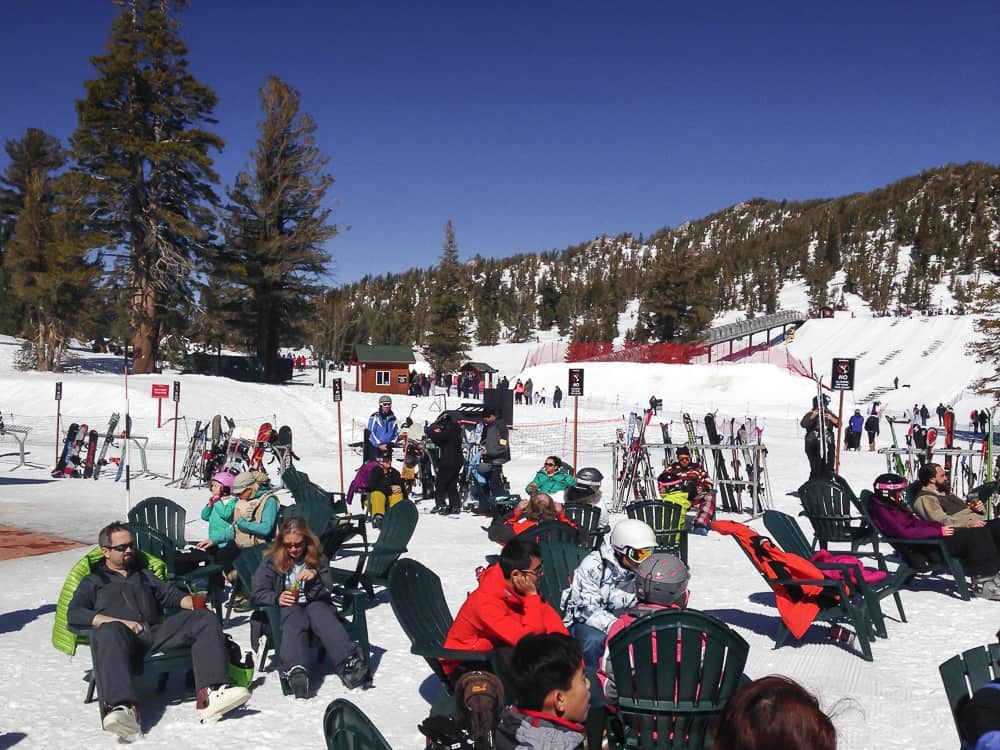 The 2.5-mile gondola ride is an adventure in itself. From the observation deck up on the mountain you can admire for the panoramic view of the Sierra Nevada Mountains and Lake Tahoe.
Walk on the Lake Shore
As unlikely as it may seem, visiting the Lake Tahoe's beaches in winter is one of the most fun things to do. With a 72-mile long coast, it's hard to get it wrong with almost any beach you choose to visit. They are all absolutely gorgeous!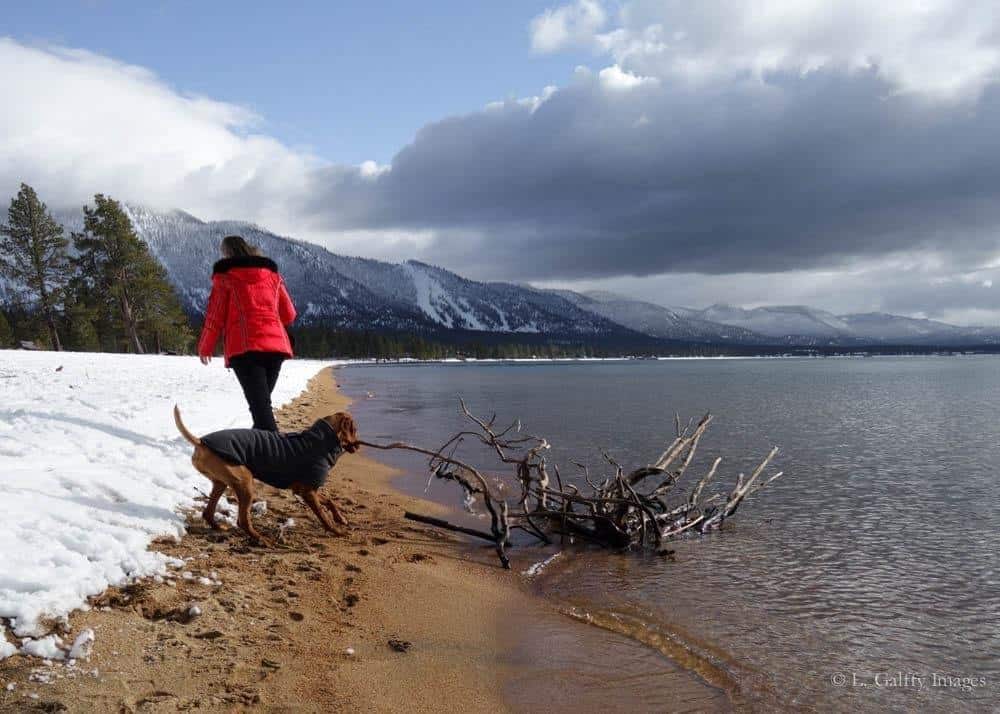 After a hard morning on the slopes and some lunch, you can head for the beautiful winter hikes around the lake. And if you are lucky to have fresh snow, the lake shore turns into a true white paradise. But even if you don't find snow around the lake, it's still unbelievably beautiful there.
Have Fun Around Town
If you are looking for some fun in town, you may try your luck at gambling in one of the casinos on Lake Tahoe Boulevard, or do some boutique shopping at Heavenly Village. Or how about a cup of hot cider by the fire pit in the Heavenly Plaza, listening to live music? Movies, maybe?
Dine at One of the Many Great Restaurants in Town
One of my favorite things to do in Lake Tahoe in winter is dine at one of the many great restaurants in town. After a hard day on the slopes in the cold fresh air, I'm always hungry like a wolf!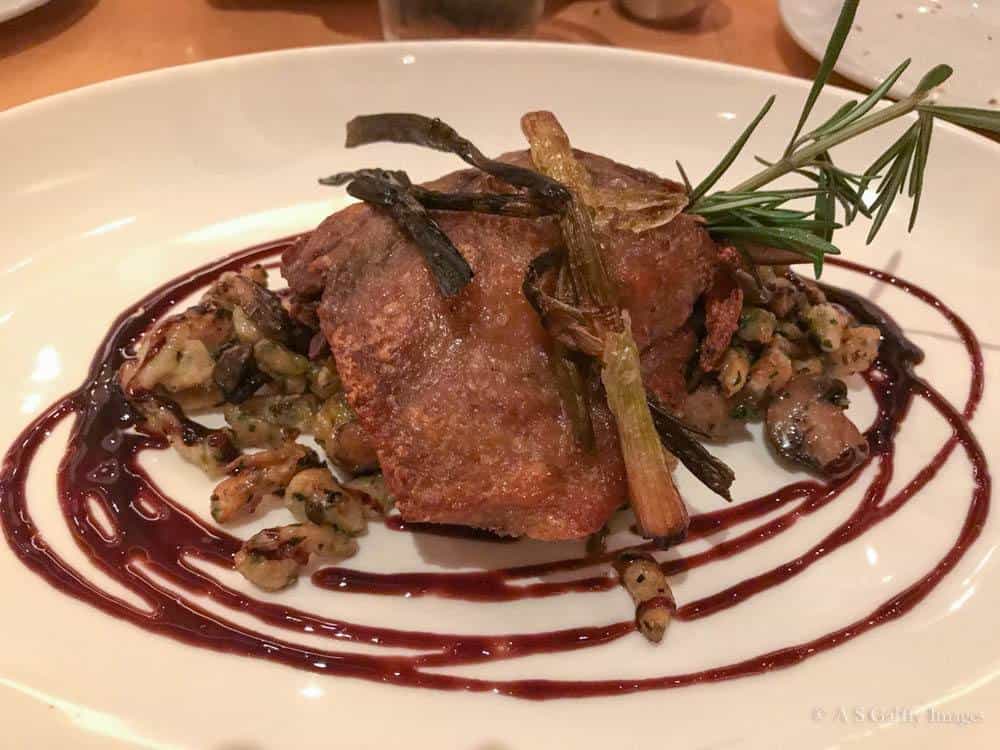 from inexpensive cafés atop the mountain to very fancy restaurants with fine dining and lake views. There is a place for every budget and a food for every taste bud.
Cruise Around the Lake
Winters are rarely harsh in Lake Tahoe, so spending a couple of hours on the lake may be quite enjoyable. One of the fun things to do in Lake Tahoe in winter is take a Daytime Scenic Cruise and enjoy the spectacular views of the Sierra Nevada's peaks covered in snow.
The 2.5-hour scenic cruise is a great way to relax and take some stunning photos. The cruise departs from historic Zephyr Cove and takes you to Emerald bay. Along the way you'll learn about its fascinating history and the legend of the Hermit on the Emerald Isle.
Visit the Emerald Isle
Tahoe's only island bore many names over the years. Among others: Coquette, Baranoff, Dead Man's Island, the Hermit, and Emerald Isle. The island is currently known as Fannette Island, but most people still call it Emerald Isle. Although not far from the shore, Emerald Island is only accessible by boat, because the waters in the Emerald Bay are too cold for swimming.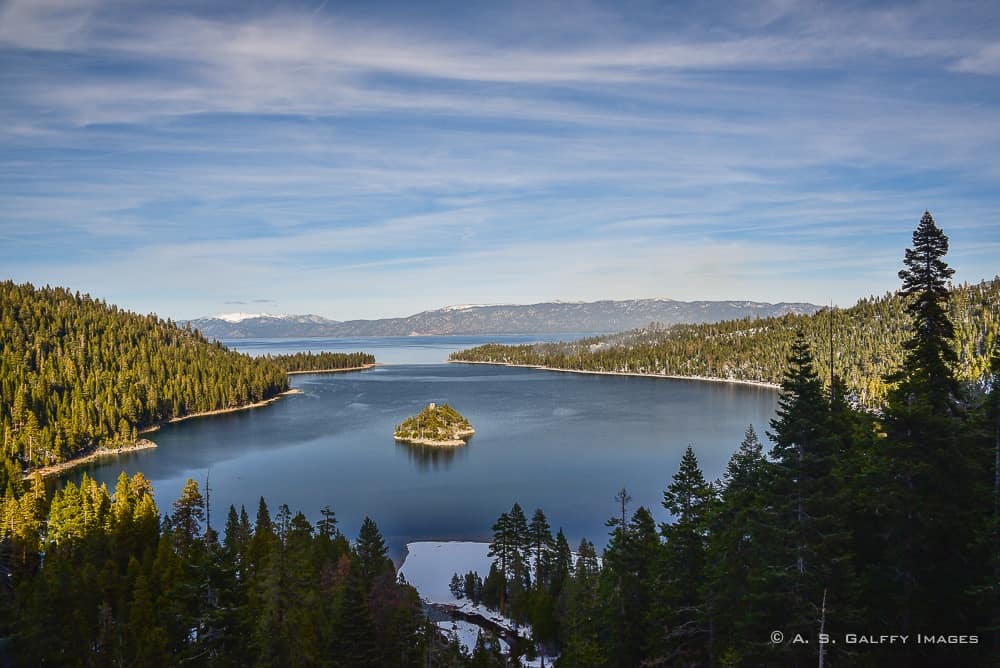 There are many stories associated with this island. But the most beloved one of them is the legend of Captain Dick Barter, also known as the Hermit.
The Legend of the Emerald Isle Hermit
Dick Barter was a boat captain who lived in a boathouse on the shores of Emerald Bay between 1863-1873. The Hermit was a whiskey lover who frequently rowed in his small boat along the bay. One dark night after visiting a local saloon, the captain took off in his little boat to go home. But a strong gust of wind slammed into him, flipping his boat. He managed to hang on and eventually made it to shore – barely.
The close call shook Captain Dick pretty hard, causing him to think of his final resting place. He decided that Emerald Isle would be just the place for it, since his boathouse was just across the bay. So he dug himself a tomb and built a little wooden chapel next to it.
After finishing his project, the Hermit told all his friends in the drinking establishments in Lake Tahoe that they should burry him in this tomb when his time comes.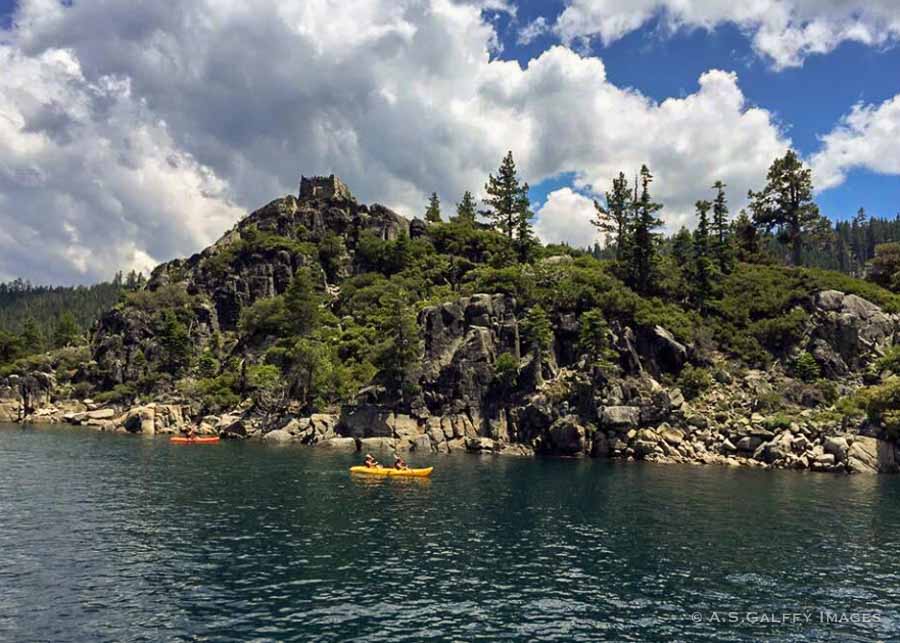 But Dick Barter's wish couldn't be fulfilled. One chilly October night in 1873, as the 66 year old sailor was heading back home after an evening of drinking, his boat was smashed into the rocks of Rubicon Point.
His body was never found, as it was probably washed out into the lake where it sank. The legend says that on some chilly autumn nights the Hermit can be seen climbing slowly towards the top of the island, trying to get into his tomb.
The little structure that you see on the island today in not the Hermit's church however. It's the vestige of the Teahouse – a building erected by Mrs. Lora Knight, one of the later owners of Fannette Island.
Take a Walk in the Woods
Walk with snowshoes in the woods around Lake Tahoe is a very popular winter activity. Just a little south of Lake Tahoe, Hope Valley provides a host of scenic views and a variety of terrain to explore. Or you can try the Bayview Trail, near the eastern side of Emerald Bay which offers stunning views of Lake Tahoe and Emerald Bay. The trail is a little steep and not for beginners.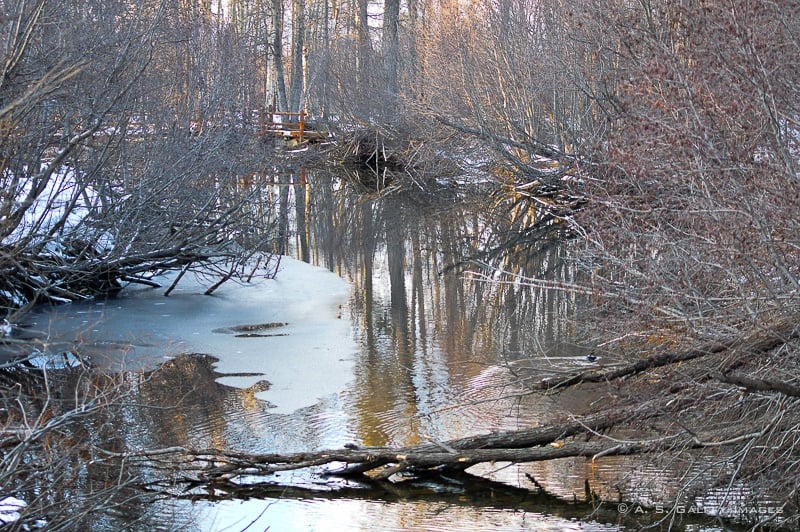 Camp Richardson is another beautiful winter cross-country ski resort. If you don't want to stay in Tahoe City, you can rent a cabin here. There is also a historic hotel and vacation rentals around Camp Richardson.
YOU MAY ALSO LIKE THESE: