Lake Tahoe is the largest and most beautiful alpine lake in North America. Settled in the Sierra Nevada Mountains, on the border of California and Nevada, Lake Tahoe is famous not only for its world-class ski resorts, but also its gorgeous beaches.
If you're headed here for a beach vacation, you might find yourself overwhelmed by the many options around. The good news is that with a stunning 72-mile long coastline, you cannot go wrong with any of the beaches around this lake.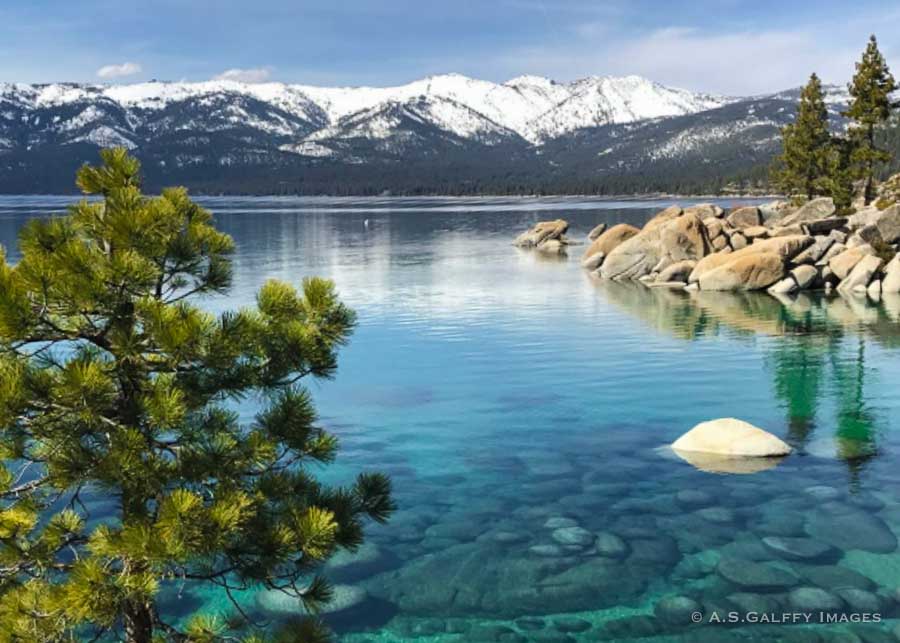 North Lake Tahoe vs. South Lake Tahoe: Which Beaches are Better?
Tahoe is divided into North Lake Tahoe and South Lake Tahoe. But is there a difference between the two sides? While both are stunningly beautiful, the northern part of the lake is quieter and more laid back. Here you'll find smaller crowds and a more family-friendly atmosphere.
In contrast to the relaxed northern part, South Lake Tahoe is bustling with energetic visitors and party goers. Here visitors can enjoy five star lodging and dining, as well as movie theaters and casinos.
As for the beaches, you'll find stunning shores on both sides of the lake. But if you are not sure what to pick, here is an overview of our most favorite beaches in Lake Tahoe.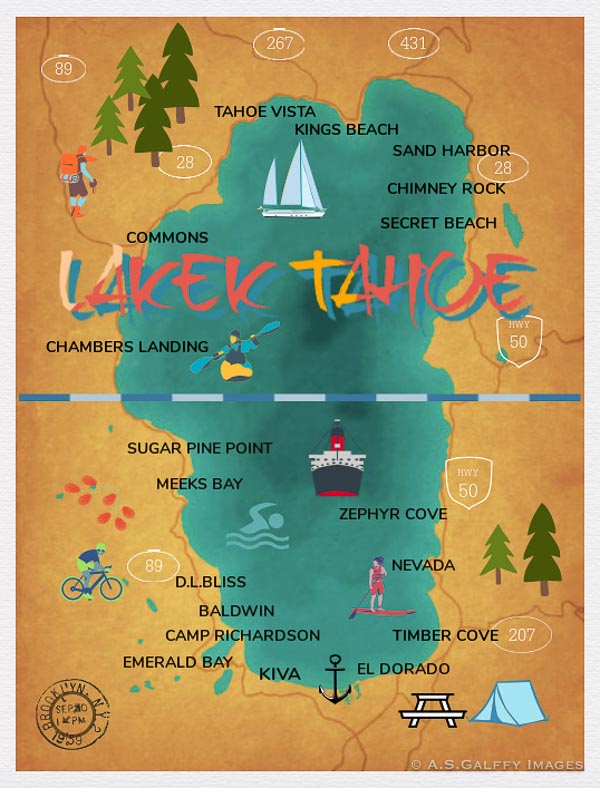 Top Beaches in North Lake Tahoe

Kings Beach
This sandy beach is perhaps the most prominent site on the North Shore of Lake Tahoe. The wide stretch of yellow sand makes Kings Beach a favorite of visitors and residents alike. Because it's facing south, they say this is the warmest swimming area on the lake. Sadly, we only visited the beach in spring and didn't have a chance to try the water.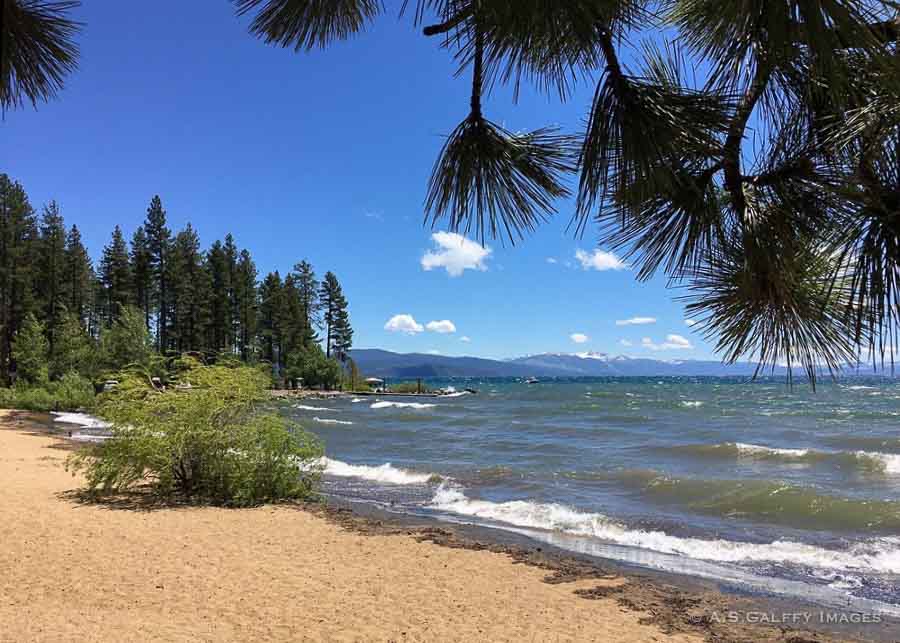 If you visit Kings Beach off season, you'll find it really peaceful and relaxing. Even though it's too cold to swim, you can still warm up in the sun, play some frisbee, or take pictures of the beautiful landscape around.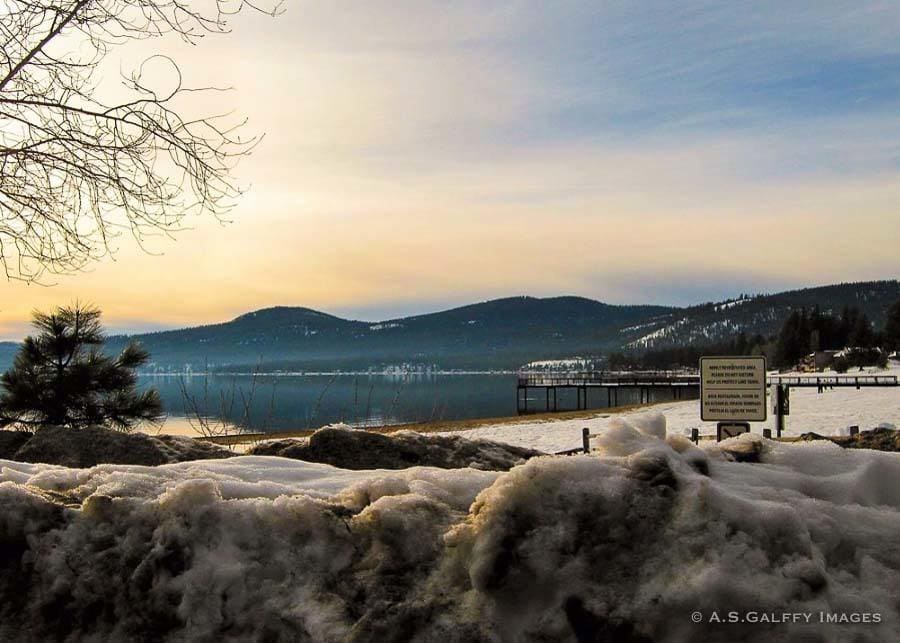 The beach has a playground for children that overlooks the water and a nice picnic area that that can be rented for parties.

Tahoe Vista Beach and Recreation Area
Tahoe Vista is a nice sandy beach with restrooms, roped swim area, restrooms, and boat launch. If you like boating, this is a great place to rent a kayak, or standup paddleboard from the rentals on the beach. They also offer guided kayak tours.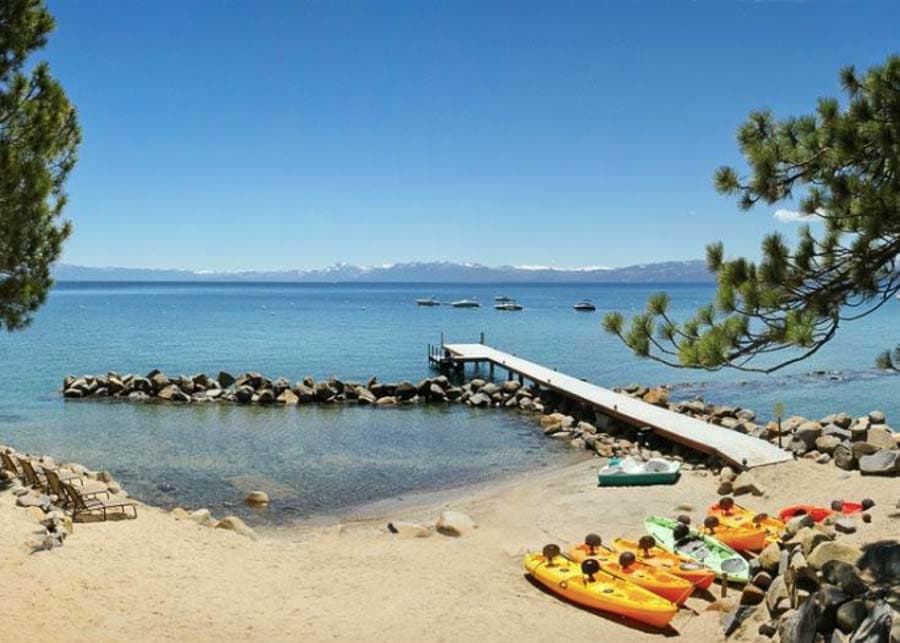 The site has also a shady picnic grove with a bunch of tables, public restrooms and a paid parking lot.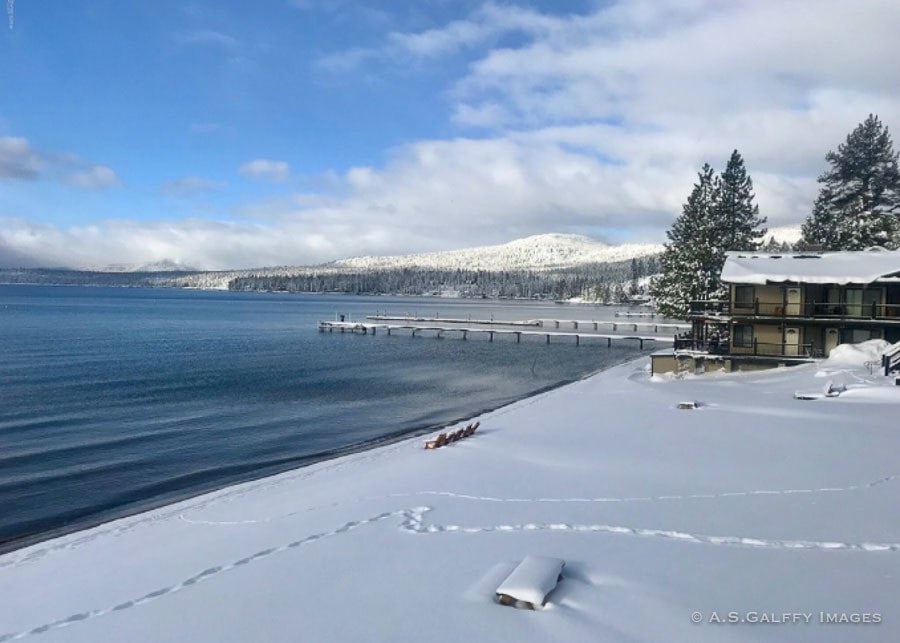 The beach looks very tranquil in the winter, quite different from the busy summer days. We sometimes bring our dog here after we go skiing. There is a lot of room for her to run around.

Commons Beach, in Tahoe City
Commons Beach Park is a lovely gem in North Lake Tahoe. Although it is located right in the heart of Tahoe City, you can easily miss the the park if you are just passing through, as it is not visible from the highway.
The beach is clean and inviting and has plenty of grassy areas. There are also picnic tables and a children's playground around. The parking is adjacent to the beach, on Commons Beach Road, and it's free. In summer however it fills up very early, so if that lot is full you can park in the downtown area.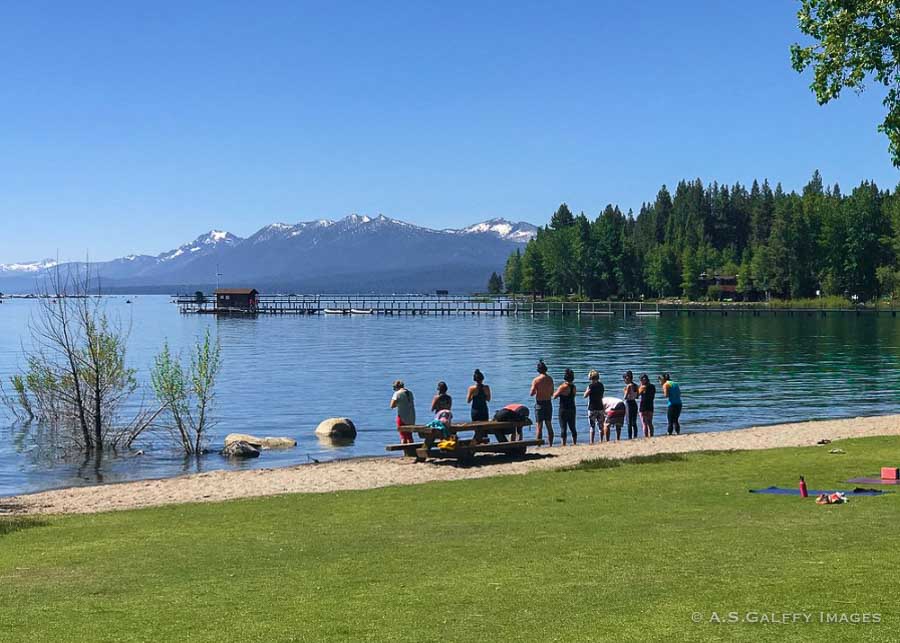 Commons Beach is a great place to spend time with family and friends. If you are here in the summer, make sure you attend one of the free concerts which are held every Sunday afternoon in the park.

Meeks Bay, in Tahoma
This sheltered bay is truly beautiful, with stunning views of the lake. The beach is super clean, with crystal clear water, but like most beaches in Lake Tahoe, it's packed during the summer months.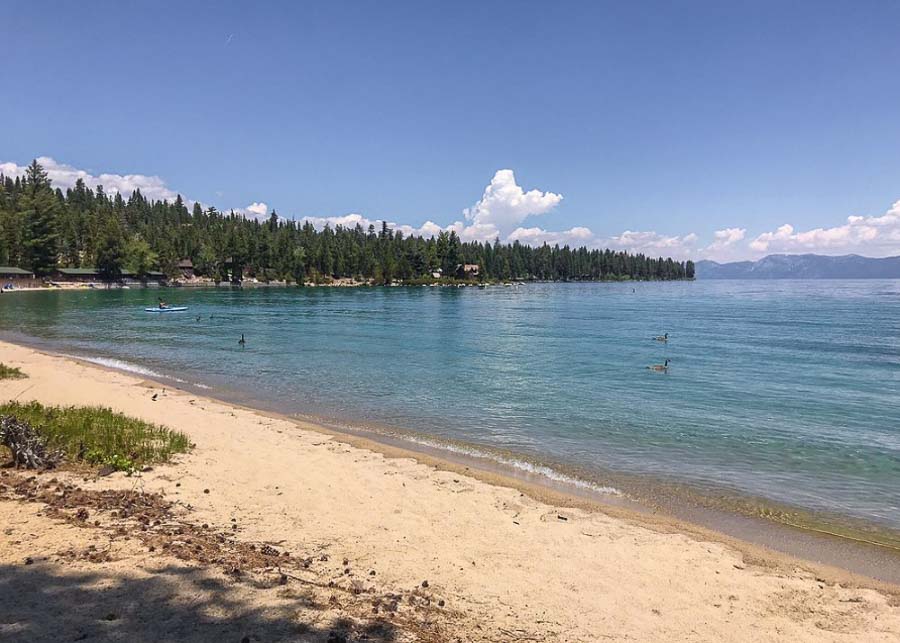 We stopped here for a picnic in late September and it was wonderful! We had the beach almost to ourselves. One thing to keep in mind however is that you won't find any services around. So bring some food and drinks.

Chamber's Landing
We ended up on this beach in an effort to enjoy every beach we could visit in Lake Tahoe. There is a public beach which is next to the private one that belongs to the Chamber's Landing Bar.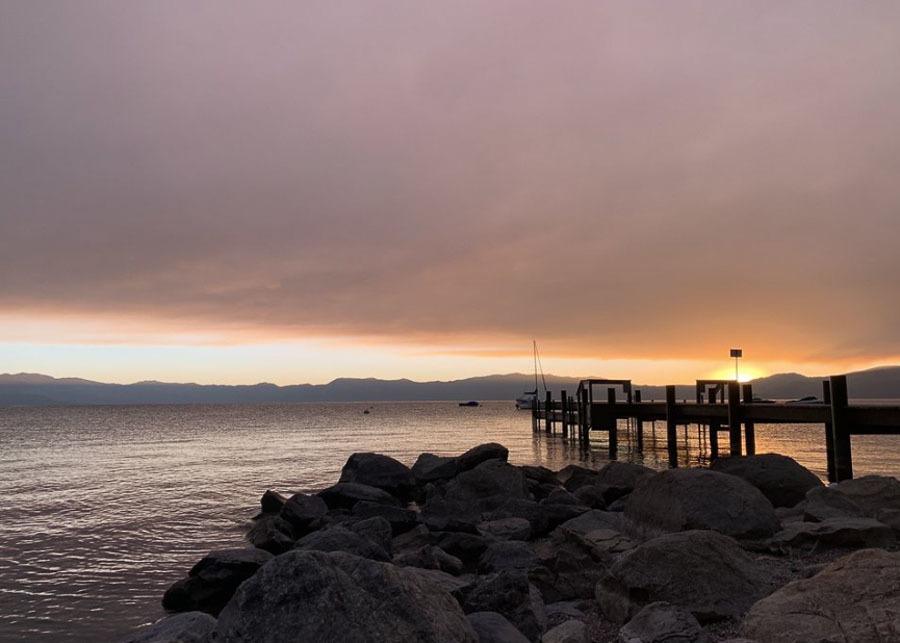 We arrived close to the sunset and didn't spend much time on the beach. The sand here is mixed with pebbles, so it's hard to walk on it.

Sand Harbor Beach
Out of all the beaches in Lake Tahoe, Sand Harbor in my favorite. It is one of the most picturesque beaches I have ever seen, with crystal clear water, beautiful coves and strange rock formations. The beach is located in the Nevada State Park, close to Incline Village, in North Lake Tahoe.
We came here in winter and didn't spend any time on the beach. Just took hike on the wooden walkway that goes all around the shore and stopped at the different vista points along the way. It's an easy walk which I strongly recommend.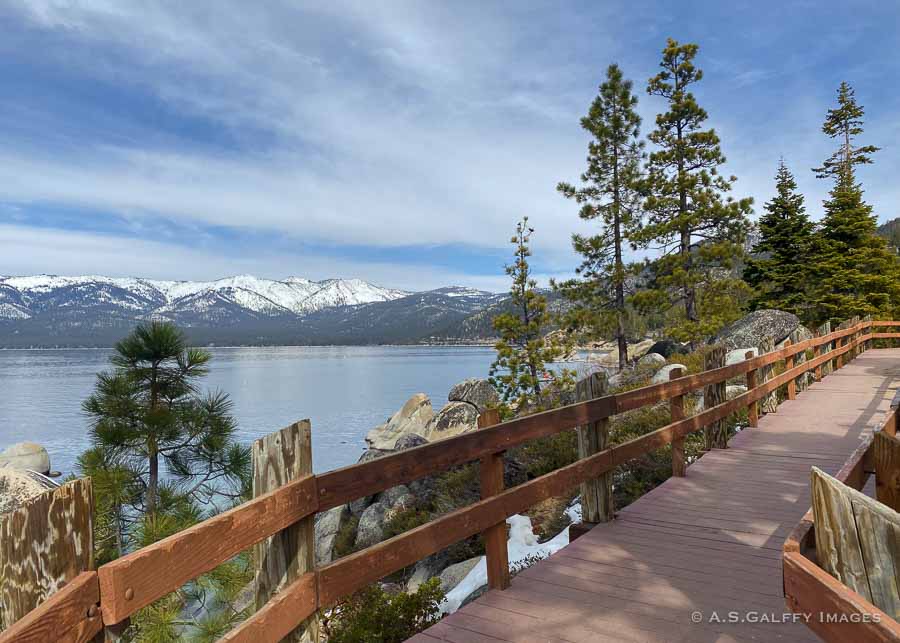 It was a beautiful sunny day, but because it was cold there were very few people around. The beach was peaceful and quiet, but imagine in summer this place must be packed with people. The site is very popular for swimming, boating and all kind of recreational sports and open-air entertainment.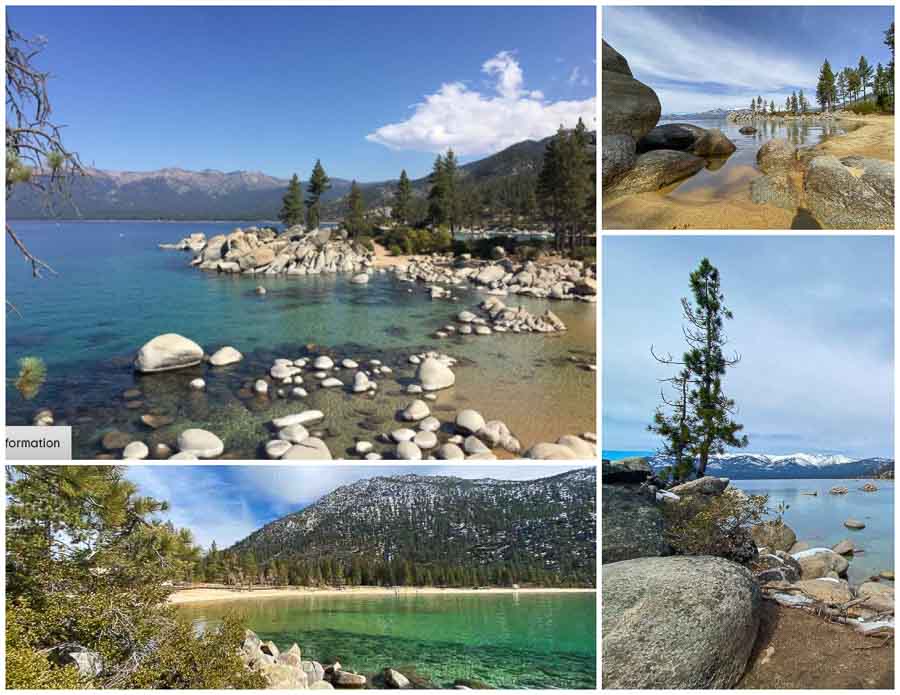 We've seen some areas with picnic tables and a covered area for entertainment. They charge an entrance fee for the beach (and parking), even if you visit off season.

Chimney Beach
This is a tiny little cove tucked away on the twists and turns of Hwy 28, on the Lake Tahoe's Eastern shore. To reach the beach you'll have to walk down from the Highway on a gently sloped trail. The trailhead is between some huge boulders, across the highway from a parking lot with a split-Y entrance / exit.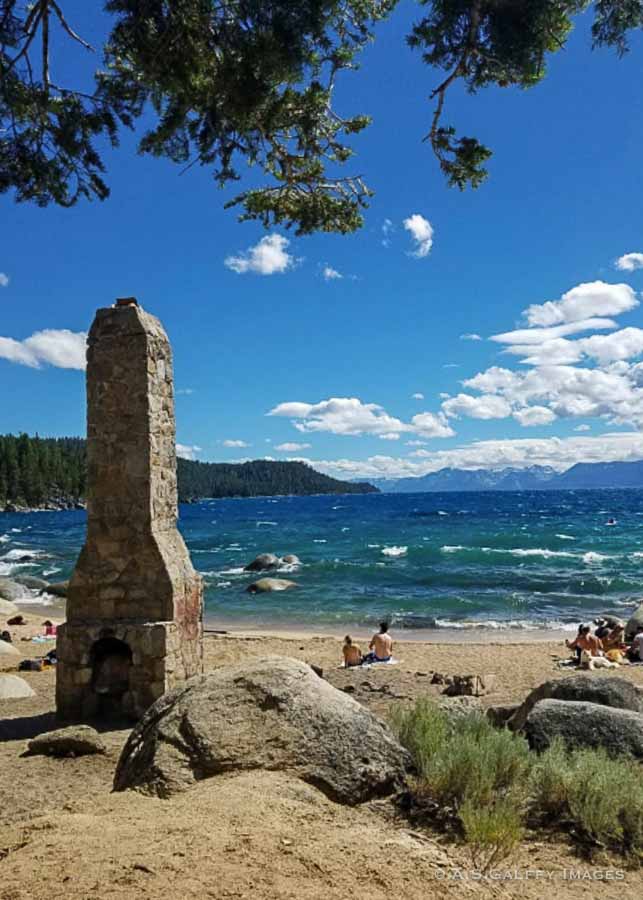 The beach itself is really small, so if you are visiting in summer you should get here early. Chimney Beach is one of the most places on East shore of Lake Tahoe. The views of the lake are hard to beat. The water is crystal clear, but in the afternoon when the wind picks up, it may get a little choppy. If you are a daring swimmer, there are a few great places to jump in the water from the rocks.

Secret Cove
Just 2 miles south of Chimney Beach is another stunning site wort checking out: the Secret Cove. This spectacular beach is easy to miss from the road. Especially off season, when there are no cars park on the road next to it. There is a good reason why they call this the "Secret Cove!" It is a bit of a scramble to get to it, but so worth it once you make it.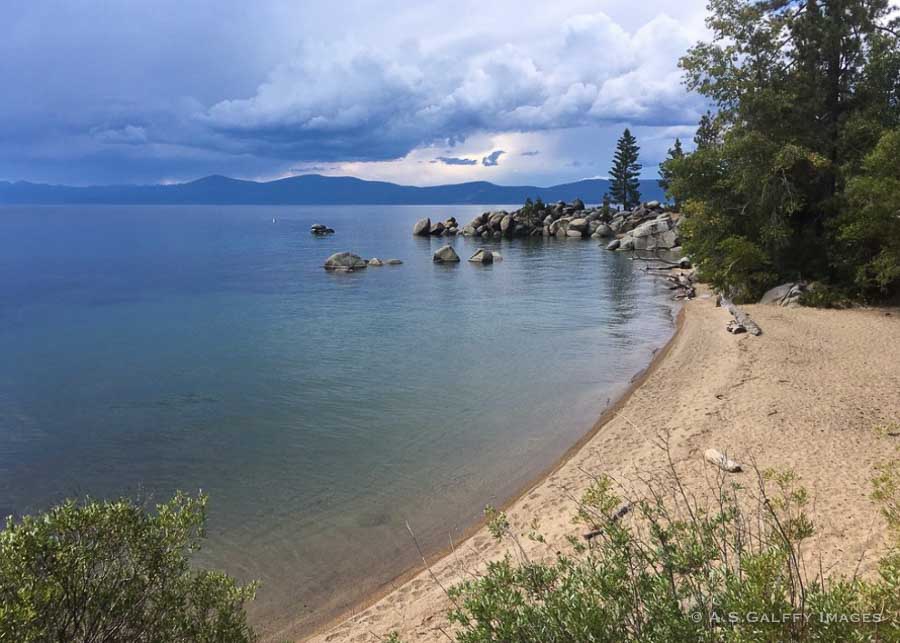 They say this is the last nude beach in California (except for the Deep Hot Springs, next to Lake Arrowhead in the San Bernardino Mountains). We arrived here close to the sunset and didn't see any naked people around, so I can't confirm that, lol!
Most Scenic Beaches in South Lake Tahoe

Bliss Beach
Bliss Beach is located within DL Bliss State Park, which is the second most popular state park in the Tahoe area, next to Emerald Bay. The beach is composed of two parts: the north portion is known as "Lester Beach" and the south portion is known as "Calloway Cove". The park is open from sunrise to sunset.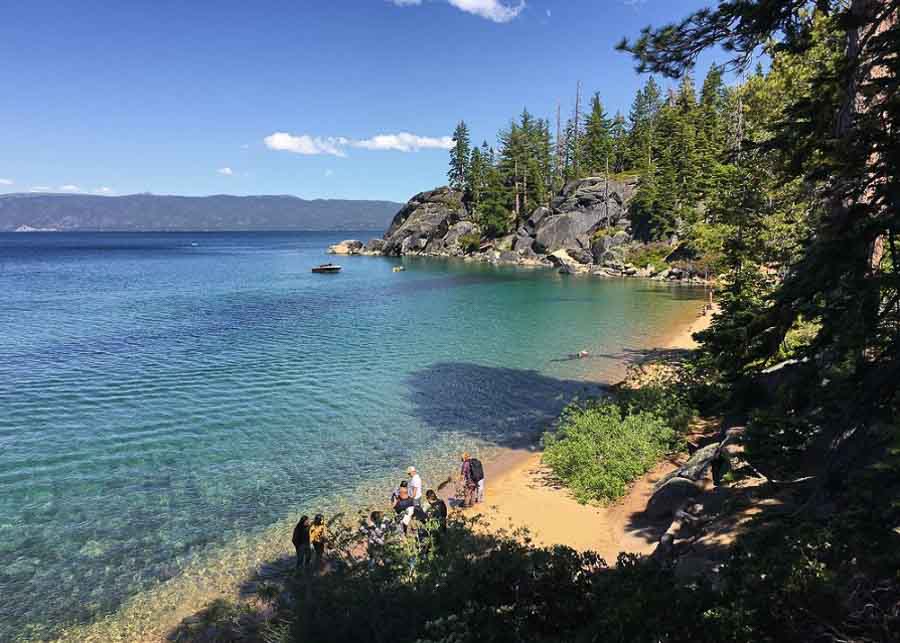 Adjacent to the beach is a nice campground where you can pitch a tent when the weather is nice. This is also the starting point for the popular Rubicon Trail, which is one of the most beautiful trails in Northern California.

Baldwin Beach
Baldwin Beach is an easy-access family beach located at the intersection of Hwy 50 and Hwy 89, in the southern end of South Lake Tahoe. The beach has great views and a long stretch of sand where you can spread out a little and enjoy some space between you and other beach goers. Unfortunately, there is barely any shade on the beach. If you come here during the hot summer month, you'll have no escape from the heat.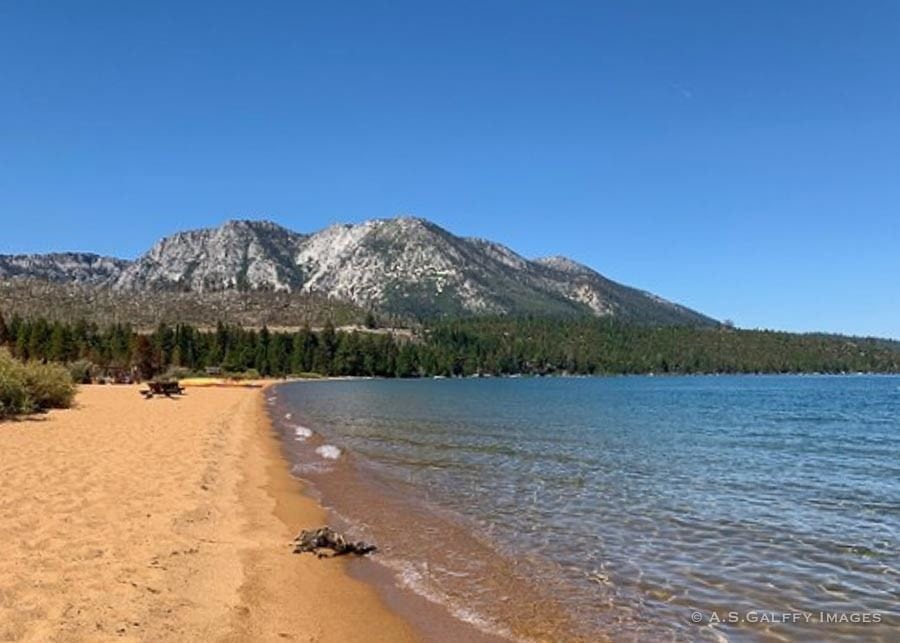 There are also picnic tables on the beach and clean restrooms in the parking lot. You can also rent kayaks here at a reasonable price, so you can explore different parts of the lake.

Camp Richardson Beach
The beach at Camp Richardson is Lake Tahoe's longest stretch of sand, located about 2.5 miles north of the intersection of Hwy 50 and Hwy 89 in South Lake Tahoe. Although it's huge, in summer it gets very crowded, as it's just adjacent to Camp Richardson Resort, a big property that features hotel rooms, cabins and campsites as well.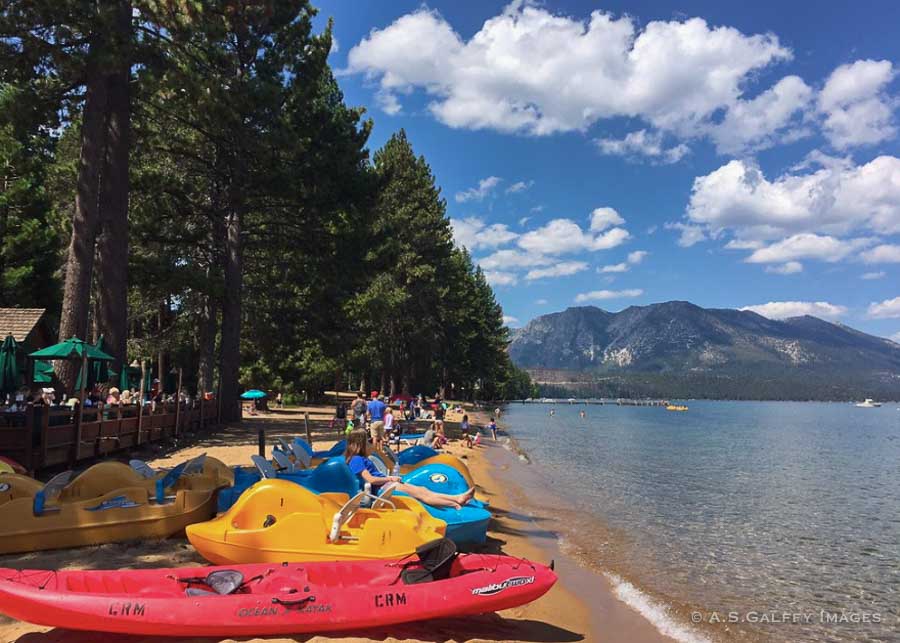 The beach has a big Marina where you can rent boats, jet skis, kayaks and more. Beacon Bar and Grill sits right on the beach, so you can also enjoy music and cocktails here when the weather is warm. Dogs are not allowed on this beach, only in the picnic areas, around the campsites.

Emerald Bay State Park
Emerald Bay is perhaps the wildest part of Lake Tahoe, but it has two absolutely spectacular beaches. One is directly in front of the historic Vikingsholm Castle, and the other is a little farther north, at the campground. Unfortunately, they can only be accessed by boat, or via the Rubicon Hiking Trail. The trail down to the beach is however steep and exposed, so it's not recommended for people with mobility issues.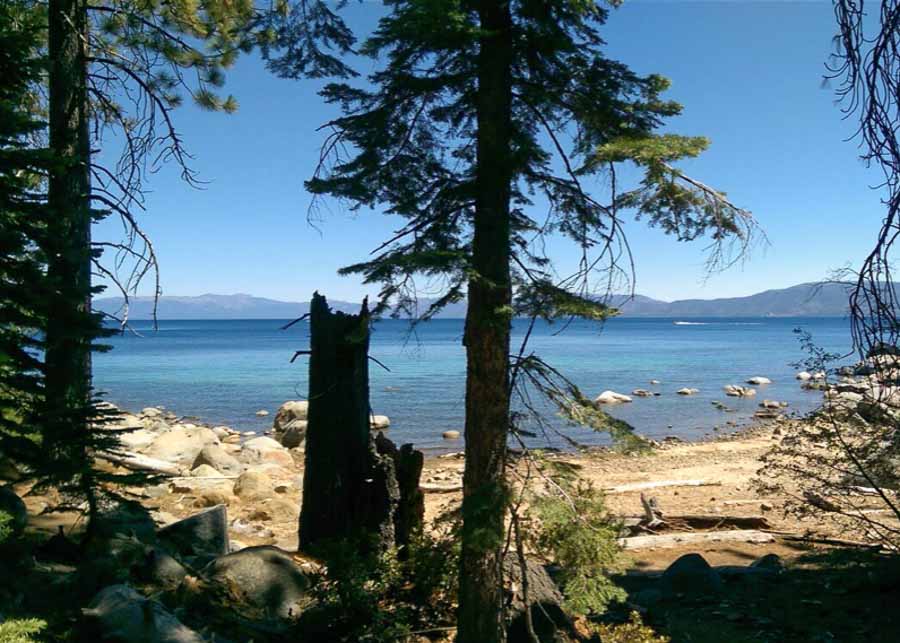 This is not a great place for swimming, as the water is always cold. It is however very picturesque to visit by kayak, canoe, jet skis or boat. Dogs are not allowed on the beach.
Emerald Bay is worth visiting even in winter, although you won't be able to go down to the beach. You can however admire the bay from different points above. One of the most iconic stops is at Inspiration Point, on Highway 89.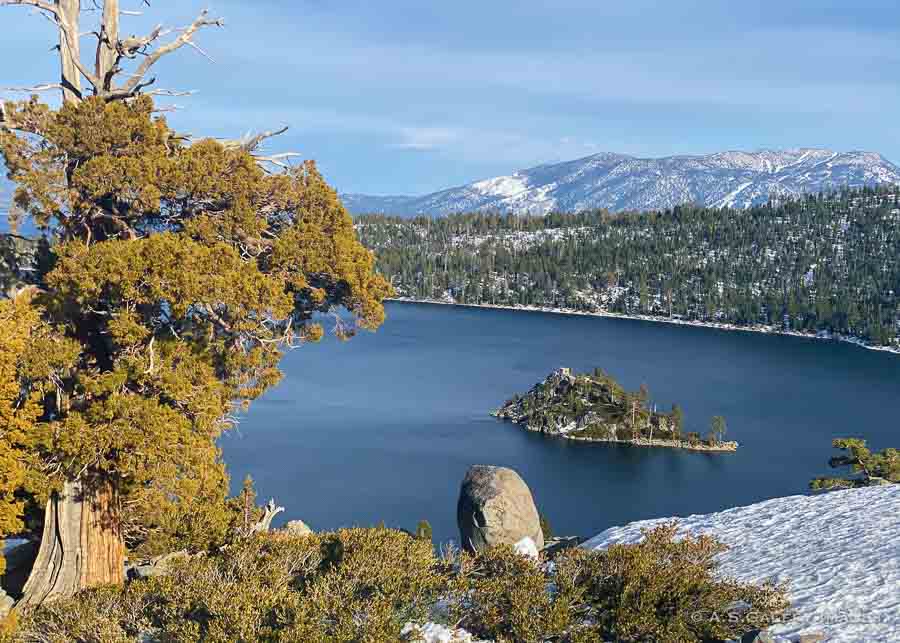 The overlook is the perfect place to admire the dramatic landscape and the mysterious Fannette Island, which is surrounded by spooky legends.

El Dorado Beach
In summer, El Dorado Beach is the perfect spot for a picnic and relaxing by the water. The park has many tables, lots of shade trees and stretches of green grass. But we found the beach just as perfect in winter, when the ground were covered in snow.
This is a nice walking area, with places to sit and watch the water. The beach is really tiny and quite close to the city, so I imagine it must be very crowded in summer.

Kiva Beach
Kiva Beach is one of few select beaches near South Lake Tahoe where you can let your dog off the leash. It's a hidden gem, mostly because you can only reach it by taking a short trail through the woods after you park.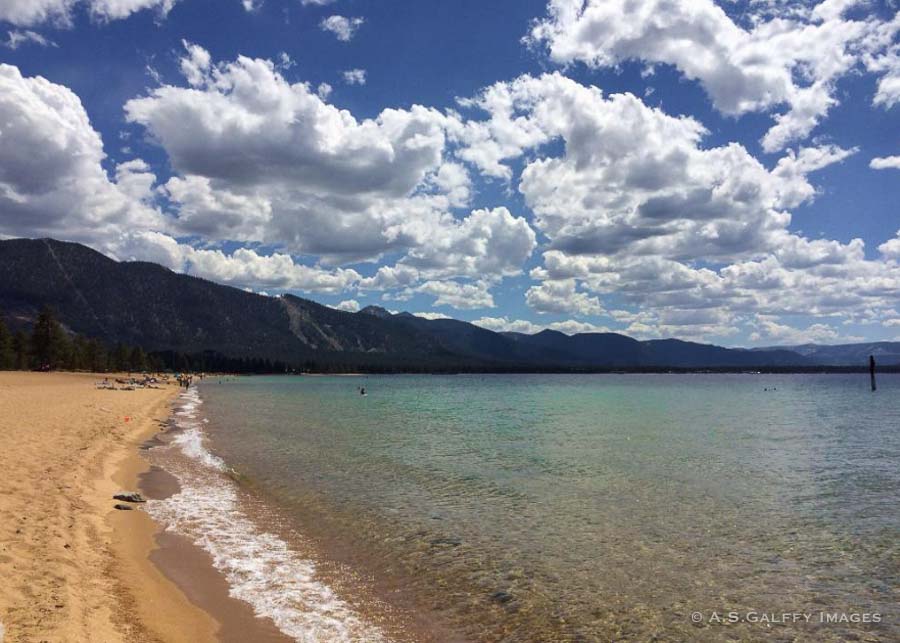 There is a paved trail through the forest that takes you down to the water from the parking area. This is a nice place to go swimming in summer. But be careful! The bottom is very rocky in some areas until you get to deeper water.

Timber Cove
This beach (also know as Connolly Beach) is practically in the middle of town, just steps away from restaurants and hotels. Although it may seem like a private beach, for hotel guests only, Timber Cove is actually a public beach.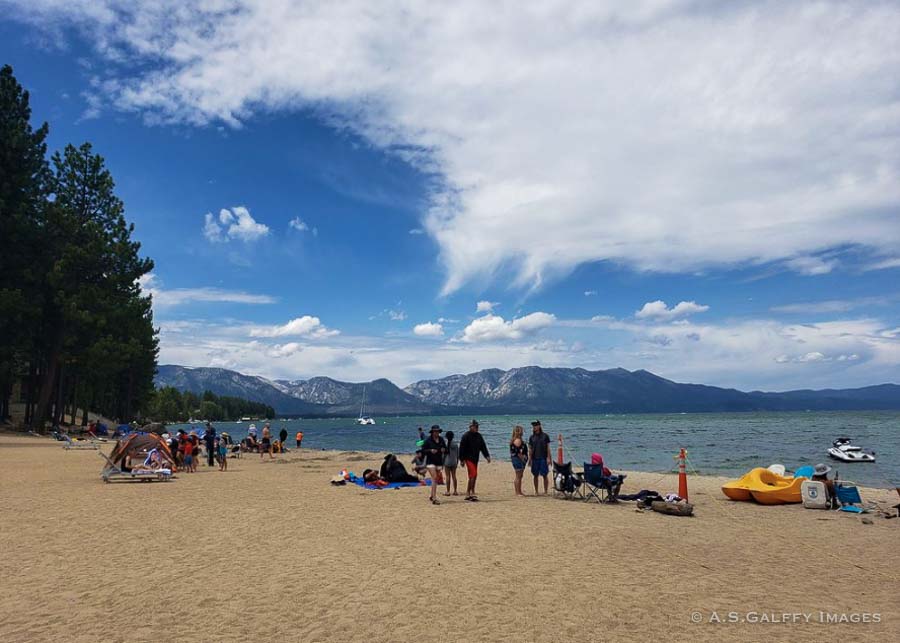 There is a small pier here, with a fantastic restaurant (Blue Water Bistro) right on the lake. You can also rent some water equipment at the beach.

Zephyr Cove
Located right in the middle of South Lake Tahoe, on Hwy 50, Zephyr Cove is a fun place for the entire family. This is where you can catch the M.S. Dixie II paddlewheel boat. Along the North section of the beach is also a dog-friendly area where you can let your dog run free.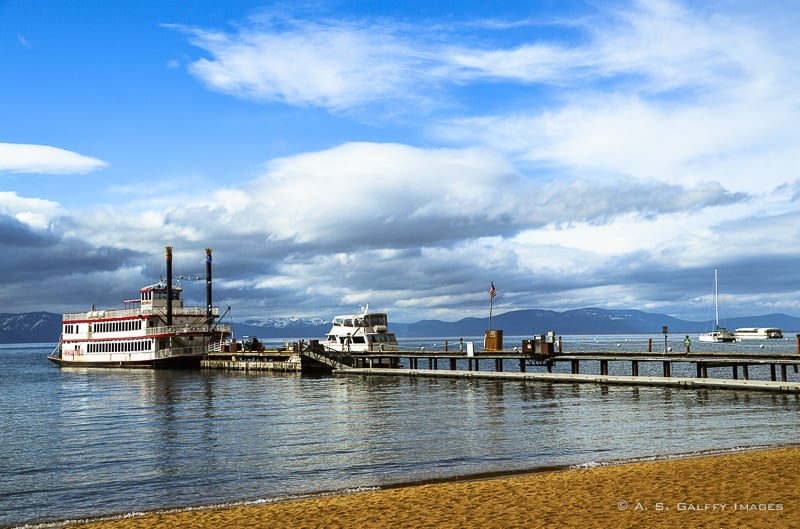 There are picnic tables, BBQs and a shaded area as well.

Nevada Beach
For some reason, this beach is popular for people from out of town. We love this long stretch of sand that goes on for miles! There is a beautiful view of the ski runs at Heavenly from here. The beach is surrounded by old fir trees that provide shade over the picnic tables. Since there are not many beaches in Lake Tahoe where you are allowed to let your dog run free, we love taking our dog here when we are in town.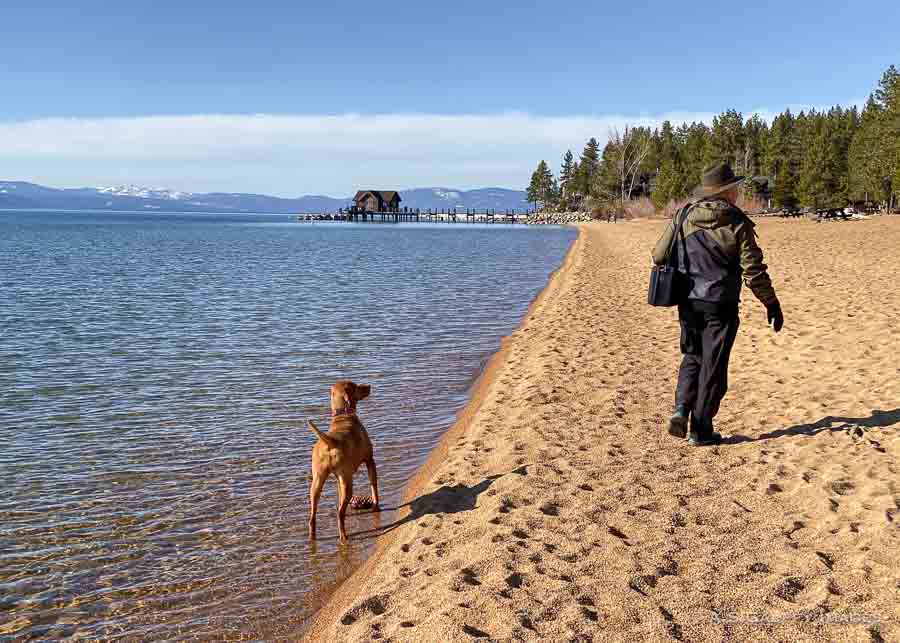 If you are visiting in summer, you can go for a swim, host a picnic, or simply walk along the beach and take in the beautiful views. This is the best spot on the lake to admire of the 4th of July fireworks displays because it's a very long and wide beach.

Sugar Pine Point State Park
This park is a real gem on the Western Shore of Lake Tahoe, an ideal place for a picnic, a swim or a tranquil setting to relax. Sugar Pine was for generations the summer home of the Washoe Indian tribe who came to these peaceful shores to hunt and fish. Over the years settlers and wealthy businessmen began buying property at Sugar Pine Point, erecting here lavish mansions.
Today, anyone can enjoy the unique beauty of this charming estate. If this is your first time at Sugar Pine Point, I recommend taking advantage of the guided tours of the Ehrmann Mansion (Pine Lodge).
There is an entrance fee for cars, but plenty of parking. There are beautiful views of the lake and paths that go down to the beach.
READ NEXT: 8 Amazingly Beautiful National Parks Near Las Vegas, Nevada
Best Time to Visit the Beaches in Lake Tahoe
With 249 sunny days a year, Tahoe is the ideal destination for outdoor lovers and beachgoers. The beaches are beautiful year round, even in winter, so no matter when you visit them you'll have a wonderful time here. We prefer visiting Lake Tahoe in winter, when we can also go skiing, but we also visited the lake in summer and spring.
If you want to go swimming in the lake, the best time to visit Lake Tahoe is in the summer (July and August) when the water gets warmer. Be advised however that although the air temperature can reach 80ºF in summer, the water temperature never gets higher than 68ºF, which is very cold for my taste.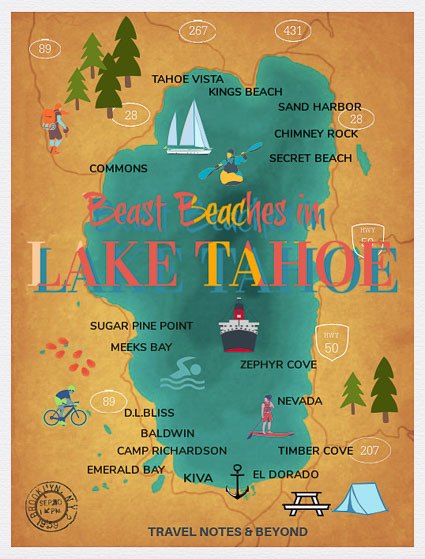 YOU MAY ALSO LIKE: