From its façade on Mission Inn Avenue in Riverside, California, Tio's Tacos Restaurant looks like any other Mexican eatery. But behind the wrought-iron fence, between trees and shrubs, lies a unexpected world of bizarre creations.
What to Expect at Tio's Tacos
Giant wire figures filled with shells and aluminum cans. Toys and discarded bicycles cemented in the ground. Beer bottle constructions, naked dolls, broken watches and other objects of refuse – all bundled up in an unimaginable form or art.
The restaurant's grounds are as large as they are unusual. There is a dream garden, a bottle pyramid, a fountain made of broken pieces of clay and old pipes. There is even a beer bottle chapel, with pews, icons and an altar.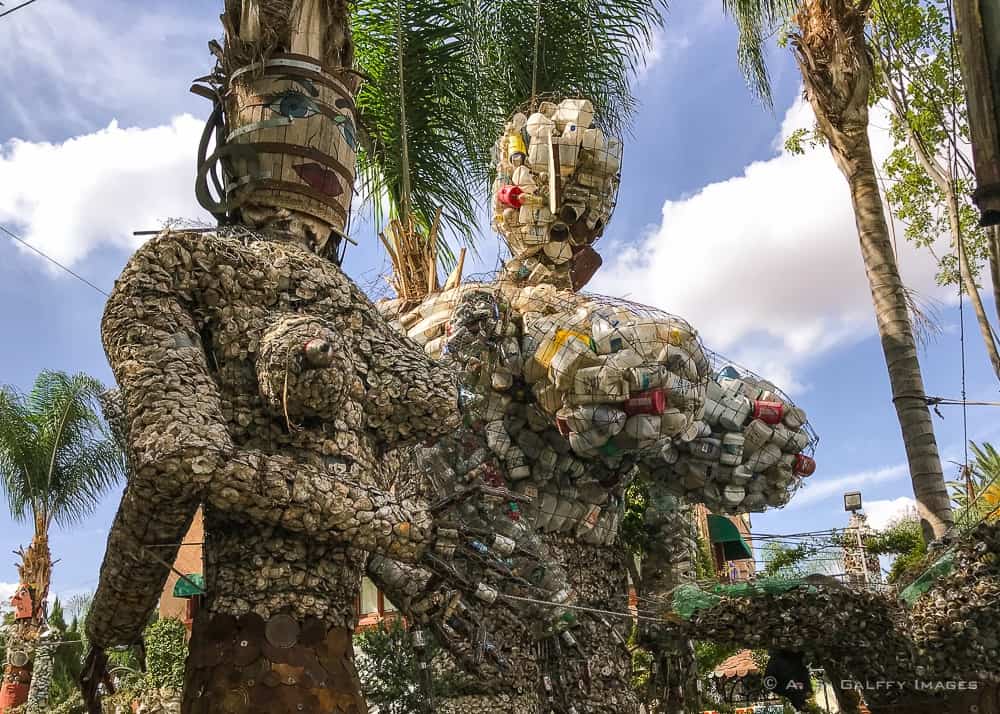 Some may consider it tacky, others may say it's ingenious, but nobody can deny that Tio's Tacos is unique – a hodgepodge of waste and useless things turned into an unconventional form of folk art.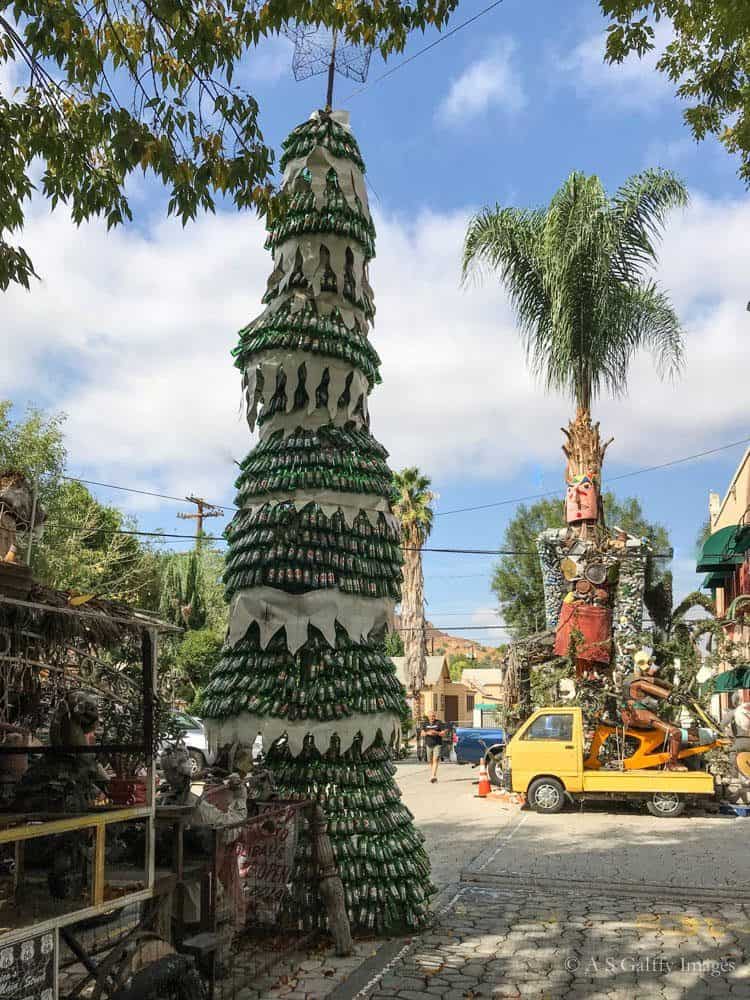 How it All Started – From Illegal Immigrant to Restaurant Owner
33 years ago when restaurant-owner and folk artist Martin Sanchez started his life in America, things looked very different around here. "At the age of 16 I decided to cross the border, hidden inside a car," Sanchez recalls. "I came here like everyone else, looking for a work. I didn't have a job, I didn't have a home, so I began selling oranges in the parks."
In 1989, Sanchez and his wife managed to rent a hot-dog cart and began selling tacos. A few years later, in 1995, he bought a little restaurant in downtown Riverside, on the same block where his tacos cart was. That's how it all began.
"When Matin was a little boy, he was always the leader of his friends who used to call him Tio (uncle), as a sign of respect," his wife says. "So he called the restaurant Tio's Tacos." In 2000 Sanchez also bought the adjacent parking lot and the next door house, which he has been using as his family home.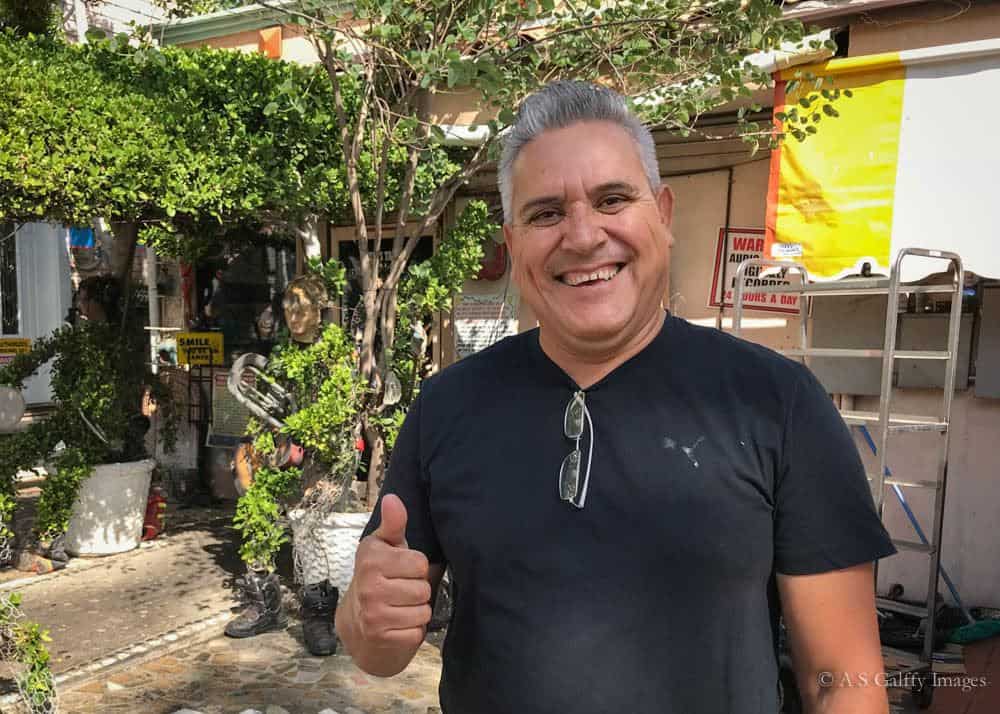 Taking Recycling to a New Level
Born in a small village in Mexico, Martin Sanchez grew up very poor. His biggest shock when he came to the States was to discover how much stuff Americans throw away. "When you come from a poor country, you don't get rid of anything. You reuse it," Sanchez says. "Here in the US, everything is disposable and it saddens me." Since he grew up with nothing, he began collecting everything he could find around the neighborhood.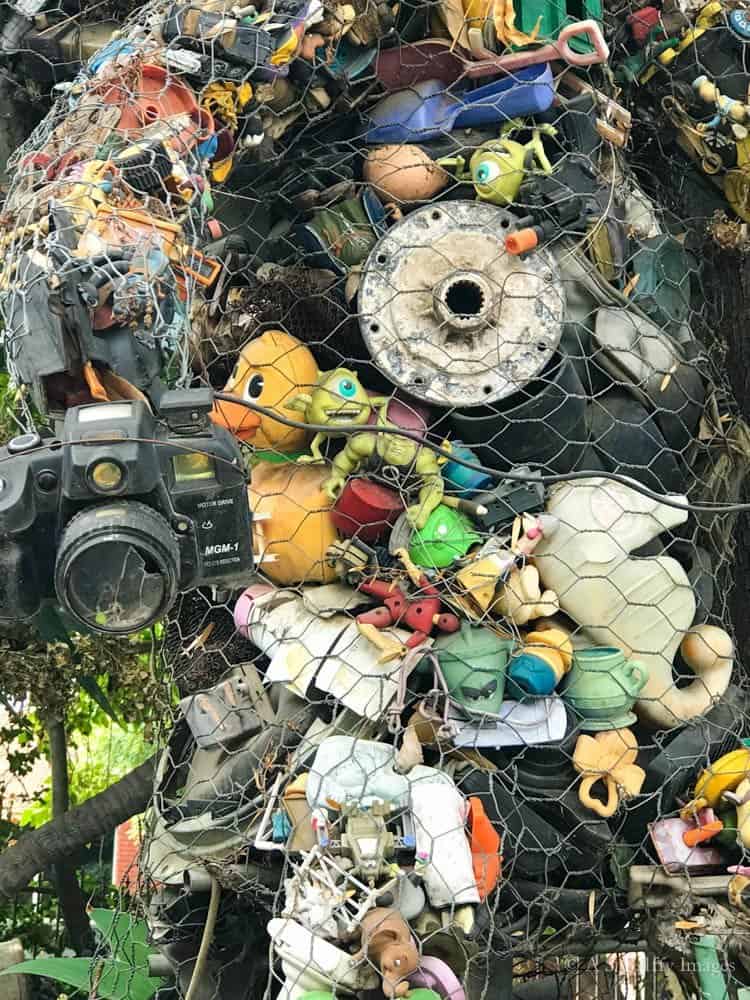 Soon, car parts, old pipes, tin boxes, broken toys, and other odd things began piling up in Sanchez's backyard. His trash was threatening to become a public nuisance, but Sanchez didn't see it that way.
For him, "one man's trash is another man's treasure."
He continued to recycle, and recycle, and recycle: lamps, folding chairs, pillow cases, old sunglasses, soda cans, oyster shells, cow bones, everything was saved. Eventually, the Department of Building and Safety took him to court, saying his property was full of junk. Sanchez represented himself and won, but he had to find a way to make his treasures blend in with the rest of the neighborhood.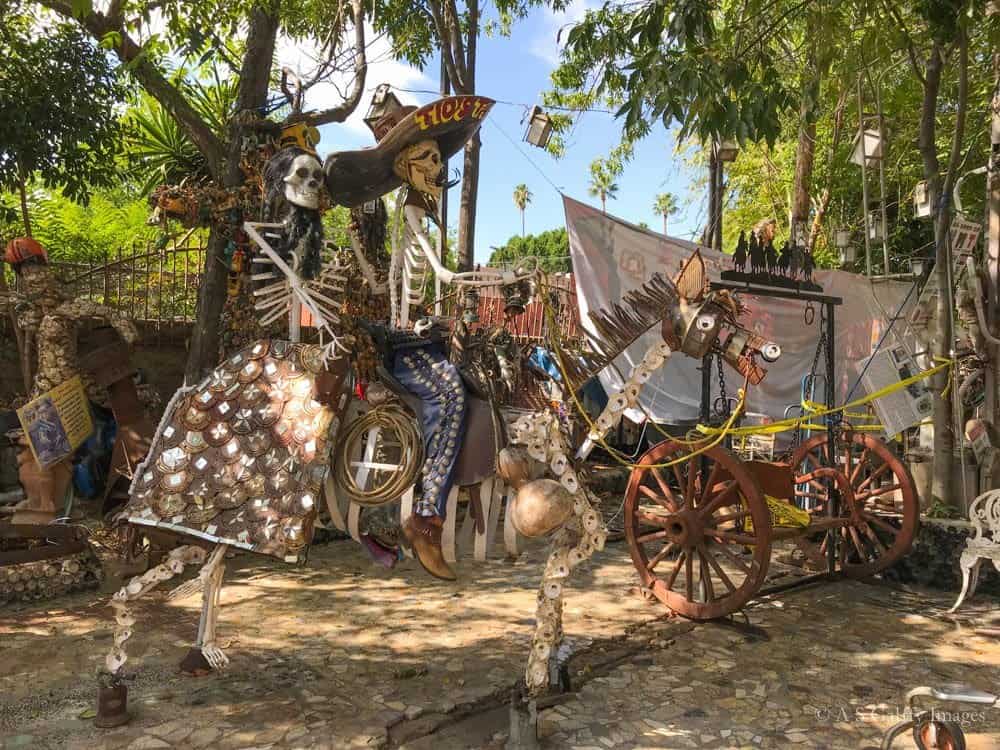 Tio's Tacos, More Than Just a Mexican Eatery
Sanchez often thought of his childhood years when he didn't have any toys and never really got to play. "One day it hit me," he says. "Why not do it now?" Why not create a fantasy world that would incorporate all his unfulfilled dreams? And that's how he began creating his dream world.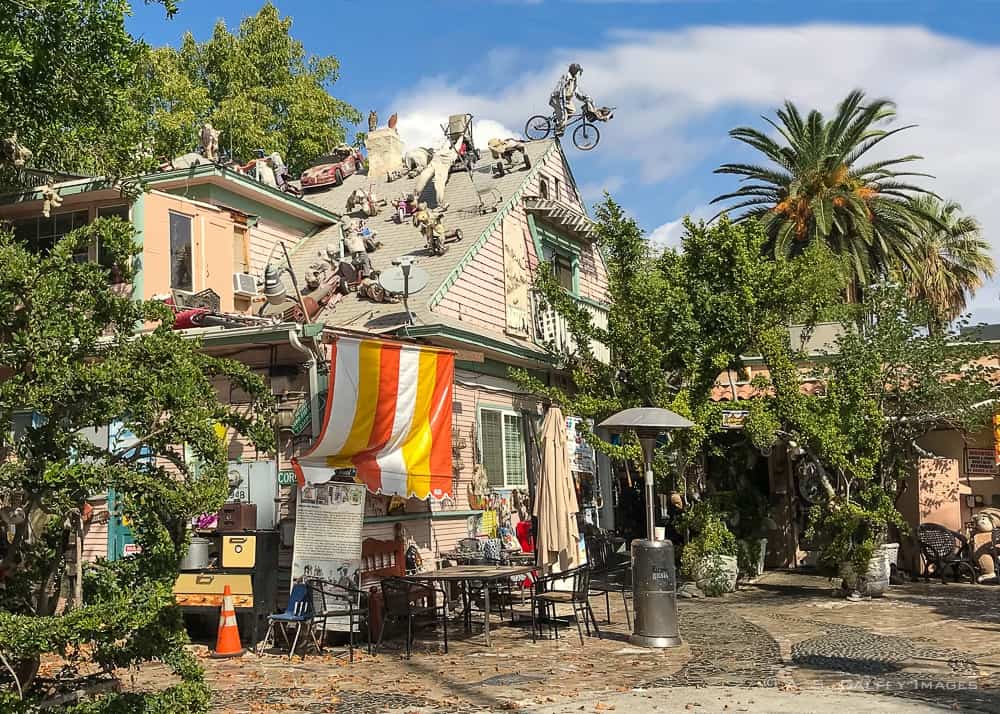 "All the stress that I had inside, I took it out on this place," Sanchez explains with a big smile. He is no longer young, but his childish enthusiasm and broad smile makes you forget that he is 51 years old and a father of three grown up girls.
"I collected toys for 22 years and at first I didn't know what I was going to do with them, but now I realize I was letting my inner child out" he continues. "Sometimes we don't believe in his projects until we actually see how they are transformed," his wife jokes. But what comes out is real art, done from things that you might not even imagine.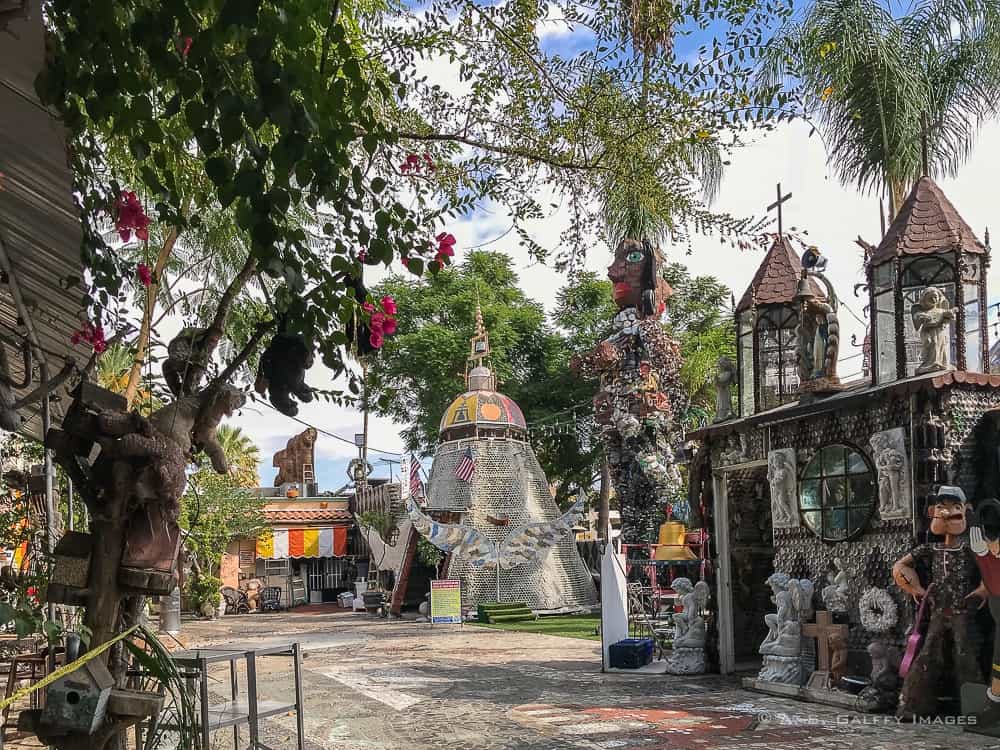 Today, Tio's complex occupies an entire block and his creations fill nearly every corner of it, including the trees and the rooftops around. "This project is a story of my family, of our life. If you talk to any of my children, or my wife, they can tell you something about each toy, or scrap used in these sculptures. Everything has a story," Sanchez says.
The city that hasn't always appreciated Sanchez's unique and ever-evolving vision, has now a different attitude and a lot of respect for his art creation.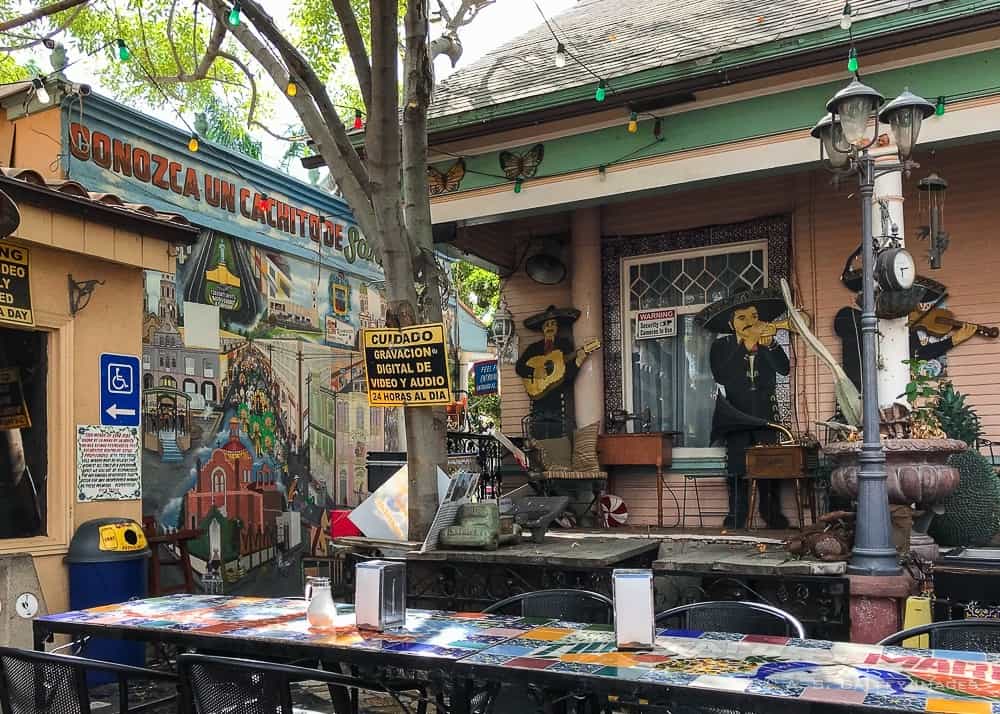 Eating at Tio's Tacos
After a good 40-minute walk around this glorious mess, food becomes secondary. Not that food at Tio's isn't delicious, but there is so much visual stimulation, that you forget about your other senses. They have a great selection of good, authentic Mexican food. You can have beef enchilada, carnitas, fajitas, chips, salsas, fish tacos, burritos, quesadillas.
Pretty much what any Mexican restaurant would serve. They also have a pretty good bar. The mixtos aguas frescas with chopped fruit is so thick, it's hard to drink it through a straw. The service is extremely friendly and the restaurant is clean.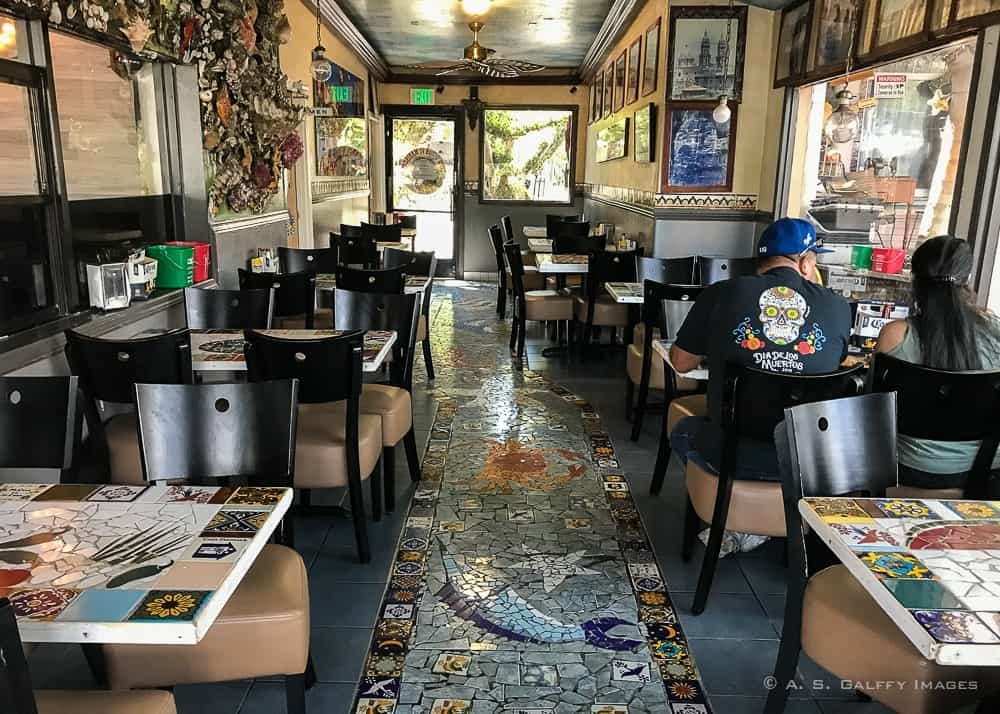 The prices are very reasonable too. This place is fantastic for a quick, filling, high quality, and relatively healthy meal.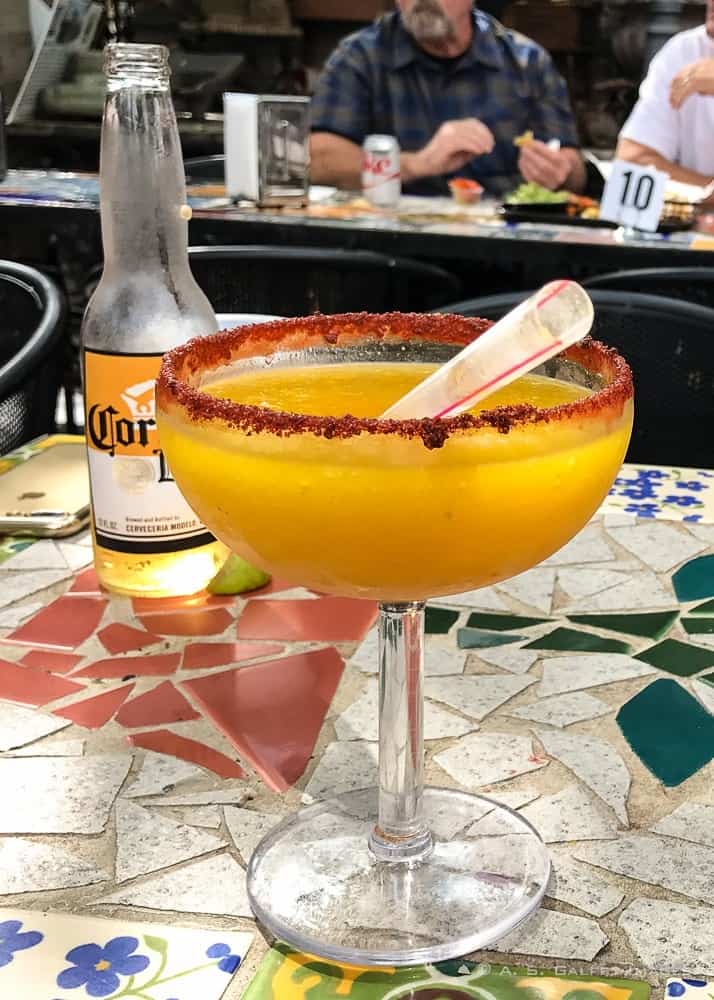 Tio's Tacos is not about the food. It is about a strange, yet amazing form of art. It is about the turning a fantasy into reality and fighting for your dreams.
How to Get to Tio's Tacos
Tio's Tacos is located on 3948 Mission Inn Avenue, in Riverside. The restaurant lies between Market Street and Highway 64, quite close to Mission Inn Hotel.
Tio's Tacos is perhaps one of the best kept secrets of Los Angeles, a place that will surely amaze you even if you don't like Mexican food.