Vancouver, Facts and First Impressions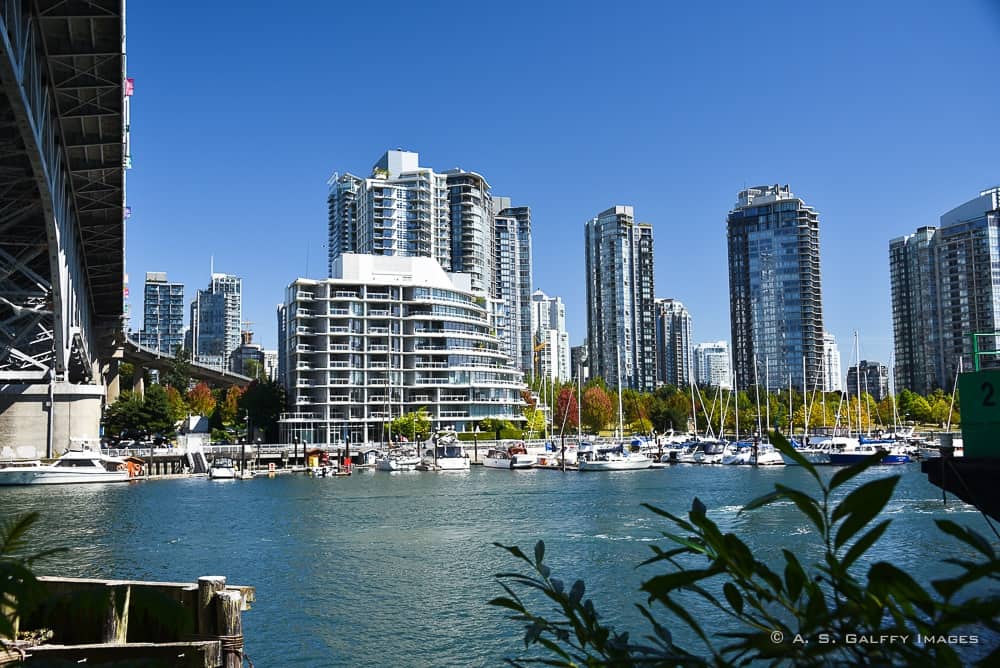 Please pardon my silence for the past two weeks, but even travel bloggers go on vacation sometimes. I mean real vacations, where they enjoy themselves instead of trying to keep up with social media or publish blog posts twice a week. Ah, I wish that was the real reason for my absence, but it's not. Truth is that I started my cruise trip to Alaska armed with my laptop and planning to blog like I always do, but things don't always go as planned. Shortly after we embarked on the Holland America Line I found out that connecting to the Internet will cost me 75 cents per minute. Ouch! And maybe not even that excessive price would have kept me away from my blog, but when reading three e-mails dug out $27 of my pocket, I gave up. The ship's "broadband" connection was slower than a snail drunk on molasses, crawling up an ice hill in January. But I'm back and ready to keep going, no matter what.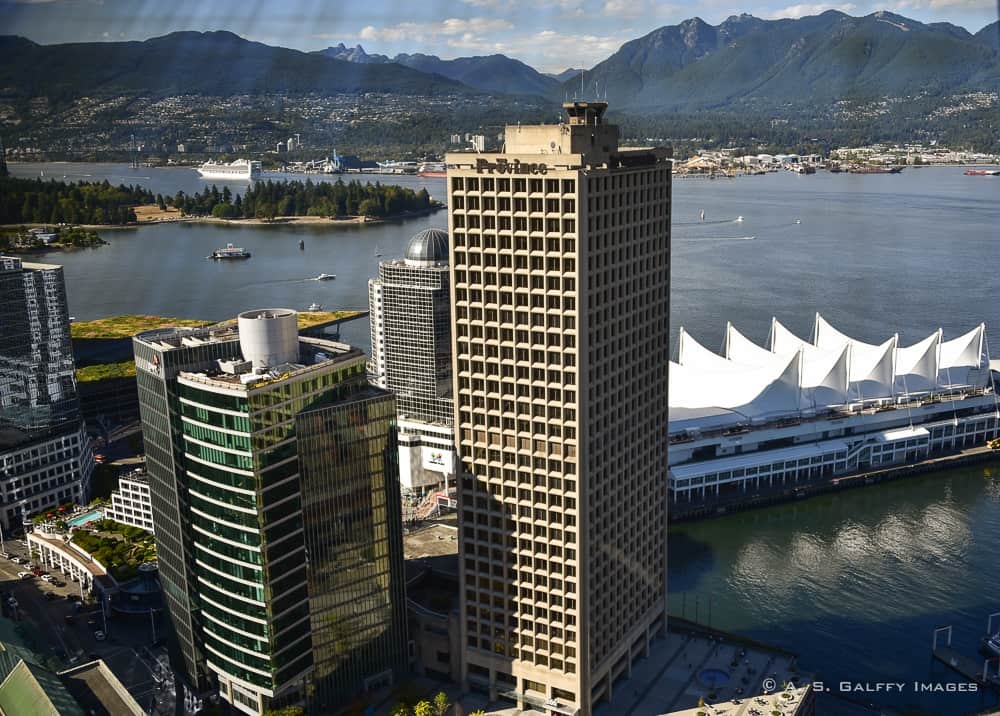 Before embarking on our cruise we've spent a few days in Vancouver. The first thing that strikes you as you arrive in Vancouver is how stunningly beautiful the cityscape is. The nearby mountains look like they climb right out of the ocean, the air is crisp and everything around you is clean and colorful. The second thing thing you'll probably notice is that in spite of being a big city, Vancouver is actually calmer and more laid-back than similar metropolitan areas.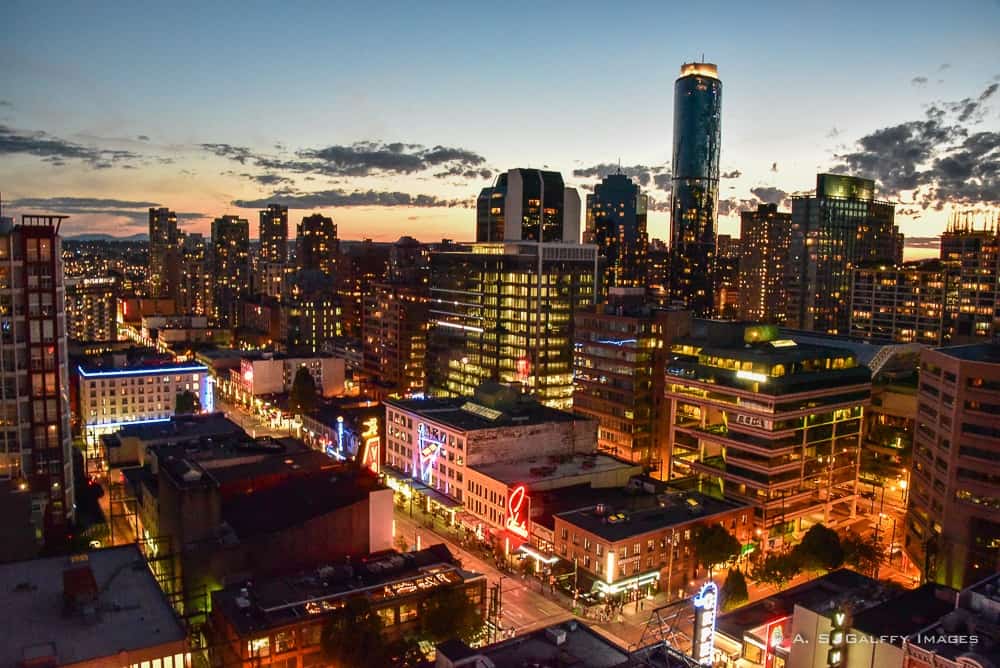 Vancouver is very young. Considering that only 150 years ago this place was a virgin forest, it's amazing to see how far the city has come in such a short time. The first inhabitants of Vancouver were the British, but with the Gold Rush in the 1860s tens of thousands of Europeans, Americans, South Americans and especially Chinese came here to make money in the gold field. The city's population is very diverse, with over 200 ethnic groups reported. But despite the diversity, only one group accounts for about half of all visible minorities: the Chinese.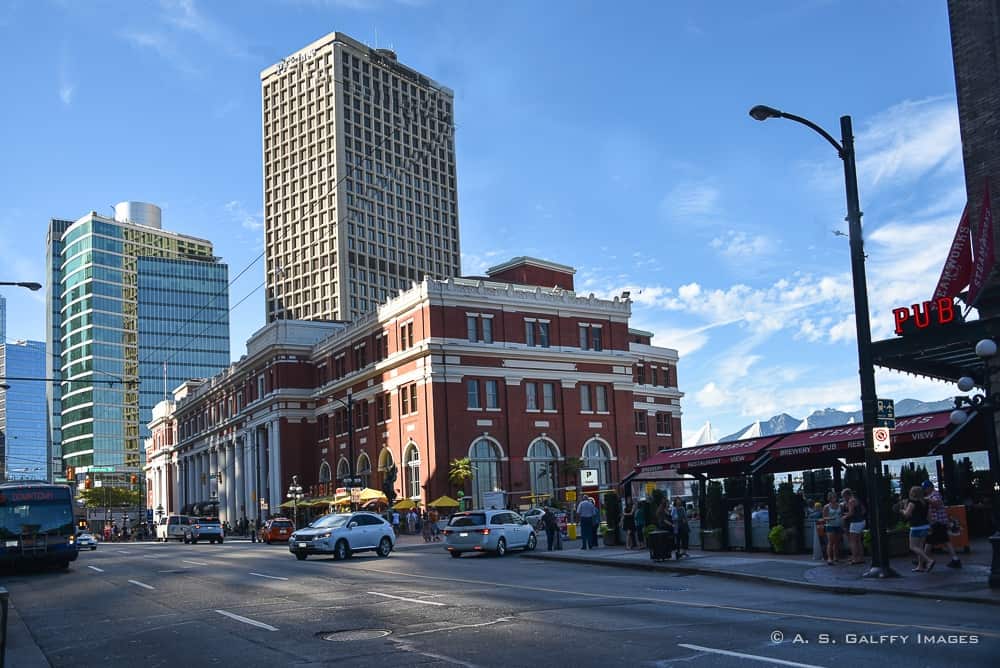 Vancouver counts itself among the most attractive waterfront cities of the world. The city's history began in what is today the trendy Gastown, a historic site at the northeast end of Downtown. Until 1867 this entire area was but a vast forest with huge trees. But within 3 years of the opening of the first saloon in town, a small community began growing up here. The community later became Gastown, being named after "Gassy," the funny and talkative steamboat captain who kept the saloon.
Gastown is a lively and fascinating area, with a great range of shops and restaurants, just perfect for walking. It is quite charming, with flower baskets on old-fashion lamp posts. I thought it had a good atmosphere, although there were many homeless around.
Perhaps the biggest attraction of Gastown is the Steam Clock. Every quarter hour, the clock shows off a bit by shooting steam from its whistles, and on the hour it plays a chime tune, marking each hour with a honk from each whistle.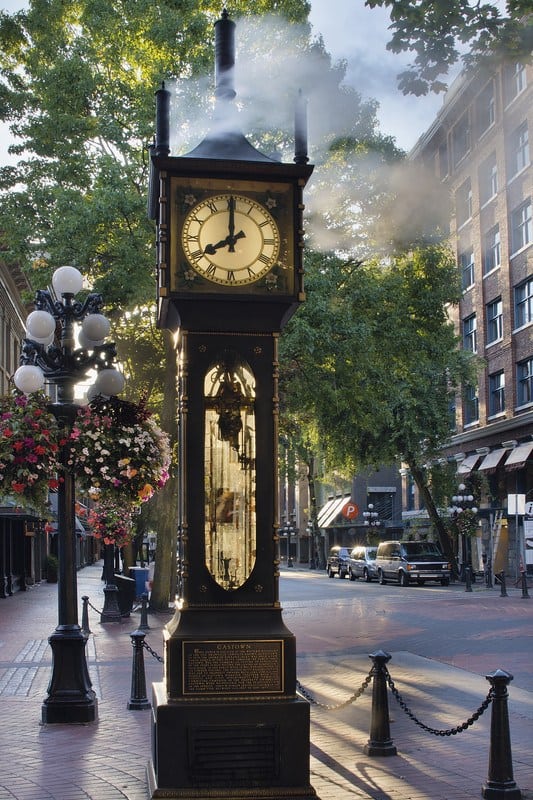 Unlike other cities where the industrial ports have been moved outside the city limits, the port of Vancouver is still in the heart of the city. The port was architecturally transformed so that it can be part of the cultural and social life of the city. Although Vancouver is one of the busiest ports of the world, the waters here are surprisingly clean making fishing a great attraction in the area.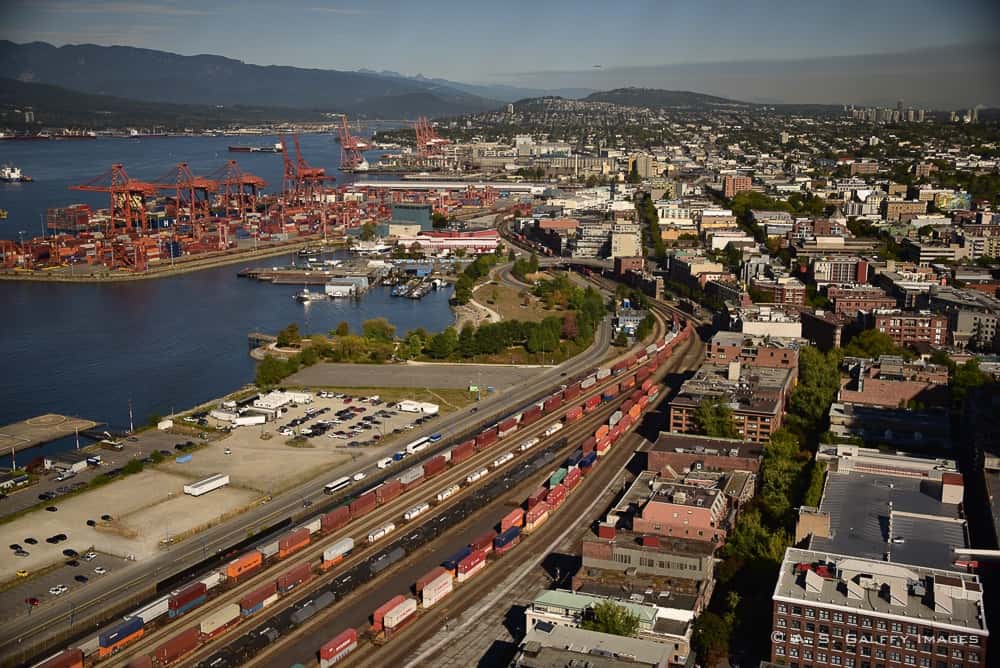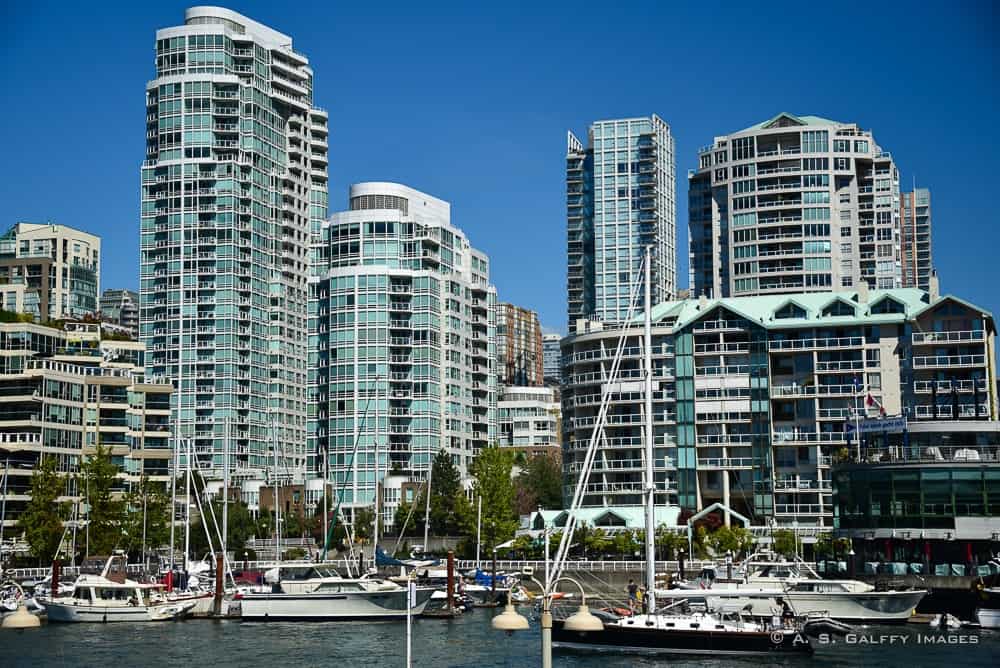 Vancouver started as a place to make quick money. Real estate was cheap back then, but that has changed a lot. From what we have been told, housing affordability seems to be the No.1 issue in Vancouver today. Housing is so expensive that Vancouverites spend about 50% of their gross income on it. The average house price is around $900,000, so the city struggles to create as much inhabitable space as possible. The drawback is the size of the houses and the apartments which in time became smaller and smaller and smaller. Although lots of condominiums are being built, there are fewer and fewer rentals available. The cost of building these condos is greater than the rent that can be charged on them. But despite the fact that metropolitan Vancouver is becoming so overcrowded, people still keep trying to move into the city. There is even a house-boat community in Vancouver.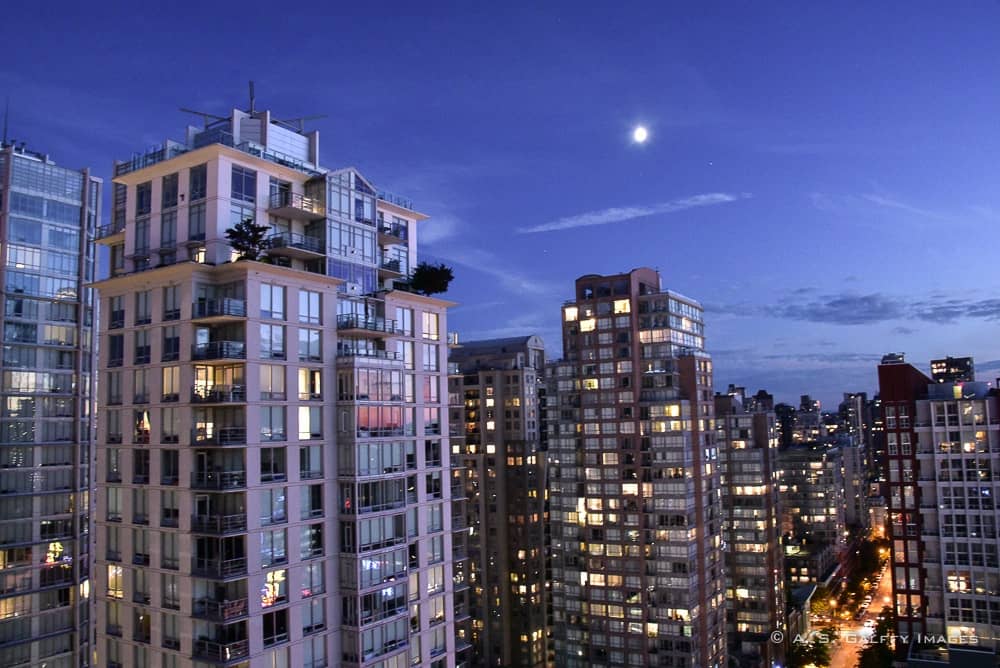 Outdoors is a very big thing in the lives of Vancouverites and that's no surprise. With such a spectacular nature around, it's hard to stay indoors. Besides, when you live your life in a small apartment and such a crowded city, you want to spend as much time as you can outside.
The range and number of outdoor activities in Vancouver is stunning. The city's proximity to great mountains, lush forests, lakes, as well as the ocean makes it very easy for the people to access nature. No wonder that biking, kayaking, or skiing is a lifestyle in Vancouver.
There is also a great array of museums, parks, beautiful beaches and markets that make Vancouver a great destination to visit for families. Vancouver caters to any interest throughout the year and is blessed with more natural beauty than any major city in the world.