Napa Valley is one of my favorite destinations in California. That's partly because our son attended college in that area and I have many sweet memories about those years. But the main reason I love Napa Valley is because because of its fabulous wine tasting places.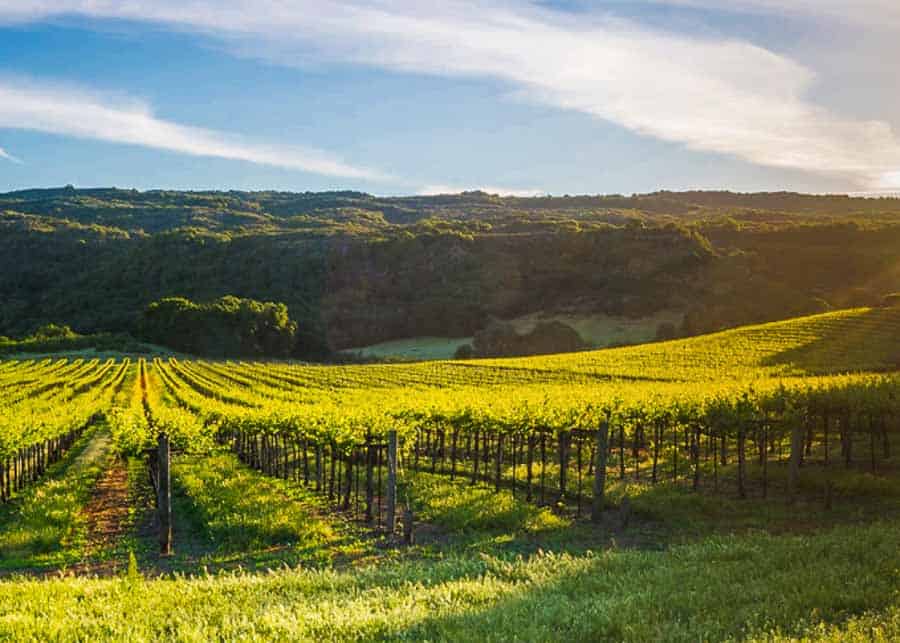 Napa is one of the top wine regions in the United States. In contrast with the new developing Paso Robles, this region has been a wine producer for almost two hundred years.
Nestled between the rolling hills of the Mayacamas Mountains, Napa offers not only good wine tasting, but also charming landscapes and breathtaking views at every turn. Between famous wineries, fancy tasting rooms and first class restaurants, you'll feel more pampered than you ever dreamed.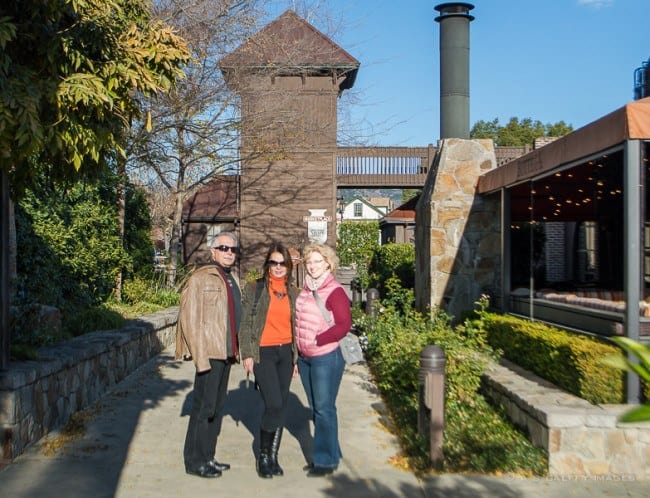 What Wineries to Visit in Napa Valley?
Napa is home to several hundred wineries. Some are open to the public, others are not. Planning a perfect wine trip and choosing which wineries to visit is an overwhelming task, even if you visited the area before. The wealth of options, the elegance of the tasting rooms, the art collections exposed in some of them, can make your head spin.
In the end, choosing which wineries to visit comes down to your preferences. Some people prefer the small boutique wineries, with a more informal atmosphere. Others are looking for a wineries that focus on specific wine stiles and varieties. But most folks traveling to Napa Valley simply want to have a good time and like to go wine tasting in lively venues like restaurants, or big tasting rooms.
There are several websites that pride themselves in their knowledge of this area and provide a pretty comprehensive list of wineries. In this post I'm going to talk about the wineries we visited during our trip to Napa, but please don't limit your experience only to these.
There is a really why so many people choose Napa as a birthday destination. Every day new wineries and wine tasting rooms appear in this region, so visiting as many as you can will help you discover many more interesting ones. After all, that's the fun of going wine tasting in Napa Valley.
Our Favorite Wineries and Wine Tasting Rooms in Napa Valley
Chimney Rock Winery
Chimney Rock is a world famous winery, recognized for its Tomahawk Cabernet Sauvignon. The setting is incredibly beautiful. The winery buildings have a very distinctive Cape Dutch architecture with gables and bright white stucco exteriors.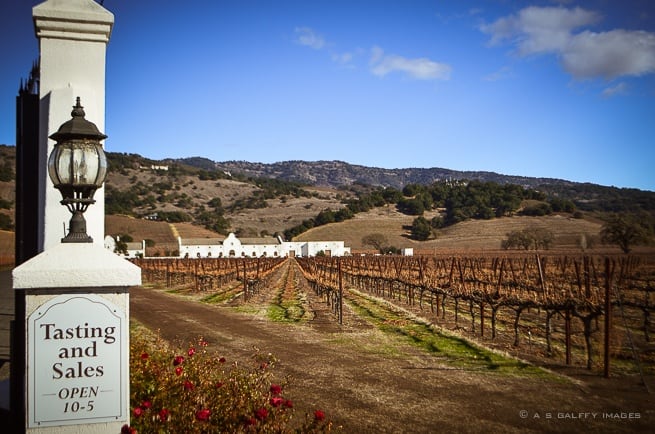 The tasting room is relatively small, featuring a large counter and a nice lounge area with a cozy and relaxed atmosphere.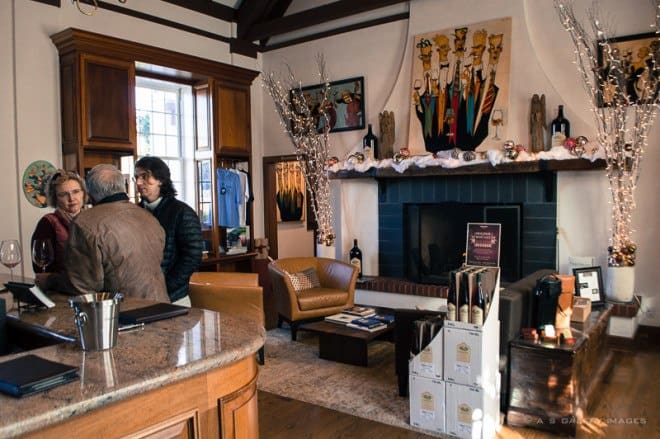 The winery also features a very impressive barrel room and a state-of-the-art production facility where they produce the wine.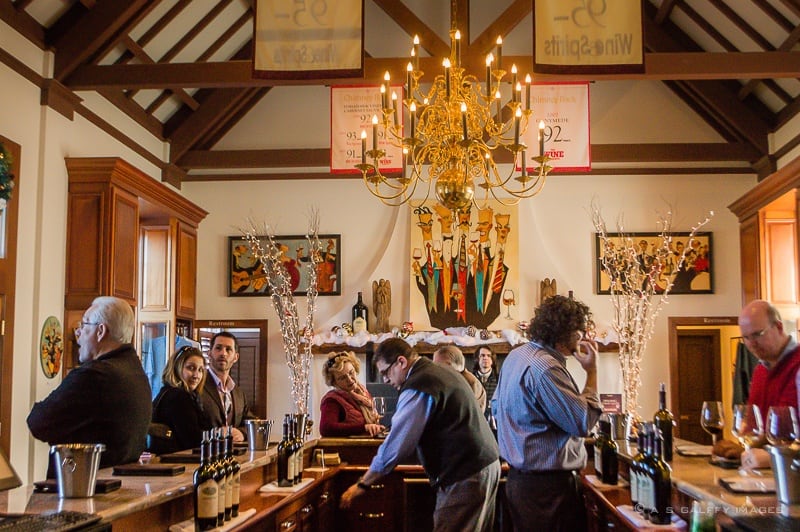 In 2016 when we visited the winery, the tasting fe was $35 for four wines. However, I'm sure the prices have changed, so for a more accurate quote you should visit their website.
Darioush Winery
Famous for its Bordeaux style and premium wines, Darioush Winery opened its doors in 2004. The winery has a very intriguing design, with faux columns, fountains and reflecting pools. Walking up to this winery is like walking onto a Hollywood set.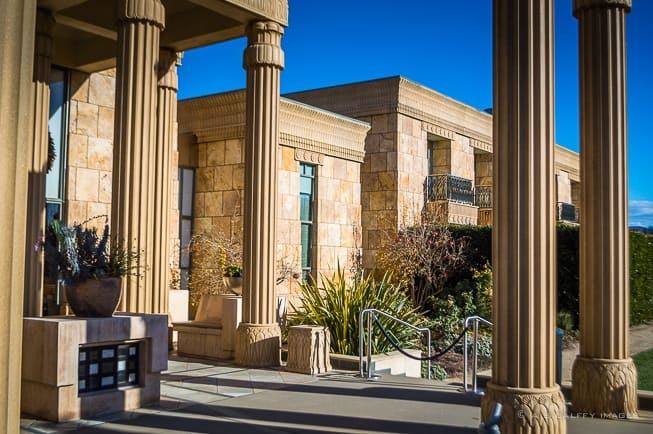 The owner is an Iranian born hobbyist winemaker who was actually trained as a civil engineer. His passion for fine wine transformed him from a wine collector into a wine producer.
The winery's visitor center (that includes the tasting lounge) is a very interesting combination of Persian architecture and exotic furnishings. And in the spirit of the Persian culture, the hosts are very welcoming and hospitable, providing an enjoyable experience for their guests.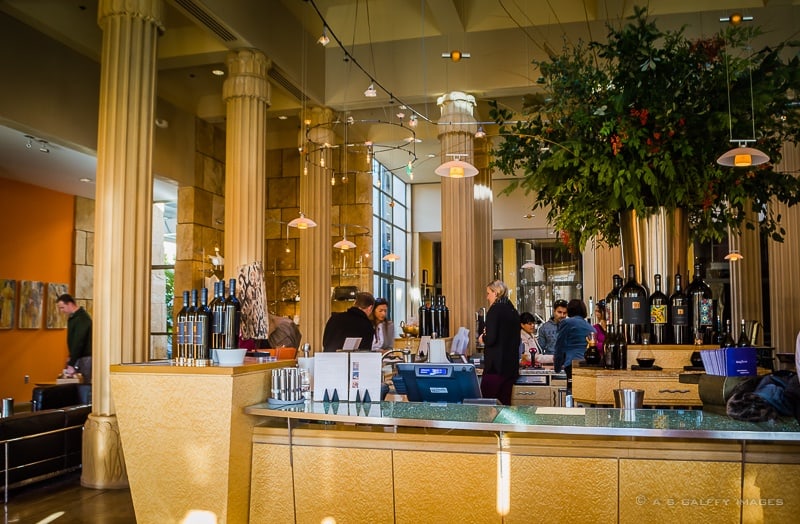 They specialize in a very wide range of wines, from Cabernet Sauvignon, Shiraz and Chardonnay to the Viognier and Late Harvest Shahpar. The rare and extremely limited wine of Shahpar is made only when nature's good fortune allows the grapes to be affected with Botrytis Cineria (Noble Rot).
Their wine tasting fee at the time of our visit was $40 for four wines or $18 for two. However, they wave the testing fee if you buy three bottles of wine. Today the wine tasting fee went up to is $65 and reservations are required. They also offer a special wine tasting by invitation only for $150/person.
Beringer Vineyards
Established in 1876, Beringer is California's oldest winery. Frederick Beringer's former residence is now the centerpiece of the winery, which is operated by his grandson, Mark Beringer. The Victorian style mansion with gables and turrets was built in 1884 by architect Albert Schroepfer. He sought to replicate the Beringer family's home in Mainz-on-the Rhine, Germany.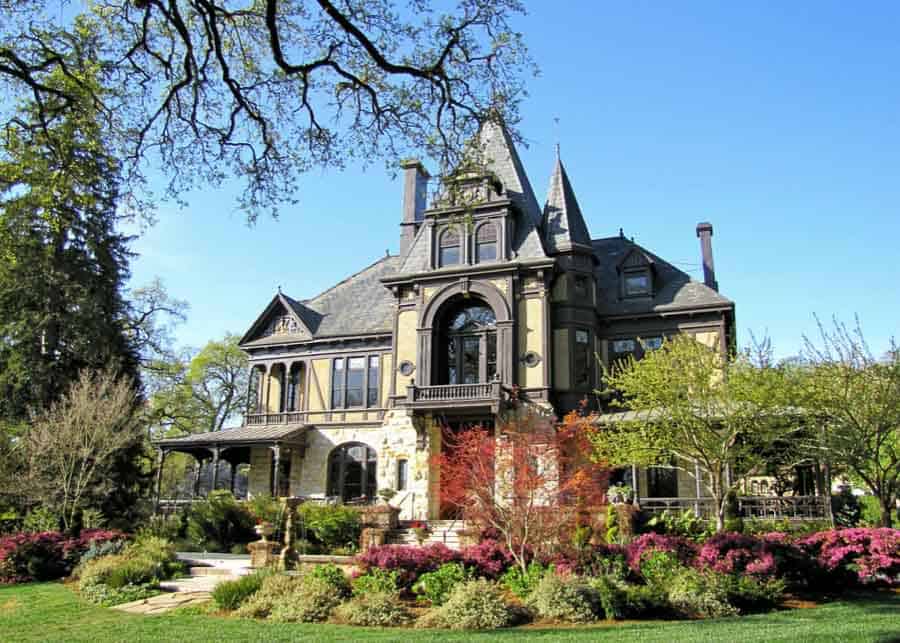 The estate is a delight to visit. During the vineyard tour you'll a lot about winemaking and hear some stories about the Beringer family. The wine tasting is seated on the beautiful wrap-around Veranda. They specialize in Cabernet Sauvignon and red blends.
The admission price is $15 and includes a glass of wine from our curated menu. Brunch is offered only on Saturday mornings, for $75/person.
Round Pond Winery
The Round Pond is a Rutherford winery and farm that specializes in Rutherford Cabernet Sauvignon, Sauvignon Blanc and artisan foods. Their wine testing lounge is located on the second floor, offering a very romantic atmosphere and panoramic views of the vineyards and the Mayacamas Mountains.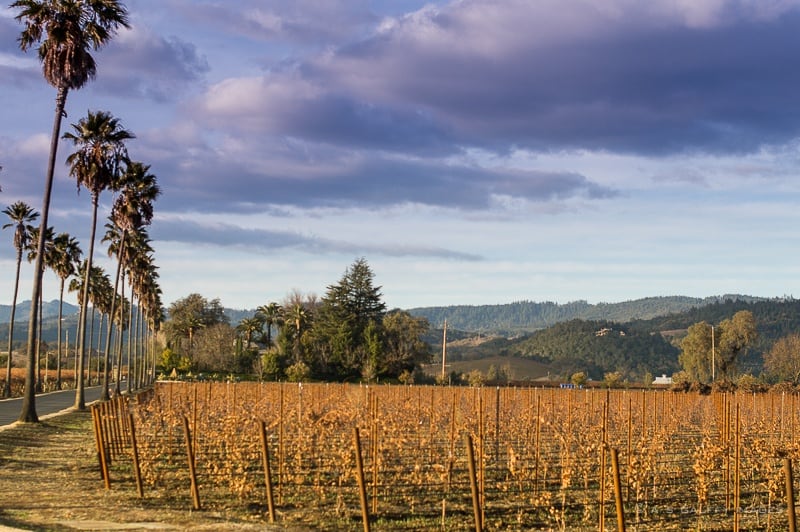 The estate includes 5 acres of vegetable gardens, 12 acres of olive orchards, and one of the only two olive mills in the region. They also offer an Olive Oil and Vinegar tasting, but we didn't try that.
In addition to their casual tasting room they also have a beautiful terrace where you can sample their wines and charcuterie in the summer.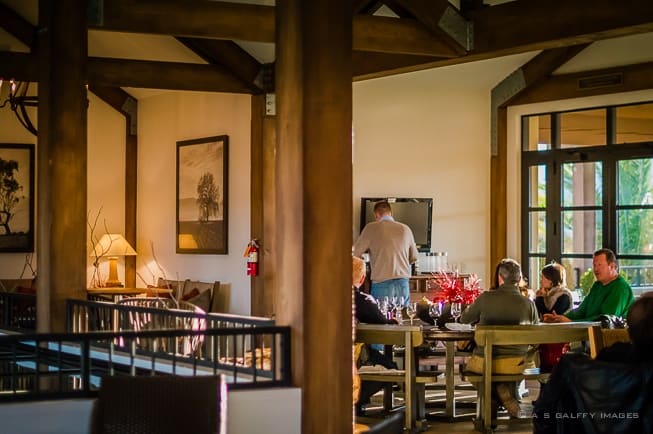 You can also take a guided tour of the estate's olive mill to learn about oil production, the growing and the harvesting process. This is definitely a very unique and interesting winery that shouldn't be missed if you happen to be Napa.
Their testing fee was very reasonable at the time of our visit in 2016 ($25/person – $45 with food samples). Today the wine tasting fee went up to $65/person and reservations are required.
Other Things to Try in Napa Valley Besides Wine Tasting
Besides its famous wineries, Napa Valley is also home to some the world's greatest restaurants, like Thomas Keller's Five-Star The French Laundry, in Yountville. The restaurant is so popular that it requires reservations two months in advance to the calendar date. No time to wait? No problem. There are plenty other less famous but equally good restaurants around.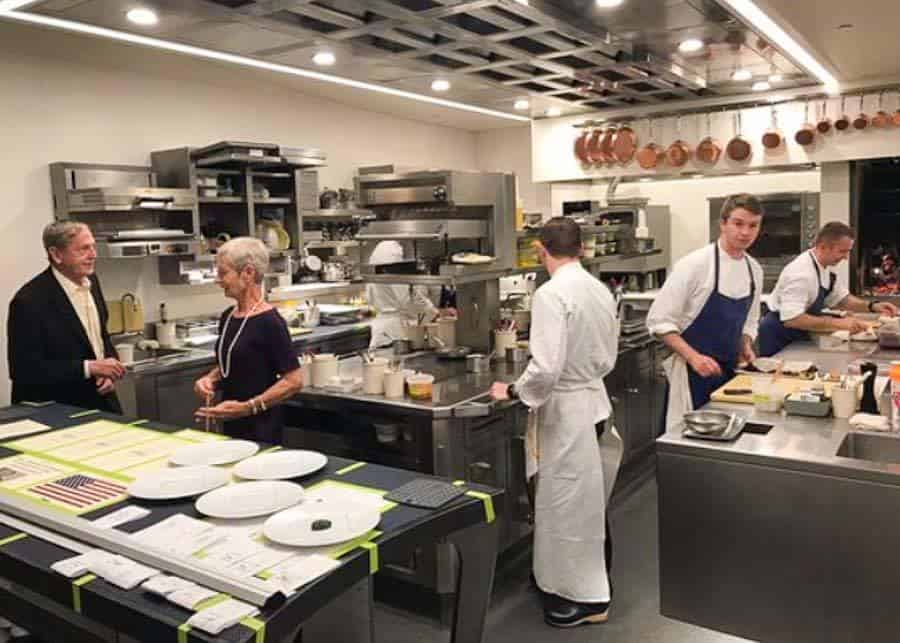 Within 15 minutes of the French Laundry, there is the Four-Star Restaurant at Meadowood, Thomas Keller's Bouchon Bistro and Michael Chiarello's Bottega Restaurant.
Tips for Going Wine Tasting in Napa Valley
If you want to savor your wine tasting time in Napa Valley you shouldn't schedule more than 3-4 wineries per day. We visited four wineries in one weekend.
Due to the Coronavirus restrictions, the wine tastings are now by appointment only, so you need to make a reservation before you go.
Wineries are also limiting large groups and are operating at reduced capacities, which actually make the Napa wine tasting experience will now feel more intimate than usual.