Imagine yourself in a time when soldiers were marching in the dusty streets at the sound of drums. A time when wigs, corsets and crinolines were in style. It may sound like a long gone era, but not so. You can still see all these and much more when you visit Colonial Williamsburg.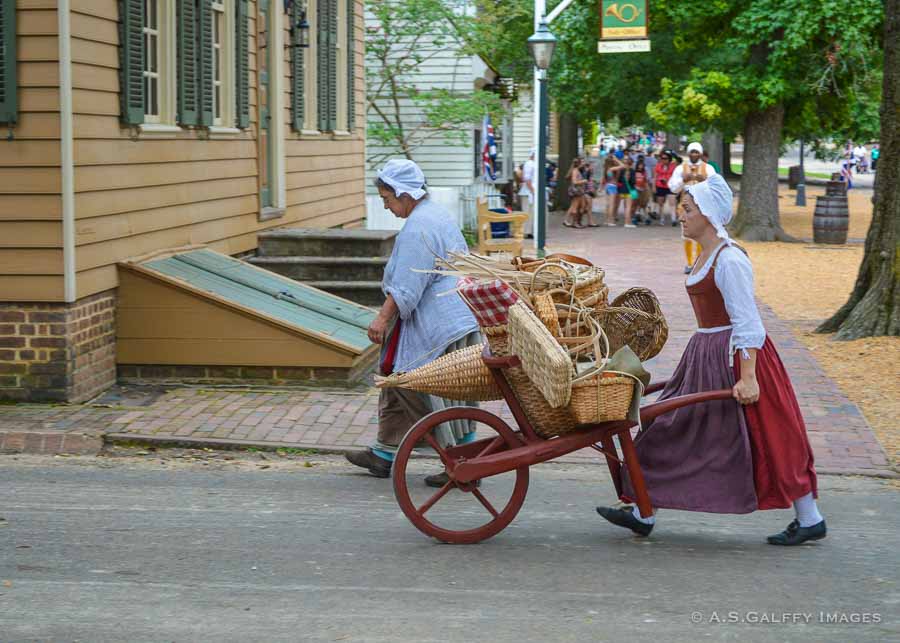 Why Should You Visit Colonial Williamsburg?
Once the capital of the state of Virginia, Colonial Williamsburg is today a large settlement that recreates the era of the American Revolution. The settlement is part of the Historic Triangle of Virginia, which includes three significant communities: Jamestown Settlement, Yorktown Battlefield, and Colonial Williamsburg.
A visit to Colonial Williamsburg is a must for any history lover. This is also a great place for those who want to learn more about this period in the history of the United States. So if you are planning to visit the historic Colonia Williamsburg, here is all you need to know about it.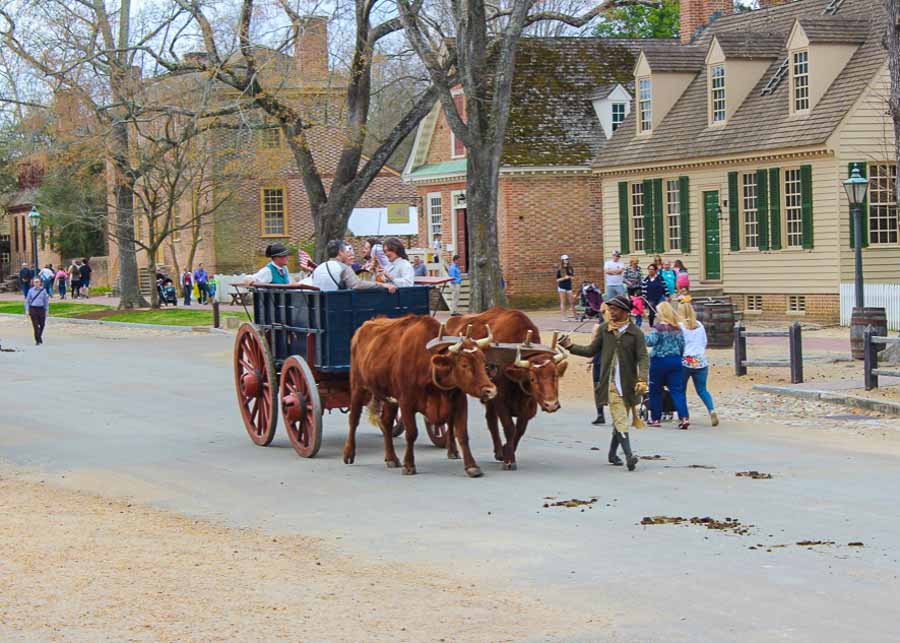 Reenacting History
At the beginning of the 20th century, the rector of Bruton Parish Church in Williamsburg – W.A.R. Godwin – came up with the idea of rebuilding the town and reenacting its history. The son of a wounded Confederate captain, Godwin held Williamsburg very dear to his heart.
However, his project was far too big and costly so he had to find supporters for it. Godwin struggled for a long time to raise funds, but with very little success. His big chance came in March 1926 when John D. Rockefeller Jr. and his wife came to visit Colonial Williamsburg.
The Rockefellers liked the idea of recreating the early history of the United States and agreed to fund the project. And so began the reconstruction of Colonial Williamsburg.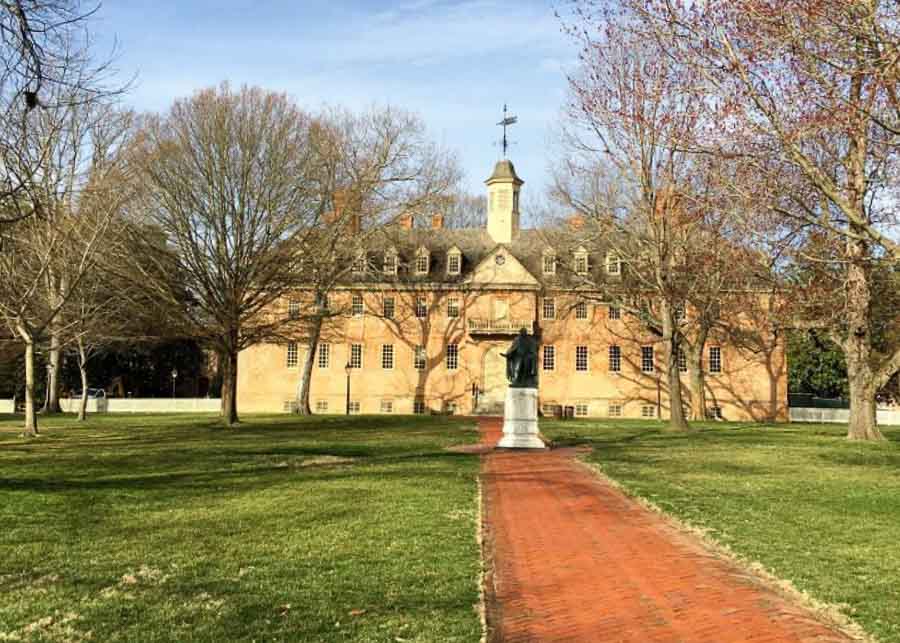 How to Make the Most of Your Visit to Colonial Williamsburg
Visiting Colonial Williamsburg is like stepping back in time. Everything, from the clothing to the horse drawn carriages and the atmosphere of the taverns, makes you feel like you are in the Revolutionary War era.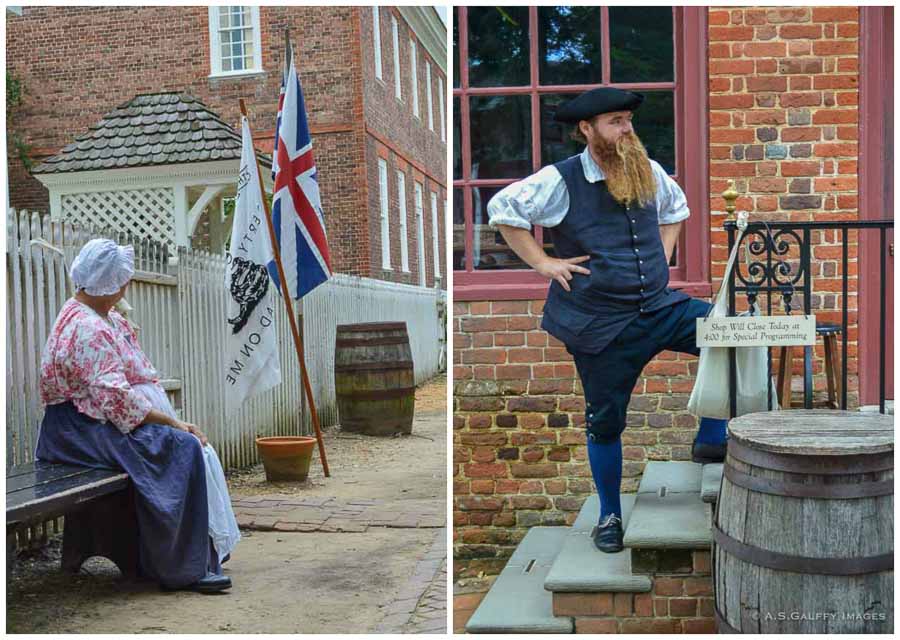 Colonial Williamsburg historic area extends on 300 acres, along the Duke of Gloucester Street. Your visit starts at the Visitor Center, where you can also buy your tickets.
1. Learn About America's War of Independence Before Your Visit
Familiarizing yourself with the historic context in which Colonial Williamsburg has developed will help you make the most of your visit.
There are many online resources that could give you quick history lesson about the American War of Independence, so make sure you get some information before your visit.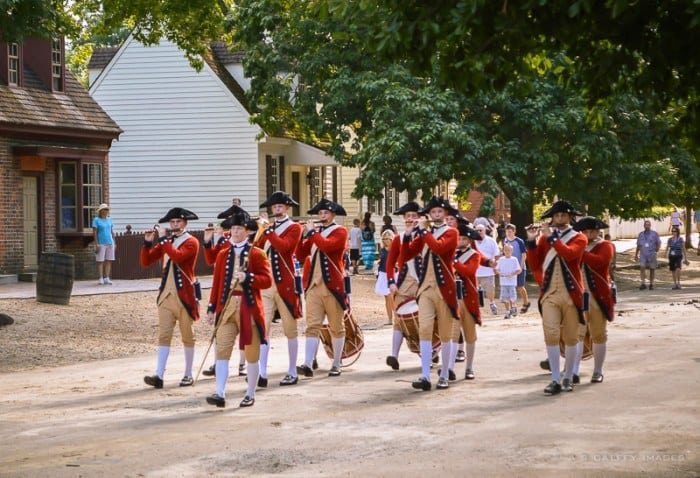 2. Grab a Map from the Visitor Center
The historic area is pretty big, so if you don't have a plan of what to see you may be missing important landmarks. Rather than wandering around without knowing what you are looking at, be sure to grab a map from the Visitor Center.
The map has the times of each historic building and what days they are open, so make sure you look that over so that you can plan your day (or days) accordingly.
Also, if you have a smartphone you can download Colonial Williamsburg Explorer App which is good for purchasing tickets, map & directions, coupons and calendar of events.
3. Interact With a Colonist
Don't be too shy to strike up a conversation with one of the local settlers. Whether it's a soldier, a woman sitting on a porch, the baker, or the butcher, they will happily answer your questions or point you in the right direction.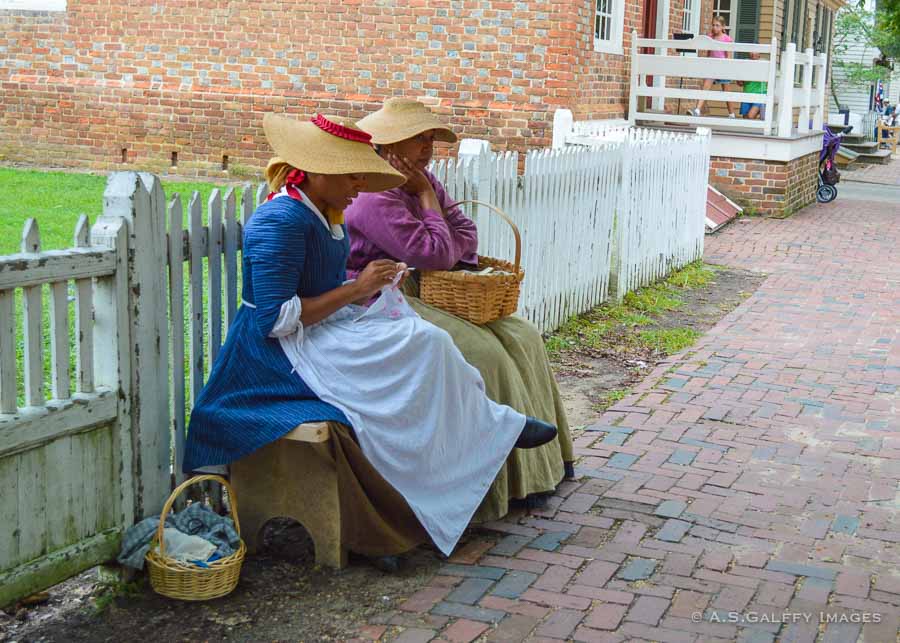 They may even tell you some stories about the American Revolution era. They sometimes get into character so well, that you will start believing you really stepped back in time!
4. Dress Comfortably
Although the historic area of Colonial Williamsburg is not very big (about one mile long and 1/2 mile wide), you'll be walking a lot on unpaved roads. Wearing comfortable clothes and shoes is very important. Also, dress in layers as the weather in Virginia can change very abruptly.
5. Make Dinner Reservations
No visit to Colonial Williamsburg would be complete without trying some of the local dishes. The food is good almost everywhere, but most eateries are overcrowded, so if you want to be safe you should make reservations.
There are a few historic taverns in town which particularly require advance reservations, since they are very popular.
What to Visit in Colonial Williamsburg
Out of the several hundred buildings that have been reconstructed, 88 are original. Some of them are historic landmarks, like the Governor's Mansion, Bruton Parish Church, and the Capitol Building. Others are workshops, like a printing shop, blacksmith, cabinetmaker, gunsmith, or wigmaker. There are also some stores selling various goods.
1. The Governor's Palace
The Governor's Palace was the social center of Williamsburg. This was the place were gala dinners and balls were held and where important state officials were received. Therefore, the palace had to impress its visitors and show Royal authority.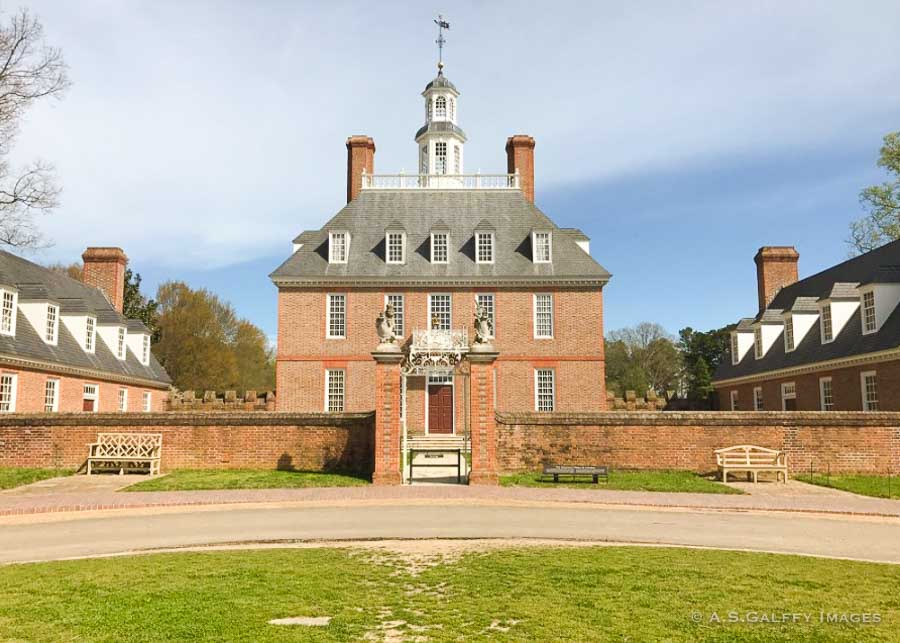 Unfortunately, the original structure of the Governor's Palace erected in 1722, perished in a fire. The Palace building you see today is only a replica that dates back to 1934.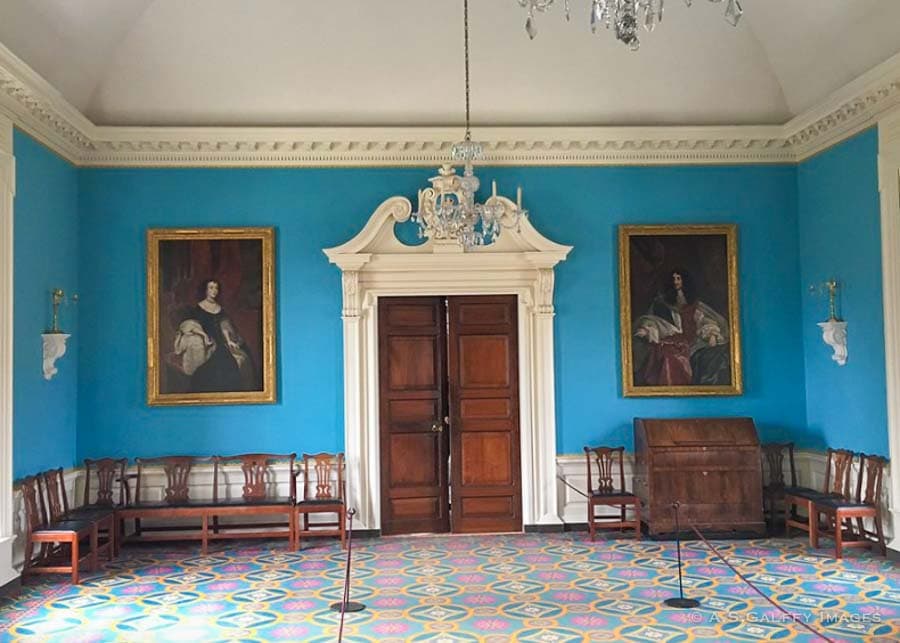 Inside you'll see a beautiful collection of firearms and swords, as well as a series of beautifully decorated rooms. Don't miss the terraced gardens, as well as the kitchen and scullery where you can watch how they prepare period foods.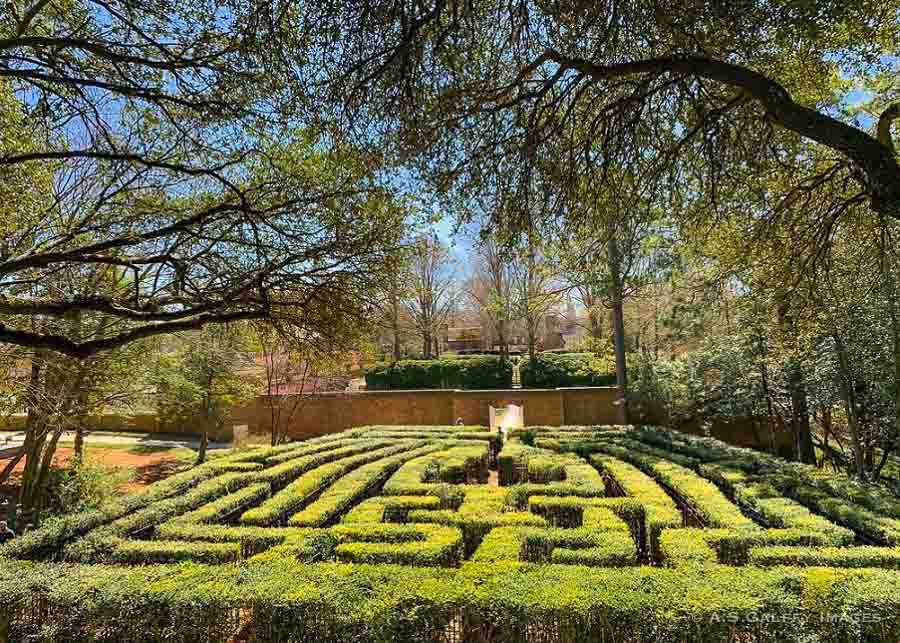 2. The Capitol Building
The first Capitol building stood on this site from 1705 until 1747, when a fire destroyed it. The irony of this would be that the original Capitol was built without fireplaces and candles and pipes were banned from the building on account of fires.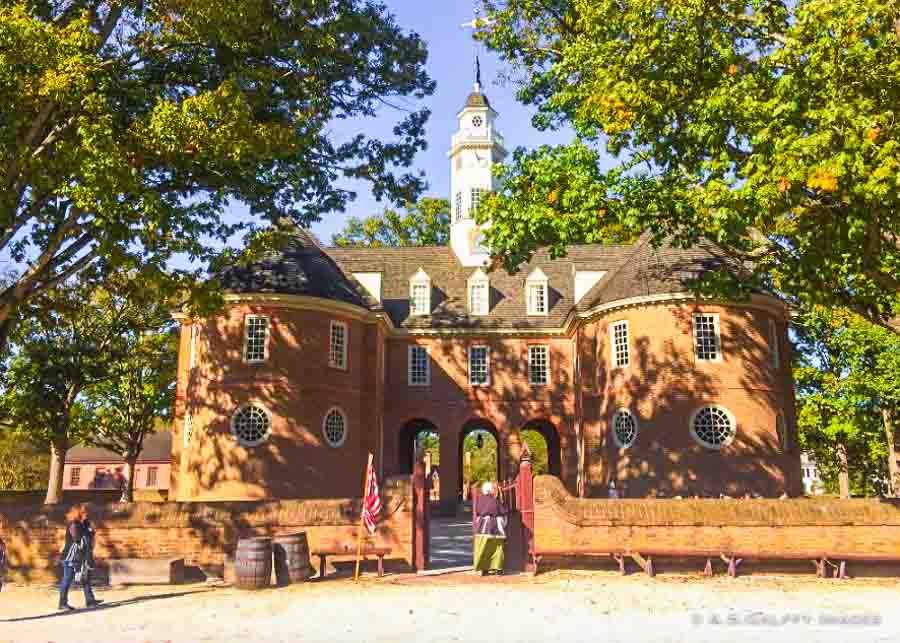 Later on, another Capitol building was erected on the site. However, because the seat of government was moved to Richmond, the building was no longer needed so it was later demolished.
Everything stayed dormant until 1928 when C.W. Foundation decided to purchase the site and recreate the first Capitol as that building was better documented and deemed more period appropriate.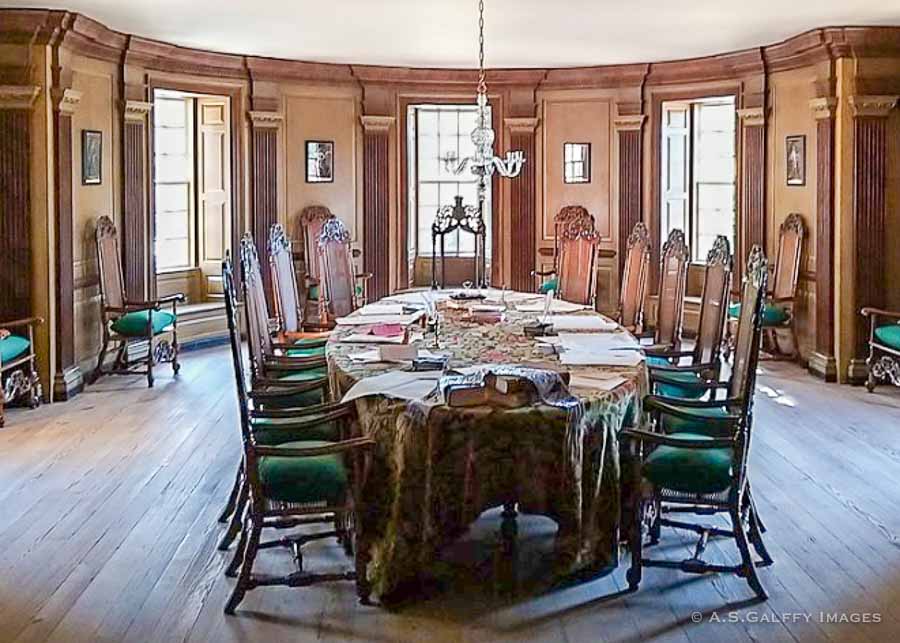 It was however in the Capitol building in Williamsburg — 2 months before the Declaration of Independence was signed at Independence Hall — that Virginians authorized their delegates in Philadelphia to support the separation of the colonies from England.
3. Burton Parish Episcopal Church
The tiny Burton Parish Church located in the heart of the historic Colonial Williamsburg was completed in 1683, which makes it the oldest building in town.
During the Civil War, the church served as a hospital and later as a mass burial site for about 100 confederate soldiers killed during the Battle of Williamsburg.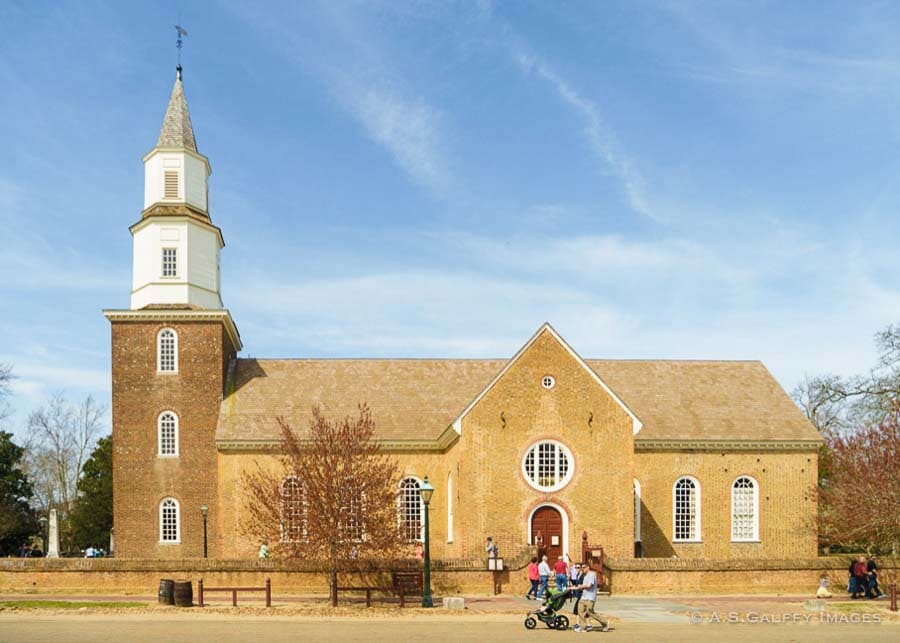 Behind the church, you will find a beautiful cemetery with graves from the 17th century to the 20th century. Each grave has its own story, from the unknown confederate soldiers to one of the church's colonial reverends.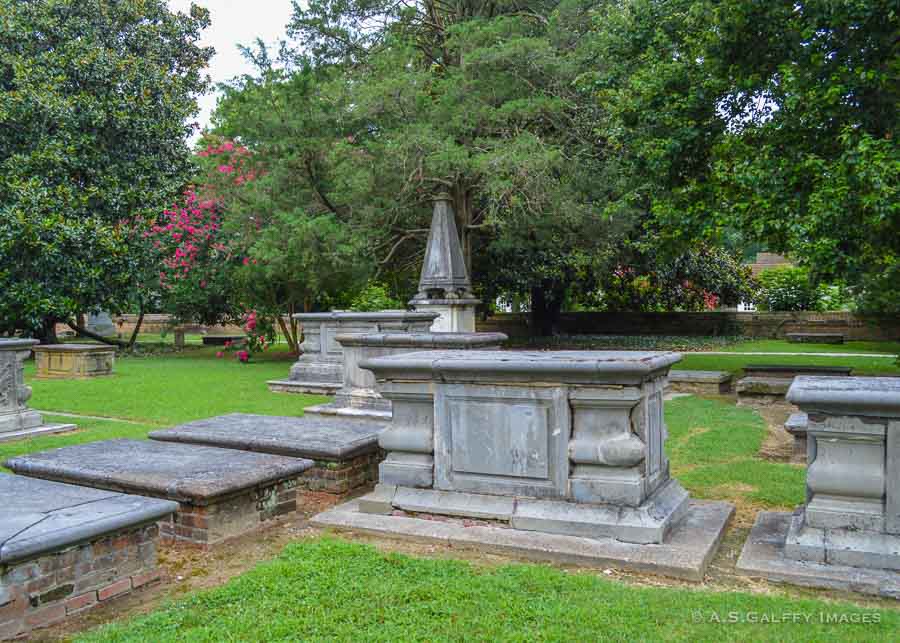 Burton Parish is still an active church, holding daily morning prayers and worship services every Sunday.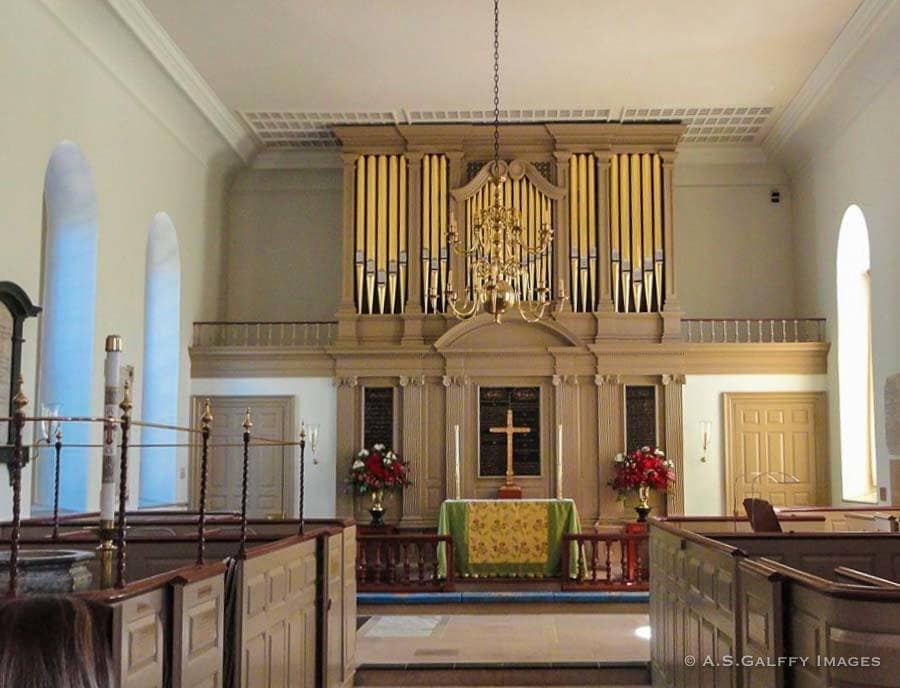 4. The College of William & Mary
One place not to miss when you visit Colonial Williamsburg is the College of Williams and Mary. This is the second oldest college (1693) in the United States after Harvard and many famous figures like George Washington, Thomas Jefferson, and James Monroe took courses here.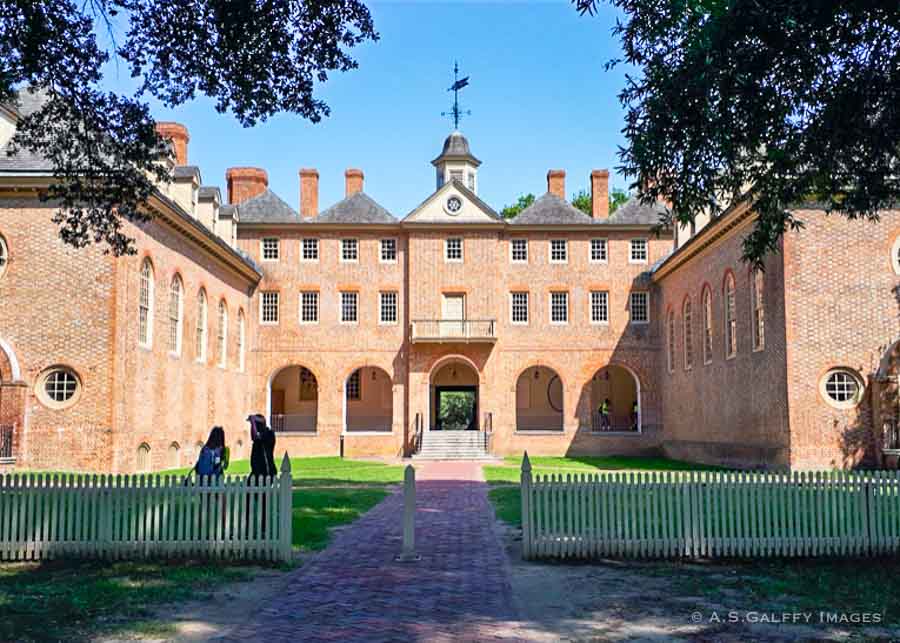 The Wren Building on the campus, which was named after its supposed architect, is open to the public. It is the oldest college building still standing in the United States, built prior to 1700 (when Jamestown was still the capital of the Virginia colony). The building is steeped in history, as you can see from the numerous marble plaques adorning its walls.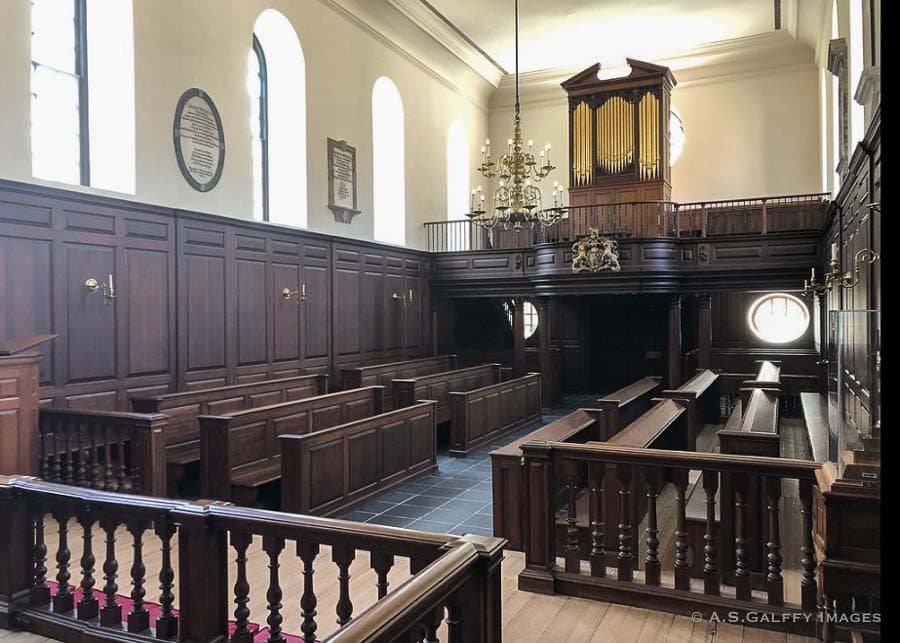 The building has numerous rooms which are still in use today for classes. The Wren Chapel is the site for many weddings. Underneath the chapel there is a crypt that contains the graves of some important American revolutionaries. It's a neat structure and one worth visiting when in Colonial Williamsburg.
5. Raleigh Tavern
In colonial Virginia, taverns were where local people and travelers gathered for news, food, and to socialize. Some of those in Williamsburg are still in use today, so you can get a feel for 18th-century social life and taste the authentic dishes that Jefferson or Washington might have enjoyed here.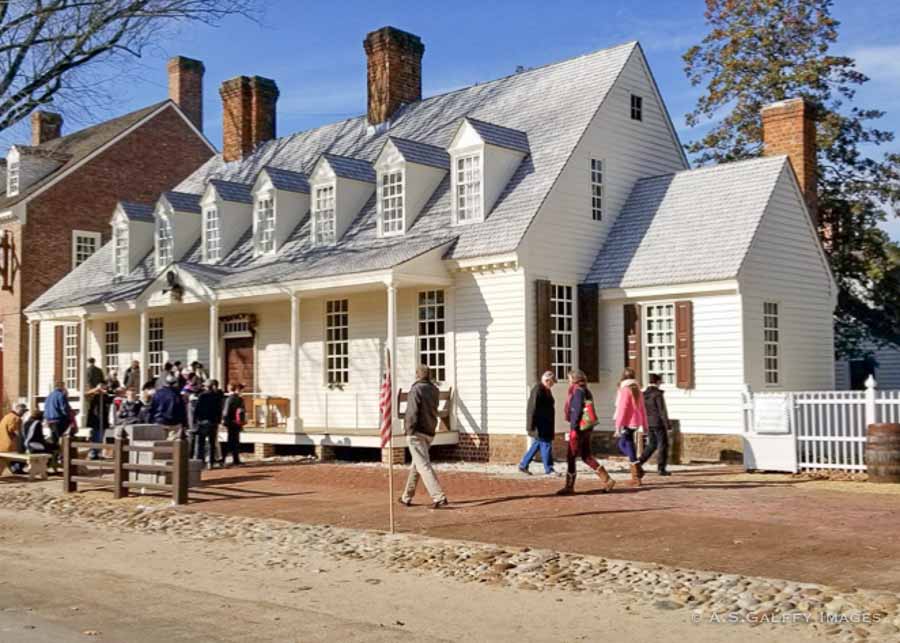 Raleigh Tavern was a social hot spot favored by members of the House of Burgesses, and equally popular was Wetherburn's Tavern, right across the street. Also, balls, banquets and other social events were held in the two taverns.
6. The Courthouse
The Colonial Williamsburg Courthouse was erected in 1770 in the Georgian style, with red bricks with white wooden trim-boards and long arched windows with white shutters.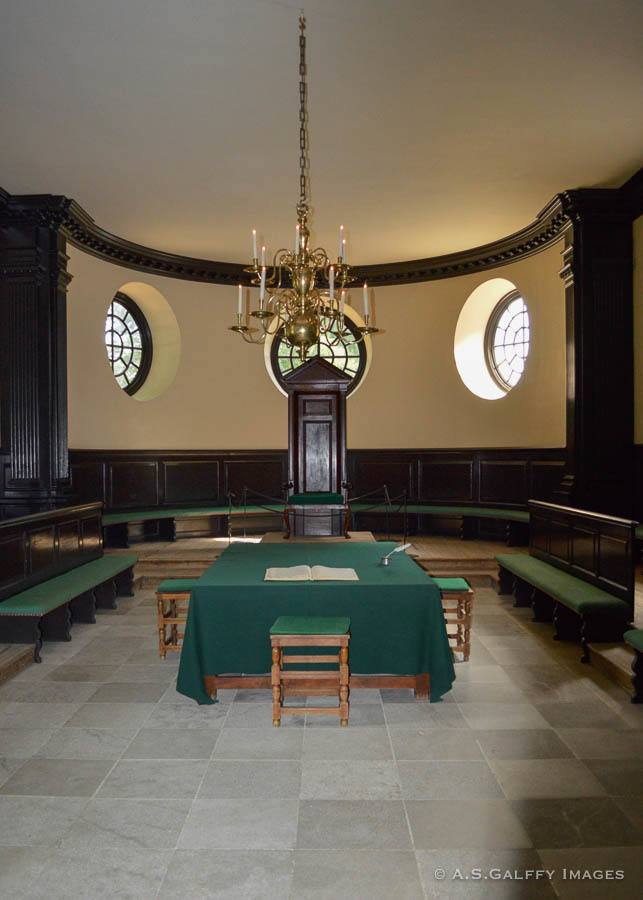 When visiting the courthouse in Colonial Williamsburg, you not only learn about 18th-century legal system, but also get to participate in the reenactment of a trial, which is really fun.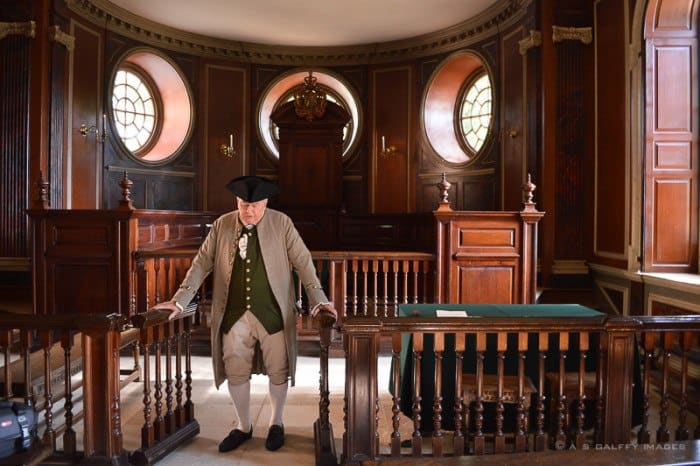 We loved attending a trial at the Courthouse. This was the most lively and fun 30 minutes of our entire visit! We learned so much about individual rights and laws during this period.
7. Artisans' Workshops
The most memorable places to visit in Colonial Williamsburg are the many artisans' workshops where costumed craftspeople practice and demonstrate the skills that were necessary in any prosperous 18th-century city.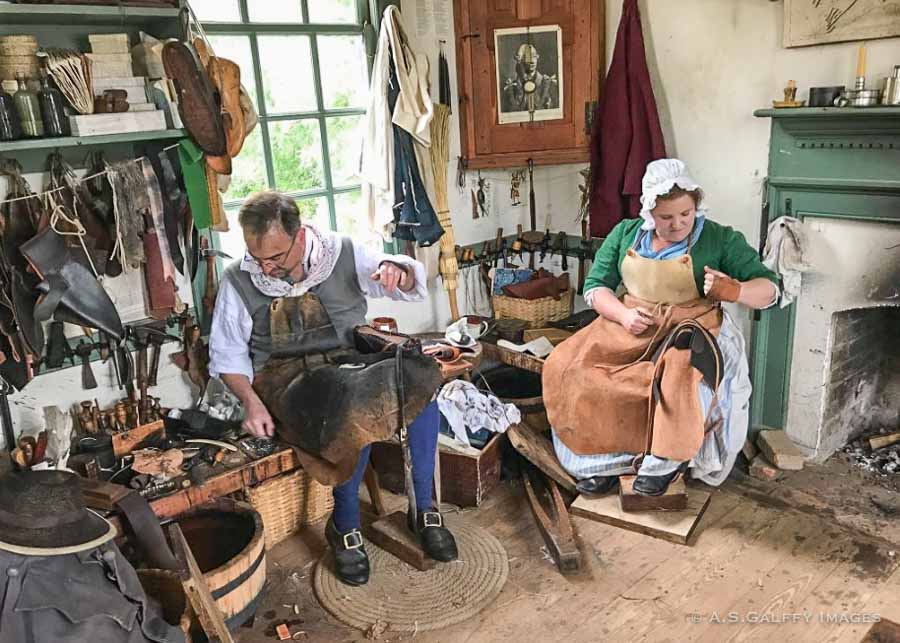 The workshops' residents take their role very seriously and are always in character. You can chat with tailors, barbers, lawyers, or black servants and learn about the ups and downs of the colonial life.
Admission Price and Hours of Operation
Colonial Williamsburg is open 365 days a year. Historic Sites are open from 9 a.m. to 5 p.m.  Walking along the streets of Colonial Williamsburg is free of charge, but if you want to visit the buildings, exhibits and museums, take the guided tours and attend the shows, you'll have to pay an admission fee.
The single-day ticket costs $49.99/adults and $28.99/students. Admission price may seem high, but it also includes access to the newly expanded Art Museums and free parking at the Visitor Center.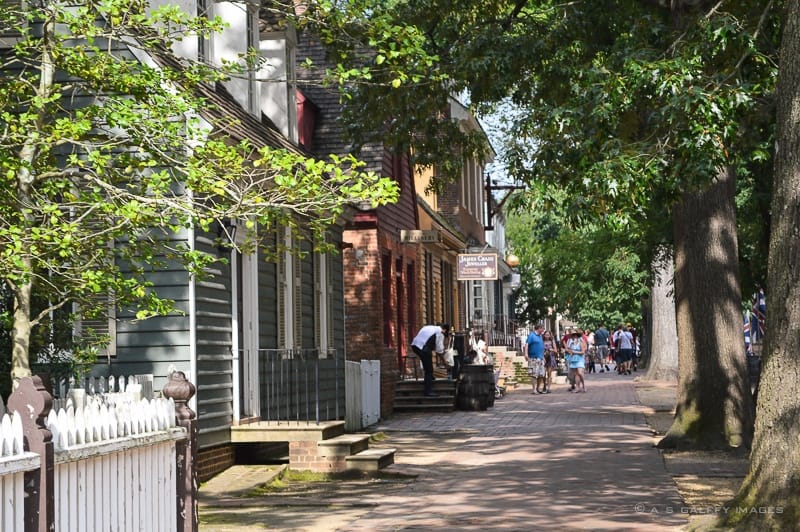 The best deal is to buy a Historic-Triangle Ticket for $119.00 (adults) or $53.00 (children 6-15). This ticket grants you access to all three sites (Colonial Williamsburg, Jamestown Settlement, and Yorktown Battlefield) for seven consecutive days.
For more up-to-date information, you can always check the Colonial Williamsburg official website.
Where to Eat in Colonial Williamsburg
Restaurants in the historical area are also in tune with the time period, serving authentic menus in a charming 18th century decor. Prices are moderate to high. Some historic taverns are: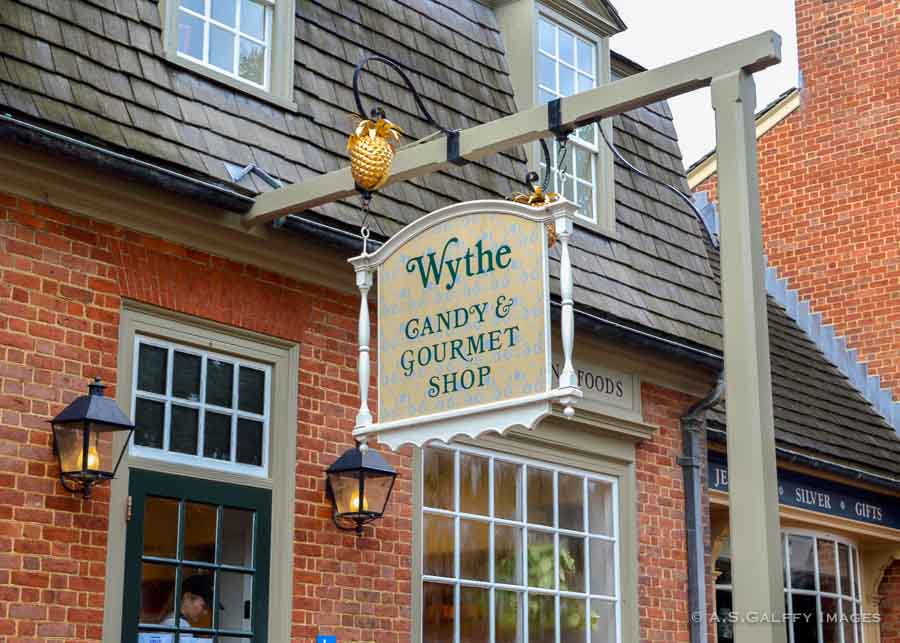 • Christiana Campbell's Tavern –once a favorite of George Washington– serves delicious seafood dishes.
• Shields Tavern, specializing in southern food. After dinner you can take a Tavern Ghost Walk and learn about the ghosts that haunt Williamsburg today.
• King's Arms Tavern, offering authentic 18th century recipes adapted to the 21st century taste.
• The Trellis Restaurant, right across from the Visitor Center on Duke of Gloucester street, serves delicious regional dishes. We tried them several times for lunch and were always pleased with the selection. Prices are moderate.
• The Blue Talon Bistro, a little outside the historic district, serves very authentic, delicious French food. We fell in love with this restaurant and its cozy atmosphere, so we came back twice. The prices were very good too.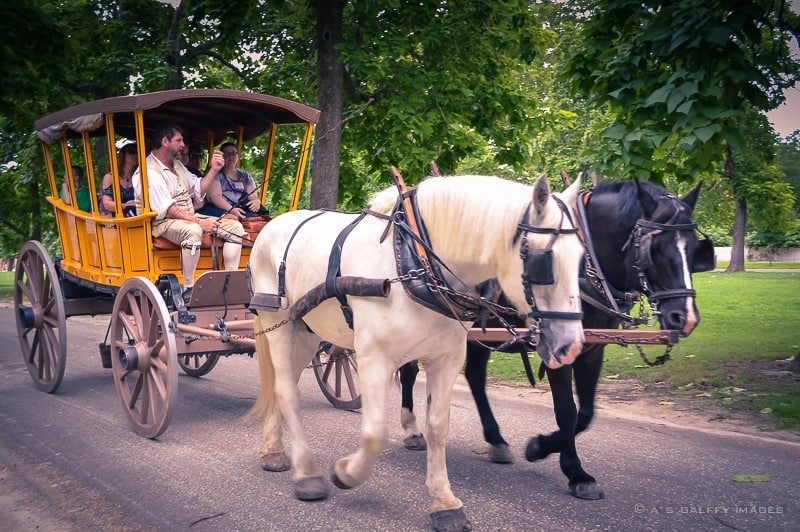 Once you've had your fill at one of these delicious – and historic – restaurants, take a stroll at nearby York River State Park. An easy coastal hike to Fossil Beach is one of the most popular ways to experience this state park in Williamsburg.
Colonial Williamsburg is a real historical treasure that you should visit at least once in your lifetime.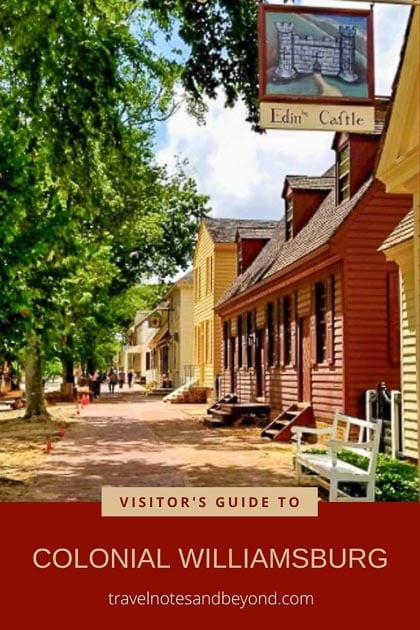 YOU MAY ALSO LIKE: