The Weekly Postcard: Monument Valley, Arizona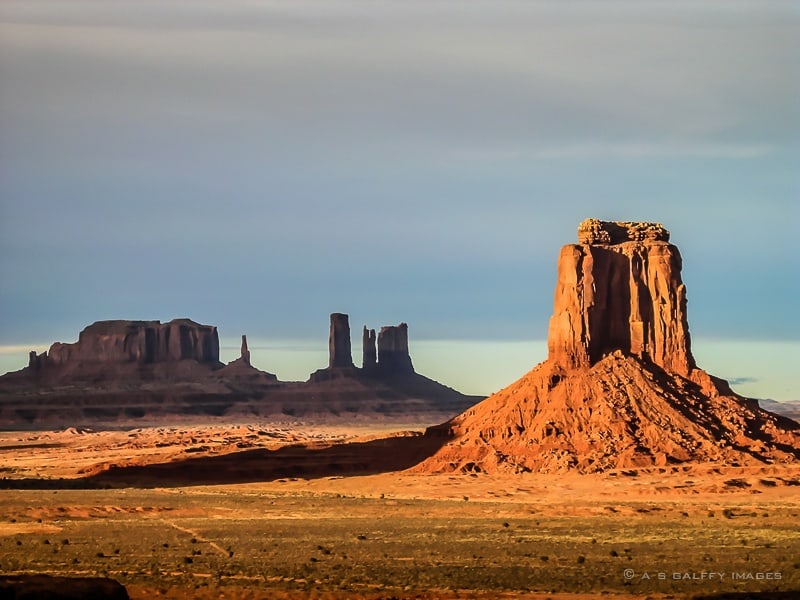 Last updated: September, 2019
Surreal sandstone towers, isolated red mesas and mesmerizing shapes. This is the picture that will catch your eye and steal your heart as you enter Monument Valley, Arizona. This is one of the grandest and most photographed landmarks in the United States. The cluster of vast sandstone buttes that make up the 'monuments' sits on the Arizona-Utah state line, on the Navajo Nation, an Indian reservation that is a semi-autonomous Native American-governed territory.
Geological History
But Monument Valley was not always the picture perfect landscape that you can see today. Millions of years ago, this place was only a simple flat basin. But then time, wind and water got together and decided to shape this place into a marvel. So time stepped in first and helped the layers of sediment pile up onto the basin, which was eventually uplifted by pressure from below. Wind and water slowly eroded the plateau, leaving Cutler Red siltstone and its sand behind. In the end, the effort of the three natural forces created the wonders of Monument Valley that we enjoy today.
Discovering Monument Valley
The beauty and grandeur of Monument Valley didn't go unnoticed. The first to advertise its splendor were the Hollywood filmmakers, who chose the Arizona Old West as their favorite shooting location for the frontier genre. Starting with Stagecoach, in which John Wayne rides horseback across the area, this place became an icon of the West.
The most famous landmarks are concentrated near the small town of Goulding that was established in 1923 as a trading post and serves today as a basic visitor services. Visitors may pay an access fee (about $20.00) and drive through the park. If you plan to do a self guided tour you should consider using a 4×4 or SUV type vehicle as the road is very rugged and anything less will have your car's shocks torn apart. For a more close up viewing of the rock formations, I advise you to book a jeep tour led by a Navajo tour guide and leave your car at the Visitor Center. Some of these roads lead to Navajo residences and as a tourist you might not have access to them. We did hire a local guide and never regretted it. It saved us a lot of time and hassle.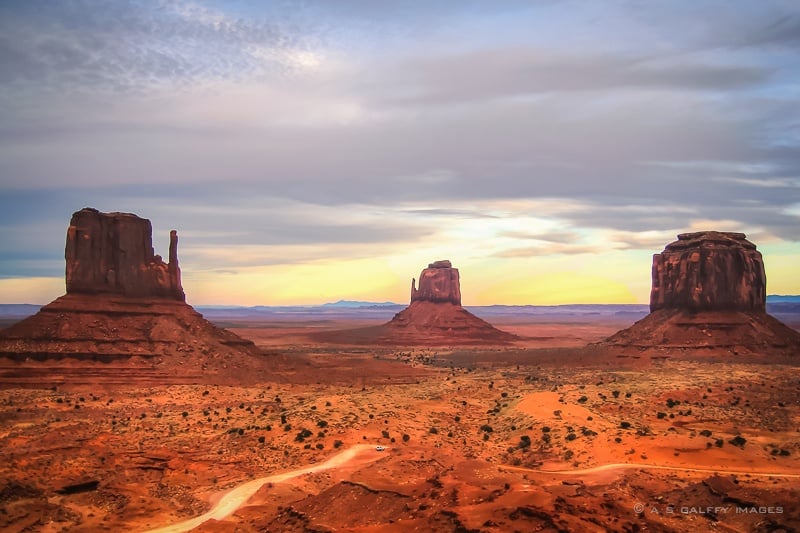 The best time to take photos is near sunset as the sun makes the mesas a rich reddish tone. We were lucky to be there right after a storm, which left the mesas brilliantly rich-looking. Monument Valley is one of those breathtaking places on Earth that I can't recommend strong enough for visiting. Really worth the time and effort.