Pinned along the steep walls of a narrow canyon in the province of Málaga lies one Spain's most terrifying hiking trails: El Caminito del Rey (the King's Little Path). The 7.7 kilometer path consists of a long stretch of platforms, narrow ledges and high bridges that meander through the beautiful Gorge of the Gaitanes.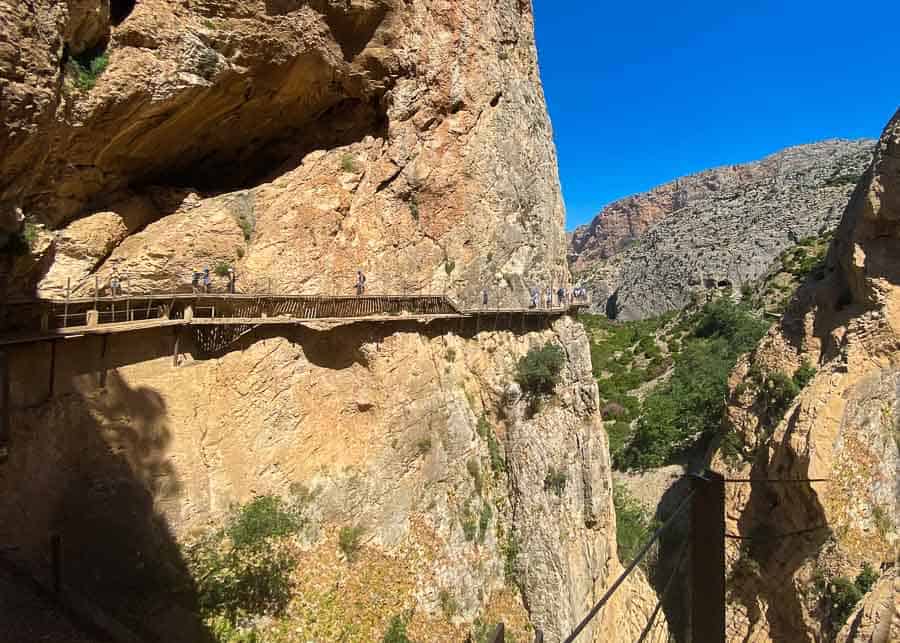 Despite its stunningly beautiful location, Caminito del Rey was once considered Spain's most dangerous hiking trail and was even closed for over a decade. But today the trail is open to the public and perfectly safe to hike. So if you are willing to walk along the 100-meter vertical cliffside of Caminito del Rey, here is all you need to know about it.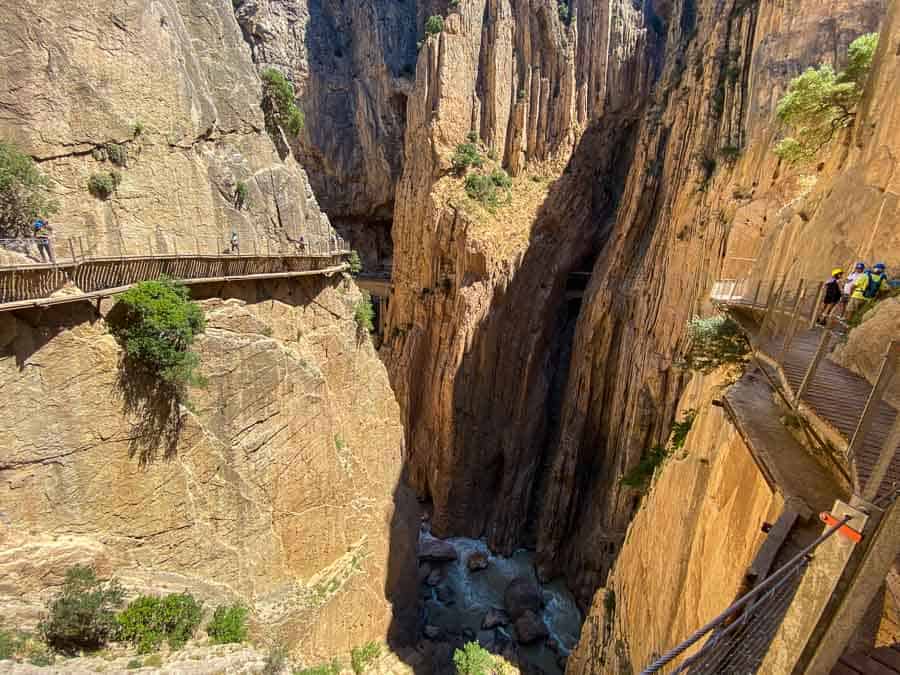 A Brief History of El Caminito del Rey
In 1901, Chorro Hydroelectric Society decided to build two hydraulic stations, a dam and an aqueduct across the gorge. They needed a passage to provide access for workmen and materials, so they started the construction of a pathway.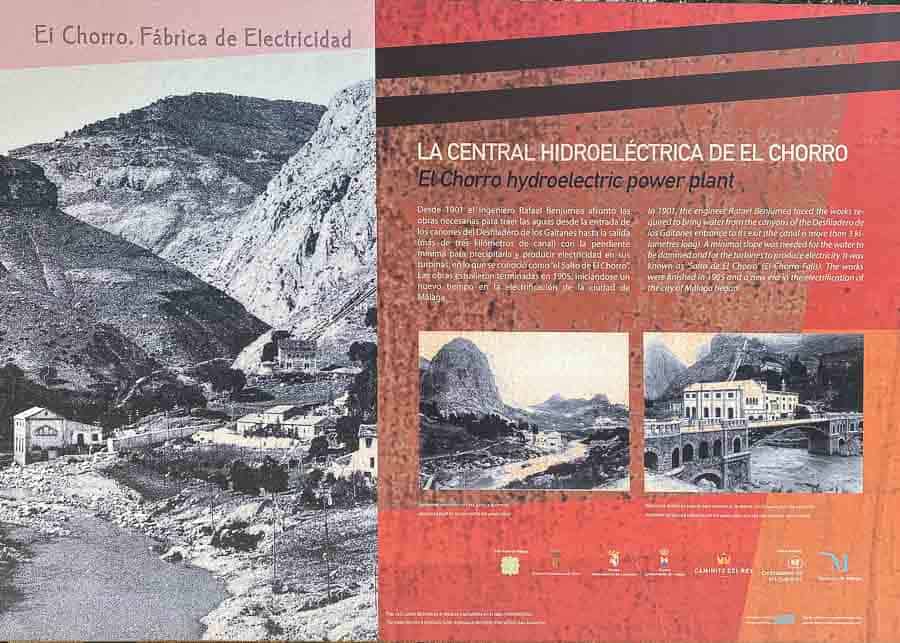 Because the work was difficult and dangerous, the company brought convicts and sailors from Malaga to do the job. In order to build the road, the workers had to hang from ropes fixed at the top of the gorge. But amazingly enough, only two men died during the construction.
The footpath was built between 1901 and 1905. However, the dam wasn't finished until much later, in 1921. The original walkway was only 3 feet wide and had only thin steel safety wire for protection.
How Did El Caminito del Rey Get its Name?
The story says that at the opening ceremony, when King Alfonso XIII came to sign off the works, he sat on in his throne above the dam. Impressed with pathway hanging high above the cliff, he decided to walk along it. It's unclear how far the king really walked, considering the difficulty of the passage. However, ever since that day the trail has been known as El Caminito del Rey.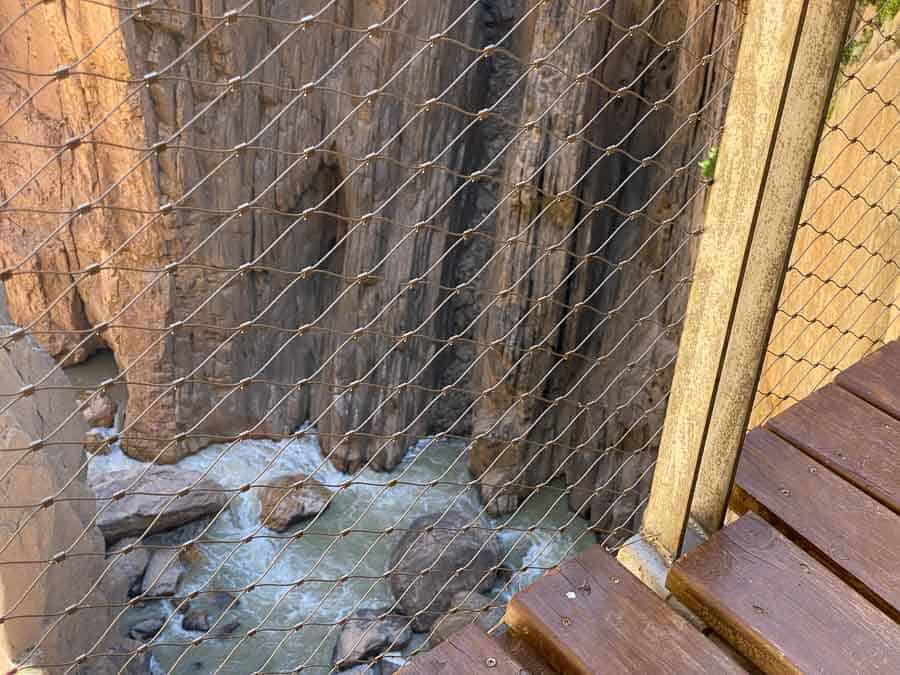 Caminito del Rey Deaths and Accidents
After its use became redundant, the old Caminito del Rey pathway was abandoned and fell into disrepair. In time, all that was left of it was just a series of narrow concrete and wooden planks clinging to the 300-foot nearly vertical gorge. But despite the precarious conditions of the road, adventure seekers were still attempting to do this dangerous hike. As a result, there have been several deaths and accidents along the Caminito del Rey.
Nobody knows quite how many people died over the years trying to walk the old Caminito del Rey. But the last fatal accidents that took place between 1999 and 2000, determined the local government to finally close both entrances in 2001.
A New But Still Scary Path
In 2015, after an extensive reconstruction that costed over 9 million dollars, El Caminito del Rey trail reopened for the public. But you can still see thorn fragments of the original Caminito clinging to the gorge, just below the newly cast path.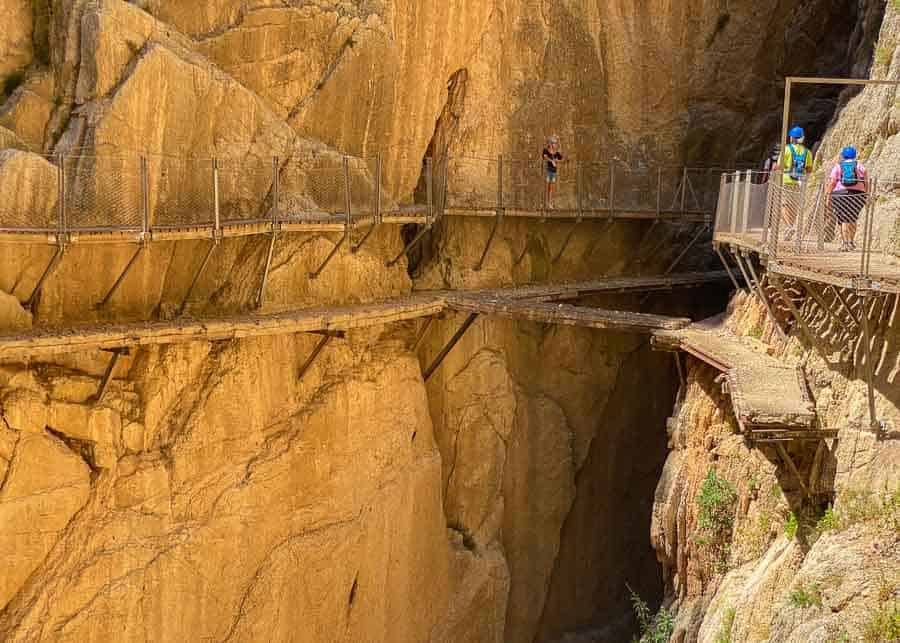 So if you are still in doubt whether you should attempt this hike, rest assured that no accidents have been reported on this trail since its reopening. Nonetheless, hiking the Caminito del Rey is still a stomach churning business for some people.
Guide to Hiking the New Caminito Del Rey Trail
The official starting point of the Camino de Rey starts at Silicon del Rey (the Chair Alfonso XIII) where the King sat during the signing ceremony. A shorter and more popular alternative access road is the one just south of the small tunnel on the MA-444, near El Mirador de Ardales restaurant.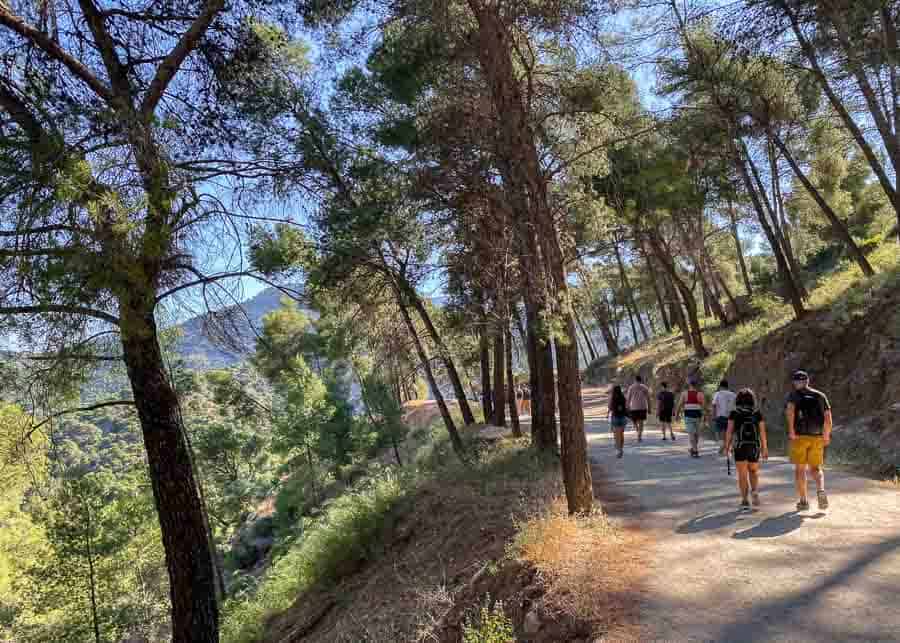 Once you reach the control cabin, the staff will provide you some safety gear, including a helmet. They will also check if your shoes are suited for the hike.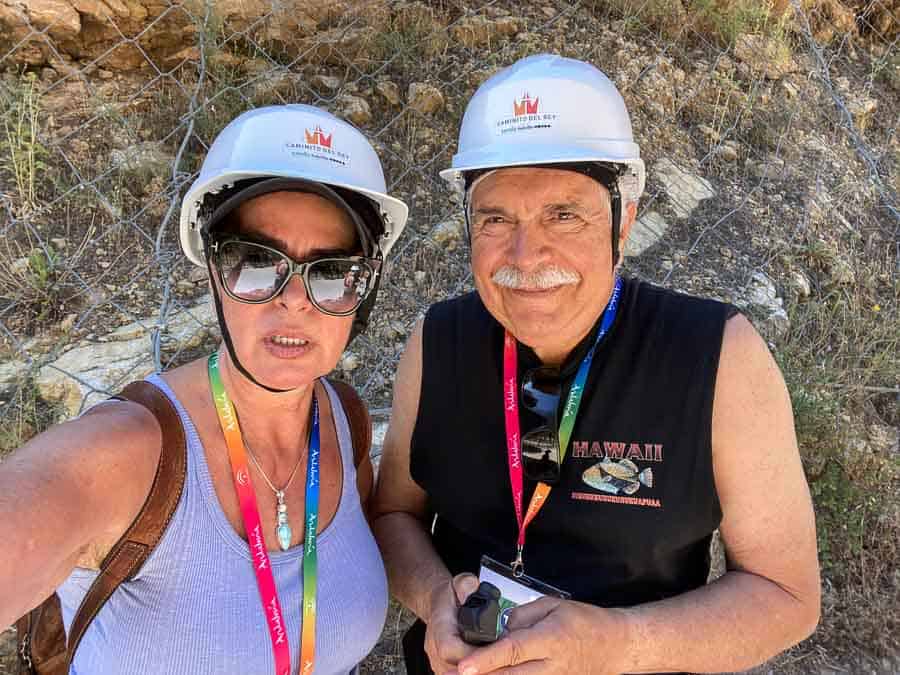 The total length of the trail is about 8 km. The first 1.5 km goes through a tunnel that leads to the main gate. The next 4.5 km go through the canyon itself.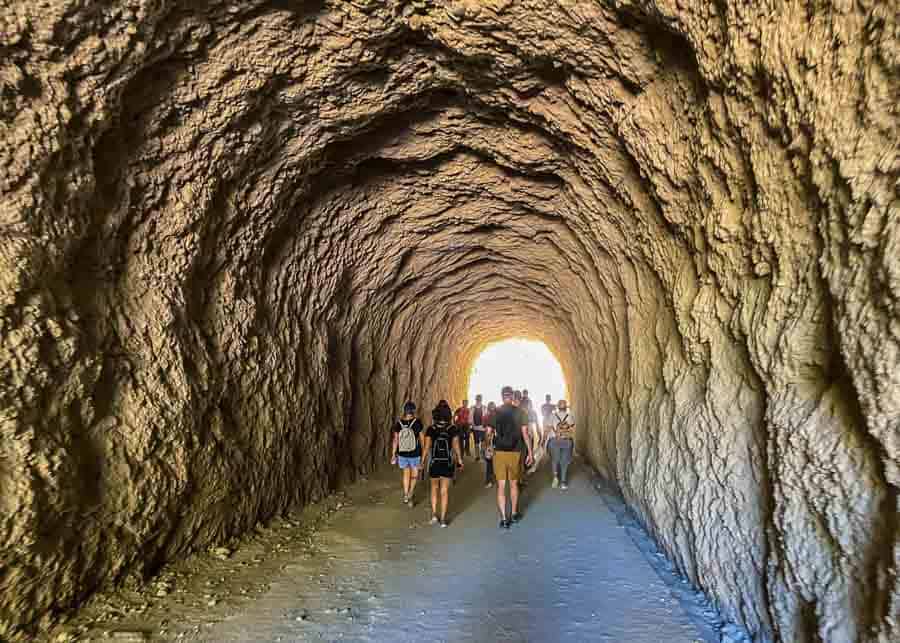 The trail is primarily straight, going down from north to south along the mountains and across some bridges. Many of the tricky places were modified during the restoration, so navigation along the rocks is much easier now. Even so, there are large portions of the road where it you'll be faced faced with a 300-ft drop when you look through your feet to the El Chorro gorge below.
The trek will take you through the Gaitanejo gorge, the Tajo de las Palomas canyon, then over the Puente del Rey suspension bridge, which is perhaps the scariest part of the hike. If you can overcome the fear that takes hold of your body when you look down, you will see a spectacular landscape all around you.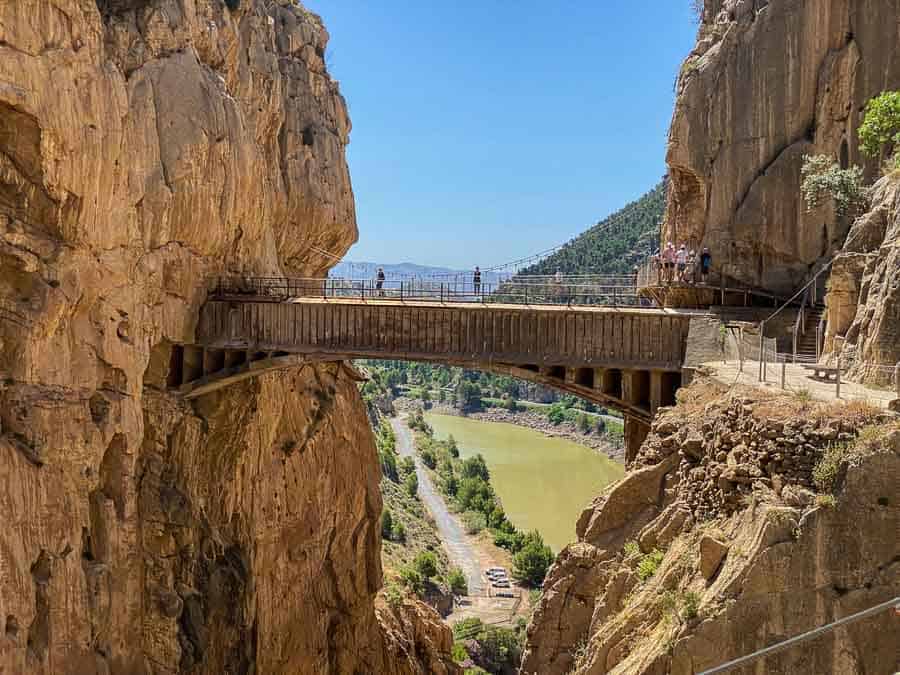 The hike itself is not difficult, but it may be a little spine-chilling. Especially if you have vertigo or acrophobia (fear of heights)! To go from one side to the other, you'll have to cross a high suspension bridge. Even though it's very safe, it's still very intimidating to see that dreadful abyss under your feet!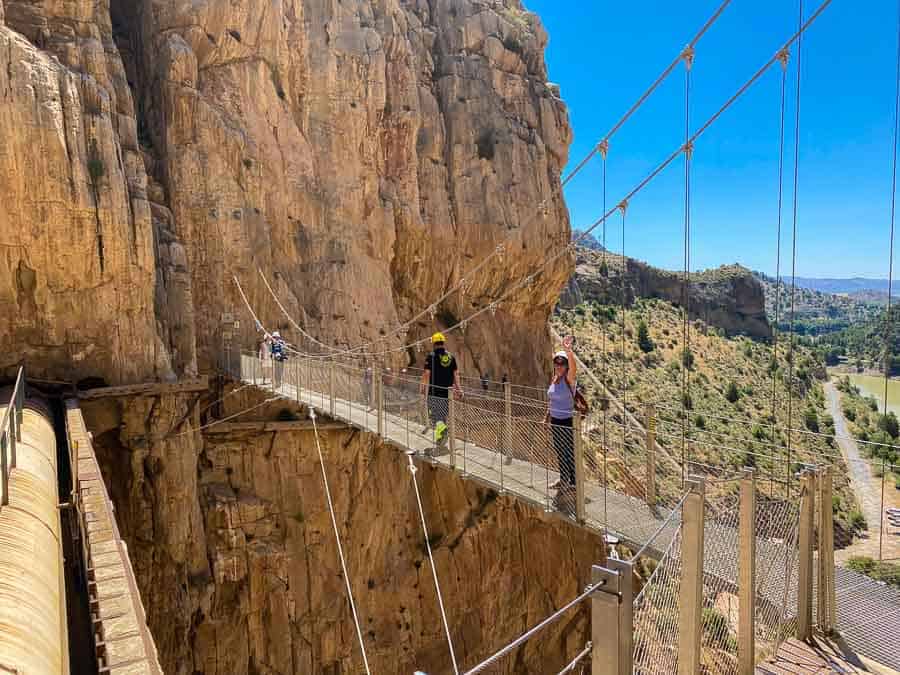 After the bridge, you'll descend a few hundred feet on a very narrow and almost spiraling stairway that leads to the exit. From this point, you'll have another 2 km to walk before you get to the bus that will take you to the north parking lot.
READ NEXT: Parador de Jaen: How to Stay in a Castle in Spain
Caminito del Rey Tickets
General Entrance Ticket – €10
Guided Tour – €18
Age limit – 8 years and older (passport/ID required)
Parking – €2/space.
Important: The car parking lot is not within walking distance from the starting point to the Caminito del Rey, so you'll still need to take shuttle bus to the entrance.
How to Buying Tickets for Caminito del Rey
Buying your tickets in advance helps a lot, but you can only buy them from the official website. Sometimes however, you may not find tickets available for the date that you want to get it. If you don't find any tickets online, you have three other options:
1. Buy Your Ticket at the Gate
The next best option to buy tickets for Caminito del Rey is to buy them at the gate. Be advised however that the park sells only 50 tickets per day for those who buy them at the gate. So, you should come early if you want to get in, as people turn up to queue as early as 07:30 am!
2. Buy a Combo Ticket from the Train Station
If you are staying in Malaga, you can purchase a combination ticket for the train, bus and the entrance to the path. Tickets are available on any of the vending machines at train stations in Malaga. You'll find information on how to buy the combo ticket right next to the machines. Unfortunately, it's only in Spanish, but the steps are not hard to follow.
Important! You can only buy the combo tickets on the same day you are going. The vending machines are open from 6:00 am to 09:15 am every day, except Monday (when the Caminito del Rey is closed.)
There are 100 tickets available each day (70 for self guided tours and 30 for guided tours.) The combo ticket prices are: €23/ person without a guide and €31/person for a guided tour.
3. Get Your Guide
If none of the above options work, you still have can book a trip to Caminito del Rey from Get Your Guide. Here are a few tours that you may like:
Guided Tour vs. Visiting on Your Own
Visiting with a Guide
We did the Caminito del Rey hike as part of a press trip to Malaga, so we were in a group, but they offer guided tours at the site as well. Going on a guided tour is a big advantage because they give you a lot of information about Caminito del Ray and its history.
Ideally, you should hire a guide that will pick you up at your hotel and take you back afterwards. That is a lot more expensive, but it saves you a lot of hassle.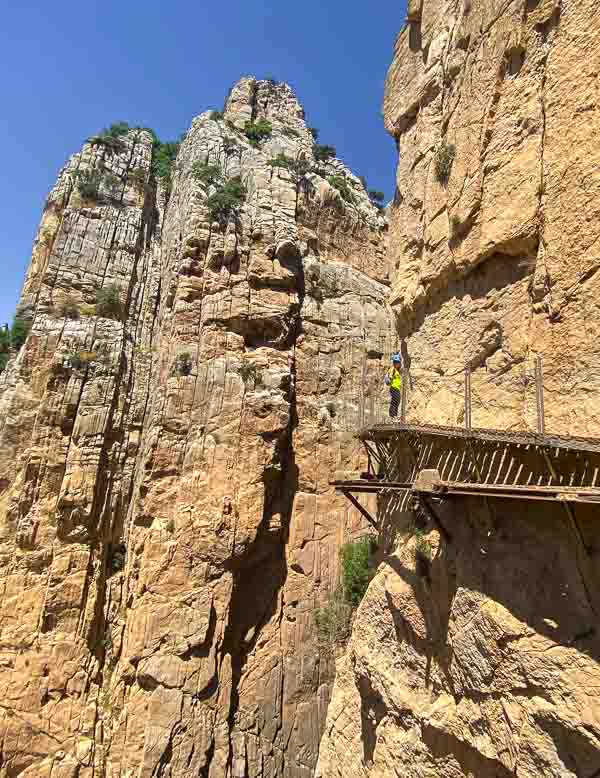 Visiting on Your Own
You can also hike the Caminito del Rey on your own, if you want to save some money. There is a lot of information about its history online, so you can familiarize yourself with it before coming.
Caminito del Rey makes an easy day trip from Malaga, or Marbella. Especially of you come by car. So if you decide to drive here, there are a few things you need to know. First of all, there are two parking lots. You can park either in the north parking lot, which is closer to the entrance, or if that one is full, you park in the south parking lot and take the bus back to the north parking lot.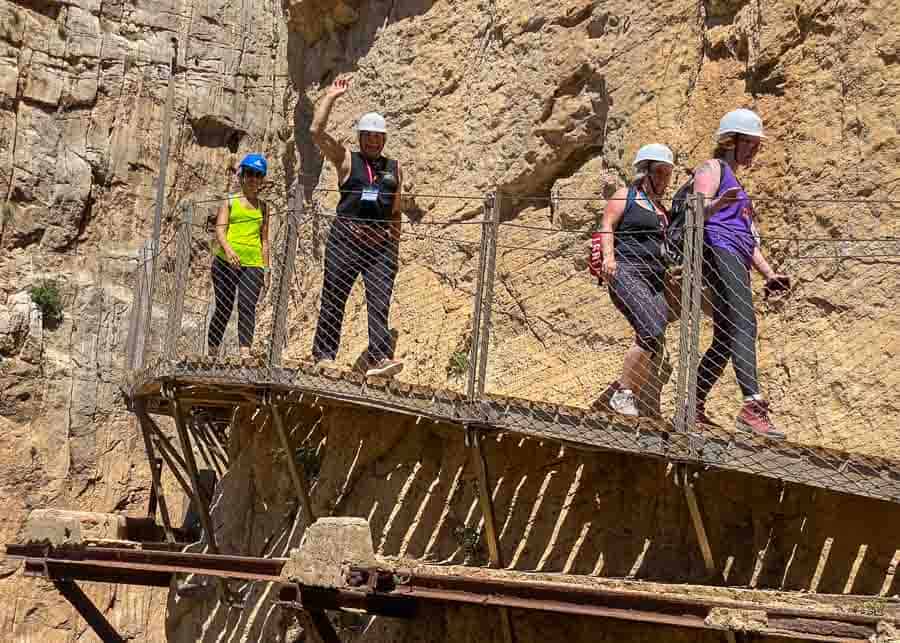 From the north parking lot it's a 1.5 km tunnel that leads to the entrance. It's a long way to get here and you'll waste a lot of time to find parking. To get to the entrance and the booking office you'll have to walk for 1.5 km. The hike goes in one direction only. That means you'll have to take a shuttle bus if you want to go back to where you started.
Important! They will refuse you access at the gate if you don't have close-toe shoes. Also, they will deny you access if you have children under 8 years old in your party. There is so much wind on this trail, that they don't allow children under 8 on it.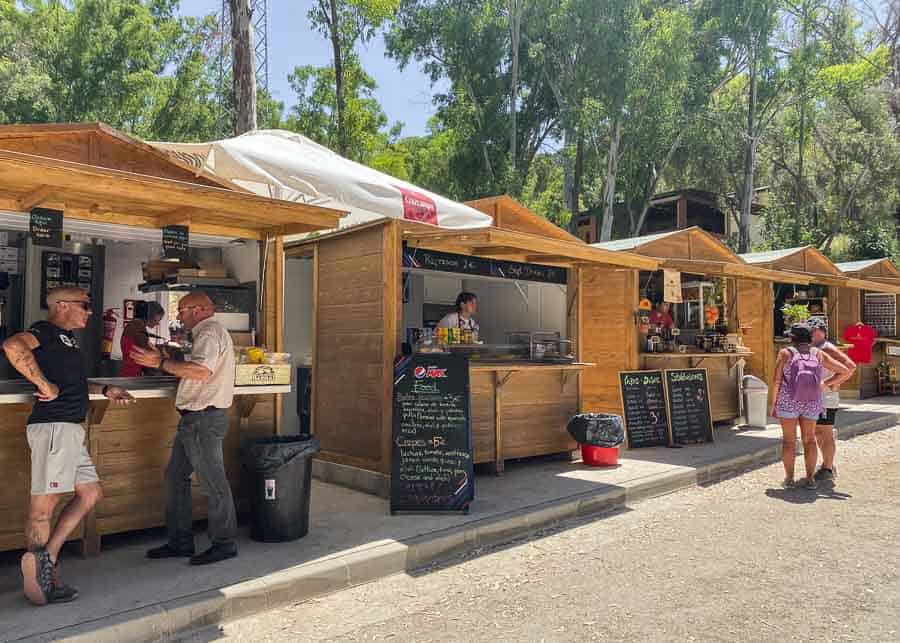 READ NEXT: Parador de Carmona: Staying in a Fortress in Spain
El Caminito del Rey is a one-way trail, which means that after you finish the tour, you'll have return to the north parking lot. There is a shuttle bus that runs every 30 minutes. The cost is 1.55€/person, but you'll have to have exact change. Drivers don't always have change, and they don't accept cards.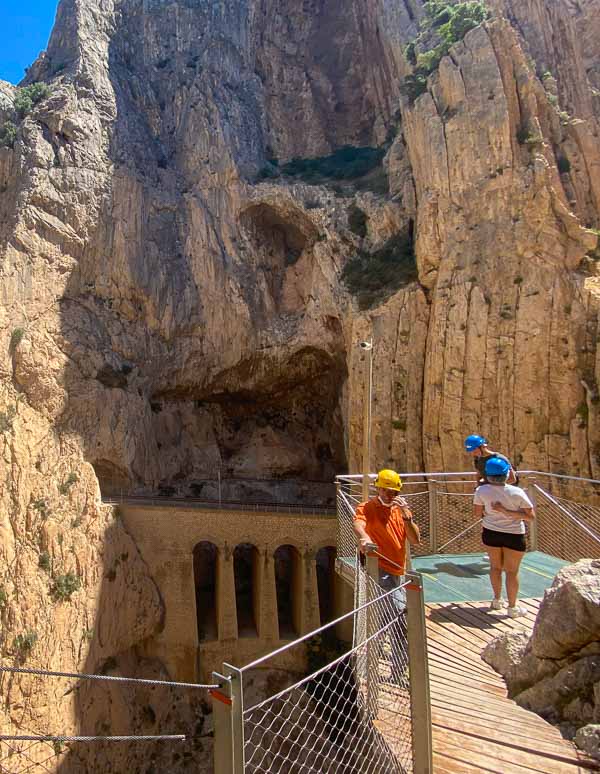 Tips for Hiking the Caminito del Rey Trail
I managed to hike the Caminito del Rey without any problem, although I am afraid of heights! That's why I believe anybody who is in a decent physical shape and can walk 7-8 mile should be able to do it. However, there are a few things that you should consider before hiking this trail:
Inform yourself about the difficulty of the path by watching a few YouTube videos. Knowing what's expecting you will make your hike look much easier.
Even if you are afraid of heights, don't let that detract you from coming here. Caminito del Rey is a gorgeous place to see and the experience is very rewarding.
Take breaks along the road and give yourself time to relax. Especially if you feel stressed out.
Bring lots and lots of water! More than you think you'll need. This area is very dry and no matter what time of the year you come, you'll be thirsty.
There are no restroom facilities along this trail, so make sure you use the toilet before starting your hike.
NOTE: The old Málaga-Cordoba railway line runs through the gorge in a set of tunnels and bridges. If you are lucky enough, you may see a train passing just across from the walkway, so keep your eyes open!
Please pin this post: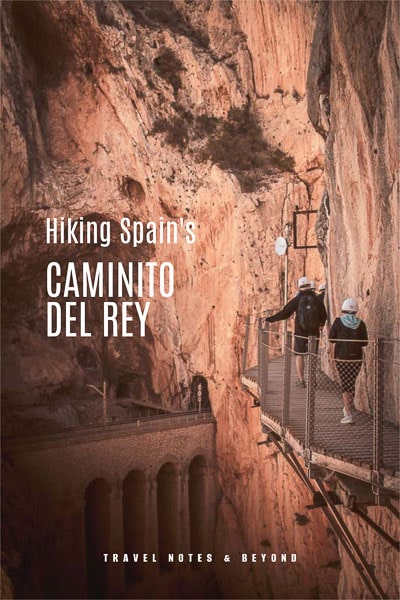 YOU MAY ALSO LIKE: