We've been coming to the French Riviera for about 15 years and truly fell in love with its extraordinary scenery and relaxed beaches. The mild, Mediterranean climate of this coast creates ideal conditions for swimming and sunbathing. Which is why the South of France has always attracted beach lovers and sun worshipers.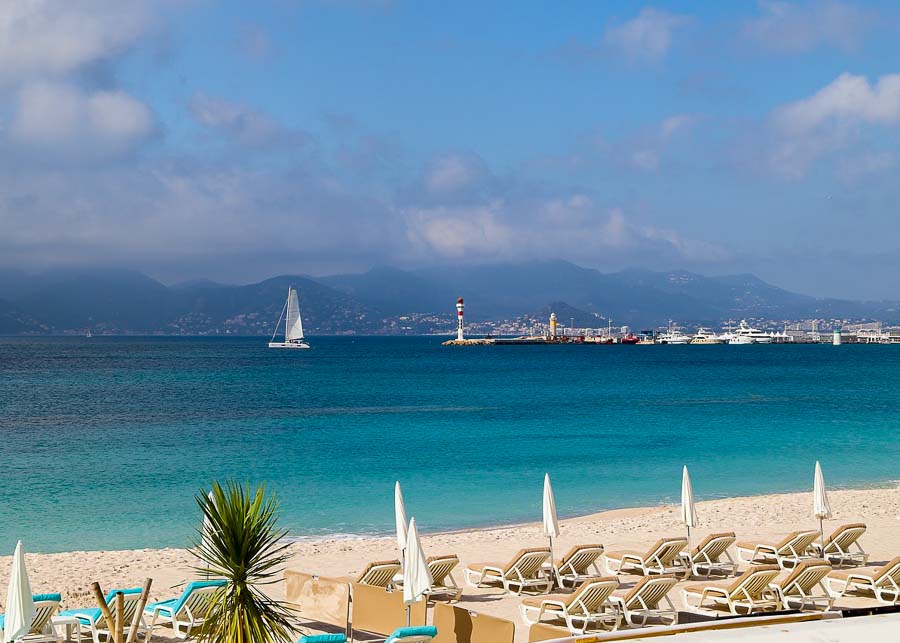 10 MOST BEAUTIFUL PUBLIC BECHES ON THE FRENCH RIVIERA
If you're heading to the French Riviera for a beach holiday, you'll have a wide range of choices along this 180-kilometer stretch of coastline called Côte d'Azur. So here are the 10 most beautiful public beaches to visit in the South of France:
Best Beaches on the French Riviera for Couples

Mala Beach (Plage de la Mala), Cap d'Ail
Tucked beneath the cliffs of Cap d'Ail lies one of the most beautiful beaches in France: Mala. While this beach is well known among the locals, very few visitors know about it. Mala is a small pebble beach with calm, crystal-clear water and very picturesque scenery. So if you are looking for a secluded beach close to Paris, this is the one.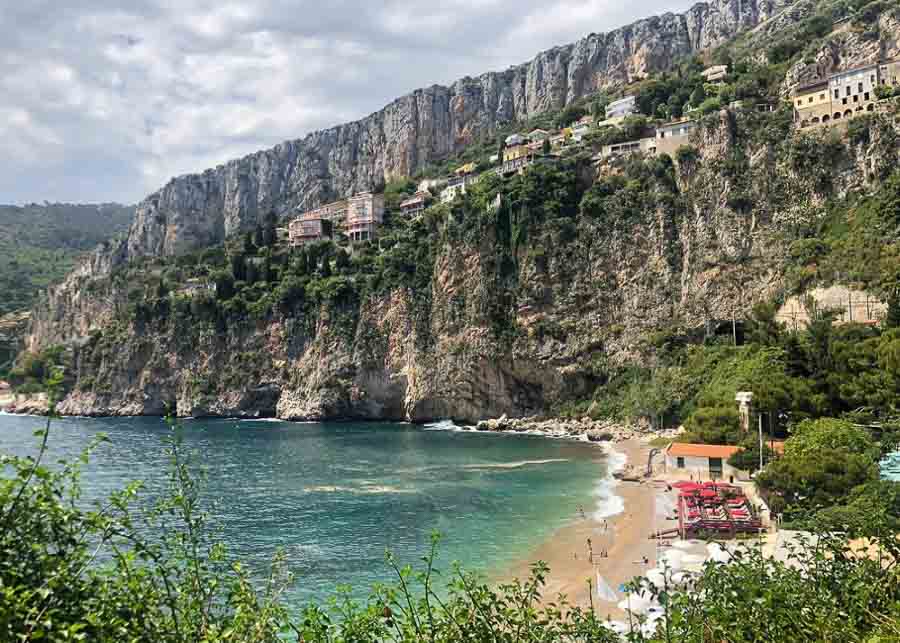 We discovered this beach totally by accident, when doing a coastal scenic walk from Cap d'Ail to Monaco. There were not many people around here in May, when we visited, but probably in July and August this place sees bigger crowds.
Escalet Beach (Plage de l'Escalet), Saint- Tropez
Hidden behind rocks, off the beaten path, this tranquil beach is definitely worth seeing. To get to it you'll have to follow a short and very picturesque trail that starts at the parking lot.
Escalet is a perfectly calm cove with turquoise, clear water, but the sea may be rough sometimes so it's always good to exercise some prudence when entering the water.
We visited l'Escalet in late spring when the weather was warm enough for sunbathing. Sadly, the water was too cold for swimming, but we rented a kayak instead and paddled around the bay.
Like on most beaches in Saint Tropez, you may see some nudity at l'Escalet, so this may not be a good beach to take your young ones.
Little Africa Beach (Plage Petite Afrique), Beaulieu-sur-Mer
This is one of my favorite beaches anywhere. It's small, secluded and has a more discreet vibe compared to other beaches along the French Riviera.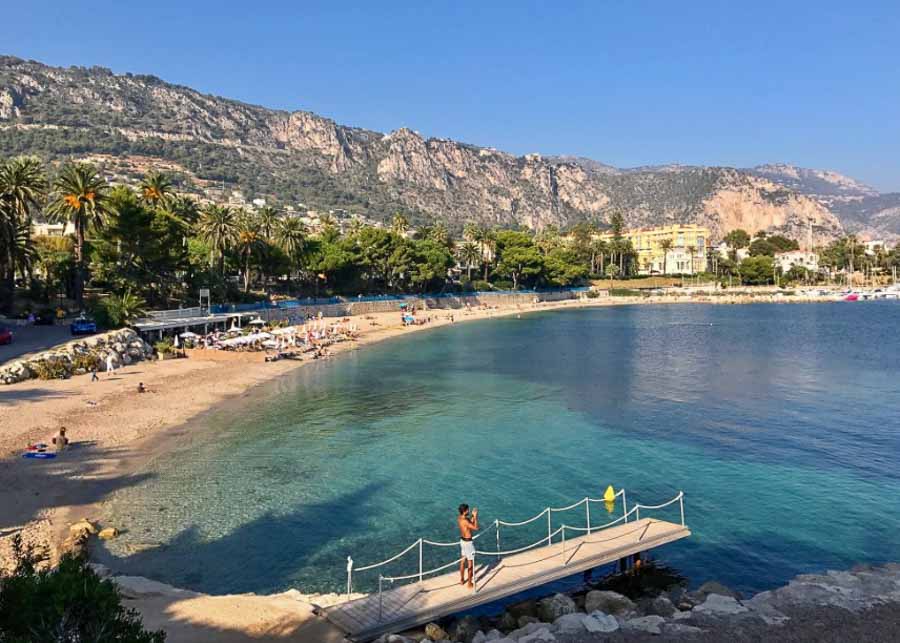 Plage Petite Afrique lies at the eastern end of the small village Beaulieu-sur-Mer. There is some parking for the beach, but in summer it may be difficult to find a spot.
Best Family Friendly Beaches on Côte d'Azur (French Riviera)

Larvotto Beach (Plage du Larvotto), Monaco
Larvotto is a free public beach located right in the middle of Monte-Carlo. This beach reminds me a lot about Waikiki beach, in Honolulu: it's always crowded, but people seem to love it here. If you like sunbathing with sky rise buildings right behind you, you'll like this beach too.
Also, like many French Riviera beaches, it has pebbles so you'll need to rent a lounge chair if you want to be comfortable.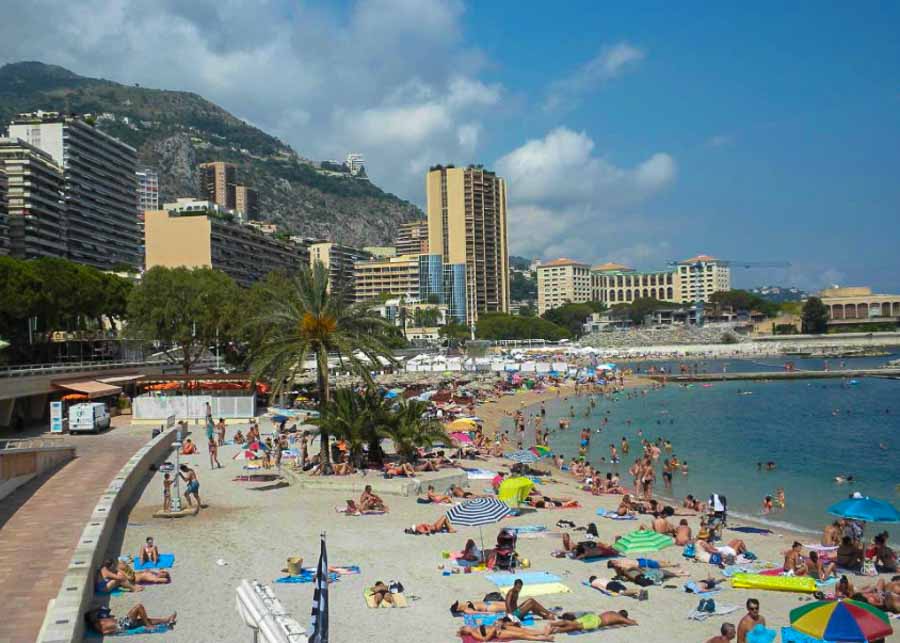 Although Larvotto is not my favorite beach, I can't deny its merits. It has calm, shallow water and in summer they install a net to protect swimmers from jelly fish, which is really nice.
Bocca Beach (Plage de la Bocca), Cannes
Unlike most beaches in Southern France which are pebbly, Cannes beaches are all sandy. which is a big plus. On the downside, most of them have been acquired by the big hotels in Cannes which charge for their use.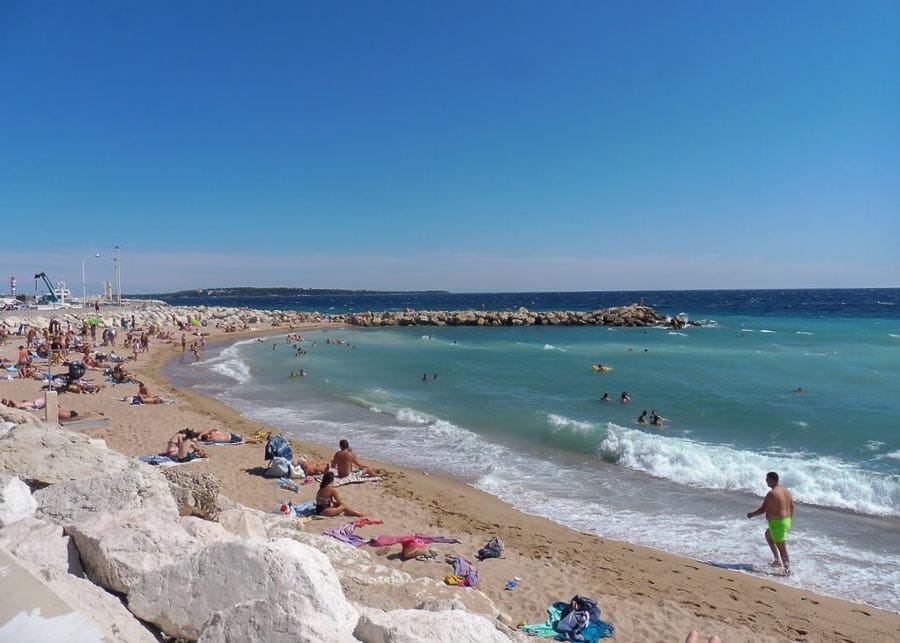 Plage de la Bocca however is free, with a lovely narrow stretch of golden sand and huge boulders along the shoreline. Most of the time the water is calm here, except for the very windy days, when the waves totally invade the beach, crashing into the rocks.
The beach nice and clean, with a vibrant atmosphere, which makes it very appealing for families with small children or teens.
Palmes Beach, Menton
Palmes Beach is one of the most laid back and quietest shorelines on the French Riviera. Located within walking distance of the town centre, this pebble beach offers nice swimming and a number of leisure activities for the whole family, like snorkeling and diving expeditions.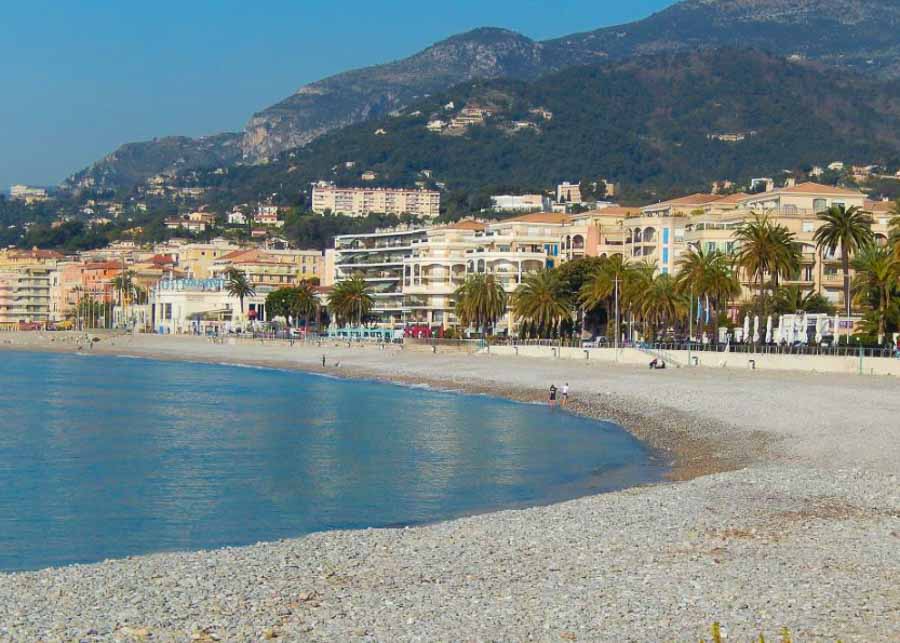 The beach is lined up with dozens of palm trees, hence its name: Palms Beach. There is plenty or parking around and very easy access from promenade behind the beach. Also, lots of eating and shopping options around.
Gravette Beach (Plage de la Gravette), Antibes
Located right in the middle of the old town, Plage de la Gravette is the most beautiful public beach in Antibes. The beach is wide, sandy and has perfectly calm water, with almost no waves. That makes it perfect for families with small children.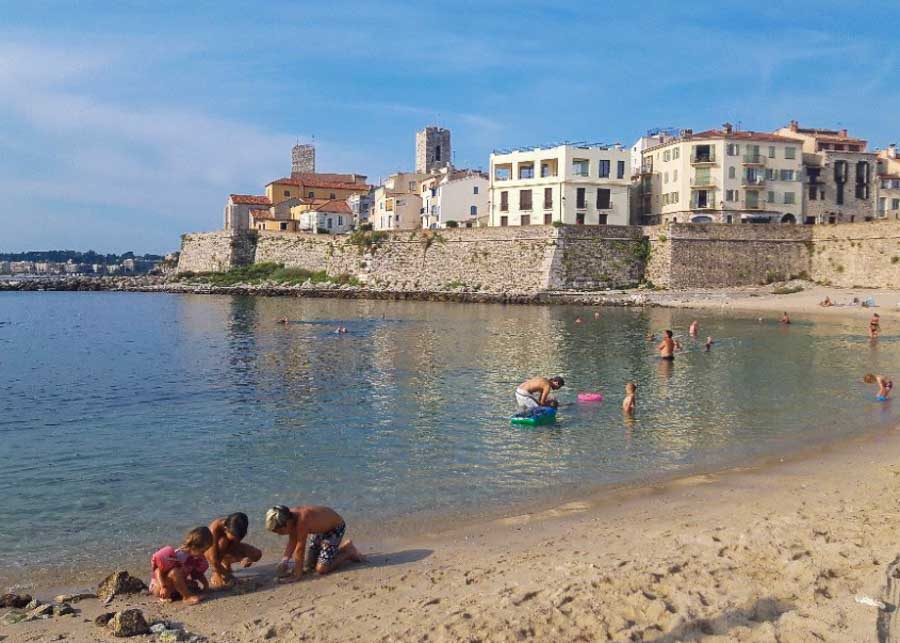 Because it's sheltered by high stone ramparts that block the wind, the beach becomes a beautiful sun-trap. As a result, you may find locals sunbathing here even in late November.
Best Beaches for Singles on the French Riviera (Côte d'Azur)

Pampelonne Beach (Plage de Pampelonne), Saint Tropez
Pampelonne is one of the most famous beaches in France. Ever since the '50s, when Brigitte Bardot frolicked on the beaches of Saint Tropez, Pampelonne became the playground of movie stars and international socialites.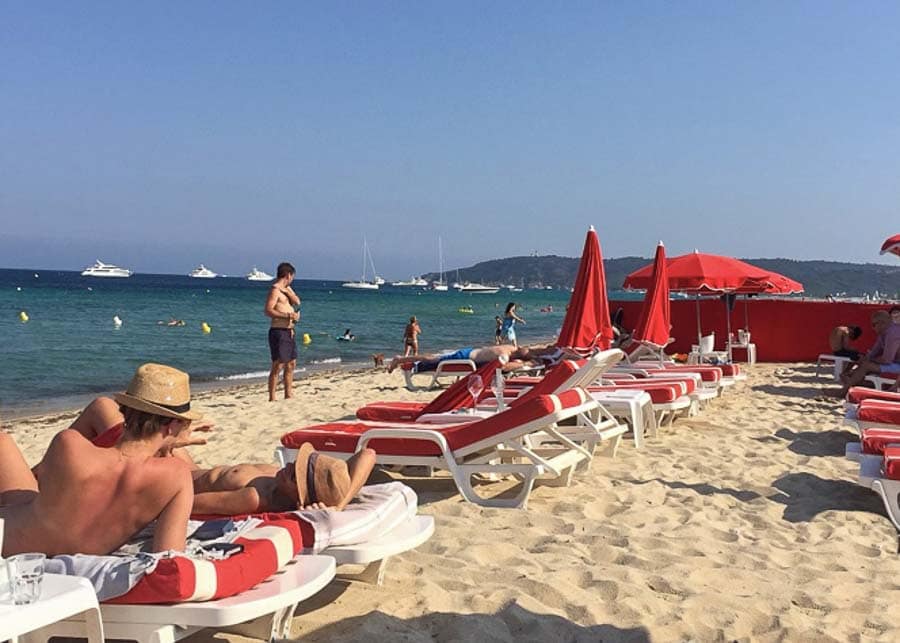 This beach is ideal for beachgoers who like to lease a parasol, hammock, or a chaise lounge, rather than sit on a towel. However, there are plenty of beach areas where you do not need to hire lounges and umbrellas. The beach also has large nude section towards the far end of the bay.
Passable Beach (Plage de Passable), St. Jean Cap Ferrat
Tucked away in a little cove on the north-west side of Saint Jean Cap Ferrat, Plage Passable is half public and half private.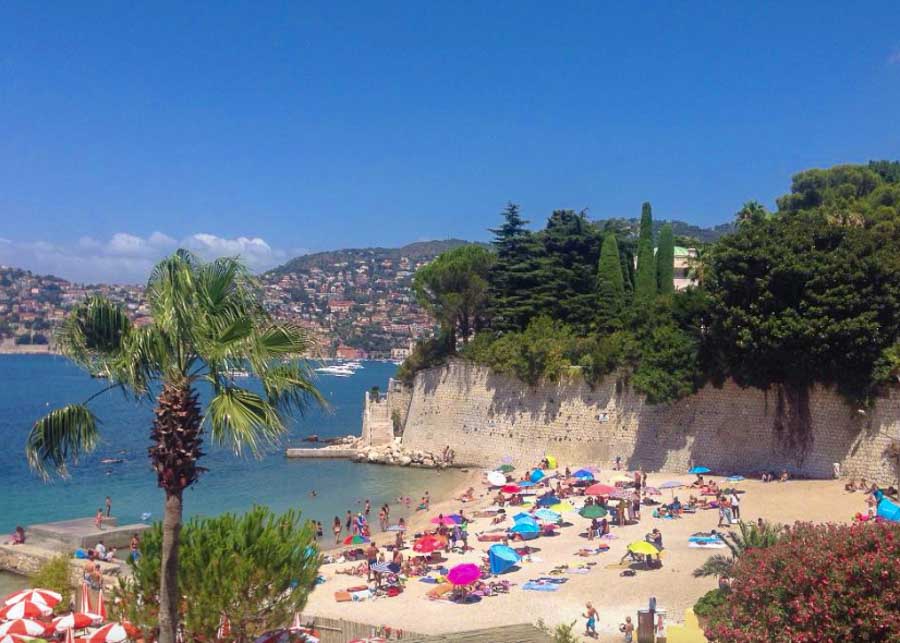 The beach is very cozy, with fine pebbles and crystal clear water that is perfect for snorkeling. If you are looking for peaceful place to lie in the sun, this beach is perfect!
Paloma Beach, Saint Jean Cap Ferrat
Another quiet stretch of sand on the exclusive peninsula of Saint Jean Cap Ferrat is Paloma Beach, which was named after Paloma Picasso, the youngest daughter of Pablo Picasso. It appears that the painter and his family used to spend a lot of time on this beach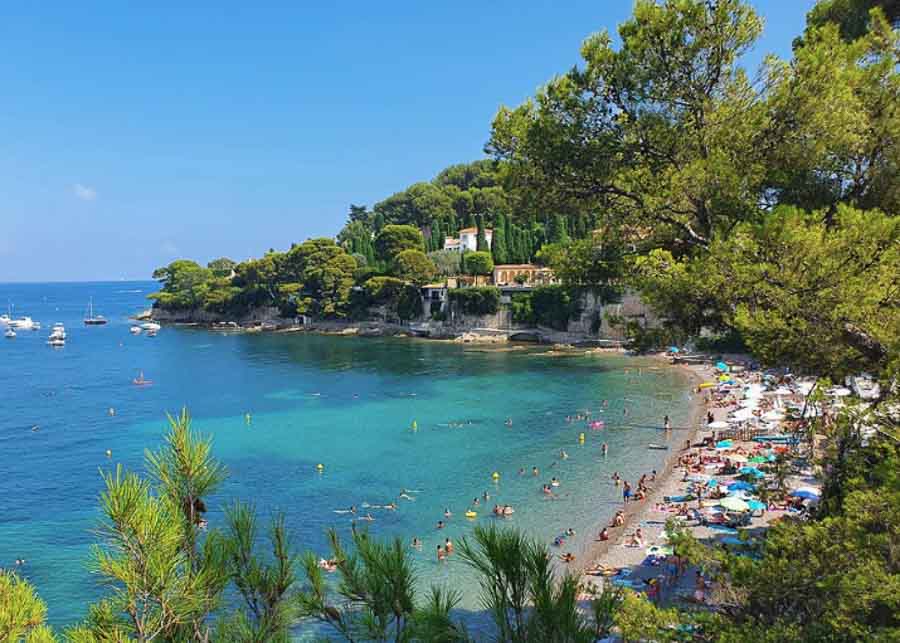 This beach is a little corner of paradise, hidden from the liveliness of the French Riviera. This makes it a perfect spot for singles looking for a nice retreat. Paloma Beach has both a public area and a private beach club.
Best Time to Visit the Beaches on the French Riviera
We visited the South of France dozens of times over the years, and during all seasons. While the beaches heat up (literally and figuratively) in the summer, I prefer visiting the French Riviera in early June or late September, when the crowds thin.
Most private beaches shut down by the end of September, but you can still spread your towel on the public beaches and enjoy some warm weather. That been said, I have to agree that the best time to visit the French Riviera is at the end of August, when the weather is fantastic and the Mediterranean sea is at its warmest.
The Côte d'Azure enjoys a mild Mediterranean climate year-round, with almost 300 days of sunshine. We rarely saw rain in this region, except for a few days in December when it was really cold.
However, winters may be cold sometimes. I remember one December in Nice when I had to wear my winter coat. It was really cold, so winter is far from beach weather in the South of France.

Headed to Europe? You may also like these: