Èze, a Village with a View and so Much More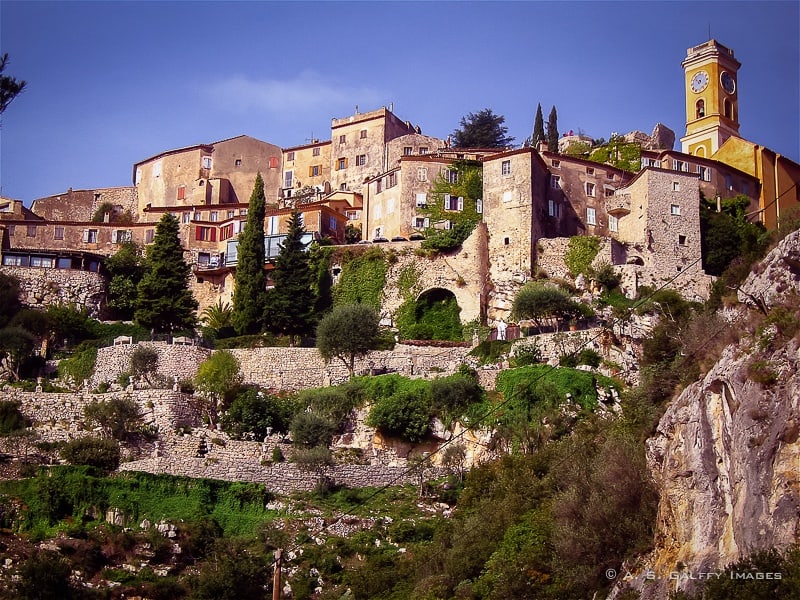 Last updated: April, 2018
People flock by the thousands to the French Riviera for its sun and dazzling blue waters. But for us the most endearing attraction of this area remains its hilltop villages. There are over 120 of these perched villages, each one with its own unique charm. Some of them are still enclosed by medieval walls, but all have retained their medieval appearance with covered alleys and tiny, narrow streets paved with cobble stone.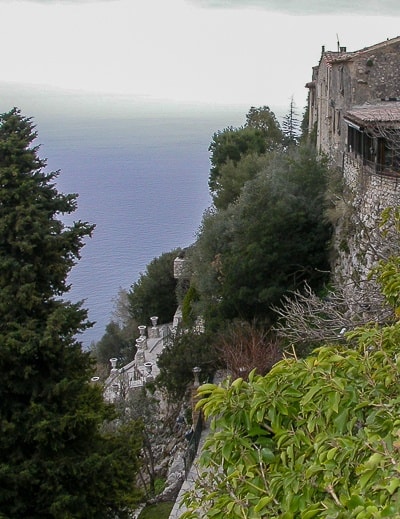 Of all the Côte d'Azur's perched villages, Èze has the most spectacular position. One of the first things you'll discover about this village is the thickness of the fortification walls, that have a sheer drop of 50 to 70 meters. Perched on a high cliff about 1,500 feet above the Mediterranean, between Nice and Monaco, Èze is the highest seaside village in France. To reach the village you have to drive the winding and narrow Moyenne Corniche, one of the three mountain roads that run somewhat parallel to each other, following the coast. This is not a particularly difficult drive if you are used to the narrow European roads. But if you are spoiled by wide roads it's better to to take the bus. I know there is a bus service that runs from Nice and Cannes to each village, but we never tried it.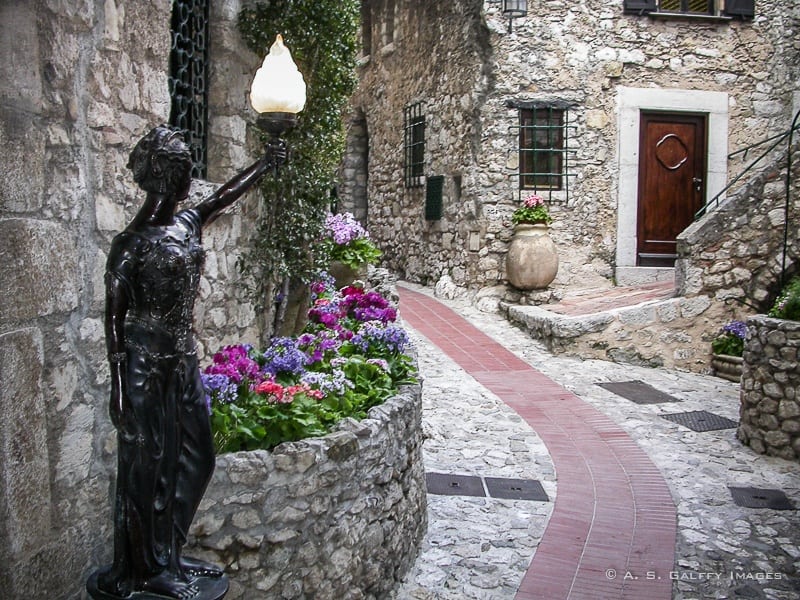 Roaming the streets is the greatest pleasure when visiting Èze Village. Souvenir shops, small restaurants and cafés, art galleries and boutiques, all rest crammed into each other on the main street. But if you wander a little further away from this area, you'll discover a unique world, completely frozen in time. Like most of these villages, Èze is small enough to walk along its every street without getting lost.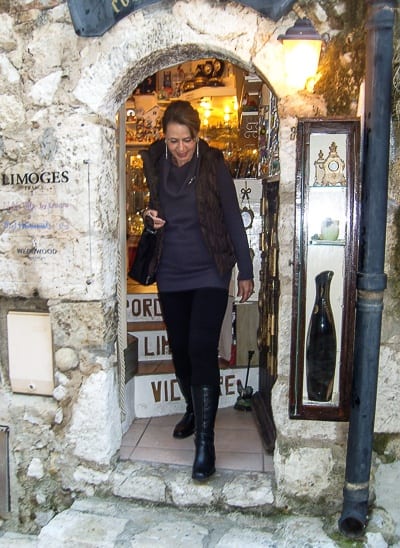 The boutiques and art galleries showcase works of the local artists, mostly modern style paintings, art objects and ceramics. Most of the stuff they sell in these shops is outrageously expensive, but of excellent taste and very high quality. Whatever you buy here will surely turn heads.
Two famous perfume factories have branch stores here, Galimard and Fragonard. They each offer free tours of their perfume factory with explanations of perfume-making techniques. Here is where my husband fell in love with his dear Eau de Hongrie, which since then we keep ordering from France.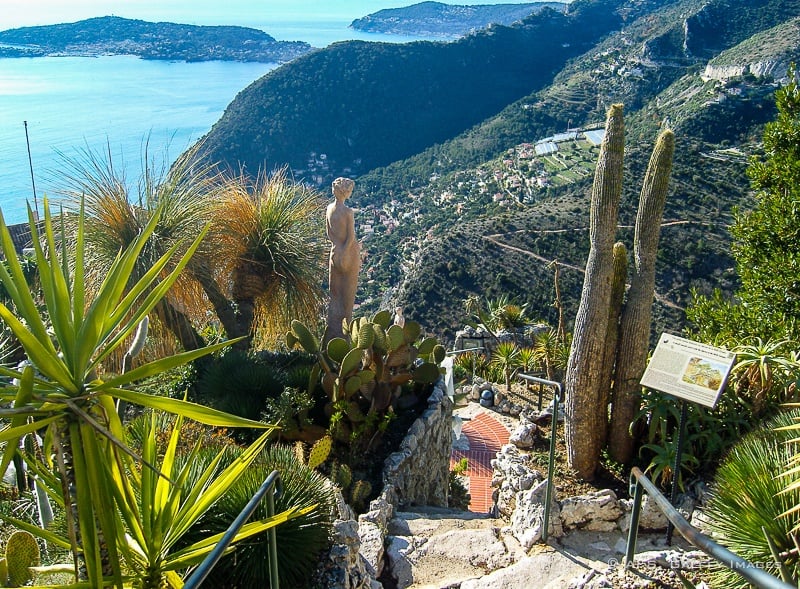 The main attraction of Èze Village is an Exotic Garden (Jardin Exotique) located at the top of the village. The garden displays a wide varieties of succulents and cacti. If there is one thing worth visiting in this village, it's this beautiful garden. Not because you haven't seen better cacti, but because you will rarely see such spectacular views. The garden has a monopoly over this hill which is the only place from where you can admire this 360º panorama, so it's definitely worth paying the €5 entrance fee. Èze is the only perched village with a direct sea view. On a clear day, from this point you can see all the way to Italy.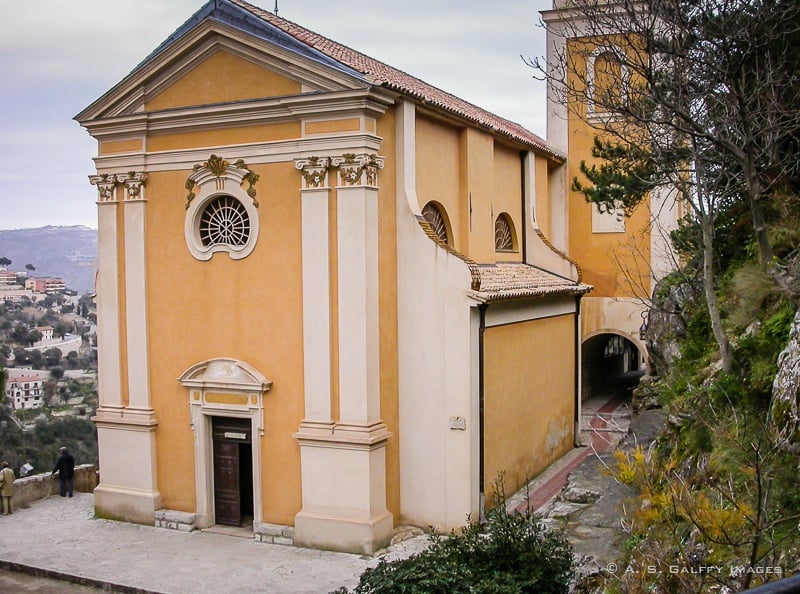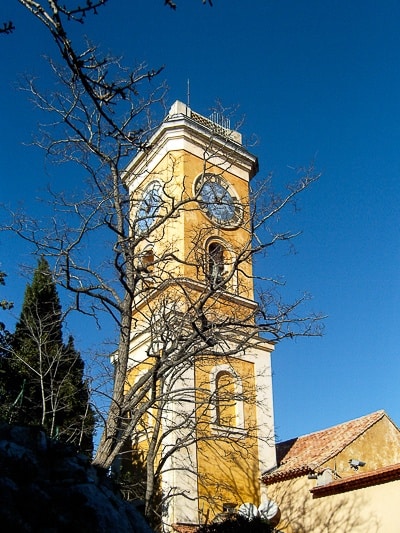 At the end of one of the little streets in the village sits a baroque-style church with a yellow-cream façade and a tall bell tower that dominates the hill of Èze. This is Our Lady of the Assumption Catholic Church, built by an Italian architect. The clock tower is very easy to spot from the Exotic Garden.
If you traveled by bus and want to see some more of this beautiful area, you may skip the return trip and hike down the Nieztsche Path. It'll take you from Eze Village to Èze Bord de Mer.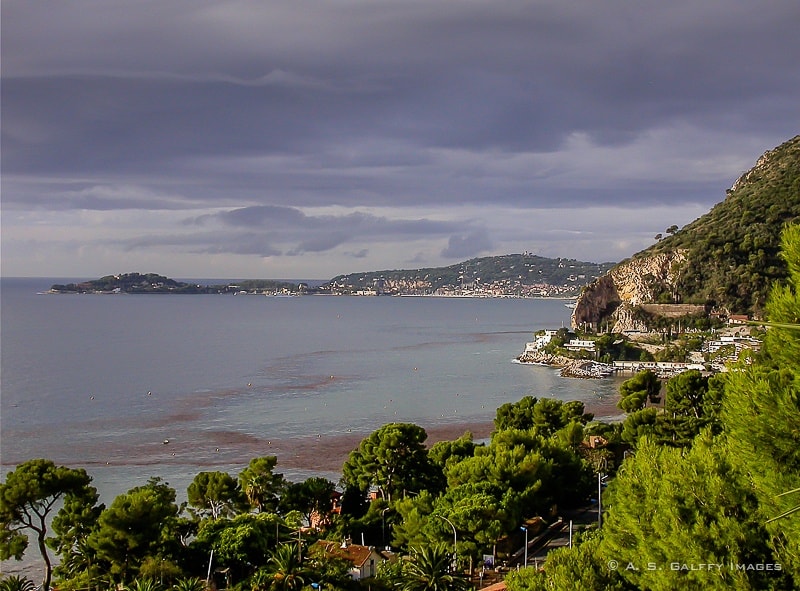 It takes about an hour to reach the bottom and the path is very beautiful and easy to follow. Once you reach the main road you'll see a bus stop that'll take you back to Nice or other places. We hiked this path up and enjoyed it a lot because there were no crowds and the views were picture perfect.
The streets of the Èze Village, like in all the other perched villages, are pedestrian-only. Parking is available only at the edge of the village. Most of the parking is metered, with some free spots that fill up quickly, especially in the summer.