Heading out to the open road is always exciting. You don't have to worry about leaving on time for the airport. Or about how much luggage you can take with you on the road. Throwing in an extra bag is just fine, as long as it fits in the trunk. But even though weight or luggage space may not be an issue when you travel by car, deciding what goes on your road trip packing list is very important.
Over the years we've taken many road trips and drove many miles. We went across the USA, drove in Canada, Mexico, South America, and Europe. In all those trips we've learned how to stay safe and comfortable on the road, and how to make our travel time more enjoyable.
With that in mind, I've put together a checklist of road trip essentials that are very useful when traveling by car. At the same time, this is not a complete packing list. I guess people don't need to be reminded to pack snacks, socks, or their car and travel documents, when they start on a road trip.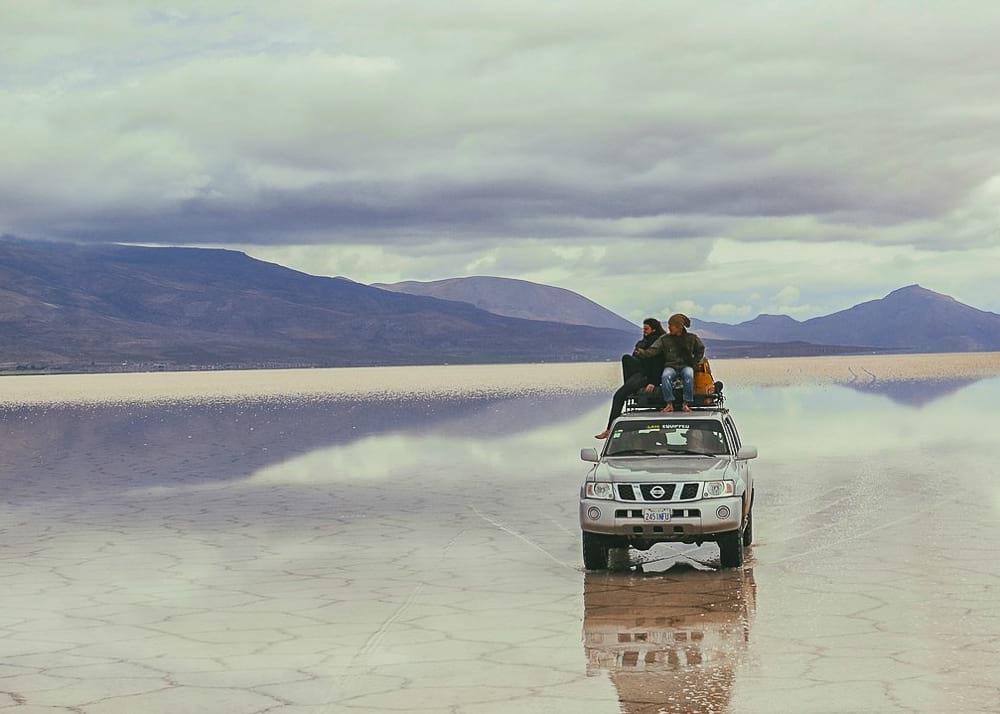 Road Trip Packing List Essentials
Gadgets and gear
• Video Camera. There is no more important gear for your road trip than a good video camera that you can use for long-lasting memories. It doesn't have to be an expensive one, unless you are invested in professional videography.
I personally prefer a digital camera that can turn photos into film. With the right video editor, you can enhance your captured moments and create engaging videos that truly encapsulate the essence of your journey.
• Camera is another essential item to add to your road trip packing list. Road trips provide great opportunities for photography, as you will come across beautiful scenery, wild animals, or famous landmarks. Everybody wants to take home some good memories.
However, not every traveler is a passionate photographer, so for some a smartphone will do the job just fine. I personally carry a 15 lb bag for photography with a camera, two lenses, tripod and filters. But unless you are obsessed with photography like I am, you don't need to carry all that heavy equipment.
There are quite a few compact cameras out there designed especially for travel blogging. In this category, I could recommend Panasonic Lumix ZS50 that sells on Amazon for under $300.
• Smartphone. Another important road trip gadget is your smartphone. We always check to make sure we have Google Maps and Google Translate installed and updated at all times (very useful when you travel internationally).
• Car mount. Having a good car mount for your phone is a necessity when you drive. iOttie's Easy One Touch Qi Wireless Car Mount is one of the best on the market right now.
It may cost a little more than your average car mount, but it also offers more features. It comes with dual USB charging ports for your passengers, a telescopic arm that can be mounted on either your dash or windshield, and, most importantly, with Qi wireless charging. When you buy it from Amazon you'll also get a $10 Amazon credit now.
iOttie's Easy One Touch Qi Wireless Car Mount
• Emergency Auto Jumper. You can never have too many power sources when you are on the road. The Nekteck Car Jumper Starter Portable Power Bank is an excellent compact powerhouse that fits in your back pocket. It will jump start your car, charge your tablet, speakers and more.
Nekteck Car Jump Starter Portable Power Bank
• GPS. These days most of us use Google Maps on our smartphones instead of a GPS. However, Google Maps doesn't work too good in some areas of the world. We found the application pretty unreliable when we drove through Patagonia, so we used our Garmin eTrex 10 Worldwide Handheld Navigator instead. Garmin eTrex 10 comes preloaded with worldwide maps and also gives estimated times and distances between points. Since it's so small, we also used it on some of our hikes in Patagonia.
• All-Purpose Tool
A multi-purpose tool with knife and pliers has all sorts of uses and is a must-have on your road trip packing list.
We use Leatherman Skeletool.
• Flashlight and Headlamp
We keep these two in the car at all times. You never know when you may need to stop on the side of the road at night. It's always better to have some source of light when it's dark outside.
We use a Black Diamond Storm headlamp and a LuxPower Tactical led flashlight which is pretty inexpensive and is also water and shock resistant.
• Bluetooth Tracker
It's always a good idea to get an extra set of car keys with you, but when you have a bluetooth tracker you'll be able to locate not only your car keys, but anything else you will attach the tracker to. If you misplace your keys, the tracker will trigger an alarm and you can use your phone to locate them. You can also use the tracker itself to locate your phone. We find this to be one of the most useful gadgets for road trips and recommend using the Tile Mate bluetooth tracker. It's extremely helpful when you are trying to locate something that is buried deep in your trunk, or in your luggage
Hair Dryer
Despite the fact that most hotels and guest houses provide hair dryers, I like to carry my own. This may look like an inconvenience, but if you really care about your care, it's not!
Before discovering Zuvi Halo, I didn't realize how much damage an average hair dryer can do to your hair. But with Zuvi your hair dries quickly, without using intense heat. And by diffusing and softening the airflow, the of heat damage to your hair is much smaller. So who doesn't want that? This hair dryer uses infrared light instead of convective heat, so it heats just the surface of your hair instead of drying it out to the core.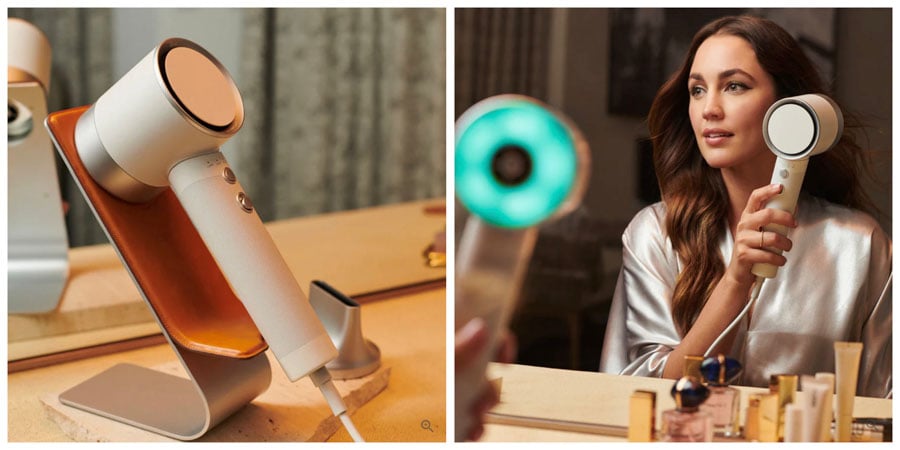 At $349 you may argue that the Zuvi hair dryer is expensive, but how much is your hair's health worth to you? I don't know of any women who's not worried about loosing her hair. And as we age, we all have this problem more or less. The good news is that right now Zuvi Halo Hair Dryer offers 25% off during their Black Friday sale, so if you want to give it a try now it's the time. And if you use my code, Anda5, you'll get another 5% off for a total of 30%. This is the best deal of the year! You can give it a try and still have a 30-day money-back guarantee & 14-day Price Match Promise.
First Aid Kit
A first aid kit is an essential item to have in any car you drive, not only for road trips. You can buy some ready made, or build one yourself. However, you won't be saving much money by doing that. If you choose to make your own first aid kit, make sure you pack at least the following items
band aids for small cuts
disinfectant
triple antibiotic ointment for the cuts or wounds
tourniquet (for stopping the blood flow through a vein or artery)
Butterfly bandages and narrow adhesive strips – to hold the edges
thermometer
individually wrapped, sterile gauze pads (2″ and 4″) – to control bleeding or secretions and prevent contamination
anti-itch lotion or cream – for relief of insect bites and itching
eye drops
pain medicine
antidiarrheal
any other medication you take on a regular basis. You can add to it some mosquito repellent and sunscreen lotion.
Hand sanitizer, wipes and paper towel
When you are on the road a lot, chances are you'll spill some coffee or drop some food around. Keeping your car and yourself clean is important, so we always carry hand sanitizer, baby wipes and paper towel. I also suggest packing a few plastic bags for dirty shoes and trash.
Packing Cubes
I think packing cubes are road trip must haves. They make your life on the road so much easier, by keeping all clothes organized. You can also use them for separating clean clothes from dirty ones halfway through your road trip. Packing cubes come in different sizes and materials. There are many companies that make them, like TravelWise, Kiva, eBags, or Eagle Creek. I prefer the ones made with ultra lightweight material because I can organize my packing without adding extra weight.
Hanging Toiletry Bags
A toiletry bag is an essential for keeping all your toiletries in one place. I personally prefer a toiletry bag that can be hung up because I don't have to take all my items out of it. Besides, you won't always have a lot of sink space in some bathrooms. There are many different brands with a good reputation, like Lewis N Clark, Davidsbeenhere, or Ogio, but you don't need to spend too much for a toiletry bag. There some pretty good and inexpensive ones available on Amazon.
Best Bags for Road Trips
Duffel bags are a good choice for road trips because they are easier to squeeze in the trunk. We used them a lot when our son was traveling with us and we had a lot more stuff to carry. Now we travel more with with hard-shell suitcases, but they are difficult to fit in smaller cars.
Day backpack and rain cover. We have many backpacks, some of them we use for our cameras (those usually come with a rain cover), others we use for day tripping.
Other items to add to your road trip packing list
Binoculars. We have two pairs of binoculars, one for each of us. We used them a lot when we traveled to Banff, in Canada, and pretty much on any road trip we took.
iPod or MP3 Player. My iPod is always in my bag because I love listening to music. On long road trips there is nothing more entertaining than listening to your favorite music!
Headphones. We don't always agree on the music we want to play in the car, so my husband likes to pack his headphones for those moments (hahaha!)
Maps and itinerary planner. For every road trip we establish day by day itinerary and we jot down everything we intend to do each day.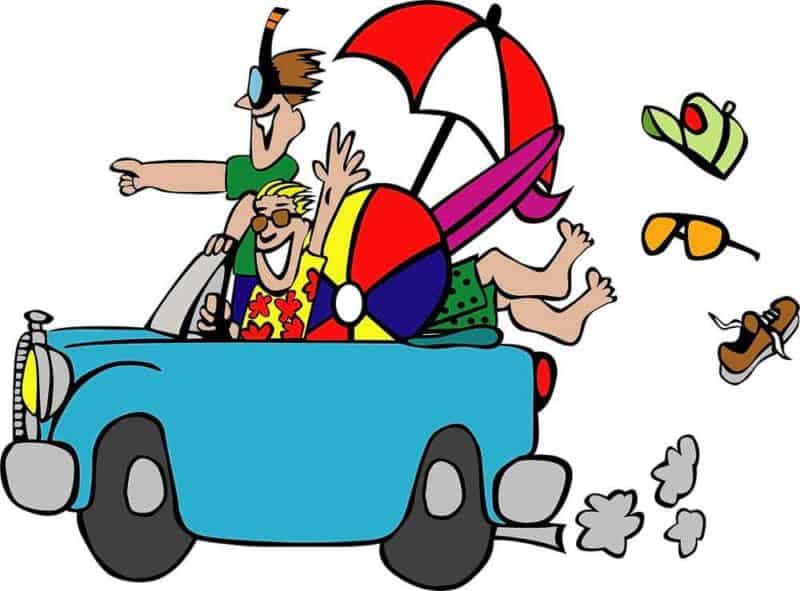 Road trip must-dos
Always do an overall car check-up before taking a road trip. Check the breaks, the tyre pressure, oil and water levels, make sure you have a functioning spare tyre.
Fill up your tank every time you drive past a gas station. You never know where the next one will be.
Make hotel/campground reservation ahead of time. Even if you find available rooms, chances are you'll pay more if you go in without a reservation.
Never leave any piece of luggage in the car overnight, no matter where you are.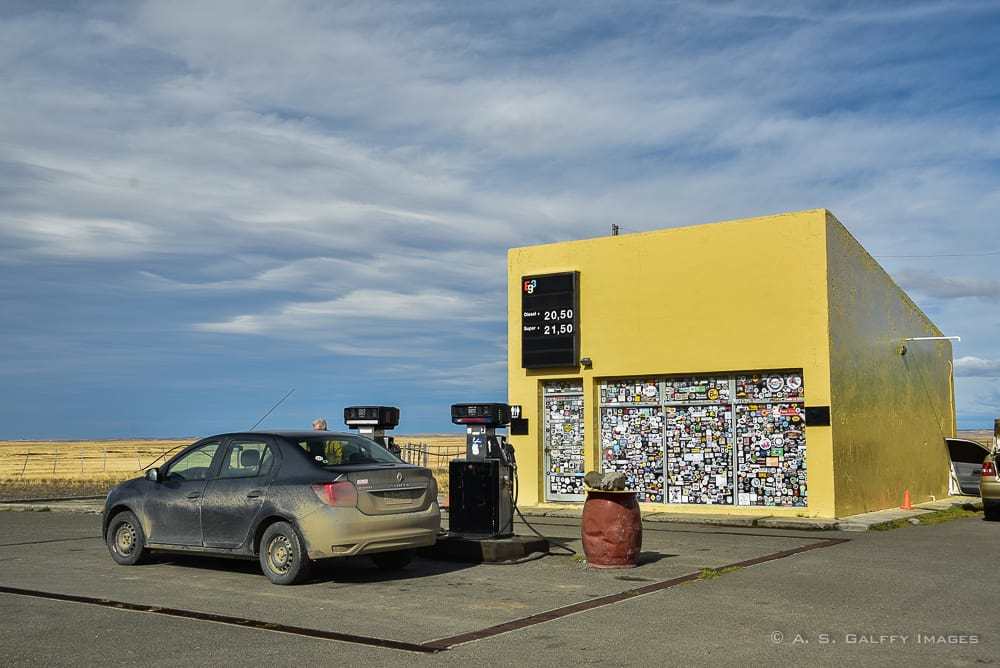 Did you find this post useful? Pin it for later