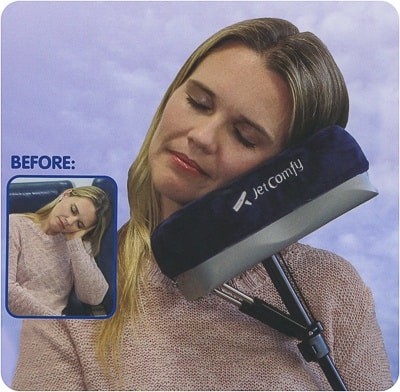 I love going to Europe, or Hawaii, or South America, but when I think of facing 10-12 hours of red-eye agony, I feel like giving up. My greatest problem when I fly is that I can't sleep on the plane. Let's face it, not many of us actually can. How would you doze off in a hard, narrow seat with the armrests digging into your hips, your head banging against the window and your legs going numb as you try to find a more comfortable position?
Over the years I've tried it seems like every pillow on the market, from inflatable to micro-bead cushions and travel pillows for back pain, but none really worked. Does anyone know exactly how many travel pillows have been invented so far?
Every time I board a long-haul flight I hope that finally, the ideal travel pillow has been created. Advertisements are everywhere: "Best travel pillow ever created, Designed and created by an airline pilot…" Oh, maybe this one will work. "New travel pillow wins British Invention of the Year…" Ah, this must be the one! But no, it's not!
How is JetConfy Pillow Different?
So just when I gave up all hope of getting any sleep on the plane, here comes JetComfy, a bizarre travel pillow on a pole. Will this one end my travel pillow challenge?
In the beginning I was reluctant to even give it a try. Another travel pillow? But still, there was something about this one that none of the others seemed to have. Unlike most travel pillows that wrap around your neck forcing your head to lean forward, or sideways, the ingenious JetComfy pillow actually deals with the old dilemma of where to place your head while trying to sleep on a plane. JetComfy pillow stands by itself on an extendable pole that supports the weight of your head.
The height of the pole is adjustable and once in place, the cushion can be tilted and swiveled round to the desired angle. JetComfy can be used in any seat that has an armrest: airplane, bus, train, even in the office. The pillow comes in different colors and costs $49.99.
The pillow comes with a super soft cover that can be removed and washed after each journey. The plastic platform has a built-in compartment for a pen/stylus/light/pointer that is good for filling out forms or for finding lost object under your seat. There is also a built-in space for two USB chargers for charging your mobile devices. The 4-in-1 pen/stylus/pointer/light and the 2 USB mobile charging ports can be purchased separately for $24.99.
Two weeks ago I received my 'trial' JetComfy pillow and got to experience it on a 12 hour flight from Los Angeles to Stockholm, Sweden. It does work as described, so I was actually able to sleep and my neck didn't hurt after that. So far I'm pretty happy with it. So here are the pros and cons of the JetComfy pillow:
JetConfy Pillow Pros
Firm, supportive foam base
Feels fairly sturdy
Easy to set up and
Super soft removable cover
Power packs snap right in securely and have charge indicator lights
The 4-in-one pen/stylus/light is a very useful and easy to store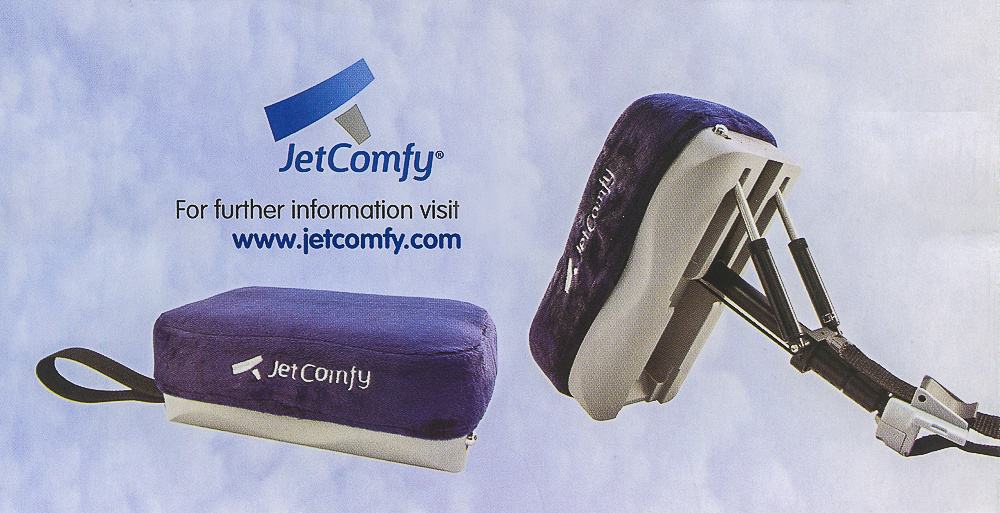 JetConfy Pillow Cons
It's a little bulky and heavy (1.5 lb) so it will add to your hand luggage weight
The memory foam on the pillow seems a little of hard for my face (I prefer soft pillows)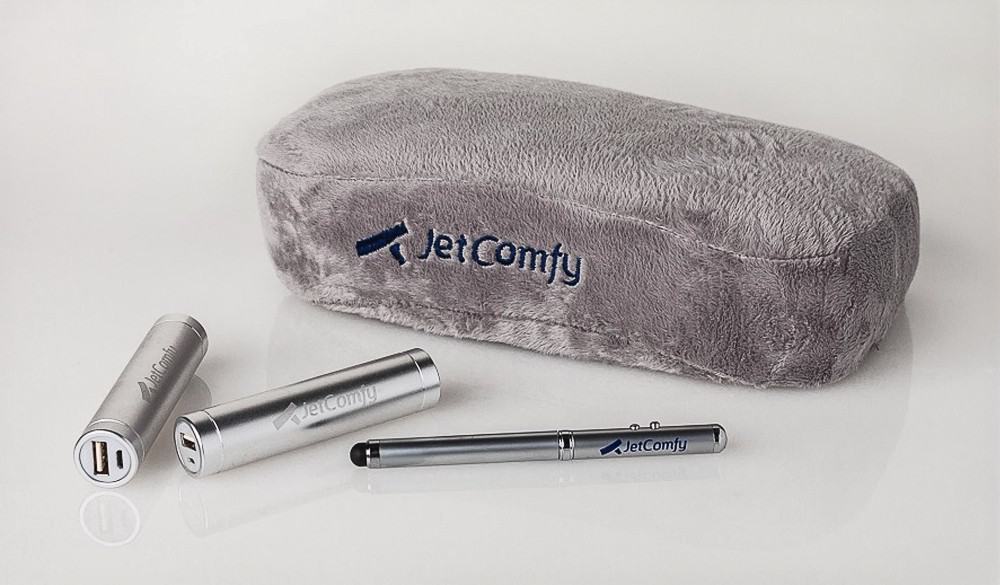 I think JetComfy is a good product that revolutionized the travel pillow with the introduction of extendable legs that support the weight of your head. Finally, a travel pillow with real support that takes the pressure off your neck and spine! Whether you choose to sleep on the journey or not, it's good to have something to lean your head against for support and general relaxation.
* Disclosure: JetComfy sent me this pillowt for review. Nonetheless, the opinions expressed in this post are my own and have not been influenced in any way by the company.