Cruising Alaska by Sea and by Land – One Day in Ketchikan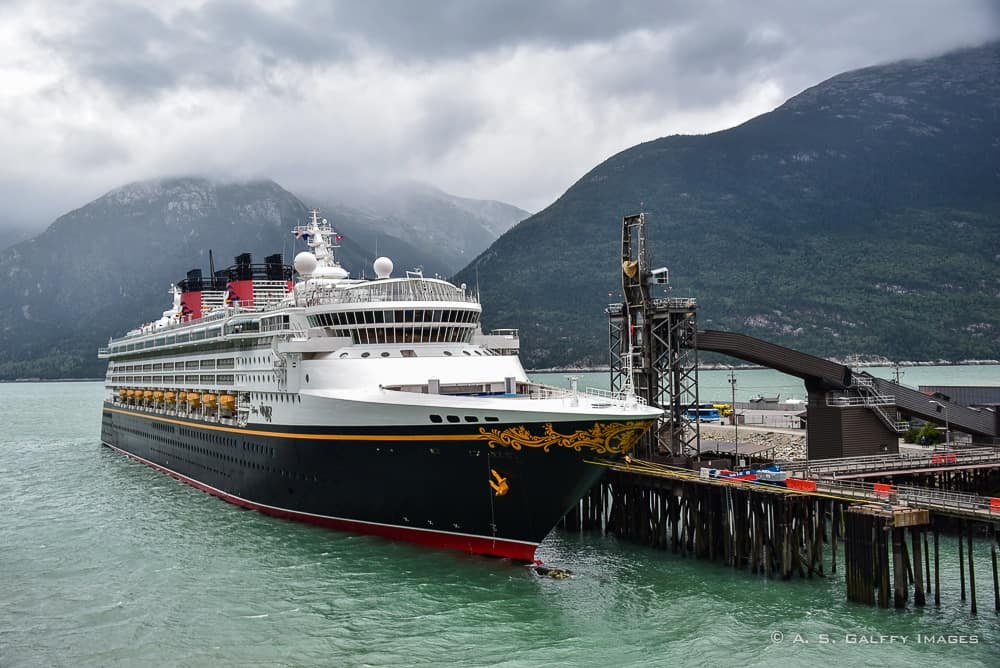 Alaska repeatedly fell through the cracks of our travel plans. We spoke often about going to see it, but somehow it never seemed to be the right time. Until one day when we decided to celebrate one of our wedding anniversaries in Alaska. Initially we wanted to go independently, like we always do. However, since this was our first time there and considering that only 20% of Alaska can be traveled by road, we opted for a cruise.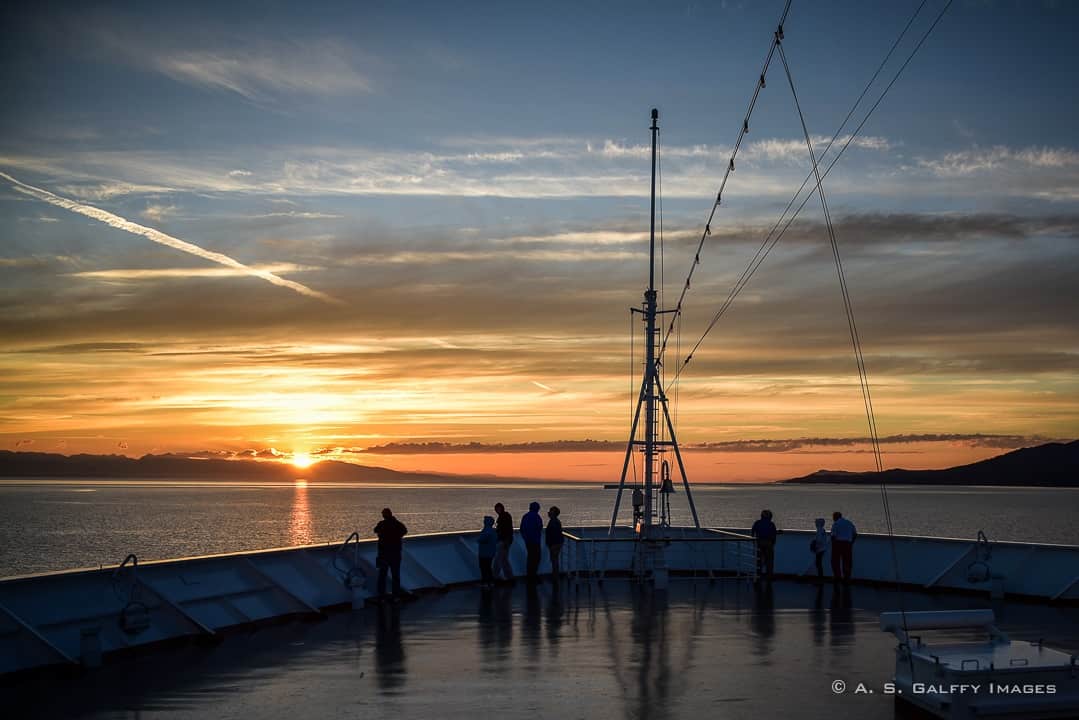 Why Did We Choose a Cruise to Alaska
Alaska is a vast and wild territory and choosing a cruise to Alaska for your first visit there is a good choice. Some parts of Alaska can can only be accessed by ship, others only by land. So if you choose a cruise and land package, you will get the best of the two worlds.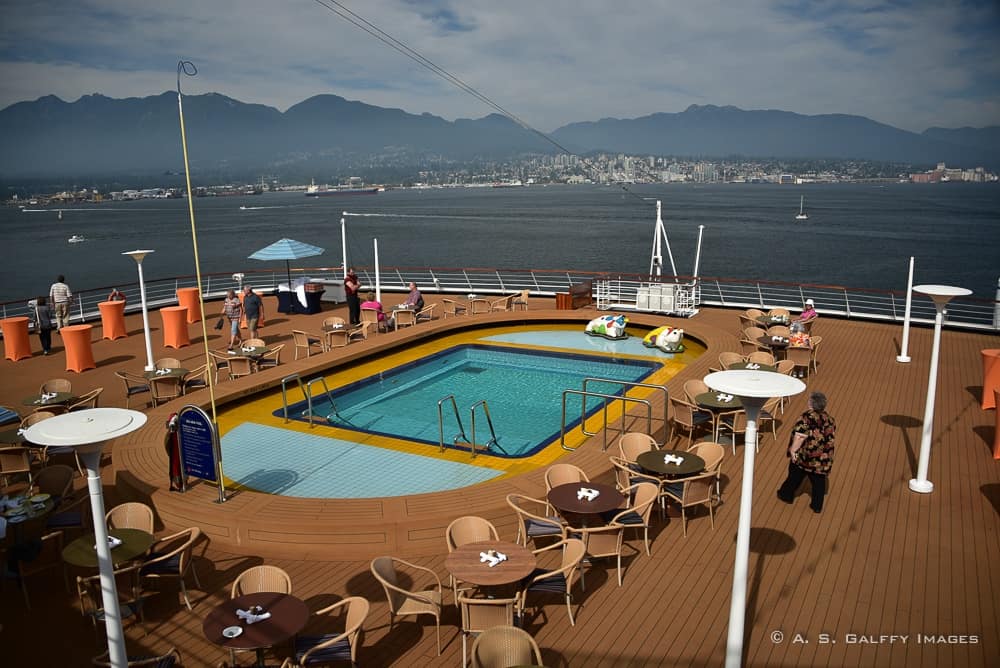 Our trip started in Vancouver aboard Ms. Zaandam, one of Holland America's ships, and ended in Fairbanks. Holland America is arguably the most historic and tradition-charged cruise line on the seas. Their sophisticated traditions, such as the afternoon tea, the chimes that announce dinner and the extensive art collections attract oder, well-weasoned travelers rather than teens seeking to party the whole night. The onboard ambiance is pleasant, with many entertainment options, classy dining rooms, pool areas and a big array of lounges and bars. The cabins and quite luxurious too, but I confess that I've put a lot of thought into choosing the cruise cabin.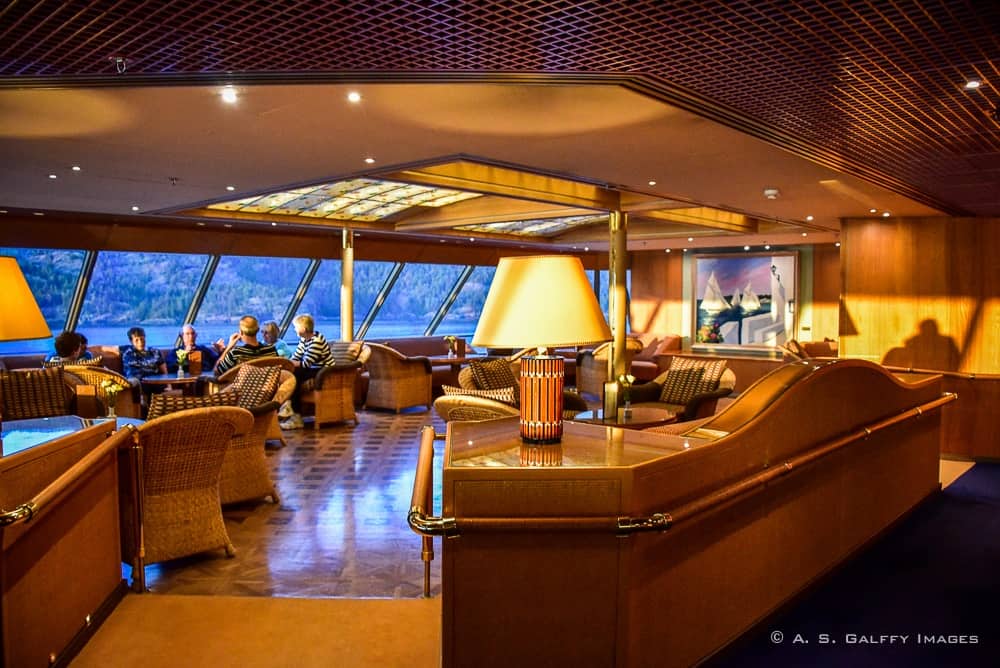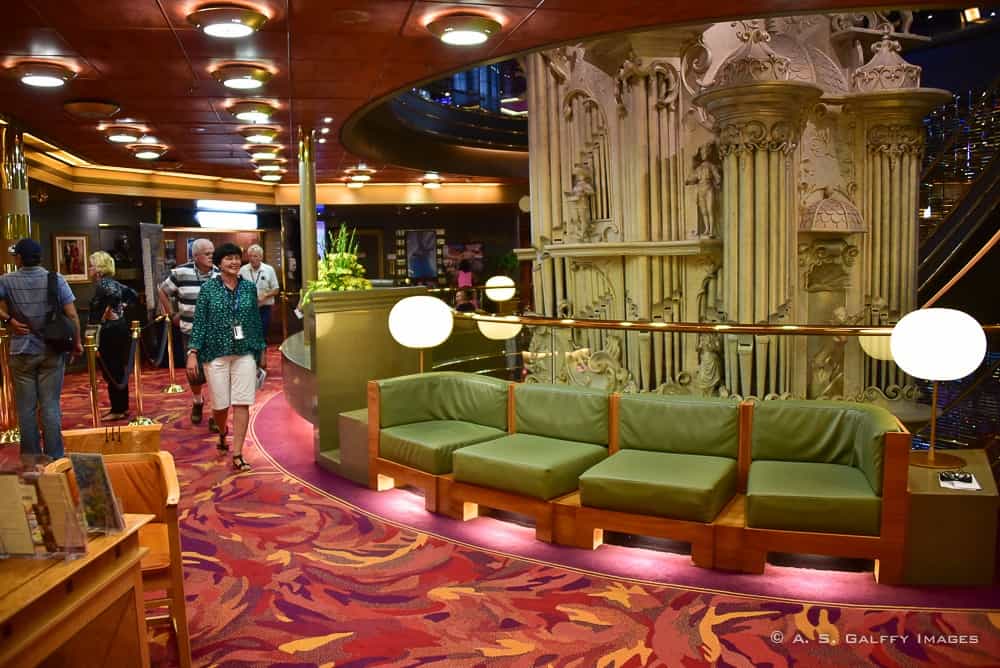 What We Didn't Like about Holland America
But while the ship accommodations were pleasant and well appointed, the service did not live up to our expectations. The waiters were rather unfriendly and sometimes quite rude. The cabin crew on the other hand, were "too friendly," treating us like we were their buddies. The tips are automatically charged to your account, so the crew has no further incentives of being nice to you. There was no free Internet onboard. The Wi-Fi pay-as-you-go was 75 cents/minute, or 40 cents/minute with a 500 minutes plan. The connection was ridiculously slow, taking over a minute to load one page!! Cell phone calls were charged at $7.00/minute and using the ship's phones was charged at $6.00. There was no drinking water provided in the rooms, except for an extra fee ($3/small bottle). Getting water delivered to your cabin through room service would take longer than half an hour and you could order it only by the glass.
Our First Stop: Ketchikan
Our first contact with Alaska was in Ketchikan. As the sunlight was melting the fog of the calm, cold morning I was blown away by the beauty unfolding before my eyes. There was majesty, yet humbleness. There was mystery, yet serenity. Alaska was somewhat different than what I imagined, yet it was so beautiful! I didn't even set foot on land yet and I was already sorry that we will only spend one day in Ketchikan.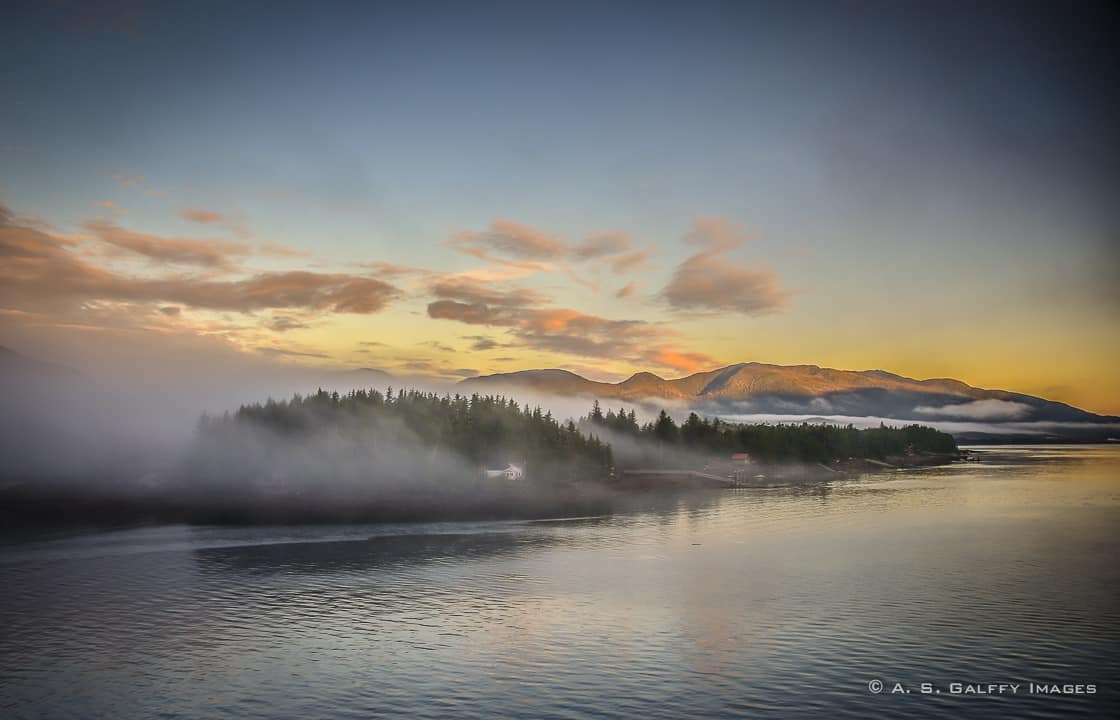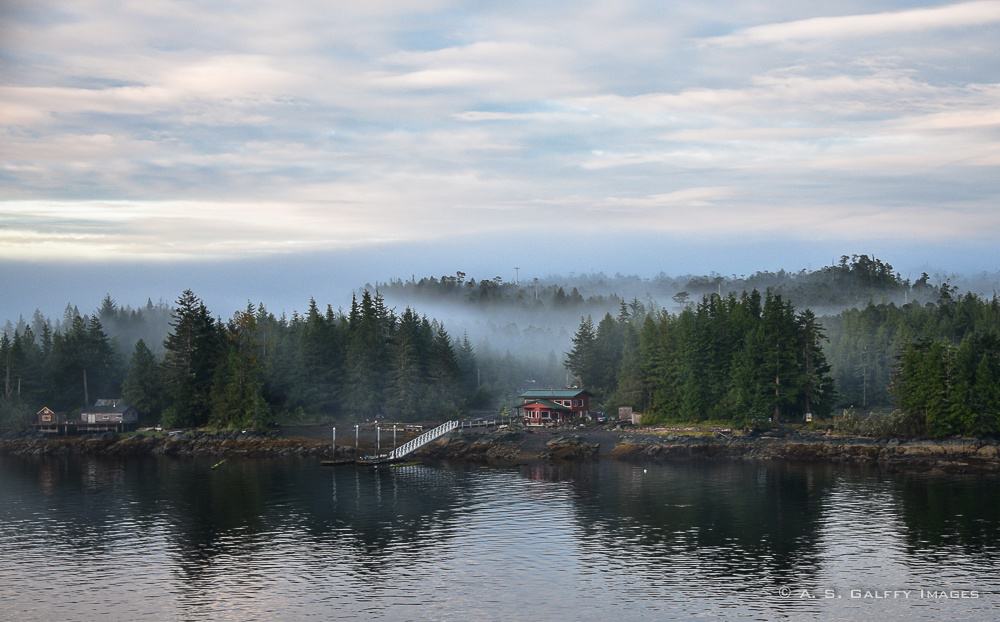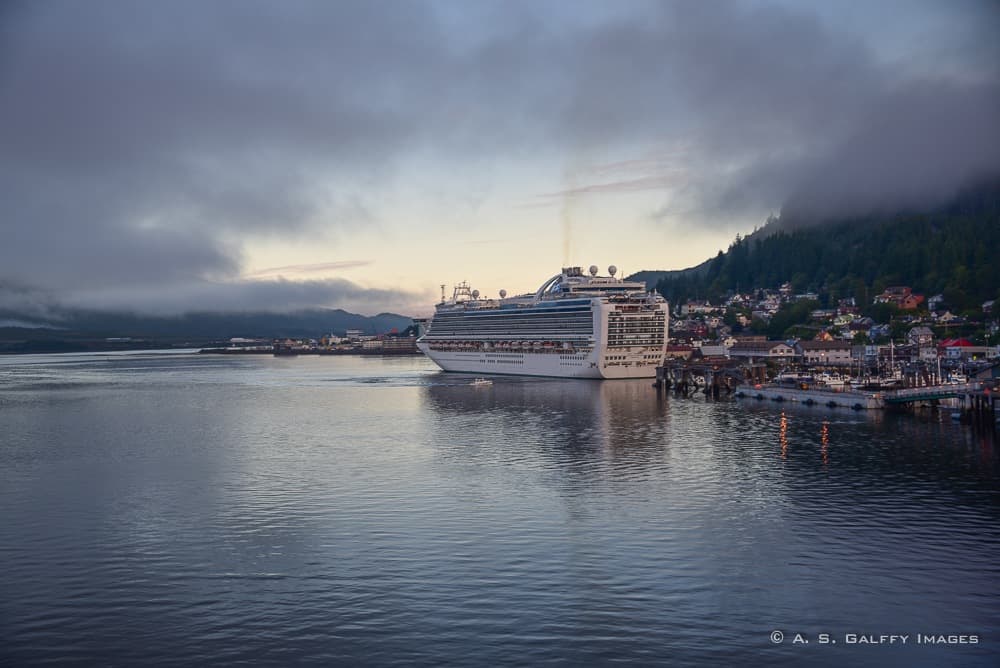 The waterfront is actually the dock where the cruise ships arrive, so as you get off the ship you are right in the middle of everything. Ketchikan is a very colorful place that reminds me a lot of the Cannery Row in Monterey, California. But unlike sunny Monterey, Ketchikan is famous for liquid sunshine and rubber boots. The weather was nice and clear when we arrived, but on average this area gets only 100 sunny days per year and when it rains it may rain for as long as 31 days in a row. Wow, were we lucky!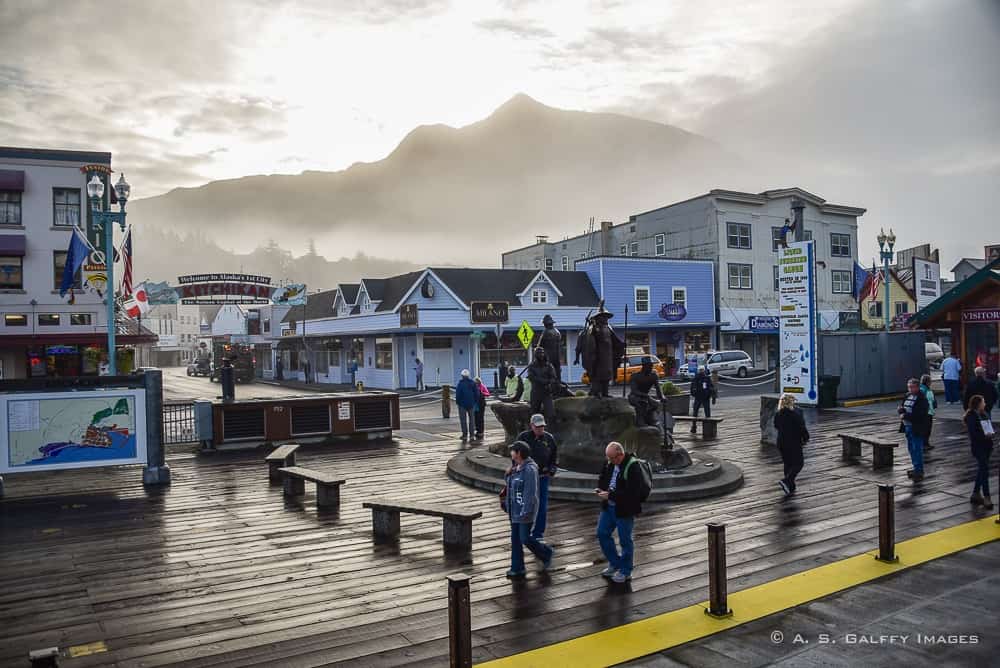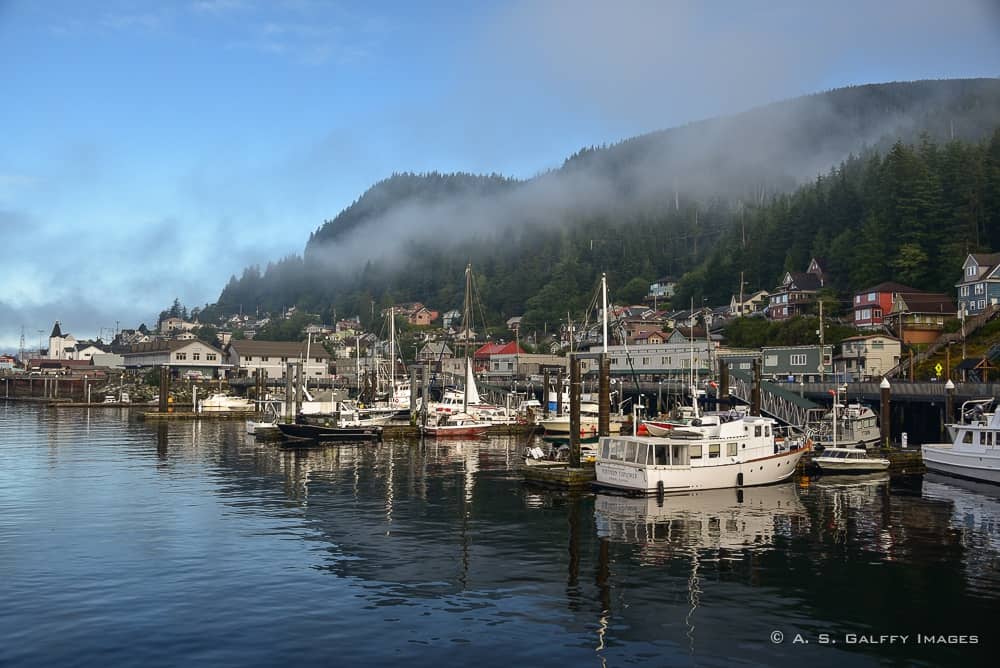 The scenic fishing village of Ketchikan was once considered the salmon capital of the world. Huge runs of salmon migrate from the open ocean into the protected waters of the Inside Passage near Ketchikan. With five species of salmon, Ketchikan is a fisherman's dream. While fishing still plays a major role in the town's economy, tourism and timber are today the main source of income.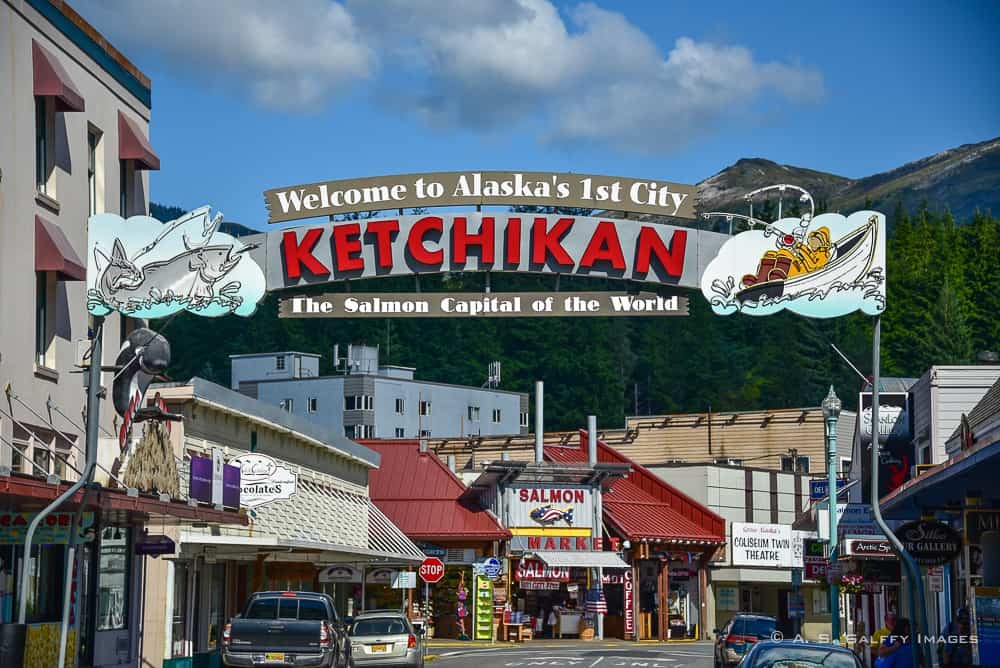 The place is small enough to be explored by foot. The waterfront and immediate downtown area is full of shops of all kinds. From fabulous fur coats, to beautiful art galleries and hand crafted jewelry, you can spend more money than you want here.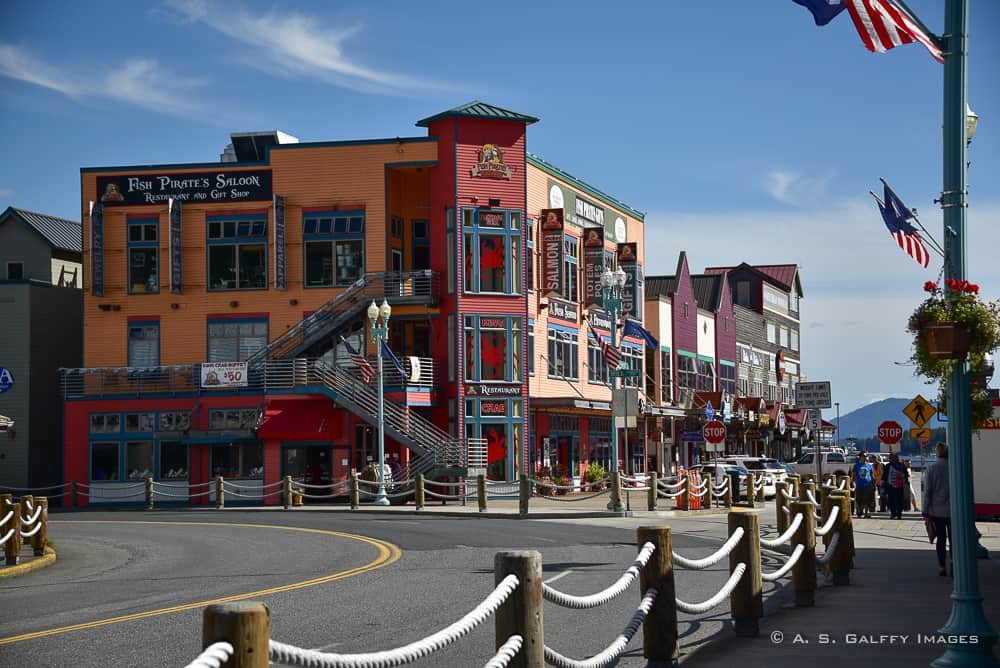 The main attraction in Ketchikan is the historic Creek Street, the former "red light" district of the town. The antique boardwalk lined up with restaurants and souvenir shops was built in 1903 along the shores of Ketchikan Creek.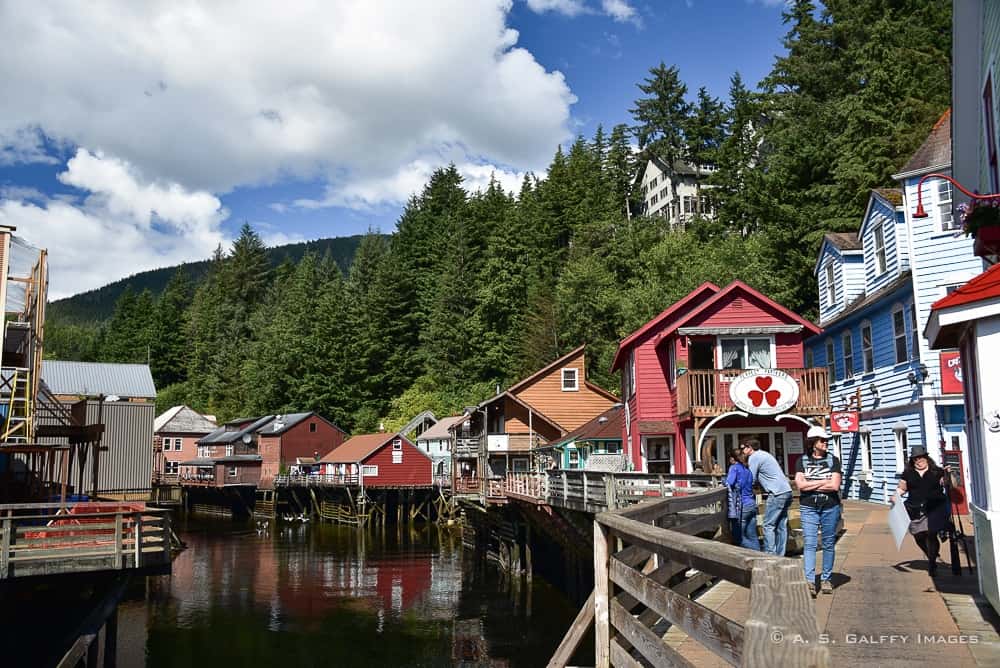 In the mid 1920s there were over 20 bordellos on Creek Street. During the prohibition, Creek Street was the place to go for a drink. Since Creek Street was built on the water, the bootleggers could smuggle whiskey into the houses of prostitution and the saloons through trapdoors in the floor.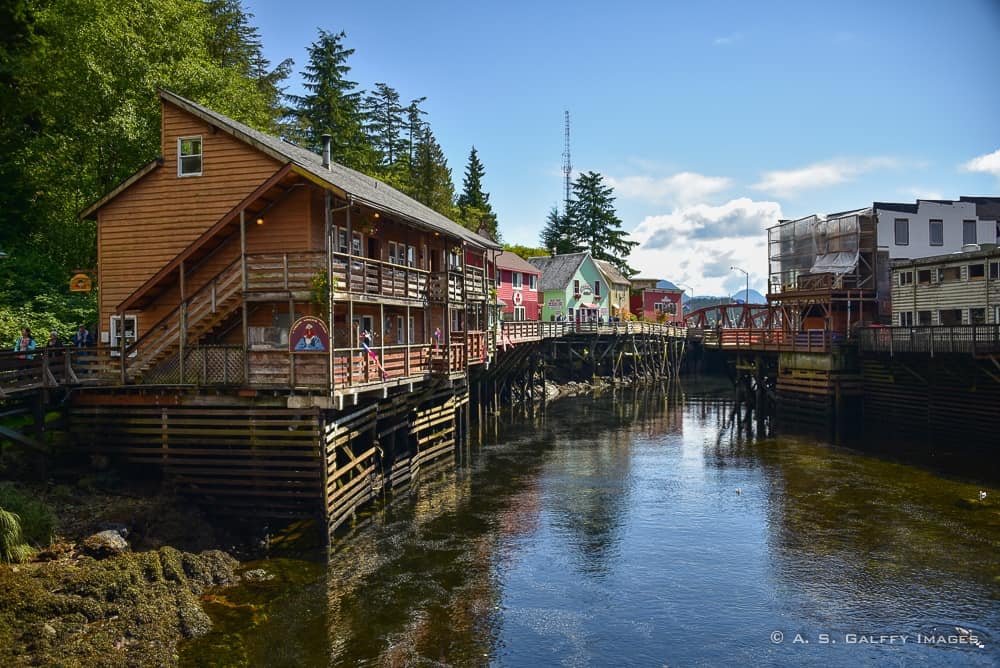 Today, the only reminder of that bygone era is the Dolly's House Museum, the former residence of Dolly Arthur, the infamous madam who once made a career in prostitution here. The museum is crammed with memorabilia of her life. The rooms are the same as when she lived there.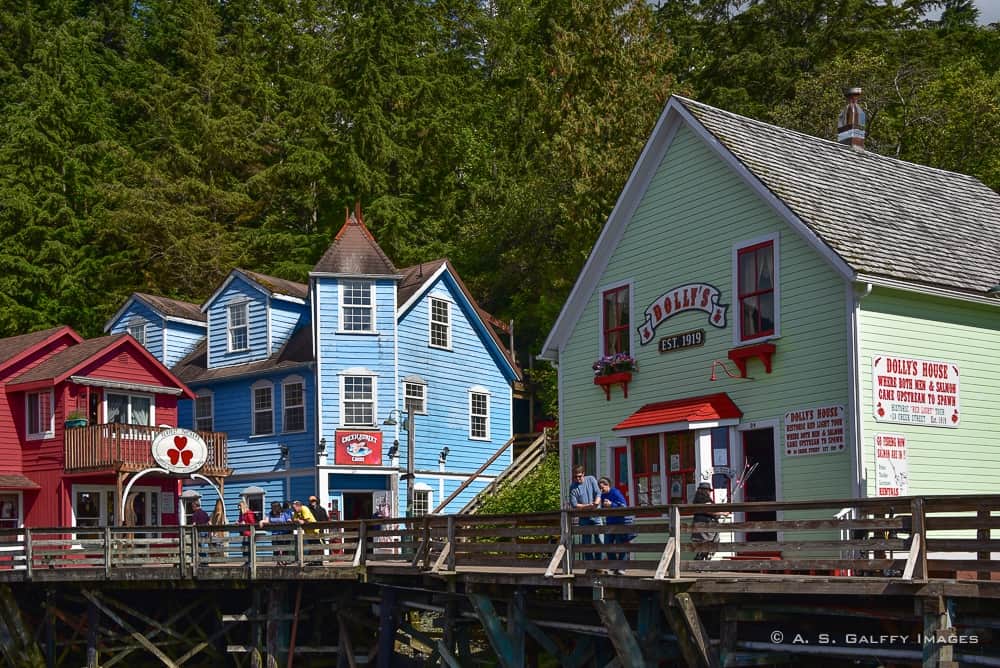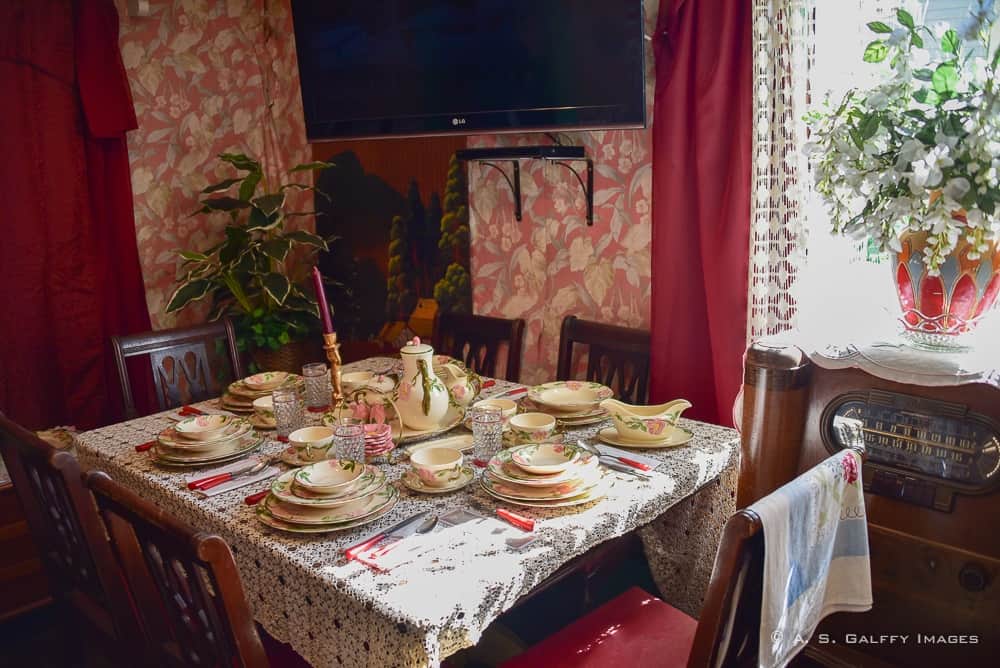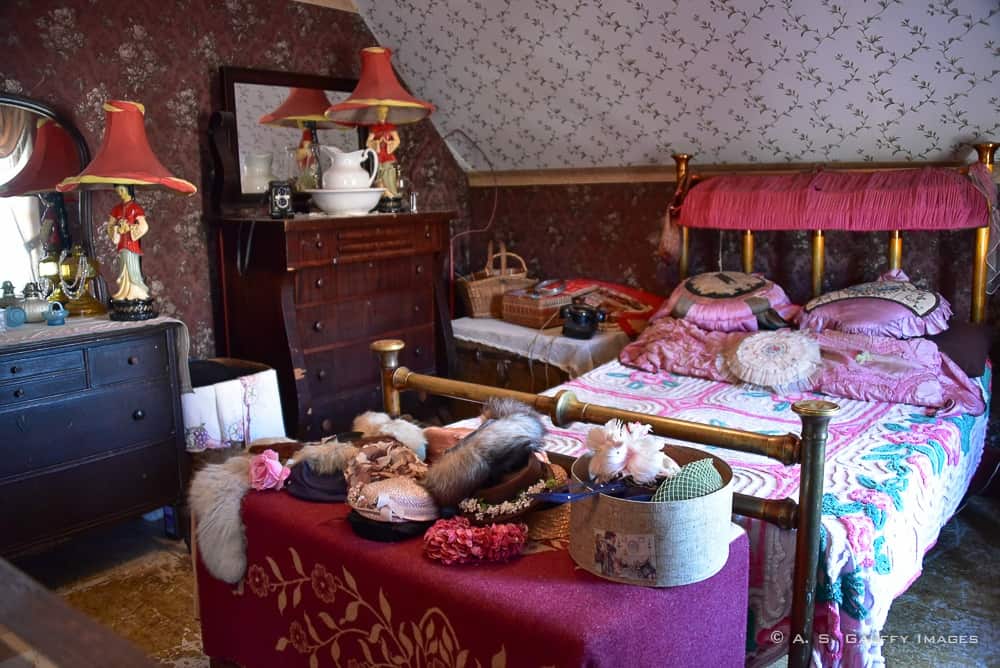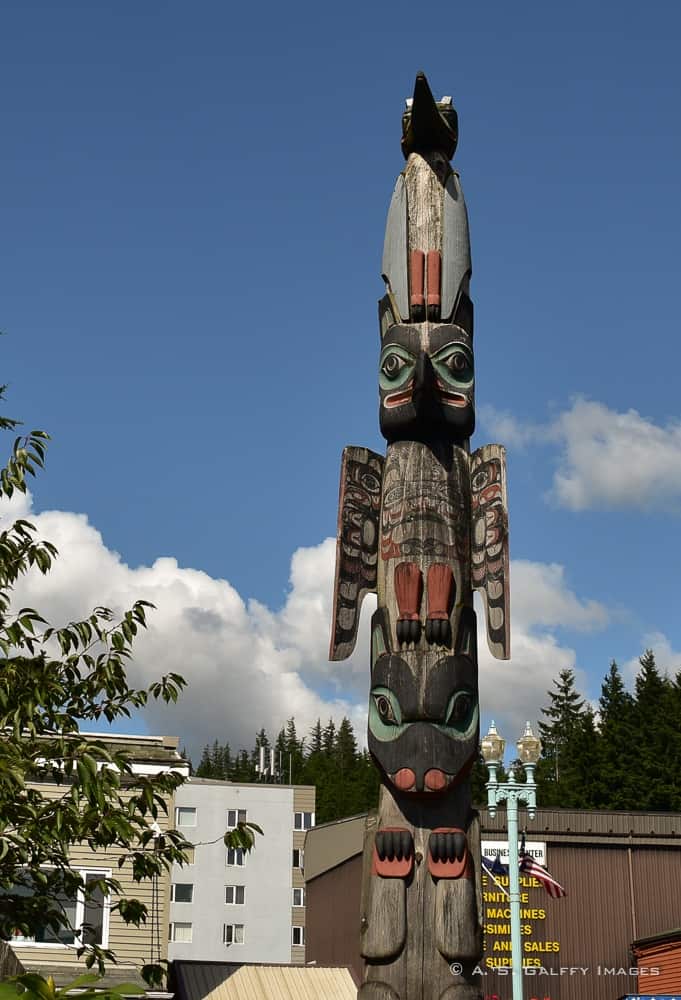 Ketchikan has the world's largest collection of standing totem poles. There are over 80 Native American totem poles located throughout the city. It seems you can't go a few blocks without seeing one! Some of these poles are more than 100 years old and have been salvaged or reconstructed in an effort to preserve them. This collection is one of the things not to be missed when you visit Ketchikan.