The Weekly Postcard: The Hermit of Emerald Bay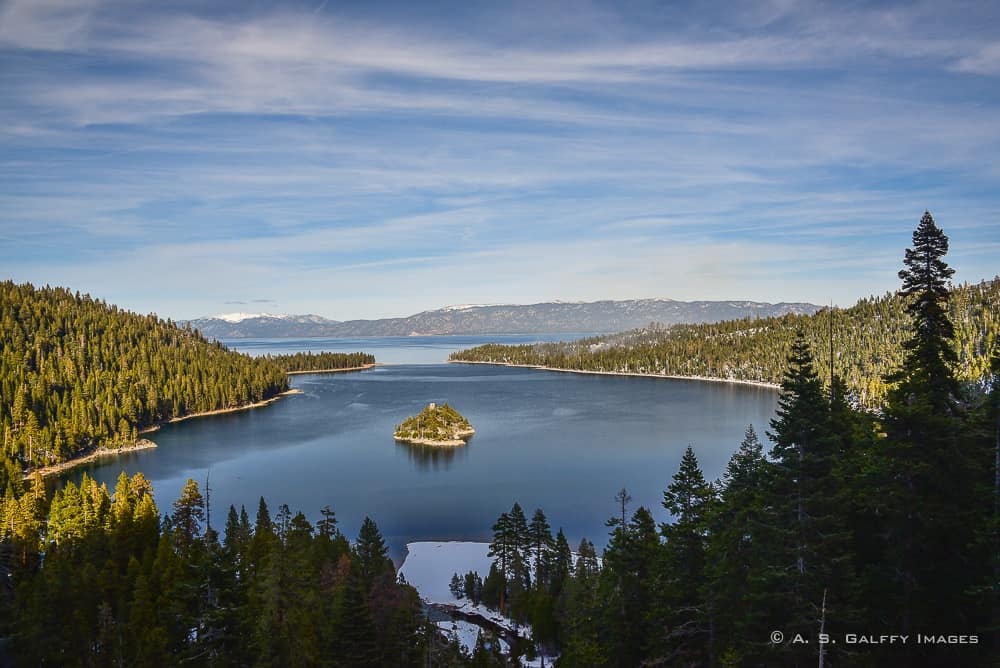 Last updated: June, 2018
Lake Tahoe's only island has been called many names over the years, including Coquette, Baranoff, Dead Man's, the Hermit and Emerald Isle. The island lies within Emerald Bay, on the California side of the lake and is currently known as Fannette Island. There are many stories associated with this island and one of them is tied to the colorful figure of Captain Dick Barter, who lived in a boathouse on the shores of Emerald Bay between 1863-1873.
The Hermit, as he was nicknamed by his friends, was a whiskey lover who frequently rowed in his small boat along the bay. One dark night, after visiting a local saloon, the captain was headed home in his little boat. But a strong gust of wind slammed into him, flipping his boat. He managed to hang on and eventually made it to shore – barely. The close call shook him very hard causing him to prepare his final resting place on the little island in the middle of Emerald Bay. He dug a tomb near the island summit and built a little chapel with a wooden cross over it. Captain Dick made it known to all his friends and the drinking establishments in the area that he should be buried in this tomb when his time comes.
But Dick Barter's wish couldn't be fulfilled. One chilly October night in 1873, as the 66 year old sailor was heading back home after an evening of drinking, his boat was smashed into the rocks of Rubicon Point. His body was never found, as it was probably washed out into the lake where it sank. It is said say that on some chilly autumn nights, the Hermit can be seen climbing slowly towards the top of the island, trying to get into his tomb.
The island also contains what is left of "Tea House", a building erected by Mrs. Lora Knight, one of the owners of Fannette Island. The island is accessible only by boat, canoe, or kayak, as swimming in Emerald Bay is not allowed, due to extremely cold waters.