Neustadt Dresden – Places to Visit on Your Next Road Trip to Germany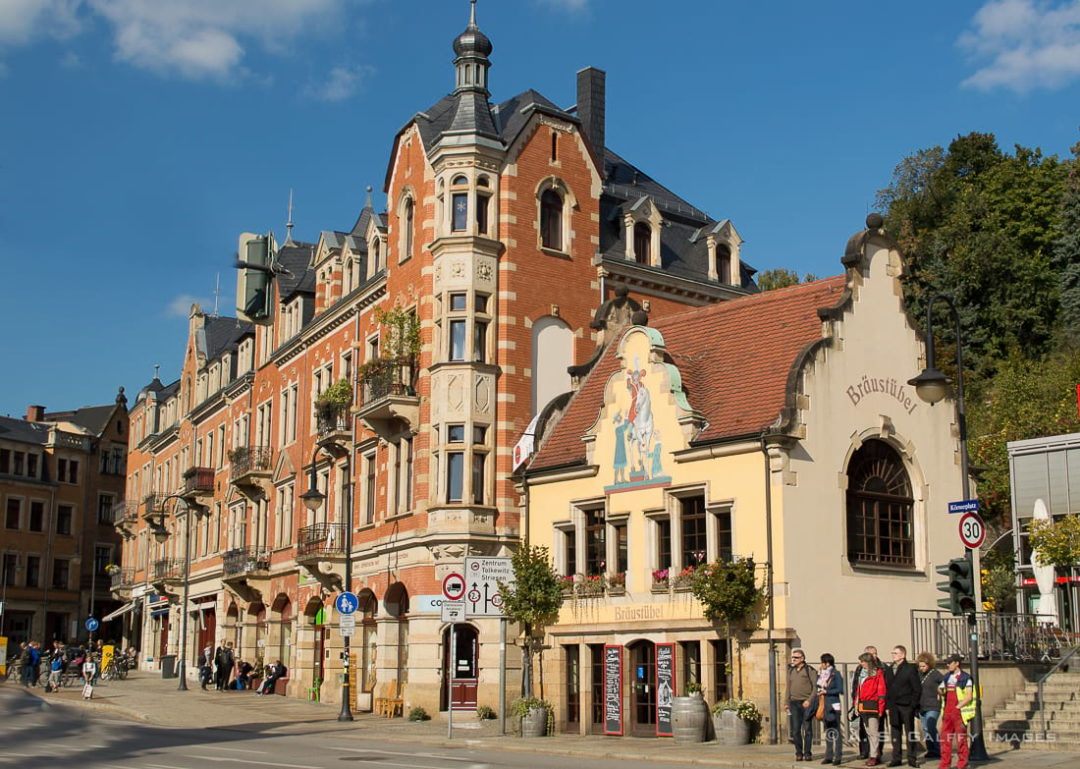 If you are making any plans for a road trip to Germany, make it a point to add Dresden to your itinerary. This largely overseen city has a lot going for it: beautifully restored churches, old palaces, world class museum, any many more. And if you go, remember to visit Neustadt Dresden and discover some of Dresden's best kept secrets.
The funny thing about Neustadt Dresden (New Town Dresden) is that it's actually quite old. Until the 17th century this settlement on the right banks of the Elbe (right across the Old Town Dresden) was actually known as "Altendresden" (Old Dresden). After a disastrous fire burned down the quarter in 1685, Altendresden was rebuilt and renamed Neustadt Dresden, or "New Town Dresden."
The baroque reconstructions done produced attractive streets and sites which can still be see today in the area around Königstrasse. During the Second World War Neustadt Dresden suffered very little destruction, compared to the rest of the city. New Town Dresden is home to some very fine buildings, trendy shops and small bars where you can go out for drinks.
Attractions in Neustadt Dresden
•

The Baroque Quarter
The Baroque Quarter (a.k.a. Inner Neustadt) is located between the Neustadt train station, Albertplatz and Glacisstrasse. The most elegant street in Dresden Neustadt is, Königstrasse. Although not severely damaged during the war, this street fell into complete neglected under the GDR-era.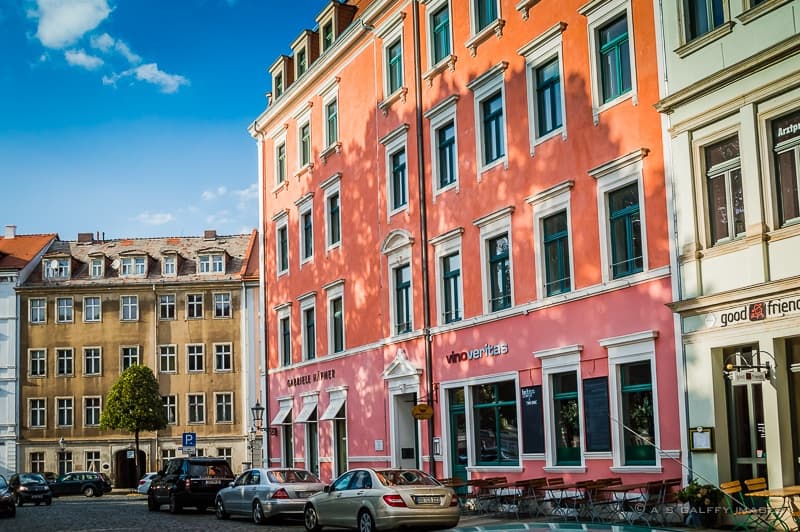 In the 1990's, after the fall of Communism, the buildings have been repaired or rebuilt. An array of boutiques,art dealers, galleries and upscale restaurants have been built. Today, Königstrasse is home to the most sophisticated shops in Dresden. Many of the stores and small restaurants are in passageways leading off Königstrasse are also worth visiting.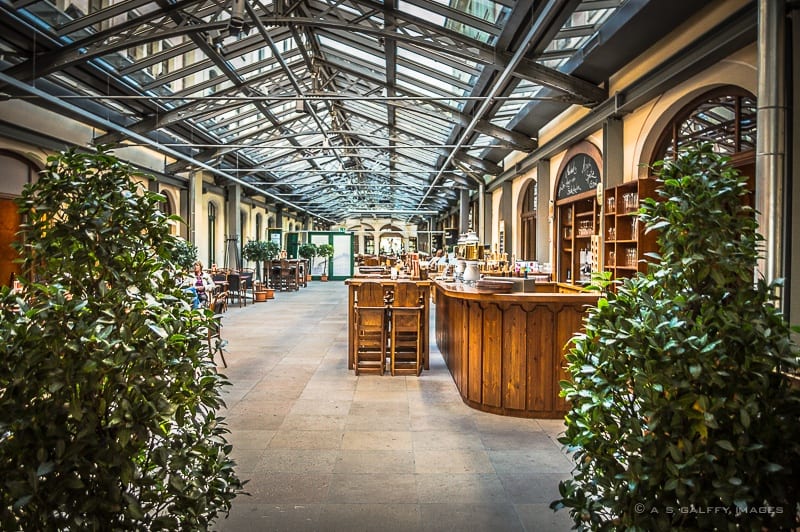 • Dreikönigskirche (Church of the Three Magi)
One of the must-sees in the Baroque Quarter is the Church of the Three Magi (Dreikönigskirche). The baroque church stands between the Haupstrasse and the Königstrasse. The original building dates back to the 18th century, but its 87-meter high tower was added only 100 years later. The clock tower can be seen from very far away and it's an unmistakable part of Dresden's cityscape.
Although not very ornate, the interior of the church is worth seeing for the beautiful altar piece. The sandstone altar was damaged in the bombing of 1945, but it is now restored.
• Pfunds Molkerei (Pfund's Dairy Shop)
This little dairy shop in Neustadt Dresden made quite a name for itself over the years. It wasn't for the milk products it sells however, but rather for its unusual beauty. I've seen pictures of this place before visiting Dresden, so I was very excited to visit it. However, when I found myself in front of it I felt a little disappointed.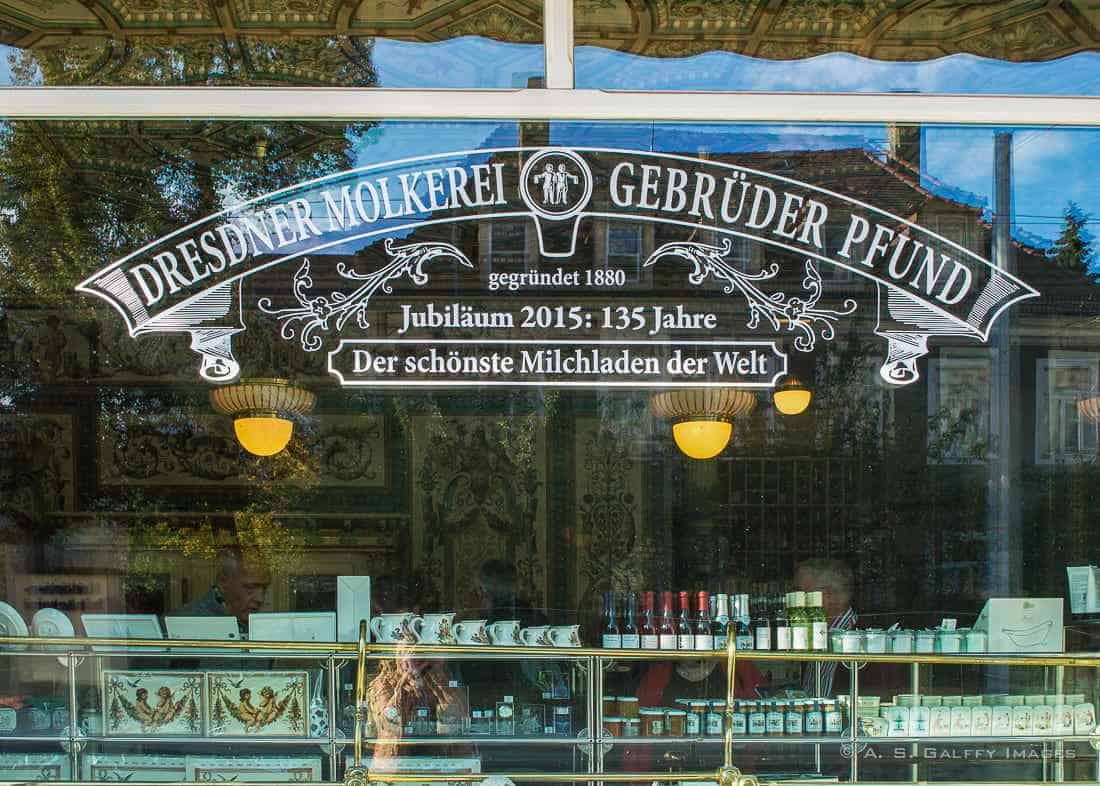 I was expecting a bigger, fancier shop. But after stepping inside I was in awe. If from the outside Pfunds Molkerei looks quite insignificant, the interior is an amazing feast for the eyes! Every inch of the walls, ceiling, floor and counters is covered with hand painted tiles and enamelled sculptures produced in the stoneware factory of Villeroy & Boch. No wander Guinness Book named Pfunds Molkerei "the most beautiful dairy shop in the world!"
The dairy shop sells a big range of farm and artisan cheeses, different milk products, wines, chocolate and replica tiles. Upstairs there is a café-restaurant serving food with a strong lactose theme. Due to its popularity, the small milk shop is almost always packed with tourists.
Tip: Photography is verboten (forbidden), but you may be able to take a few shots if you show your press card. The shop is difficult to photograph because it very small and always crowded. But if you wait for the brief moment when a group of visitors is leaving and another one is waiting to get in, you may be able to catch a few shots. But you have to be very fast!
Pin it for later: