The Day I Had to Play the Photo Journalist at the Szechenyi Baths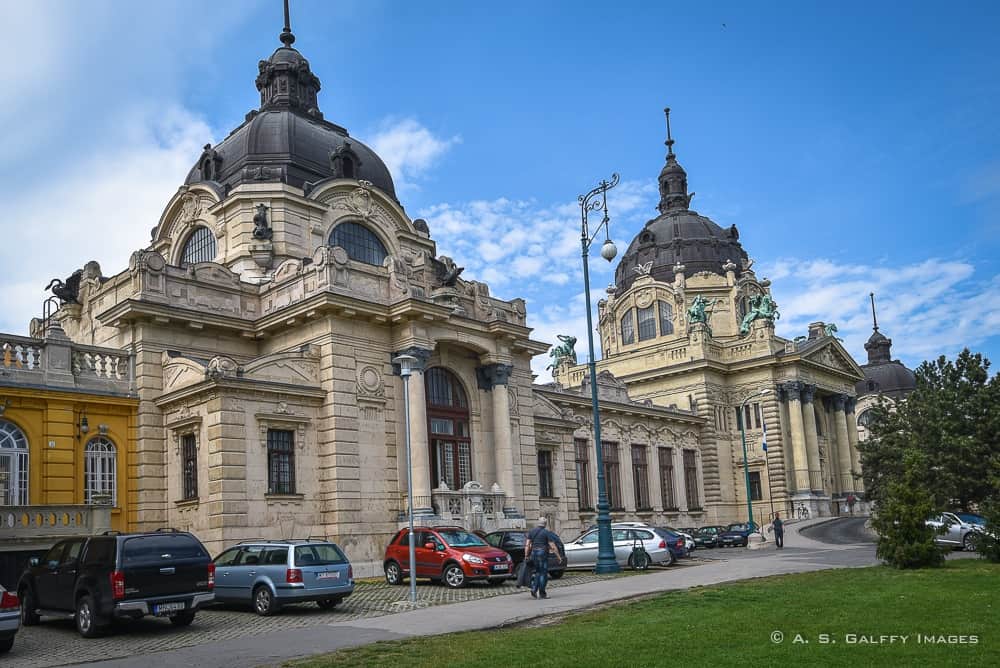 I've been in Budapest so many times that I can't even remember and still never visited Szecheny Baths.Those who know me well know that I have an aversion for public pools. Soaking my underwear with hundreds of other people repulses me deeply. For some folks this is fun and truth be told it was fun for me too way back when. I mean before I became a hypochondriac. Anyway, back to Szecheny Baths.
This past spring, as we happened to be in Budapest again, I thought to myself: "this is it, I have to go see the Szechenyi Baths. I don't have to get wet to experience the atmosphere, I can just walk around and take pictures. At least I'll have something to write about."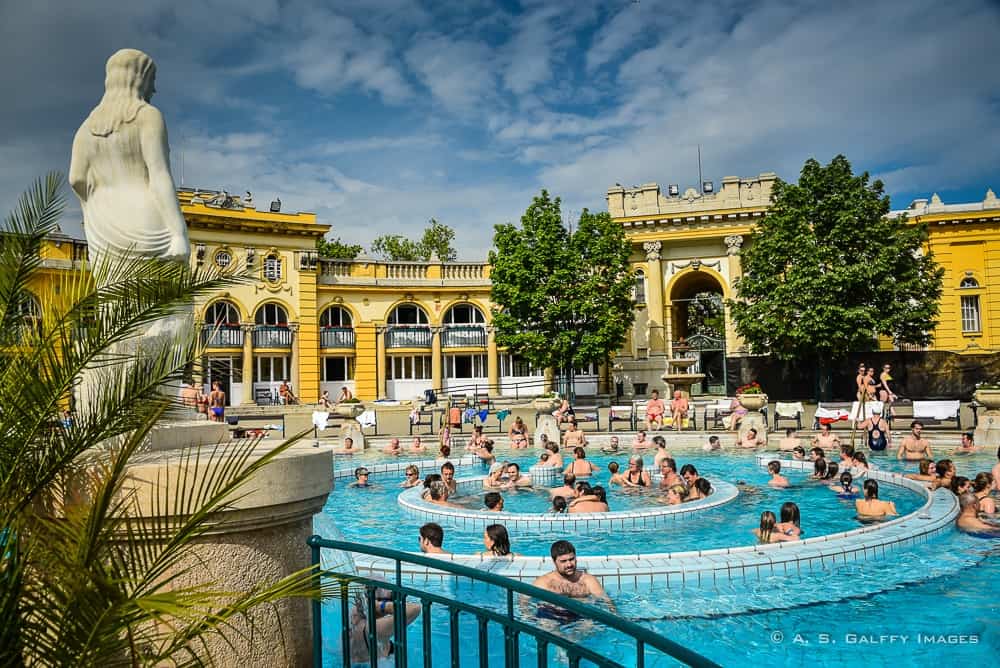 It was towards the end of May and the weather was perfect, so it didn't take much convincing to have my husband come along. The plan was simple: we were going to get inside where I would walk around and take pictures while he was going to enjoy an hour of relaxation, trying all the different thermal pools and their healing powers.
Only, how was I going to bring my top notch camera and backpack inside? The rules in all these baths are pretty strict: after you strip down to your swimsuit, the only things you are allowed to take inside are a towel, a swim cap and a pair of flip-flops.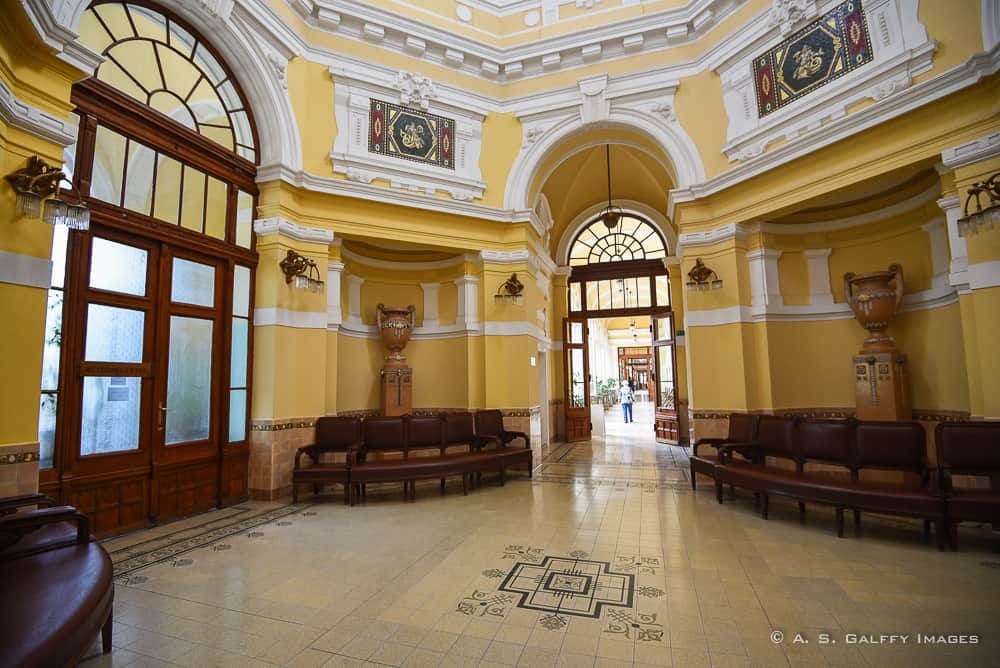 But then I remembered my Press Card. What a great idea! I could show them the card and explain that I'm a travel writer and want to write about Szechenyi Bath. That was actually true, I was a travel writer, but somehow I felt like I have to act important in order to be taken seriously. And this was where my husband's Hungarian heritage comes into the story. Since I don't speak Hungarian, he was going to act as my translator and get me access into Szechenyi Baths with my cloths and my backpack on. After all, travel journalists don't do their jobs naked, do they?
Well, easier said than done. You see, the problem with most Hungarians is they don't keep up with the world of travel blogging. The lady at the ticket booth shrugged her shoulders as if she had never heard of a Press Card before and sent us to the administration office. The office was all the way at the other end of the building and after walking a labyrinth of corridors for about 10 minutes we finally found it.
At the administration office the secretary took a long look at my Press Card, then began speaking very quickly, as if she was was afraid she might not finish her sentence in one breath. Words were pouring out of her mouth like a torrent, while her head was shaking up and down, left and right, making it almost impossible for me to figure where the conversation was going. Was it OK? Can I get in? Then she grabbed the phone and continued the discussion at the same speed. After she hanged up, she turned back towards my husband with the verdict. Well? What's going on? Are we getting in? I was trying to read my husband's face, but couldn't. At last, he turned to me and said: "give her your business card" and so I did.
The secretary took the card and began typing my blog's address, but somehow she couldn't get anywhere. "Go type in your URL or we are gonna be here till tomorrow," my husband whispered. By now it was late afternoon. The sun was shining mercilessly through the tightly sealed office windows. Sweat began to pour down our spines. I watched as my husband's patience was getting thin… (not that he had too much of if to begin with.)
In the end we have been granted permission to walk around the complex fully dressed, but wearing disposable shoe covers. A person from the administration was to accompany us and provide information, as well as give us access to all the areas. Unfortunately, our chaperone didn't speak any English, so my husband had to continue translating for me instead of getting his long awaited cooling moment.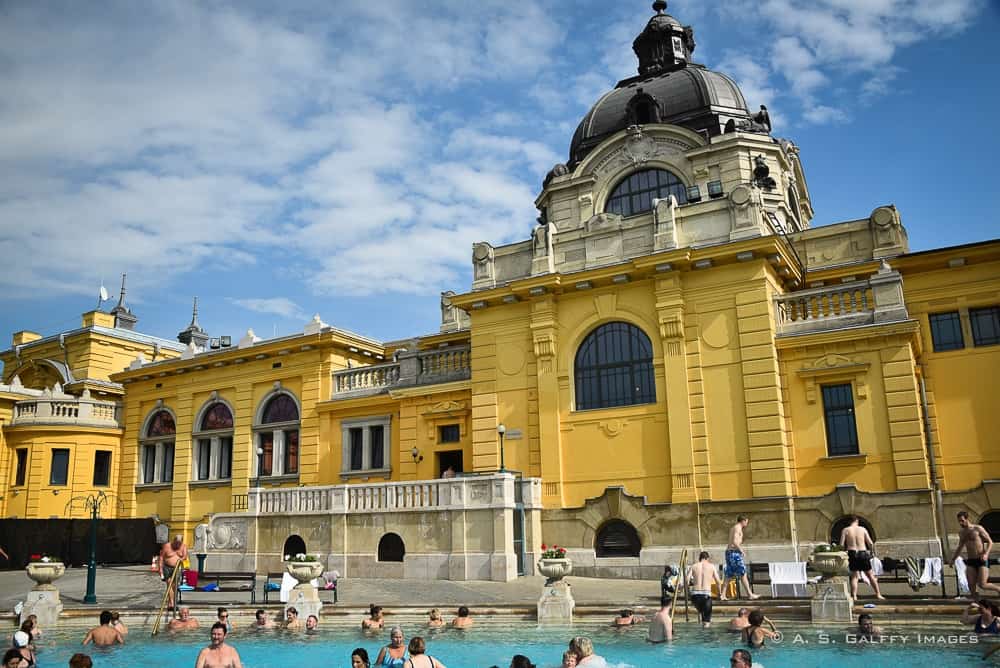 After 50 minutes of walking the slippery floors of the Szechenyi baths barely holding on to my precious camera, I decided to call it quits. Seeing the happy folks play in the warm pools made me feel guilty for ruining my husband's day. And as I was leaving this place under the curious eyes of the bathers who were watching me with a lot of interest, I felt I was going to disappoint them too. They were probably expecting to see their faces in the next morning's paper.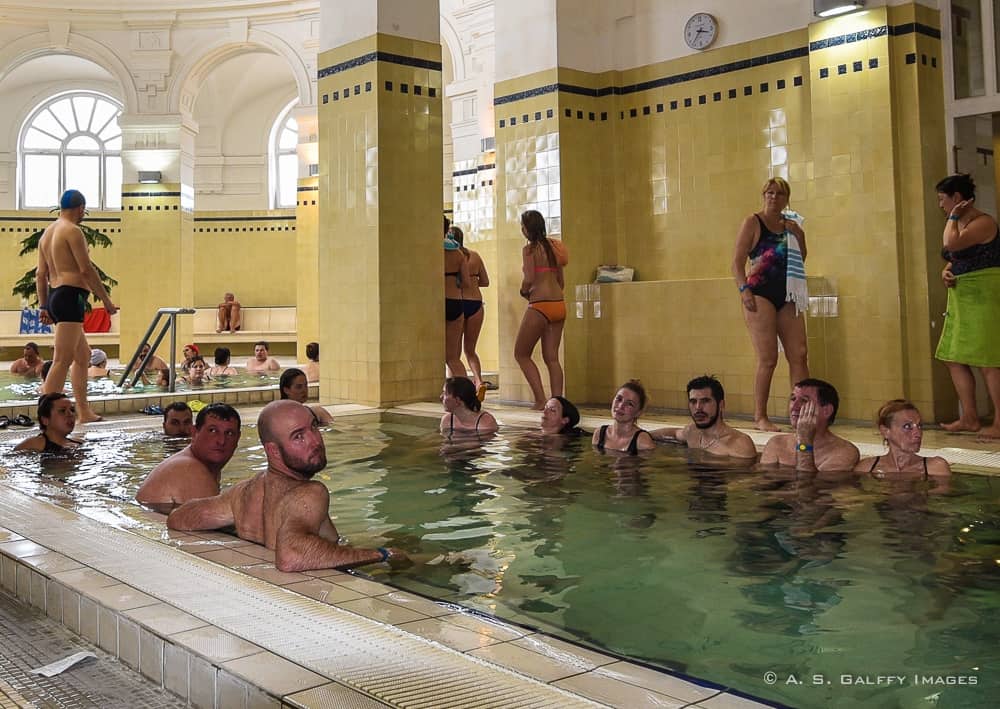 Facts About Szechenyi Baths
Szechenyi Baths and Spa is the most sought after thermal bath by the locals of Budapest. The Neo-Baroque yellow building spreads over a very large area or the City Park. Although not as elegant as its Art Nouveau sister, Gellert Baths, Széchenyi Baths has 18 pools, 15 of which are spring-fed thermal pools, a mixture of both indoor and outdoor. In summer time, the outdoor pools are a great place to hang out on Saturday nights for great music and pool parties, as the baths stays open till 3:00 a.m.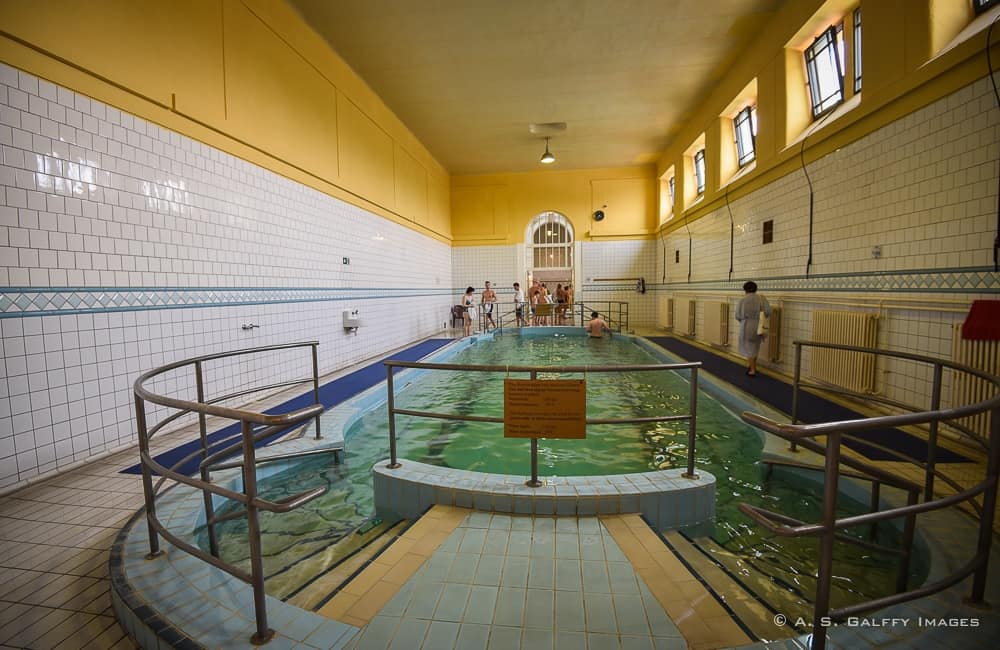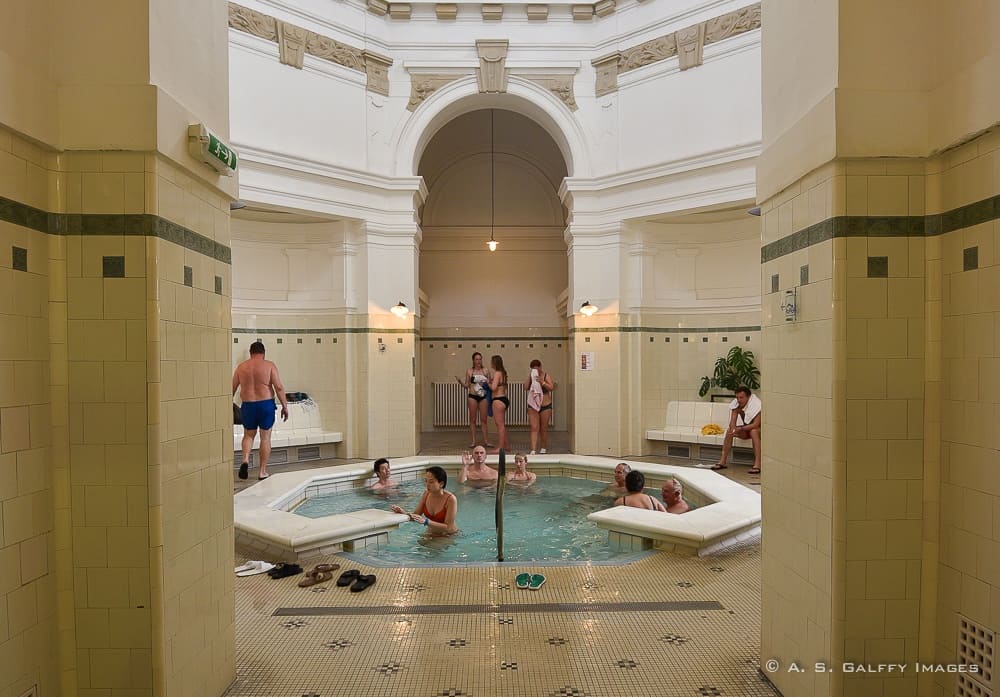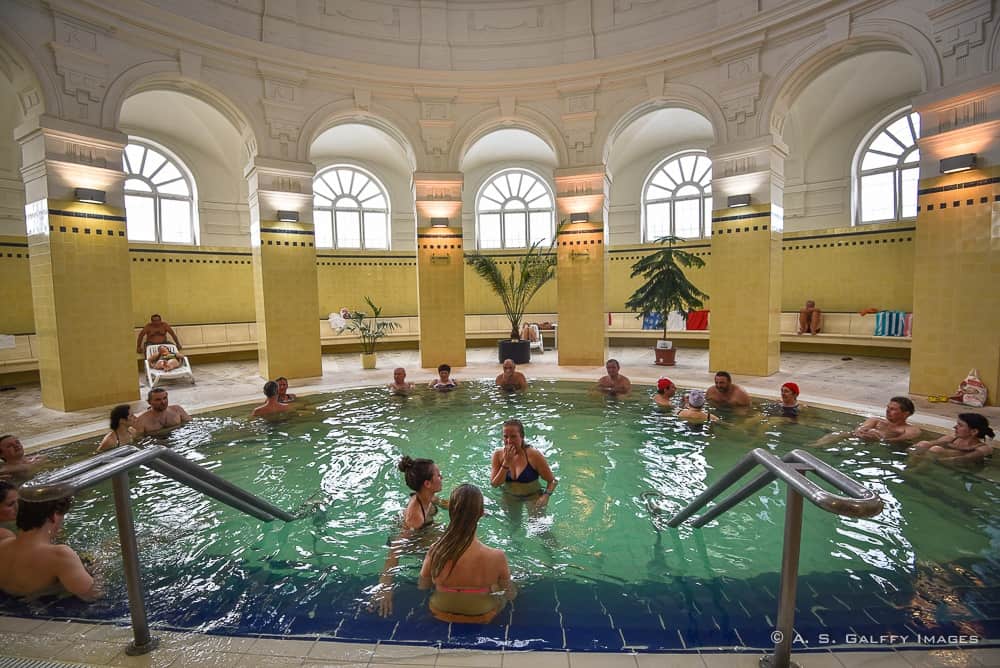 Szechenyi was the first thermal bath to open in Pest in 1881, but the Neo-Baroque building dates from 1913. The building has more than one entrance and all the facilities inside are interconnected. The baths feature an aroma sauna, steam rooms, a massage center, showers at almost every pool and private changing cabins.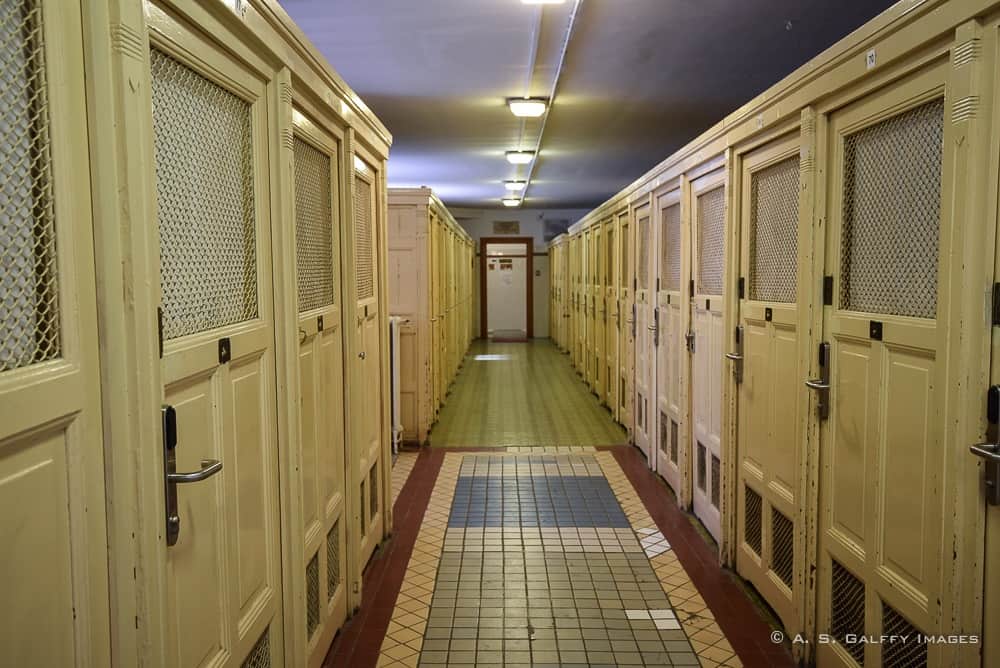 The waters in Szechenyi baths are said to have healing powers due to their mineral content (like calcium, magnesium, fluoride, sulphate and more). They are also very rejuvenating. There is a small treatment center on the site that offers therapy and treatment for all sorts of ailments. Due to the high temperature of the water, the outside pools are open year-round. In fact the thermal "sitting pool" where the temperature is about 100 degrees F (38 degrees C) is far too hot to stay in on a summer day.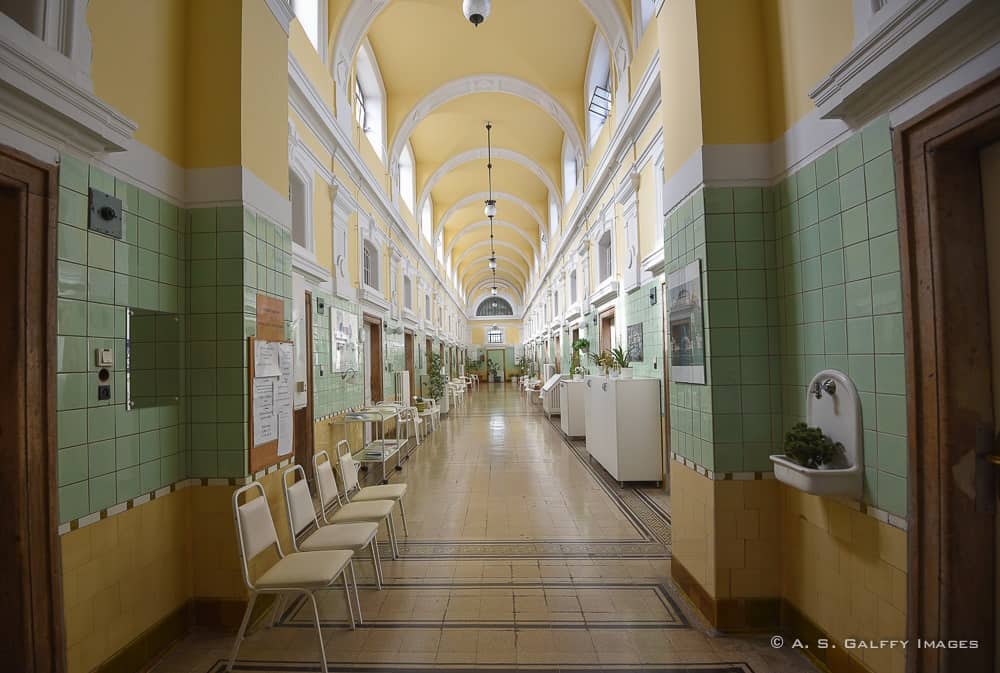 There is a cafeteria overlooking the outdoor pools where you can buy some light snacks and sandwiches and a charming terrace where breakfast is served in summer.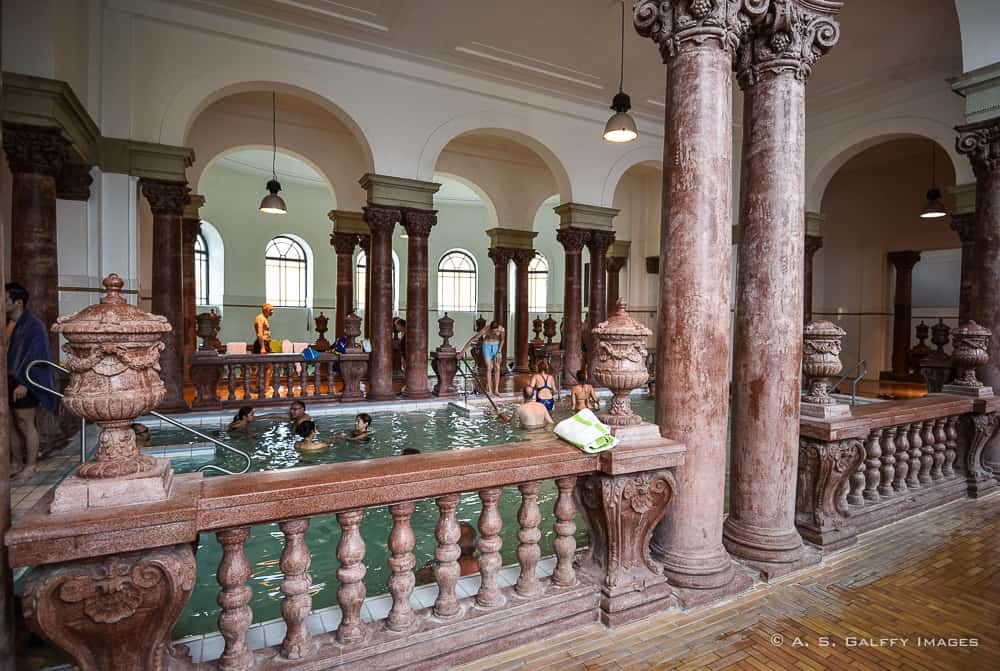 Things to Know Before Visiting
Szechenyi is open from 6 a.m. to 10 p.m. everyday, year-round.
The baths can reach by using the yellow metro line (M1) to Heroes Square.
The entrance fee is around 4,300 HUF ($15.00); entrance fee with a locker is 4,800 HUF ($17.00) (fees are slightly lower during the week days).
Towels are not provided, so you should bring your own towel or buy one in the lobby.
Each pool, sauna and steam bath has a sign showing the temperature.