The Weekly Postcard: The Romanian Athenaeum
Last updated: December, 2015
           This week's photo features the Romanian Athenaeum, the heart of Romania's classical music tradition and the most prestigious cultural venue in Bucharest. My connection with this magnificent concert hall goes back to my childhood and youth years. It was here that I first saw the famous Sergio Celibidache conducting Enescu's Romanian Rhapsody. And it was also here that I attended the concerts of the Doctors' Orchestra which my husband was part of for so many years.
The Romanian Athenaeum as an  institution was founded with the purpose to educate the nation. The plans were designed by the French architect Albert Galleron. The building was inaugurated in 1888, but the work continued for 9 more years. Part of the funds used for the construction have been raised through a 28-year long public subscription whose slogan is still remembered today: "Donate a leu for the Ateneu."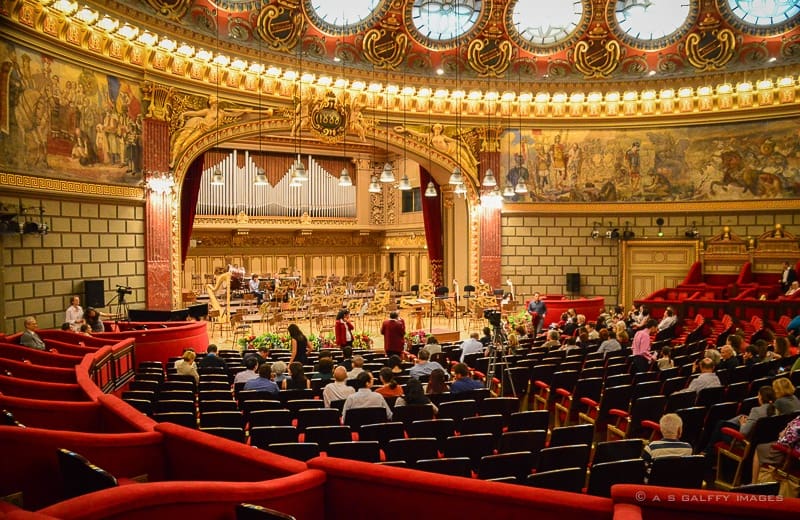 The building has a columned porch (peristyle) with six Doric columns. Behind the columns are five medallions portraying former princes and kings of Romania. The whole structure is covered by a beautifully decorated Baroque dome. The 600 seats auditorium features a very ornate ceiling and a monumental circular fresco evoking the most important moments in the history of Romania.
The famous Romanian composer George Enescu made his debut here in 1898. Today the Athenaeum is home to the Romanian Philharmonic George Enescu  and to one of the most acclaimed international musical events – the George Enescu Festival and Competition, a great musical tradition in Romania.